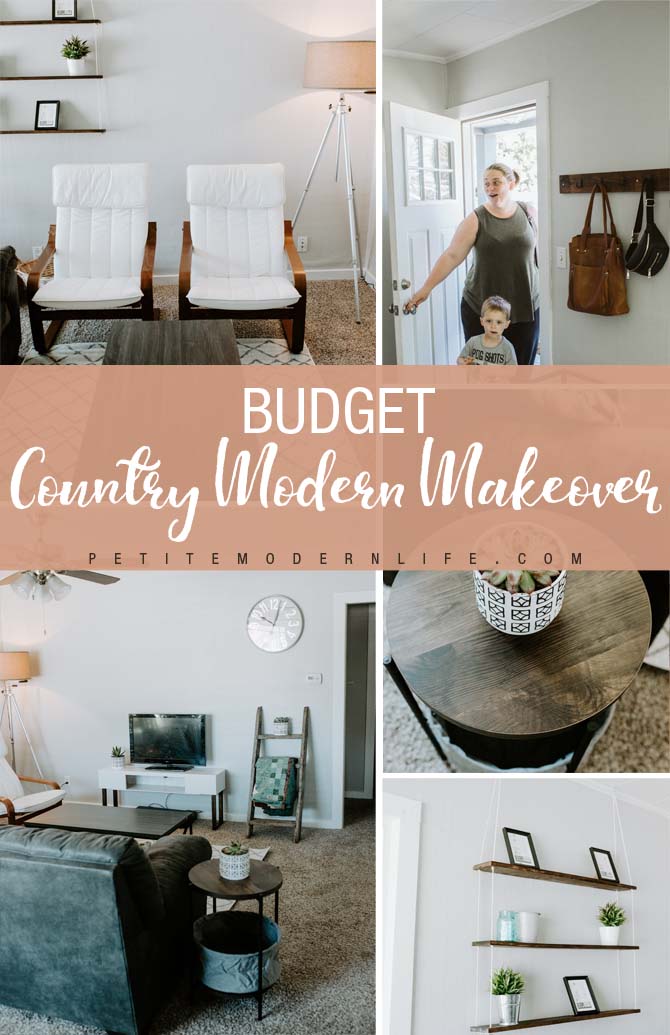 In my last post I shared how to Design a Multi Purpose Tiny Living Room as I prepared to makeover a sweet friend's living room on Mother's Day weekend. I'm so happy to say that within 2 months of designing, planning, and making purchases, I was able to complete this budget country modern makeover in just 2 days while visiting my home town!
Here are the before pictures that Kaitlynn sent me of her living room.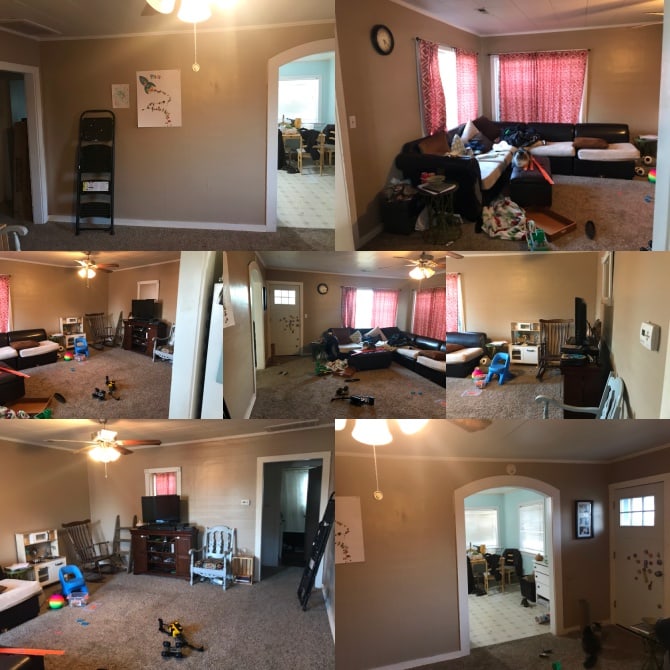 You'll recall that we went with the below design board that had a country modern vibe along with some industrial accents.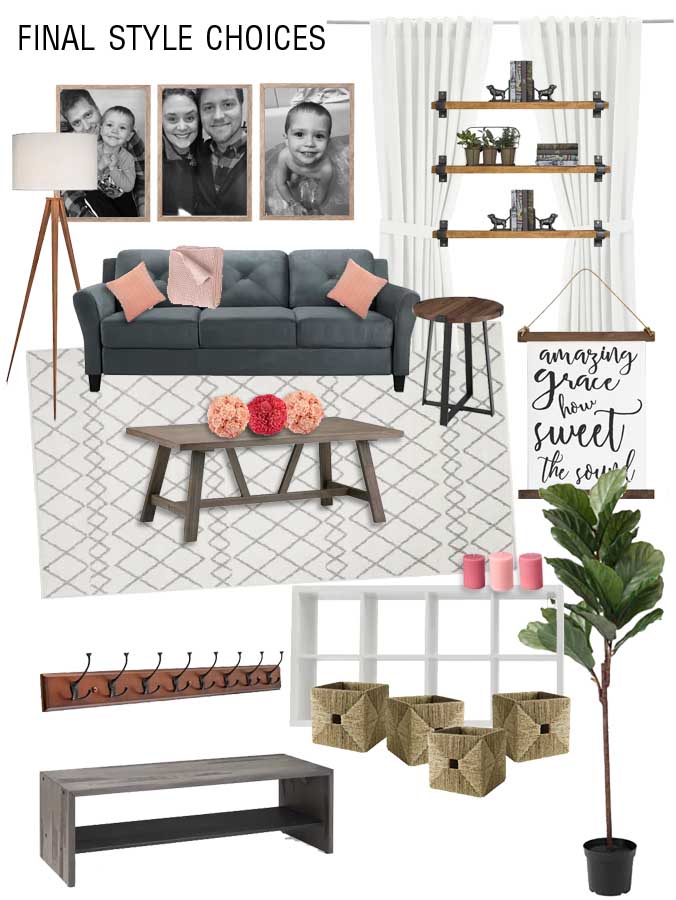 My layout for her living room would break it into two spaces, making it feel bigger and multipurpose.
A TV sitting area
A play and reading area
A designated entry spot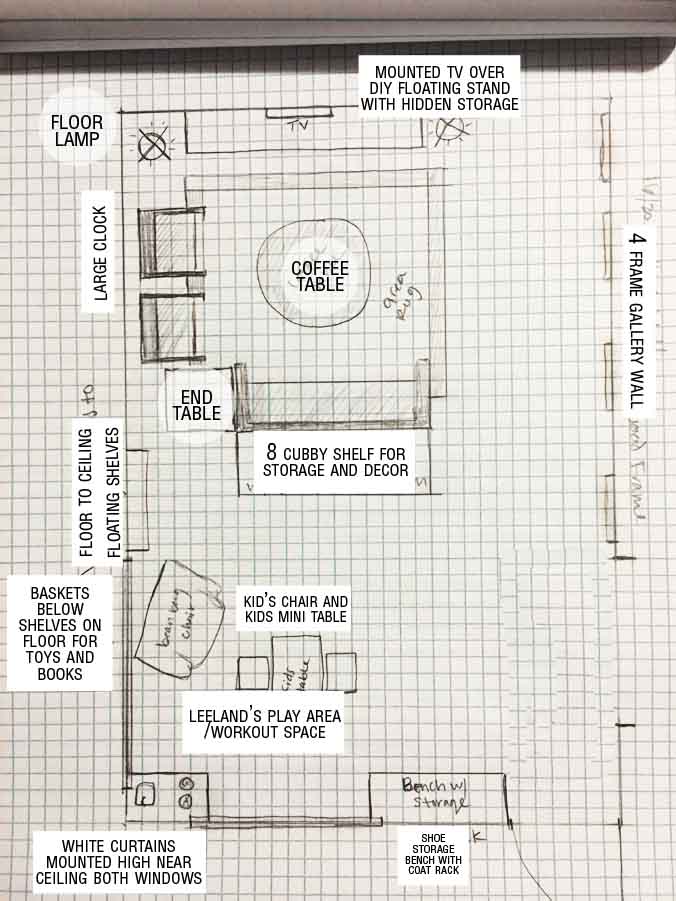 Steps to making this budget country modern makeover
Determine the Cox's interior style and needs.
Design a floor plan.
Choose from 3 style boards.
Create a budget.
Order items.
Have the living room painted and cleared out.
Build necessary furniture.
Setup and style the new living room.
Enjoy it!
I was so excited to bless this family with a room design. But God put it on my heart to go a step further and bless them with more than that. After a couple emails, Wayfair.com generously donated a gift card to the makeover and is the sponsor of this post! Thank you Wayfair! Next I got in touch with some of the Cox's local friends to see if they would help donate used, new, or DIY'd items to the makeover in exchange for family pictures by yours truly. I love seeing a community love on a family. Special thanks usually go on the bottom, but I want to do it up top where it belongs!
Special thanks to:
The Herrigstads for donating a perfect couch (from the local Buy Sell and Trade guys! Never forget those awesome groups!)
The Clarks for the incredible homemade industrial floor lamp.
The Marquez's for building materials, tools, and a couple hours of fun with us :D
And my husband, for his incredible help hauling, building, and assembling with me without complaint. His unquestioning support for my passions means more than I can put into words.
Tasks before makeover  I purchased all the online items and had them shipped to my parent's house in Anacortes ready for me to assemble before the big day. The Cox's painted the living room walls and trim the weekend before the reveal. I love how her $3 oops can (what?!) of Benjamin Moore Repose Grey looks on the walls! Isn't it amazing?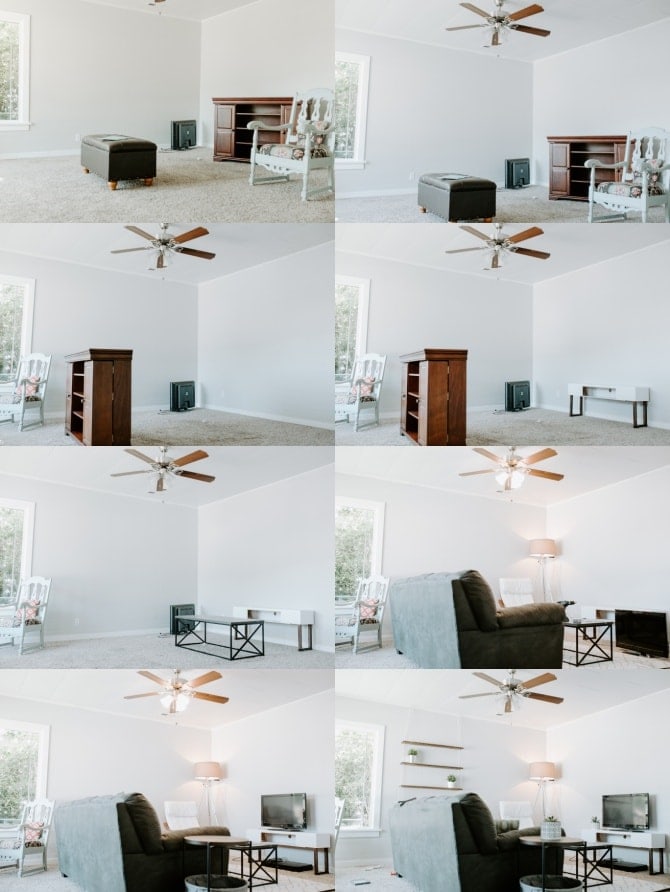 Three DIY Country Modern Furniture Items
To keep this makeover in a small budget I had to decide what I could inexpensively DIY for the biggest impact. We ended up with
DIY rope hanging shelves
DIY modern TV stand
DIY coat mounted rack
All of these were built with scrounged up scrap wood between two homes! My choice of our favorite Dark Walnut Stain always yields a professional finish even on the most basic DIYs!
For speedy projects, use a fast drying stain.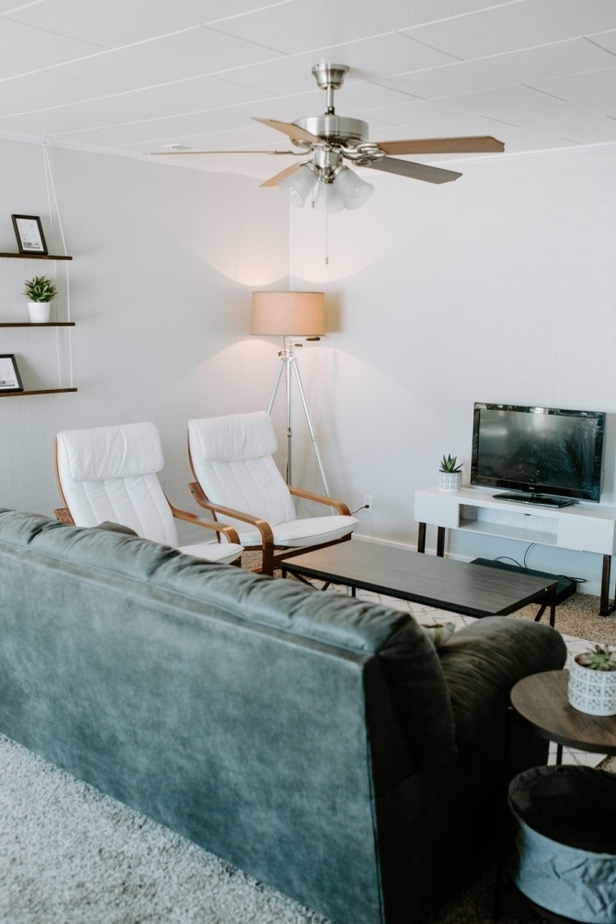 What do you think!? A little fresh paint, a new layout, and some choice furnishings make this country modern living room an entirely new space!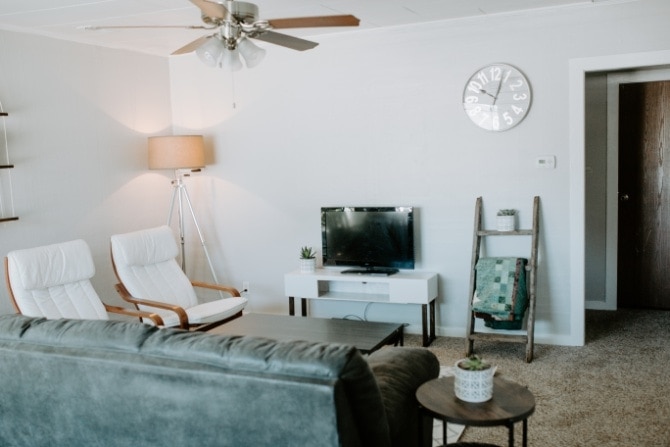 Scroll to the end of this post to find all the furnishing pieces.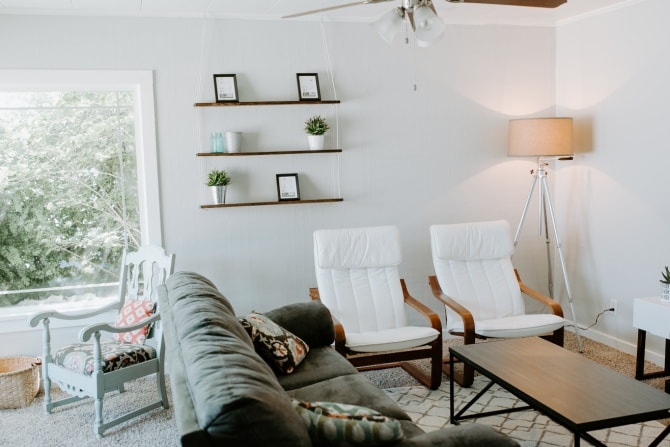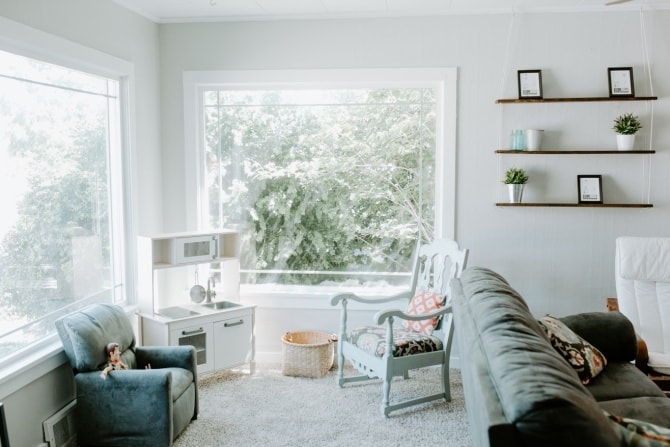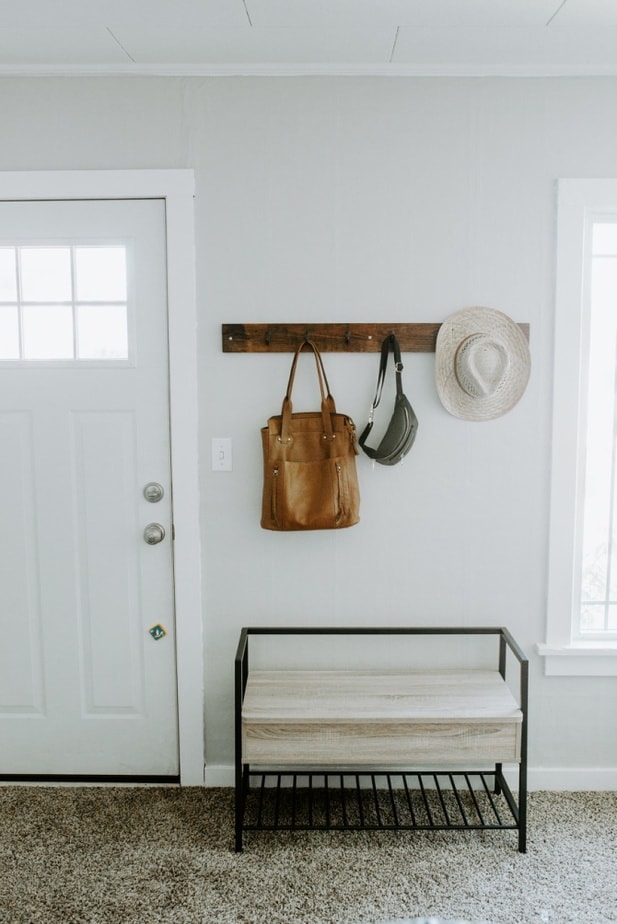 Creating a designated entry way with storage is so important in a home. It doesn't matter if you have a full, separate entryway, or just a door in your carpeted living room, you can make any entryway purposeful!
For the Cox's house, I found a small shoe bench that functioned as a seat, covered storage (the seat opens!), and shoe storage! Placing my 8 hook DIY coat rack above solidifies the entryway and makes up for a lack of entry closet! See a similar coat rack I made for our past Master Bathroom Makeover Reveal, but with adhesive hooks!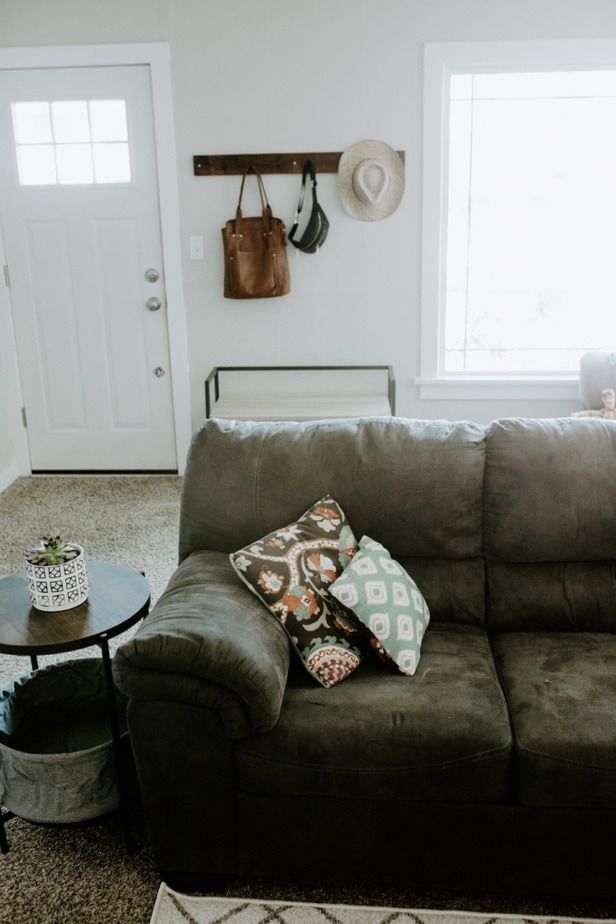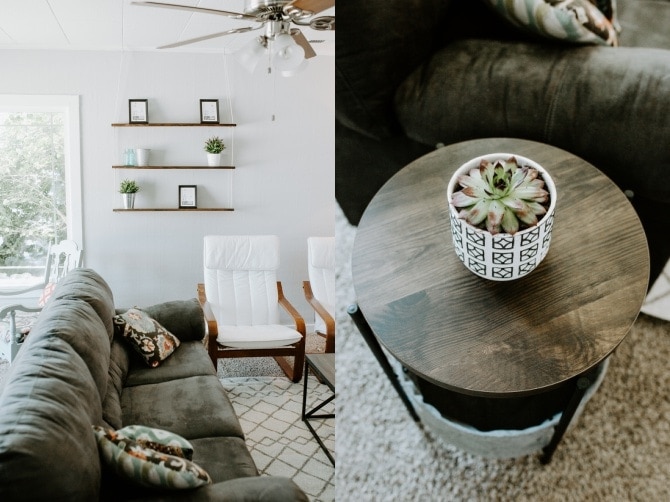 The gray microfiber couch was another incredible find! It's hard to find couches for under $300 unless you do a solid Craigslist or BST (Buy Sell and Trade) hunt. The new couches that I did find for around $300 may have looked cool, but the probability that the quality of construction and comfort would be poor was too high.We found this couch in Anacortes for $175 and it was in great condition!
I not only wanted this living room to look refreshing, I really wanted it to be a space where the family could relax and host comfortably. It's nice that the head cushions can't be thrown down by kiddos and that microfiber is generally pretty easy to wipe down. It doesn't snag like woven couches and doesn't stick or freeze like leather. In other words, a fantastic family couch!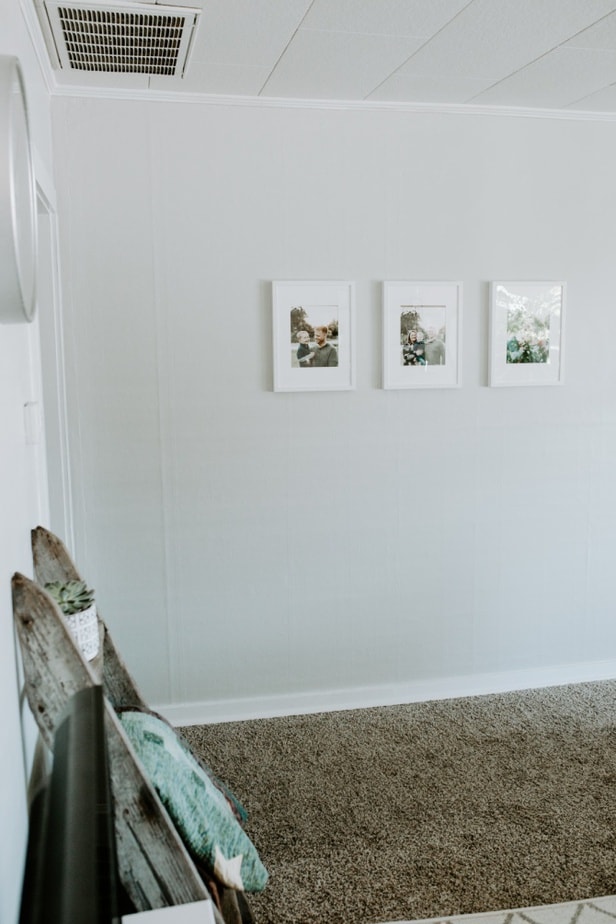 I whisked the family out at sunset the first night I was in town so we could get some fresh pictures for their wall. At first we considered getting oversized frames, but someone donated these 11x14s and the simplified look on the large wall felt very refreshing!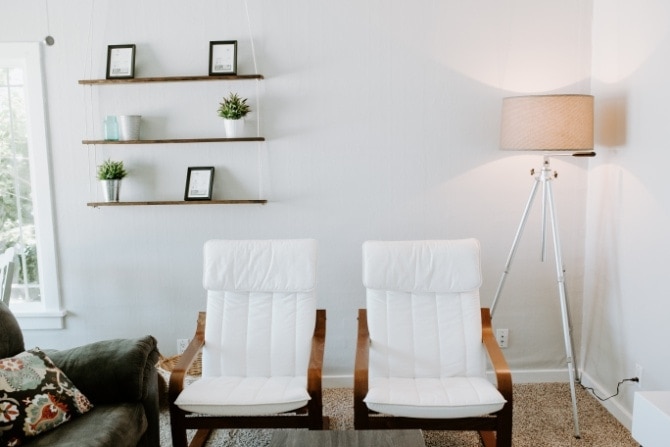 Thoughts on Ikea Chairs
Um DO IT! Ha! These Ikea Poang chairs are lightweight, modern, and incredibly comfortable! They range from $80 to $100 in birch or black brown wood and various cushion colors. They often appear on Craigslist or the BST so keep your eyes open!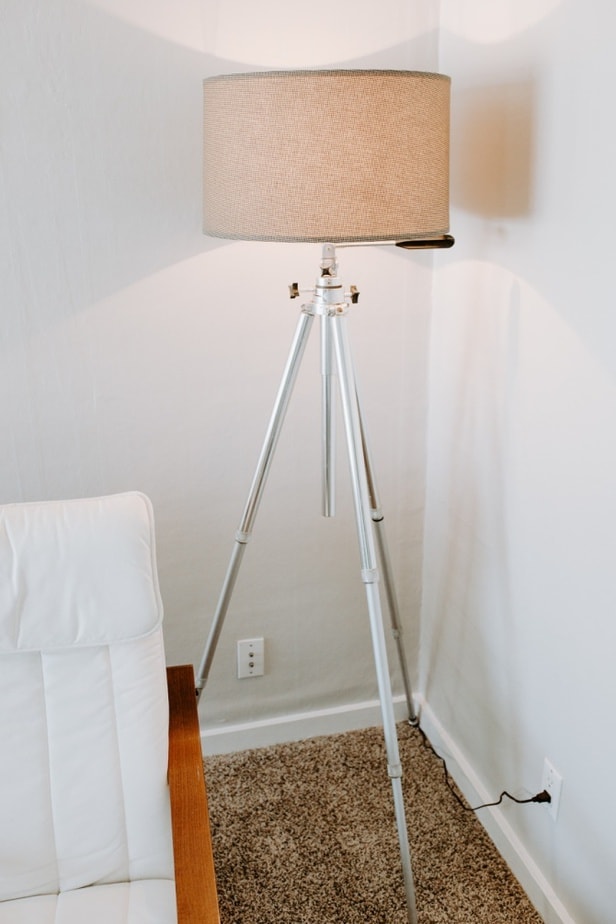 Next we MUST discuss this awesome floor lamp that the brilliant Craig Clark made. When he saw a wooden tripod floor lamp on my style board he asked if I would like a DIY metal one so I could spend the money elsewhere. It's even cooler than I anticipated! The metal tripod was a vintage camera stand he's stored for just this type of project. I'm honored he chose my makeover to share his skills with!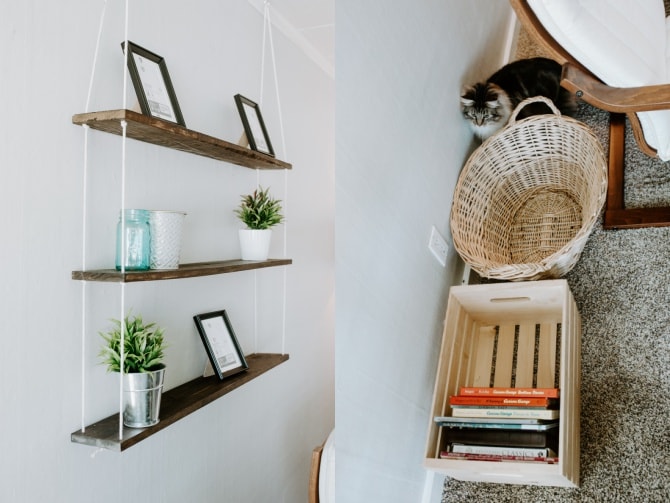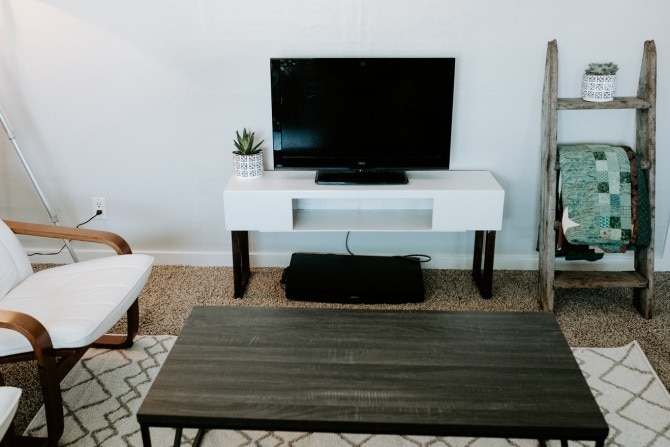 The TV stand was a fun little bit of DIY that I'll be sharing in another post. In summary, my parents had a some steps built for a stage and this was the lowest step. Basically it was a box with no bottom. So we cut an opening for a player, built and inserted those square legs, and covered 80% of the opened bottom side to make a shelf. All of this with leftover wood, stain, and paint!
We provided some wall ties to secure the unit into the wall if they decided to keep the TV stand. (Since it's low to the ground, I totally understood if it wouldn't be the right fit with a toddler boy!) See my favorite DIY floating sideboard TV stand in this post!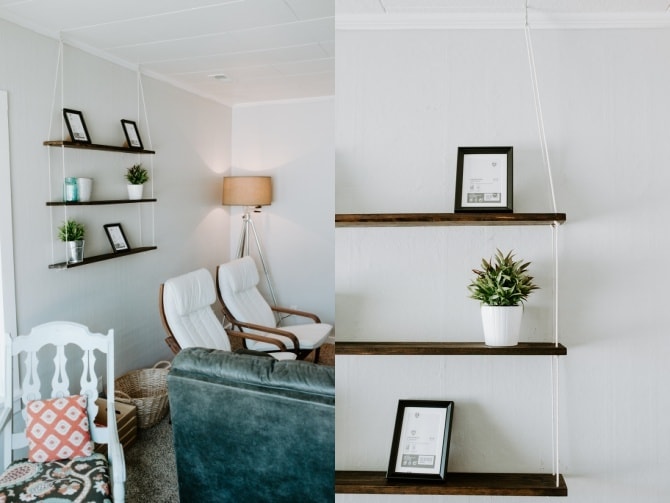 Easy Budget Shelves
I knew mounted or floating shelves would add the perfect touch to this room design. However I ran into two problems: one, the walls are made of lath and plaster and I didn't personally want to mess with heavy hardware in then and risk messing them up, and two nice hardware to mount 3 shelves would have cost me around $45+. I decided to spend the majority of the budget on furnishings so I had to find a way to knock out a few expenses.
A roll of heavy rope cost me about $6, two eye hooks cost about $2, and the wood and stain were free! It took two people to run the rope and tie knots evenly for these shelves. I tried to keep these shelves high enough that the toddler wouldn't be tempted to play on them. Still, I wouldn't recommend placing anything breakable on them. I suggested sticking to lightweight, non-glass frames, tin or plastic faux planters, or hot glued items!
I'll be interested to know how they function in their space! Here are three other shelf systems I've done you will love: Our heavy duty floating shelves round one, heavy duty floating shelves round 2, and these sweet shelves in my space themed nursery!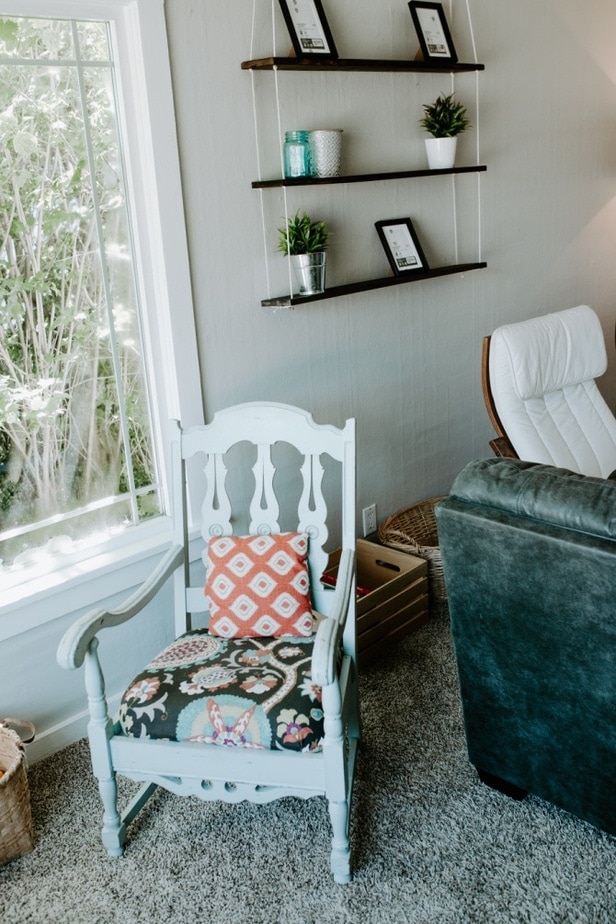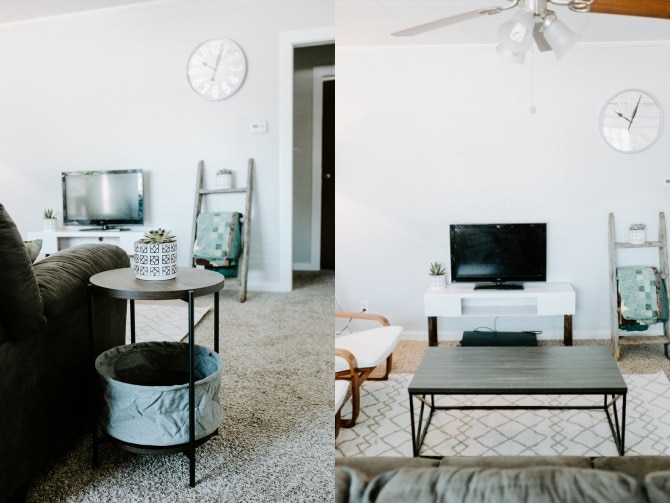 Tips for finding the perfect country modern makeover furniture:
Search Wayfair for things like "industrial coffee table," or "Rustic Wall Clock."
Set your price range right away to narrow your search down.
Note that the least expensive items will require (sometimes extensive) assembly time.
Stick with items that have the most reviews!
Or get more ideas from searching their general categories ("benches" or "area rugs") and save them to a Wayfair Idea Board!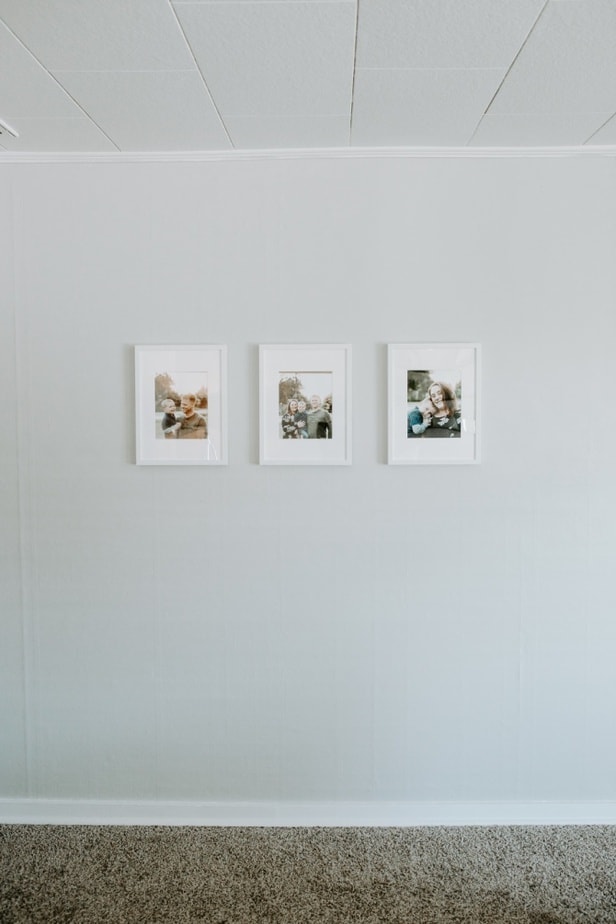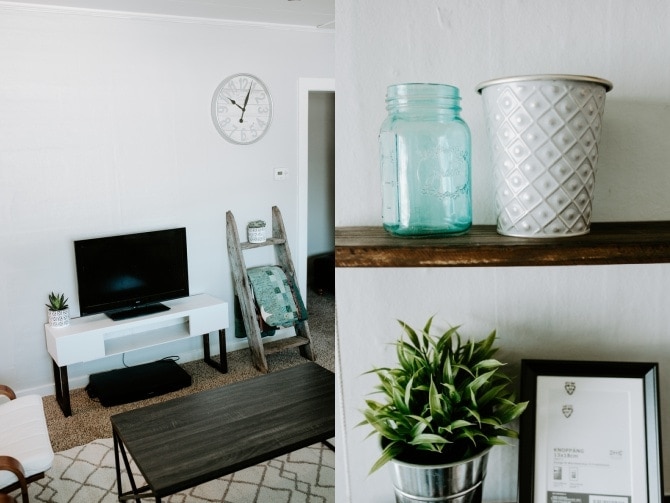 I loved Kaitlynn's blanket ladder and when I saw it hanging outside I put it right back against the wall and added one of her sweet handmade quilts. Just because you're doing a room makeover, you shouldn't try to replace every piece of the old space! If something tells a story to you, you can use it!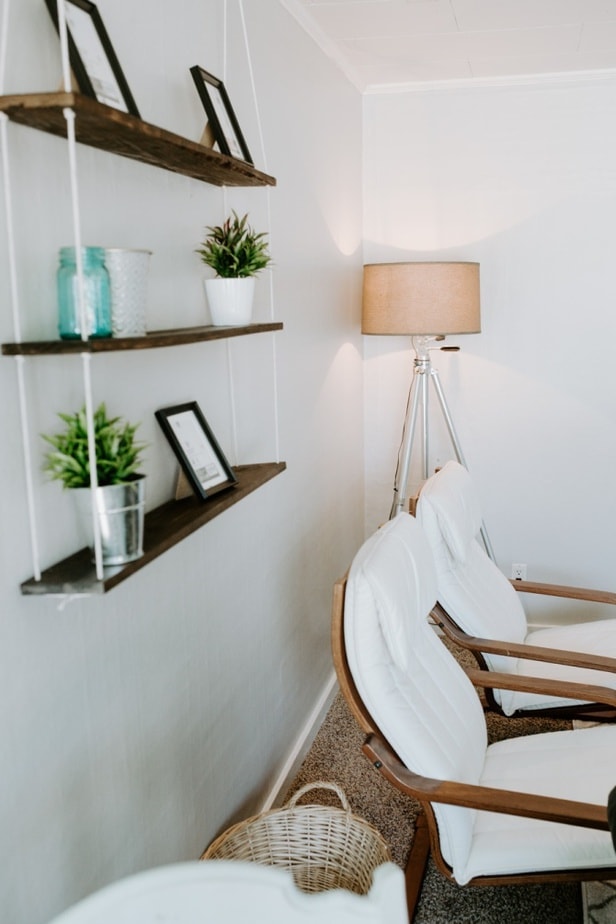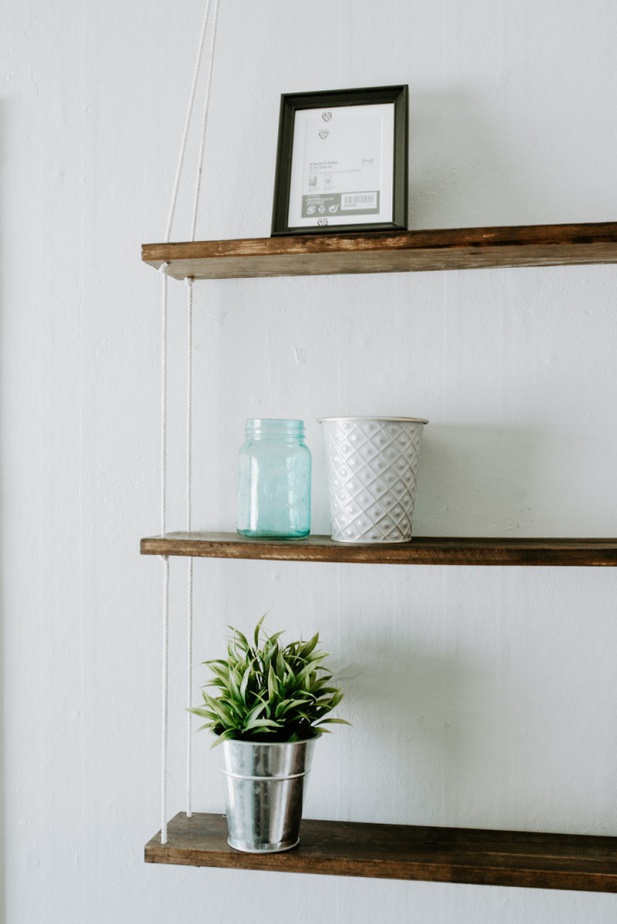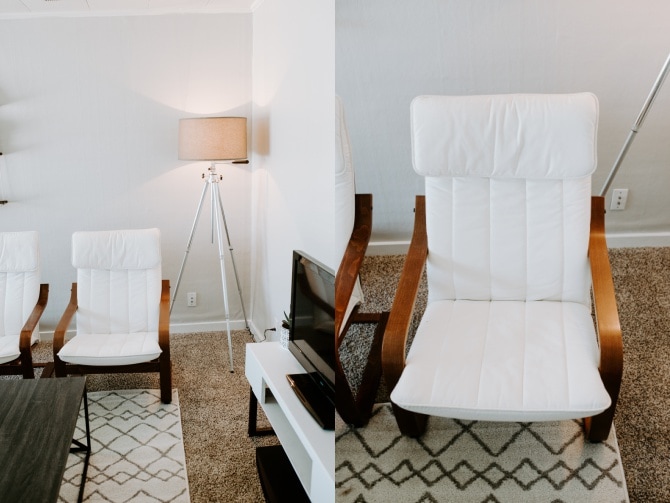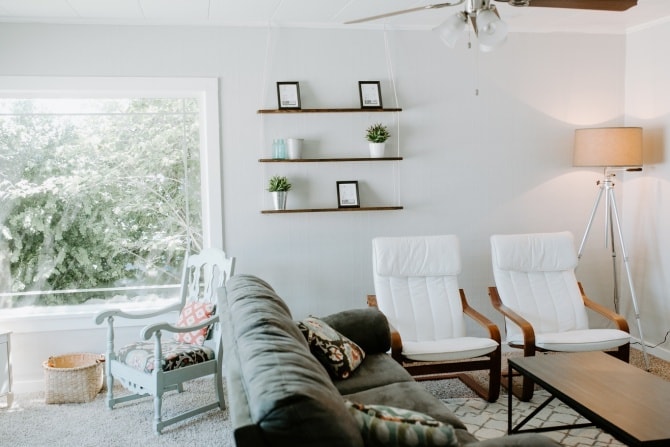 If you're wondering why I, an obsessor of light fixtures, didn't replace the ceiling fan, I actually did try! My husband, my electrician, discovered the fan had no light switch and had to be manually turned on and off via the fixture. So my replacement light wouldn't work this time! Still, once the room was made over the ceiling fan started to fit in!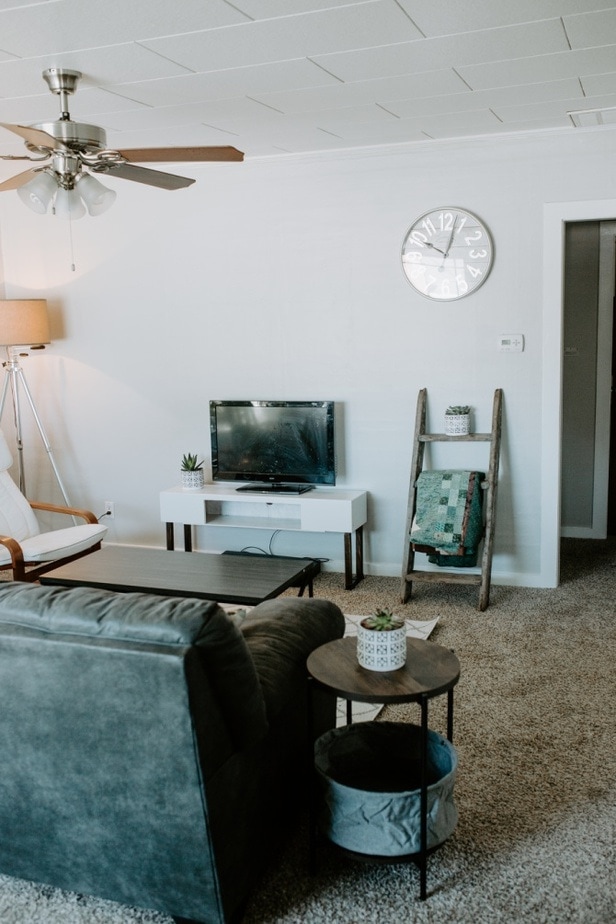 The best part of the day was after our 2 hours of hard work in the house, Kaitlynn came home while I had my camera in hand. She was so sweetly overwhelmed with her new inviting home.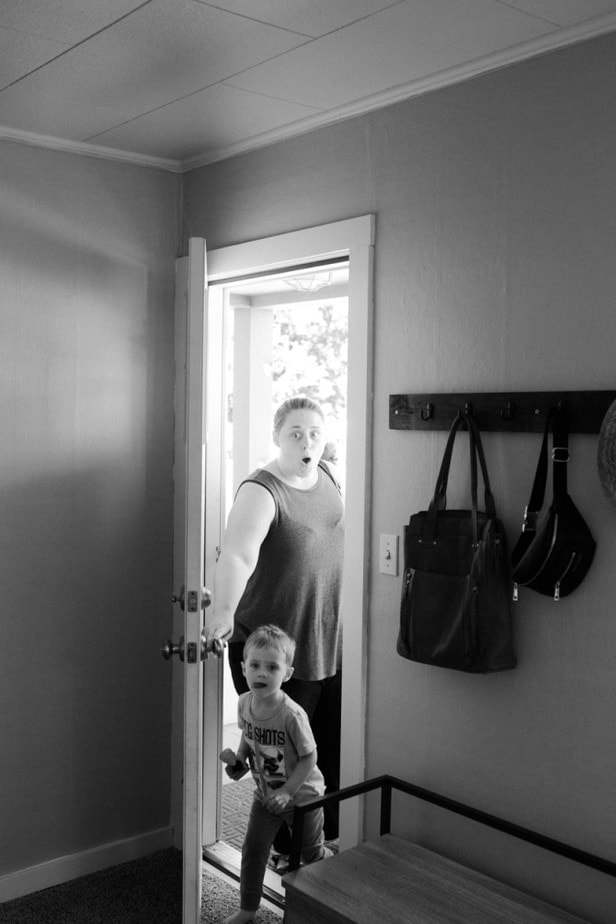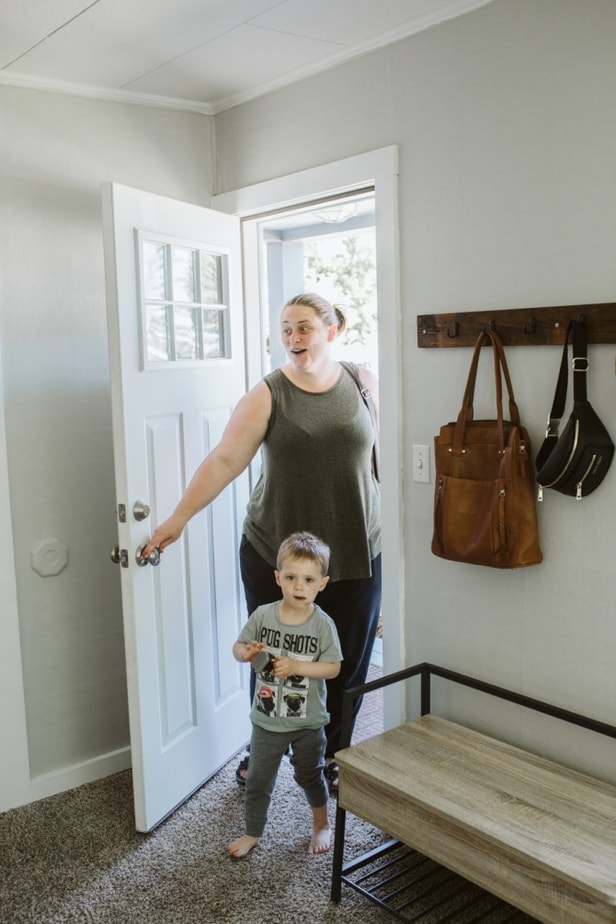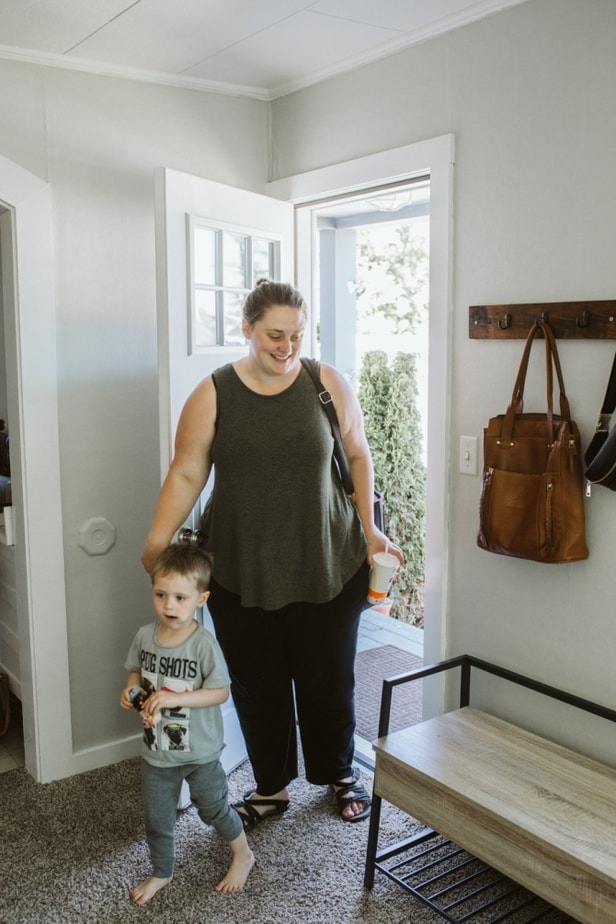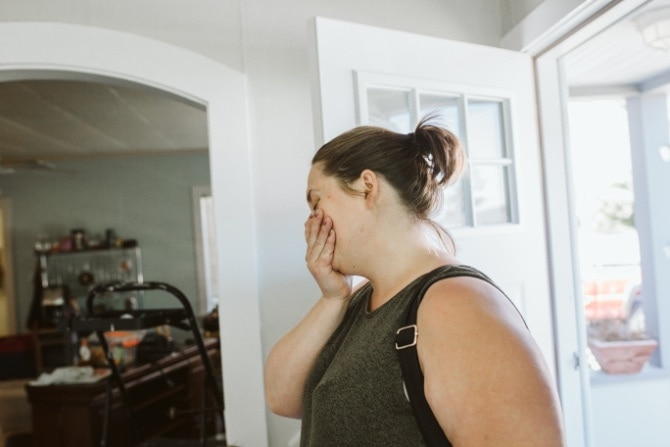 I couldn't be happier to serve a life long friend who has been through more than most people I know. Her heart is full of kindness and love to everyone she interacts with. Now she has a home where she wants to invite those people into. This is why I love interior design. Why I like to share my love for it here on Petite Modern Life. I love creating spaces that invite people in, allow people to relax, and make their eyes happy.
What did you love about this country modern living room makeover? Let me know in the comments below!
Makeover Source List:
Coat Hooks – Amazon
Clock – Walmart
Picture Frames – Ikea
Chairs – Ikea
Couch – Ashley Furniture