Step two: Sketch out a floor plan.
The living room currently has a large sectional against one long wall. In order to make it a multipurpose space I worked off a few ideas and came up with this!
The Living Room Plan:
Break the room into three areas: A cozy TV area, a small play or yoga area, and an entry nook. You can see a similar idea in one of our past houses that had an awkwardly long living room space.
Anchor the television area with a rug and coffee table.
Use a sofa and two small arm chairs to provide flexibility for hosting and add interest to the space. If they chose a sleeper sofa, this room could transform into last minute guest quarters too!
Add one to two floor lamps on either side of the TV stand for atmosphere. The rest of the room has two large windows and opens into the kitchen via a large open doorway which provide great natural light.
For the TV stand, guess what I have proposed? You know it! My favorite DIY Ikea floating sideboard! It would add much needed visual space for this small room and make the space look modern and fancy!
Create obvious flow and more visual space by leaving the kitchen side of the room open with only picture frames on the wall. This allows a perfect flow from the front door, past the kitchen, and into the back bedrooms without hindrance.
Simulate higher ceilings by adding floor to ceiling floating shelves and high mounted white curtains on the large bay windows.
Create an entryway with a shoe bench, coat rack, and catch all right next to the front door.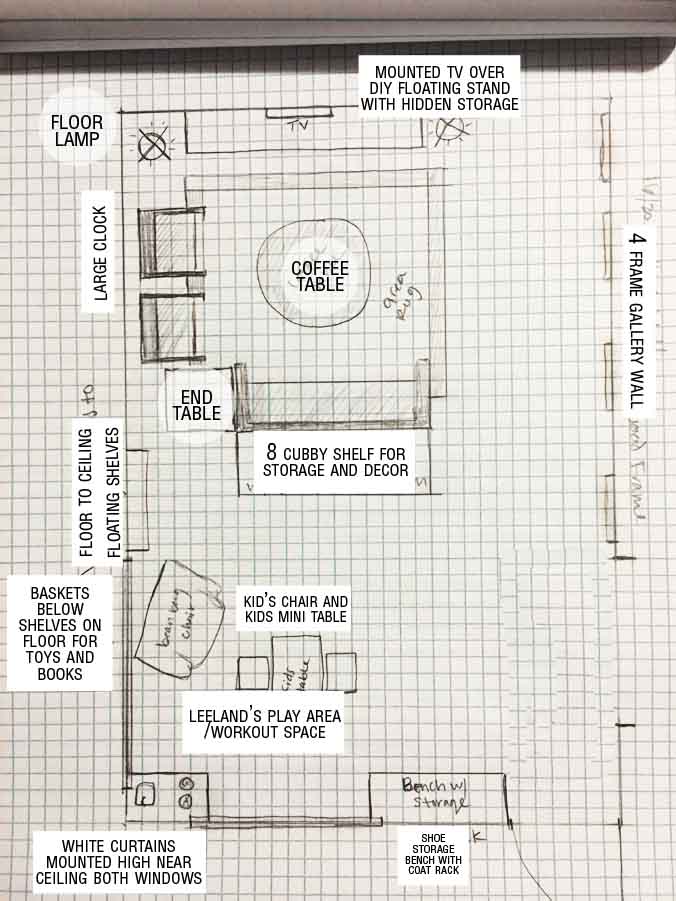 Step three: Create three mood boards to narrow down style preferences.
*** You can find all the links to furnishings below on this Wayfair Idea Board! ***
My first board was neutral with a pop of mint. Are you more relaxed in a neutral room? This is a good example of mixing shabby chic with a bit of the beach house vibe.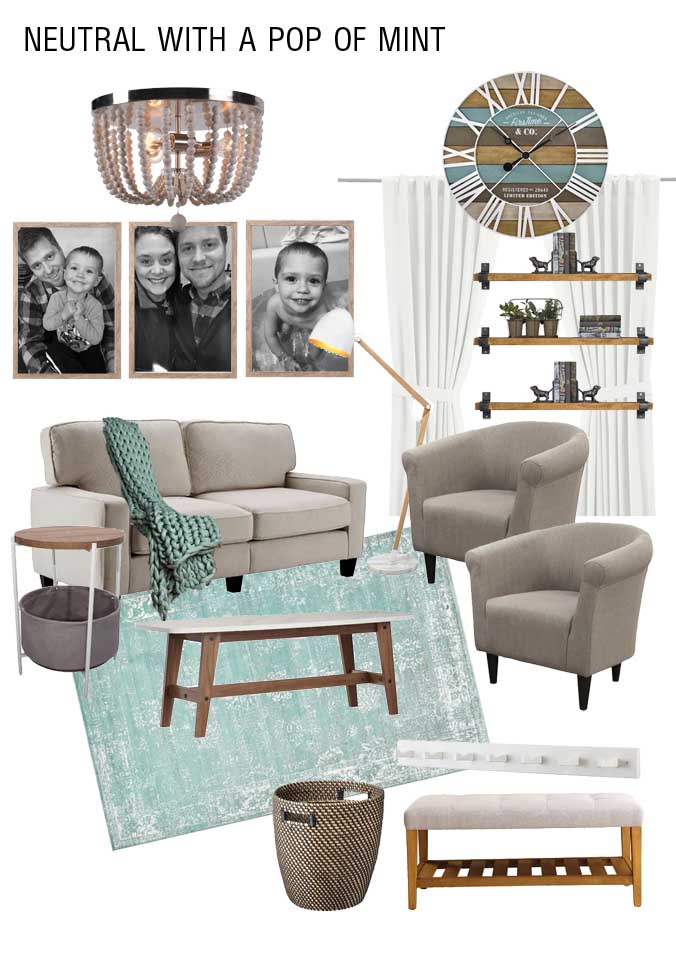 Next I presented a rich room with mid century modern furnishings and industrial elements. The color scheme is still very neutral, but the warm wood tones draw the eyes from piece to piece.
On another note, I'm a firm believer in the Ikea Kallax as an amazing, inexpensive storage solution! Literally– my son has two in his room!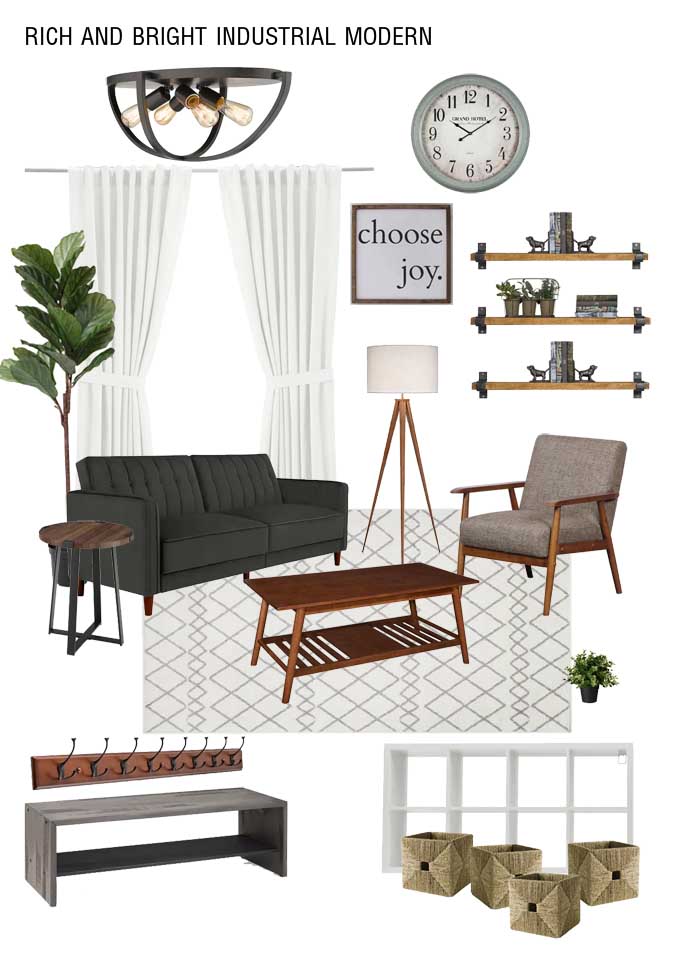 Lastly I made them a more colorful rustic beach house color scheme with navy accents.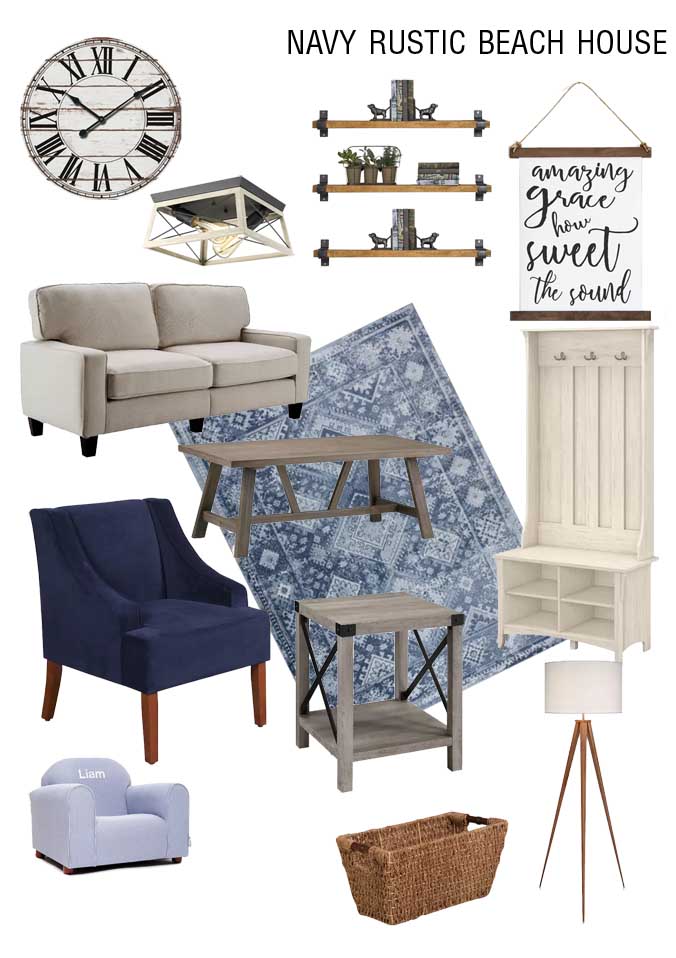 Kaitlynn got back to me with her selection of favorite pieces and I've combined them below! I love how you can take three different styles and make a room that fits your personality all the while maintaining a cohesive look!
A highlight during my design process is when my clients start finding their style in other people's homes and share it with me. Kaitlynn and her husband noted that they really loved the look of a gray couch with a pop of color.
Finding an accent color you love will bring life to a room! Coral is always one of my favorites!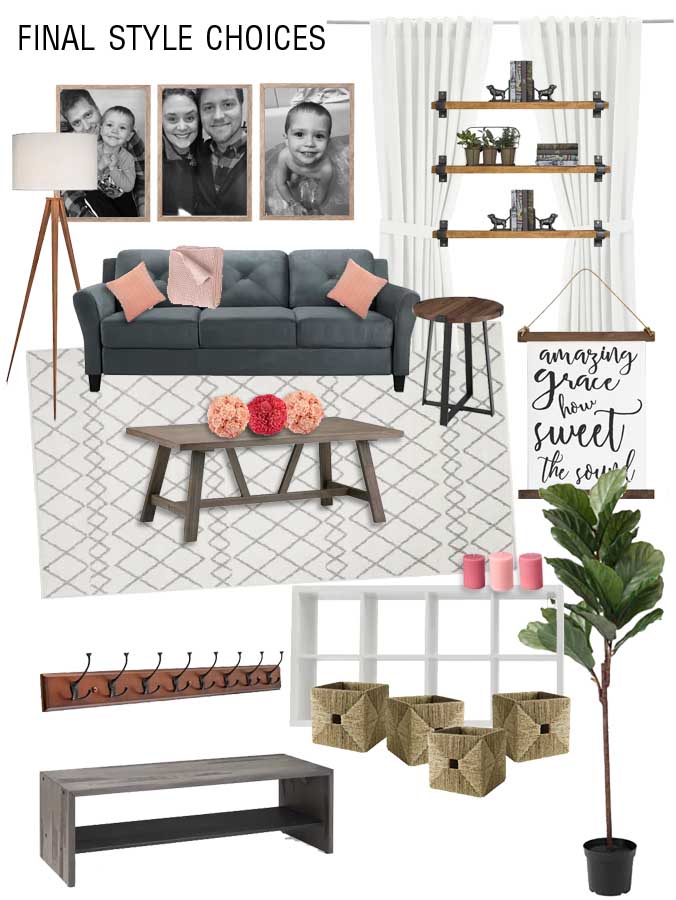 I can't wait to see this room head towards completion this next month!