A few years ago we designed the most gorgeous DIY Ikea floating sideboard as part of our Scandi Living Room Reveal! It was one of the highlight pieces of our rambler remodel along side the DIY faux concrete waterfall island! and the industrial modern bathroom makeover.
If you been around Petite Modern Life you'll recognize this beautiful floating entertainment center as the one from our first home remodel. It was on of the first building projects we did after the kitchen remodel. And I would do a again, and again, and again!
I'm not exaggerating! Every house or space we've lived in since, we've always wanted to make another floating sideboard TV stand. Why? Let me tell you!
5 Reasons we love floating TV stands:
They add so much visual space to a living room. Being able to see the entire floor below your entertainment center is like a breath of fresh air. No dust bunnies camping out and building up their forces, no rogue toys impossible to reach, just air and light!
Cables, DVD players, gaming systems, DVDs, sound system consuls, and other TV items stay out of sight out of mind.
You can mount a floating sideboard exactly where you need, anywhere you need it. Yay suspension rails!!!
You can customize a floating TV stand to fit ANY type of home decor. Keep reading to find out how!
It's more than some storage furniture, it's a statement piece!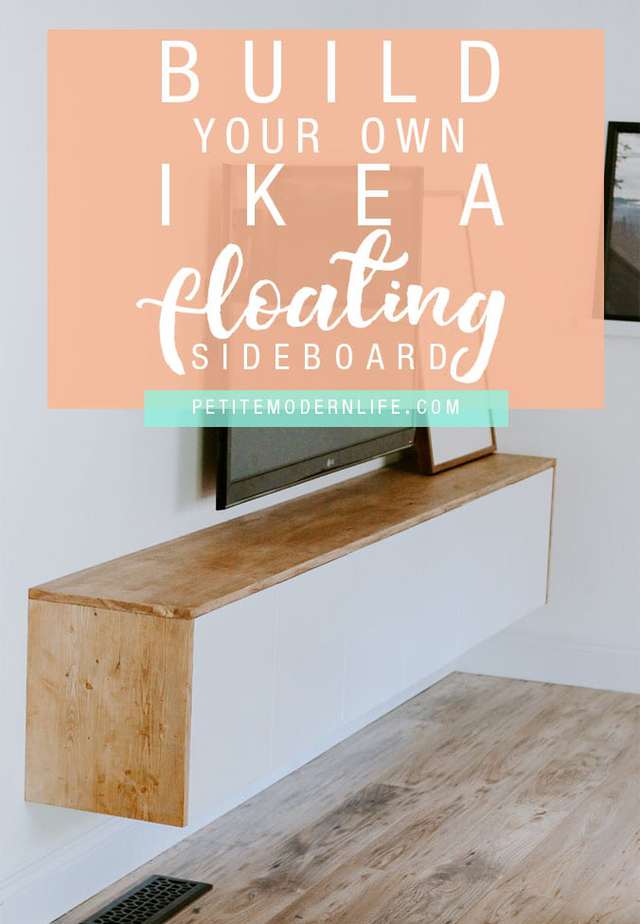 SIMPLE materials for building a floating sideboard:
– 3 double Sektion Ikea wall top cabinet frames. There are options for different lengths and depths. Be sure to measure your TV DVD, gaming, and sound systems to know what size you'll need!
– 6 Ikea wall top cabinet doors. We chose the middle grade white door option for $20.
– Wood top piece. This you can purchase in the Ikea wood countertop section OR purchase the appropriate length wood at your local hardware store!
– Recessed wall cable management boxes
– TV mount
**Note: for our sideboard we used cabinets that were 30″ long, 12″ deep, and 15″ tall. They changed there cabinet selection right after we purchased, so you might have slightly different dimensions.
I love this GIF of some of the sideboard process! Let's break it down below.
How to build an Ikea floating sideboard
1. Assemble the cabinets. Easiest part right? I, of course, couldn't execute an Ikea project without putting something on backwards, and the cabinet back was the winner this round!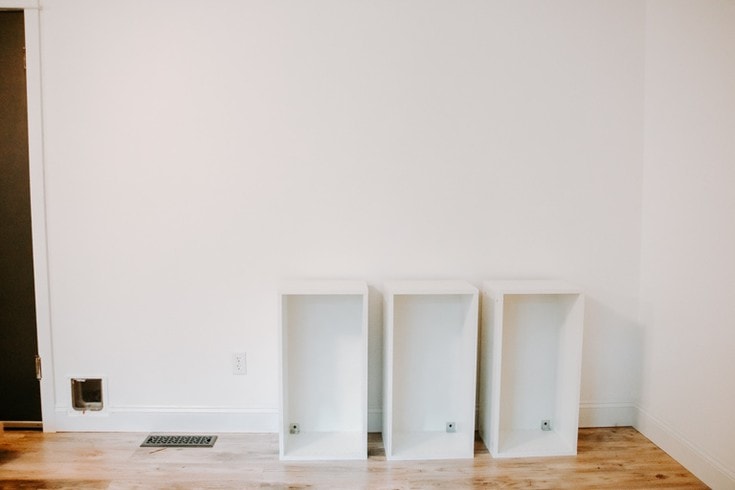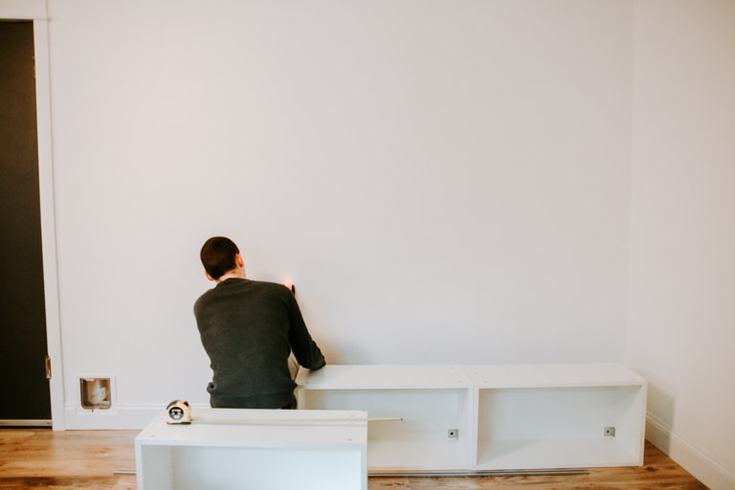 2. Decide where your TV needs to be positioned for optimum viewing comfort. From there, decide how high your sideboard should be mounted. Our cabinets are about 10″ from the ground.
3. Attach the suspension rail(s) to the studs. Be aware of your electrical wiring locations in the wall before drilling. We cut one of the two suspension rails to fit across all our shelves.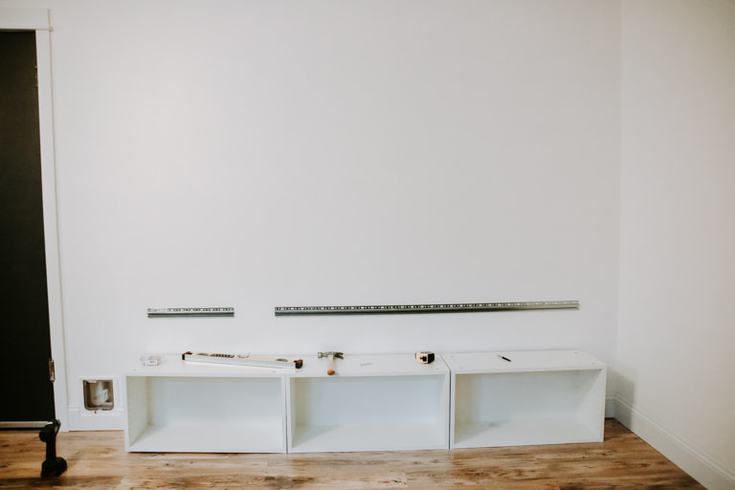 4. Mount and screw in the cabinets, checking they are level as you go.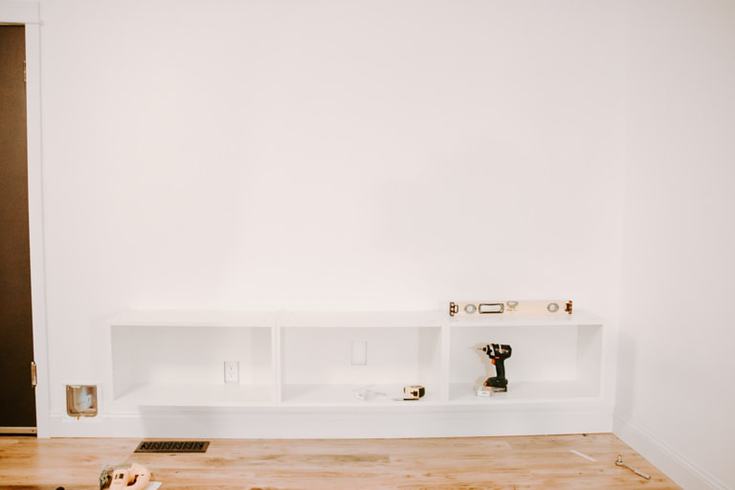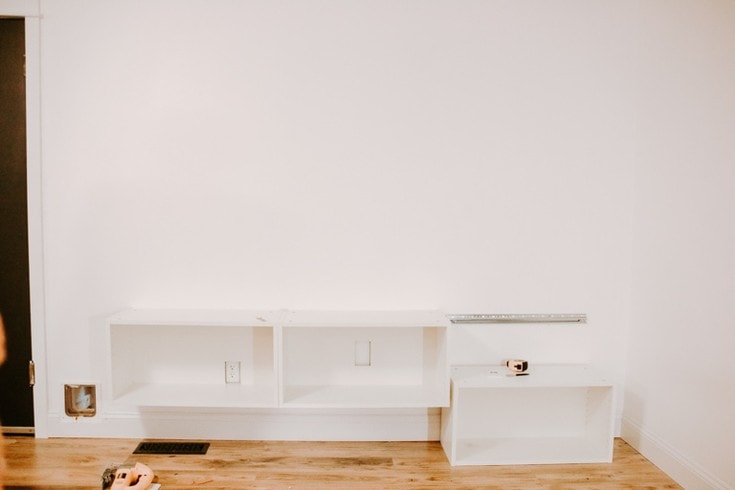 5. Secure your TV mount (this Amazon swivel one has 26,000 positive reviews ) so you can determine where your TV cords need to run through.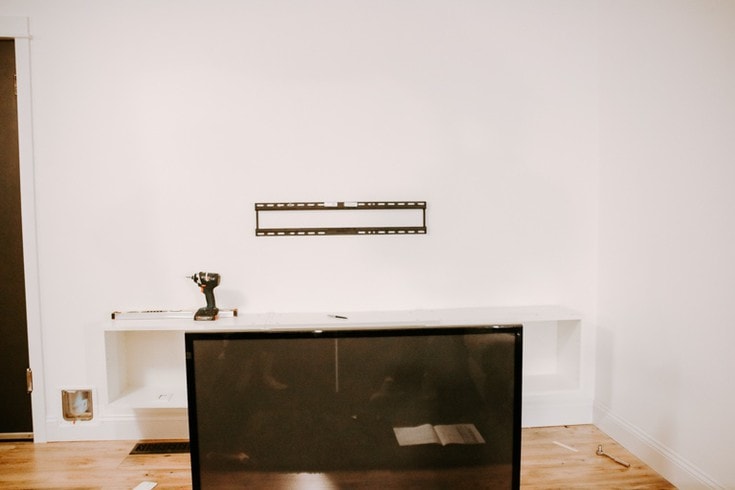 6. Cut the appropriate sized hole in your wall for using recessed wall cable management boxes. You'll need one next to the TV and one inside of the floating cabinet.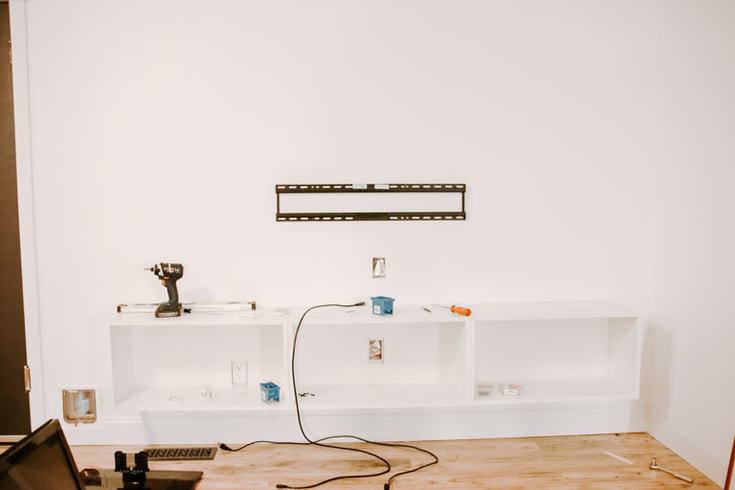 7. Run the necessary cables from your DVD player or sound system up through the cable managers towards the TV.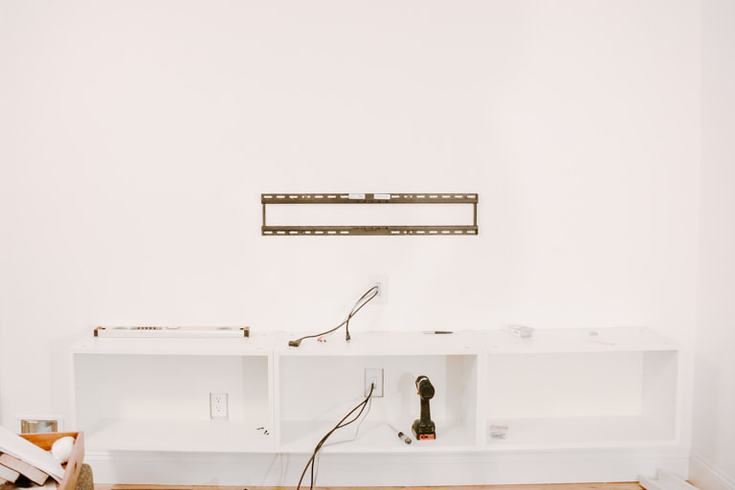 8. If you need more space for the various TV systems (sound system, gaming system, dvd player, etc.) drill a hole t0 connect two cabinet spaces to pull the additional cords through to your hookup.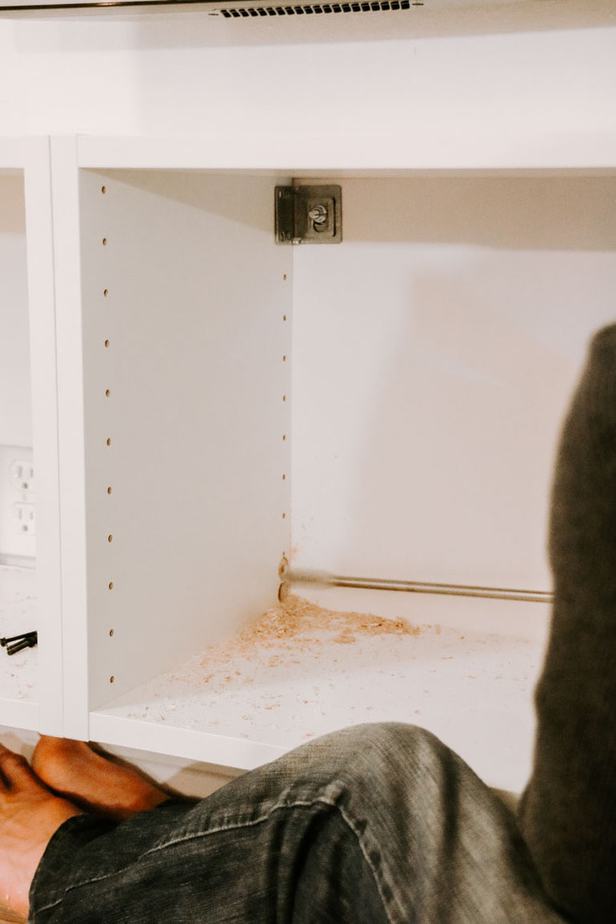 9. Mount your TV and connect the cables.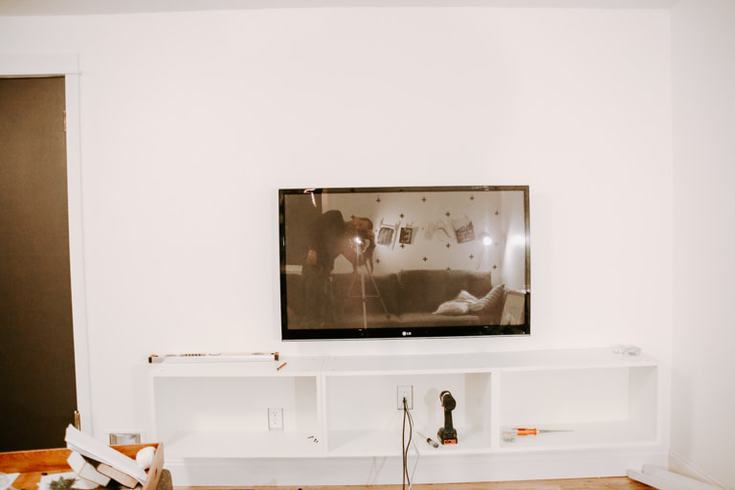 10. Attach the cabinet doors.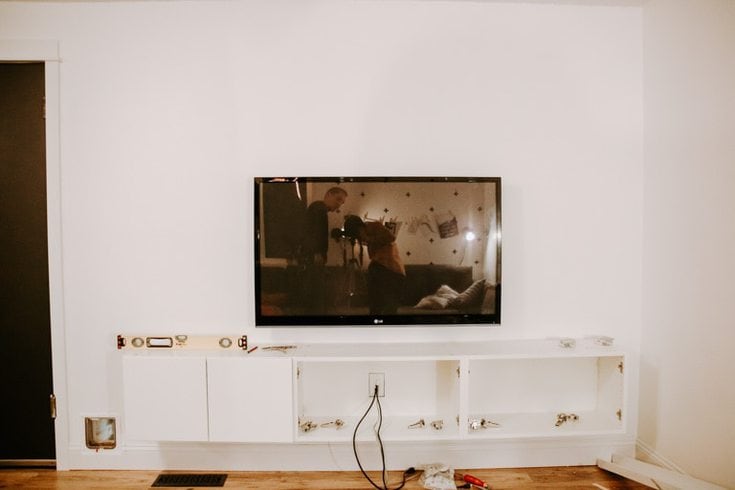 11. Using a nail gun, attach the pre-stained board to the top of the cabinets and then the sides. We used a pine board we found at Lowes. We chose to let the top overhand and the side be nailed in underneath.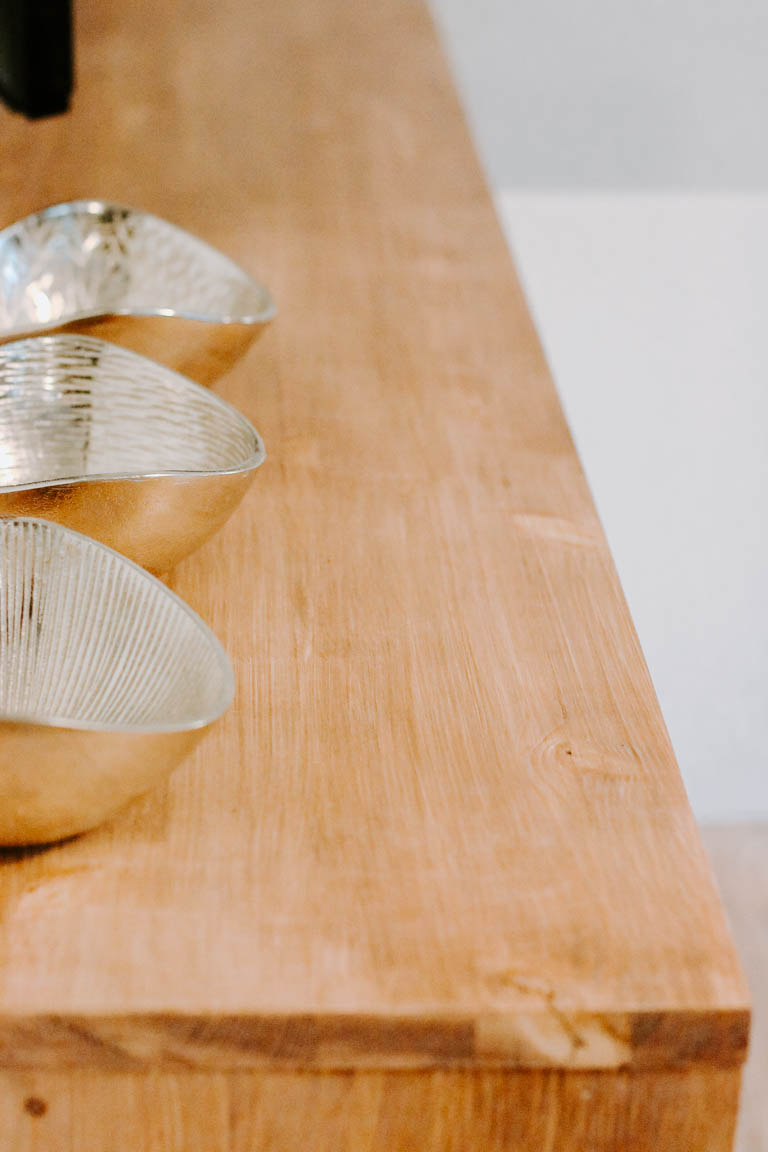 That's it! You've just made your own DIY Ikea floating sideboard that will wow your guests, keep you organized, and enjoying your television at the exact level you love.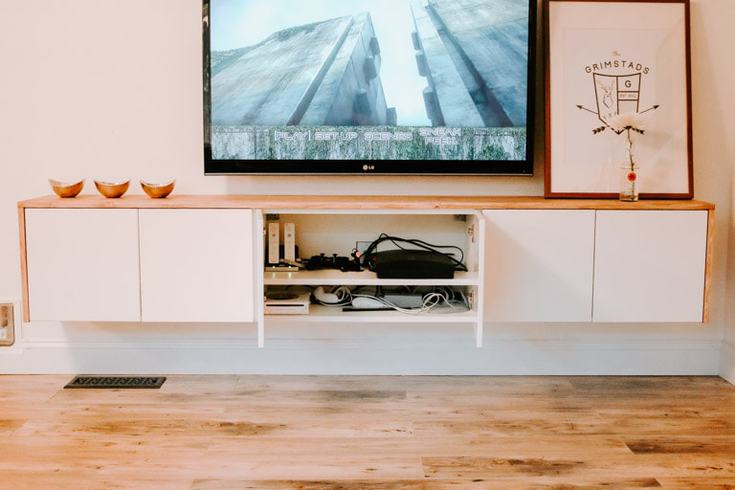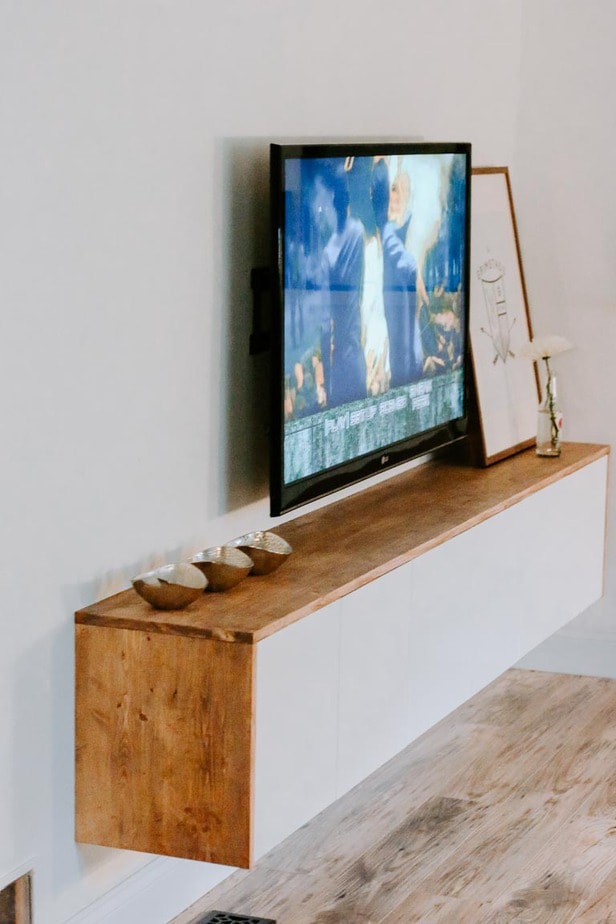 It feels SO good to have those cables out of sight! You'll pat yourself on the back over and over again I promise!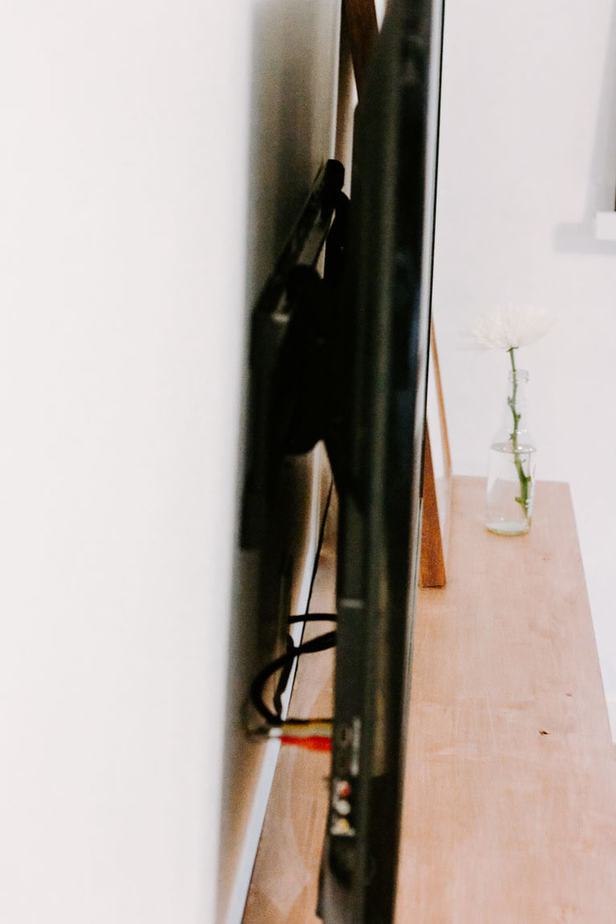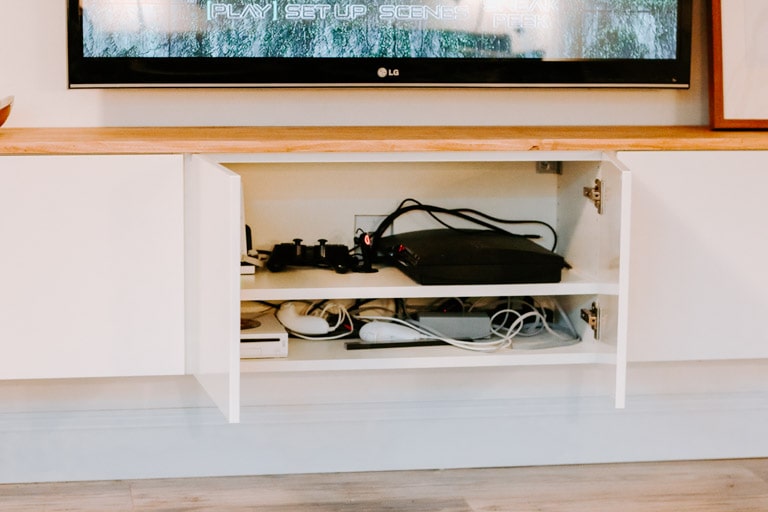 So crisp and so clean!
How to customize your Ikea floating TV stand to fit your exact home style.
So maybe you like the idea, but are not thrilled about our minimal, white, and modern farmhouse style floating sideboard. That's ok! Follow these tips for customizing your floating sideboard to get the exact match for your home style.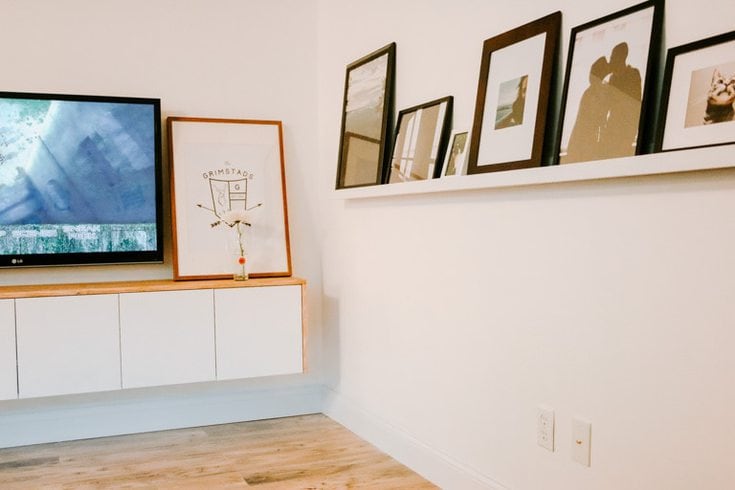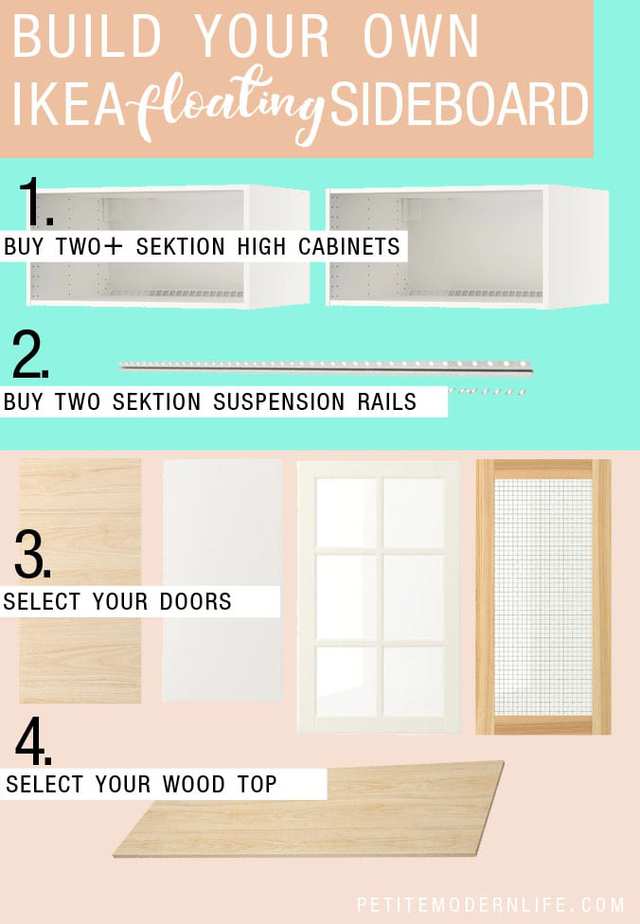 1. Paint your cabinets.
I'm all about customizing Ikea furniture by painting. In my post about Building Your Own Ikea Desk, I share how you can easily paint the flat surface.
All you need is a high density foam paintbrush roller and a few layers of paint. Paint it darker or a pop of color that matches your living room mood!
2. Choose a unique cabinet door.
Ikea sells a variety of cabinet doors that will transform your floating TV stand. Look at those or make your own! For a more rustic chic look you could use chicken wire fronts. For a shabby chic look use farmhouse style pained glass cabinet fronts. For a Scandinavian modern TV stand combine the raw wood and white cabinets together.
3. Stain or paint the wood cabinet top.
We tend to go for dark walnut stain for a LOT of our projects, but there are SO many stains to choose from. Choose a brown gray for a shabby chic style. Choose a rich brown for a more traditional home. Paint it navy for a masculine look. Paint it blush for a feminine pop!
4. Decorate the shelf, don't clutter it.
Use this TV stand as a decorative piece on top, storage on the bottom. Aka, hide the junk behind the doors and utilize that empty top as a shelf to display your home style. Add picture frames, plants, or small wire baskets as little catch-all's. Challenge yourself to keep the top clear of clutter and you'll love how it adds to your home decor variety while still being utilitarian!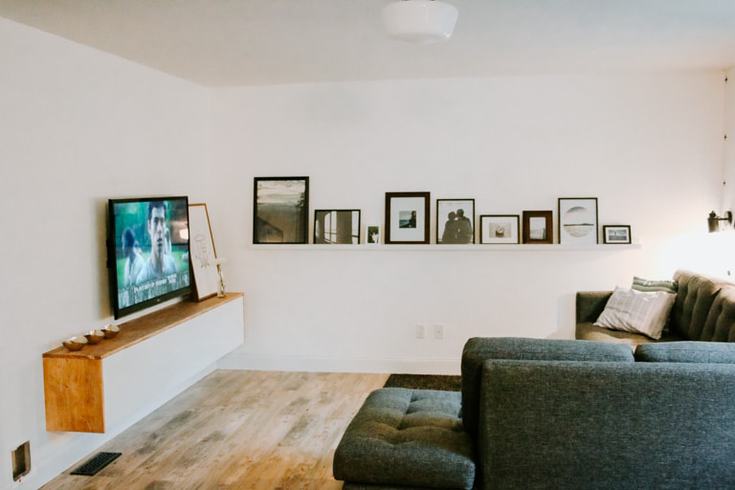 What else you can use a DIY Ikea floating sideboard for.
This sideboard doesn't just have to be used as a TV stand, it can be used as:
A wet bar in the dining room.
A floating vanity in the bedroom.
Entryway storage floating shelf.
Kids playroom storage with storage space below too!
Floating nightstands.
Laundry room storage (down low or up high!)
I love that all these piece can be purchased individually and at different prices that will fit your room decorating and budget needs!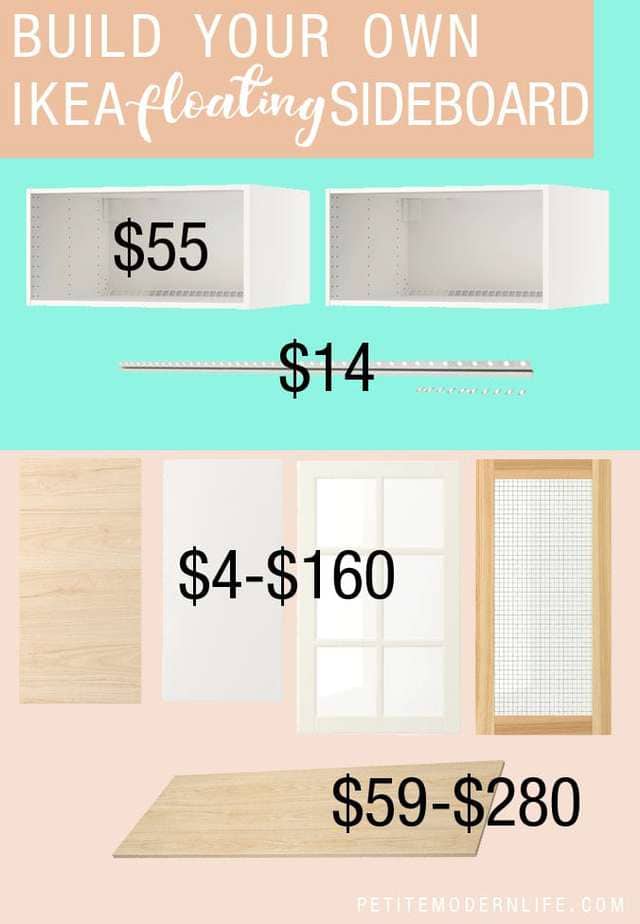 The cabinets themselves come in different lengths and widths so you can do this project regardless how much space you have!
With a floating cabinet you'll have more storage, hidden storage, hidden cables, decorating and visual space in whatever room you have to work with.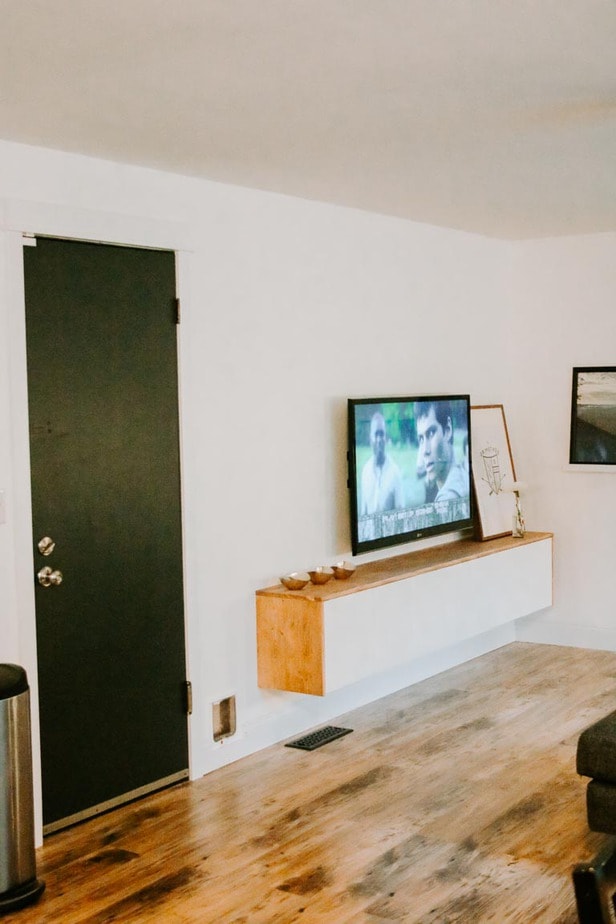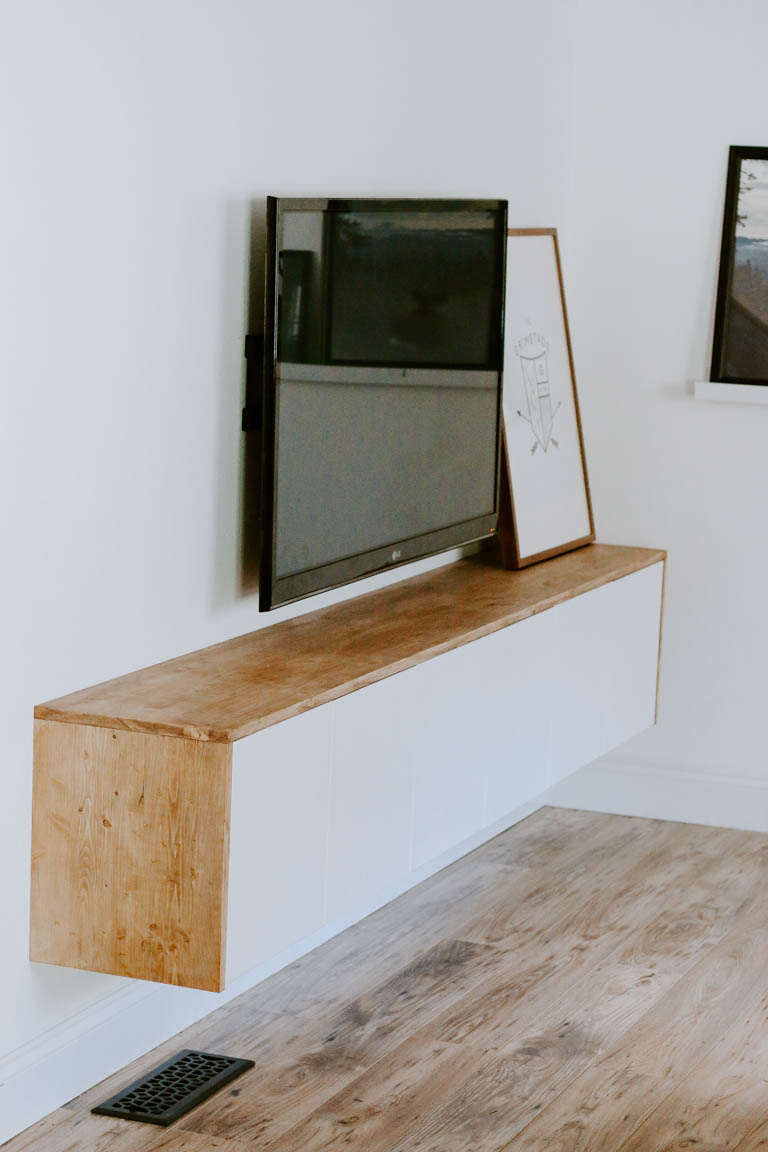 *Click the images below to see the full living room reveal and other living room projects!**