We did it! We completed our second One Room Challenge (along with over 180 other bloggers) and finished our master bathroom makeover in 6 weeks. As predicted, there were some bumps, but all in all we completed the vision and have been enjoying our completely made over space.
Let's look at the before pictures.
Pretty builder grade standard which was actually perfect for my intentions of using the bones of what I had and sprucing it up with some paint and little additions!
Here was the process of our master bathroom makeover
Remove backsplash and spray paint counters
Paint gray walls and baseboards
Paint vanity
Spray paint light fixture and hardware
Paint black wall
Remove toilet, lay and grout floors and backsplash
Caulk floors at the baseboards, around toilet, and caulk backsplash
Build, stain and mount mirror trim. Stain towel rack
Mount shelves, vanity hardware, and towel rack
Decorate
Use the glorious bathroom finally!!
And OF COURSE share with my wonderful friends and readers who have been so sweet to see it finished!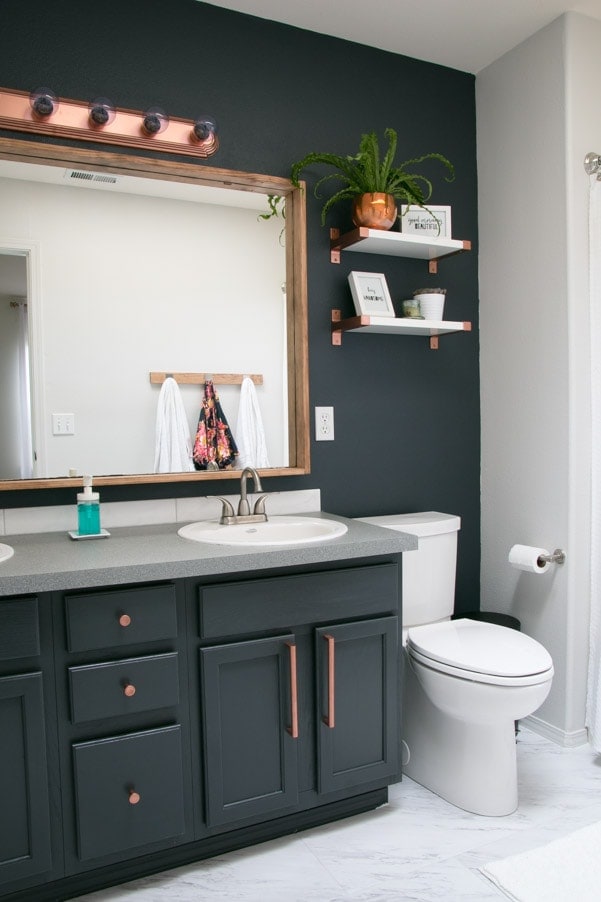 Boom!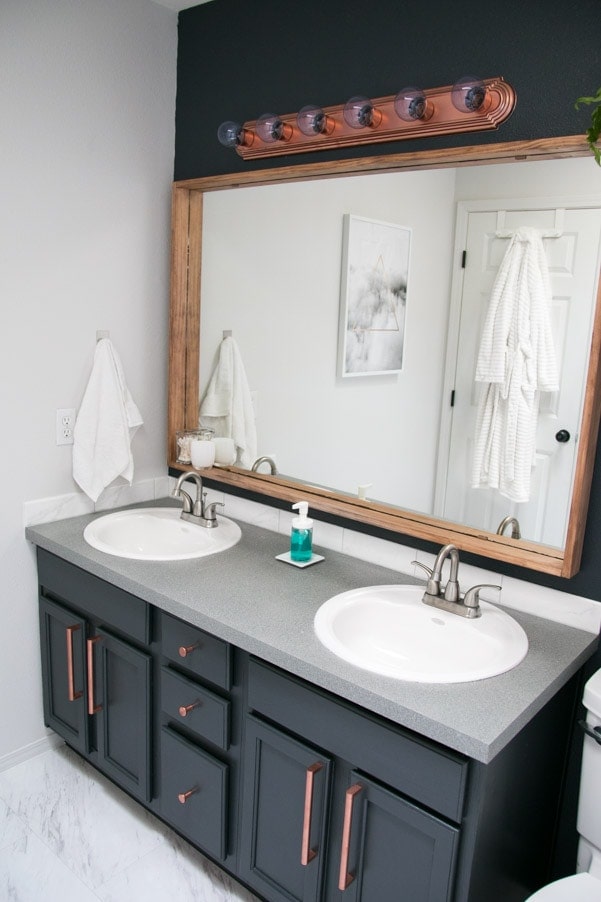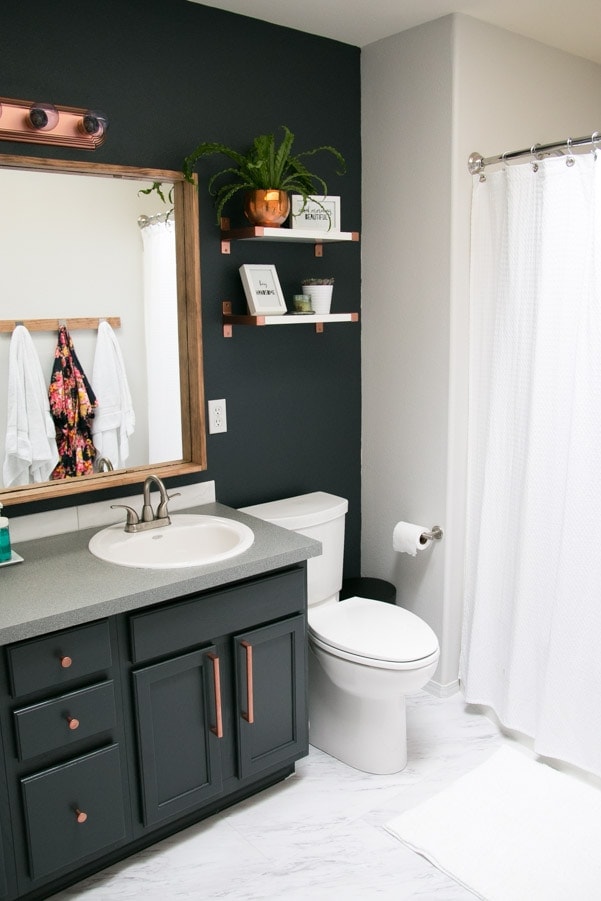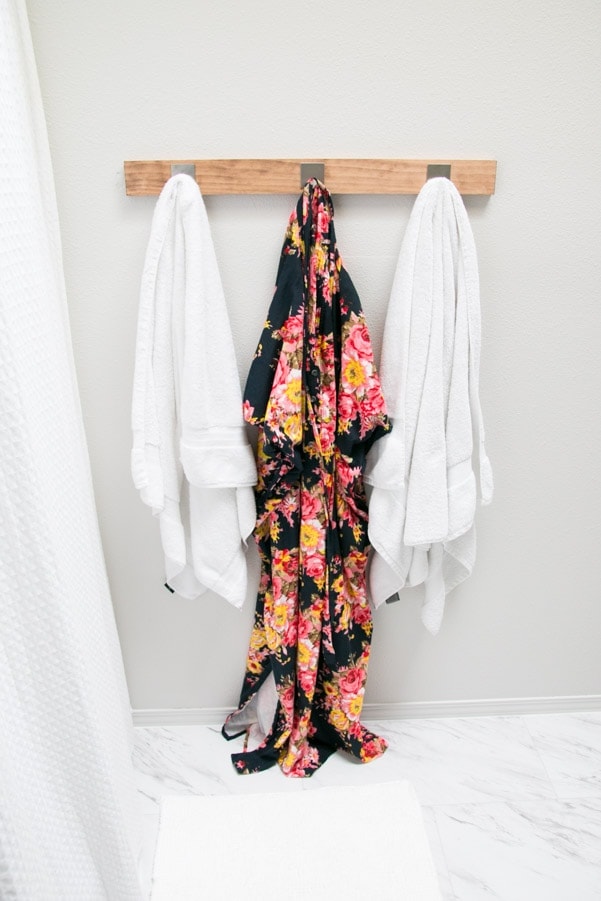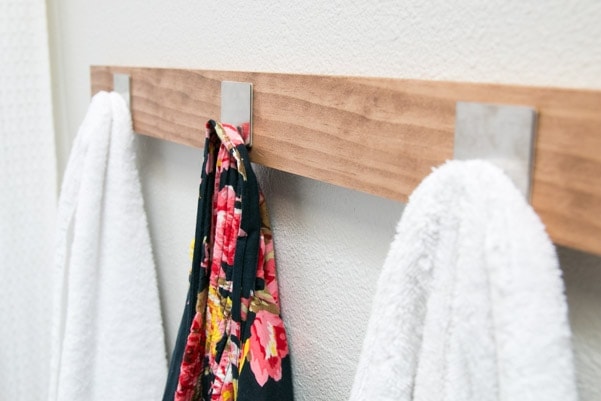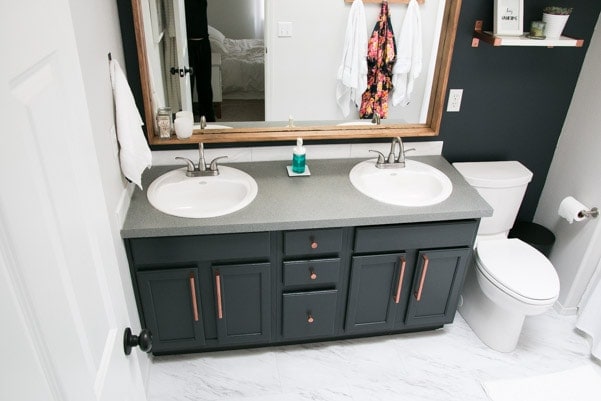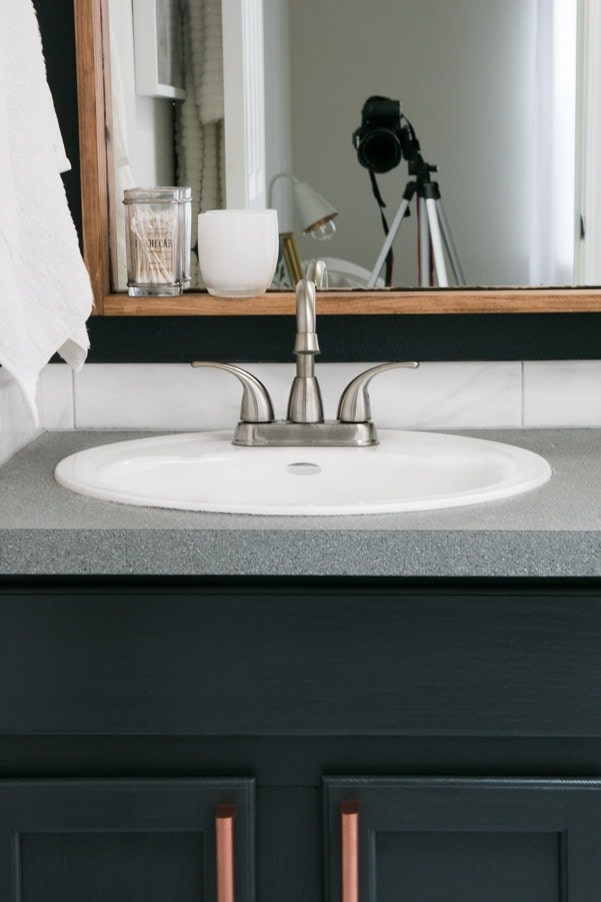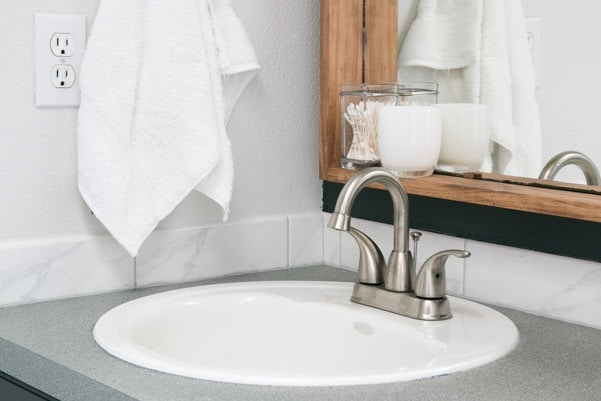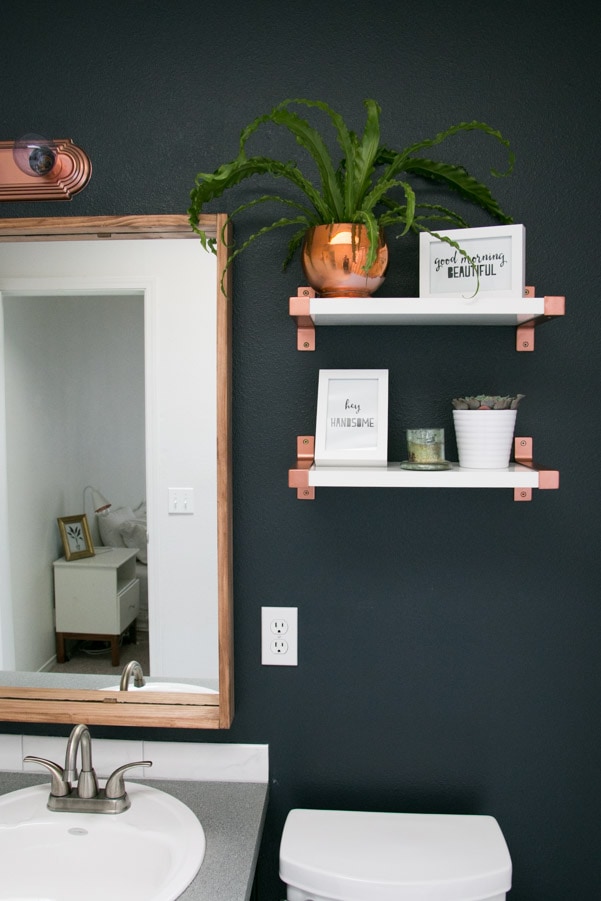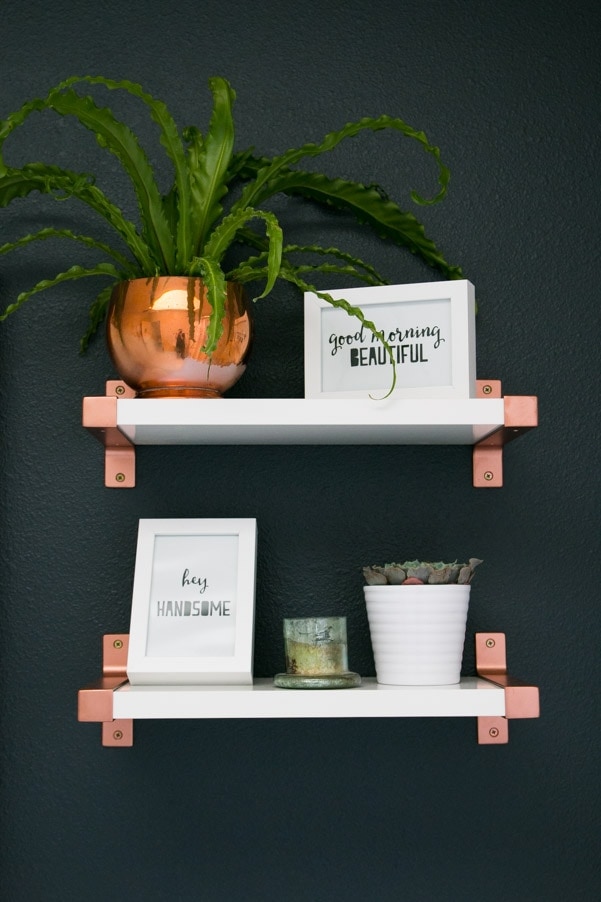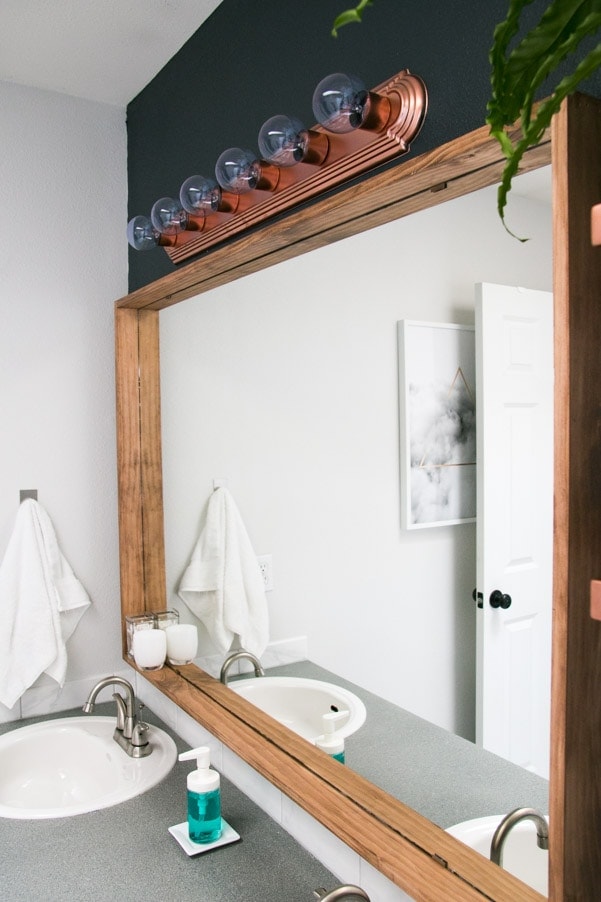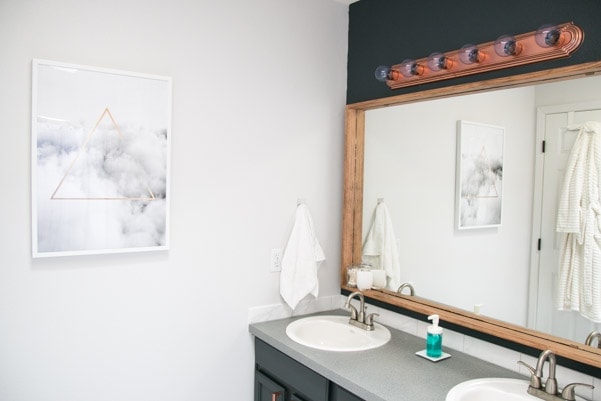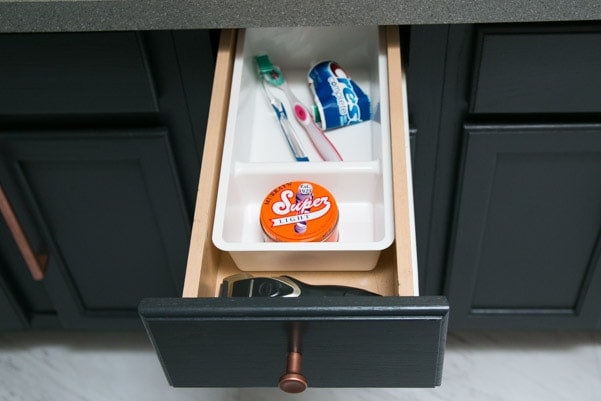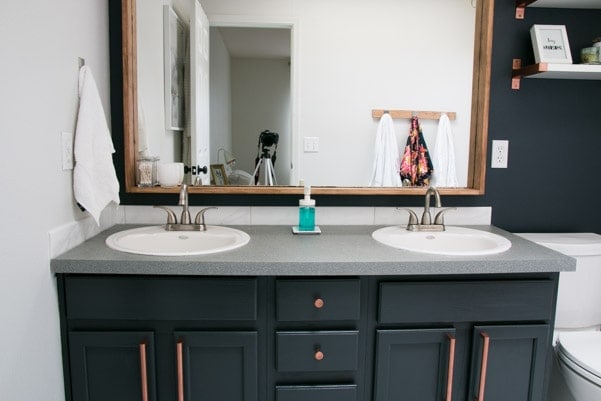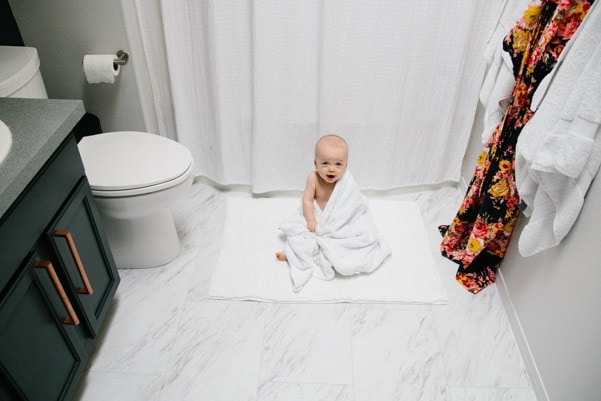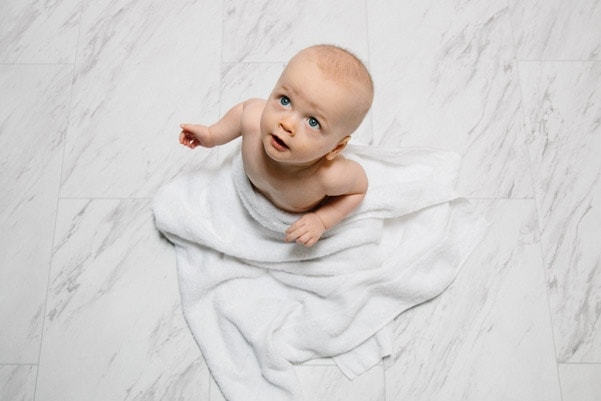 Even my little snuggle bug is loving the space.

Picture overload! Every angle is so different and fresh that I couldn't resist. (And throwing a squishy baby in the mix was too tempting to pass up.) I'll go into some of the decision points and product reviews in the next week. There's just too much beauty to take in as well as text!
As promised here is a cost breakdown of what went into this makeover. My initial budget was $100, but that didn't happen. Still, I was quite pleased with how much we did to this space with the dollar amounts below! I broke the costs between the actual items that made the makeover and the additional decor items I purchased per my taste. Anything not listed (paint, caulk, decor, extra hardware) we already had on hand!
Source List & Cost Breakdown
Cabinet color: Benjamin Moore Wrought Iron
Accent wall color: Benjamin Moore Witching Hour
Surrounding wall color: BEHR Ground Fog (mixed with leftover BEHR Silky White)
Wood stain: Dark Walnut (about 2 coats)
Vanity Hardware: Ikea (spray painted)
Follow links below for the type of counter spray paint, hardware spray paint, and tile specs!)
Remodel Breakdown: $182
$26 Mirror and towel rack wood
$45 Shelves and brackets Ikea
$18 Light bulbs
$1.50 Drawer knobs Ikea
Decoration Costs: $60.50
$19 Picture frames Ikea
$11.50 Plants Ikea
$1.50 Soap dispenser Ikea
$1.50 White planter Ikea
$4 Drawer organizers Ikea
$7 Triangle art print Etsy
$9 Bath mat Ikea
$7 Door rack Ikea
Total Cost: $242.5
So you see?! A fabulous bathroom makeover doesn't have to cost you an arm and a leg or break your back. Never underestimate the power of paint and mirror trim in a bathroom. Oh and vinyl peel and stick floor! It's so easy to install and requires no tile saws. And you can grout it which makes it look totally legit.
Leave any questions below and I'll get to them. Thanks for following along friends!