Making inspiration boards for my future home has helped me endure the stagnating patience stage of waiting to build as well as grow my aesthetic from modern to old world farmhouse style. (See what I mean in this post!) Creating a European farmhouse kitchen design board was at the top of my list because the kitchen's where the homes' heart is!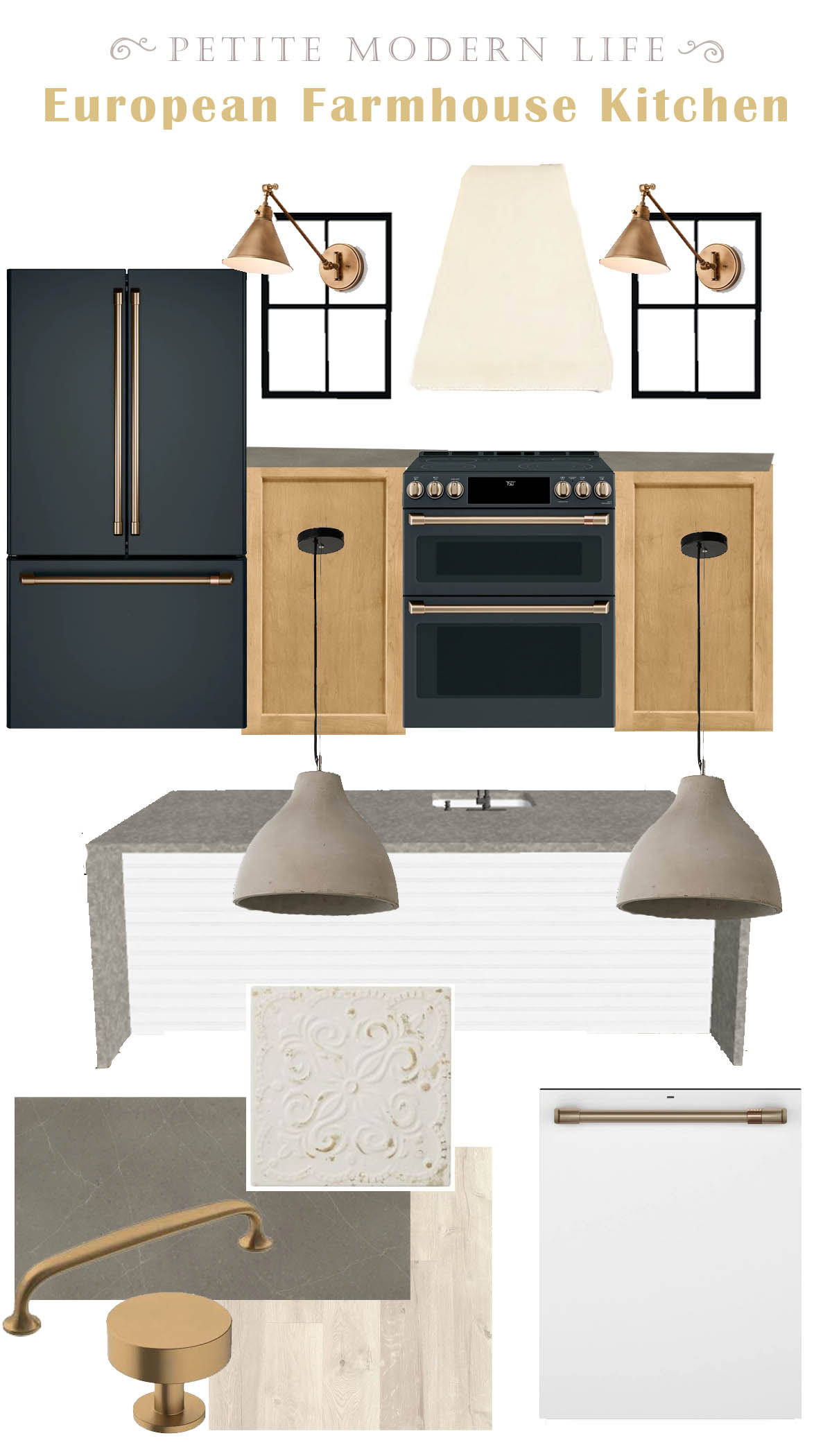 **This post contains affiliate links to Amazon and other affiliates. You can read more about affiliate marketing on my FAQ page!
For the new readers around here, we designed our own house using this Chief Architect Software. I talk a little about why we went this route in my post of How to Design a Budget Friendly House, but I hope to share more about the software soon!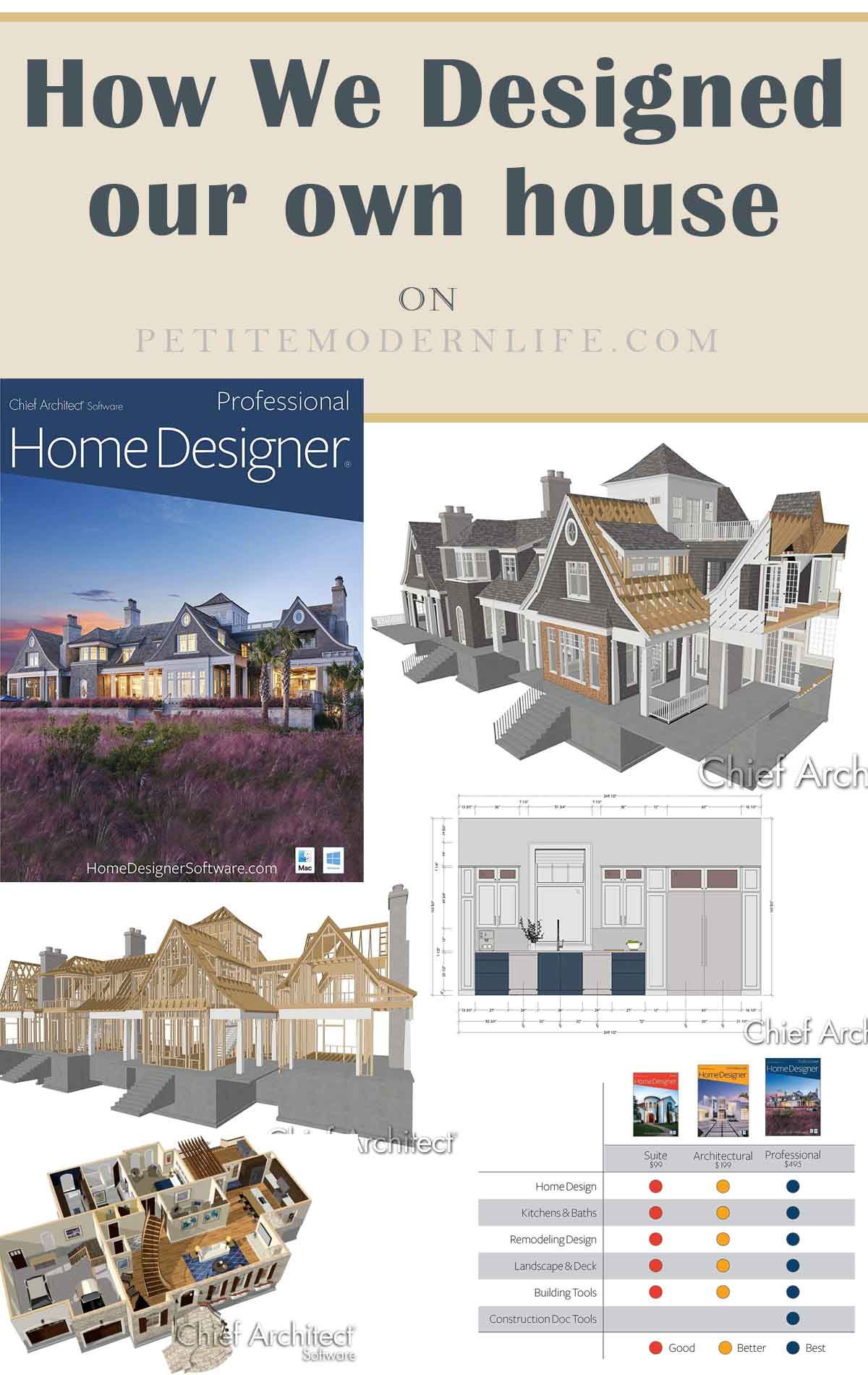 Our open concept kitchen design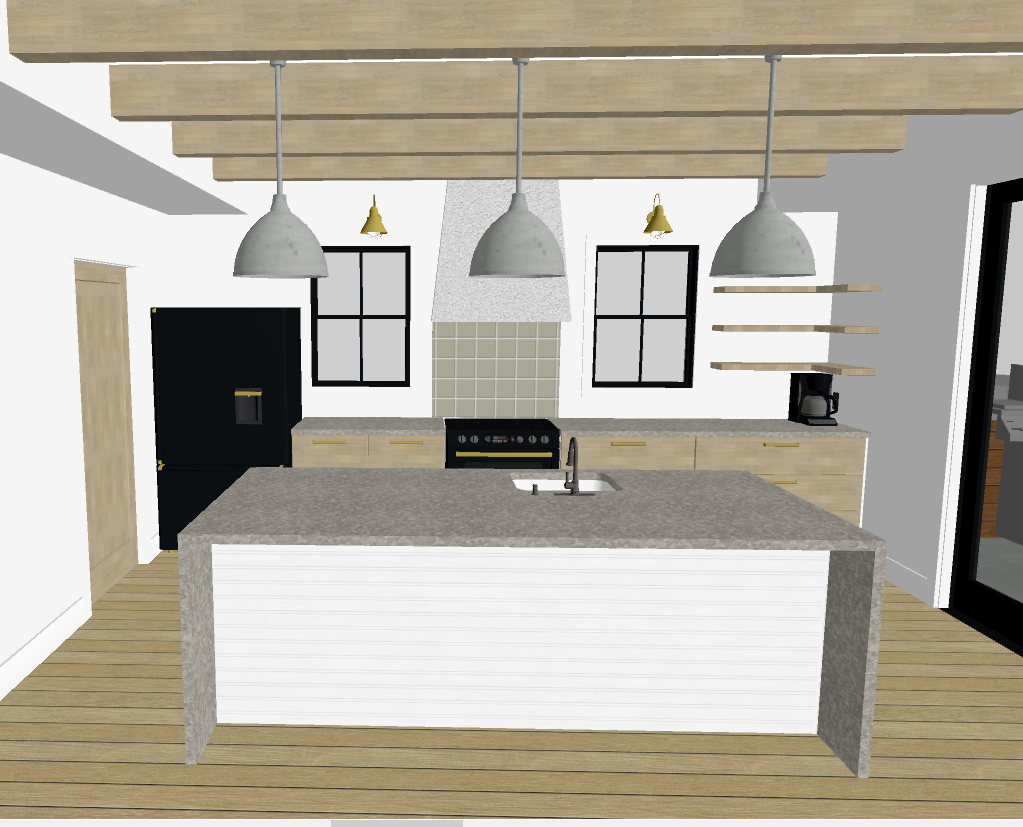 We went with a very simple kitchen layout in our open concept farmhouse design. The back wall will have the fridge and double oven and all drawer cabinets. The island houses the sink, dishwasher, pull out garbage, and drawer storage. (The microwave will be in the pantry!)
I didn't do any upper cabinets because I designed an extra large walk-in pantry for storage! I've ALWAYS been obsessed with floating shelves (*see them in the Rambler and the Builder) so I'm offsetting the window/fridge part of the wall with shelves. (the height will probably change from this render…)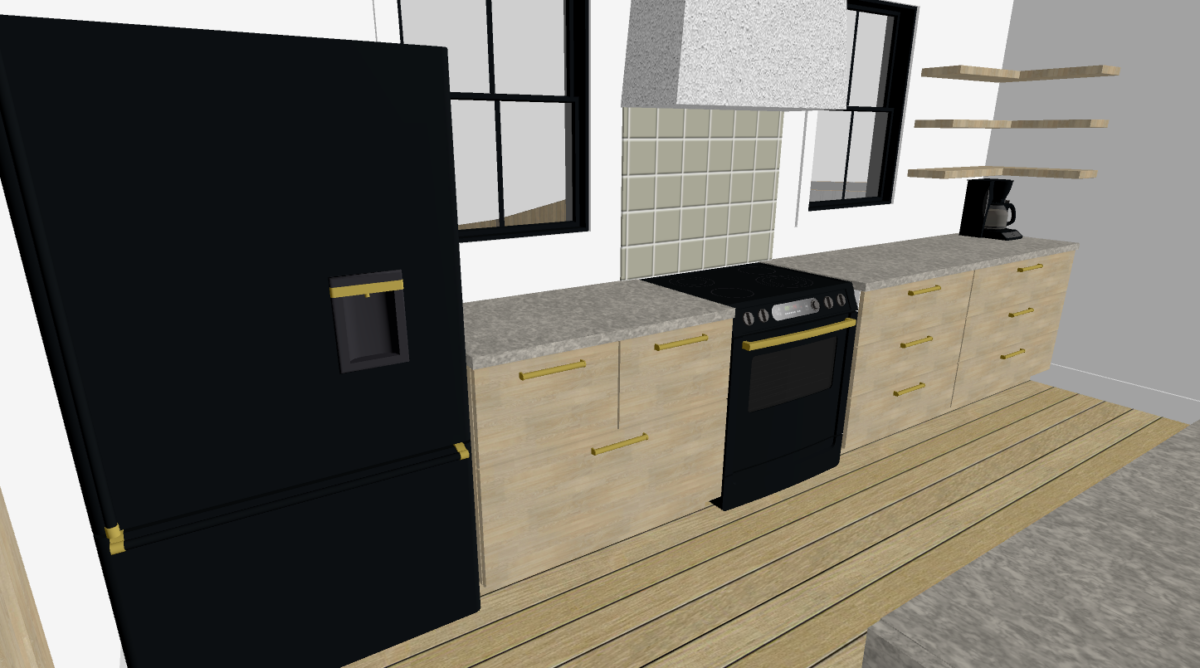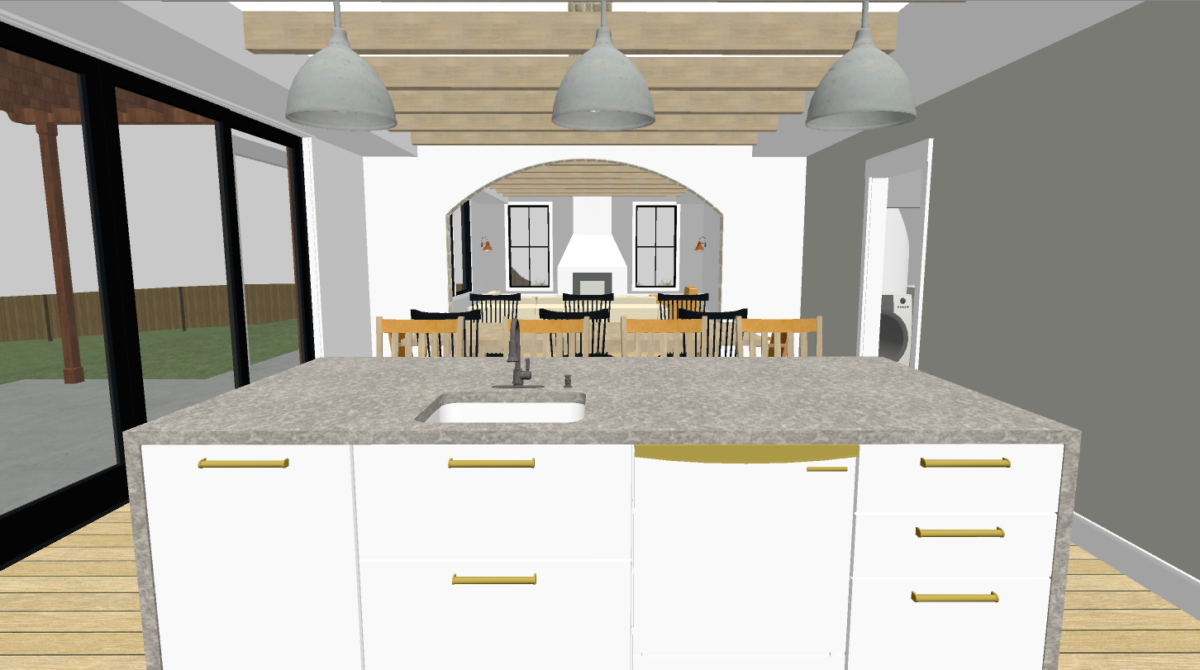 We're working with a local building supply store who is helping me design my kitchen using Waypoint Living Spaces cabinets. I LOVE the Waypoint 410 Maple Rye series! I fell in love with the color and craftmanship from this line and look forward to having it in my kitchen!
Waypoint has a lot of lovely designs that will look gorgeous in your European farmhouse kitchen. Don't love my Maple Rye choice? Check out these other gorgeous stains!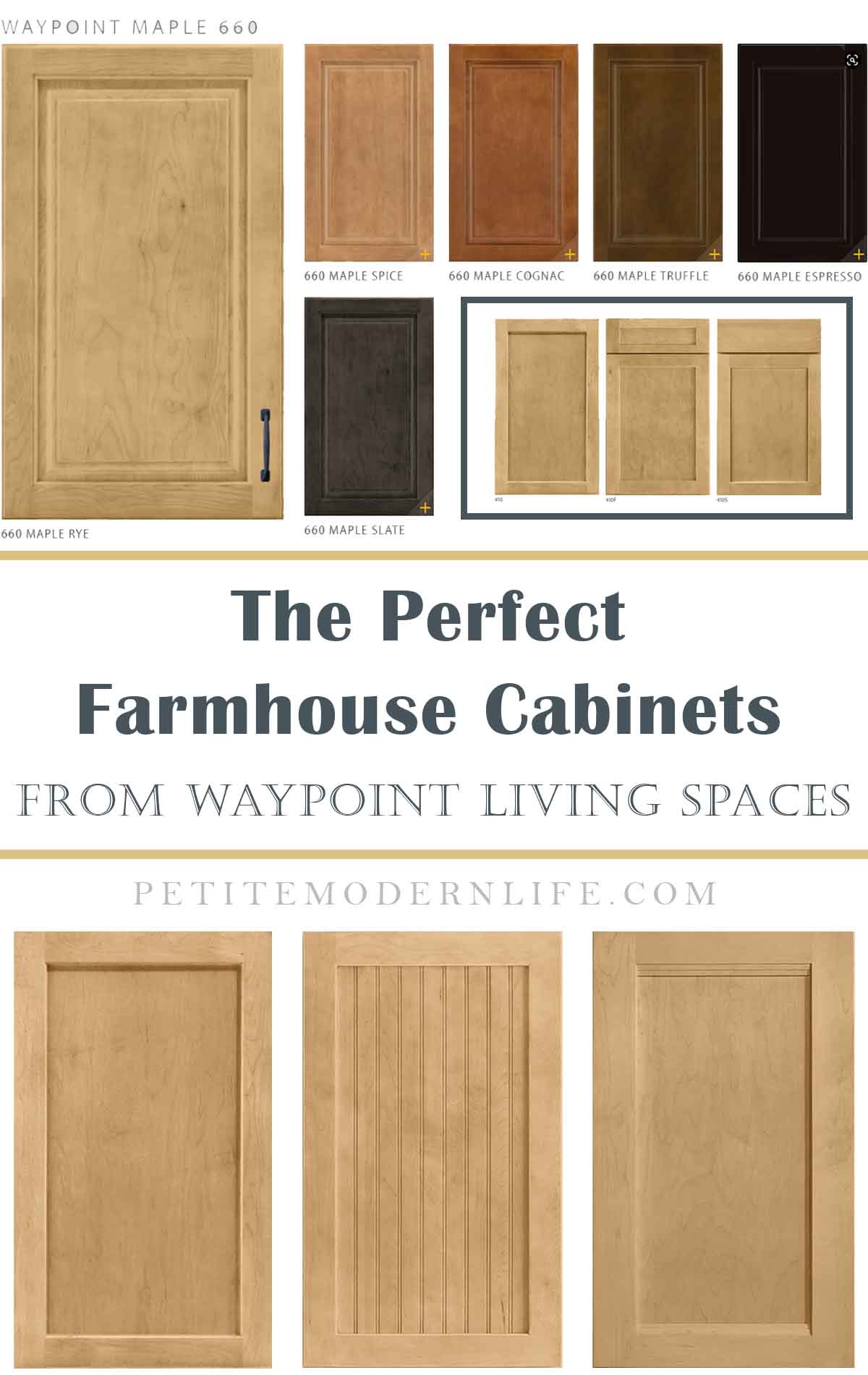 European Farmhouse Kitchen Lighting
When choosing lighting for the kitchen I mixed earthy old world textures with elegant rich metals. I fall asleep dreaming about these concrete island pendants and antique brass swing arm wall sconces I chose! In the pantry I'll be doing small wall sconce lights on each wall above the storage. As of right now, I haven't decided to have a chandelier, but I might change my mind with this beauty…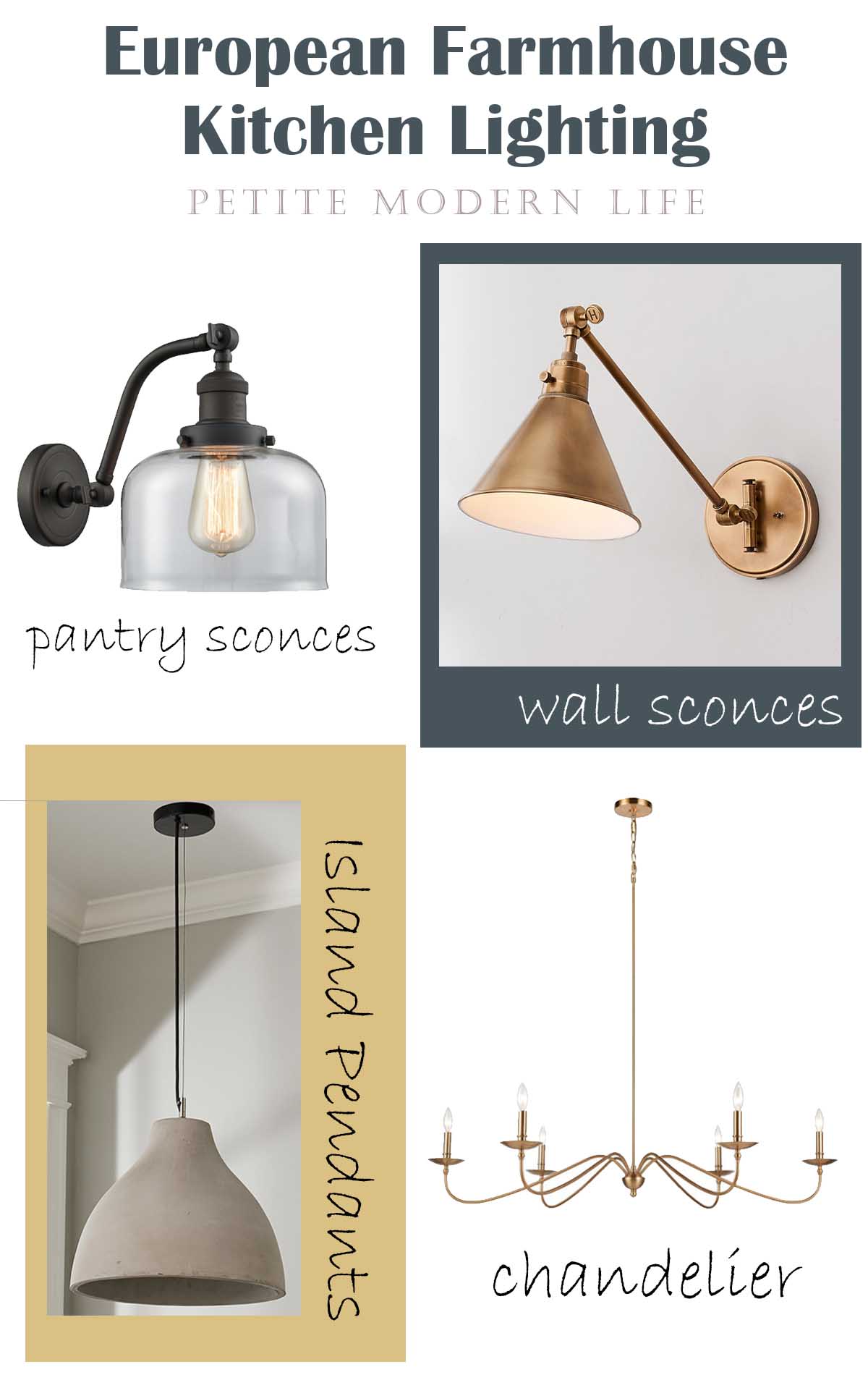 Pantry Sconces from Bellacor $205
Brass Wall Sconce from Shades of Light $219
Concrete Island Pendant from Shades of Light $238
Chandelier from Shades of Light $478
Kitchen Appliances
I've been crushing on the Cafe Appliance selection for years and somehow convinced my husband to go for it. (Very happy wife shouuld be a happy life right 😉😘 love you boo!) I really love the matte black collection with brushed bronze hardware. It will look classy with the dark finish against the maple cabinets. I will put a white dishwasher in the white island for a cohesive, built in look.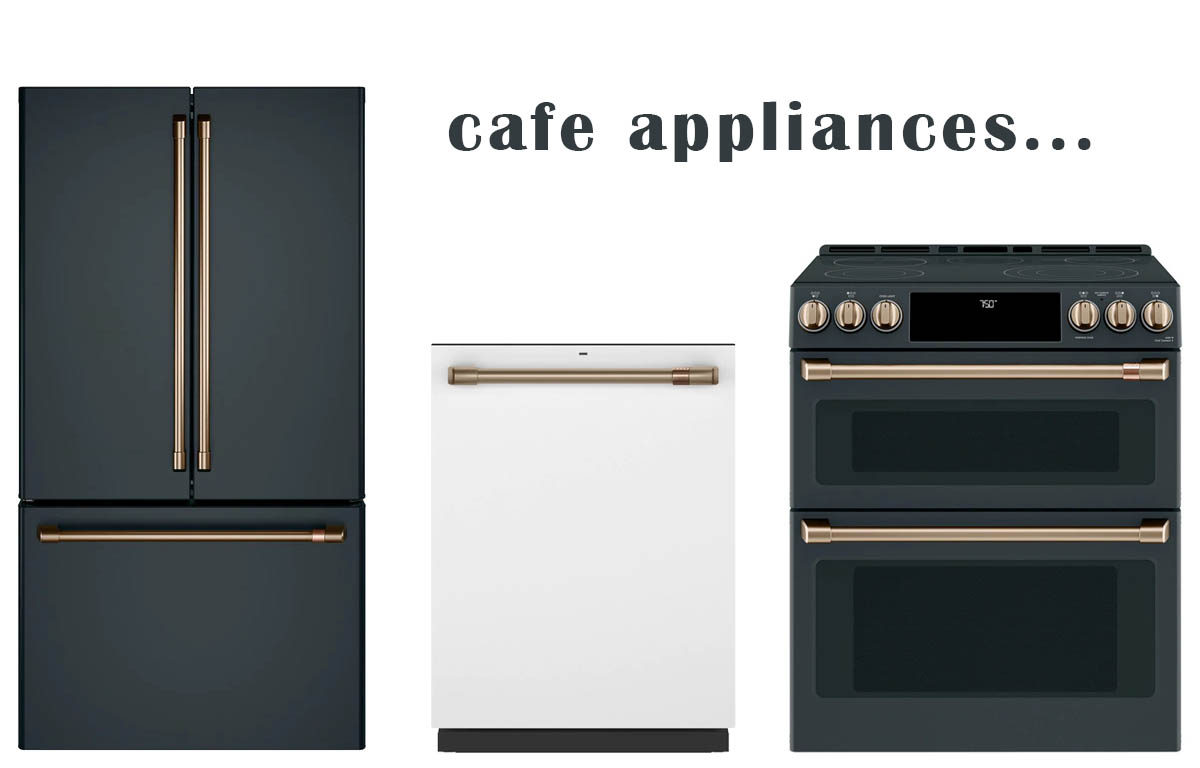 My European Farmhouse Counters
I've loved a lot of different counters: Grey concrete, white Carrera, butcher block, and pure white Corian counters to name a few! For this kitchen I wanted an older, less flashy, look and have decided on gray quartz counters to pull it off. After looking at some Wilsonart samples, I really liked the concrete and marble look of Logan Pass.
By the way, online photo for this quartz looks much different than the sample! It's always good to order a few samples or visit a local showroom.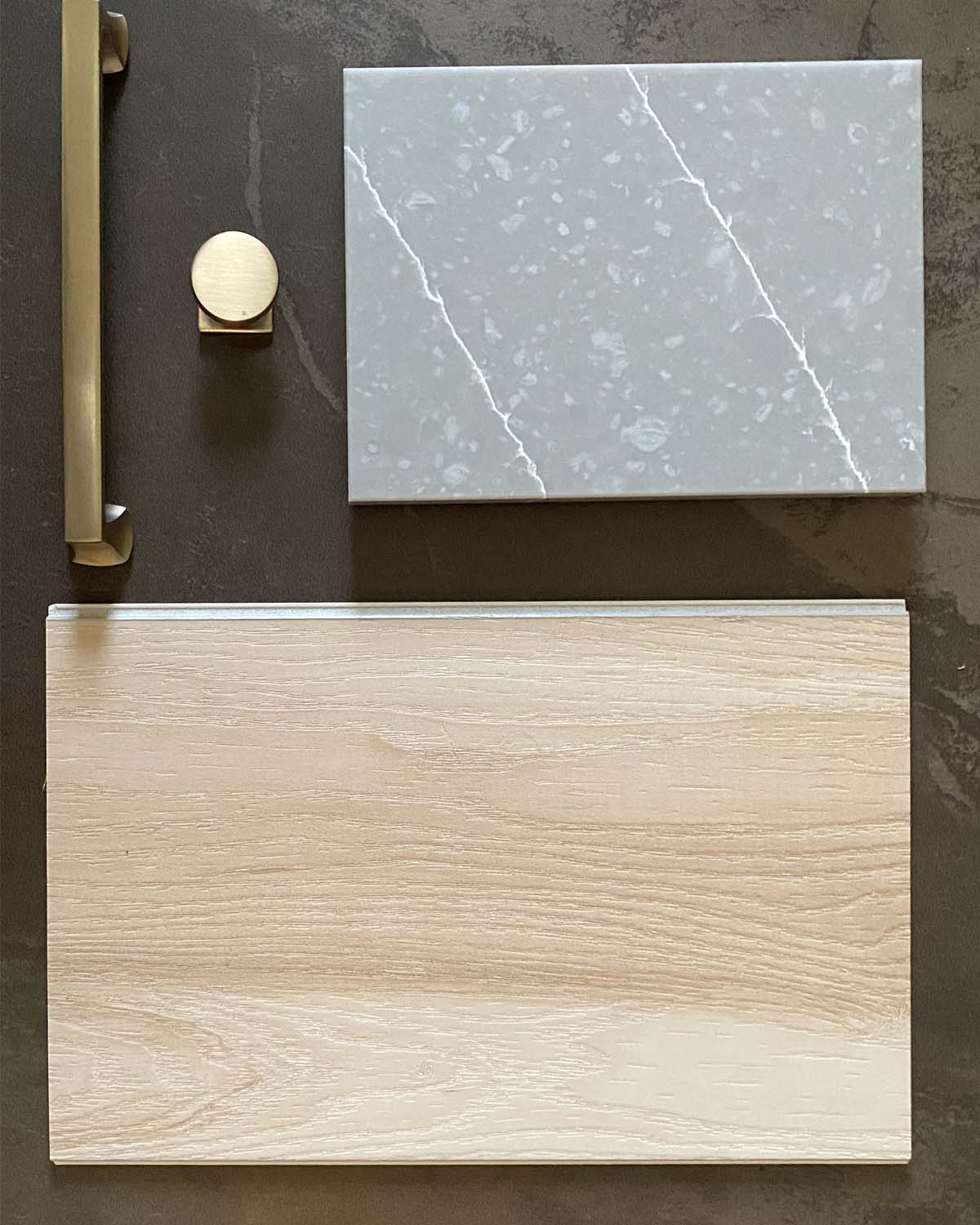 Cabinet hardware and Backsplash
I want to write some specific posts about hardware and tile options because there are so many! I'm leaning towards these drawer pulls and cabinet knobs from Amerok. And I'm liking the soft, aged look of these tiles from the tile shop for behind the stove. I actually don't want a kitchen backsplash all the way around and hope to go with a textured wall instead!
If you're looking for a place to start finding your own European farmhouse kitchen design inspiration, here's a great way to start!
3 places to find kitchen Design inspiration:
Find inspiration on Pinterest and save it all to your kitchen board. You can check out my house kitchen Pinterest board here!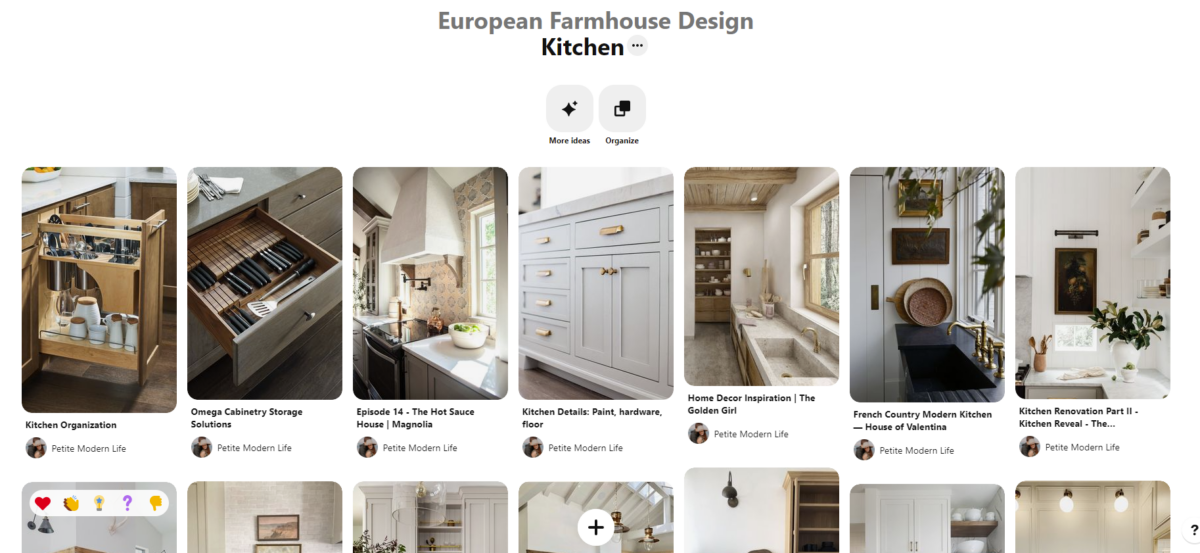 2. If you're on Instagram, make a highlight board a save your favorite posts to it.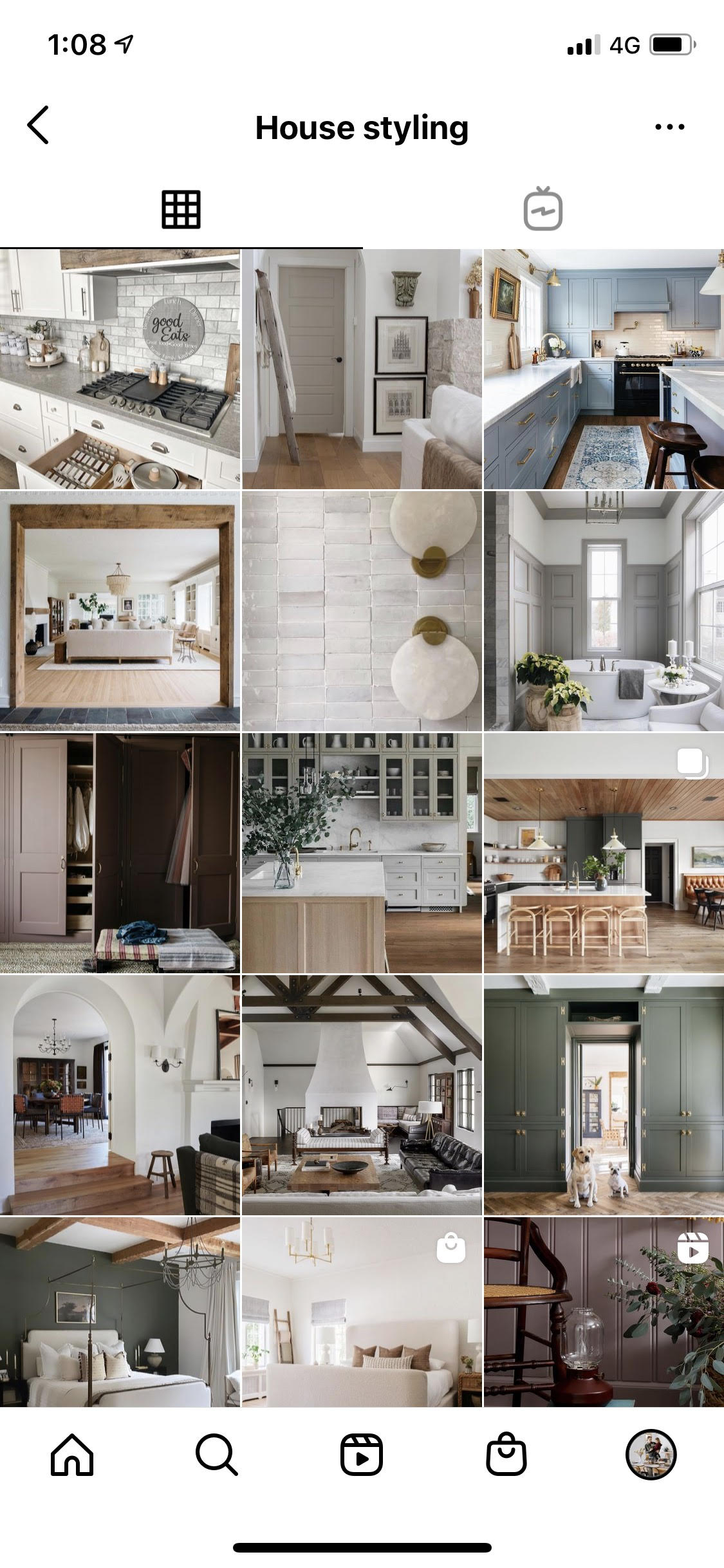 3. Find kitchen design inspiration on Houzz and save to your ideabooks.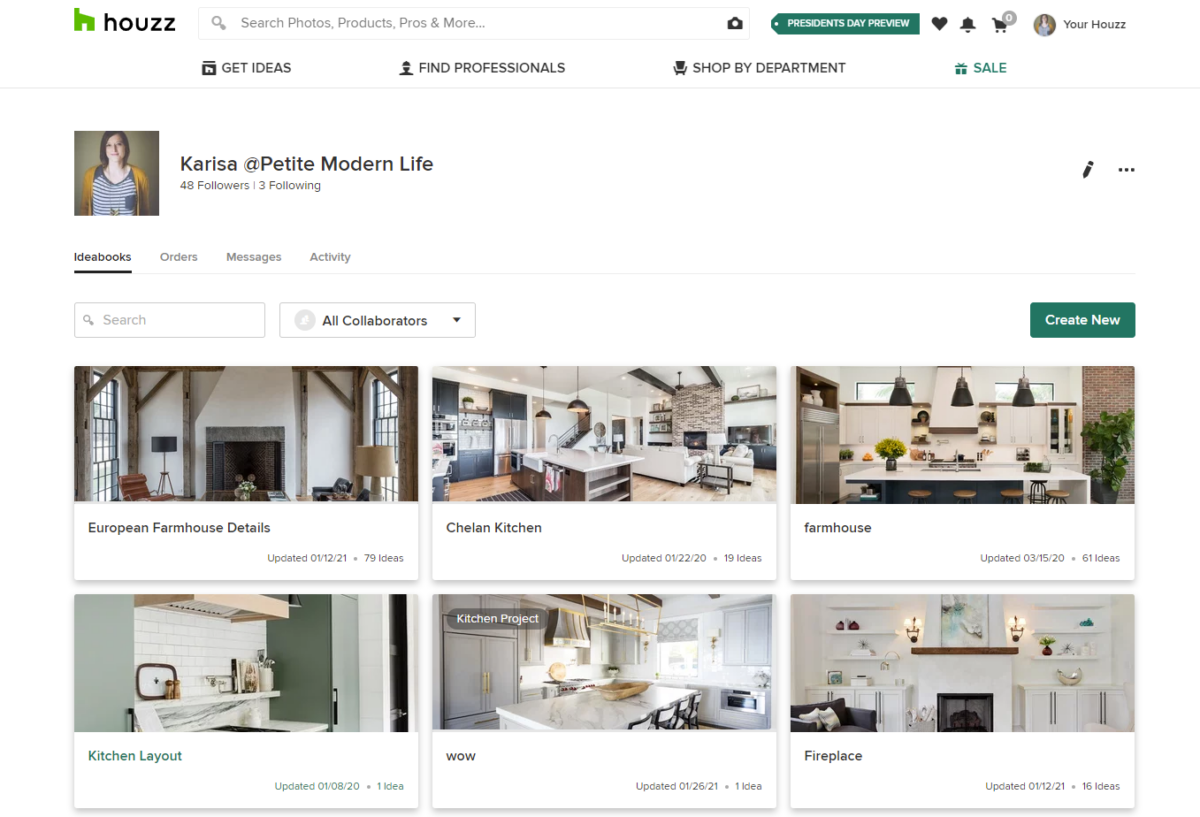 Let me know what you think about my European farmhouse kitchen design board in the comments below!
Pin it and Share the Love!