Alright, so you know like way a while back we were working on our kitchen makeover? Yes it's been forever since we've talked about. No it's not finished, but we're close! Find out about our Solid Surface Counters today!
Here's a little image recap for you.
Kitchen Before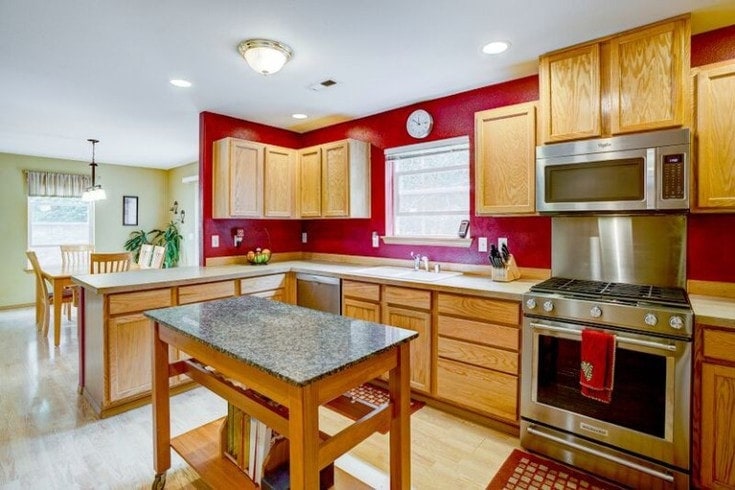 Kitchen During

Kitchen Progress

And then we got counters! Which I haven't posted about yet because I was waiting for the backsplash to get done. And I kept waiting… and waiting.. and waiting. Until this week when we finally- we bought the tiles and grout and have them on the way!
But I'm getting ahead of myself.
I mention in this post that we used the wrong paint to paint the cupboards. In the past 5 months that we've been using the kitchen, however, it hasn't been a big issue. They wipe down fine and they don't scratch easily. The thing that DID start getting to us
was
the
color.
"WHAT?" You might ask? "You spent ALL that grueling time painting ALL those cabinets and you DON'T like the color?!"
It's true. And we've finally given ourselves the freedom to admit it. The above pictures slightly skew that current color. The Cyberspace paint color appeared dark while we were painting the doors upstairs, but when we hung them back up, the blue really popped out and in a much lighter way. It was not the look we were going for. We didn't jump to sad conclusions initially (we're much to stubborn for that), but waited until we had the counters installed to see if they'd have a positive affect.
Pause the drama.
Let's talk about something wonderful. Our counters!
We had debated between butcher block and "another surface." Vague, but basically something that would fall under a few thousand dollars. One day we were looking at the counters in Home Depot and saw a sale sign on their LG Hi Macs Solid Surface countertops in Arctic White for $33/square foot. (Also known as Corian counters.) That was WAY less expensive than any of the other options available outside of Ikea butcher block. With the $ amount piquing our interest we investigated solid surface counters more.
Solid surface counters, or Corian, are a composite material, not stone, but are solid all the way through. So no matter where cuts are made on the counter, you'll have the same material all the way through top to bottom. Unlike laminate where the inside is particle board. The counters can be cleaned with pretty much any cleaner, bleach included, as well as be lightly sanded/buffed out if any scratches or dents occur. All in all it sounded like a durable counter for us.  Which was going to be particularly necessary if we were going to get a SOLID white countertop! We were sold. We sealed the deal in the last week of December and the solid surface counters were installed ONE week before our sweet baby boy came into the world. Talk about good timing.
I'll stop talking for a moment so you can see the counters. EVEN though the pretty backsplash isn't in. (This is a little hard for me.) Then we'll discuss the cost breakdown.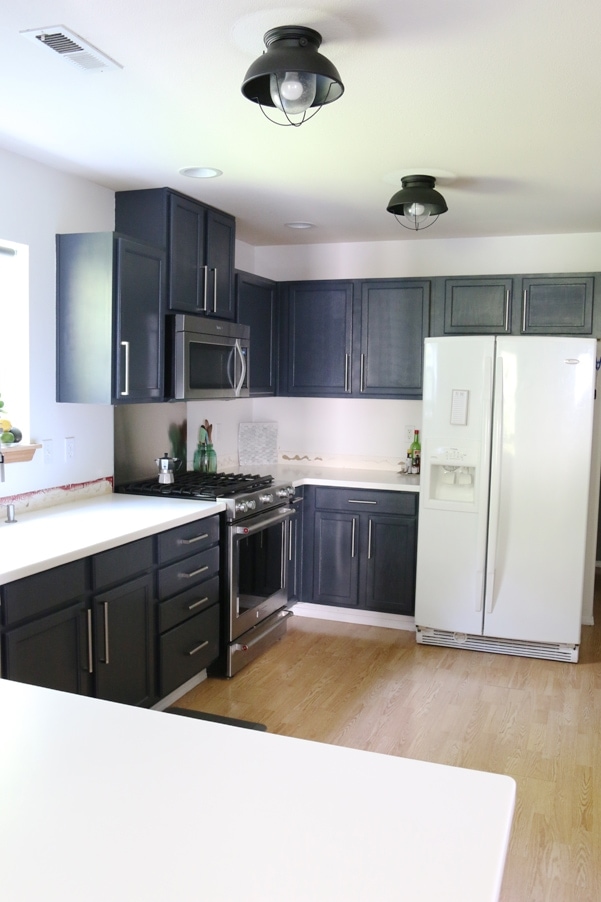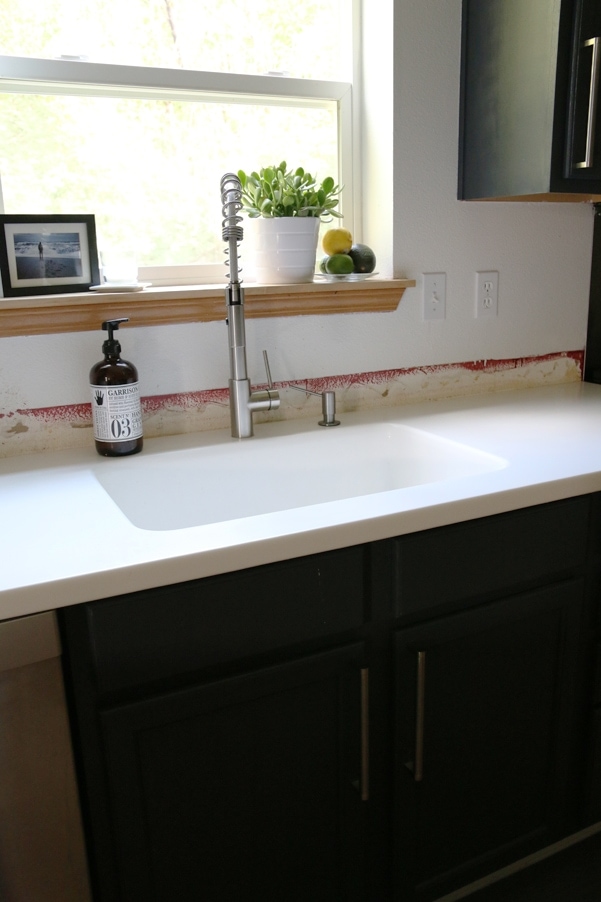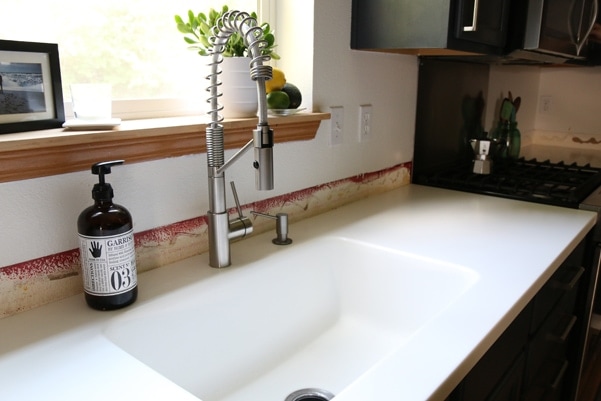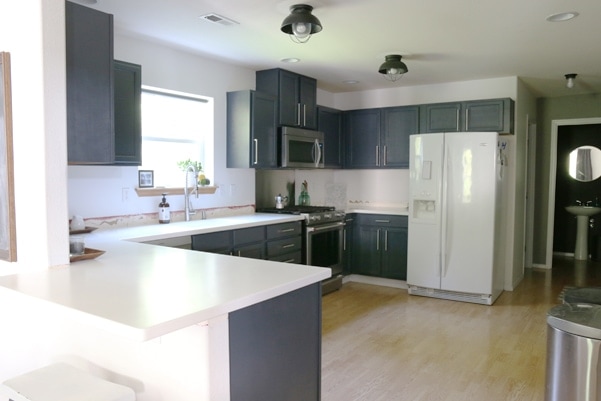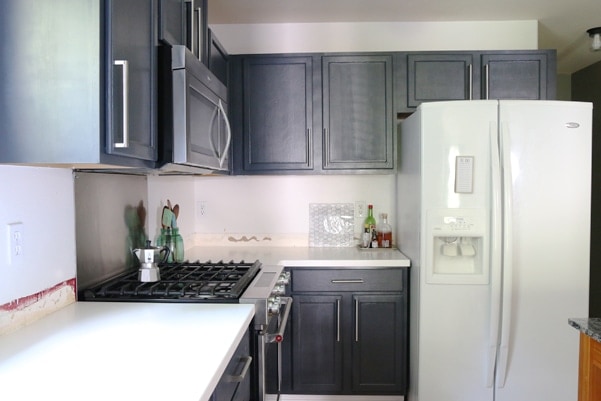 I mean they are white. As white as I am after a long PNW winter. But I love them! They're crisp and modern without any worry of finding the brown or beige colorings I'd always nitpick out of stone counters. We went with the 1/4″ roundover edge which is perfect. We also opted for the integral sink which is AMAZING. I'm a lover of any drop in sink that you can wipe all the counter crumbs and scum right into. The sink being the same material as the counters makes cleaning an all round win. No cracks to scrub for me! The last thing I'll note that we did was extend the counter to make a proper small bar area. Now lets get into the juicy details you actually came here to find out.
Our Solid Surface Counters Cost Break Down
Our kitchen counter square footage is: 51 Square Feet (SF)
Cost of counters: $33/ SF (on sale) INCLUDES installation (sorry, I can't separate that out!)
Total cost for counters: $1683
We opted to tear out our old counters/sink and do the plumbing hook up ourselves to save some money (the amount we saved wasn't provided in the receipt.)
Cost of the sink: $145
Cost of Sink Installation: $165
Custom steel bars for our bar area: $234
Grand total with 9.2% sales tax: $2424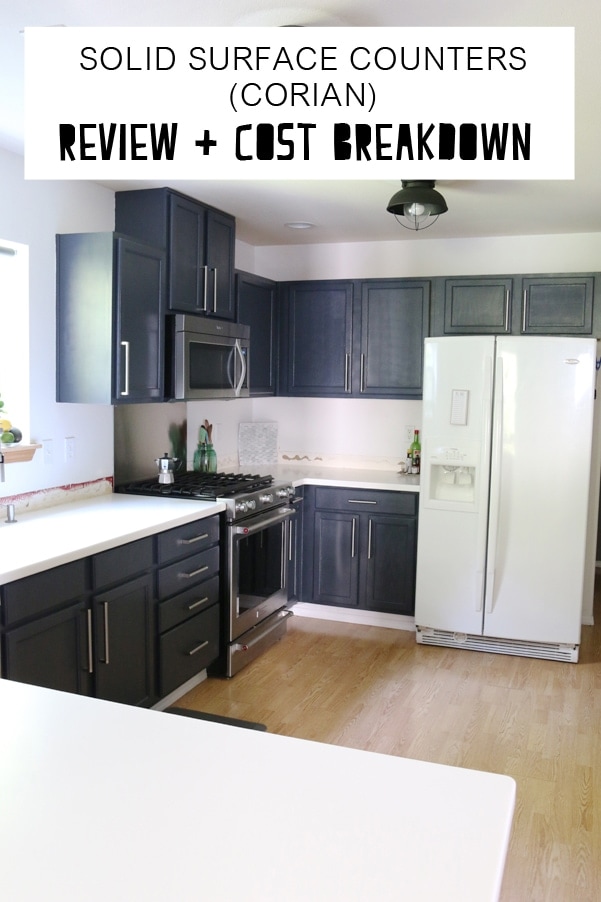 There. I always find that information breakdown SO helpful when I look on other people's blogs, so I hope it similarly helps you! The installation took about 6 hours total. It was a one man job done by a contractor hired by our Home Depot. The coolest part was watching him work the pieces together and not being able to see any seem!. Just one solid counter all the way around. Are you sold on solid surface counters yet? ;)
So there's the update of where the kitchen is at. And yes- I will be re-painting the cabinets. (Insert stubborn tears here.) This time I'm going with something more BLACK. Benjamin Moore Wrought Iron. Check out this Pinterest Board to see why. It's solid. If the above pictures didn't convince you of the blueness of the cabinets, here is one with the lights on. (The way we actually see them every day.) If you think you see blue, you do. And more so in person. So, deep breath, here we go here we go again.