January 2016
Alright, so you know like way a while back we were working on our kitchen makeover? Yes it's been forever since we've talked about. No it's not finished, but we're close! Today I'll be giving a review of our solid surface/corian counters!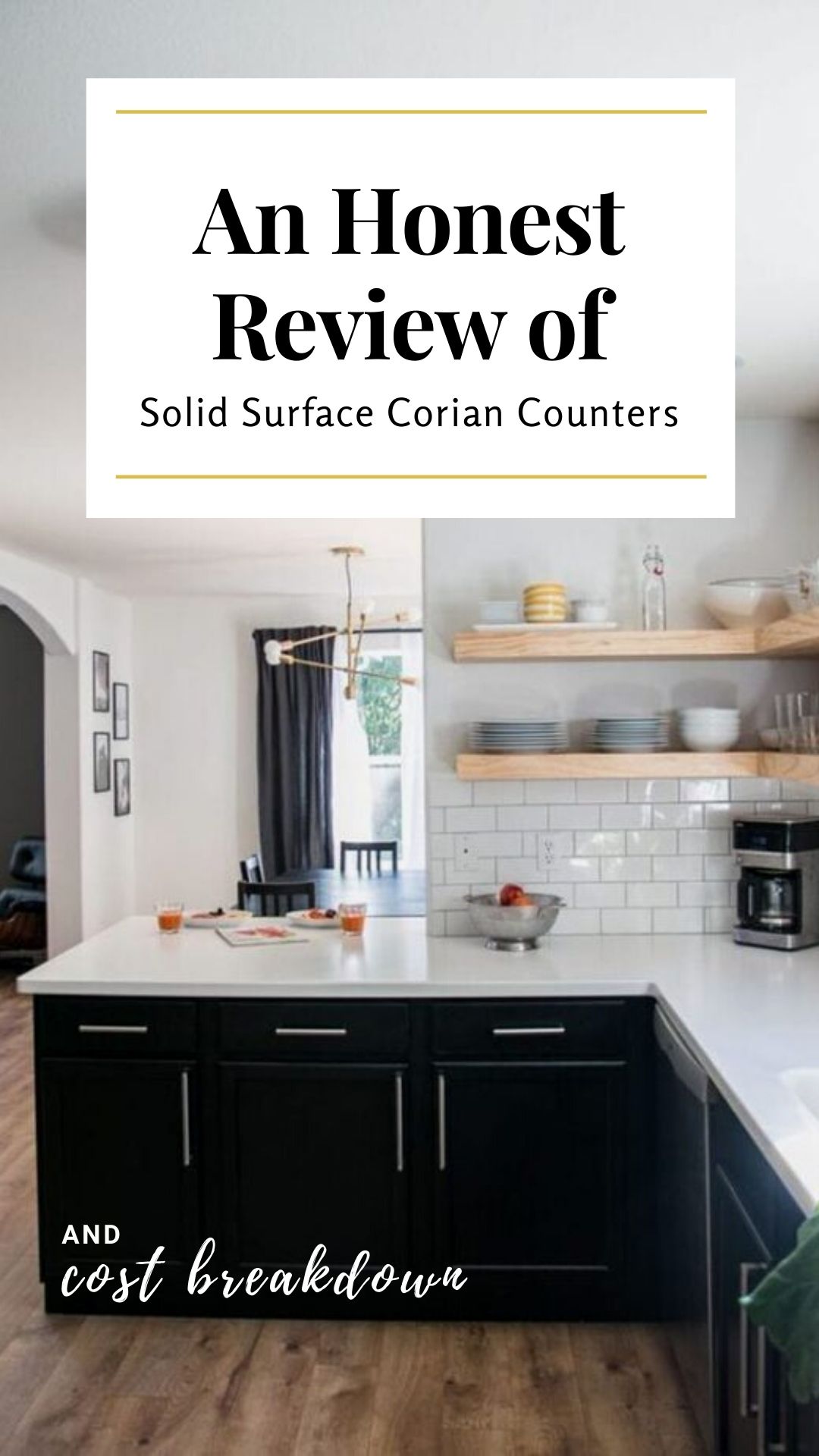 You might also like these posts on Petite Modern Life!
If you're new here, here's a look at what the kitchen looked liked when we moved in. It was red paint, shiny orange oak cabinets, and cream linoleum counters.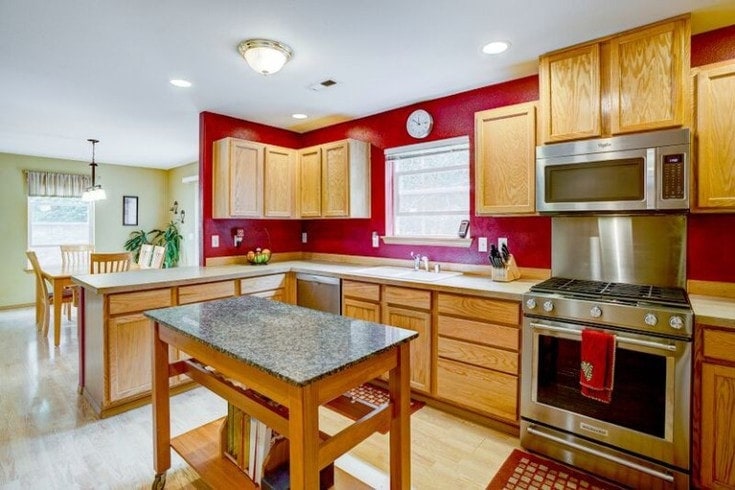 Kitchen Makeover plan
After moving in we decided we would refresh the kitchen on a small budget. The game plan was as follows.
Painting the original cabinets
Adding floating shelves
Changing the counters
Adding backsplash


Saving Money with Corian Counters
We had looked around at various counter options and stumbled upon a sale at Home Depot that we couldn't pass up! They had their Arctic White Solid Surface Counters on sale for $30/square foot including installation. It was more than half the cost of the other solid surface counters so we said yet!
What are Solid Surface corian counters?
Solid surface counters, or Corian, are a composite material, not stone, but are solid all the way through. So no matter where cuts are made on the counter, you'll have the same material all the way through top to bottom. Unlike laminate where the inside is particle board.
The counters can be cleaned with pretty much any cleaner, bleach included, as well as be lightly sanded/buffed out if any scratches or dents occur. All in all it sounded like a durable counter for us.  Which was going to be particularly necessary if we were going to get a SOLID white countertop!
We purchased the counters and installation the last week of December and the solid surface counters were installed ONE week before our sweet baby boy came into the world in late January. Talk about good timing!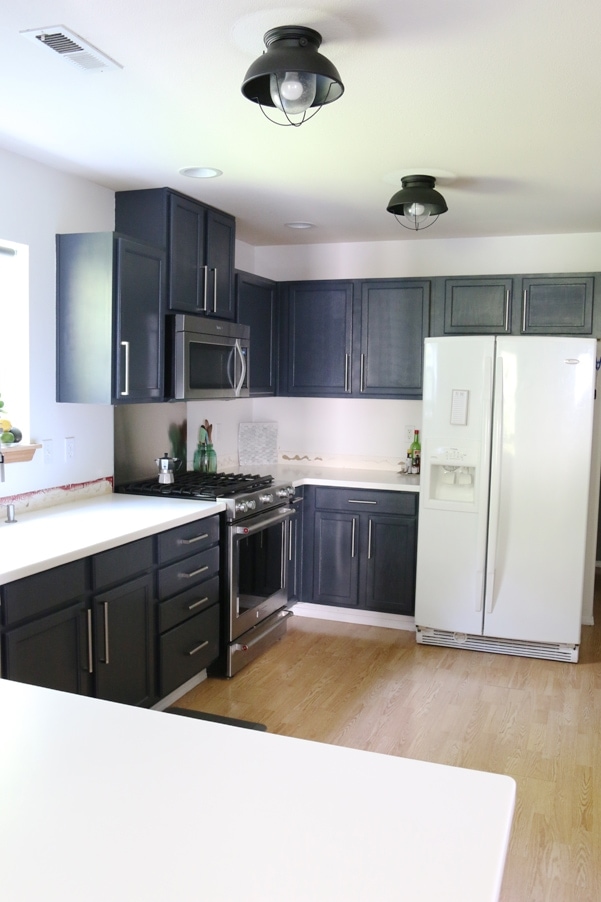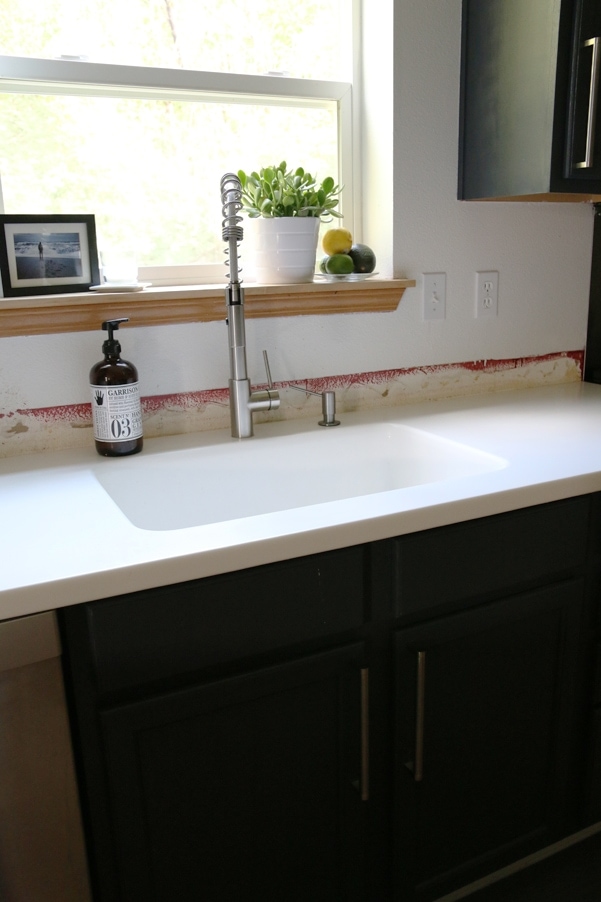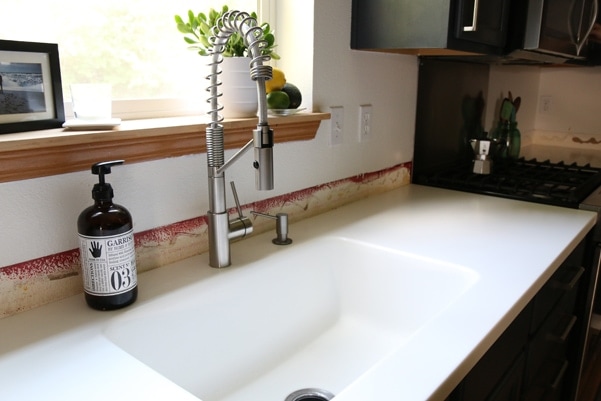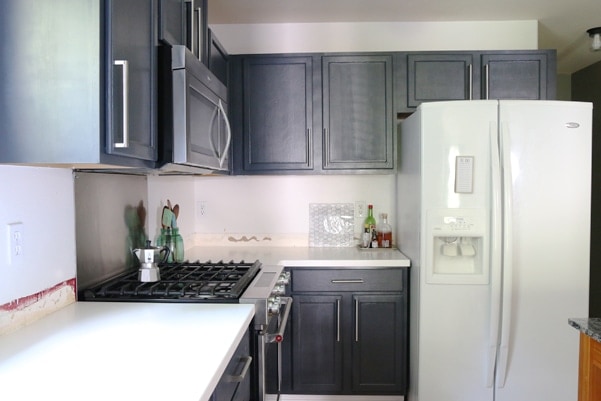 These white solid surface counters are crisp, modern, and really brighten up this kitchen! We went with the 1/4″ roundover edge which made the counters look like thick stone. We also opted for the integral sink which is AMAZING.
You can wipe all the counter crumbs and scum right into this sink. And yes, you can see every crumb left on this white counter, but I love keeping a counter clean so it's quite helpful to stay on top of cleaning!
do corain counters feel like stone?
I personally loved the feeling of corian counters. They felt solid and cool like stone. And you could run your finger under the lip of the edge without feeling the fake/raw texture of laminate. I really enjoyed these counters!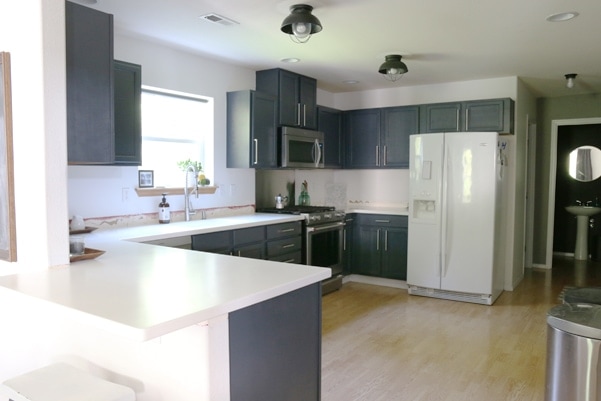 Instead of taking out the wall for a full size bar, we opted for a small breakfast bar with a solid surface counter overhang. The overhang is supported by two metal braces and is perfect little breakfast and serving spot.
It was really fascinating watch the installation of the Corian counters. The technician brought in 2 or 3 slabs of counters and heat sealed them together in the corners without any seams remaining! There was a brief odor while the sealing was happening, but it dissipated quickly.
Our Solid Surface Counters Cost Break Down
Our kitchen counter square footage is: 51 Square Feet (SF)
Cost of counters: $33/ SF (on sale) INCLUDES installation (sorry, I can't separate that out!)
Total cost for counters: $1683
We opted to tear out our old counters/sink and do the plumbing hook up ourselves to save some money (the amount we saved wasn't provided in the receipt.)
Cost of the sink: $145
Cost of Sink Installation: $165
Custom steel bars for our bar area: $234
Grand total with 9.2% sales tax: $2424
There. I always find that information breakdown SO helpful when I look on other people's blogs, so I hope it similarly helps you! The installation took about 6 hours total. It was a one man job done by a contractor hired by our Home Depot.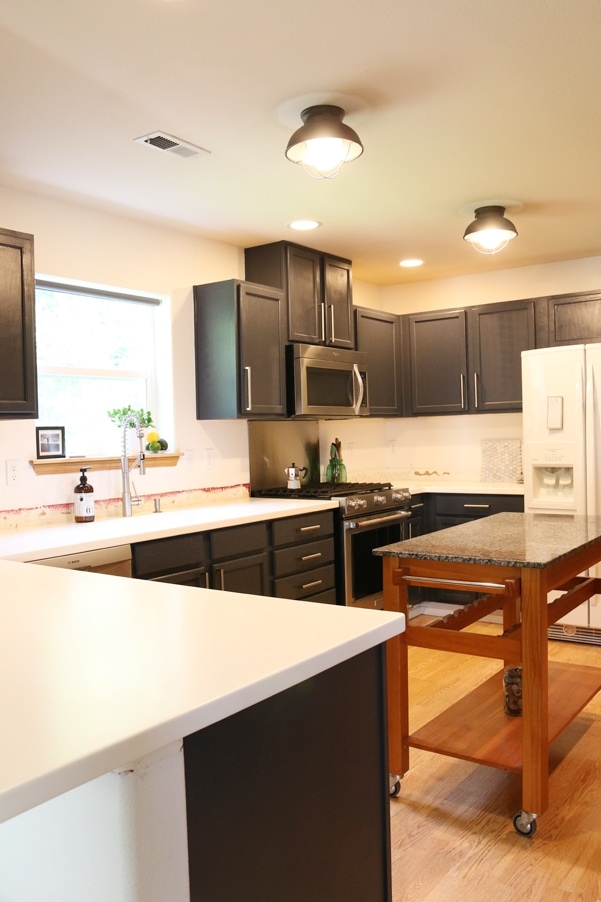 Here's a sneak peak of the final kitchen makeover! And it's not a trick of the light, I completely repainted all the kitchen cabinets ONE MORE TIME before I was happy with the color. Ps. I went with Benjamin Moore Black. It comes pre-made which is great! See the full Builder House Kitchen Reveal Here!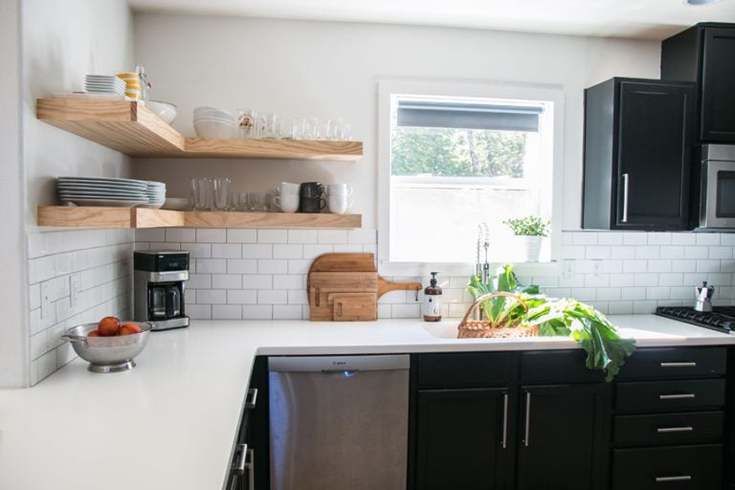 You might also like these posts on Petite Modern Life!
xoxo Karisa