With a weekend of just "hanging out" on the calendar, I finally got down to business and took pictures of our shiny new kitchen reveal.Preface: we loved this house the minute we saw it online. And despite the fact we were out of power in our in between homes residence, we made a managed a mad dash tour only to confirm that YES, this was the house we wanted. It was spacious, well laid out, had TONS of storage space, and came 'complete' with low cost builder grade materials that would be easy for us to update or replace. So while the power was still out (3 days!!) we literally did all our legal paperwork on our tiny cell phone screens praying our offer would be the one. And it was!
So we moved in and the kitchen was just begging me for a modern face lift.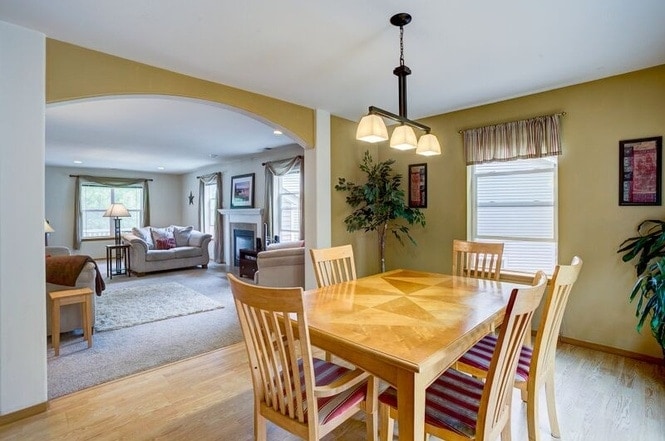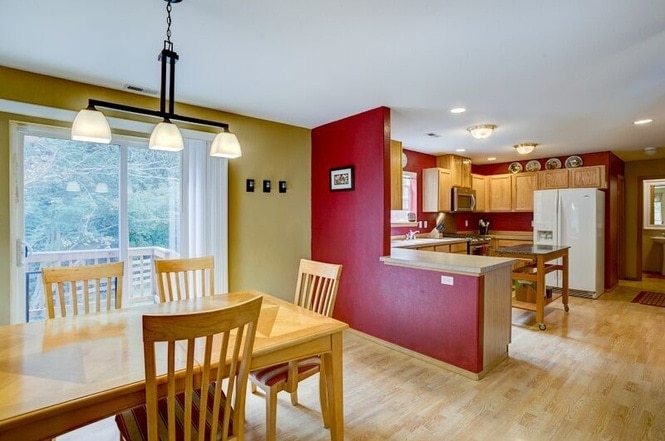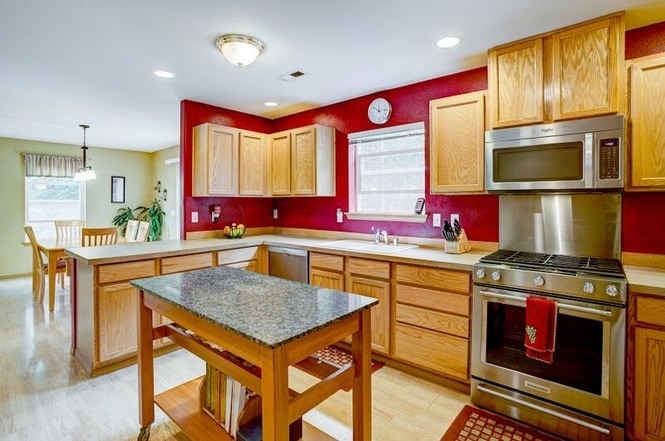 We decided against two things: tearing out the corner wall and replacing the cabinets. Instead we decided to replace the counters with Corian (read the cost breakdown here), paint the cupboards, and build some floating shelves– Let's just show you what we did and then discuss shall we? (See end of post for source list.)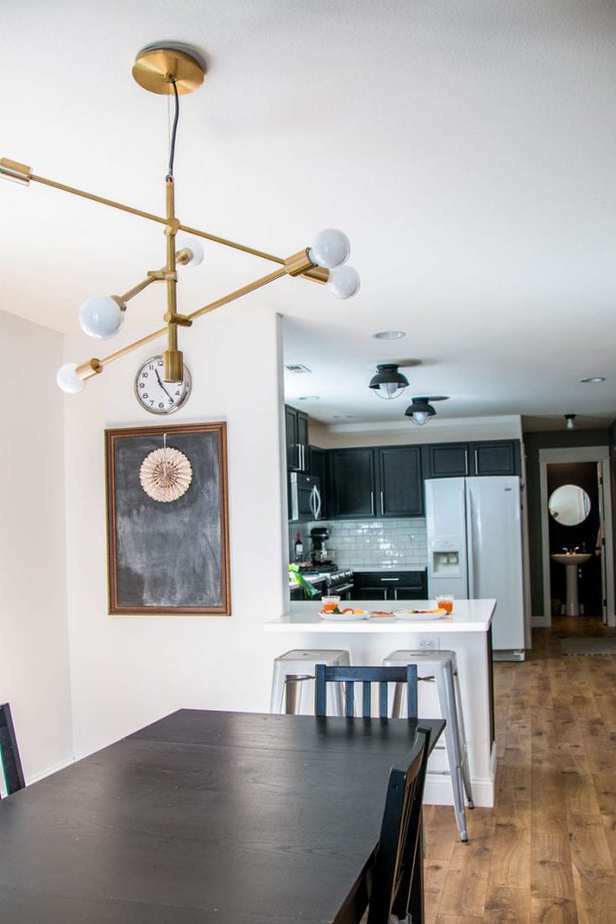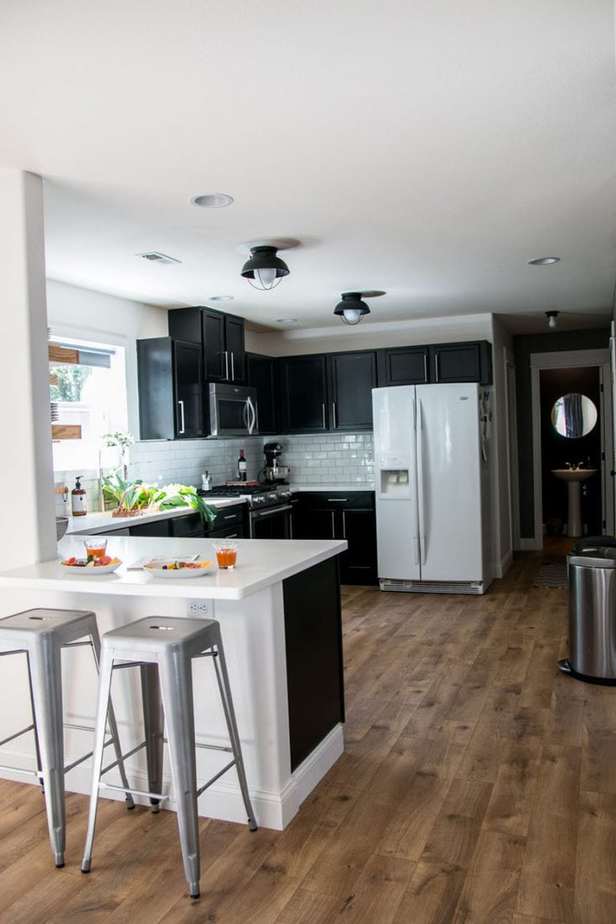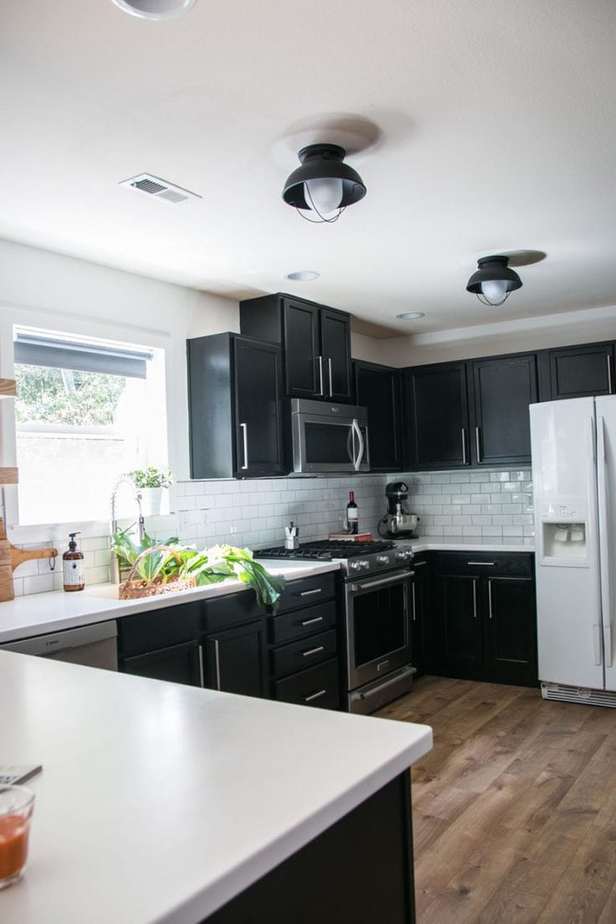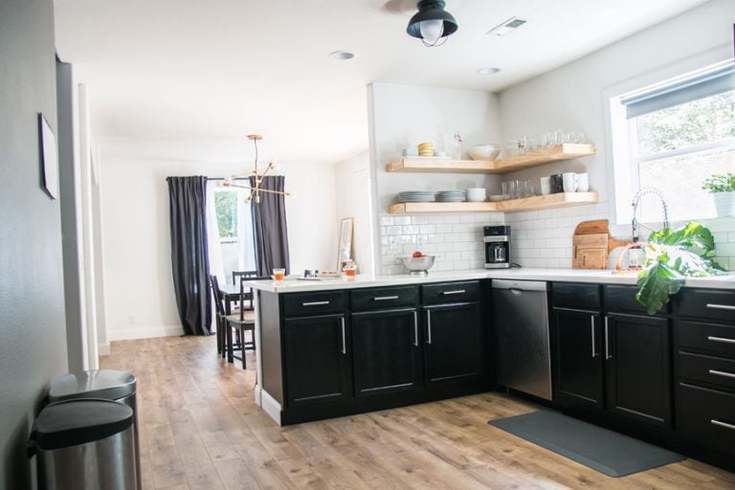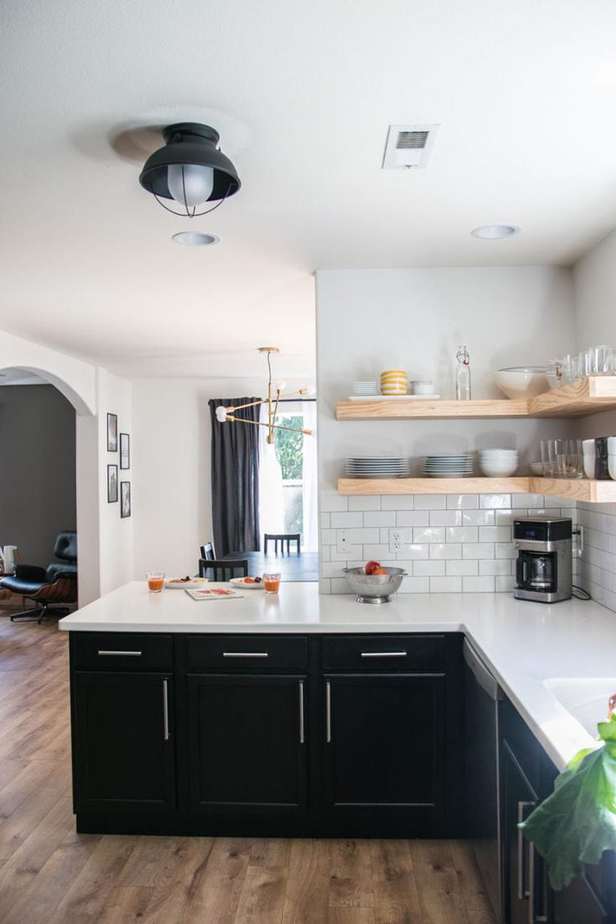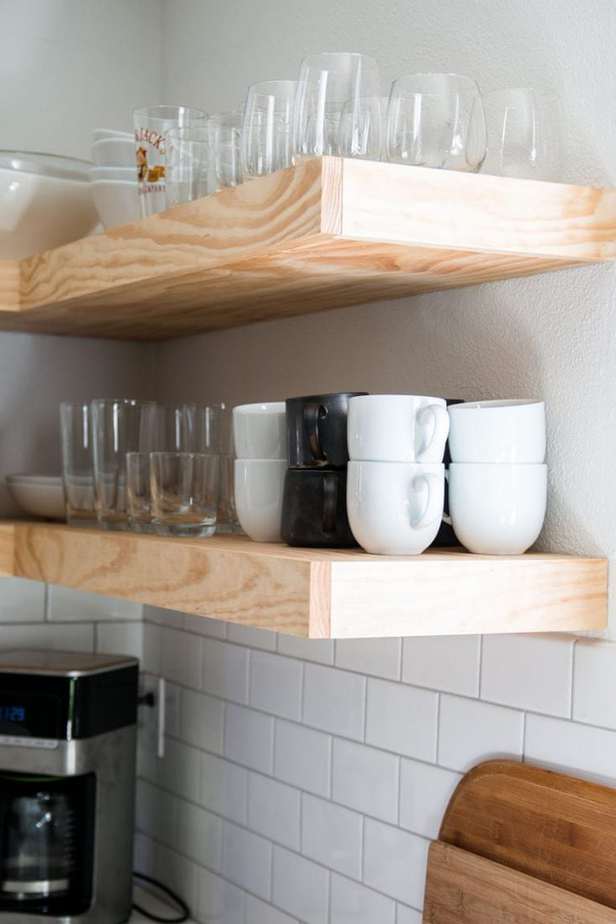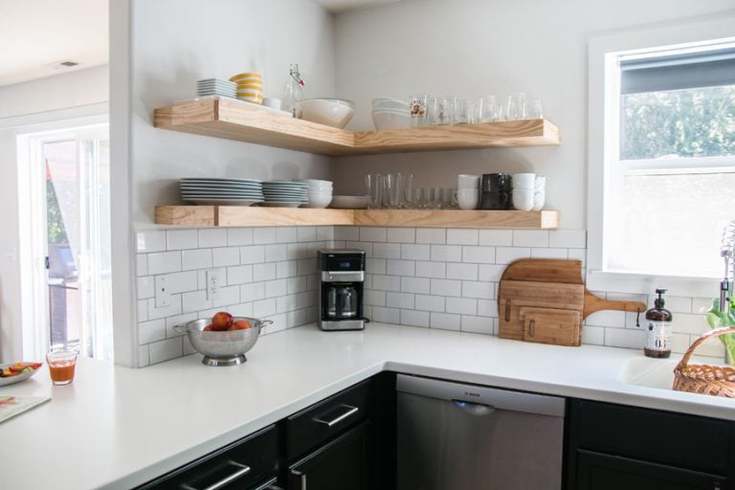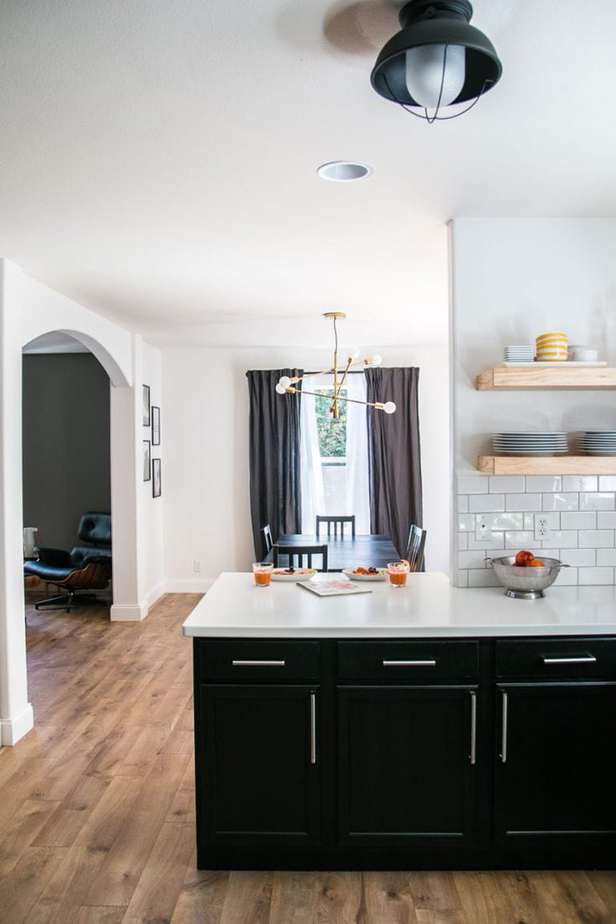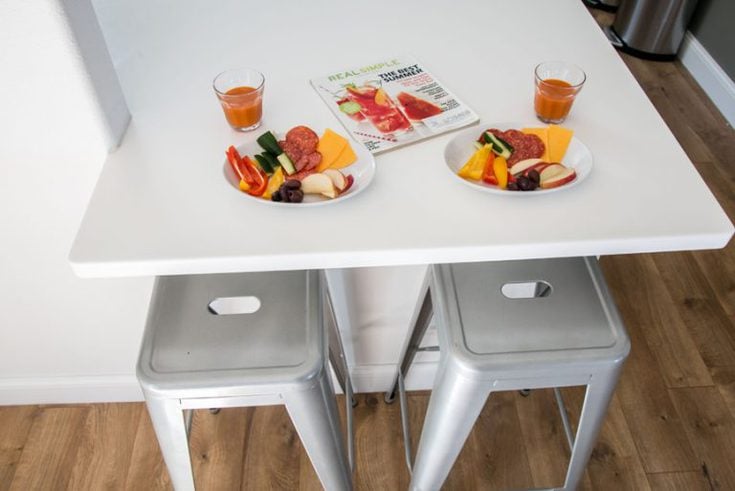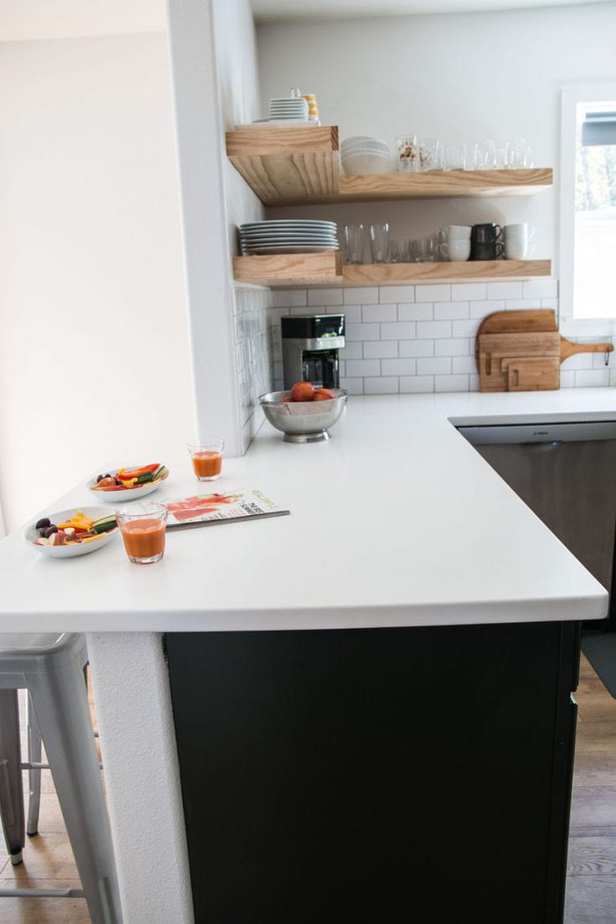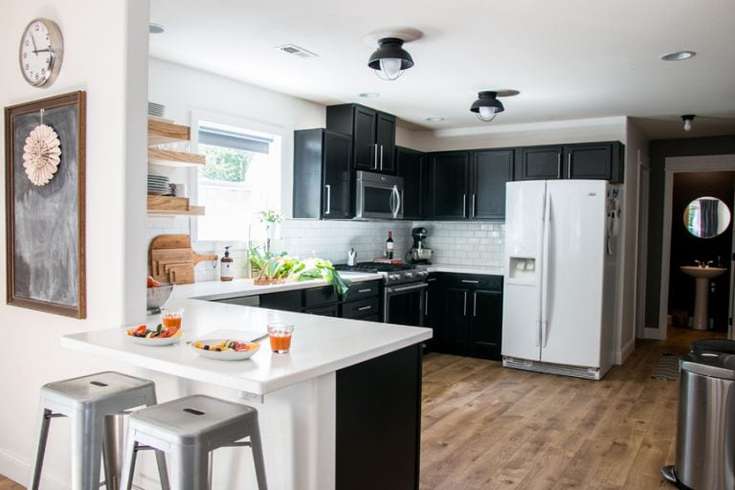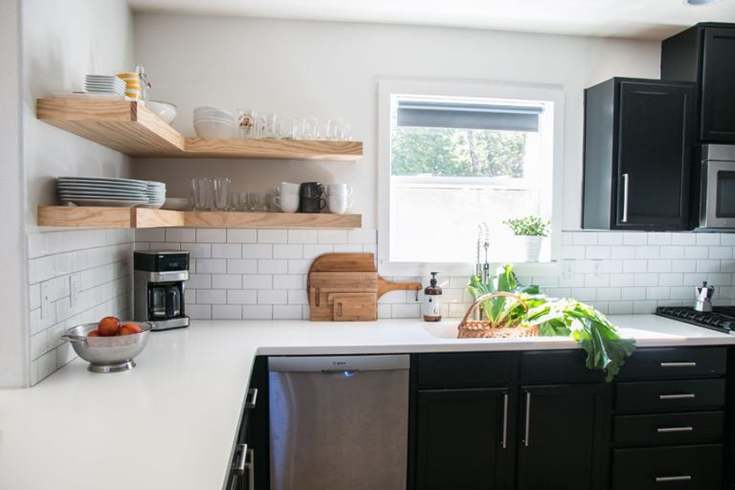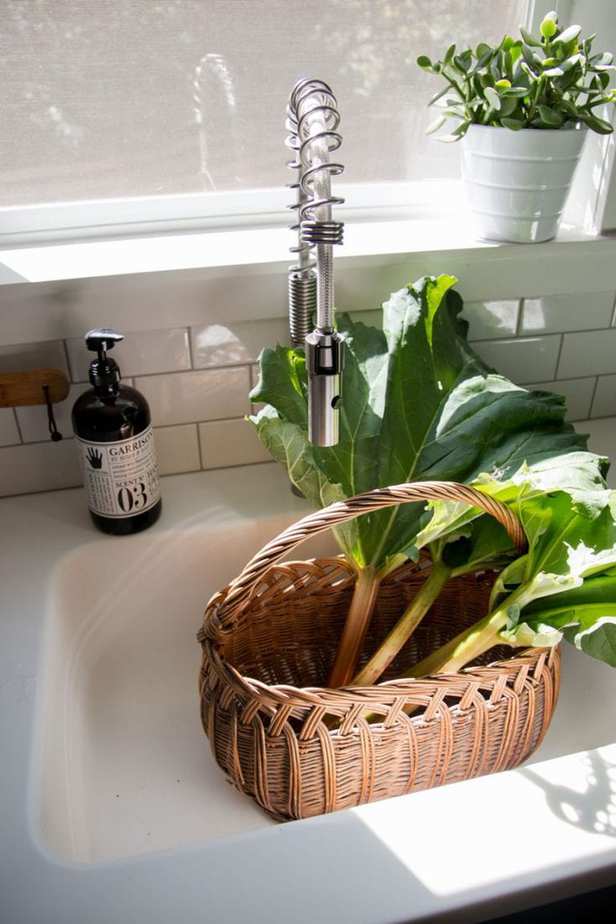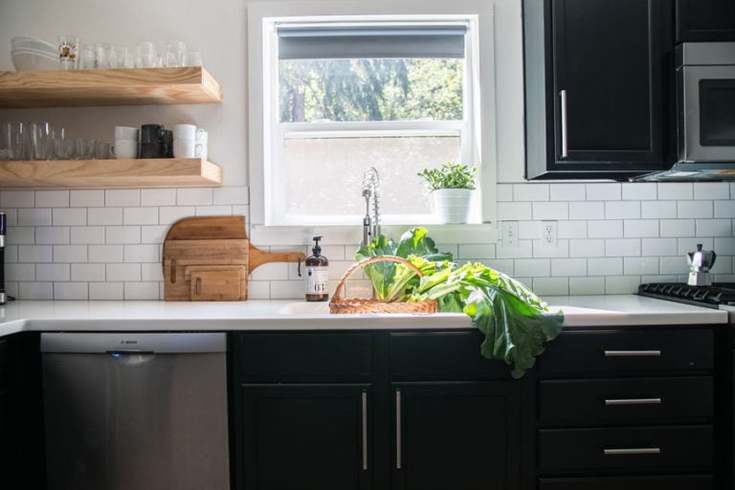 What do you think? It's so nice to have it done! Not including the floors, we did this makeover for around $3,000! Most of that ($2400) being just the counters. It's pretty amazing what a little paint and sweat does.
We're both glad that we repainted the cabinets a solid black. (Remember the painting drama?) It's crisp, elegant, and brightened up by the counters, backsplash, hardware, and floating shelves. Don't underestimate the power of adding hardware to your kitchen cabinets. They will instantly change the look! Ours are from Ikea who has a fantastic selection for prices. Oh, and that rhubarb in the sink was cut out of my garden! Time for some strawberry rhubarb compote (mmmm…)
Cheers!
Kitchen Source List:
Cabinet Color: Benjamin Moore Advanced Black in Sating
Hardware: Ikea
Counters: Hi-Macs Solid Surface in Arctic White from Home Depot
Backsplash: Subway tile in Arctic White from Home Depot
Grout: Light Gray from Home Depot
Floating Shelves: DIY (tutorial to come)
Faucet: Amazon
Soap Dispenser: Wayfair
Coffee Maker: Amazon
Floors: Harmonics Camden Oak from Costco (See more pics from our Living Room Reveal)
Ceiling Lights: Amazon
Dining Room Light: West Elm
Window Coverings: Ikea
Bar Stools: Amazon
Soap Dispenser: TJ Max