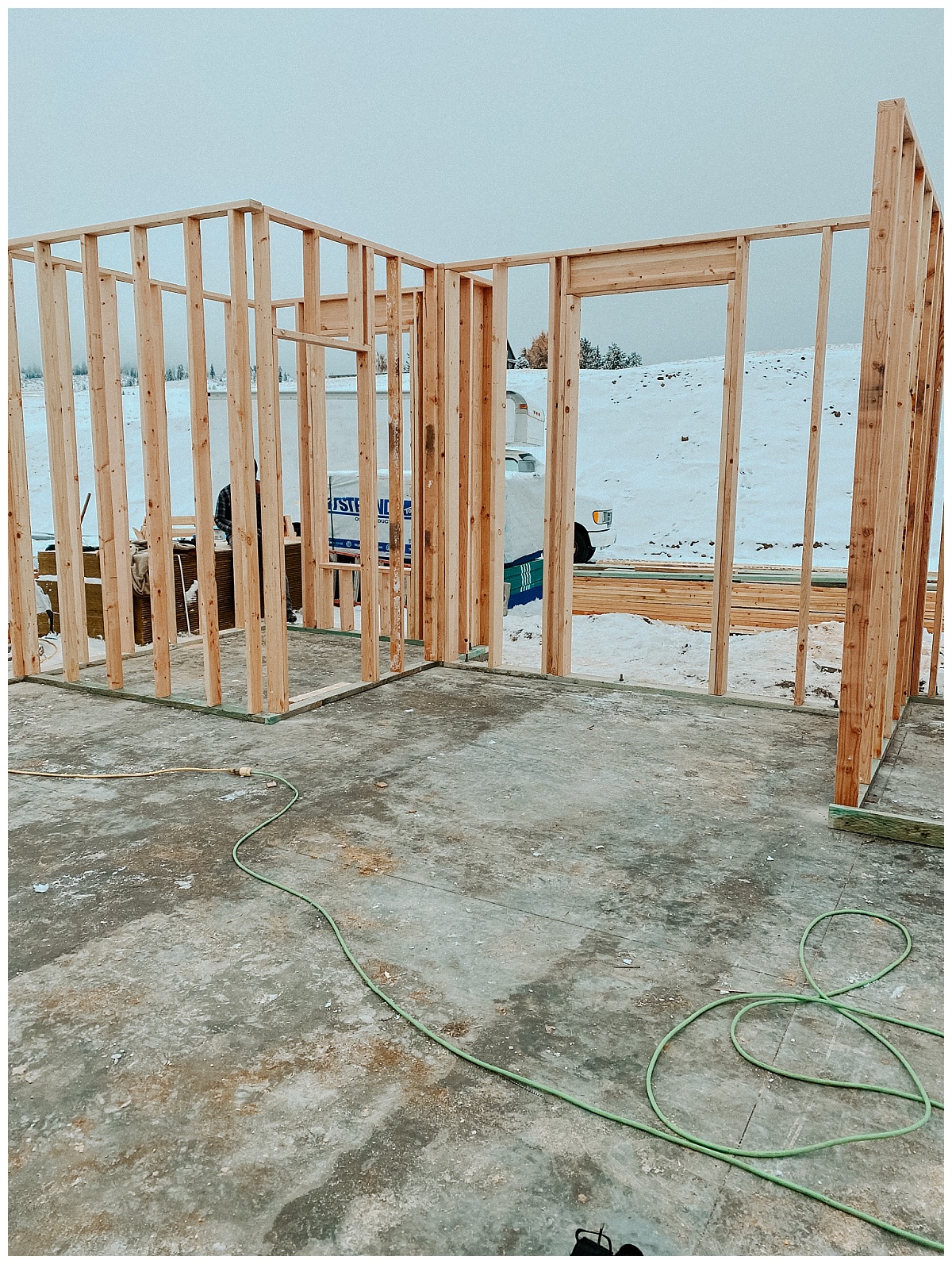 When I asked what people were curious about the house designing process a friend asked how we were handling the daily decisions of wants vs. budget. So I've taken my limited house designing knowledge and wrote this post for "How to Design a Budget Friendly House" so you could get a peek into our minds during this process.
Fact: We could build the legitimate "house of our dreams," a farmhouse mansion, with all the things— we would just place ourselves in a crazy amount of debt for the rest of our lives.
Living Debt Free
After we sold our house in 2017 we entered a debt free life. No college loans, no car payments, we've never had credit card debt, and no mortgage!
We bought our property with the cash from our house sale and have been trying to keep putting money towards our future build. We strive to live below our means so we're not enslaved to debt. That goes for our building loan we'll take out sometime soon too.
We want to build a house that we LOVE, but also one we can afford and foresee the end of mortgage payments on. That way we can enjoy other fun activities with our kids and friends! The simple house we designed hits those goals for us.
Designing a Budget Friendly House
Now let's be clear, I've only ever designed this ONE house (that's not even completed yet at that!), but we've done research on what will make this build budget friendly.
Square footage
Layout
Windows
Attached Garage
Square footage: How big the house is. 2000 square feet is going to cost less than 4000 square feet no matter the layout. We've been hovering around the 2400 square foot size for our house design. Our builder said that adding a few square feet here and there wouldn't raise the cost as much as changing the…
Layout: Layout expenses can start growing exponentially depending on a few things. These are the reasons why we are doing a long, narrow, very simple house.
Foundation: How much concrete you need to pour. Concrete is expensive. It's cheaper to build up than in and out and around.
Exterior Complexity: How many pop-outs and overhangs in your design will change the costs in lumbar, special wood cuts, roofing, and labor. (All of which your builder will include into his markup.)
Windows: Windows are pretty expensive, especially if you want those fancy and popular black pained windows! This is actually where we decided to put more of our budget towards.
We want to enjoy as much of our view as we can right?! We have to keep reminding ourselves that the windows will make a huge difference on our design simplicity and that they mean more to us than a fancy exterior.
Attached Garage: This one was a hard one for me guys! I love love love the look of a detached garage, but the truth was in my face all over google that a detached garage can be over DOUBLE the price of an attached garage. We're talking $30k to 50k more.
Attached garages share a wall, a foundation, electrical, plumbing, and sometimes heating. A detached garage has to have all those utilities installed as a separate entity ($installation and labor$). On our property, we'd also have to move a lot more dirt and the space is a bit awkward. Thus we have an attached garage.
Hired Labor vs. DIY When Building a House
Before we moved to Germany for this special job, we intended on finishing most of the house ourselves after the drywall was installed. We're not sure how much this would've saved us in the end (lumbar prices hit an all time high in 2021), but it would've been less expensive.
Here are things we could have finished ourselves.
Painting (**Painting was the highest finish cost on the quote.)
Bathrooms
Light fixtures
Wood flooring (**Laying floor was another high labor cost in the quote.)
Tiling
Baseboards (**Trim work was another high labor cost in the quote.)
Doors
Kitchen cabinets and sink
Appliances
Pantry, shelving, closets, and wardrobes.
Deck
Budgeting for Interior Finishes
Most contractors add a percentage markup to the overall cost of your house. This includes all your chosen interior finishes they buy and install. There is a pretty thin line between "builder grade" and "custom grade" houses.
Are you looking for builder grade or custom grade?
If you want to specifically choose (and be able to change during the process) more than 25% of the following, you're probably interested in a custom grade home:
Cabinets
Cabinet hardware
Appliances
Flooring
Each light fixture
Unique fireplace style
Unique range hood
Different floor tiles
Different bathroom designs and finishes
Wardrobe systems
One building scenario we had in mind before we moved to Germany was to finish the house ourselves after drywall. You can save a lot of money doing it this way because you avoid the markup and can choose your fixtures as they go on sale or find them used!
Not hiring an Architect
We're saving another few thousand dollars by designing our own house vs. using an architect. We're using this software to draw up the plans. Our plans will then go straight to a Home Designer that can stamp of everything from the toilet's appropriate whereabouts to the structural integrity of the house.
Designing your own house is not for everyone. Using the software takes a tech savvy patient learner and I wouldn't suggest it for very complicated house plans. But if you have time to learn and practice you might enjoy it!
By using the software we're just skipping a middle guy. There's a steep learning curve to the software and we only have a single license, which means it can only be used on one computer at a time, which means it's currently on his work laptop!
Designing Your Own Plan with Software Pros:
You can do it over a long period of time and let the design evolve with your tastes and knowledge. We bought this software as soon as my husband started his new job and we began dreaming of living out here. Next, we started learning how to use it. After that we researched cost effective building strategies and conferred with engineer friends about other technicalities like appropriate truss sizes etc.
It doesn't cost you anything but time to make changes to your design. An architect, on the other hand, will charge you by the hour for those changes, some of which you might not even keep.
We can add and change minute details that make the house come alive to us as we further explore our style.
Designing Your Own Plan with Software Cons:
It takes a lot of time to learn the software. For many of us, time is money.
There are TOO many options for house layouts. In short, if decisions are hard for you, let someone else take the headache away and do it for you.
You can get caught up and design your dream house that way exceeds your budget. An architect might just have a better idea than you regarding how much house's cost. Or, at the very least, which ones will cost more and which ones will cost less!
Boom, done. Just look and drool over this site of modern farmhouse house plans. Use the menu bar to narrow down your needs. Warning, this is completely addicting.
Conclusion
These are the biggest factors that have played out in the design process of our modern farmhouse and just what I've picked up so far in designing a budget friendly house. We're having so much fun, but also taking the process seriously. Can't wait to share more when this design actually takes off out of our PC to the designer!