Of all the rooms in your house do you prioritize styling the bathroom? Probably not right?! Of all the rooms in your house is the bathroom used the most? Probably yes! That is why I have always given bathrooms a little extra love and why I spent so much time looking at European farmhouse bathroom vanities for our new build!
Of course we could have bought builder grade cabinets and converted them to vanities (a GREAT budget friendly option), but I wanted our bathrooms to have a little old world charm, and it centers around the vanity. Today I'm sharing all the classy French farmhouse, English cottage, and transitional European American farmhouse bathroom vanities I found during my 8 hour hunt!
**This post contains affiliate links to Amazon and other affiliates. You can read more about affiliate marketing on my FAQ page!
Jump to these sections of the post
Here are three other bathroom makeovers that you'll find on Petite Modern Life!
We have three bathrooms in our new build and I want each one to have it's own special look. Downstairs there will be a small powder room that will NOT have a vanity. Instead it will have this beautiful mounted sink from Rejuvination!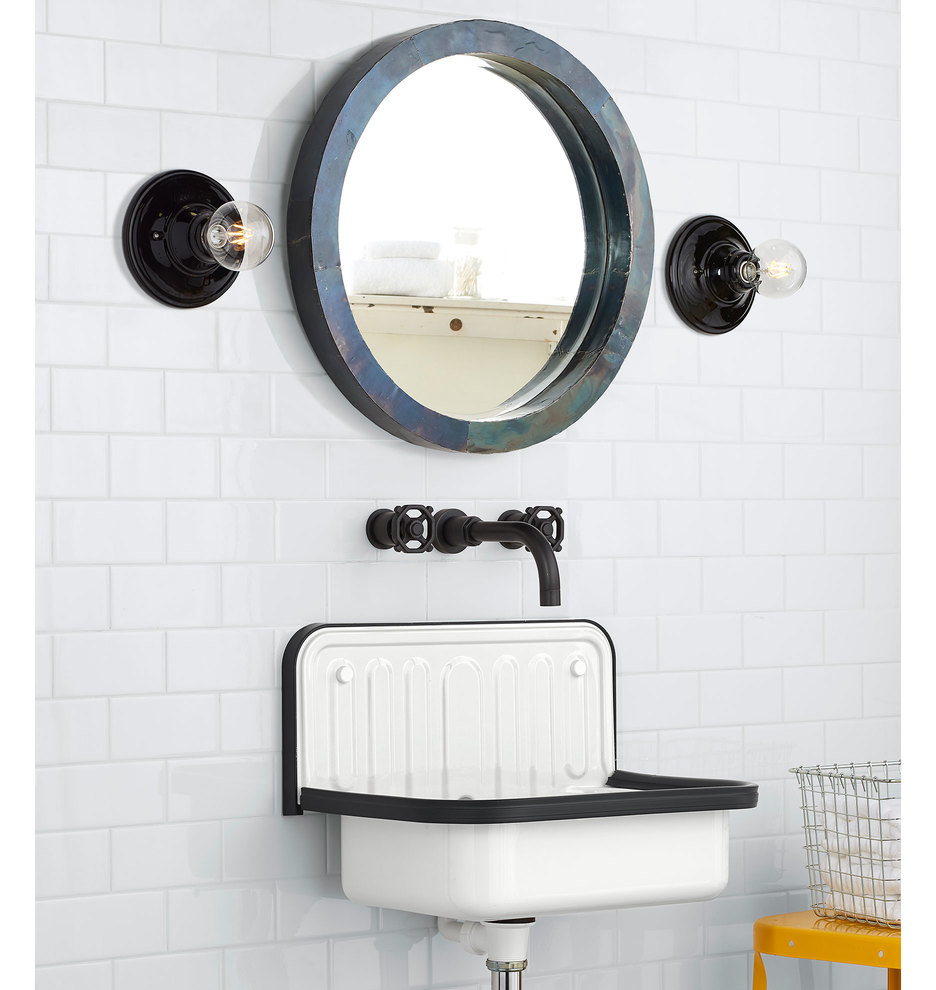 Style notes for a European farmhouse bathroom vanity:
Elegant Stately Bathroom Vanities:
If you want a bathroom of elegance, consider vanities with strong lines on the doors and wide feet. Choose between a wood or painted cabinet in white, cream, or gray.
Artful Bathroom Vanities:
You don't have to be a knowledgeable art lover to appreciate Europe's art culture. It's in everything from palatial gardens to ceiling and window accents. So why not have an artful vanity?! I'm kinda in LOVE with the Chennai Home Decorators Collection from Home Depot! The door pattern is classy with a bit of rustic flare.I would probably change out the hardware for something more solid or gold for even more class.
Louved and Shutter Door Bathroom Vanities
In Europe shutters are everywhere and used not for looks, but functionality. When we drove around Tuscany every apartment building, city wall apartment, and villa had shutters on the windows for extra protection from the elements to lower heating and cooling costs. So when I came across shutter and louved door vanities I fell in love! They sweetly say Italian farmhouse to me and would go great with the popular Italian stones shared in this post.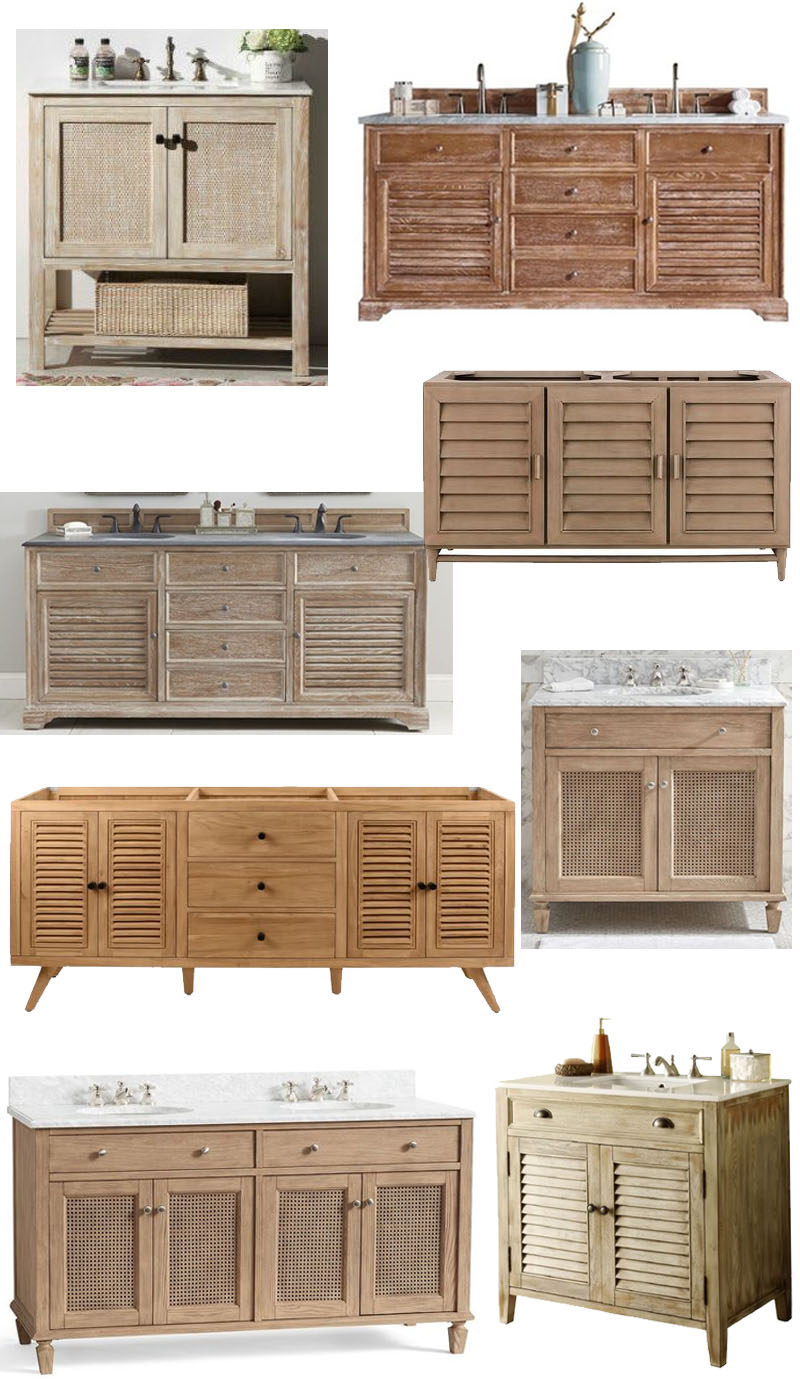 Little shoutout to this gorgeous vanity with cane/fabric front detail I stumbled upon during my farmhouse vanity search. The left is from Pottery Barn with a price tag I couldn't fit into the budget. The right is a cane front, open shelf vanity I found on Wayfair that is equally as stunning! Unfortunately they only carry the double in a 60 inch length and I was looking for a 72 inch!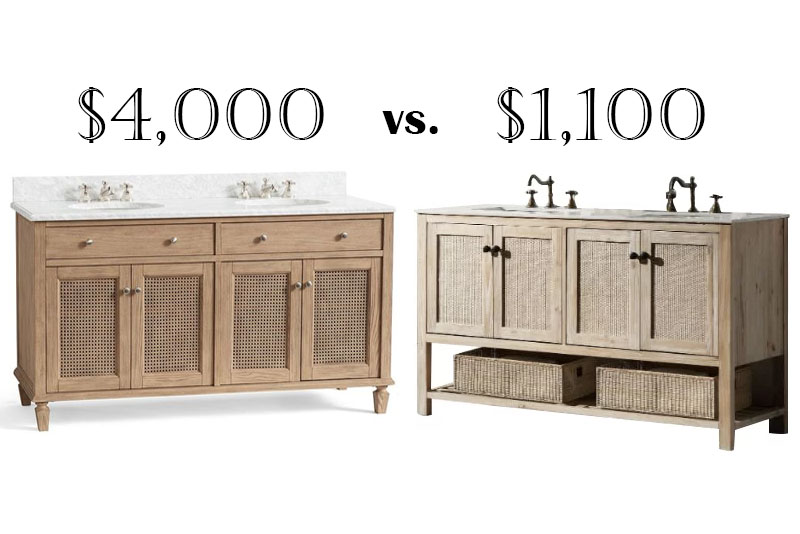 Open Shelf Bathroom Vanities
The open shelf vanity is a little more transitional, modern and rustic farmhouse style. The raw wood construction is my favorite to keep that old world charm seen in countryside French and English farmhouses. Remember, adding your own hardware can create a more elegant vanity look, especially paired with the wood!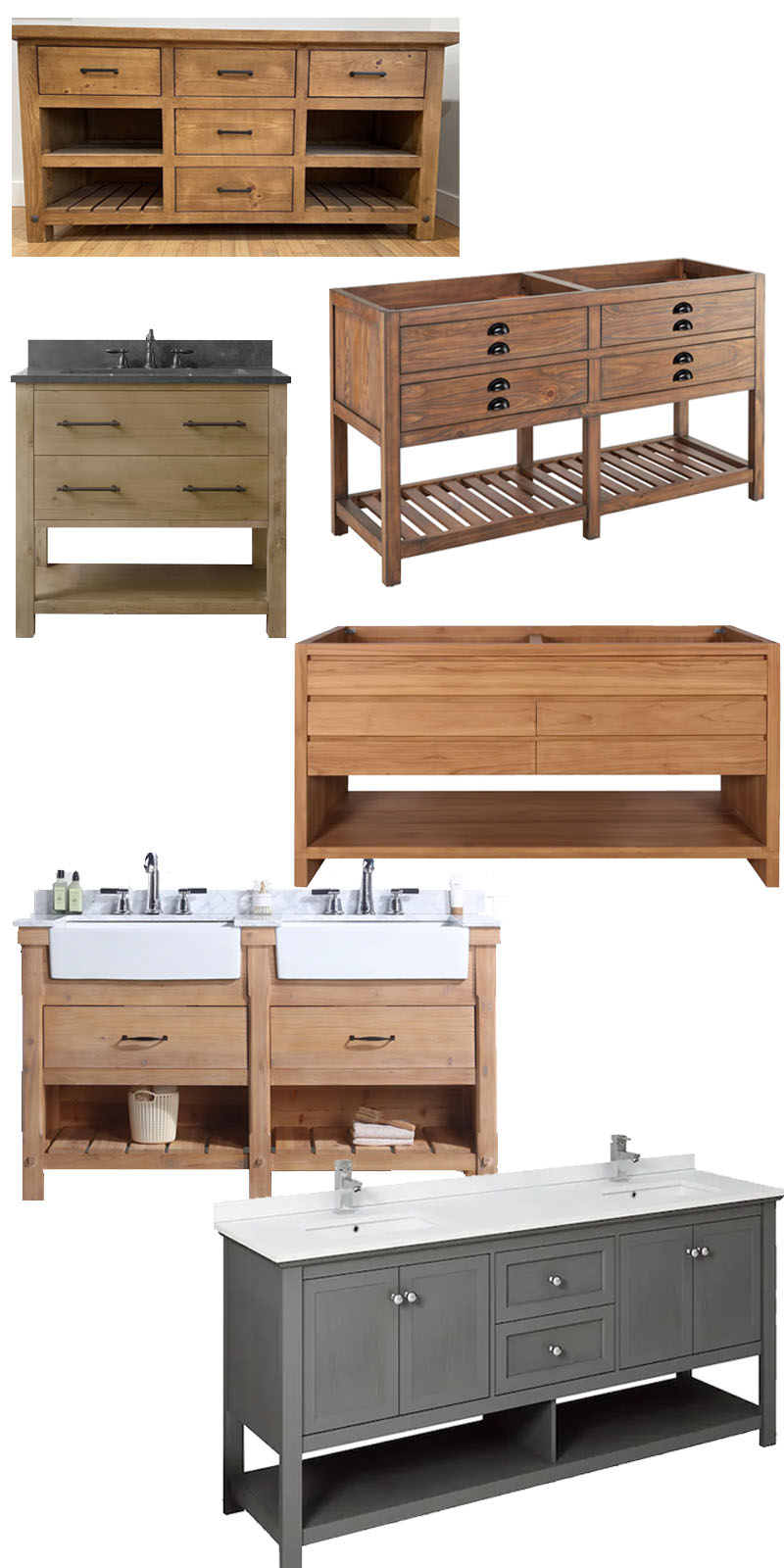 Classic solid bathroom vanities
Sometimes a classic solid bathroom vanity is what you need for a transitional farmhouse style home. It will play to rustic, classic, and a little modern farmhouse depending on the door and foot style. Ps. Two of the below are from a woodworking Etsy shop out of Indiana that I'm now obsessed with!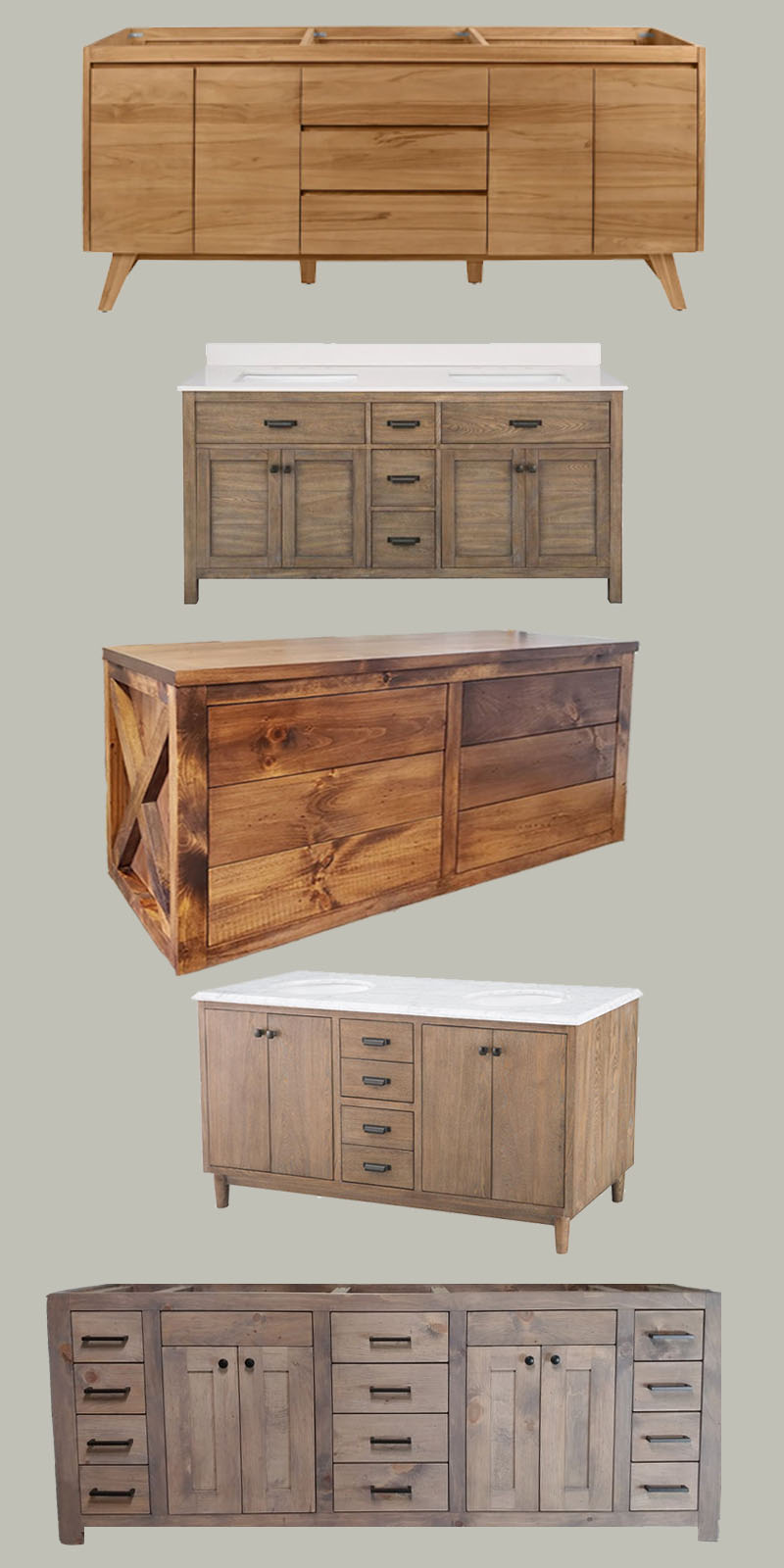 I'm not going to lie, I kind of want to open a bathroom vanity store at this point! 😂 There are so many beautiful European Farmhouse bathroom vanities out there! I hope that each selection I spent hours (**so you don't have to!) curating helps save you time and energy while shopping for your home! Whether your home is French farmhouse, English cottage, Spanish villa, or American rustic/modern farmhouse there is something here that will tie your bathroom perfectly into the rest of your home!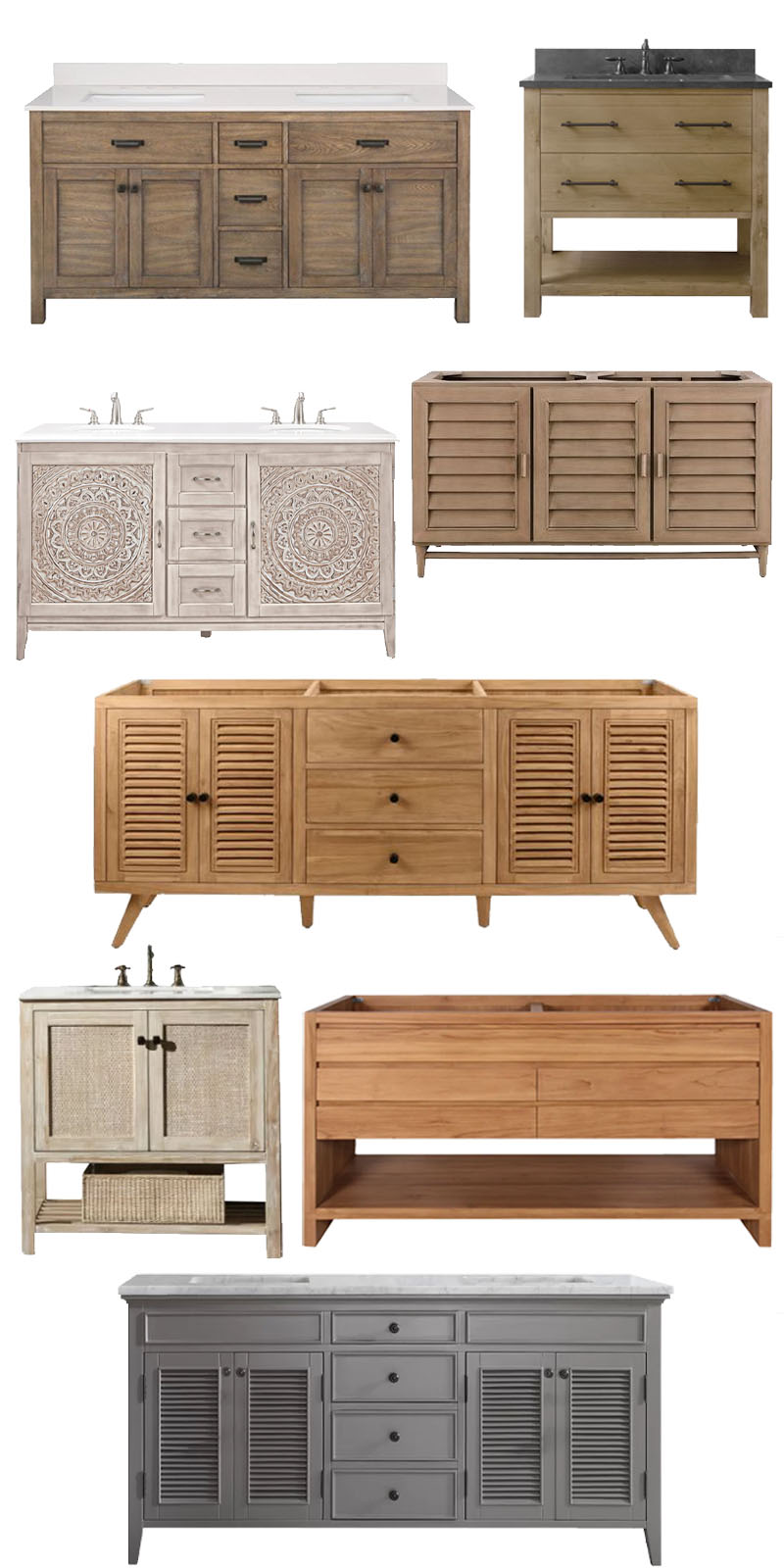 Shop my curated European farmhouse bathroom vanities

My final selection
After all that searching I settled on this wood vanity with louved doors from Build.com for the main bath and the finished blue vanity with louved doors for the guest/kids bath from Wayfair! I love that they flow together and how much joy they already bring me!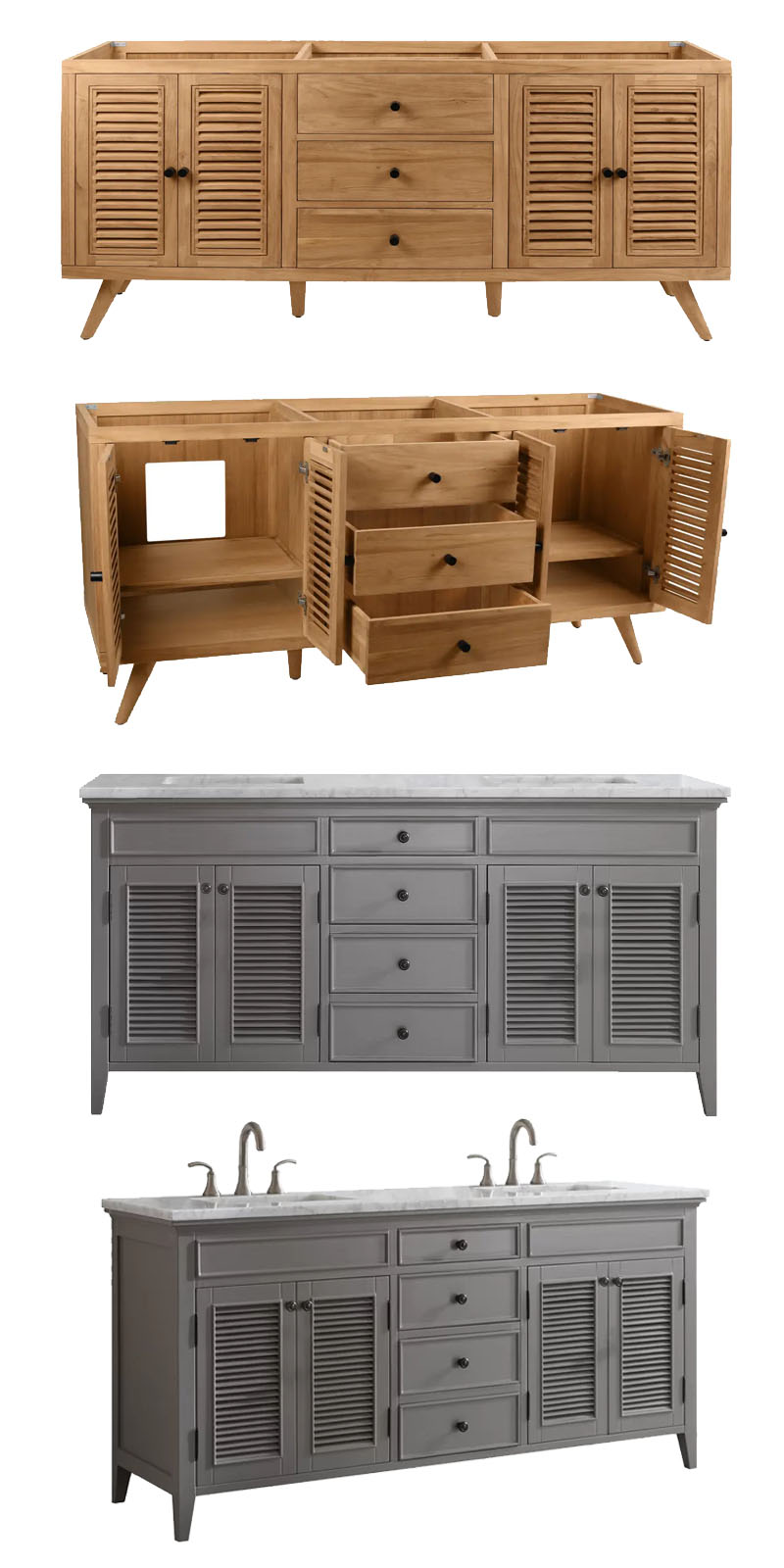 xoxo Karisa