My biggest project as of late has been renovating (but not) the bathroom. I say "but not." because we really haven't been tearing down walls or replacing any big items. However, the work we have put in is significant enough for me to view it more than a makeover. I'll let you decide?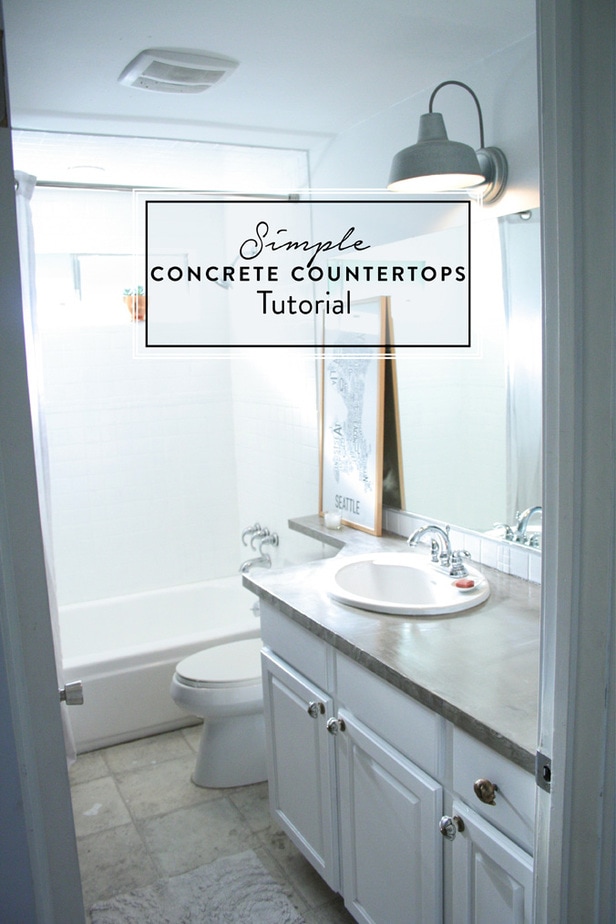 Regardless if it's a reno or a makeover, we've been busy. If you missed last weeks post on our painted shower tiles, you can read that here! Up next for your viewing and learning pleasure are our new concrete countertops!!
I mentioned the product Ardex- Feather Finish
in this post a couple weeks ago.  Basically, it's designed to go on top of roughed up surfaces to create a concrete look. Don't be fooled, it IS concrete, minus the heavy weight of a fully cast form of concrete.  It's fairly simple to apply, inexpensive, durable, and seems like it will be easy to remove someday if we want to put in a different counter. So without further ado.
Components and tools:
1.  Ardex- Feather Finish
2. Drywall Trowel (large),  3-Inch Stiff Putty Knife
 (medium), and 1-1/4-Inch Stiff Putty Knife
 (small)
3. Mixing container
4. Concrete Cure And Seal Satin Finish
5.  Paint brush for sealer
6. Exacto knife
7. 60 & 400 grit sand paper
To begin, rough up your surface with your exacto knife and 60 grit sandpaper. I just scored it a lot with the exacto knife all over. I didn't have to get deep int the laminate, just enough to rough it up. Then wipe off your surface.
Next you'll be mixing your concrete. I picked up a lot of tips from Young House Love, and suggest you read their site too and watch their video clip, because I'm going to use it to clarify some things.
First tip: You'll need to add a lot more water than the bag prescribes, so go with the look of the consistency rather than precision based on the recipe.  You're gunning for a gravy like consistency where it slides around a little, but isn't drippy when you scoop it out on your trowel.
Second tip: DON'T forget about the fast set. (Like I might've out of blind enthusiasm). Mix it up. Let it sit untouched for 5 minutes, then mix again. This is supposed to help it from drying up too fast in your bucket as your laying it, which leads me to the
Third tip: only mix a small amount at a time. You don't need to fill your whole bucket. Maybe a quarter to a third for a counter size like ours.
Fourth tip: Plop down a LARGE "splat" of concrete onto your counter and begin smoothing out with your large trowel JUST like John does in the youtube video. What we learned after trial and error was that if you don't use a large trowel and don't plop a large splat, you'll get lots of unattractive trowel lines across the counter. Also, cover your floors and cabinets and allow some of the concrete to plop down off the edge. Otherwise you can end up with ugly edges. Be sure to do thin layers so your "oopsies" are easily sanded. Below is our "oops, shoulda done that different" picture because I want you to learn from our mistakes!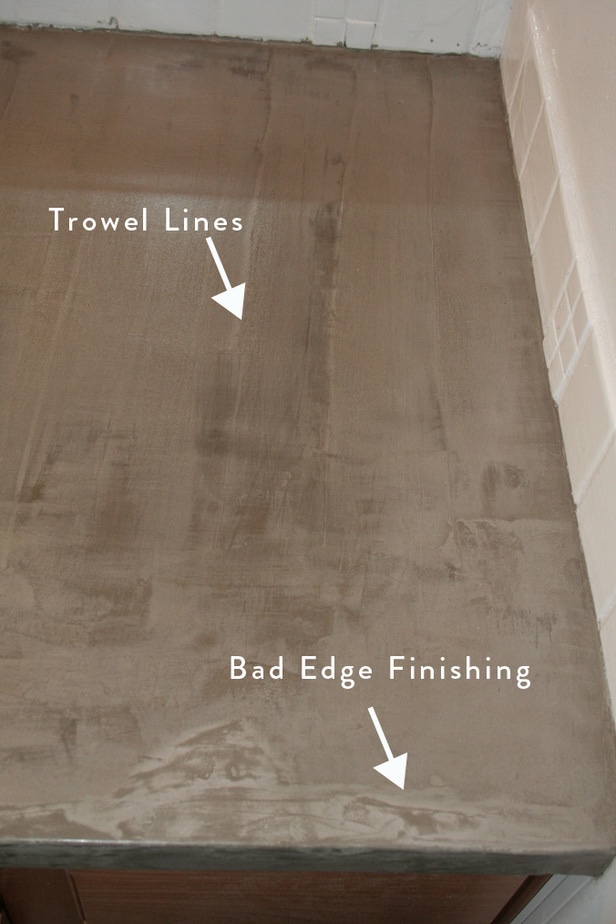 Fifth tip: Round out your edges well with your finger after 15 minutes of the application. This is also a good time to wash off your bucket and trowels.  We waited at least 3 hours for the concrete to dry. After that, we went in and sanded it down smooth and putty knifed off the bumpy parts. Then use your shop vac and suck up all the dust and repeat the previous step/tip to add another layer. If you do it well, without as many mishaps as we had, you would probably only need 2 layers. We did four with a lot-a lot-a sanding to get it "just right."
The nice thing about this finish is that concrete naturally isn't perfect, so you get to choose how imperfect you want it! When you find your perfectly imperfect place, follow the instructions on the sealer and brush it on.  Don't be afraid of this first look..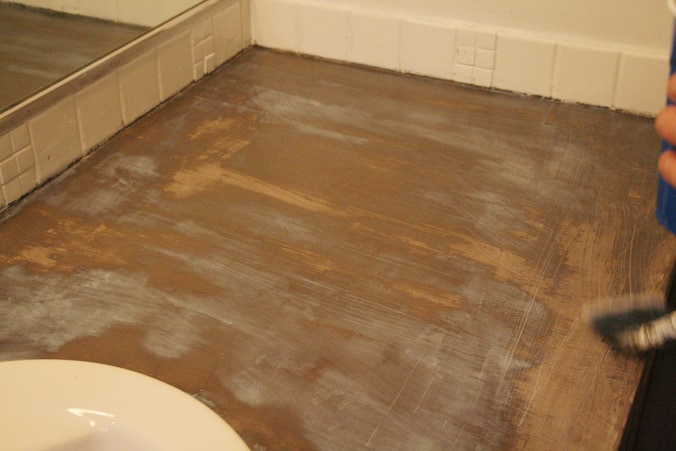 Wipe off the excess and wait at least 24 hours before applying another coat. Mr. G wants to be sure this is legit so he's doing 3 coats of sealer. After 24 hours the tacky feeling disappears and you have a semi glossy surface with the same color concrete.
Then.Love.It.
Just a reminder, because I'm so thrilled about it.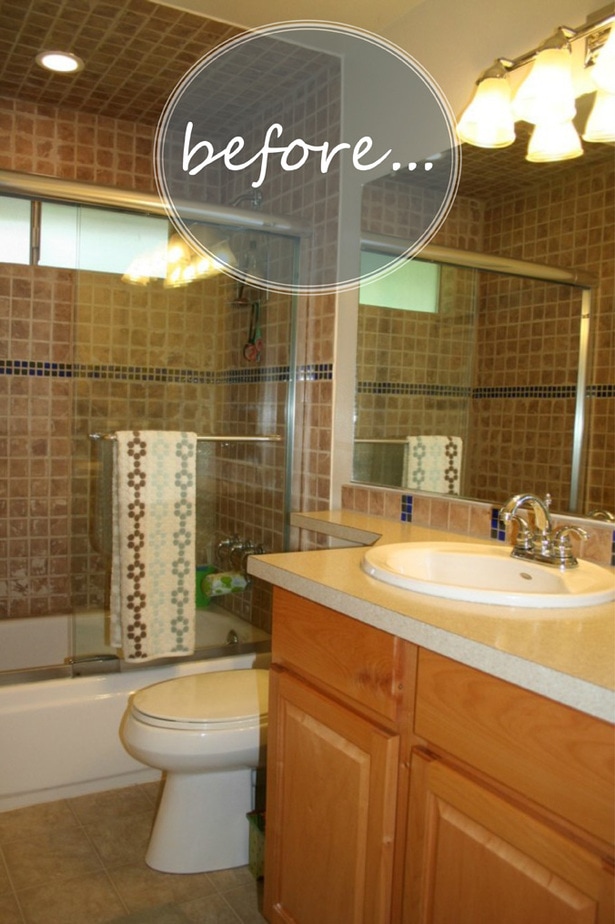 And presently….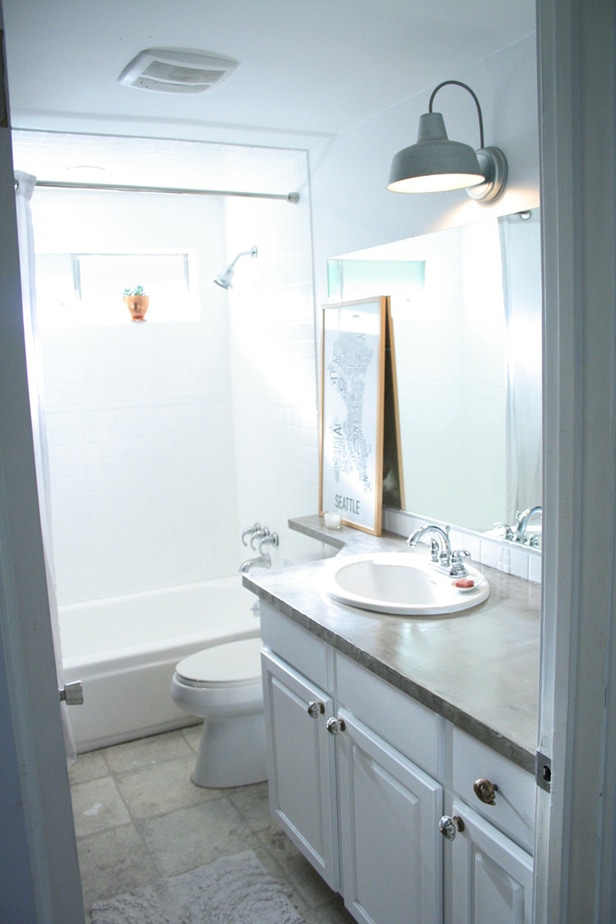 Oh yah, I sanded and painted the cabinets!
With new floors soon to come…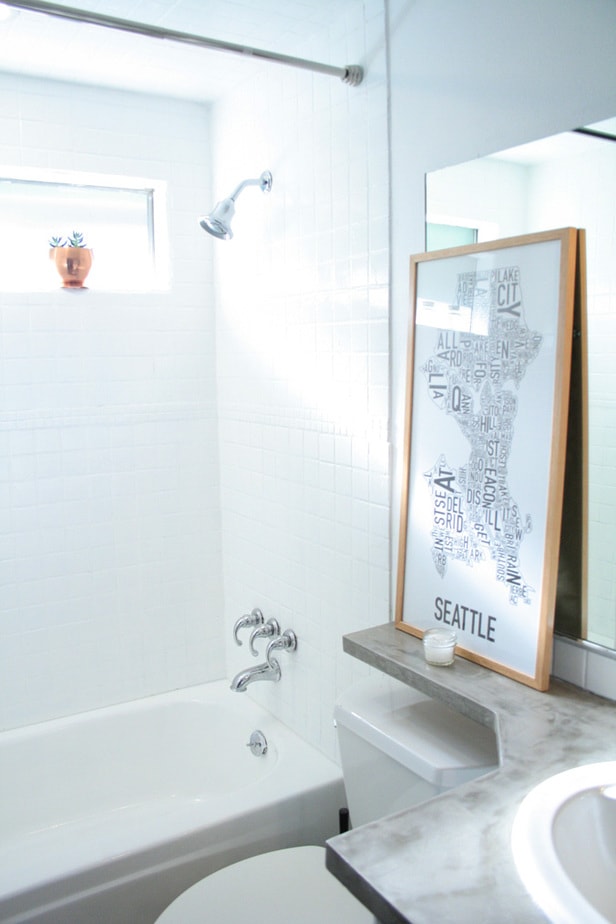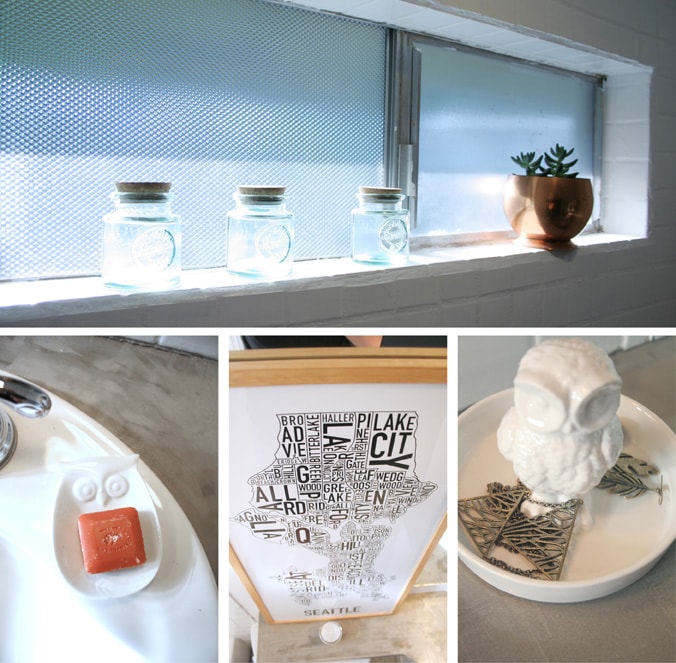 I'm in love with these Anthropologie knobs. I want all the ones they have in their store all over my house..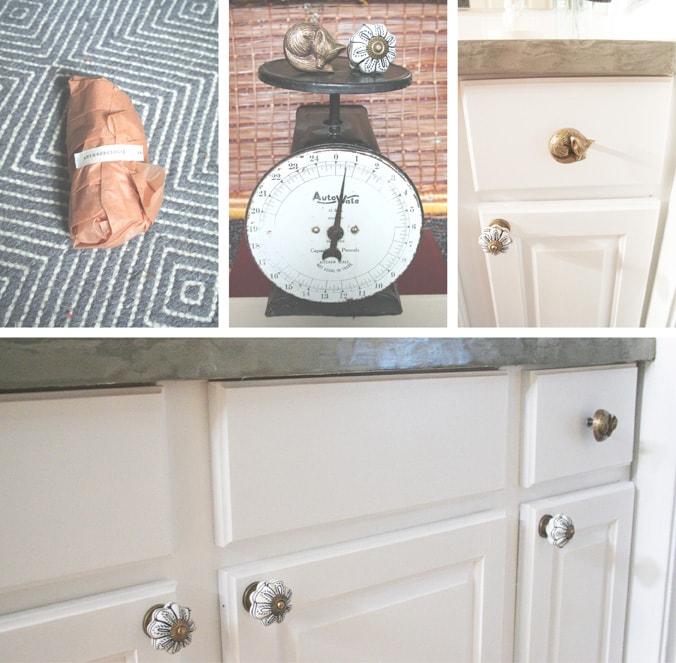 There you have it. You're up to date with our bathroom "renover" (..does that work?) Still to be done: some more caulking, cleaning off tile paint from things I really should have been more careful with, putting in new floors, and finding more wall decor! So stay tuned for the up and coming posts!
Ps. If you love these projects, please help me share the love on Facebook or Pintrest! Thanks ya'll! As always, ask any questions below and I'll get back to you!