One of the things I kept in mind while house hunting was to not get a house that was "nice and updated" by all standards, except in the way I wanted. For example, I'd feel terrible tearing out expensive granite and fixtures only to spend the time and money replacing it with something I liked but that was worth less!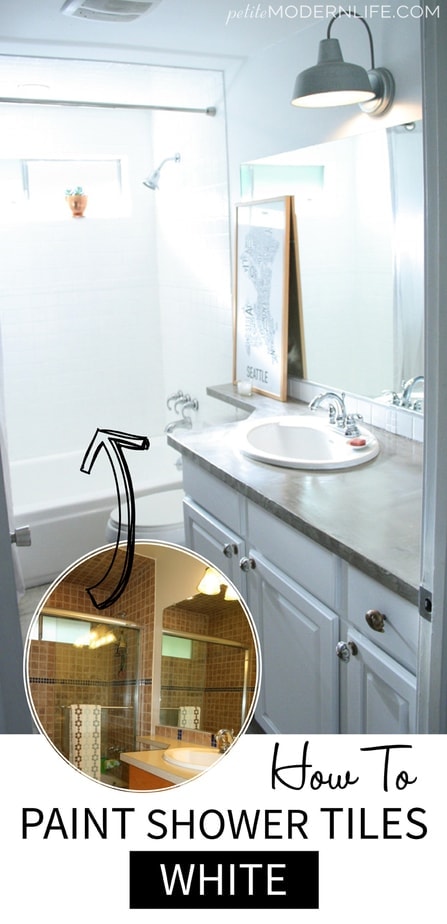 This house was really a great choice for starting with the basics and transforming it to our style, without the guilt! That is except for the guest bathroom. It was evident someone put some hard work into it. The tiling in the shower was extensive and must have been back breaking work.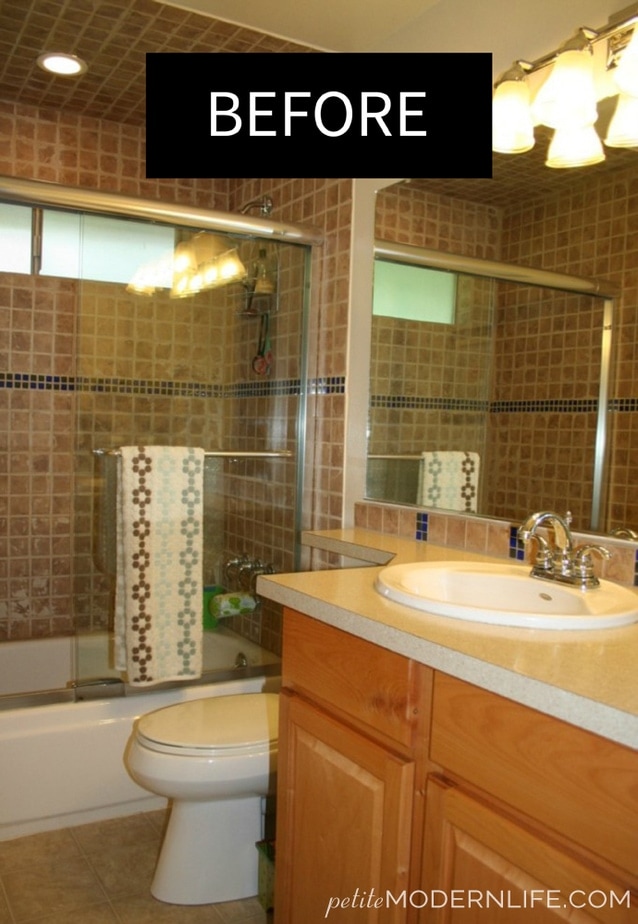 Now, truthfully, the bathroom really wasn't horrendous. It just didn't fulfill my "white bathroom vision." At some point I weighed my options of what I could do to have a white or whitish bathroom.
< One > I could tear out the tile.. But that would damage a lot of dry wall and be a terrible mess. Then I'd have to pay for new tile quickly so we could use the bathroom again.
< Two > I could replace just the accent strip of tile and leave the brown ones. Then I'd have to hokey pokey around with choosing sizes and the right color.
< Or Three > I could find some way in the world to paint over the whole thing white.
Between Mr. G, our bank account, and I, option three sounded the best. So I did some research and found a product called Rust-Oleum Tub And Tile Refinishing 2-Part Kit
. After reading the reviews carefully and checking the blog world, I thought $64 (2 kits) sounded like a legitimate way to makeover our bathroom shower.
Unfortunately, this product apparently can't be found in store anywhere (I called at least 5 places in my area), so I had to order through Amazon (not prime) and wait a week for it to ship to me. Talk about impatient! I wanted to start the moment I learned it was possible ;). So if you're like me and need to start on some part of "that next awesome project," this one has some "great" prep work to be done. So prepare to "have fun." (The below steps are what they prescribe on the box directions and how they worked best for me.)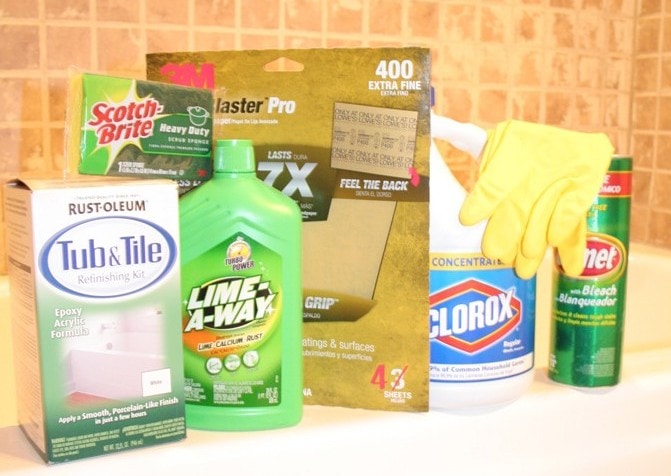 First, as you may have noticed in the second picture, we took off the glass shower doors, and no, they're not going back up. I know glass is classy and spendy, but I'd rather wash a shower curtain then clean glass any day. If you are removing something similar you will come across a mighty amount of glue left on the wall. With your x-acto/utility Knife
and flat head screwdriver (and maybe a small hammer) you'll need to scrape or lightly chisel off, any and all glue remains. You'll also need to go around the tub and remove all the caulking between the bathtub and tiles. This takes some time and patience. Have your vacuum nearby to suck up the dust and glue. I tried using sand paper to get the glue out of the grout cracks, but the x-acto knife did a much better job. (Don't think the intense cleaning later will get the glue and caulk out either, it's all in the x-acto knife.) Then sand down the tiles and grout with ~200 then 400 grit paper to remove lingering debris. You can tell that the previous tile installers had smeared the grout poorly and got it on the tiles. I left it there, deciding to just paint over it and get a rough look on some of the shower. This is also a good time to fix any grout that has crumbled away.
The glue and caulk removing phase took a long afternoon to accomplish. So you might want to set a day aside for it in itself.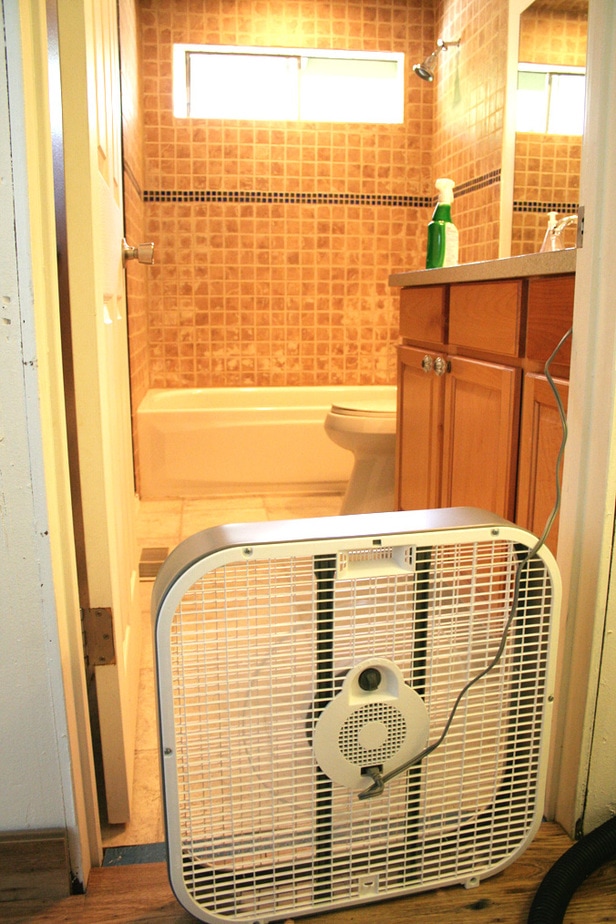 Once you're done cleaning out the glue and caulk, it's time to open the window and set up your fan. I picked this one up at target from under $20. Also, it may be time to don one of these…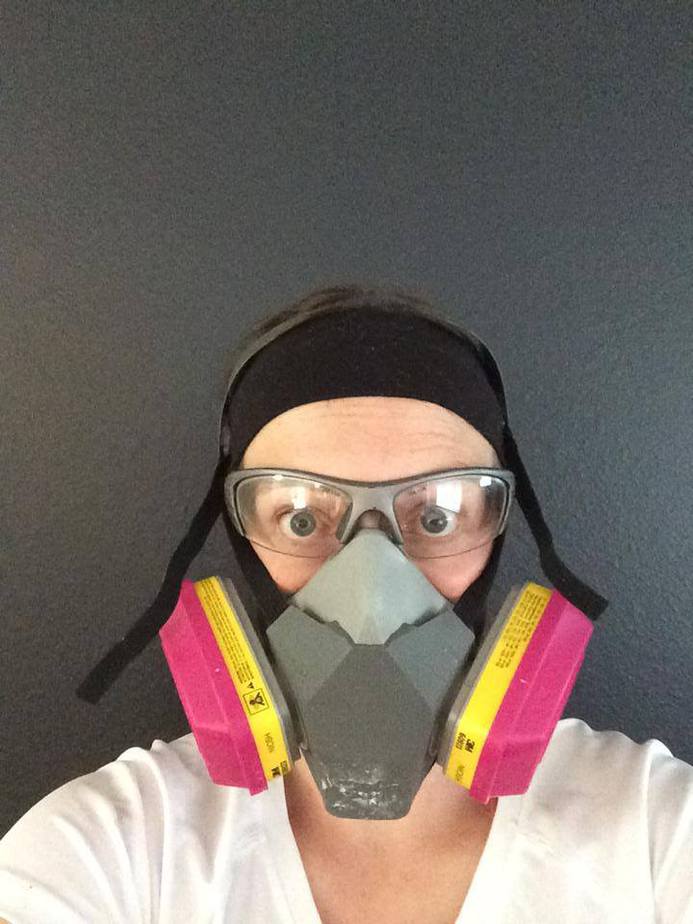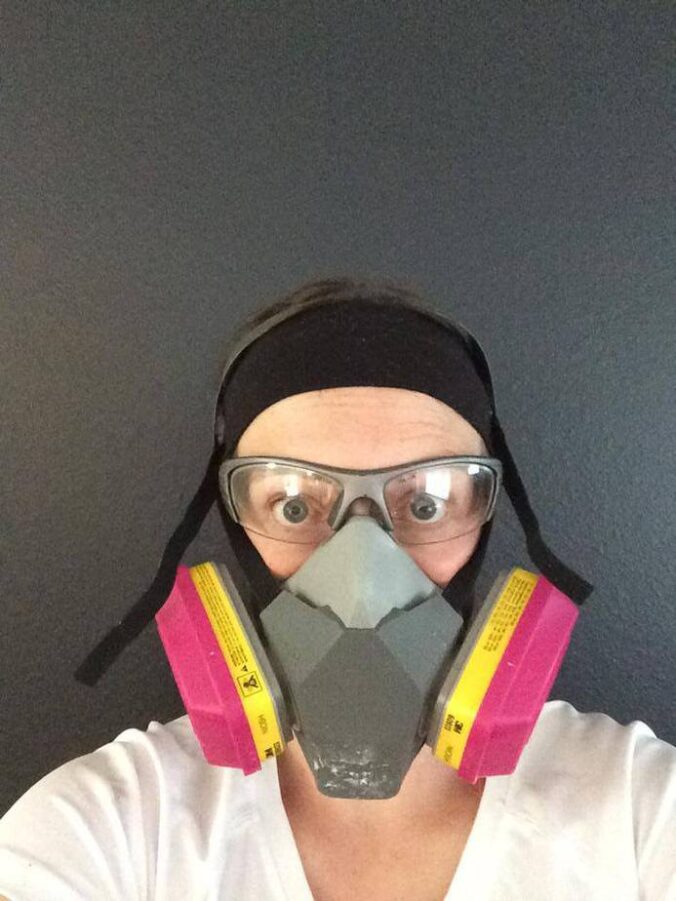 This is a 3M Professional Multi-Purpose Respirator
that you will DEFINITELY need for the painting process (even though the box doesn't say to get one, please please, for your brain cells and nervous system, do.) While I was cleaning with multiple harsh chemicals, I thought it a good idea to wear it then too. Sure I kinda look like this guy, but at least it's in pink. ;)
The cleaning steps are to insure that the paint will adhere well when applied. So though these aren't the favorite household cleaners these days, I don't think you should skimp or exchange any of them. Don your rubber gloves & mask, open your new abrasive scrubber, lock the kids and pets out, turn on the fan, and get to work.
1. Vacuum the tub of dust and hairs. Rinse.
2. Apply bleach, scrub, rinse thoroughly. (…I should've taken a picture as proof, but I totally pulled my garden hose through the window to spray down ALL the tiles, including ceiling. It was the equivalent of a rain forest in the bathroom for about 45 minutes…)
3. Next, spread Comet across the tiles and scrub away. Rinse thoroughly.
4. Finally, spread LimeAway across the tiles and let sit 5 minutes. Scrub. Rinse thoroughly.
5. Let dry for at least 90 minutes before painting. ( I towel dried too.)
Now for the painting. Know in advance that your brushes are toast after the process and buy accordingly. I went with the cheapest brushes at Lowes and a high density foam roller (buy extras if you plan on a third coat.) This is when you need the best air flow going, but if you can, don't let it in the rest of the house. We kept the bathroom door shut with the fan pushing the air towards the open window. It helped to have the rest of the house's windows open (but the bedroom doors closed). It'll stink it up for a few days. Some people even said they were glad they did it just before going on vacation. I didn't think it was that bad so long as the bathroom door stayed shut and fans stayed running (for about 3 days). Also, if you don't want to mess up your bath tub, shower, floors, or counters (…I'm a bit of a clutz sometimes) cover them up well. This stuff doesn't come off without a fight, sandpaper and some light scratches.
Keeping your gloves and mask on, shake the activator and base cans up to mix well and then poor them into your paint tray. When mixed, the paint looks very watery, but goes on like solid glue. The grout is tricky to cover, that's where I used a brush the most. Using your roller, go in one direction consistently feathering your edges. If you allow a paint dribble it will show bad when it dries. This paint dries fast. You can touch up spots easily in subsequent coats. In between the first and second coat wait about 2 hours for it to dry. Wrap your paint and brushes super well with plastic wrap in between coats. The can says to wait a day before the 3rd coat, but to not let your mixed paint sit out for more than 6 hours. If you're not sure how much paint you'll need, the can shows the ratios to mix if you want to leave some unmixed in the can for a later day.
For all my tile I did 3 coats + 1 touch up session and used almost 2 full kits. Layer three ultimately covered up the previous tile color.
Tada!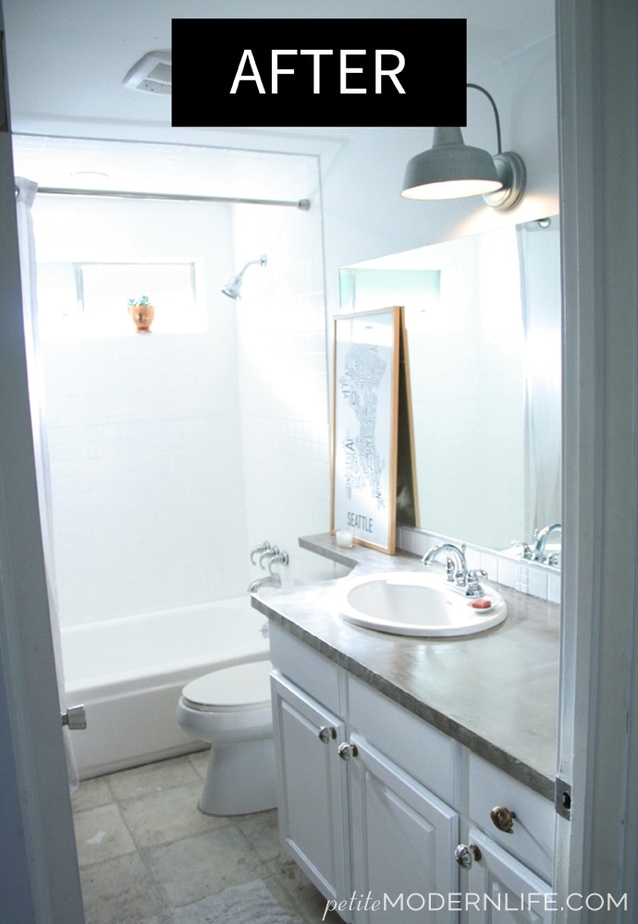 After painting the tiles we realized that the tub was biscuit rather than white, so I bought another kit and used half of it's contents to repaint ~2 coats on the tub. I'm saving the second half of the kit to touch up the tiles behind our new concrete counter that is in the works! (Check back next Wednesday to see how we did it and what we learned!) It was hard to get a distinctive before and after picture of the bathtub with all the surrounding white, but I'm grateful for that because it disguises any brush blemishes I may have.
Here is the new tile against my accent wall.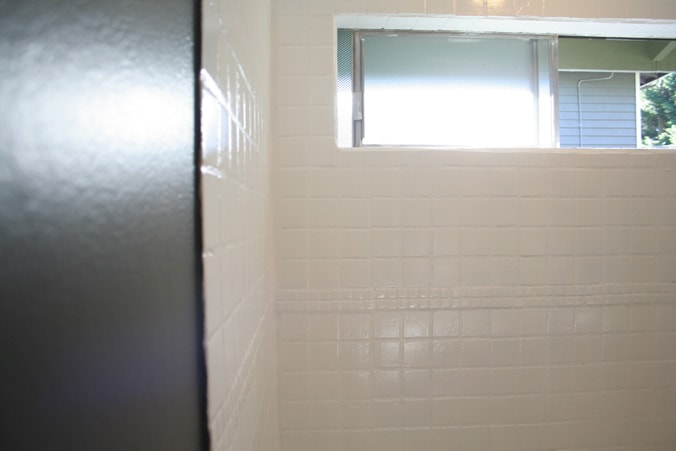 I can't wait to get new tile floors and finish the counter and cabinet! I'm in love with the process and results thus far, I hope you enjoy the painted shower tiles too. If you have any questions shoot them my way!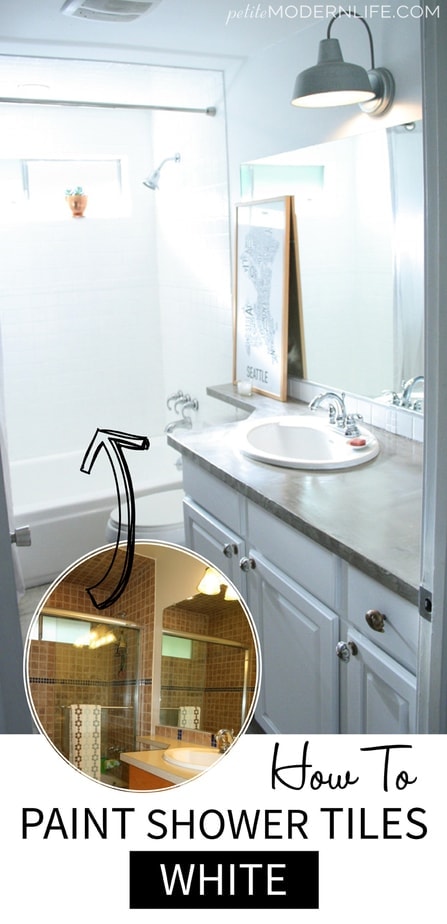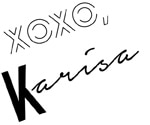 *This post may contain affiliate links to products I use and love. Read more on my FAQ page.*