It's nearing the end of July and Mr. G and I can hardly believe August begins next week. It's hard to balance getting outside and enjoying the summer's bounty while trying to finish up as many house projects as we can. Sadly, the house usually wins. But I think we're Ok with that. We've got some camping trips in, we're grilling almost every night, drinking cool, white wine, and we've realized that some of our remodeling/makeovers need this warm weather to finish/set/dry properly. So here's to a house that will be cozier this fall! (But fall, please wait till October..Please!)
I wanted to catch you up on one of the many projects I've alluded to on Facebook and Instagram, (follow me on those platforms for pre-blog post so very "exclusive" views of the remodel) starting with the rambler hallway makeover! We're just about finished putting the new baseboards in the rooms where we tore the previous ones out and we've replaced the door trims. All of which still need to be caulked and painted. We love our new 5.25 inch baseboards from Lowes. They're crisp with a slight lip that adds a little sophistication to the walls. We put them in ourselves over the past few weeks. Since I love Before & Afters, here's another one for the books: Our infinity rambler hallway. (There was an addition of 2 rooms added at some point in it's history, which makes for a "long" walk to the linen closet.)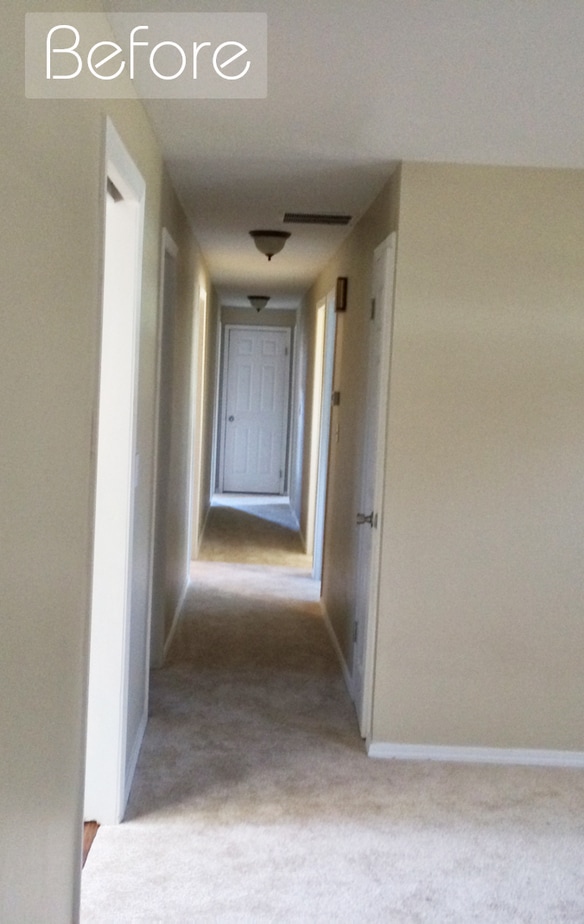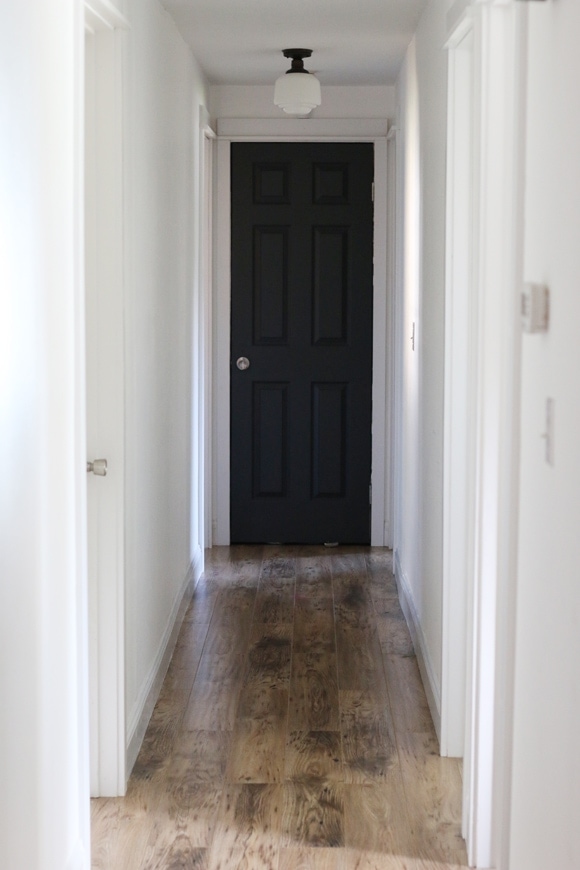 What do you think? For a one story house with this simple layout, I wanted to have the wood floors extend everywhere down the hallways to keep the space feeling open and uncrowded. I also knew how much traffic this would/does get and carpet sounded like a deep cleaning nightmare. Notice anything else new? Yes! The School House Light Fixtures
. I'm in love with the look. And they're a killer deal at Home Depot for these guys.  Online it looks like they only sell one, but instore they have 3 different sizes from $28-$49. (We have three of the largest sized ones in the Kitchen.)
Here's a look at the unfinished door trim.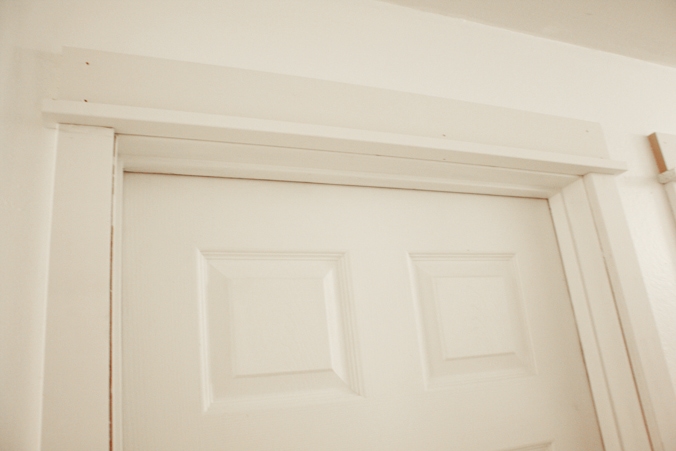 Unlike ALL the coveted pictures on Houzz, my own house doesn't have looming tall ceilings or bedroom size hallways. So we played around with ideas of how to fancy up the door trim without crowding the narrow corridor. The small ledge piece fit the bill. It makes the doors feel deeper and more refined. The top flat piece adds the illusion of extra height to the walls.
One last detail I made a "must do," was to fancy up the hallway doorbell cover. No, I didn't take a before picture, but it's really not too hard to see the before. (Hint: It's the inside of the triangle.) I also had the realization that I don't hate brass anymore. It will probably go out of style someday, but a little here and there is fun. Therefore, the ding dong apparatus got to stay up if the cover received a makeover. Geometrically speaking.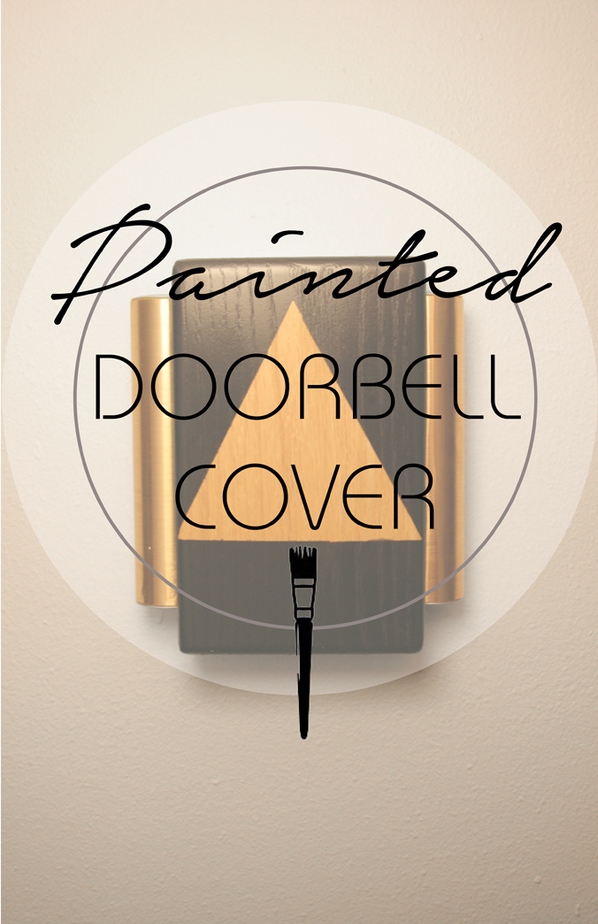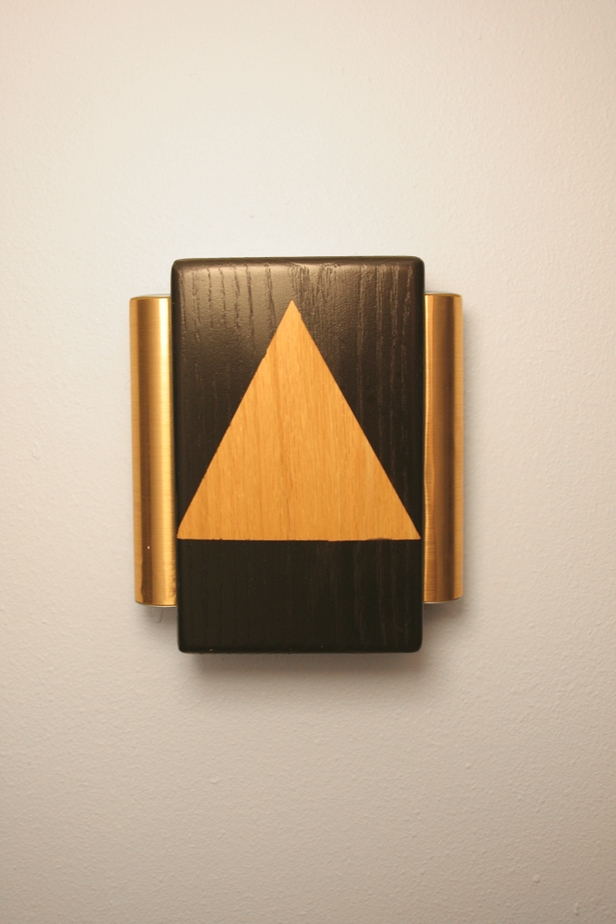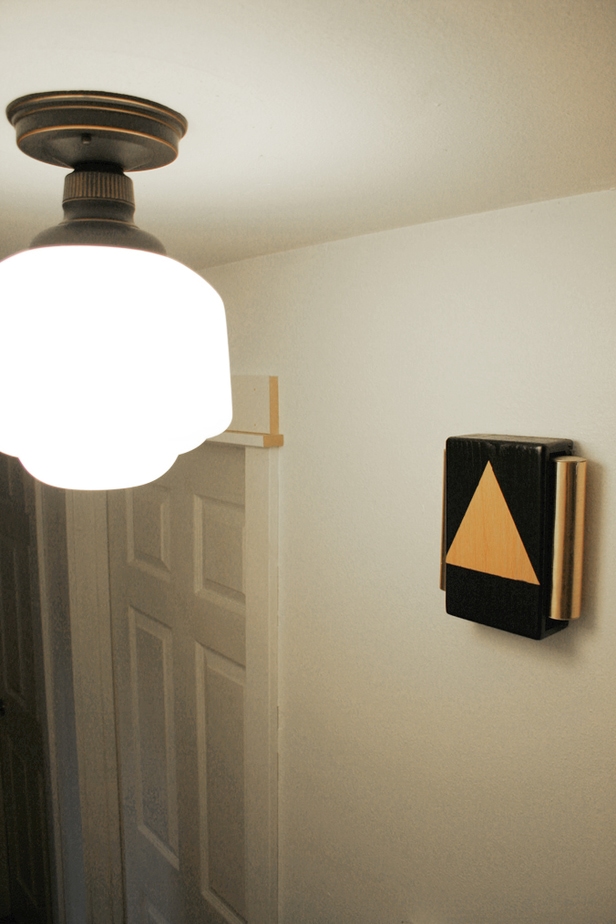 Tape & spray paint. Not much of a project, but it meant keeping its little life a bit longer!
What do you think of the hallway? Any suggestions for trim paint? How about artwork (or no artwork?) for a small space such as this?
Happy Wednesday!