Statement lighting can distinguish your old or new home from a builder grade house. Establishing a beautiful lighting schema was one of my favorite decision points of this build! Our European farmhouse lighting list mixes modern brass, matte black, and glass finishes for an elegant look. It's both modern and transitional with the old world charm of mixed metals.
If we were living in the states while building the house I think I would have tried thrifting for some vintage lighting pieces. Heck I can do that here in Europe if things open up again (hello early 2021). For now though, I'm very happy with how our list turned out for the house.
**This post contains affiliate links to Amazon and other affiliates. You can read more about affiliate marketing on my FAQ page!
Budget for our European farmhouse lighting List:
I know everyone is interested in the cost aspect of house building. It fascinates me too! Whereas I am more free with budget talks, my husband prefers more privacy, so we strike a respectful balance here in the blog! In order to receive the initial quote for the house, we had to turn in a rough list for everything going in the house. I wasn't quite prepared for this so my final list is about $1000 over the initial estimate of $3000.
Prioritizing my lighting list:
In the early days of designing our European farmhouse lighting list I thought I had at least 3 styles and brands of lights that I would not budge on. These island pendants, this entryway light, and these sconces. Jokes always on me for those statements right!?😂 As I looked at cost and styles I negotiated (with myself, before my husband!) down my list.
High vs. low priority
I highlighted my high priority lights and found 2-3 options for my lower priority lights from different companies. I decided I wasn't entirely sure on the dream entry light's statement style, so the cost was not worth it! Because I want 4 of the wall sconces I looked around for comparable style with a smaller price tag. In the end only the concrete island pendants remained high priority!
Easiest way to shop online through all light fixtures.
Remember my light fixture buying hack from this post?! Yes, I used that every time to scope out the right lights at the right price for our home! Watch the video attached to this post if you missed it!
After reviewing where I was hitting (or more so NOT hitting! 🙆🏼‍♀️) the budget for the lighting list, I changed my priorities for my light fixtures and sought more affordable options from different companies. For example:
I splurged and saved in the kitchen with these lights!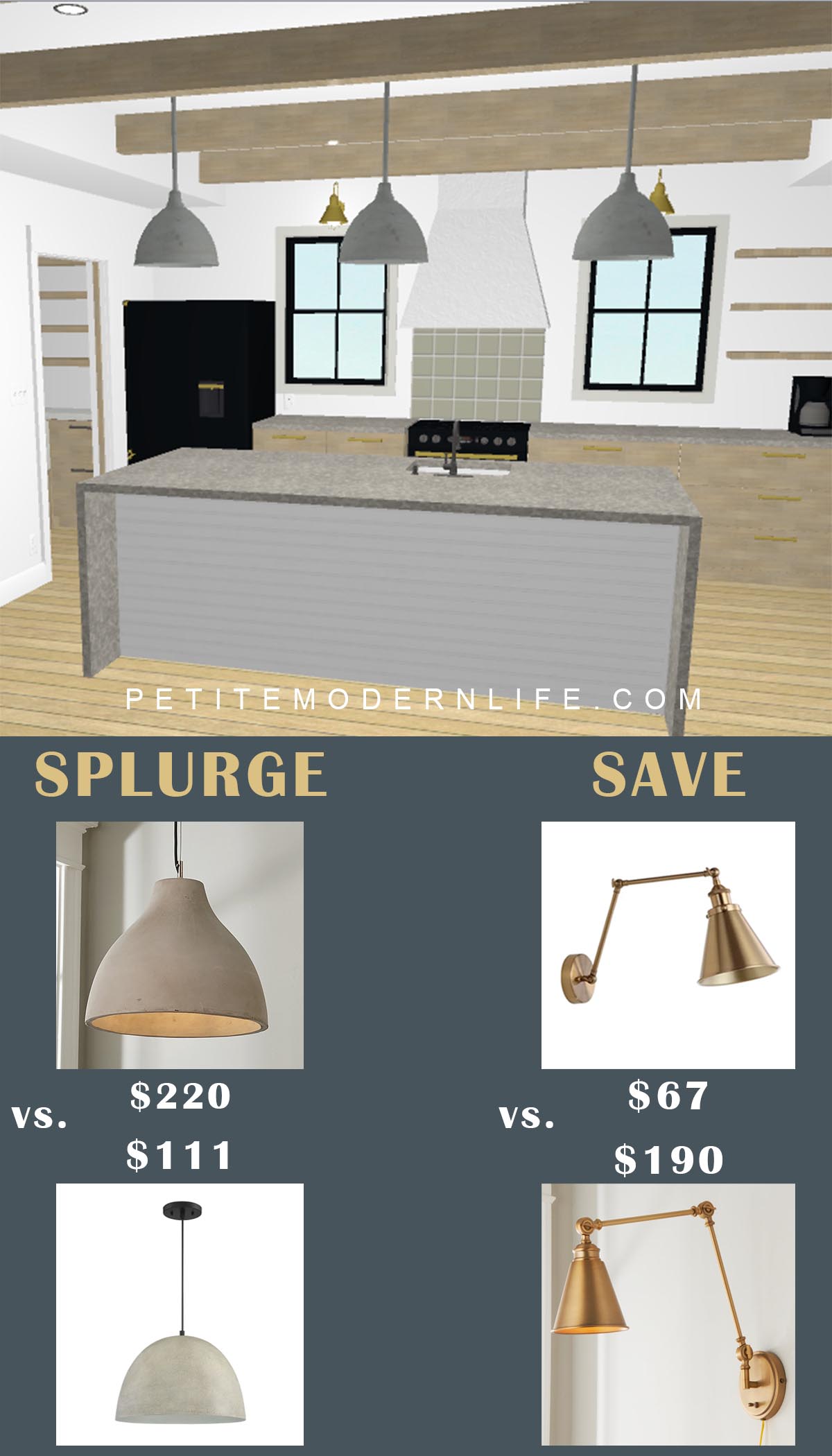 Top concrete large island pendant from Shades of Light
Lower concrete large island pendant from Overstock
Top Brass kitchen swing arm wall sconce from Build.com
Lower brass kitchen swing arm wall sconce from Shades of Light
Light fixture love will grow and change.
Some light love came to me later on, like the hallways lights for upstairs. I couldn't find another option like them, so they became a priority light choice! (See the other options I considered in this European farmhouse hallway lighting post.)
Everything else in the build was settled upon by style and price! I might break down our European farmhouse lighting list in subsequent posts to show you more options in style and price for each room. I love lighting! I think everyone can find something fresh to work in their space and budget.
european farmhouse full home lighting list!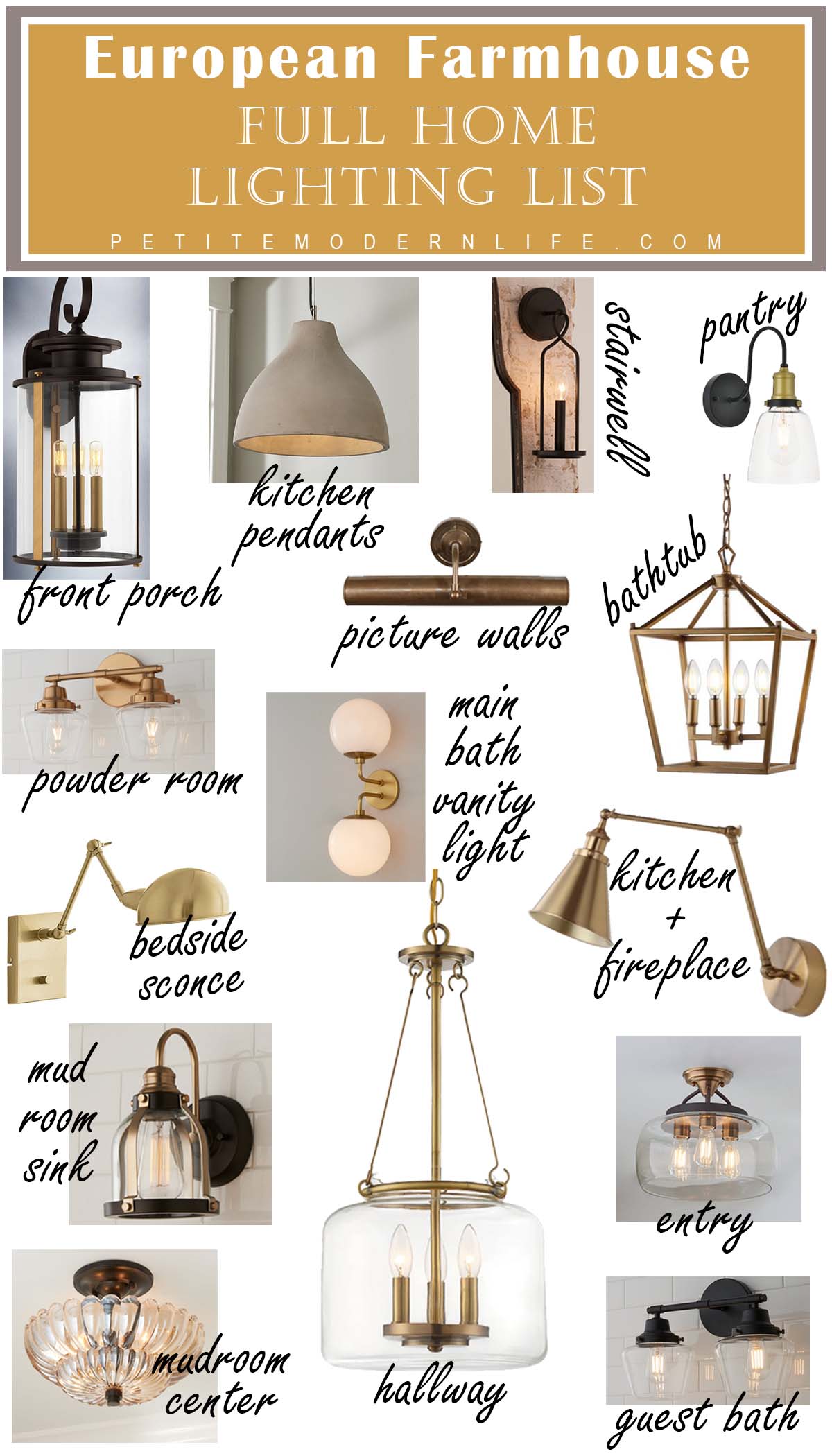 Powder room vanity double light
Kitchen and fireplace wall sconces
Some Beautiful House Lighting Inspiration!
We'll definitely talk more about lighting soon as it's one of my favorite subjects and online window shopping addictions! Be sure to follow my European Farmhouse Lighting board on Pinterest for all my loves!
xoxo Karisa