When there is a whole house of projects, big and small, in the works it feels something amazing to have a fully closed off space made anew. The powder room happened to become that one space at this part in the home makeover game. Working with Graham & Brown these past couple of months inspired the possibility of this project.
Graham & Brown do a monthly trend, inviting their bloggers to share tips, techniques and home spaces that reflect each trend. The month of November was dubbed the Industrial Trend. As I love any and all things industrial, I decided to be bold with this trend and complete a project centered on it's theme.
The question was, could I be bold enough to use wallpaper in a makeover project? A while back I fell in love with Graham & Brown's Prairie Charcoal wallpaper.  I was subtle, but rich and warm. A great color and pattern to match my love for industrial home decor. As for what room to go with, it just so happened that there was a correlation with my progression in pregnancy and my taking more notice of how unattractive I found my powder room. (I.e. pregnant peanut bladder– or more so a little peanut on my pregnant bladder ;)
Here's what it looked like before.
It had flowed with our previously red, but now white kitchen. I knew the red and tan had to go. And though the hutch and mirror are a really fun addition, I felt like I could take that small space further by mixing it up some. So I ordered that dreamy wallpaper and called my mother for wallpapering expertise and help to begin this project!
Once we figured out what type of wallpaper it was, "paste to the wall," we cut our pieces, rolled on our paste and bonded (in all aspects) in that tiny powder room. After an entertaining evening of working together on the wallpaper, I continued the project the next day on my own. It was then I began to wonder if I wanted the whole room wallpapered or just part. The paper was beautiful, but I felt like more depth and illusion of space could be made if I painted some of the walls instead.
I went with my gut and loved the way it turned out.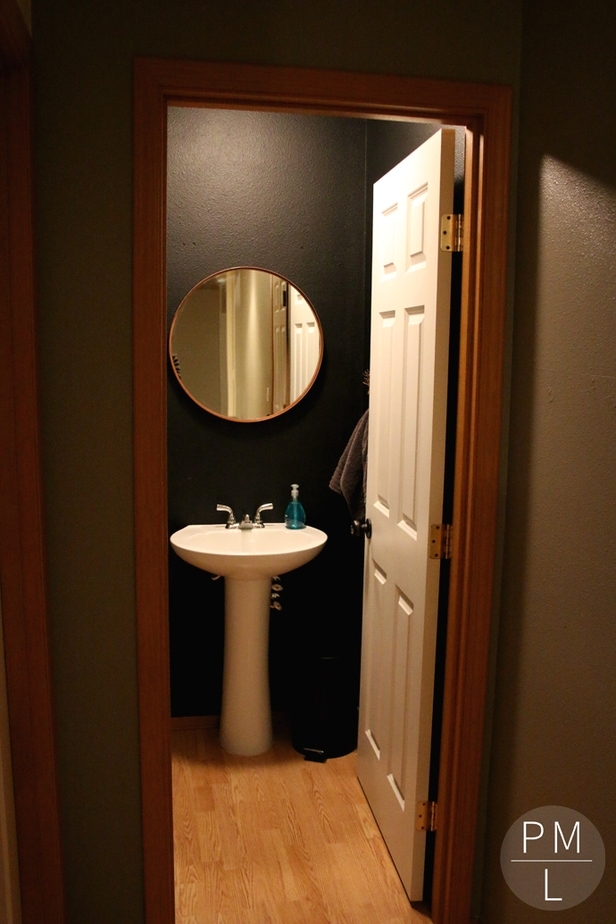 I love black paint (exhibit A; B; C…) and decided to go with Behr Carbon. It paired great with the grey wallpaper.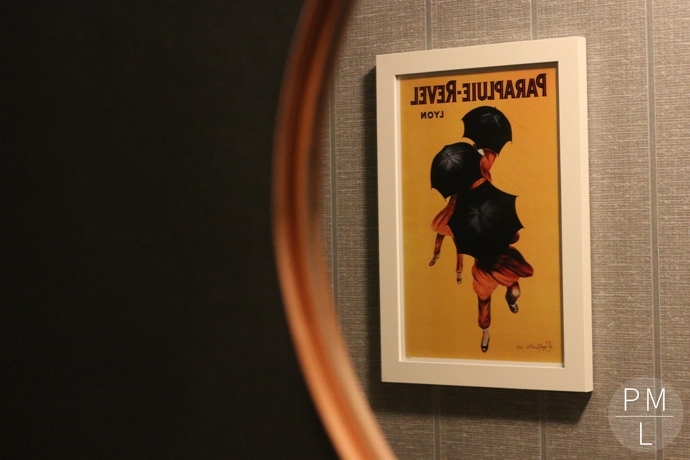 For my decor I decided to reuse industrial pieces that were in all different areas of my last house. The copper mirror was a DIY project you can find here and the deer hook is from Anthropologie.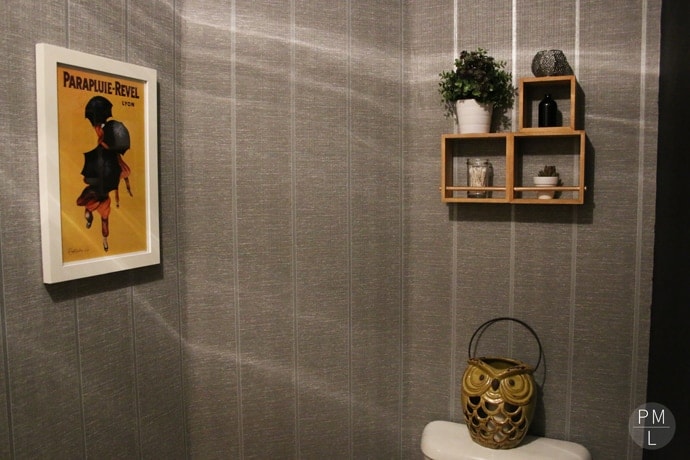 Although I might change the shelf someday, it was fun to reuse this craft wood project.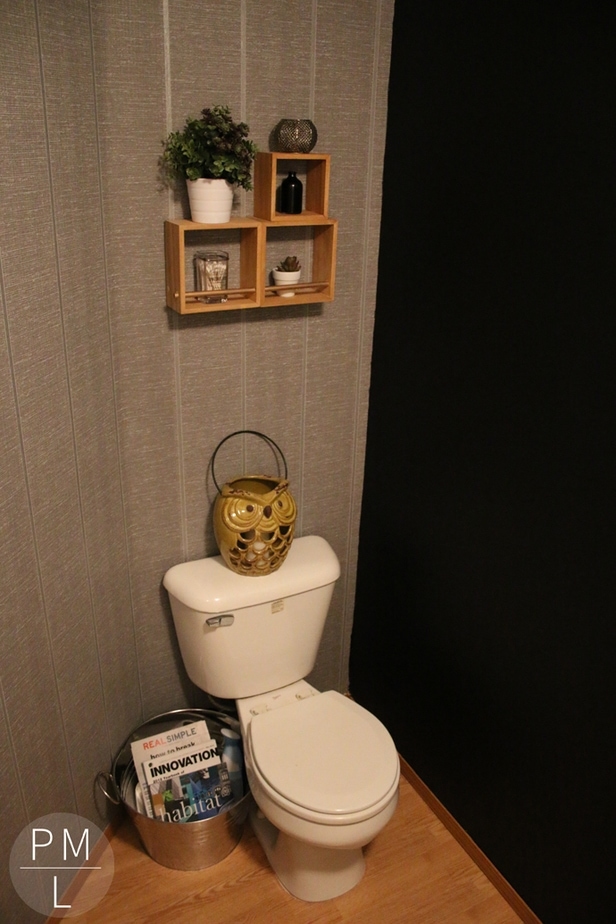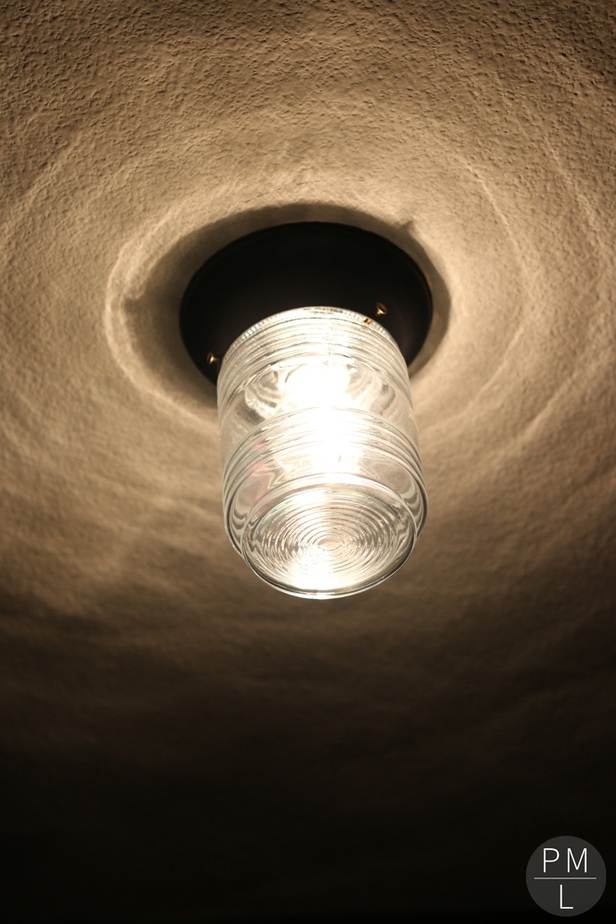 If you saw Monday's post, I love industrial styled lighting. A simple combination of black and glass, this small ceiling light adds to the industrial feel of the space.
And of course you know who's approval really mattered… Sir Archimedes.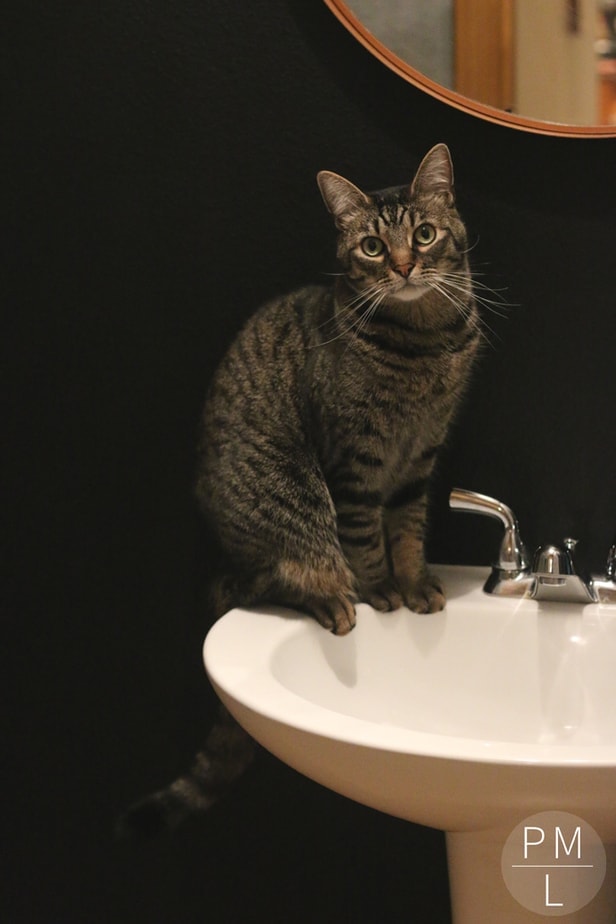 The black and copper really brings out the 'wisdom' in his whiskers don't they?
Thank you for celebrating a room down with me today! And a special thanks to Graham & Brown for making this powder room makeover possible.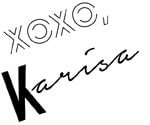 *I was given free product from Graham and Brown to complete this project. All thoughts and design decisions are my own.*