Hello! It's the end of July 2021 and I'm here with perhaps one of the last build updates before we move in! This end of summer at the house is all about the finish details. But let's rewind a little bit with some preliminary news!
On June 29th we packed up all our things and moved back to Washington state from Germany, for good. We had some wildly changing plans for a few months there that ranged from staying for another year, to moving to France for 6 months, to moving back in the end of August, and culminating with buying one way tickets for the end of June! It was the right time to come home and our whole family was thrilled to have made the decision.
So we're back in Anacortes, WA living with my parents until the house is finished in late August! I love this town where I grew up. We actually lived here the year before we moved to Chelan too saving up money for the build so we're all enjoying the local island adventures and being so close to family and friends.
**See the bottom of the post for all the house product links. This post may contain affiliate links to Amazon and other brands that I love. Learn more about affiliate links in my FAQ page.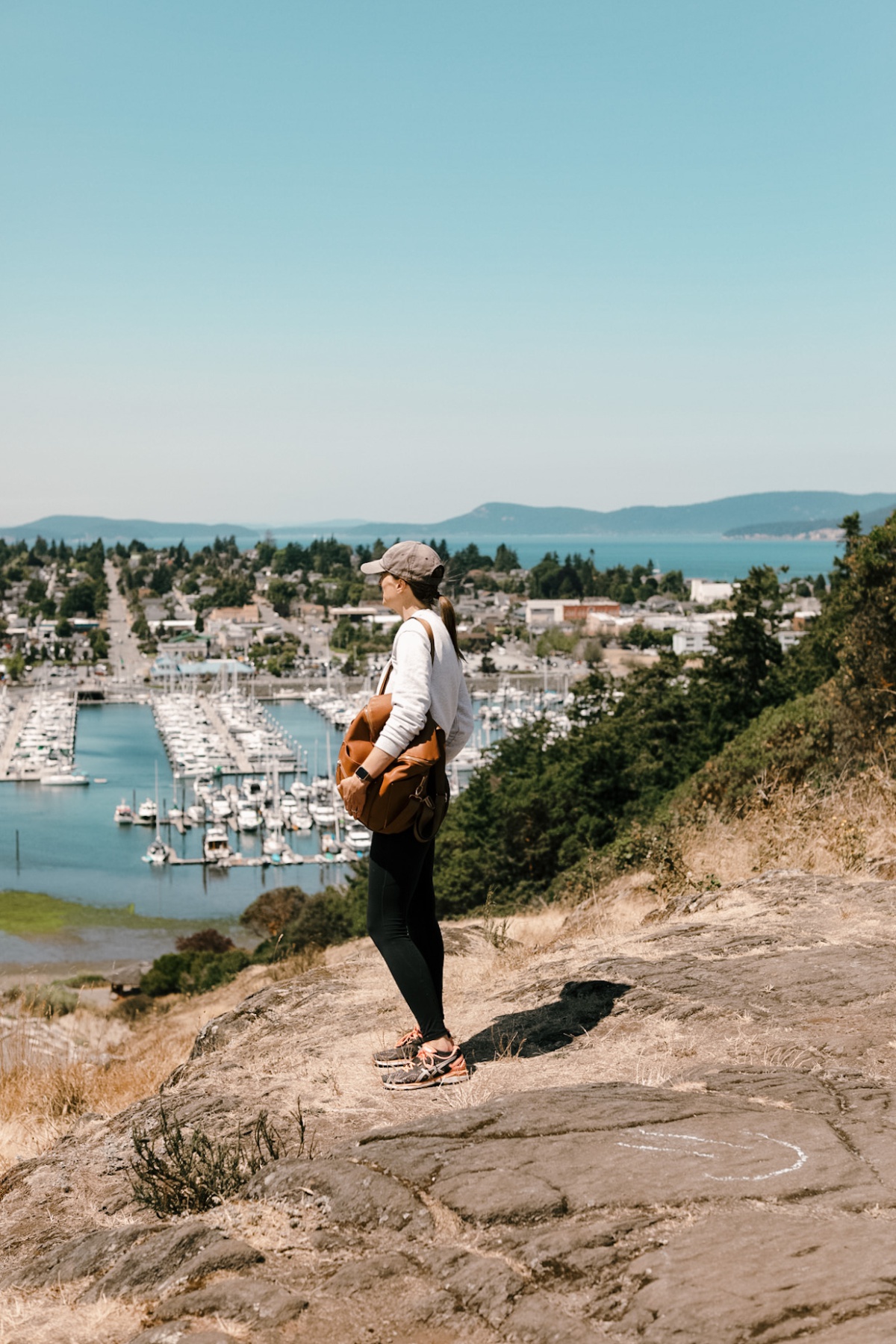 Once we settled the 9 hour time difference jet lag a bit, my husband and I finally got out to see the house in person! It was like unwrapping a Christmas present. We took in each room slowly savoring the dream in this new real life reality. It felt as good as you could imagine.
CATCH UP ON ALL THE FARMHOUSE BUILD UPDATE POSTS HERE!
Where we started: Property purchasing
Build Update 1: Breaking Ground and beginning framing.
Build Update 2: Framing the second floor.
Build Update 3: Roof on and framing wrapping up.
Build Update 4: Siding on.
Build Update 5: Sheetrock
Build Update 6: Paradigm Conquest Estate Floors
Build Update 7: Finishes and final stretch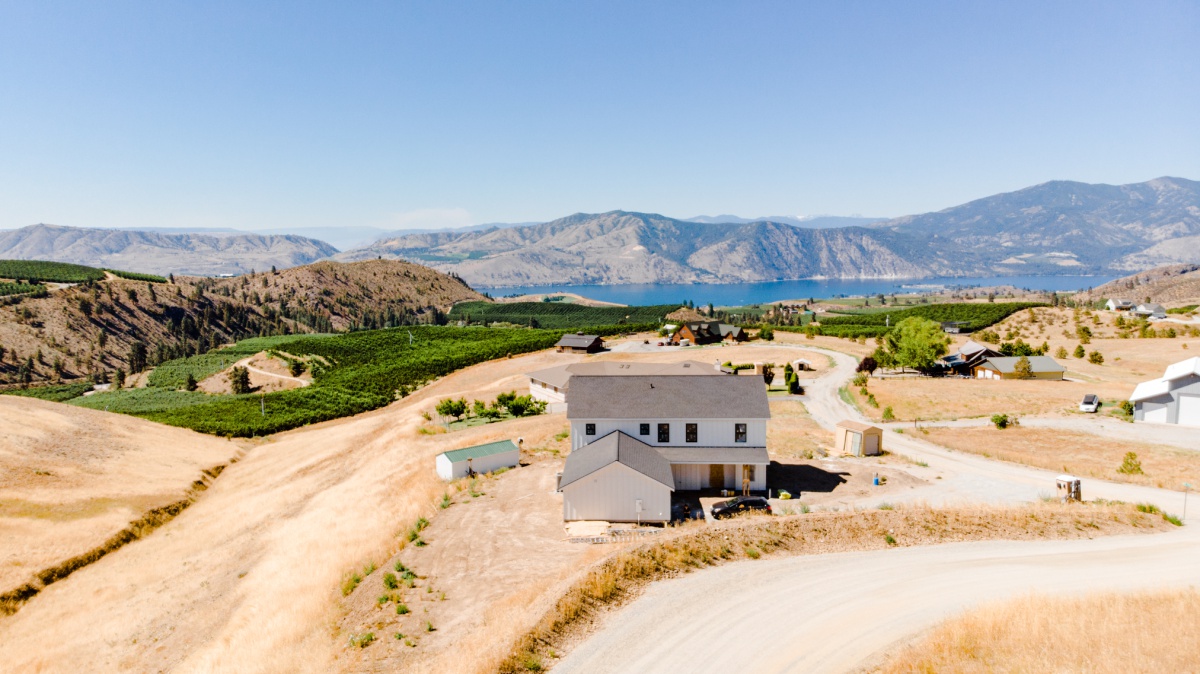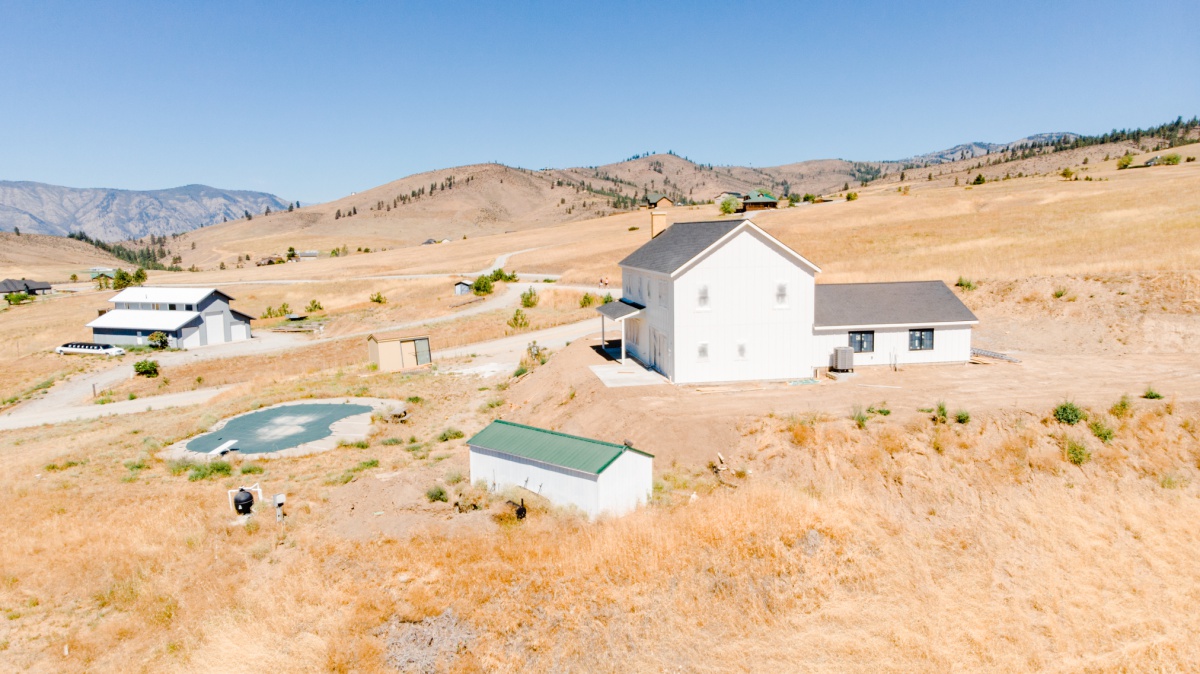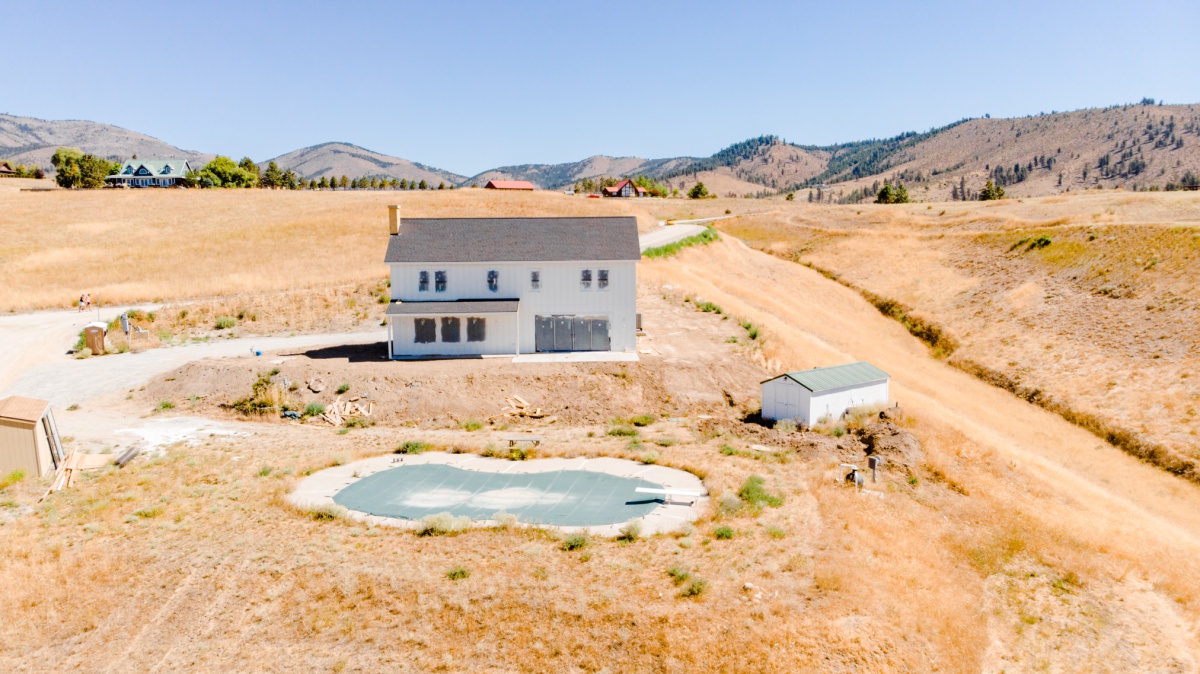 This was my first photo in the house that I'd been begging friends to send me pictures of the past year!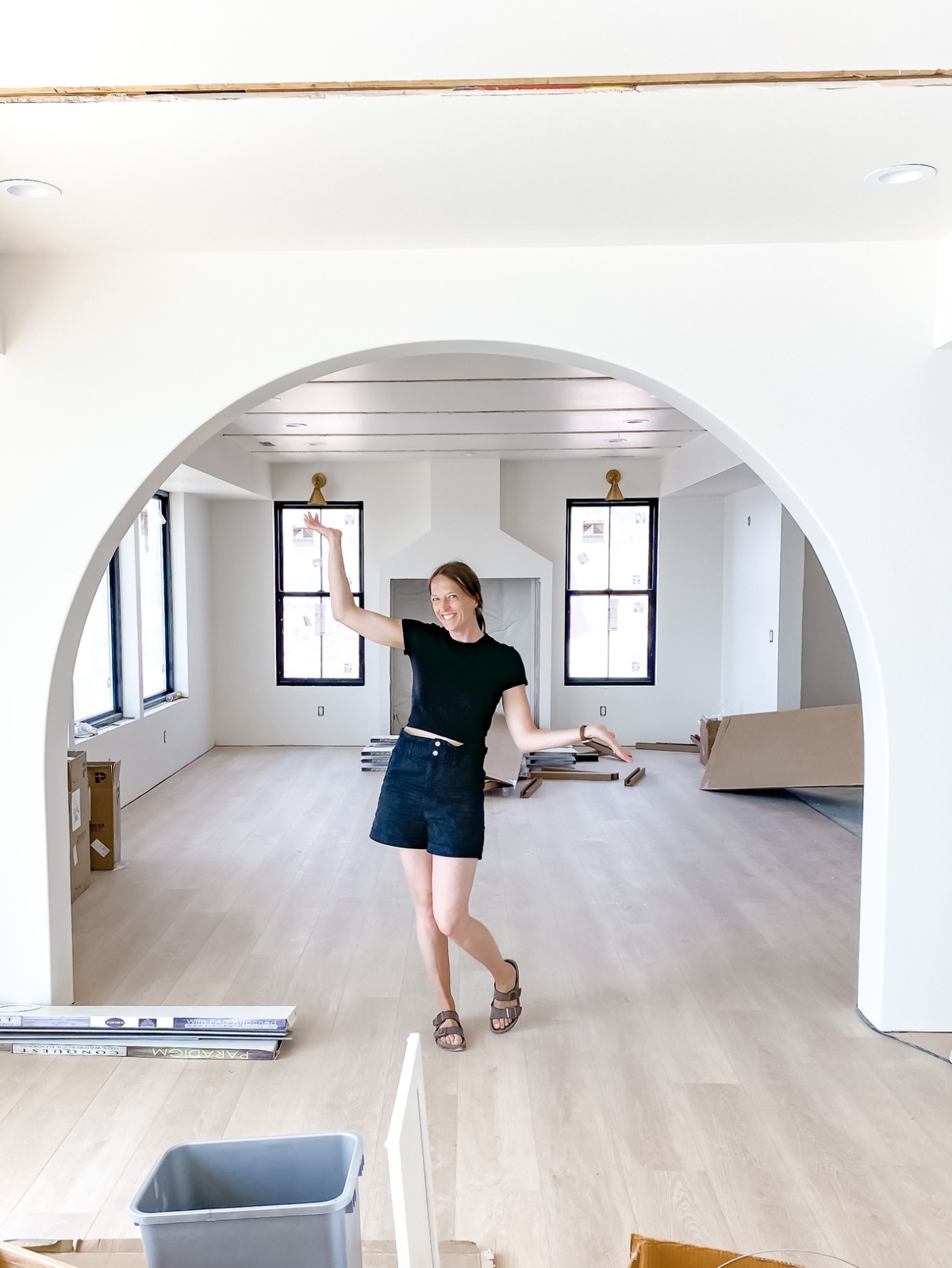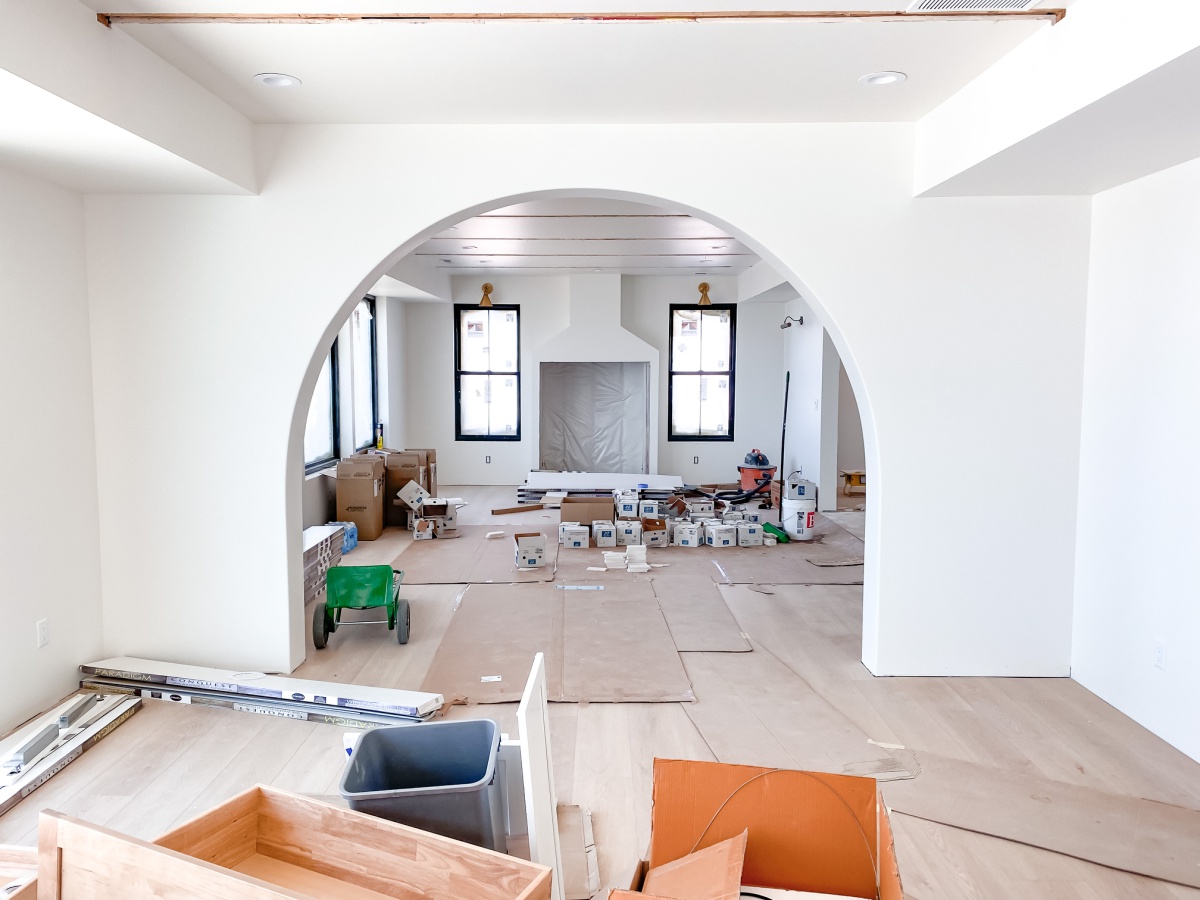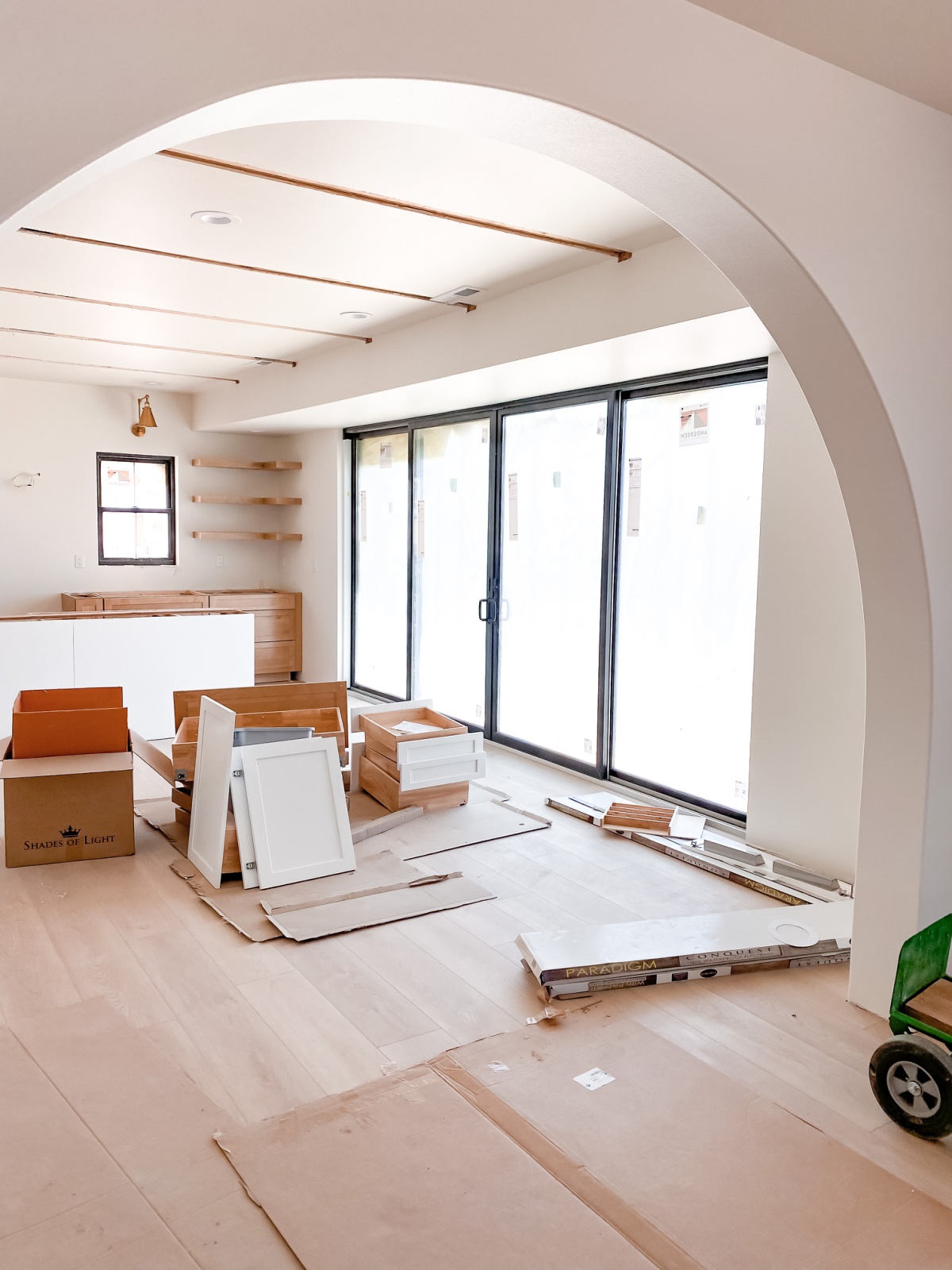 top highlight?
Seeing the archway and slider door in person was probably the most exciting part. The archway has been my baby pipe dream the past year. In person it's truly beautiful and creates such a statement for the downstairs. I love how thick and round it is! (I hugged it like an old friend..) The Andersen slider door is ginormous, letting in all the wonderful natural light into the kitchen. With both center doors open we'll be able to have the amazing indoor outdoor dining access we've dreamt of!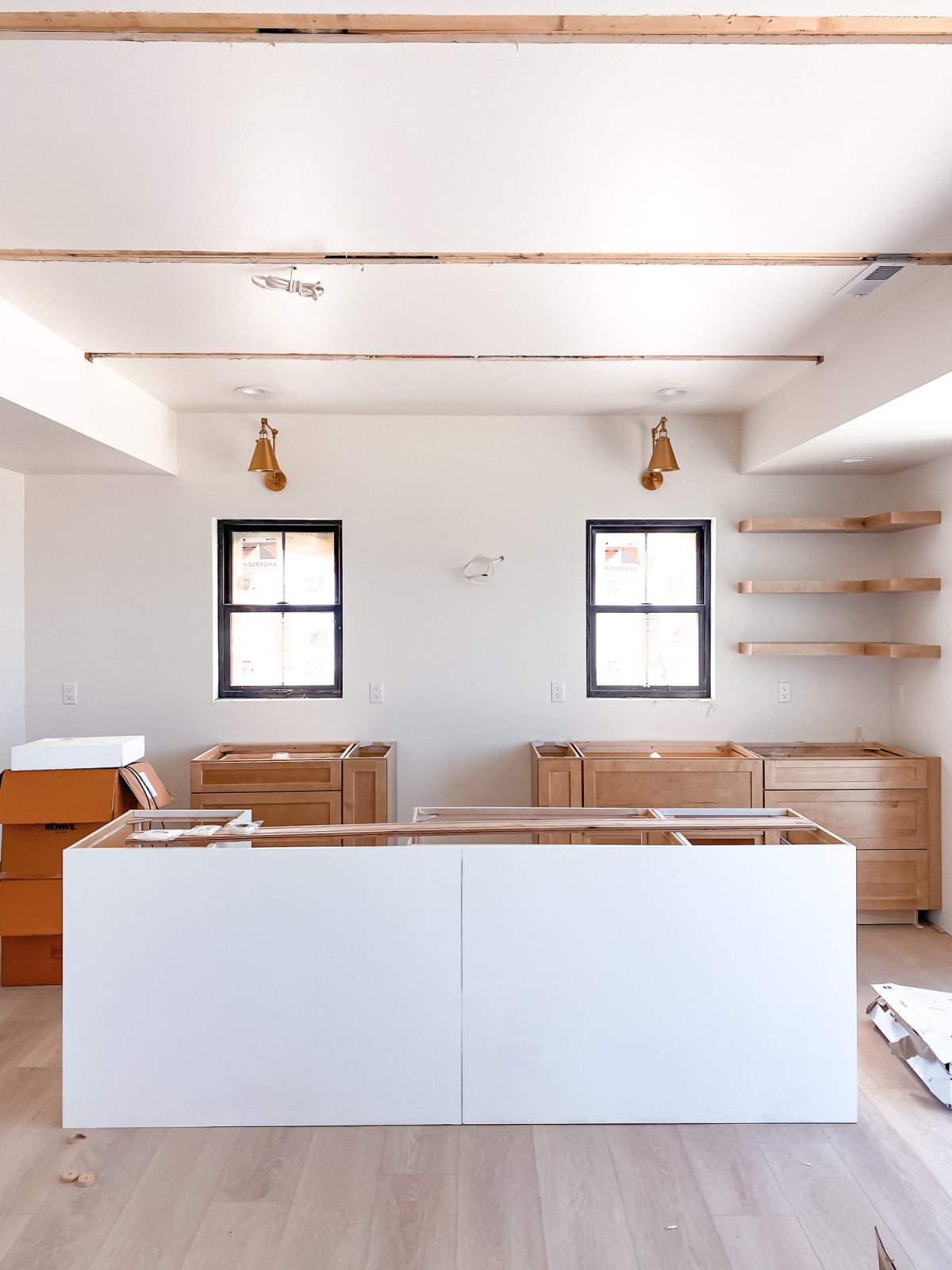 The Waypoint kitchen cabinets in Maple Rye look beautiful with the Paradigm Estate LVP Flooring. The minimal brass hardware from Stoffer Home is going to have the exact look I was going for.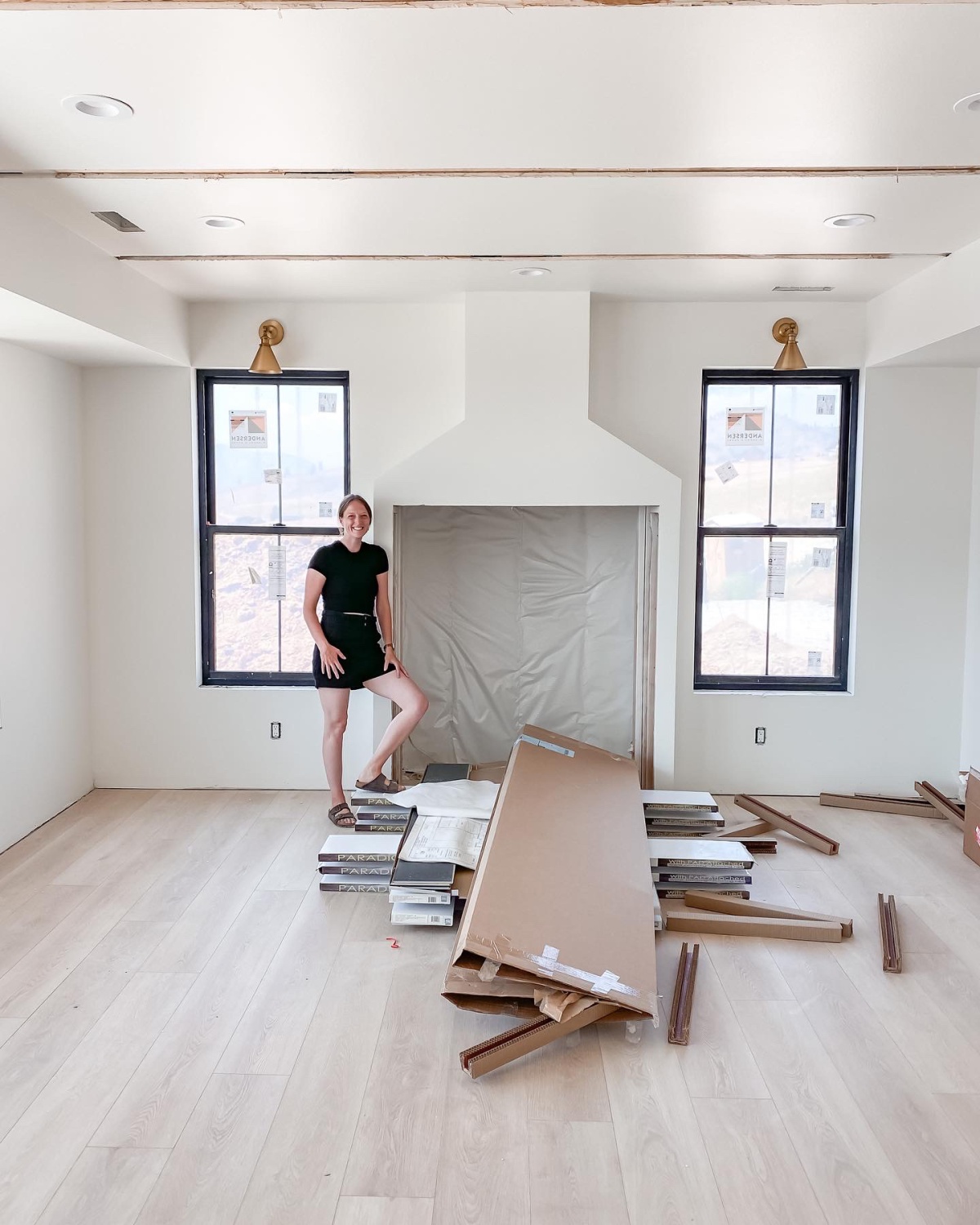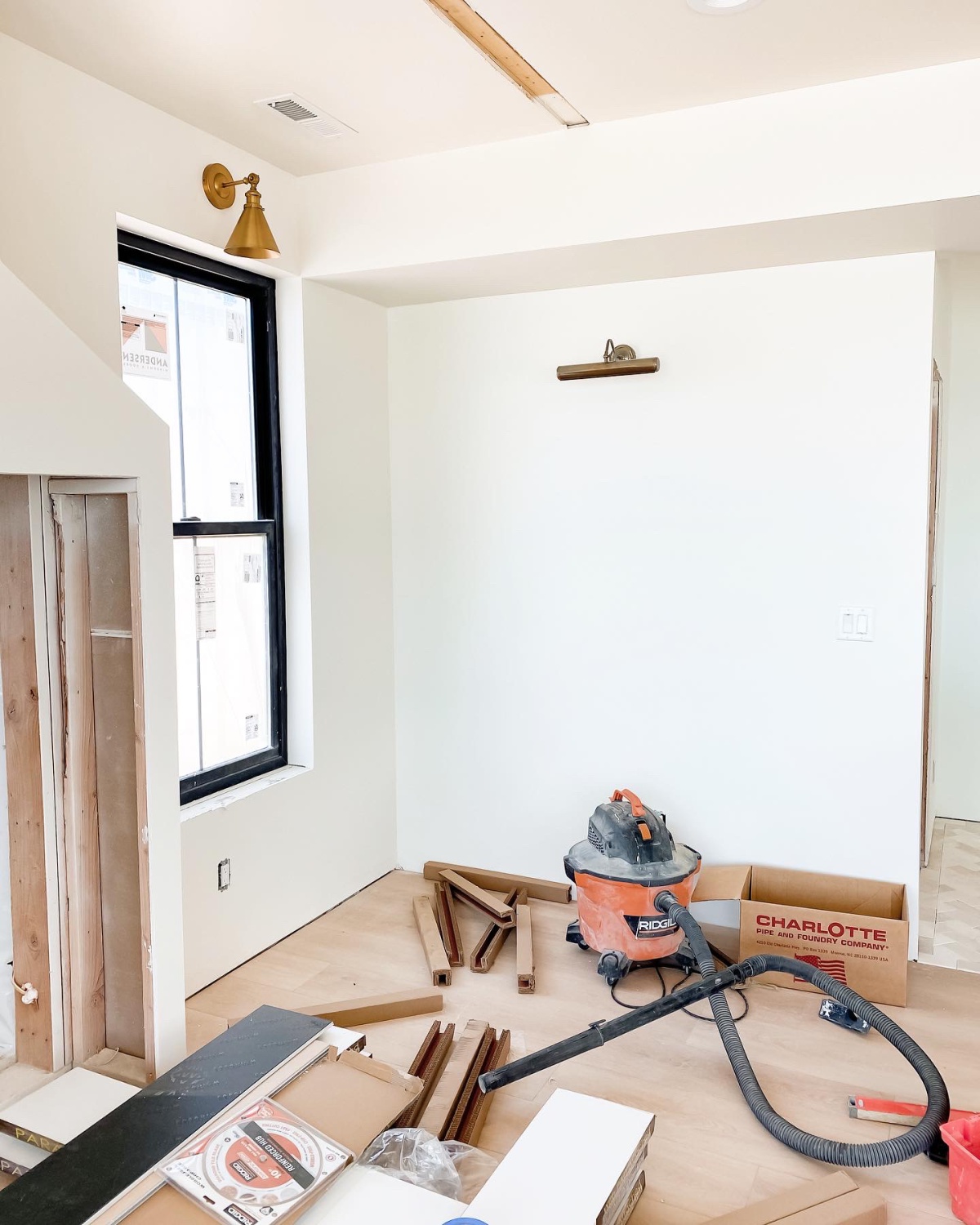 The fireplace is awaiting its wood burning insert and was WAY bigger than we somehow thought via phone pictures. the top corner is around 6 feet tall. The fireplace insert door will only be a fraction of the space so we're discussing how we want to finish that blank slate. Stucco or stone? We will see!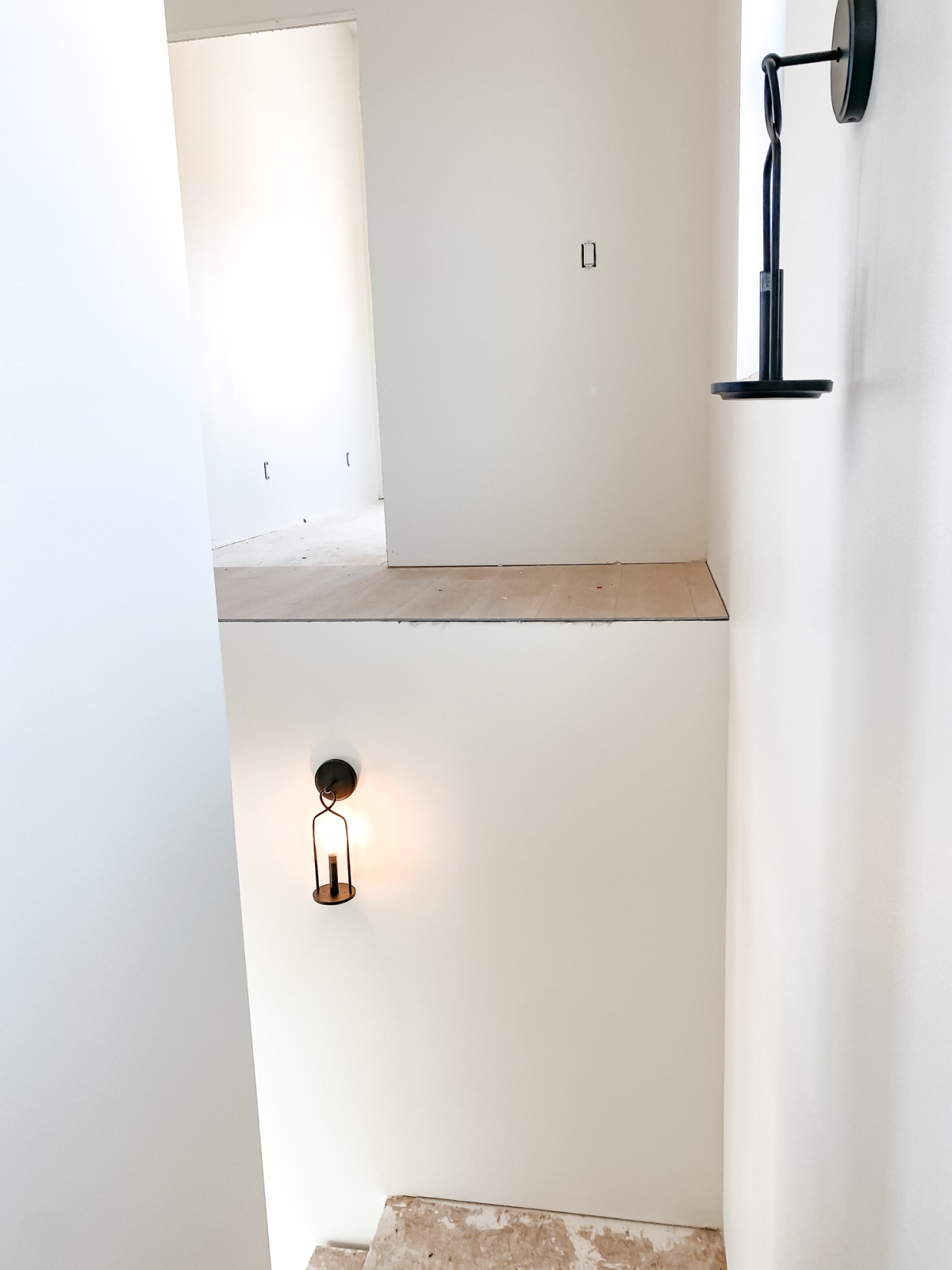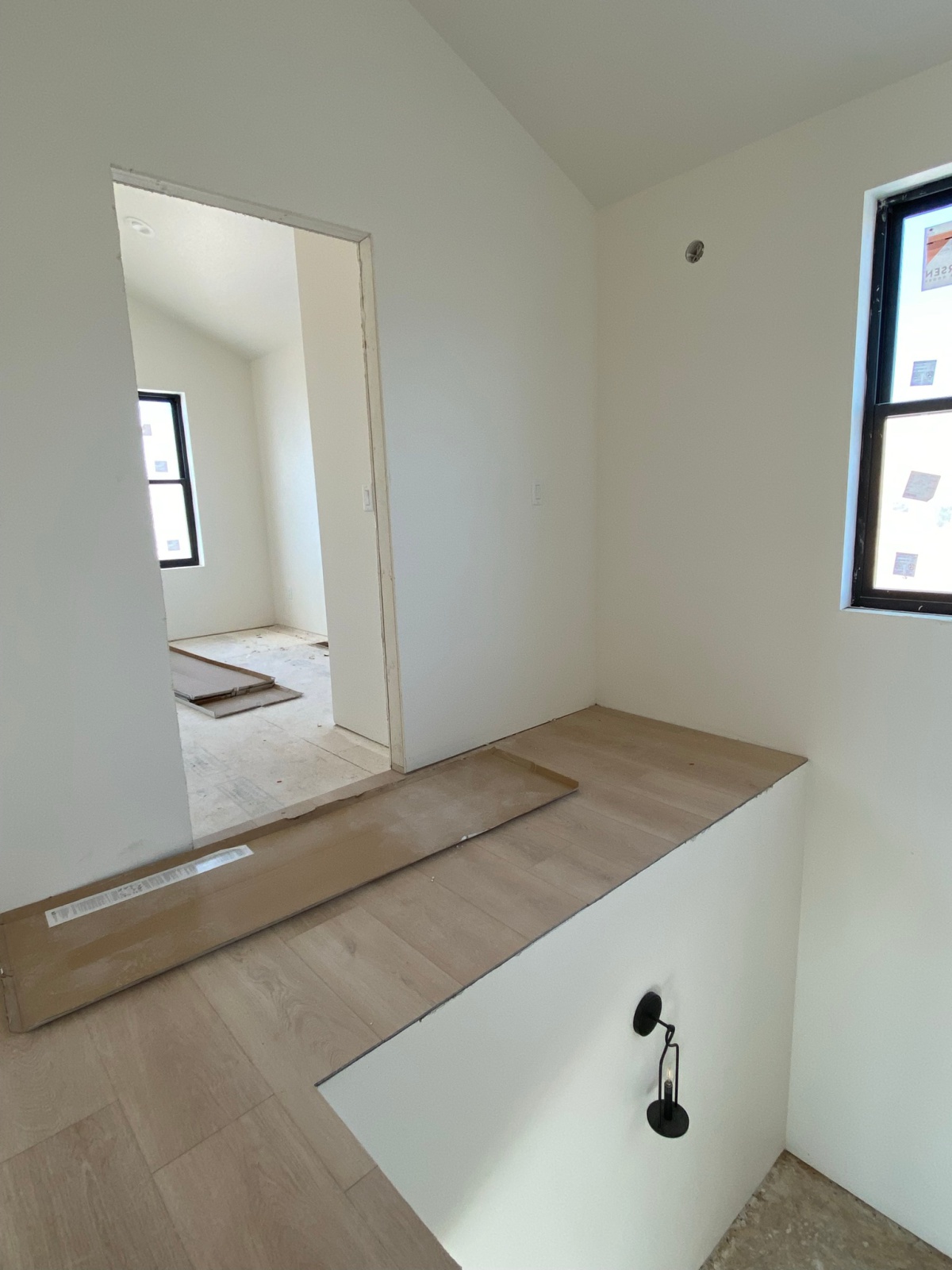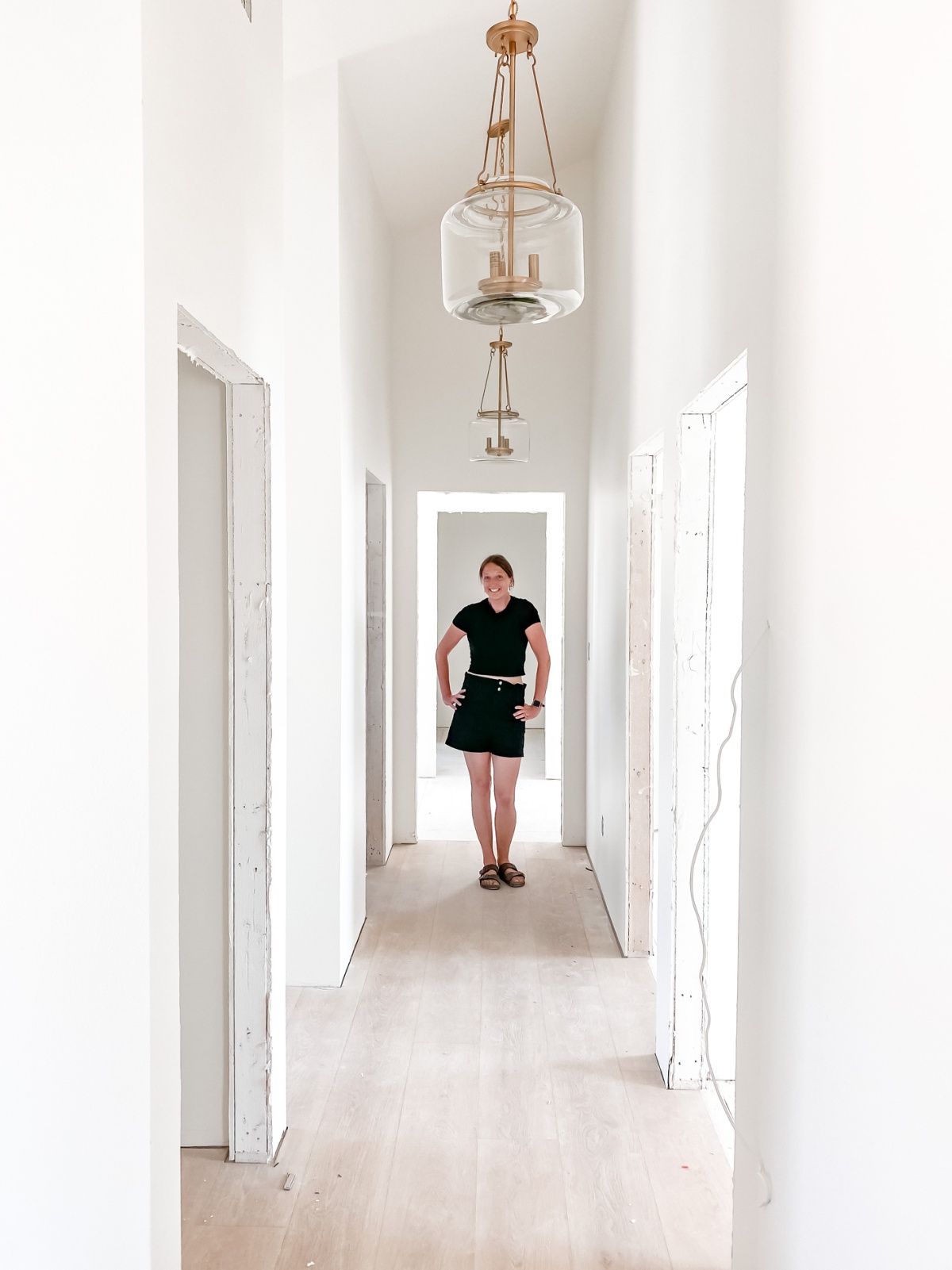 Upstairs the lights are all hung and look lovely. The stair treads will match the flooring. The railing will be a beautiful vintage inspired curved wood rail with black spindles. I had to order two more lights for the house that got overlooked during it all and will have those in soon!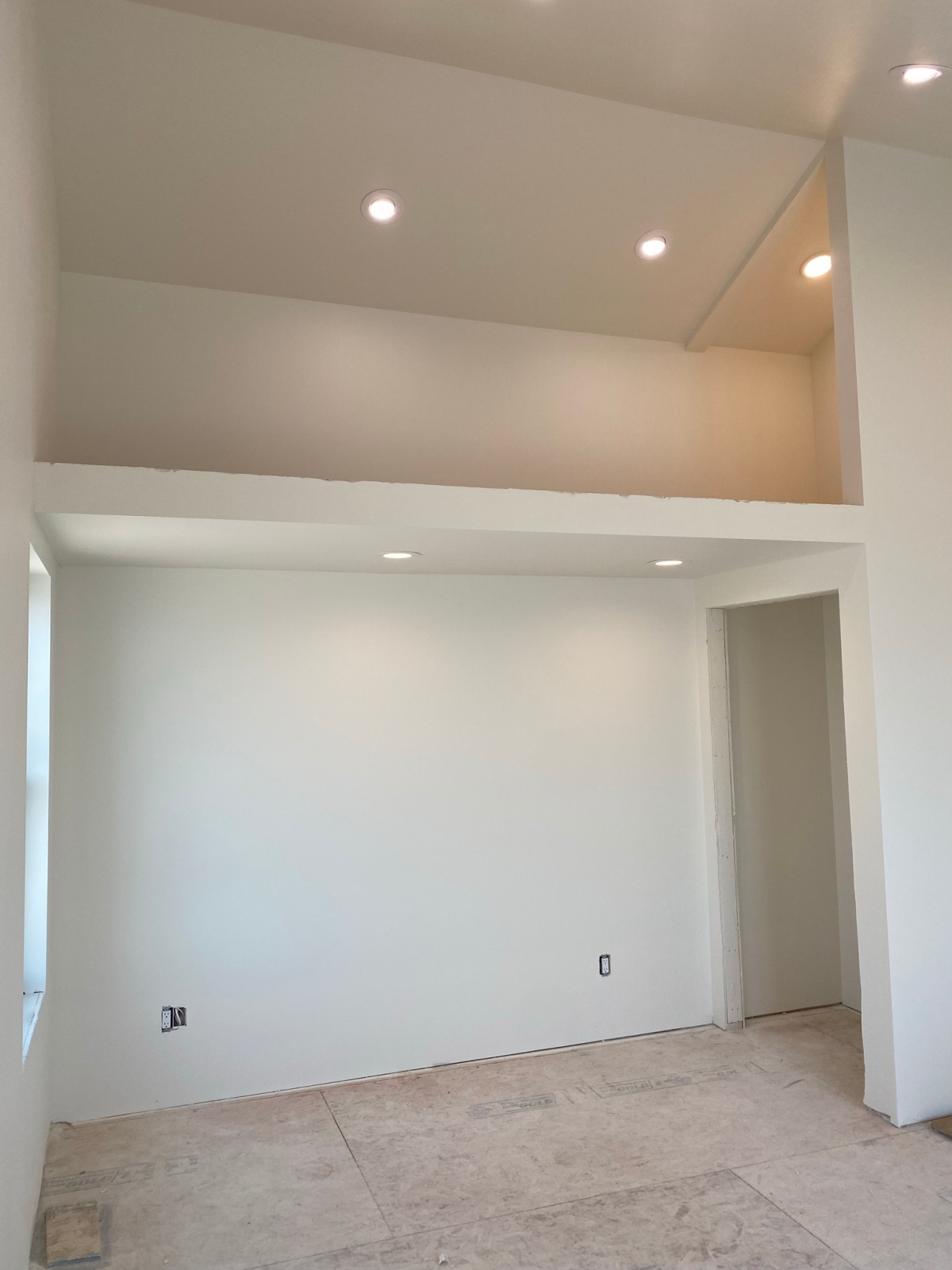 The rec room loft looks SO COOL!! It's all lit up and wired for a good time. We'll add a railing later on, for now it's a "storage space." The bedrooms will all be carpeted in mid August.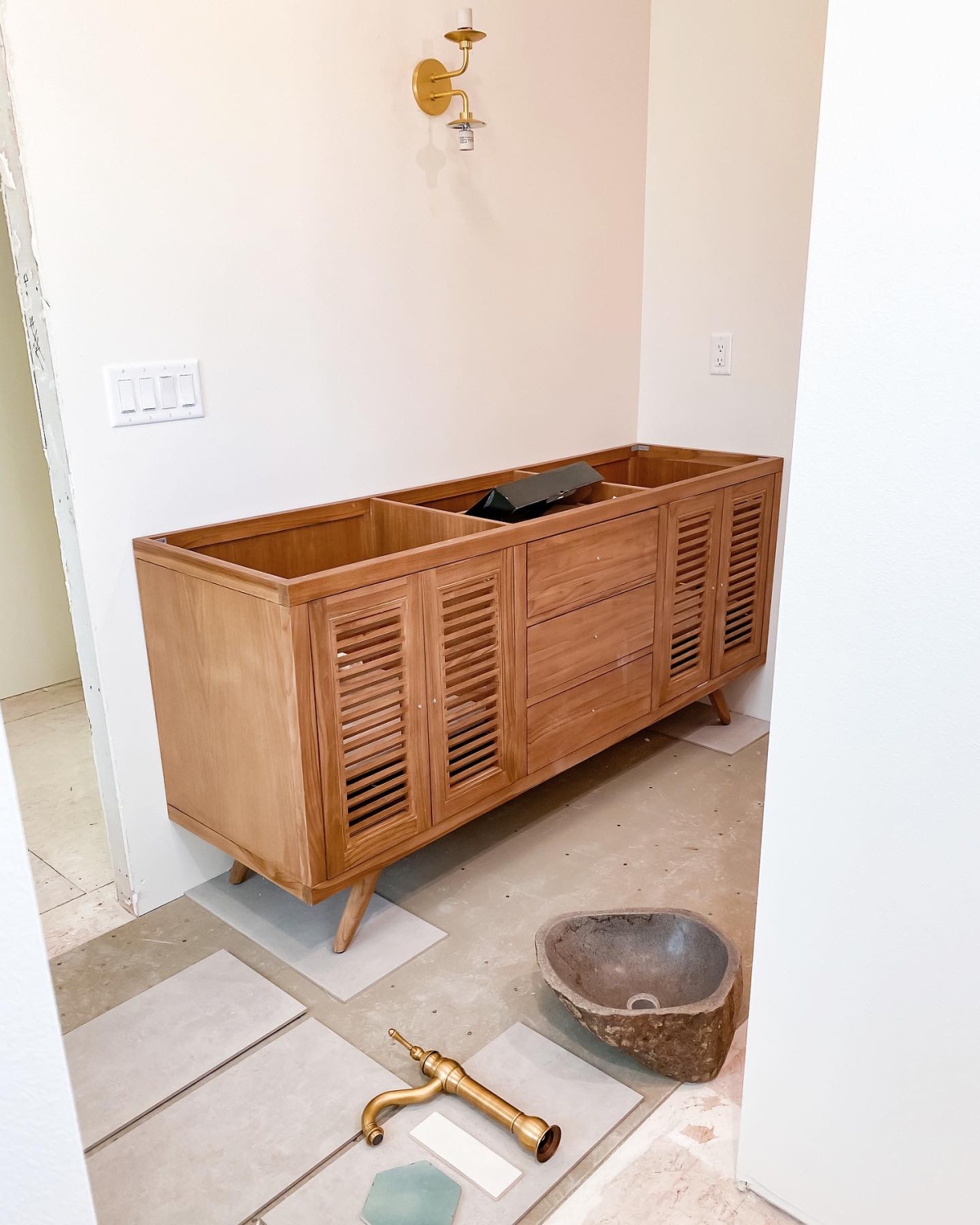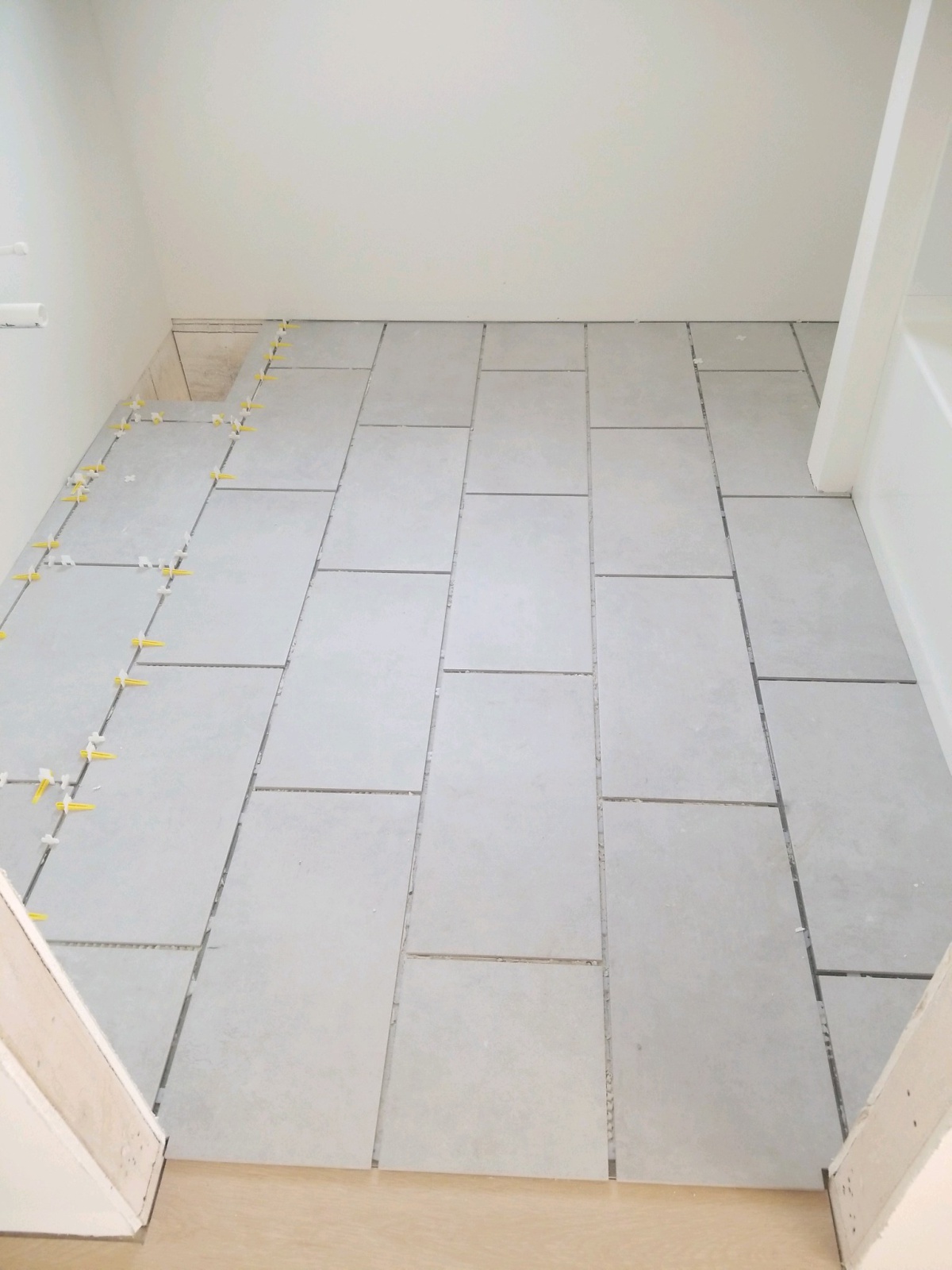 The bathroom vanities are in and looking so fabulous. I'm glad I splurged a little for such unique wood pieces that really add the character I hoped for in those spaces. You can get a glimpse of the 50 pound stone vessel sinks up there in the master bathroom! I'm even a little shocked by my last minute audacity in purchasing those instead of white vessel sinks– but I thrive in the wild side of things.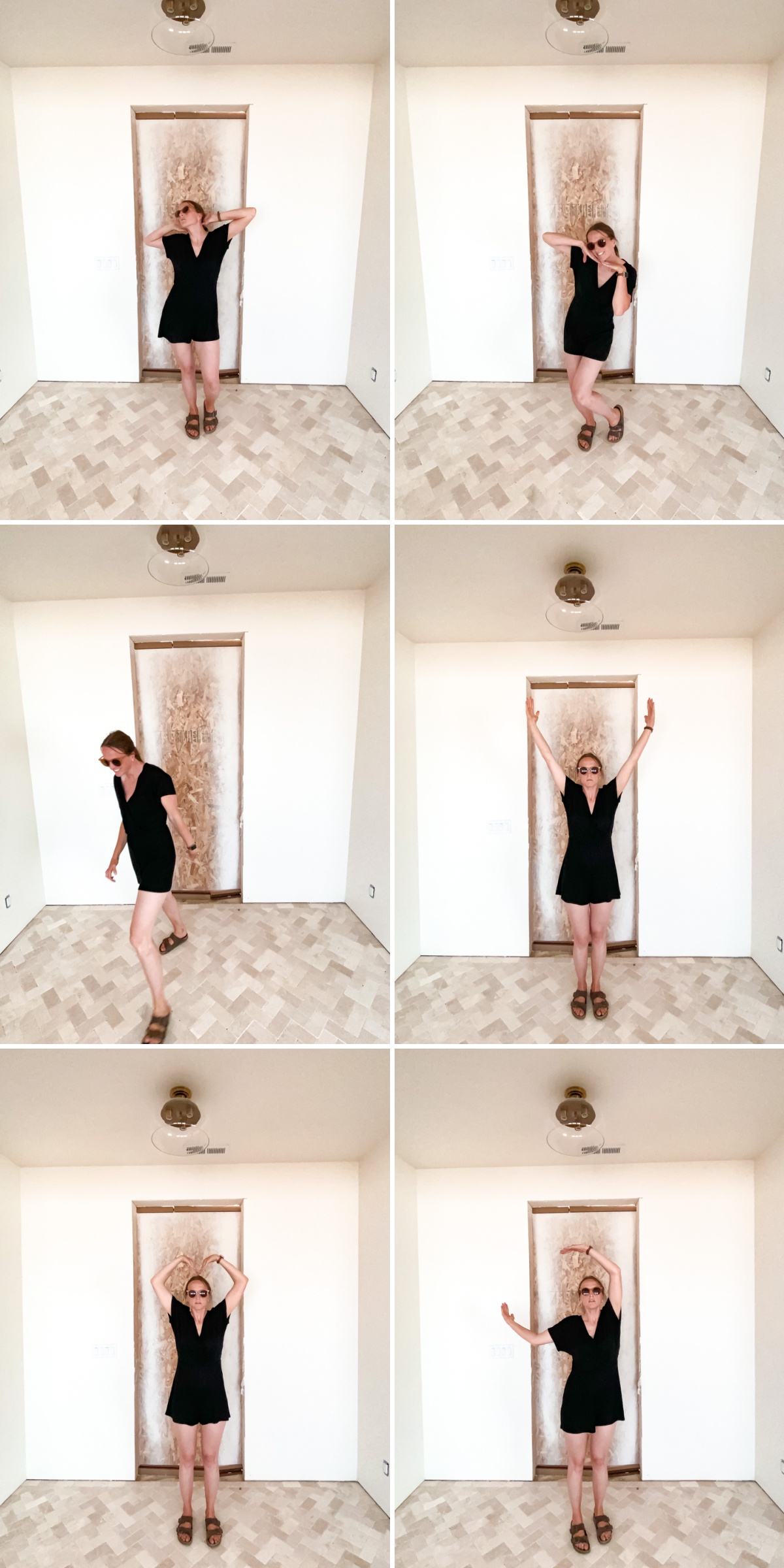 Speaking of tile, have I told you how much I love our entry way tile?! Enough to take the first of many selfie photoshoots on top of it that's for sure!!! We frantically searched for, and found, this tile while on vacation in Mallorca last spring. 😅 While being surrounded with some of the prettiest stone buildings, paths, and walls I've ever seen…
It's a marble travertine in a gorgeous chameleon taupe. It sometimes pulls more cream and sometimes more gray! Ps. If you're disappointed in me not completing the YMCA, it's because my phone was balanced with the pop socket, on top a broom, that was leaning against a bucket of tile water… And physics reminded me I was a dummy. 🤦🏼‍♀️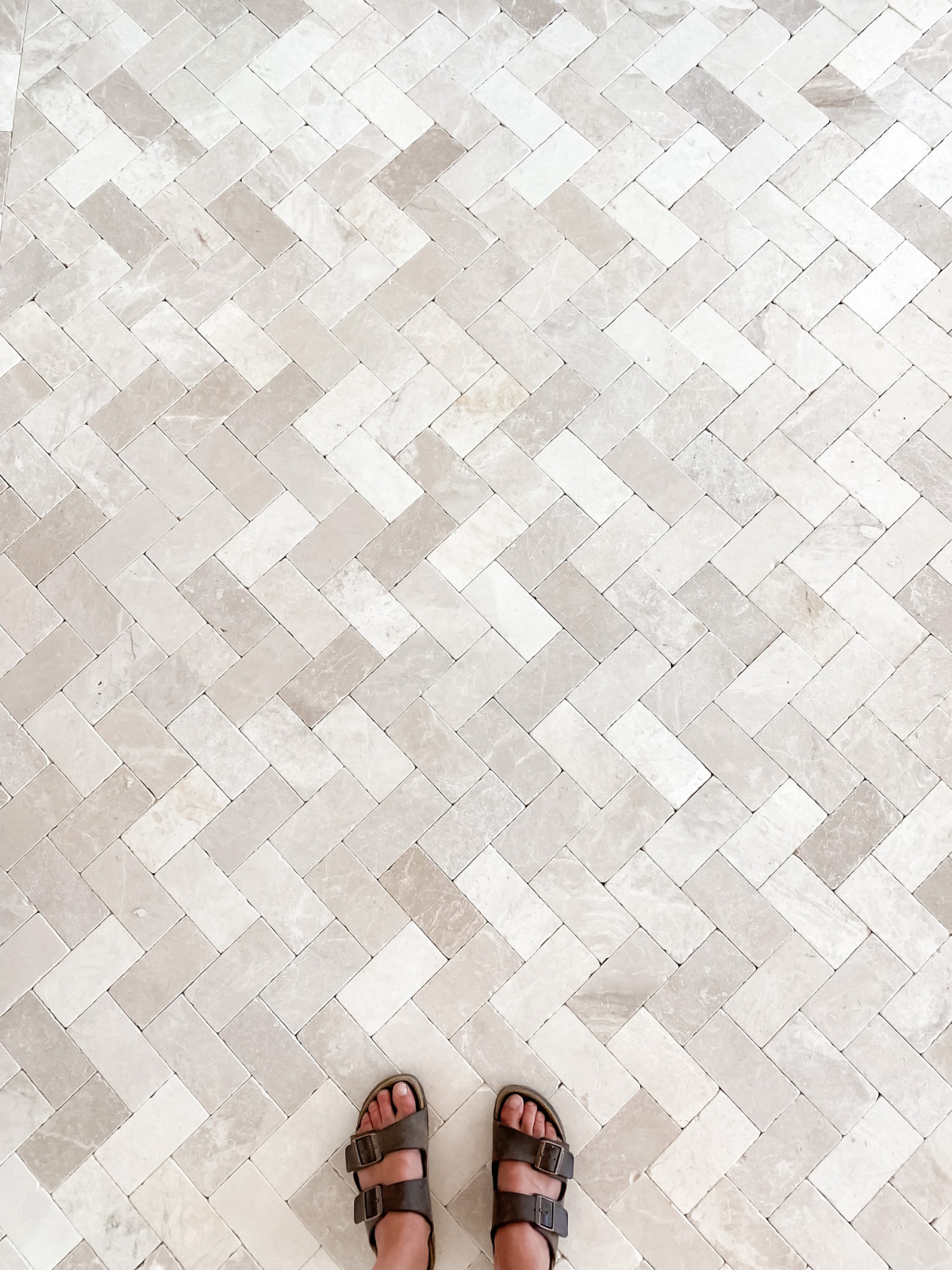 What's next before move in
So we had some great news regarding in which state we could get move in approval to the house and a thumbs up from the builder that we'll be ready to go before the end of August! Once in we'll be waiting on counters for the kitchen and bathrooms (minus the powder room), a refrigerator, and maybe a shower door. Other than that (what like counters are a big deal? 😂) we'll be in and setting up HOUSE.
So what's happening now at the build?
Tiling and grouting in the bathrooms.
Staining our faux ceiling beams.
Installing the delayed interior and exterior doors.
Installing the real garage door.
Installing the fireplace insert.
Installing and building range hood.
Installing baseboards and door trim.
Plumbing toilets.
Hanging last light fixtures.
Installing carpet.
Touch ups.
And maybe a thing or two that I've forgotten, but we're really close! Just a matter of things showing up or in between finishes/appliances being installed to get us through to the real deal!
There have definitely been some shipping delays for us, but we're counting ourselves pretty lucky in most respects with timing! Again, thanks for following along this wild ride. I'm so happy to be back in Washington and we're stoked to be so close to moving into our dream home. Let's see what the next house post has in store!
House Links
Sliding door