Because I live in the great Pacific Northwest I love the sight of mountains. We'd ski them when they were snow capped in the winter; hike to swim the pure glacier waters surrounded by meadows of wildflowers and blueberries in the summer; and have sensory overload as they turned golden orange in the fall. It's no wonder that the mountain themed nursery is so popular!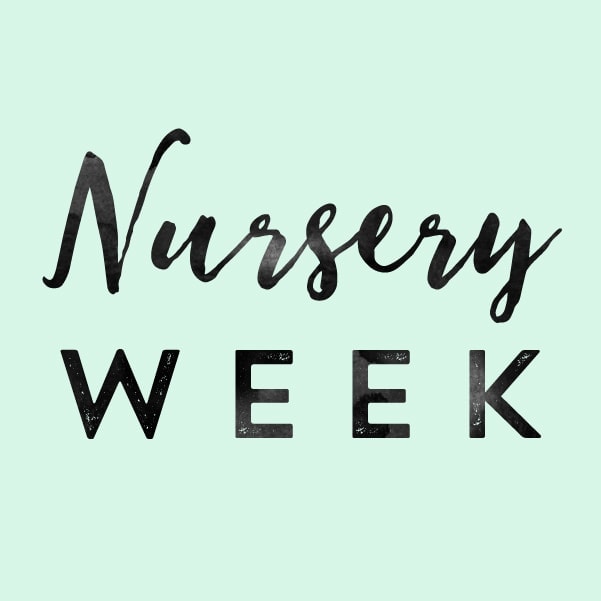 **This post contains affiliate links to Amazon and other affiliates. You can read more about affiliate marketing on my FAQ page!
First up is my sister-in-law's nursery that I was so excited to help plan. She went with a simple, airy, modern mountain themed nursery with white and gray accessories for her little babe, and my sweetest first nephew, Harrison.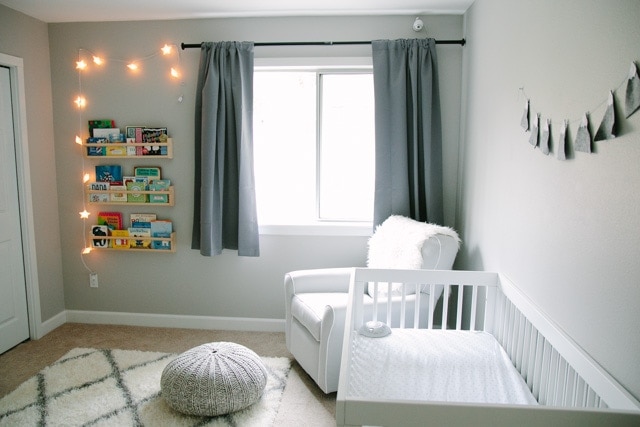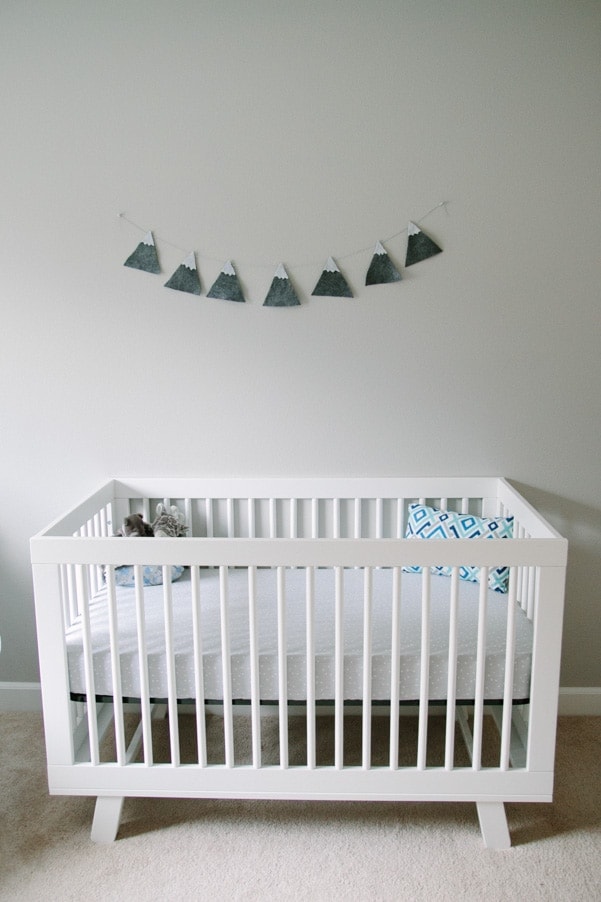 Check out these beautiful white cribs from multiple retailers!

I made this little felt mountain banner with felt, hot glue, and string. I never posted a "tutorial" for it because really- I think it could've been a kindergarten craft project ;). Basically felt and hot glue are the best. I even glued the string on the backside. It is held up with clear tacks. You should make one.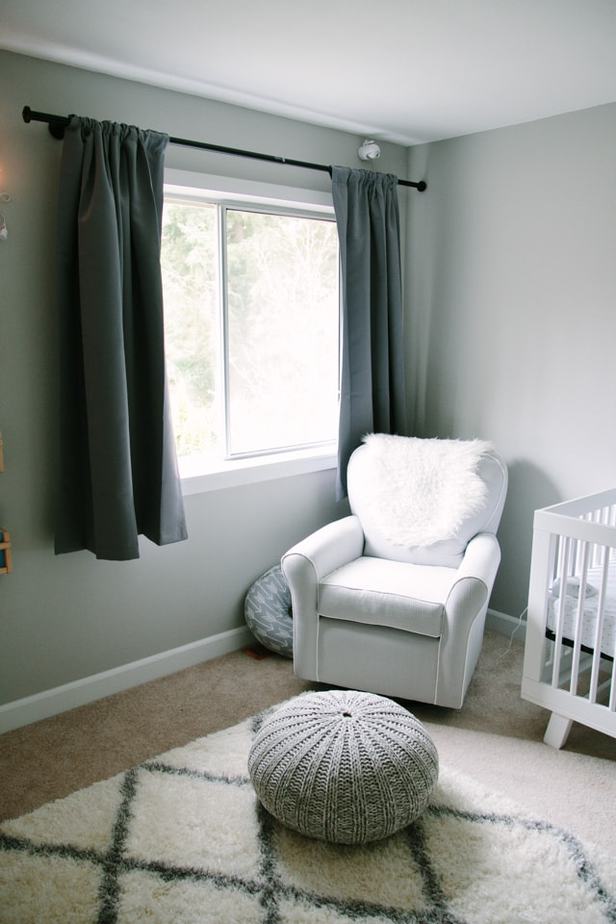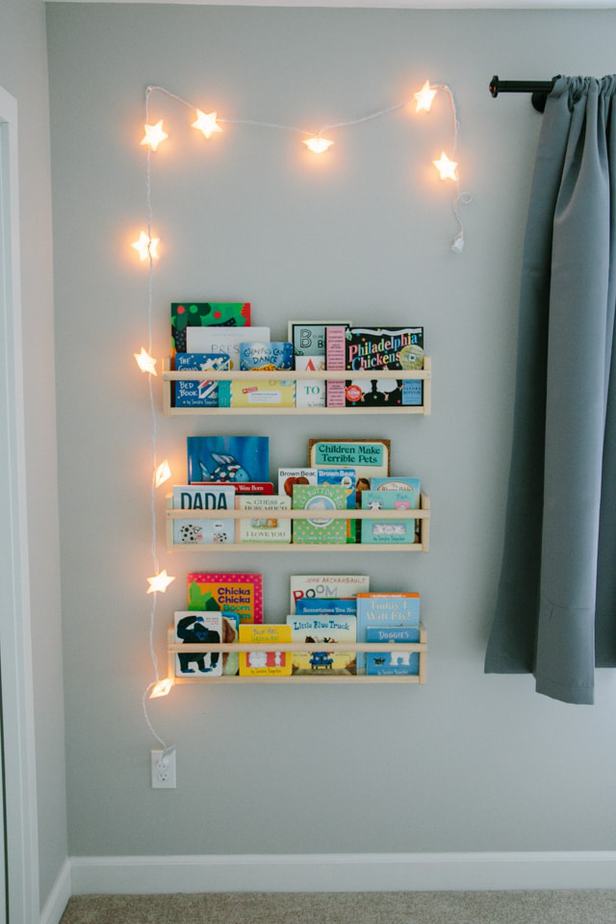 Courtney and I love our Babyletto Hudson 3 in 1 cribs. The style is just too cute!We both switched up our long curtain ways in our nurseries and use these perfect gray black-out curtains we got off Amazon. They're soft, pretty, and completely keep that sun out, except for a little on the floor and the ceiling if your curtain rod is too far out.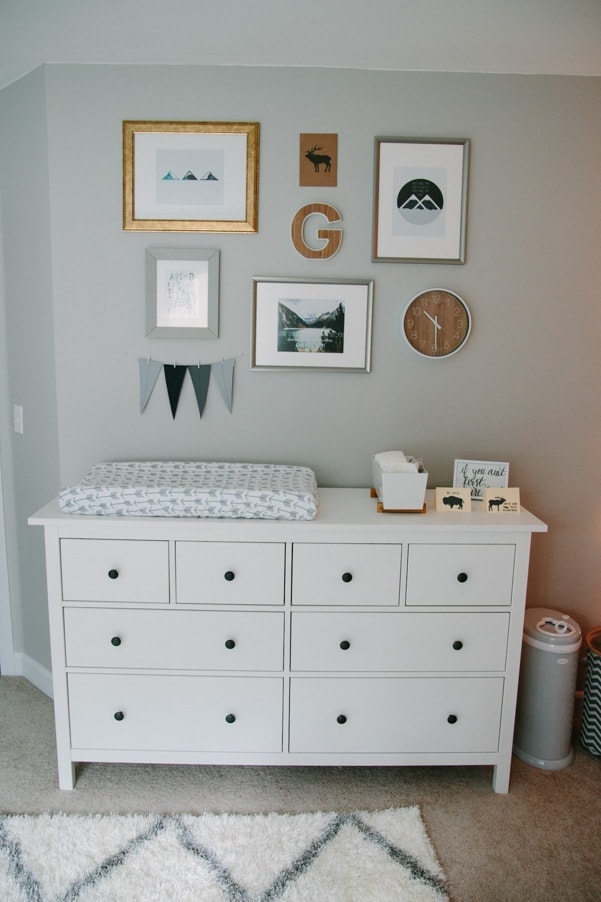 The star lights! Just perfect and fun. Also babies love stars.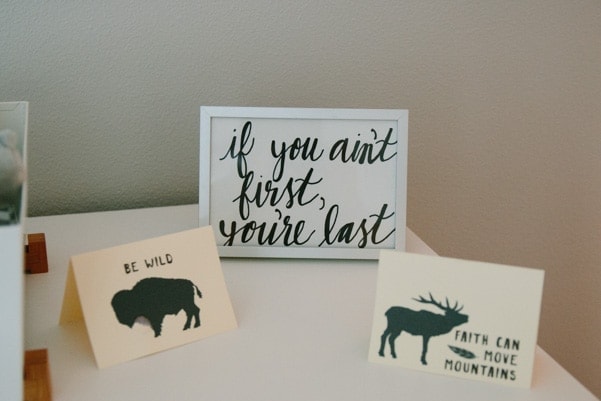 We found all these picture frames at Ikea. Even the gold one! I didn't want the pop of black on the wall so we stuck with silver, white and gray for a softer look. I designed all hanging artwork.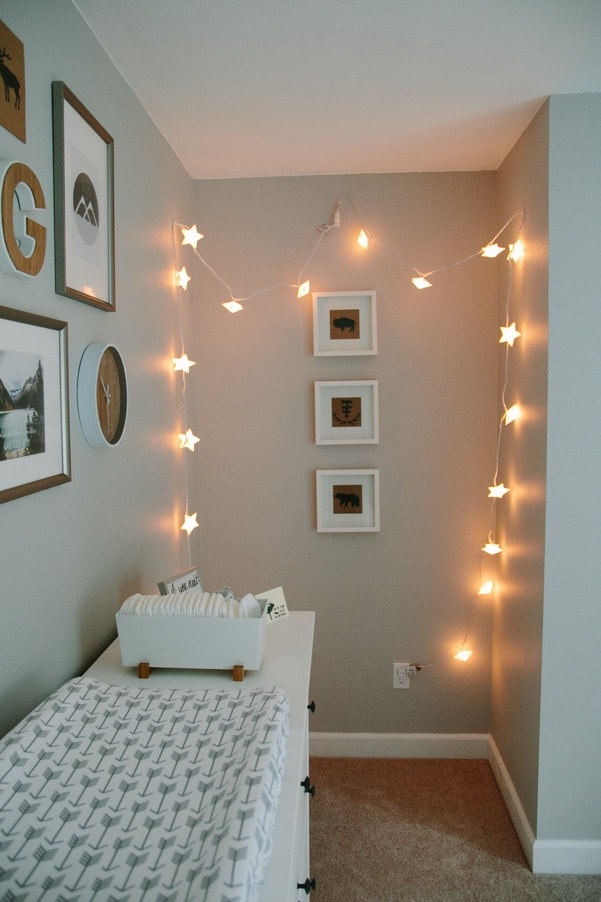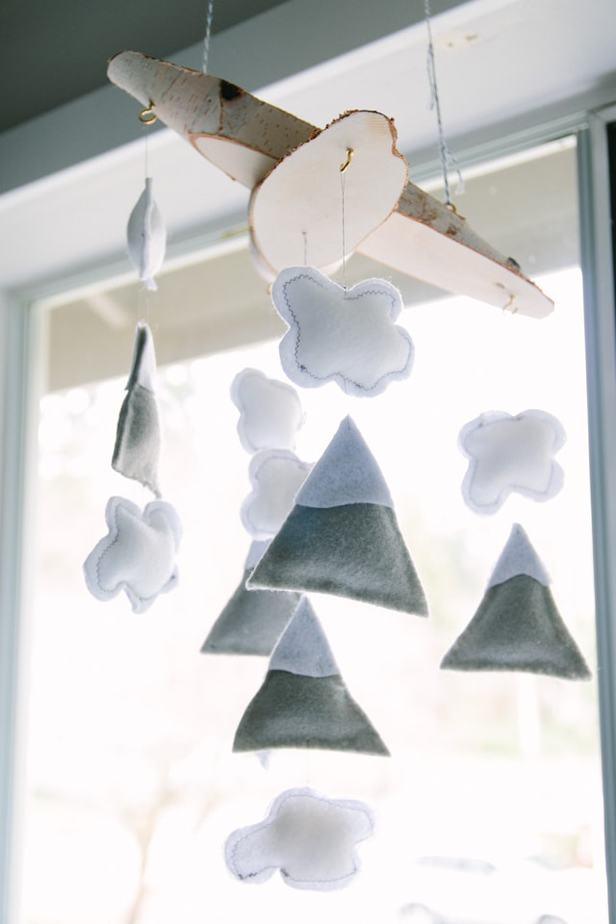 I designed these little mountain cards for Courtney's baby mountain themed shower that you can check out here! Having the same themed shower as the nursery is actually pretty clever if I do say so myself. You can re-purpose all the decor you want!


This mobile was another felt project of mine. Some was sewed, some was glued, and some was stitched. Haha, you can't call me consistent, but it turned out super cute! I bought the wood at Hobby Lobby.
What is it about nurseries making us actually put closets to functional, organized use? We put an Ikea Kallax in this closet with bins on the lower shelf and bins on the upmost rack for extra storage. Soft and sturdy organization bins are your best friend with a baby! You can bring them anywhere around the house for play and quickly tidy thing right back up inside when your done. It helps when they're cute too! ;)
Speaking of cute….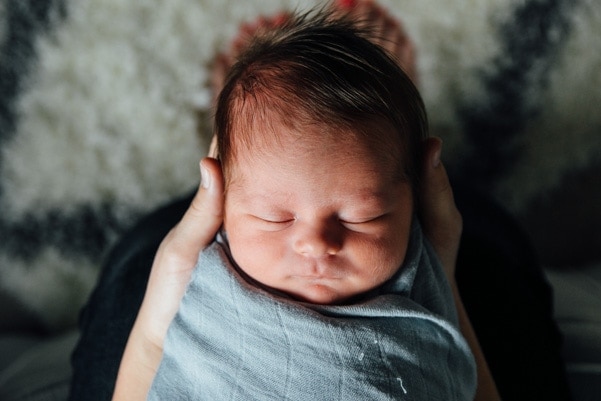 This kid. He came out with this fantastic head of hair and it's only kept growing. You seriously can't handle the cuteness can you!?

The next mountain themed nursery was taken at the end of a newborn shoot I did for a couple. I was so impressed by their nursery wall I convinced them we needed to take a few pictures in it to document their hard work! (In addition to the whole birthing a baby experience!)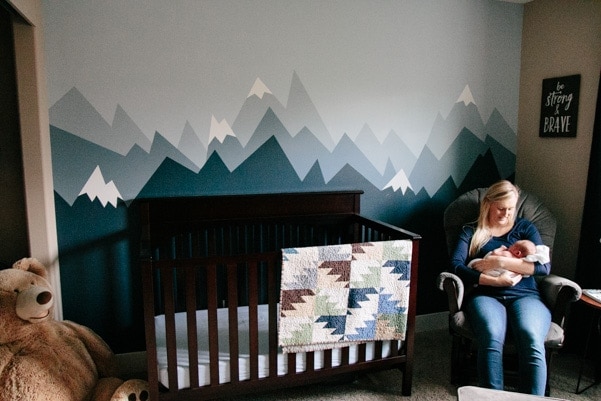 Here are some gorgeous rich brown cribs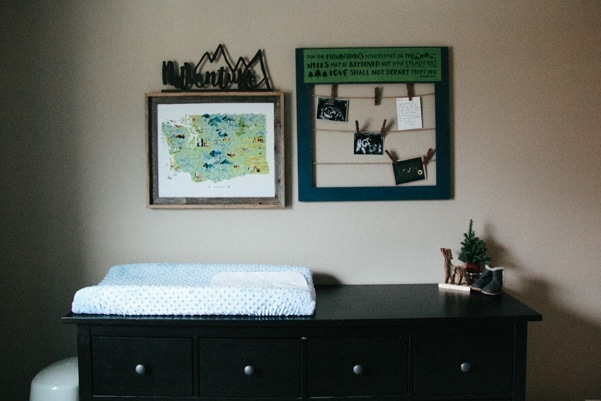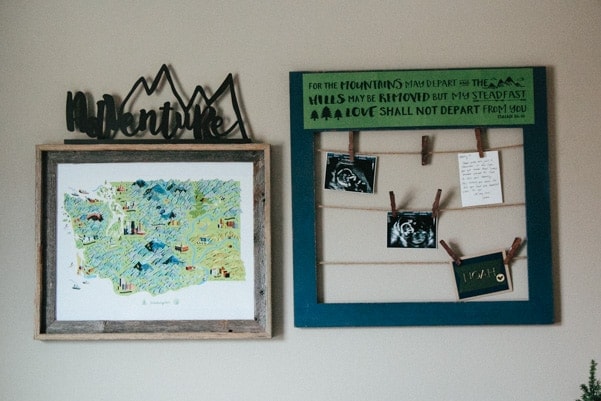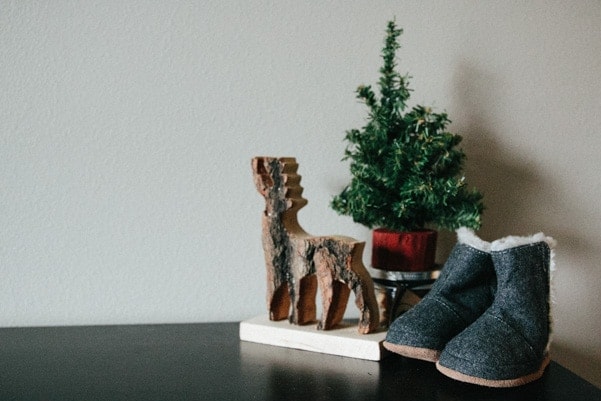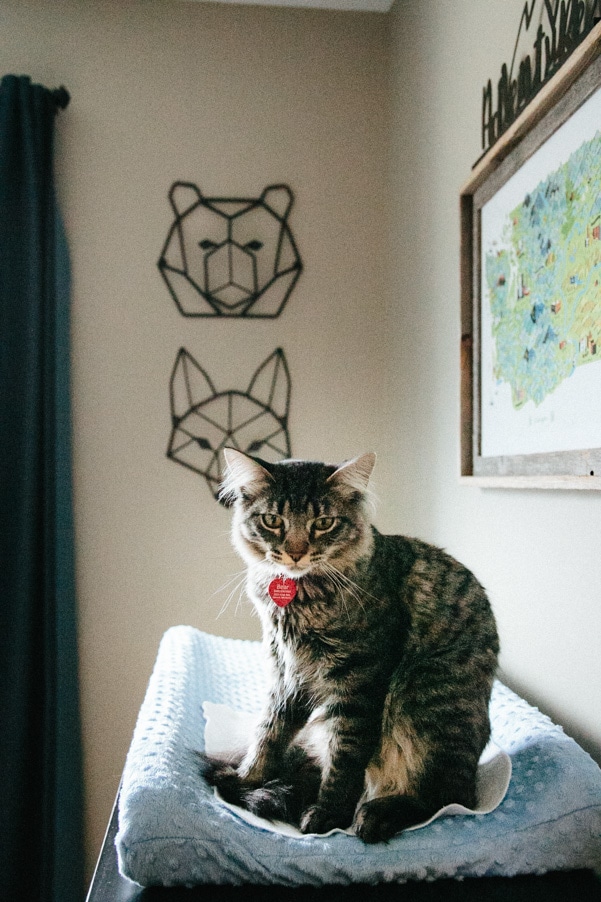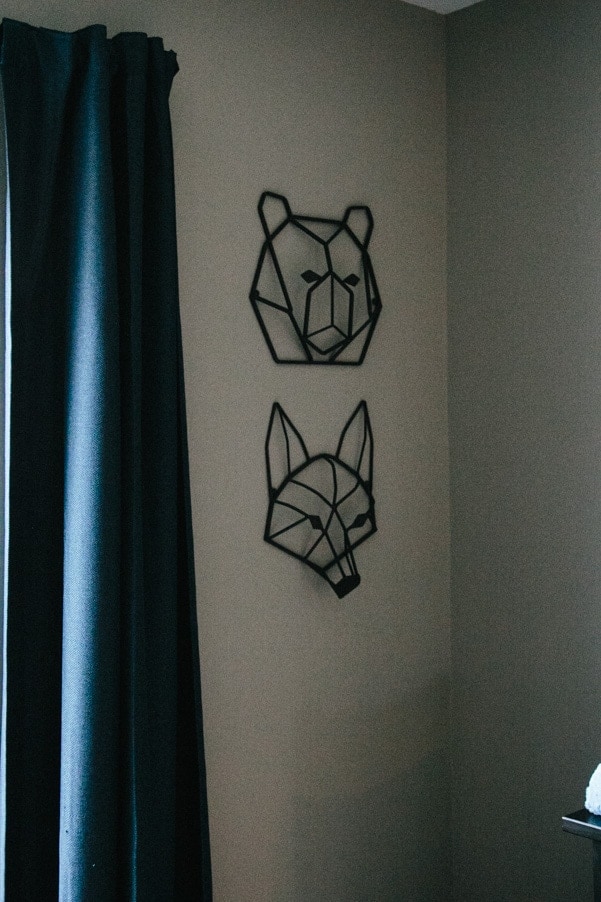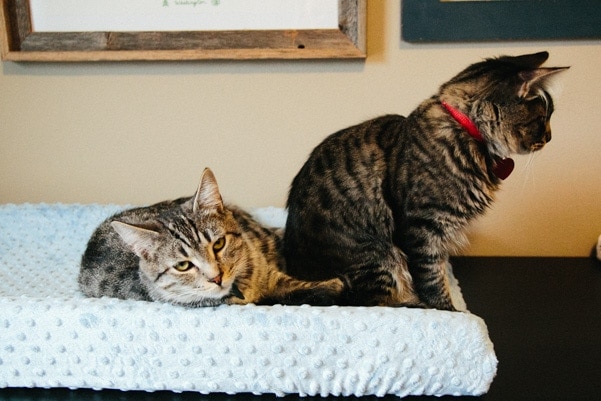 Isn't it incredible?!
You know kitties just think that nurseries were made for them right? ;)

I love these poofs that are on Amazon! They come in just about every color for a great price. Also, that Ubbi Diaper Pail is made of steel and doesn't hold onto the stinky diaper smell like the plastic genie diaper pails. We love ours! We bought a box of medium scented garbage bags at Costco last year for it for $8 and still haven't run out. It's economical, functional, and stylish.