Hey all! I'm popping in here today because spring has sprung and we are loving seeing the green start growing around our dirt laden lot! Since we're not ready to jump into landscaping, I decided to buy up ALL the cheap and cute Walmart plants and pots! Here's a little look at how the greenest family members are settling in!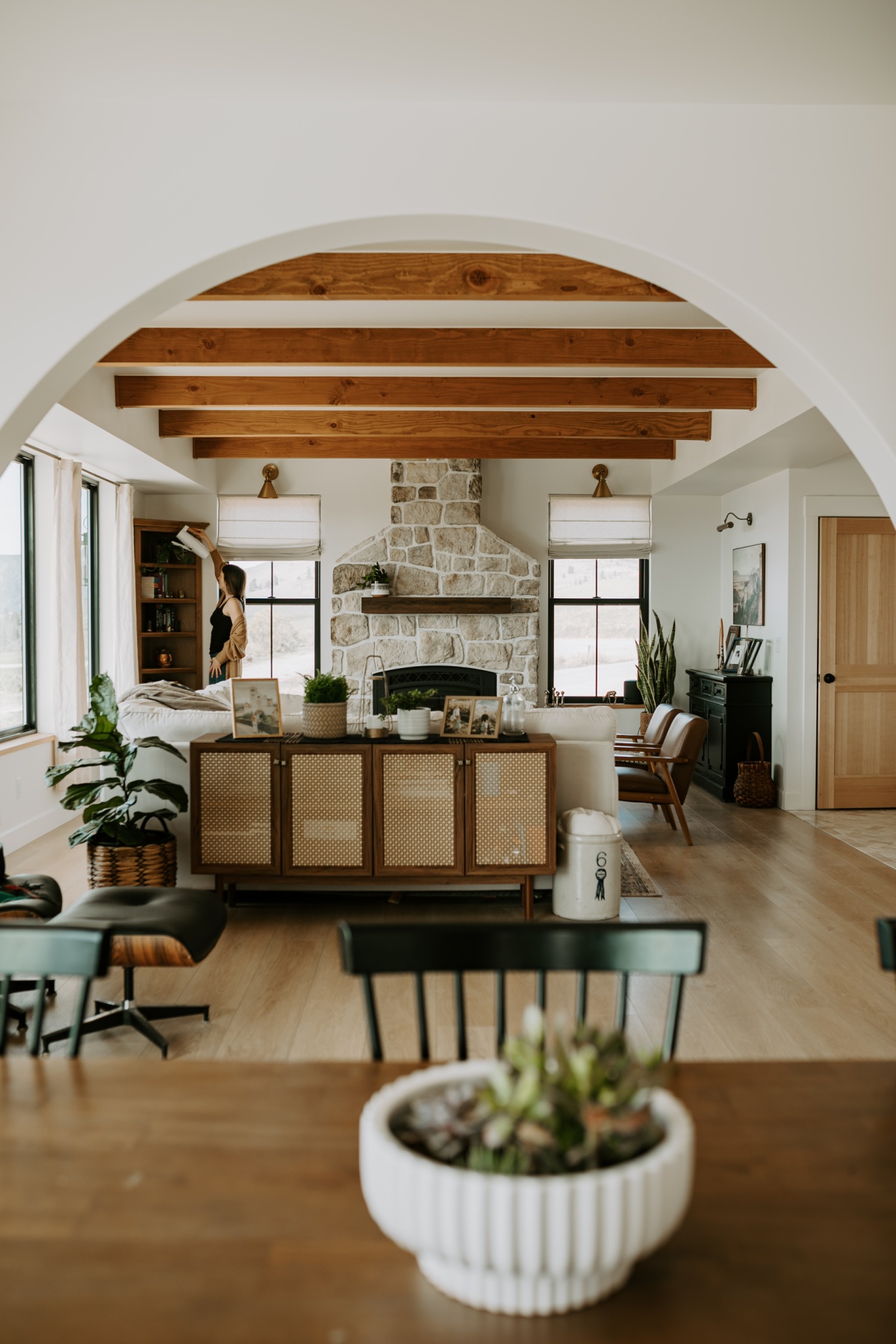 Shop my walmart plant pots!

Doesn't the green make the house seem so much happier and lived in?! I'm so happy that I was able to buy all of these healthy plants at my local Walmart to mix and match into my decor.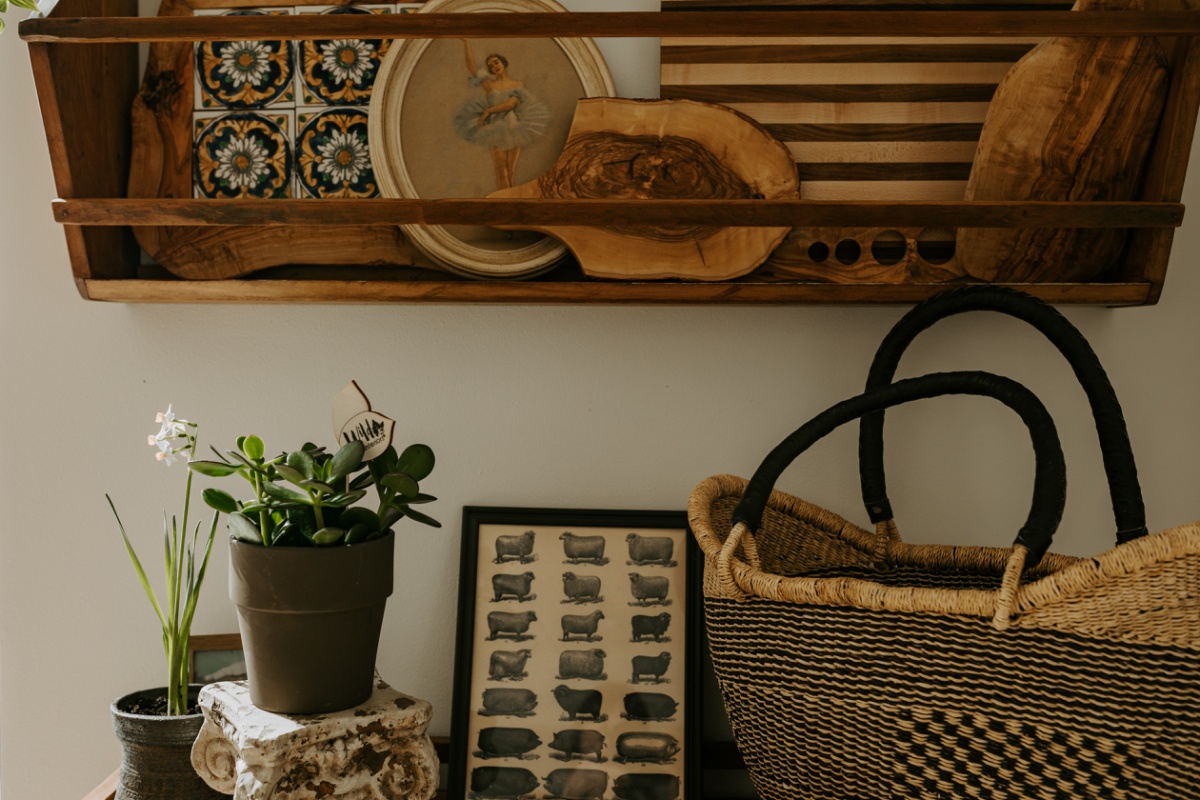 This little Wilda rubber plant came in it's own dark brown clay pot from Walmart and my neighbor brought by this sweet smelling daisy (definitely not a daisy…) and a few other plants for me. I'm really loving the deep layered look in around the house. I hope to find some more gems at the thrift and antique stores!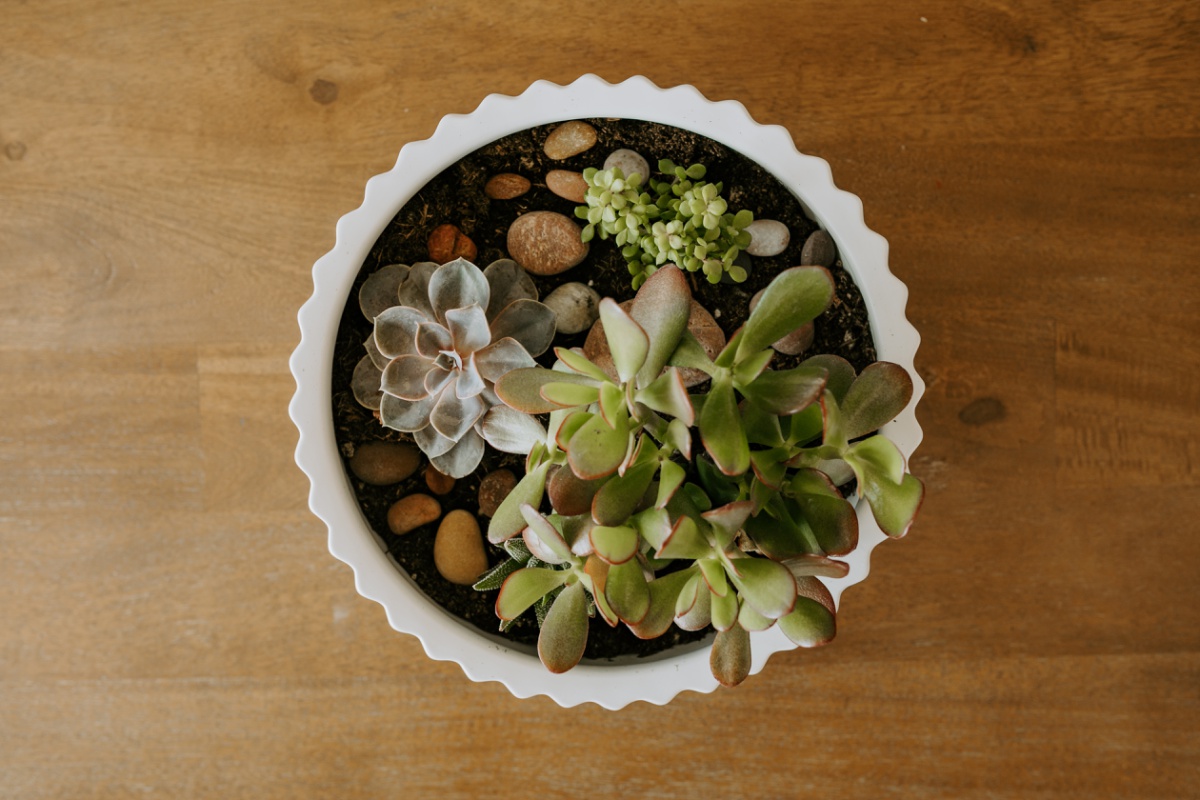 I pieced together this little succulent garden in this wide white scalloped Walmart pot. It's super heavy and perfect for a spring/summer table centerpiece! I added the little stones I've been holding onto since a beach combing I did last year. It's hard to tell, but they're a sweet mix of pink and yellows.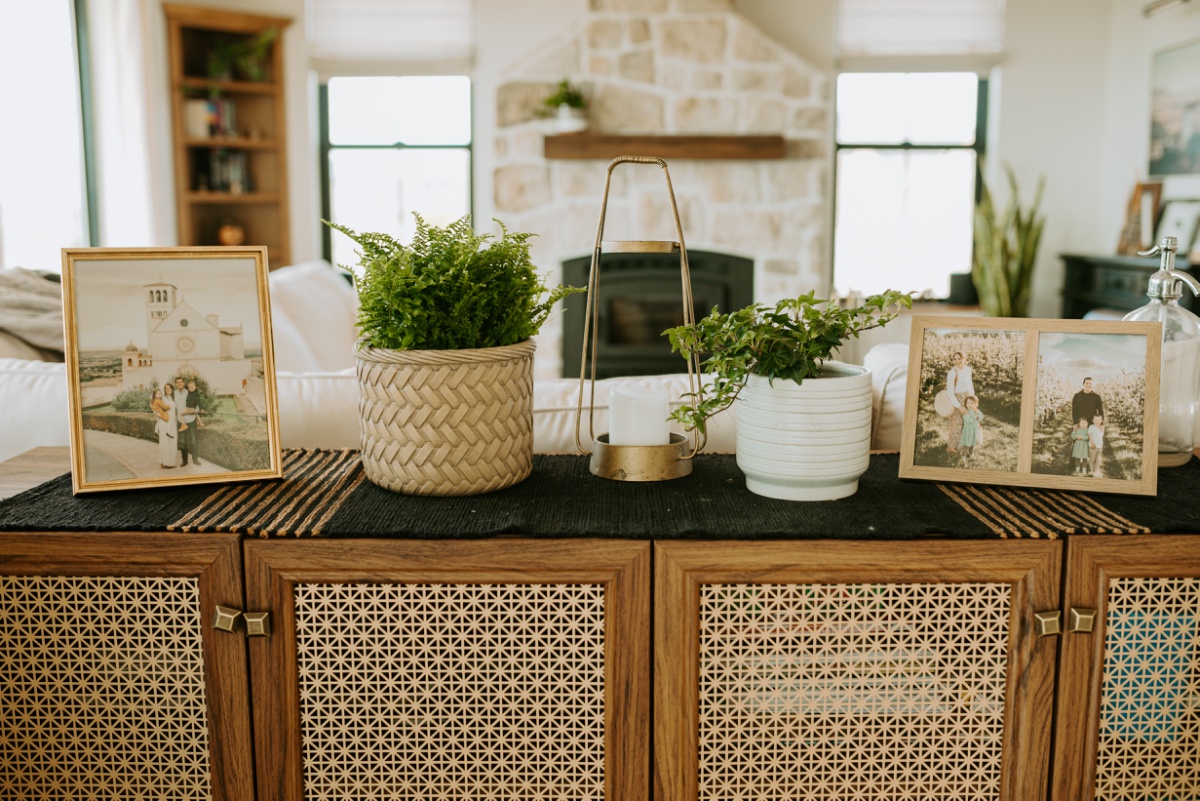 We'll see how well I can keep this fern and ivy plant I found at Walmart! The off white pot has a nice cream line texture and the brown rope stone pot adds a fun variety to my basket decor around this room.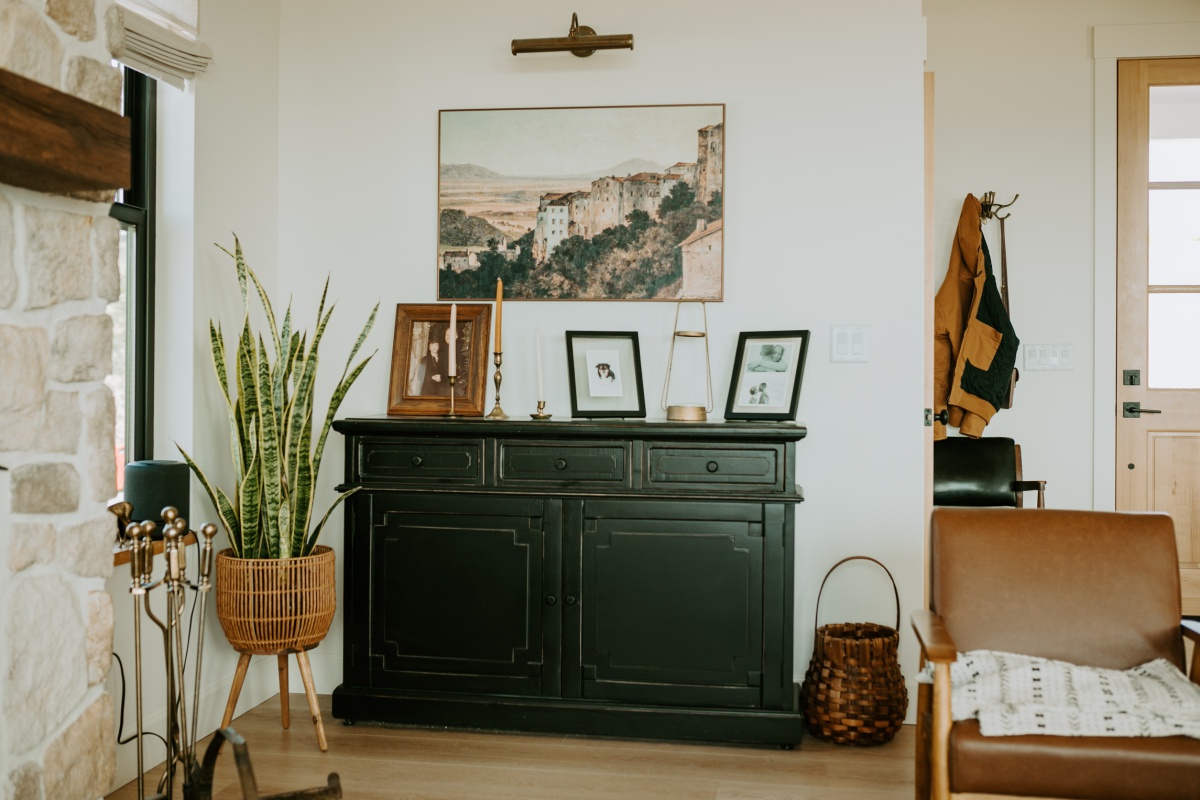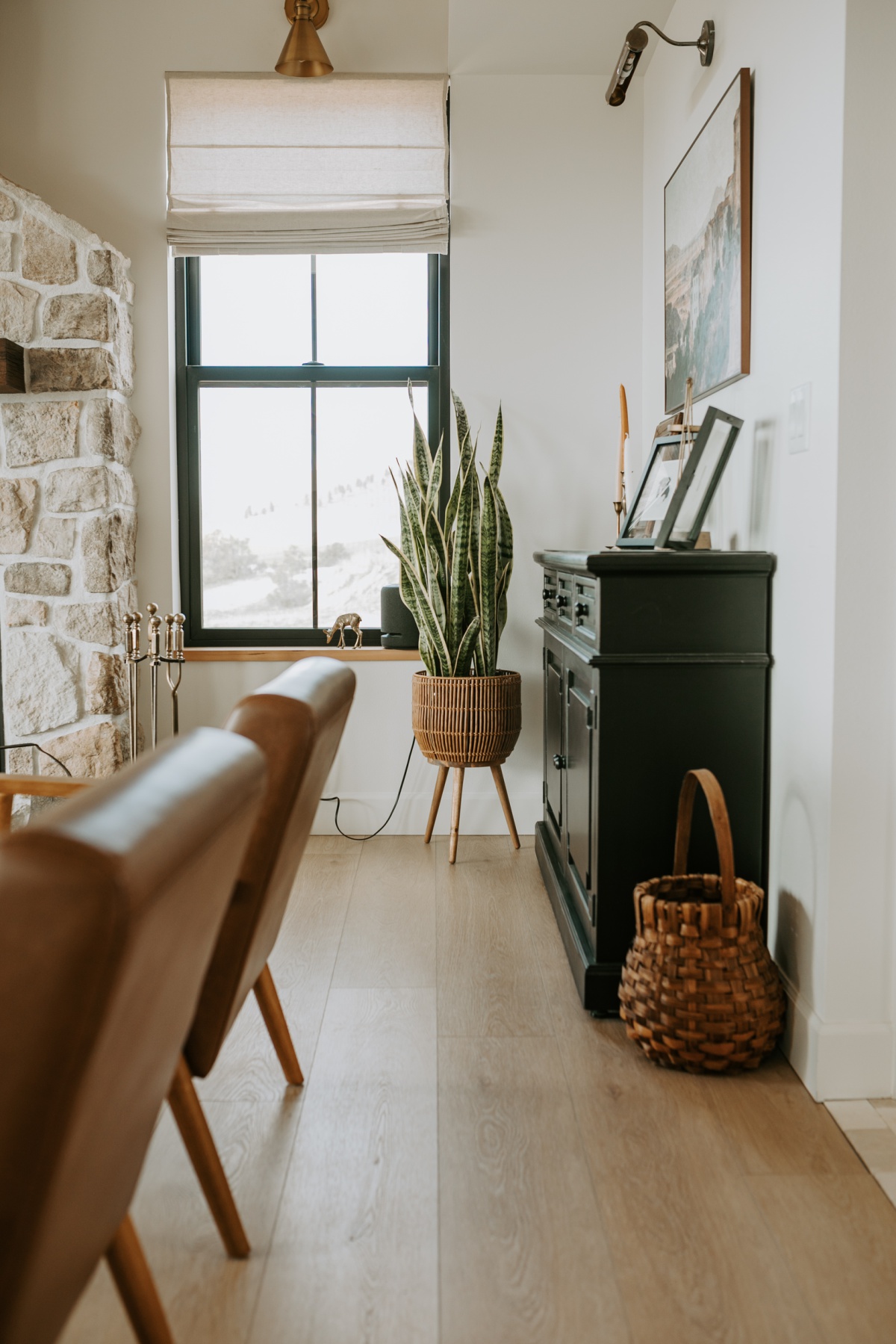 This little area is coming together so nicely! I really can't believe that raised basket pot was only $24 at Walmart! I actually bought another one and it's in the master bedroom now with a lovely plant! (The bed is covered in the week's laundry sooo we shall skip that photo for now ;) ) Since I've maintained a mixture of mid century modern and traditional furniture in the house, this little guy fits right in. The tall snake plant adds the perfect balance to that end of the house. It also adds a little lively color!
Check out my lighting list in this post!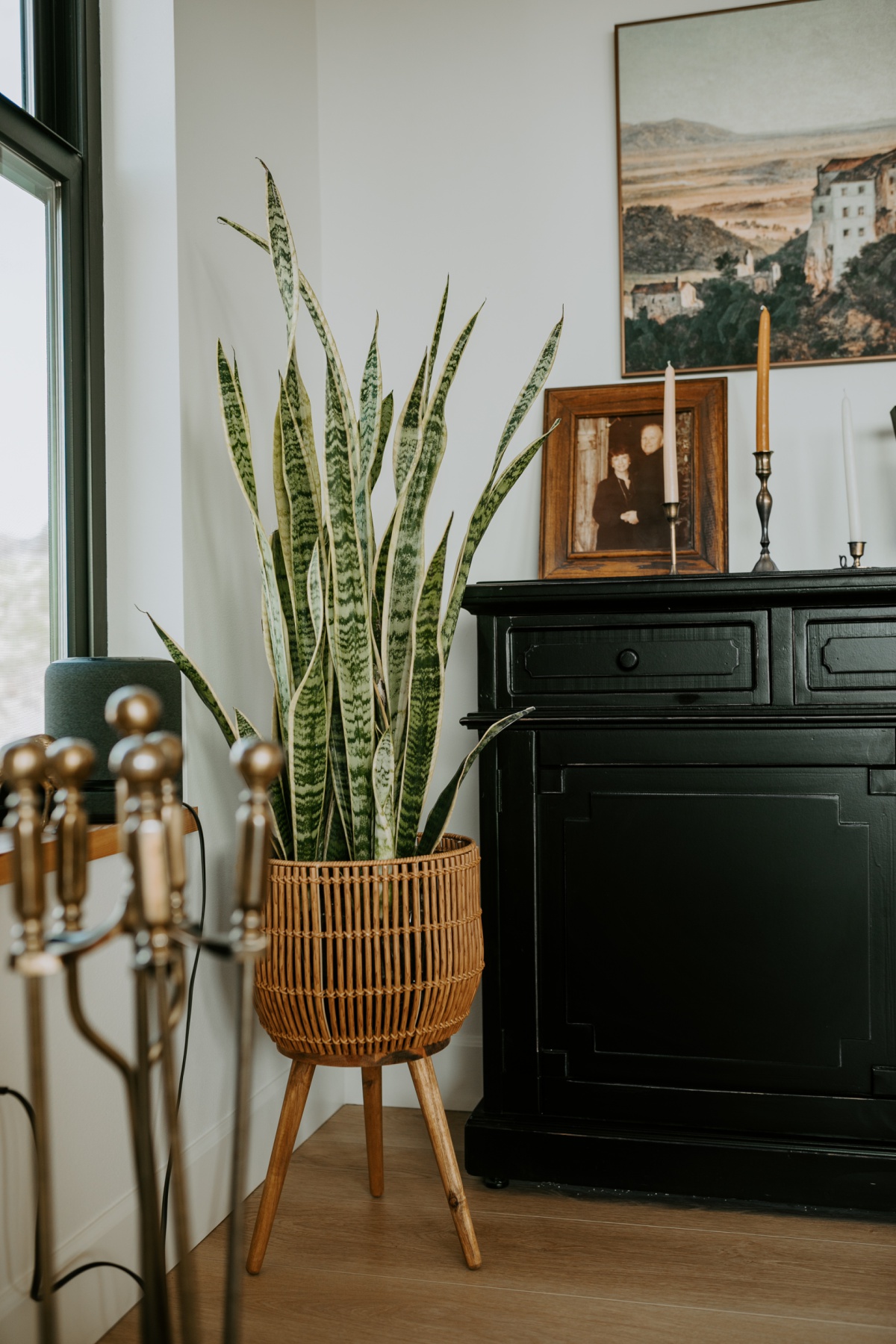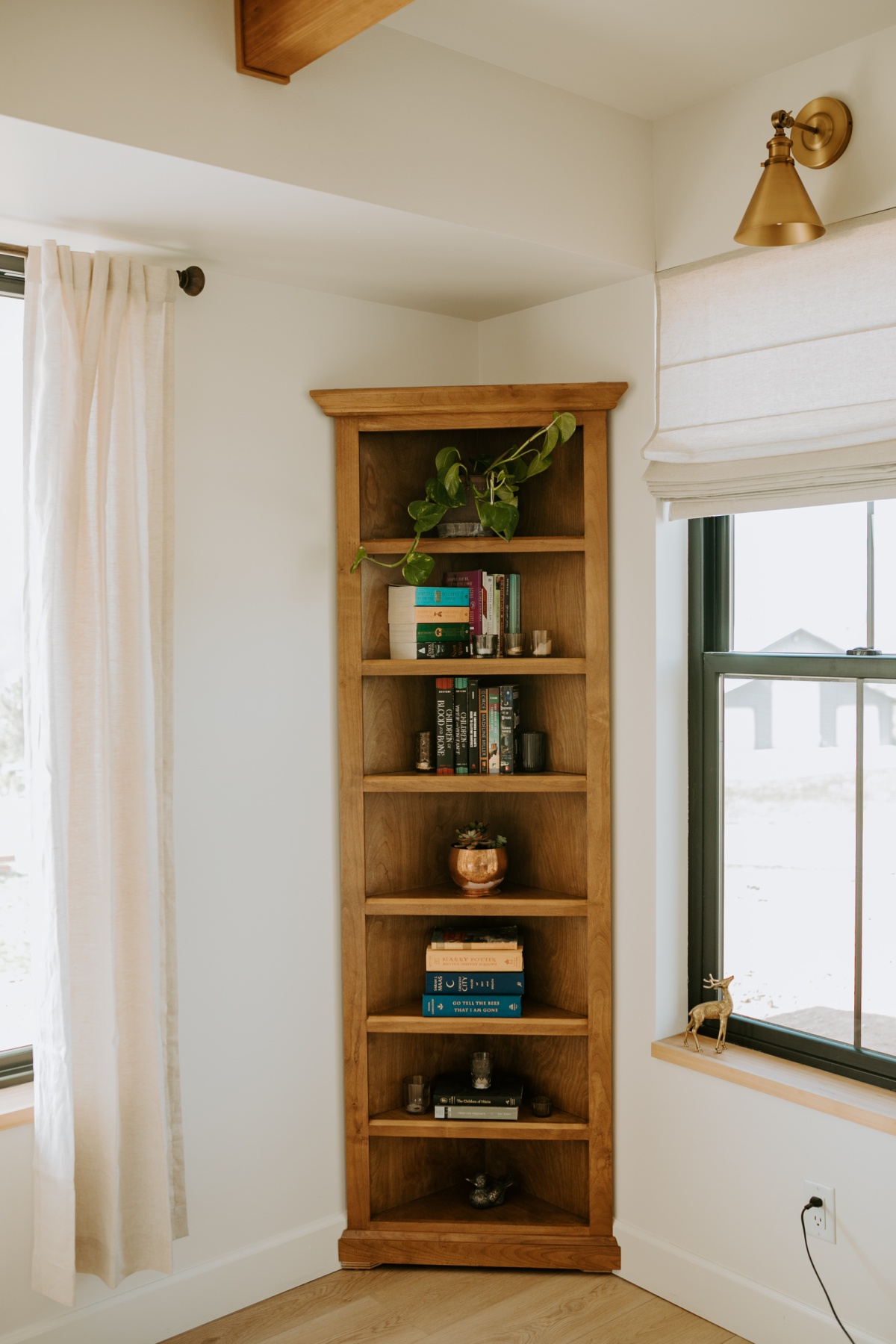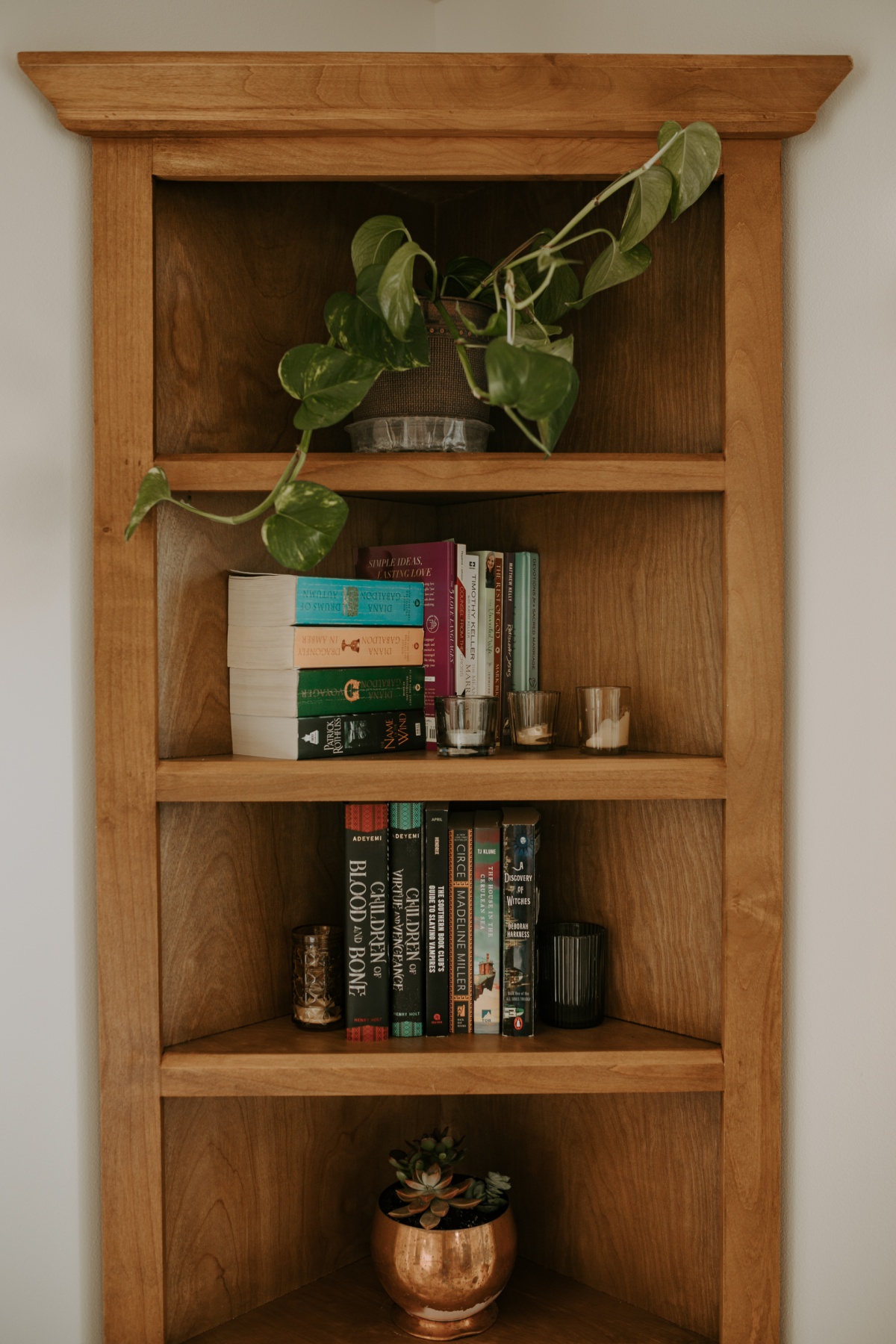 Here's a look at the new bookshelf that was finally delivered in March! It was the last of some big furniture ordered items to arrive and we were anticipating the way it would change the living room. It's PERFECT! It's a solid wood corner bookshelf that comes in various sizes and wood species. We got ours in Spiced Alder and the maximum height. It's well made and exactly as I hope it would be. The living room feels much more complete with it in there!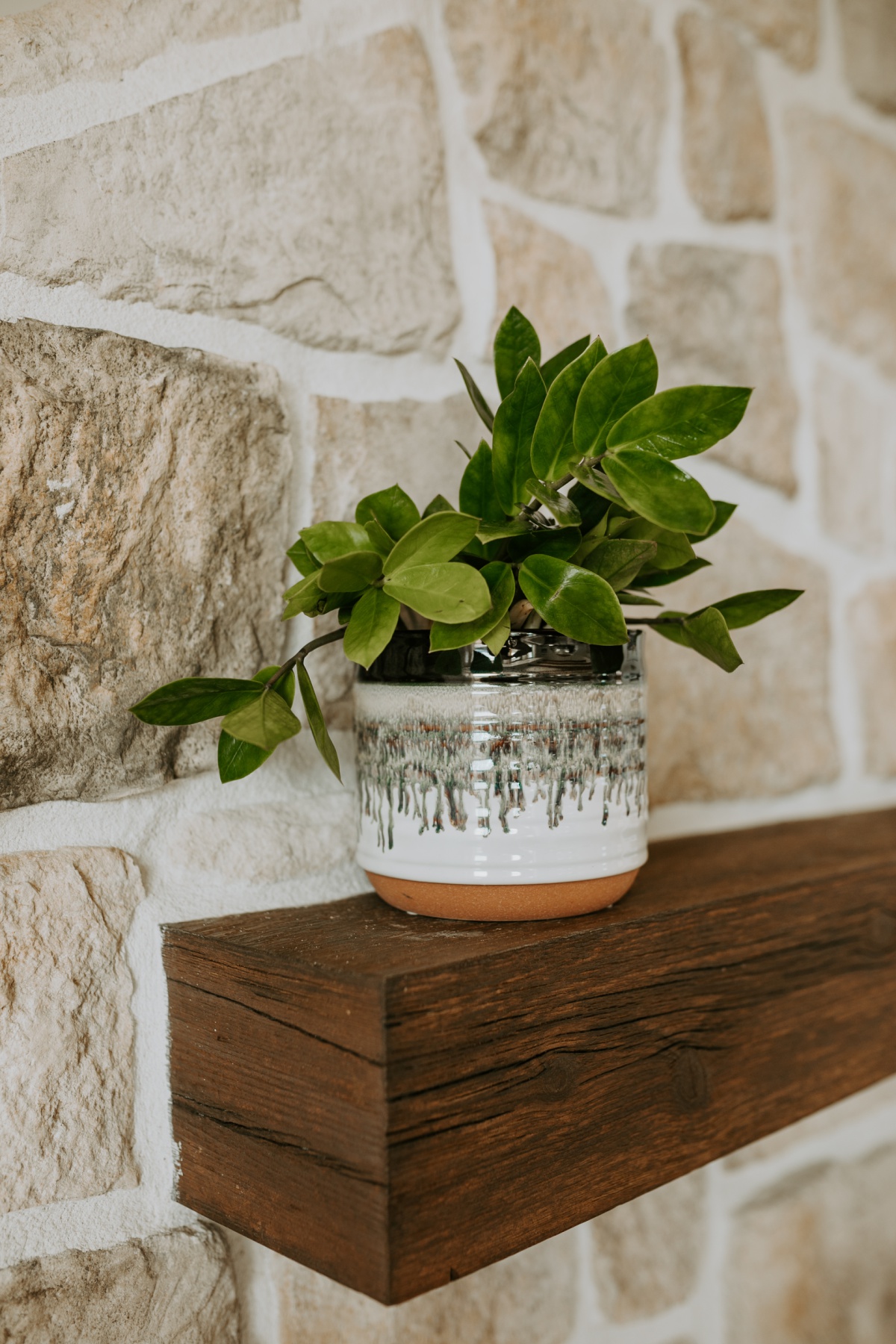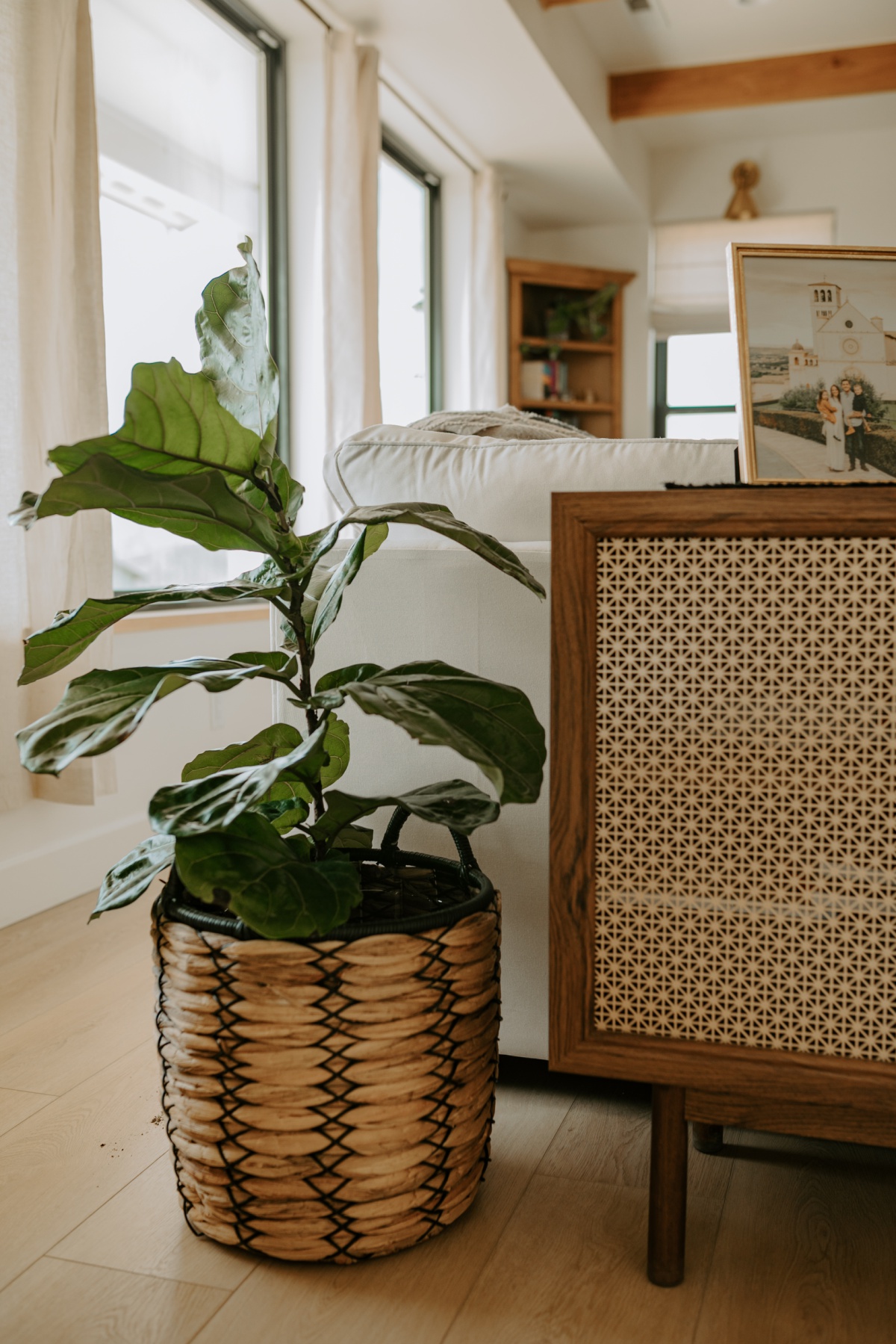 I'm so happy we live in a world where you can buy a healthy fiddle leaf fig at Walmart for $25! AND a CA-UTE plant basket to boot. I should note that this is all from the Better Homes and Garden line at Walmart and it's always GOLD. If you've scoffed Walmart in the past, it is TIME to get your tusch in one and check out these lines in the garden, kitchen, and home organizing areas. Oh and you know I love their bathroom items too!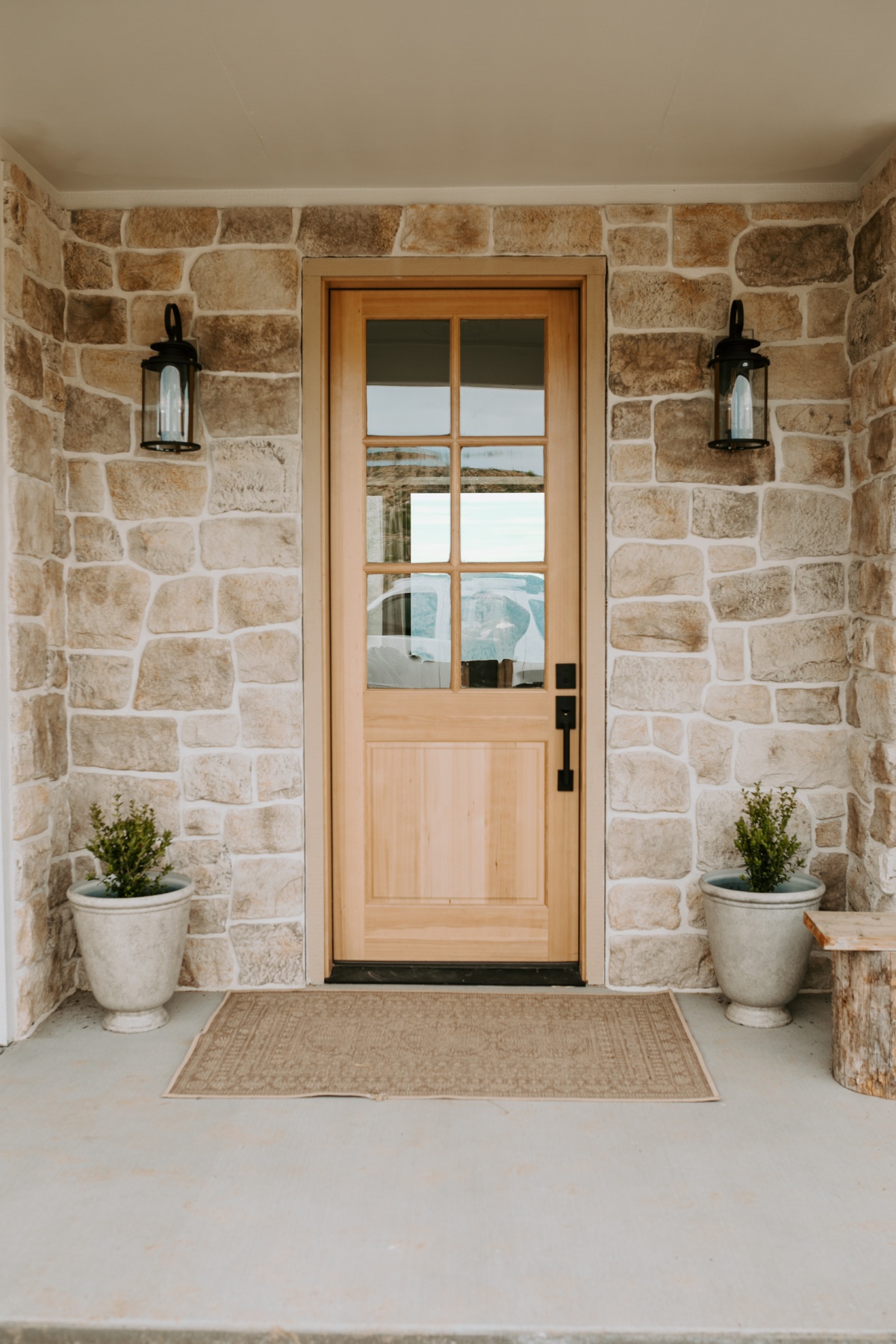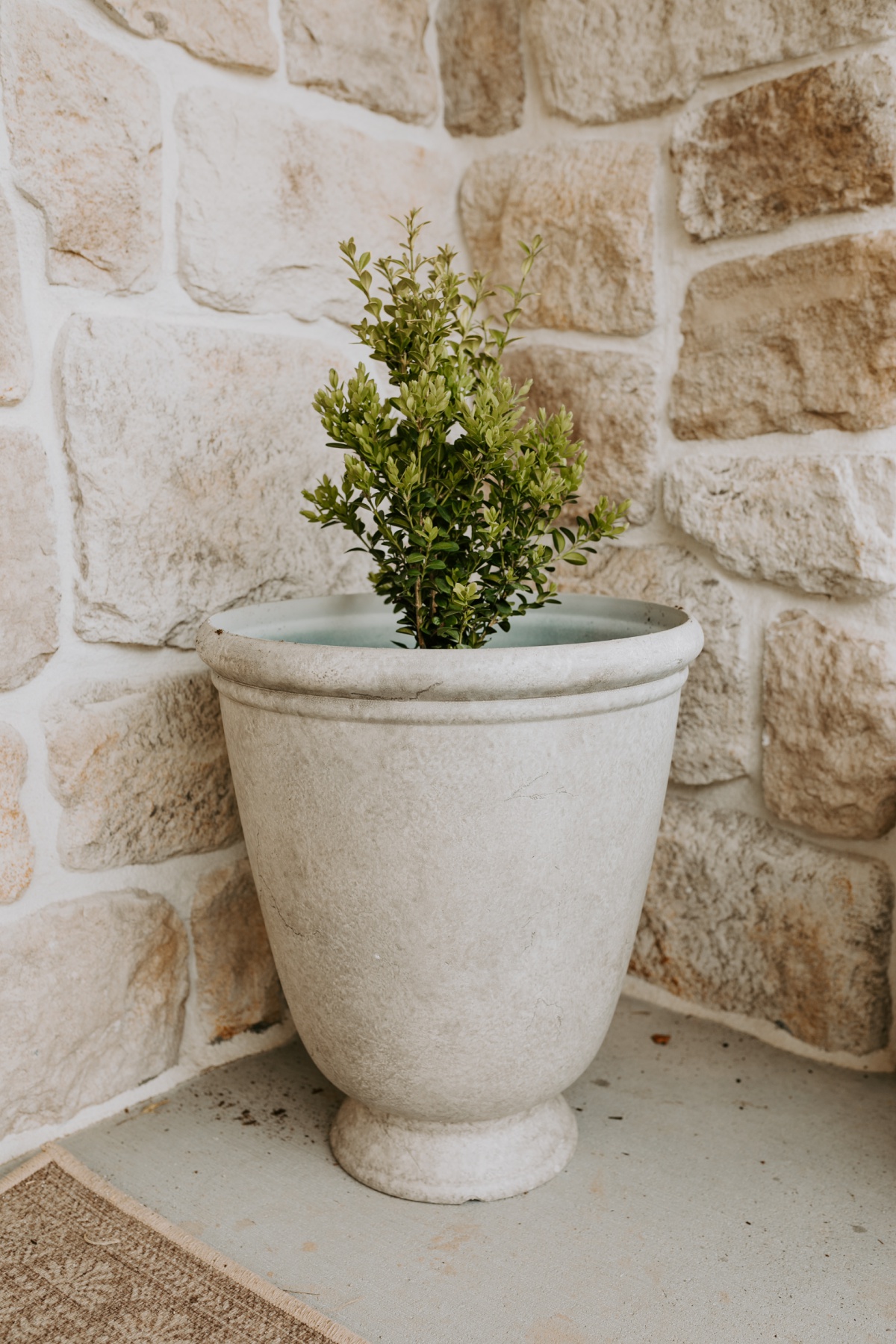 Lastly, let's take a step outside and see the little improvement I made to the front porch! Two little boxwood baby's in these Walmart off white faux stone pots. I could definitely go bigger here, but these are a great starting point for my front porch. I'd love to get some colorful flowers here too in little scattered pots around these ones. The issue is the WIND. Holy toledo that wind whips on both sides of our house and throws everything into chaos. I laden the bottom of these pots with heavy stones and pavers before adding all the soil and boxwoods. They should be pretty good (if I remember to water them…) and hopefully grow larger!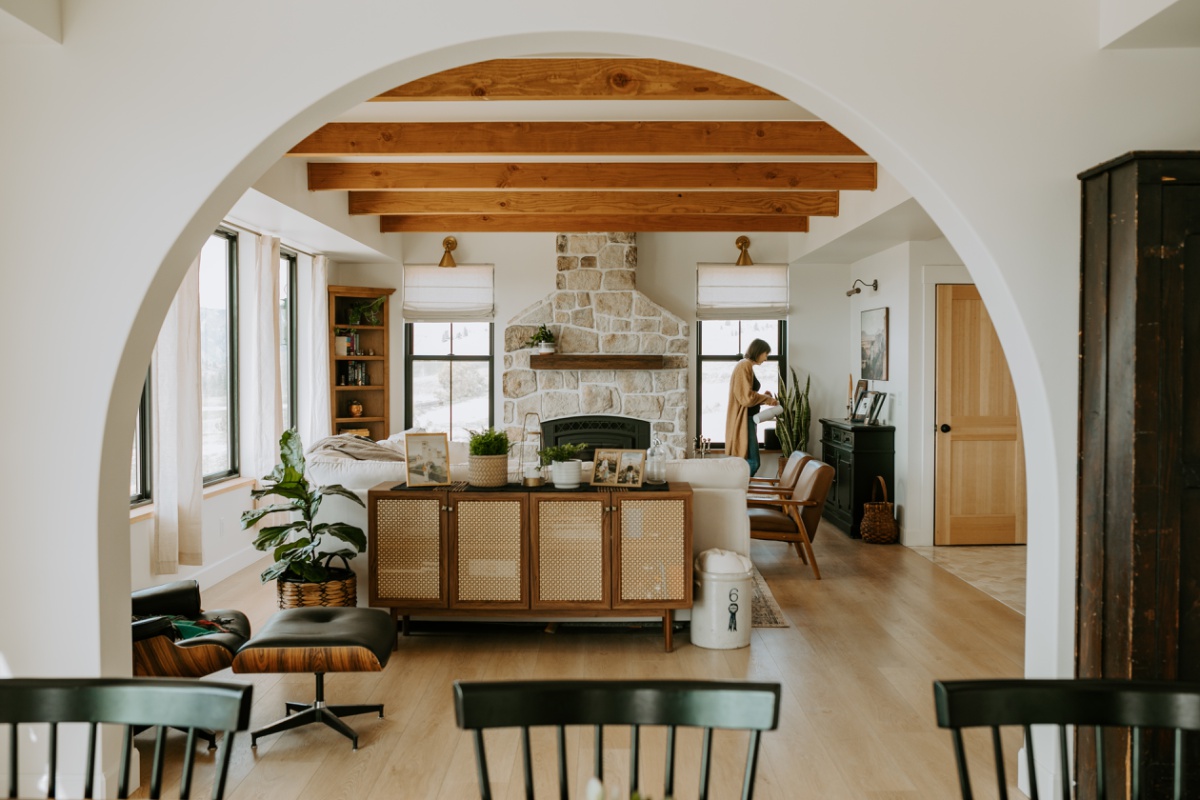 Thanks for following along with this home journey and please send a prayer of life towards my plants! Check out your Walmart plant pots ASAP too.
Karisa