Bathrooms seem like a lot of work if only just to keep clean. The thought of a bathroom remodel can literally make dollar signs pop out of your eyes. Most remodeling lists have new tiles, tub, floors, and fixtures ready to check off, but these can add up to hundreds or thousands of dollars to buy and have put in by a contractor. If you're not able to spend that kind of money on the modern bathroom of your dreams, I have 7 steps to a modern bathroom that wont break the bank and are DIY friendly!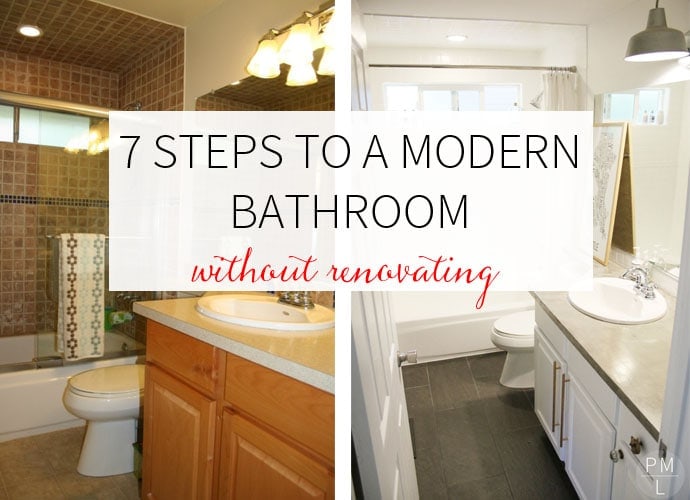 When we moved into our 1970s home we knew a little TLC and creativity could take it from average to gorgeous. Though we did renovate in other parts of the house, I was able to drastically makeover the guest bathroom without demolition!
Here's what you can do to get a new bathroom without renovating!
1. REFRESH YOUR SPACE WITH WHITE PAINT
If you are looking for a bright fresh bathroom look, it's time to paint over the beige walls and ceiling. A small bathroom will take no time at all to complete this project and will yield instant results! We even did a black accent wall in our bathroom that adds a beautiful depth to the small space.
2. PAINT OVER EXISTING TILES
You don't have to spend hundreds of dollars on new tiles. You can use a Tub And Tile Refinishing Kit
over your existing tiles for a dramatically different + refreshed look for $25! You can see how I did ours here.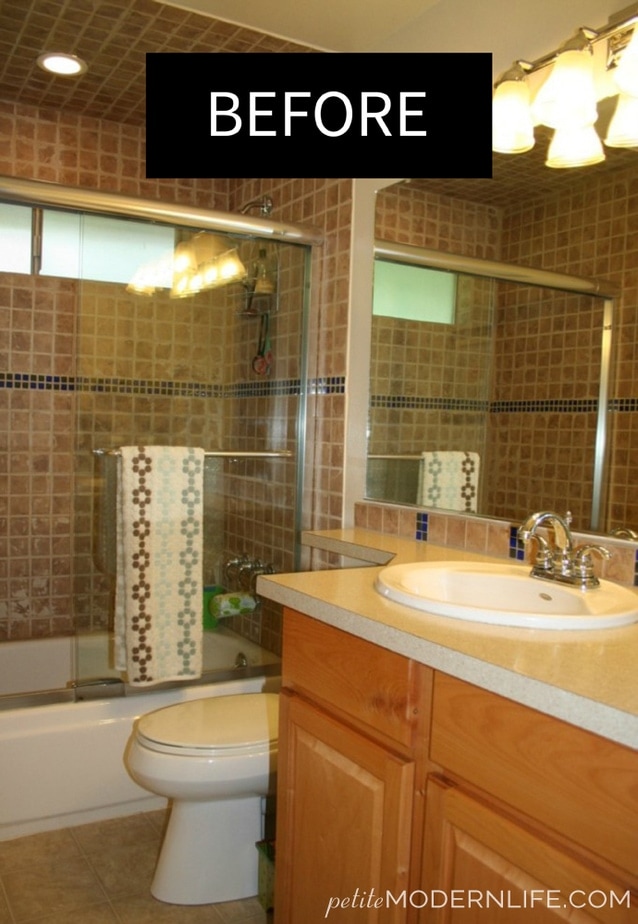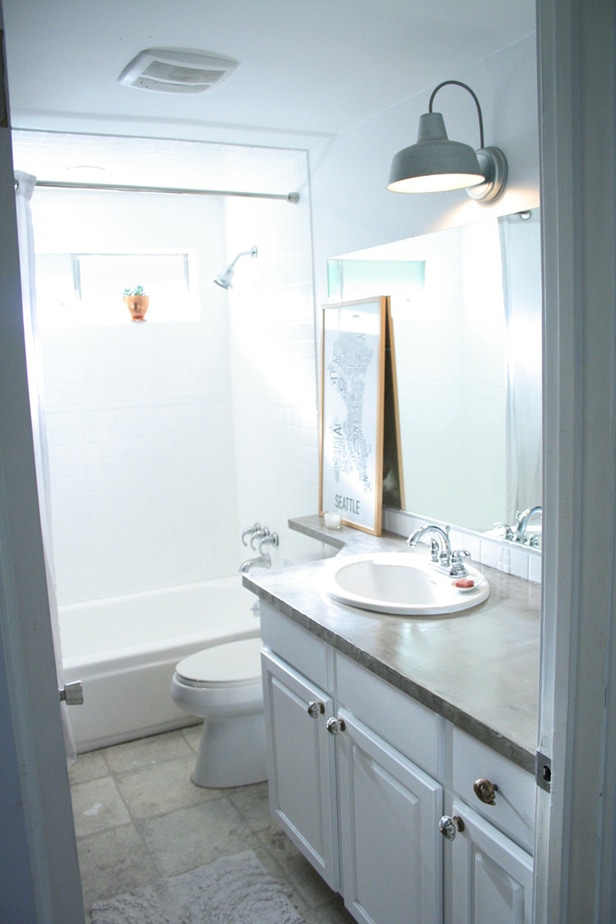 3. COVER YOUR EXISTING COUNTERS WITH CONCRETE
If you're like me and don't have the money to dish out on new counters, but plan on it someday, why not cover the ones you already have? There are many ways people are getting clever with their existing counters, we decided to cover our with Ardex- Feather Finish concrete
for an industrial look at $35! See how we did it here.
4. PAINT YOUR VANITY
Don't be troubled by your old oak vanity, it doesn't have to go to get a fresh new bathroom look! Using sandpaper, a high density foam roller, high hiding primer (ask your paint desk which is best for covering wood) + semi-gloss white paint, you can have a 'new' vanity without any hassle or high price tag!
5. CHANGE OUT THE LIGHT FIXTURE
Builder light fixtures are so very boring in the bathroom. Use your creative freedom and get a fun light! We found this Barn Light
in the outdoor lighting section. (Only $42 on Amazon!) It works just the same indoors and we get a lot of compliments on its character!
6. ADD HARDWARE
Add some personality to your bathroom vanity with hardware that has some character! There are so many fun options to choose from. I've already tried 2 styles with my hardware, it's so easy + fun to do! Check in store at Anthropologie, Hobby Lobby, or online at Wayfair for some fun, inexpensive options!
7. SWITCH UP YOUR SHOWER CURTAIN
If it's in the budget, try adding a different shower curtain and rod to achieve the look you're going for. Before our bathroom had a mounted sliding glass door that was so limiting and just too much to keep clean. A new curtain can change with your design mood whenever you need it to! By the way, 'modern' doesn't mean it has to be colorless, get a pop color to brighten up your new space!
8. OUR "HEAVY DUTY" PROJECTS
As far as "heavy duty" projects went in this bathroom we did a few things that required, heaven forbid, a saw. I jest, it wasn't so hard. First, we laid our own tile on top of the old linoleum. We chose an inexpensive, large, dark grey tile from Lowes and went with a light grey grout. There was a bit of a learning curve and a few broken tiles, but my husband did a fantastic job! We also added new baseboards and trim to the door!
With these tips your new bathroom can come together in a fraction of the cost and without heavy remodeling! You'll love your new space all the more for it! Let me know any questions or comments below!