Hey friends! Thanks for stopping by after a bit of my time away. If you follow along on our Instagram you might've caught on to something crazy that's going down around here: we're selling our house.
SAY WHAT?!
Yes, it's the real deal and probably going to be listed in the next 2 weeks! Why? Short answer, the value has gone up a significant amount since we bought it a year and a half ago and we're ready to live in a different neighborhood. I'll go into more details about what we've learned in this year of home ownership, selling, and buying in a later post. But that, in a nutshell, is why I've been a bit MIA around here.
Moving on.
You might remember from a short while back my office makeover (yes I'm sad it's glory will be short lived). Up to today I've shared my DIY Ikea Desk, DIY Ceiling Light, DIY Sewing Table, DIY Hammock Chair, and my Office Source List. Today I'll be sharing about our DIY Fabric Sliding Door!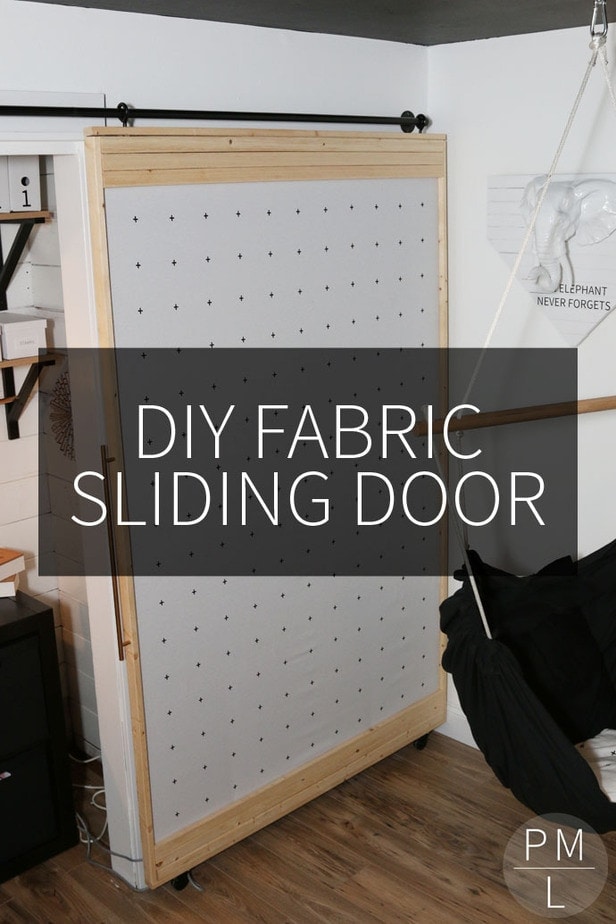 I'm an avid fan and reader of Mandi Gubbler's blog, Vintage Revivals. She's crazy creative and daring in her approach to DIY and I've had a list of projects of hers that I actually have wanted to try because she makes them SO COOL. This sliding door was one of those high up on the priority list. Mandi's was just amazing. See below for the evidence.
Gorgeous right? And she made the simplest tutorial to follow to make it happen on your own.
[button content="SEE TUTORIAL HERE" color="black" text="white" align="aligncenter" url="http://www.vintagerevivals.com/2014/06/how-to-build-a-lightweight-sliding-barn-door.html" openin="_blank"]
This sliding door cost us under $100 to make and hang. A steal in the sliding barn door world.
So like Mandi diagrams on her blog, we made this easy frame with a nail gun.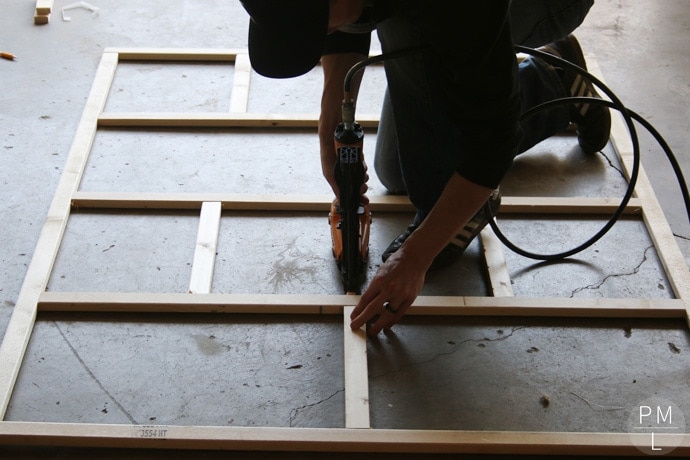 Then I wanted to mount my fabric which was actually a shower curtain I found at Target (I don't see it being sold anymore, huge bummer.) However, the fabric was so sheer that you could see the wood behind it! So I set to finding something I already had (because I was in "this is getting done right now" project mode) to fit in between.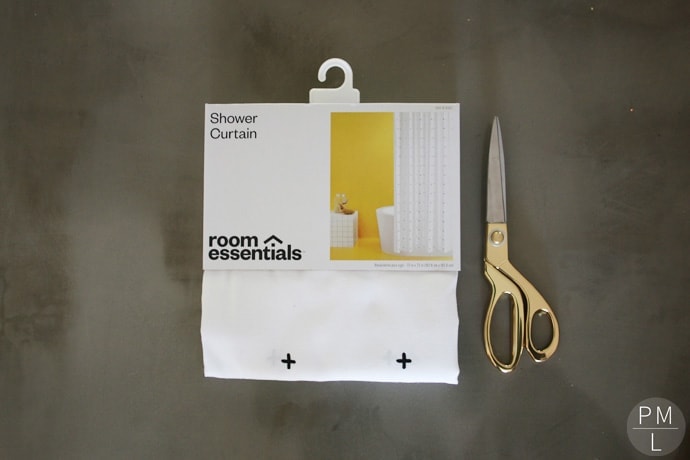 The answer came in the form of a twin size fitted black sheet!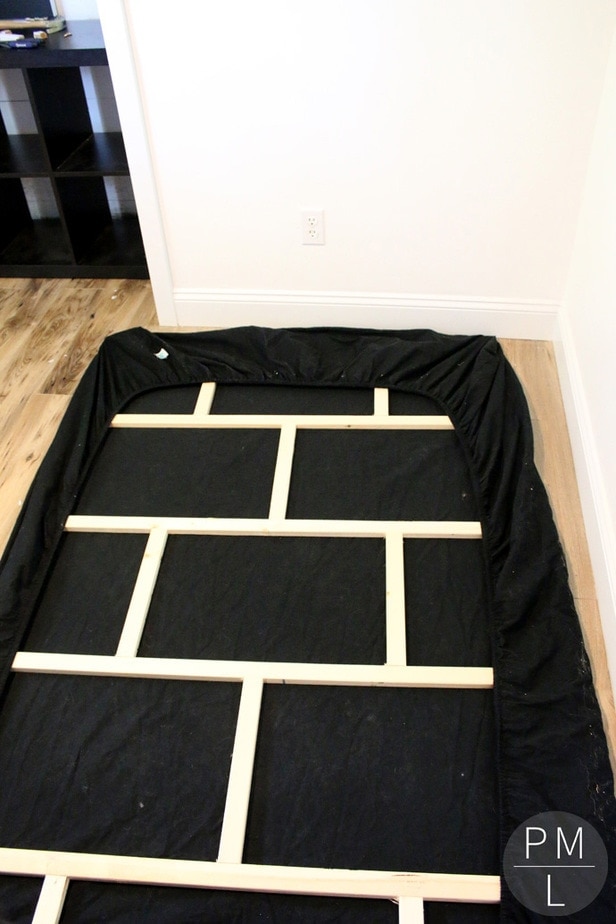 It was a perfect fit! We stapled it onto the frame then cut away the excess fabric.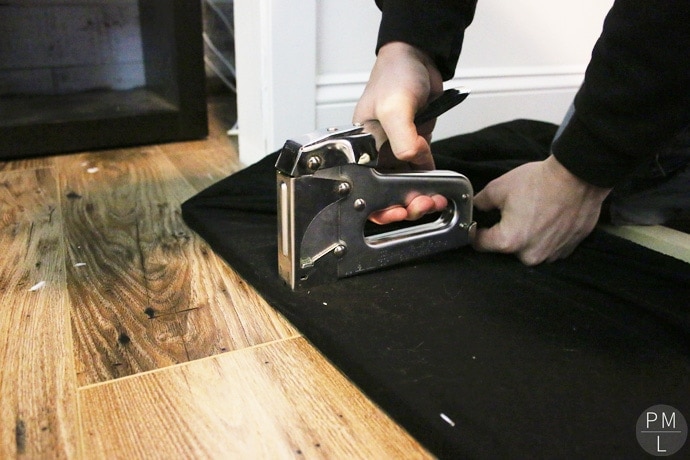 Next we centered the shower curtain on the frame and snugly stapled it down.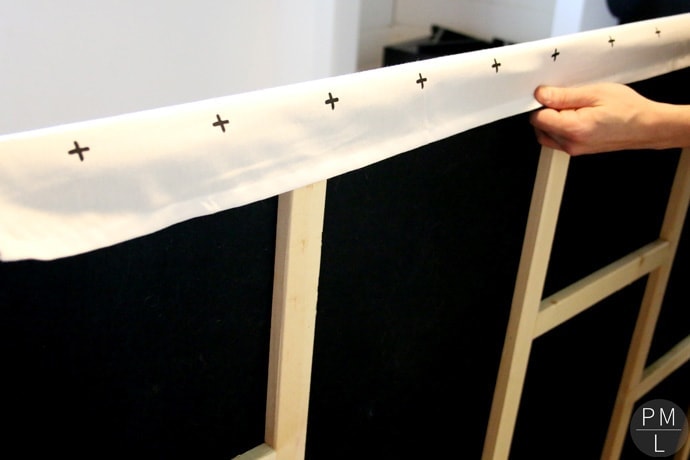 A minor issue showed up in that the curtain was smaller than the frame. No matter, easy fix.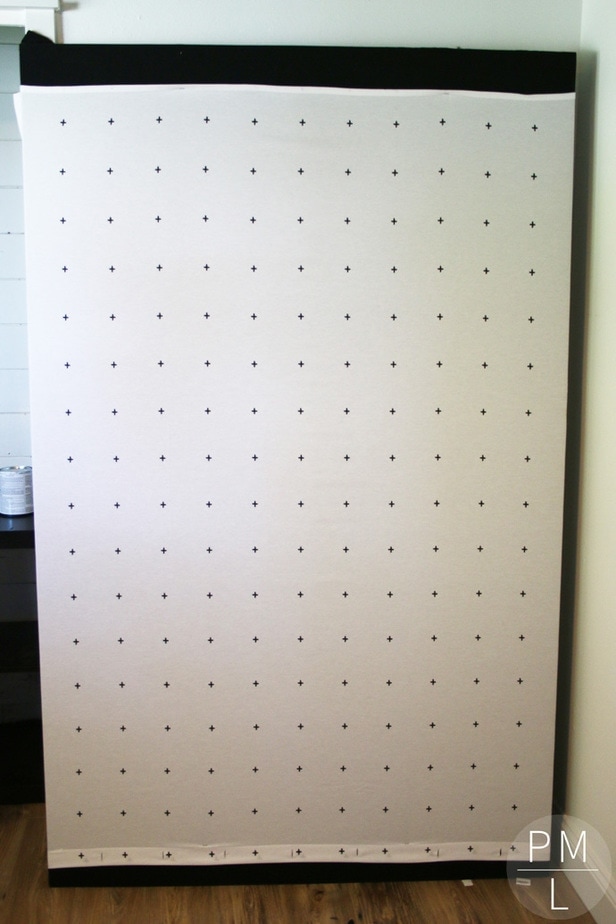 We nailed on our surrounding frame onto the fabric…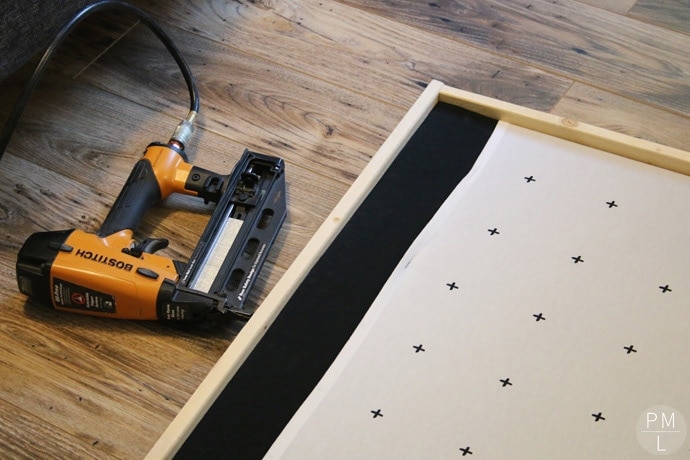 Then used our extra wood to hide the fabric discrepancy on the top and on the bottom!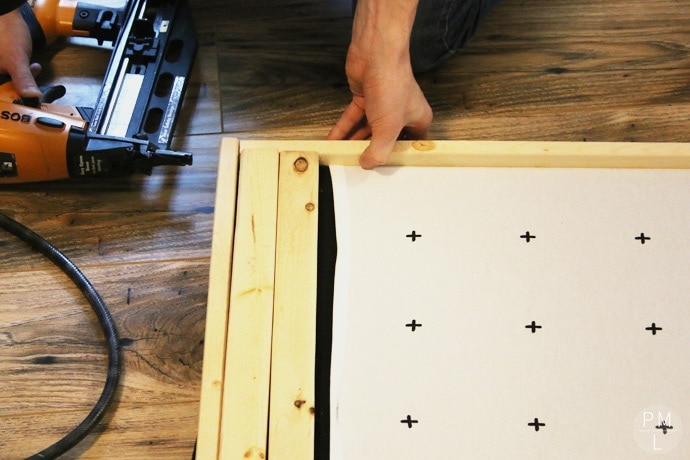 The extra wood added some great character and I LOVE that pine look!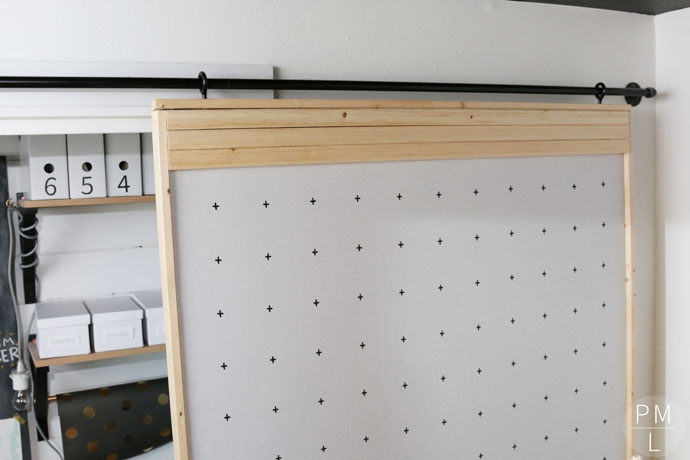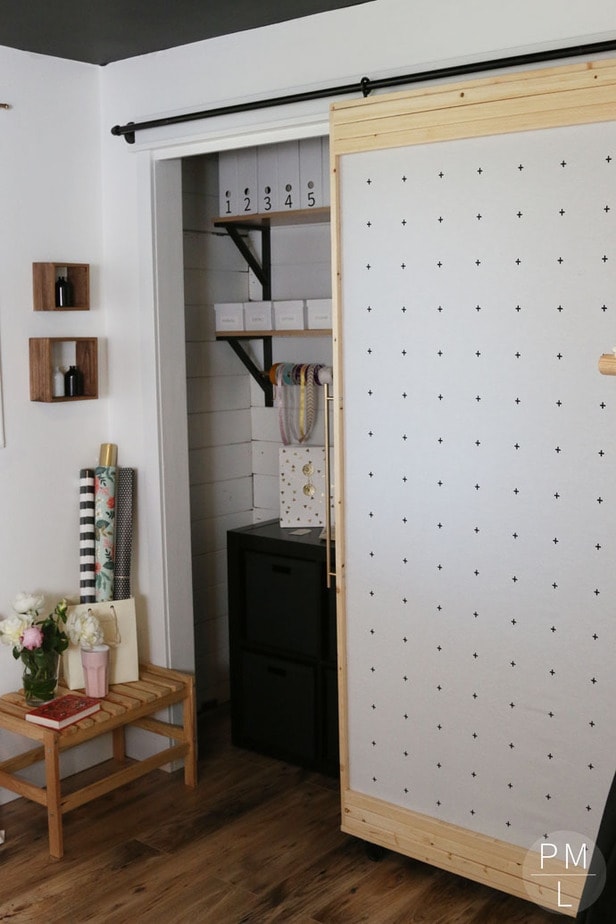 We selected the piping hardware just as Mandi suggested, but decided to spray paint ours black for a less "pipey" look. I also spray painted the casters black.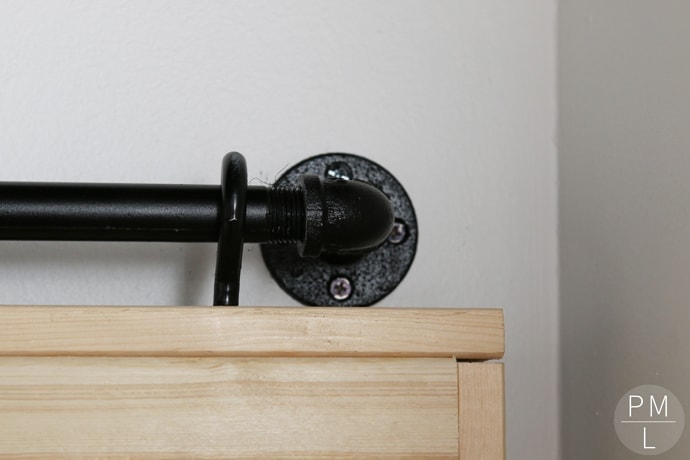 You'll need to clean all the sticker residue off the pipe first, then prime it, then paint it your desired color.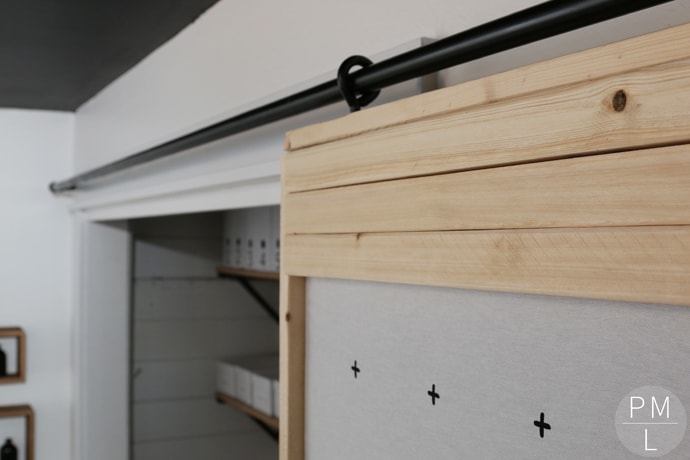 This DIY fabric door would be so fun in a kids room (ok- any room!) and around the house. Get creative with your fabric choices! The shower curtain is a fantastic way to save money on fabric and NOT have to sew. Grab a twin size fitted sheet and you're on your way to a sweet sliding door! Please leave me questions and comments below!