Home burglary. It's violating, unpredictable, fear inducing, and generally just an awful experience you hope you wont have in your lifetime. Unfortunately for us, it happened a week ago to our home. So today, instead of a DIY, we're going to talk about how to protect your home from burglary.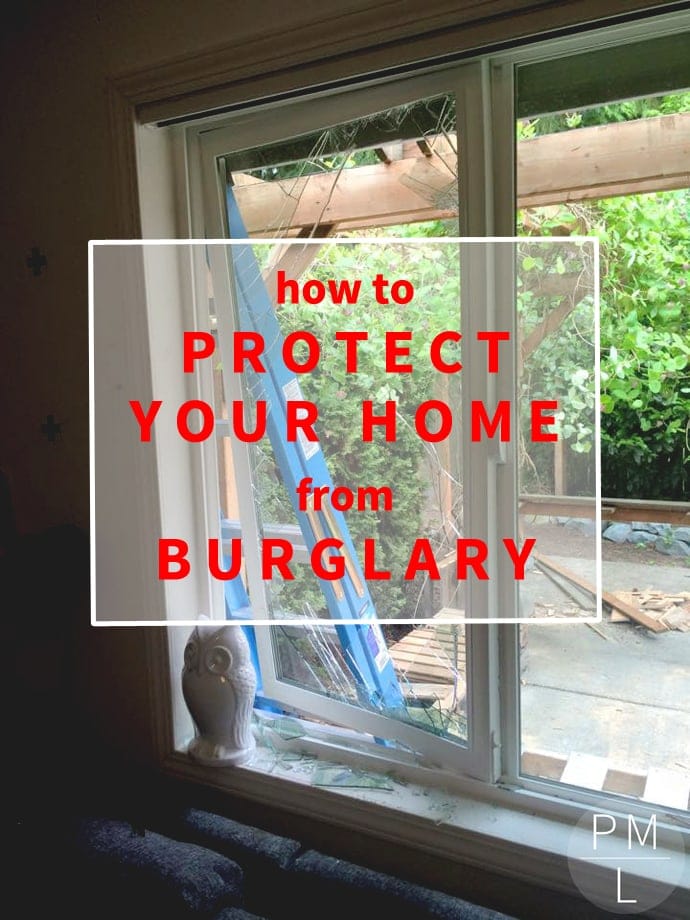 Here's a breakdown of our incident.
When: A Tuesday morning, about an hour after we had left for work.
Where: Back yard window.
How: Removed screen, bashed in the window with a bat, bent the frame, and climbed in using a ladder.
Luckily, as the man (sadly, we know it was as a poor neighbor saw him leaving our backyard and thought it was a delivery person :( ) headed down our hallway he triggered a motion detector that made our alarm start beeping and headed out the back door (triggering another sensor) WITHOUT taking anything. My husband was alerted by the security company after the alarm went off and the police were called.
Let's break down the attempted burglary a some more and what we can learn from it…
Timing was particularly interesting to me. It was morning, broad daylight, with people even walking the neighborhood. People are MORE likely to attempt a burglary during the day while you're not home. That tidbit help me sleep better (at least by night 2). Unfortunately, we realized that by not parking at least one car in the garage, our house was easily identifiable as being vacant. Another reason to have an organized garage… (To do list reminder…)
Tools for the break in were also unfortunately provided by us. We had been busy working in our secluded, fenced in back yard, and had left a lot of non expensive tools laying around. Things I wouldn't have cared if they went missing, but would have never thought they'd be used against our own property. These were the tools he used.
Yep. A bat that was inside our unlocked shed, my dog's poop scooper (disgusting…?), and a ladder we left out. Pretty sad right? But keeping your indoor/outdoor tools locked up in a shed or garage will help deter break ins. Now we make a point of cleaning up all our items after use and securing them in the garage till the next time.
SIMPLY PROTECT HOME VALUABLES
Now when he came inside he headed straight down the hallway, past the entertainment center, past the laptop on the table, and without seeing the camera on the couch towards the bedrooms. You can guess he was looking for the master bedroom and my jewelry box. Unluckily for him, we had a motion detector in the hallway that triggered as soon as he headed down that way. (He would have been further disappointed by my collection of Forever 21 jewelry, but hey- I've been growing that since high-school!)
Still, there are lessons to be learned here. One, burglars are looking for your expensive jewelry. If you don't have a security system, you can hinder them, and protect your most precious, inherited, and gifted jewels by storing them out of sight or separate from your more casual jewelry.
Lucky for us the guy seemed a little inept and passed the laptop 5 feet from his back door exit. But it shows that you should always put your valuable electronics out of site. Under the couch, in a cupboard, behind a pillow, etc.
ALARM SYSTEMS
Our alarm system was the only thing that scared this man away before he could take our things. When we moved in we signed a contract with ADT and pay roughly $40/month for security through them. Find more information about their home monitoring prices HERE.
After the break in we realized that we had no monitoring devices in the living areas of our house. Only the doors and hallway. So we got a hold of ADT and bought 2 more motion detectors. NOTE: My savvy (though a bit frustrated) husband bartered down the cost of our ADT motion detectors by about a $240. So if you go that route, don't let them weasel you!
If you need a little more leverage, or would rather go another route for home security, I researched these top selling home surveillance systems for you from Amazon.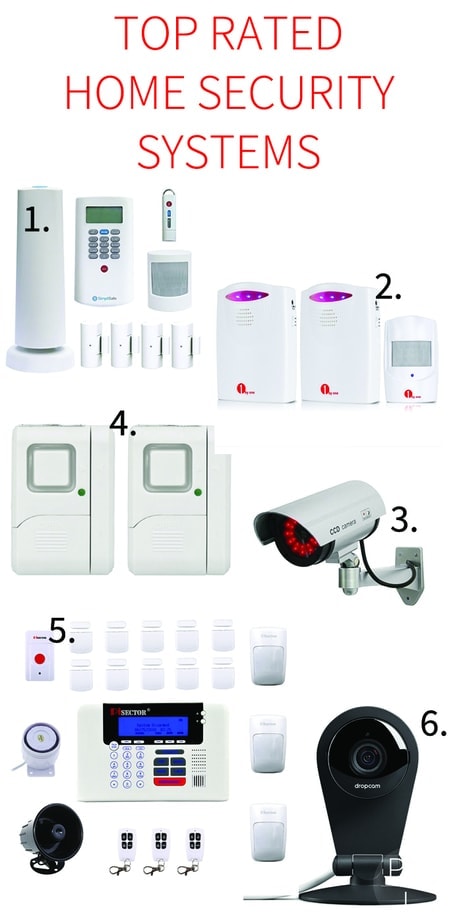 CONCLUSION
There are ways to help protect your home and not have sleepless nights of paranoia. I'm sorry for those of you that have had terrible or repeated break in experiences and hope that these tips can help everyone across the board. Here are some closing tips if you read nothing else. Lock all doors and windows when away from the home. Be aware what is going on in your neighborhood. Let quality neighbors know your general schedule so they can spot any odd activity around your house. Clean up your backyard of tools that can aid in a break in. Hide your valuables from sight before you leave the house. Keep expensive jewelry out of site when your away from the home. And ultimately, have a security system that scares burglars away with sounds! Take care everyone!