After sharing my Black White Gold Office Reveal, I knew I couldn't hold back on my light fixture tutorial too long before people thought I wouldn't even mention it. I'm sorry if I kept you on the edge by sharing How to Build Your Own Ikea Desk before this guy. I like to think I'm somewhat mysterious?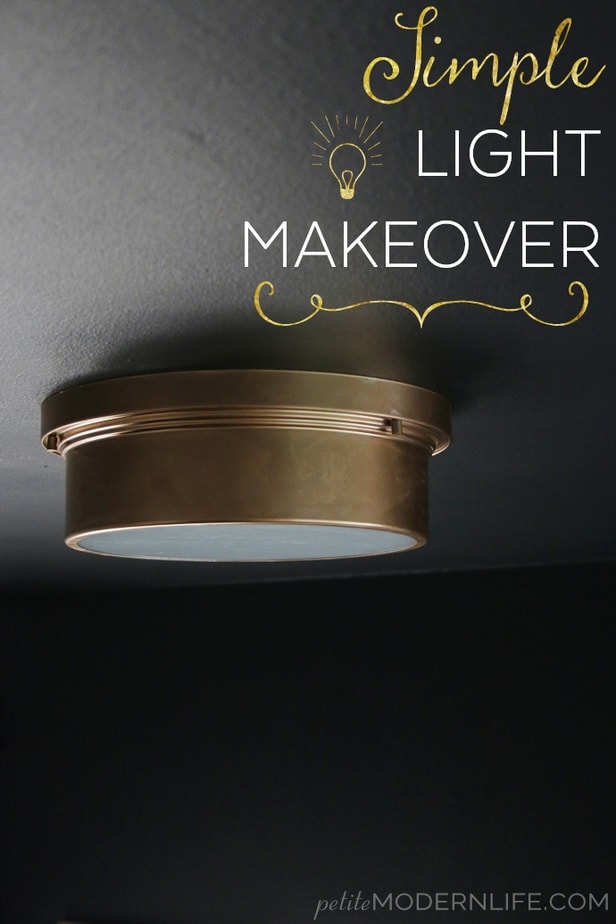 Before this light came into existence, there was indeed, a boob light. I'm really not trying to be crude, just stating the facts. Quite a few of our girls (ok, but that's actually funny) have already been sold on Craigslist to excited homeowners and I will not judge, them or you. But replacing them with slightly more appropriate prettier lights, like the ones in our Hallway Makeover + Scandi Living Room Reveal, immediately gave our space more character + cheer.
As I was photographing this light, I fell more in love with it, especially that gold against that back paint… It's so rich and fairy tale like. For something so simple, I hope you don't mind the abundance of pictures I'm about to share below. But first let me show you all it took to do this simple ceiling light makeover.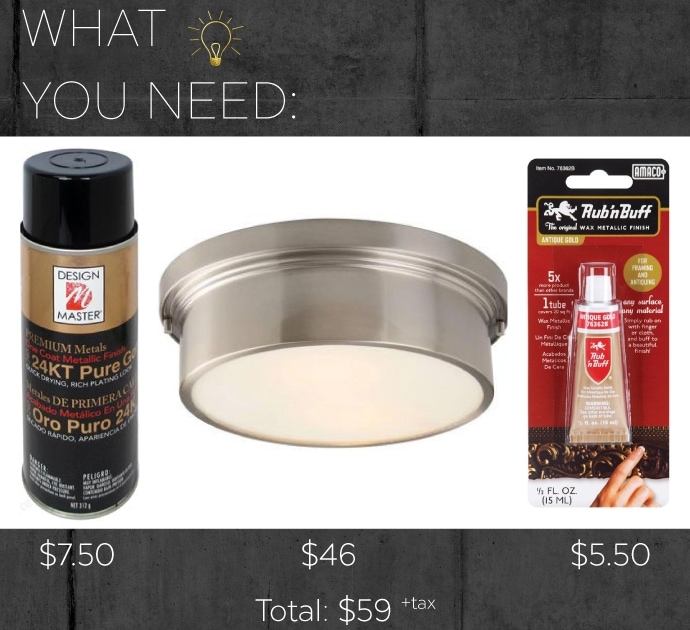 Pick up some Design Master 24-Carat Pure Gold Metallic Spray Paint
, AMACO Rub 'n Buff Wax in Metallic Antique Gold Finish,
, and an Oxnard 2 Light Ceiling Brushed 5″x13″x13″
. You can purchase these all on Amazon or save about $14 by going to a Michael's Craft Store for the paint + Home Depot for the light. Most Home Depots have the light in stock on the shelf, you can check online if your store does before driving there. While you're there, pick up 2 GE Reveal LED Light Bulbs, they make the light shine fantastically!
What I did was first take the glass off the light and cover the inside wiring with some paper. Then I took my Rub 'n Buff Wax
 and spread it around the outside of the light fixture with my finger. Buffing in circular motions to my desired look. This on it's own is very pretty, but I wanted it to show slightly cloudy through a layer of 24-Carat Pure Gold Spray Paint
. It gave it an old industrial feel. ( I quickly became obsessed with the Rub'n'buff wax and have another awesome project made simple by it to share with you soon!)
By the way, I LOVE this Design Master spray paint. It went on beautifully in one coat. It was easy to spray evenly and without drips. the color is a rich, not glammy gold. I highly recommend it. After it was dried, we put it all together and wired it into the ceiling! And because I love a good before after…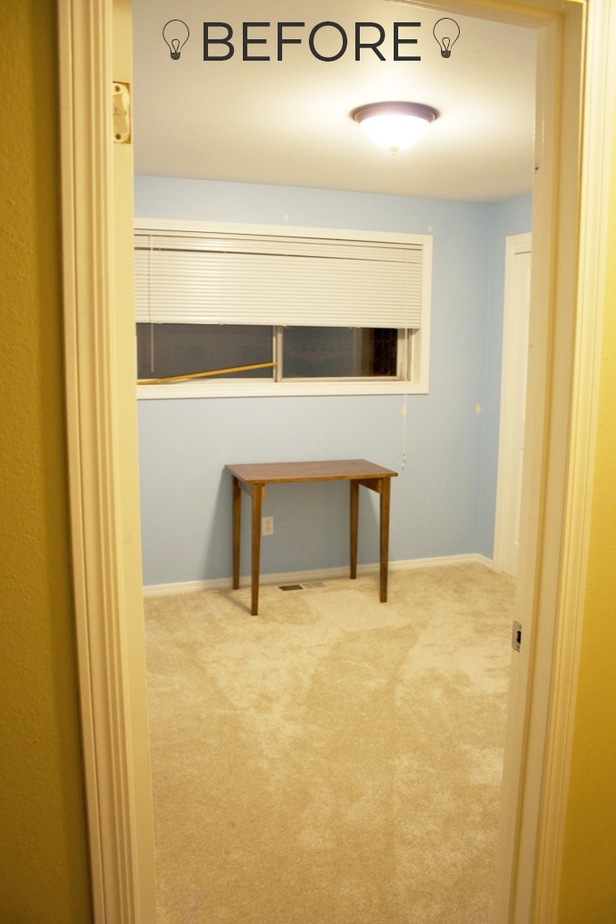 And…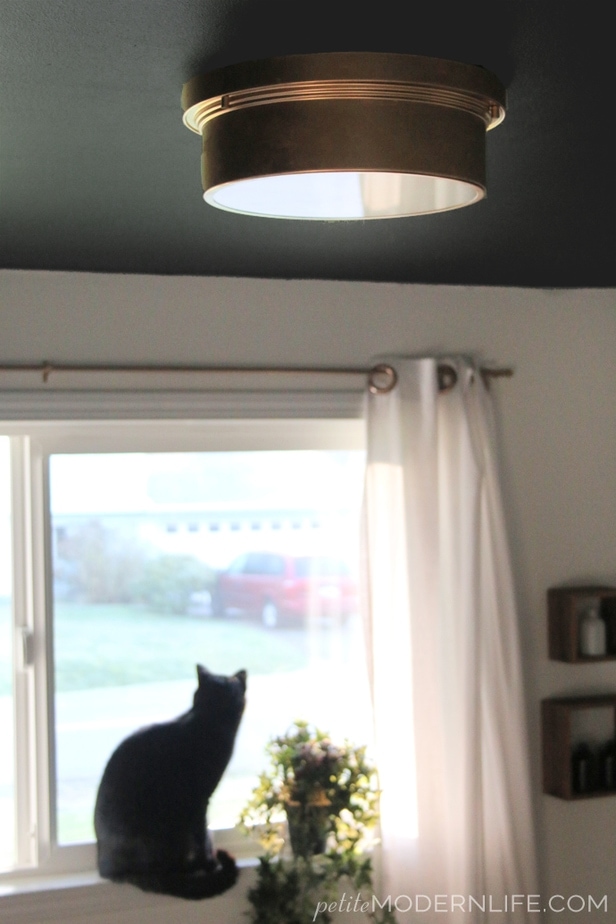 (Now you can commence this Simple Ceiling Light Makeover photo shoot. Some pictures may appear duplicate, but I tried to show what the light looks like when it's on & off.)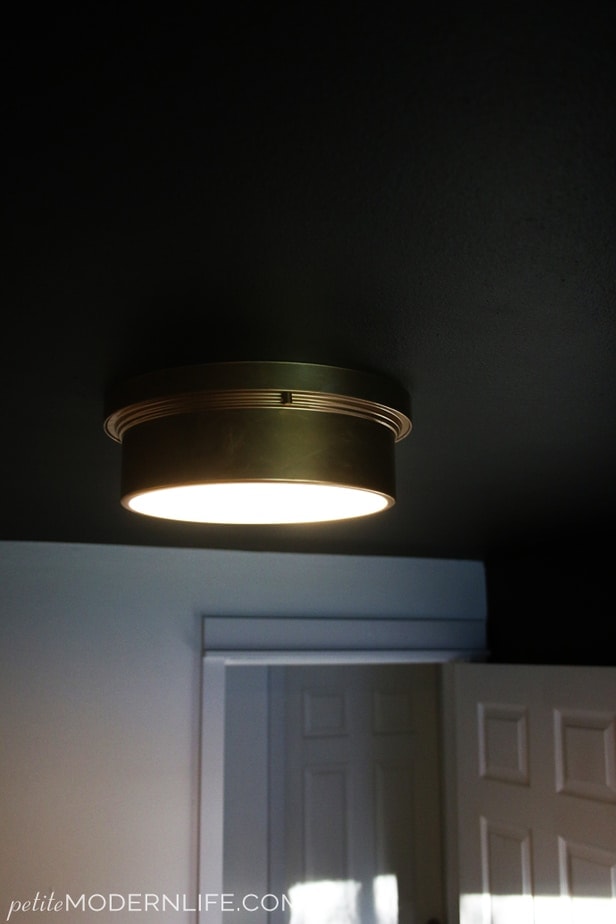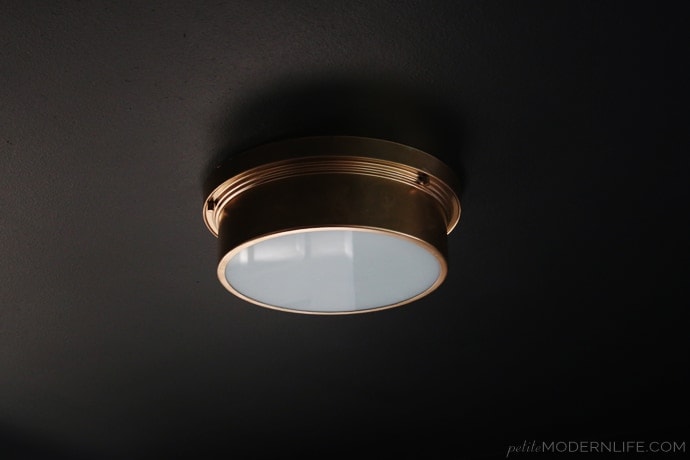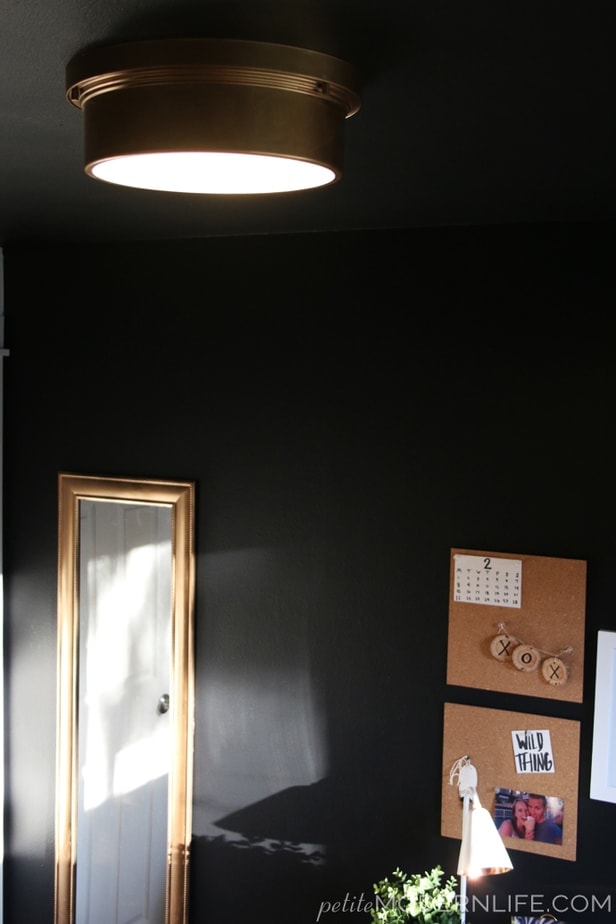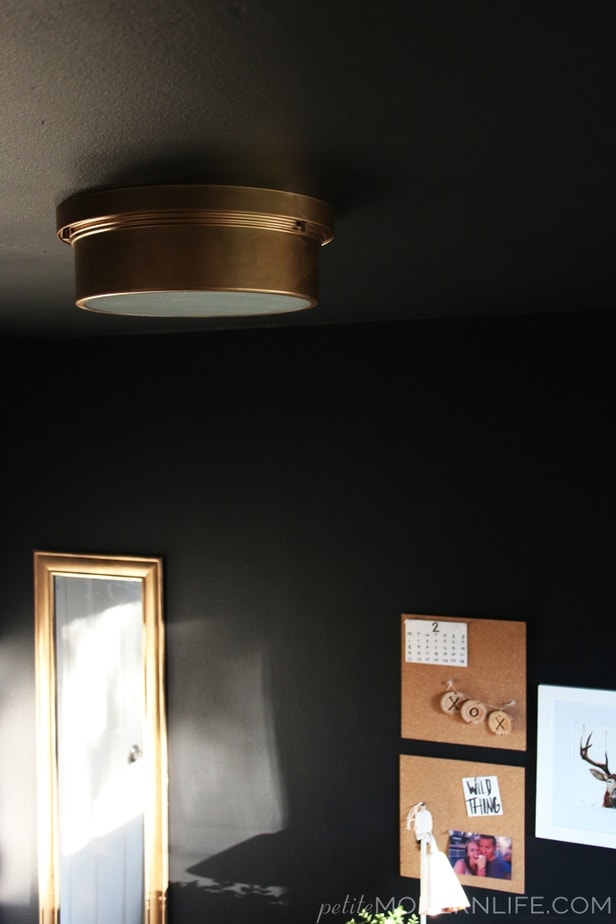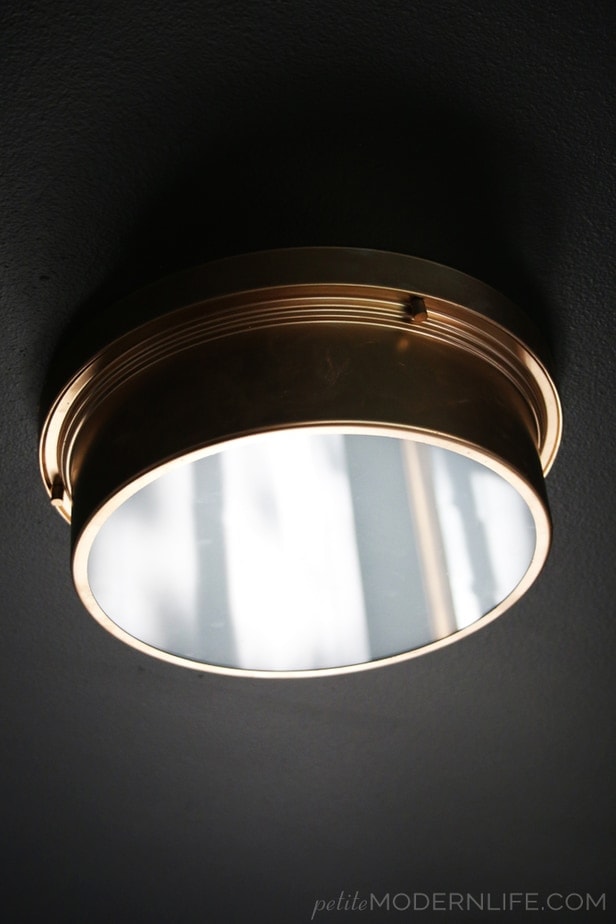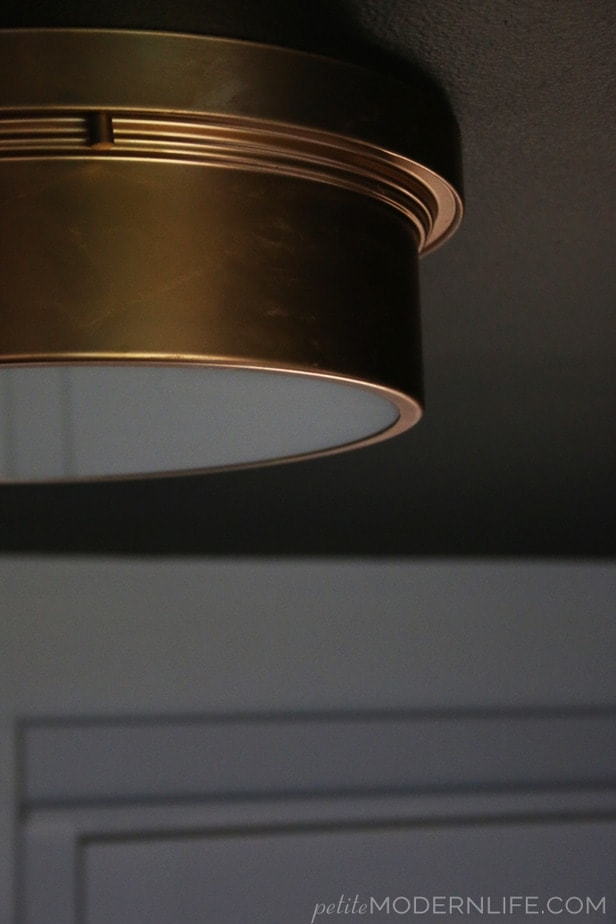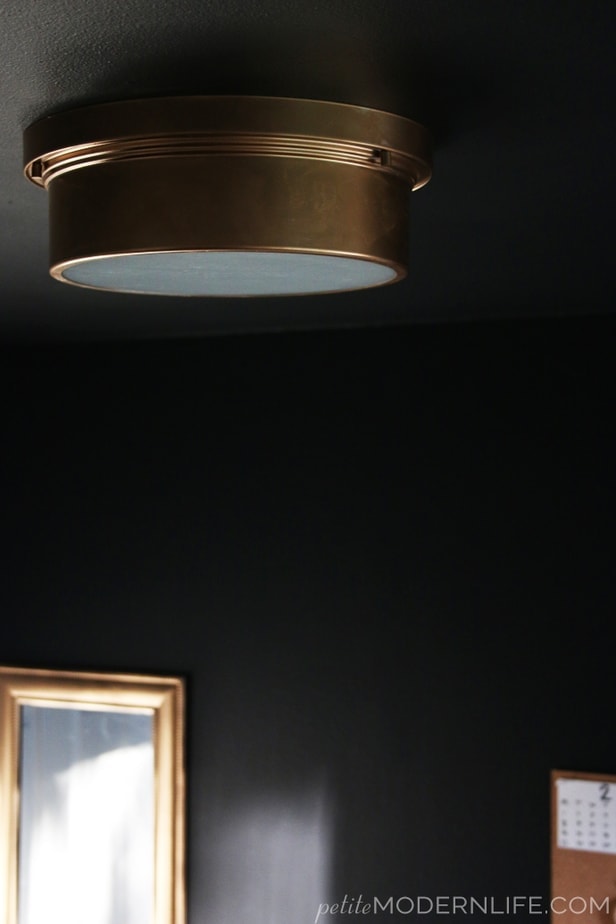 What do you think? Because the light does not shine 360 degrees, it's not the brightest light for a space, but with the GE Reveal LED light bulbs, you'll get a vastly different brightness. Trust me, I had the normal bulbs in before and it looked either too blue or too yellow. The LED's are the perfect white! After trying one out in the kitchen, my husband and I were both 200% sold and went right back to the store to get more. We went ahead and spent the $ and switched out ALL the main light bulbs in our house for and I don't feel depressed with the sun goes down anymore! I didn't know I could be so happy about a light bulb…
In addition to this ceiling light makeover, check out my other office related posts!