Maybe a month or two ago I had asked my readers what I should do with my living room conundrum. I had ideas, but if I didn't share the blaaness I knew I wasn't going to jump on it as fast as I could if the public knew it's true form. I received fantastic input from readers on the blog + instagram and got super excited to finalize my thoughts and plans.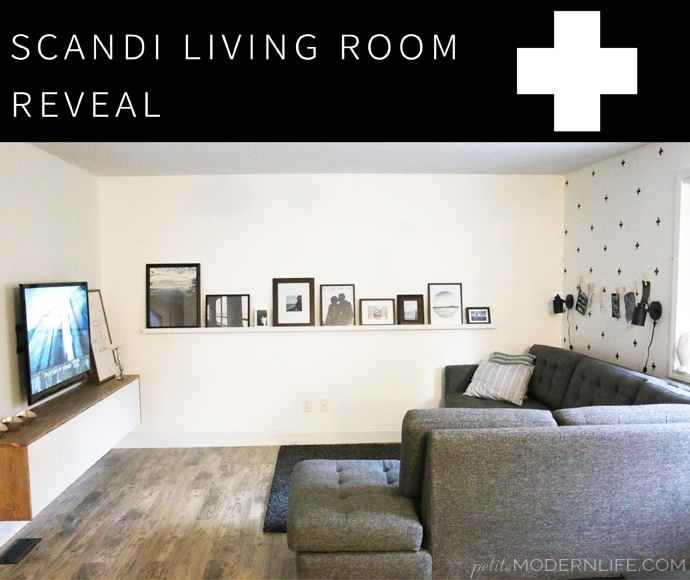 Here is what it looked like when we were actually touring the house for first time. I always thought I'd take enough and plenty of before pictures, but somehow I didn't quite get around to it. However, I love that our amazing Seattle realtor Matthew Smith is commenting on the "cute" Ikea light in this only before pic I have of the exact space. I've noted all the things that we changed in that room after we moved in.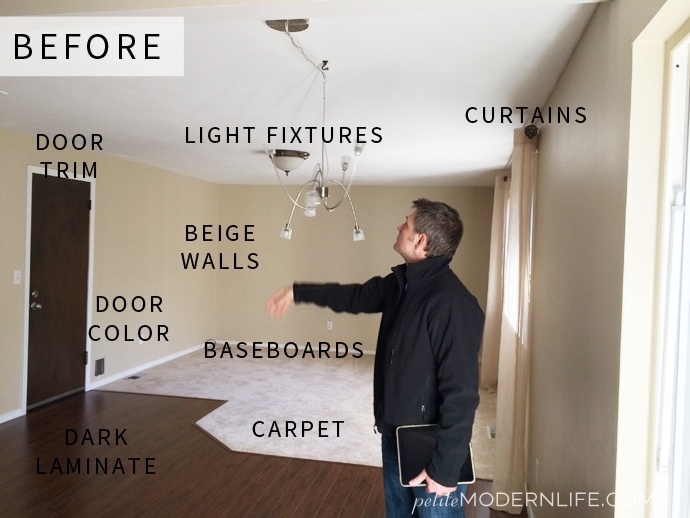 This next picture is the one I left you with back in November. Honesty, I hadn't put that much effort into the room. Except for the couch and the frames I used what I had to make it a TV room. I probably shouldn't have invested in the IKEA frames yet, but oh well, I'll find other places for them (and gigantic pics to fill them..)
As I've noted below, the frames were hung to high (thanks Colleen for telling me there is a standard..duh Karisa?); the Mid century expedit hack was cool, but too tall and busy looking; and the back wall lacked a certain amount of character, but I tire of frames on frames on frames.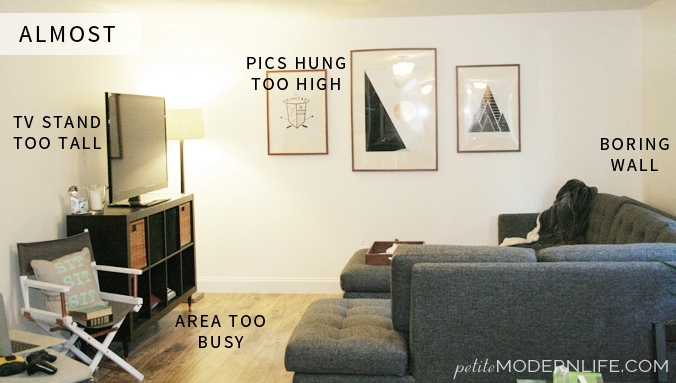 I divided and conquered the room with three unique wall projects. The goal was to keep the space open, simple, but intriguing to look at. Here are my three walls.
Wall one: Floating sideboard with wall mounted TV
Wall two: Narrow picture ledge with simple or monochrome pictures
Wall three: Swedish cross wall with reading lights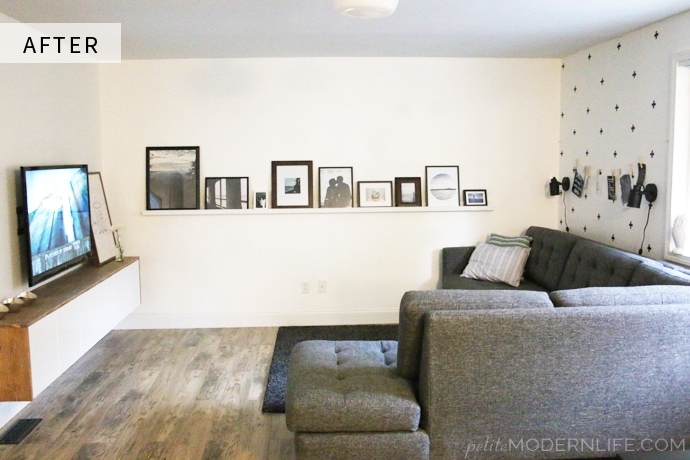 I even got around to painting the door to the garage black! Keeps some cash in our pockets a little longer as we don't hate it enough to buy a new one.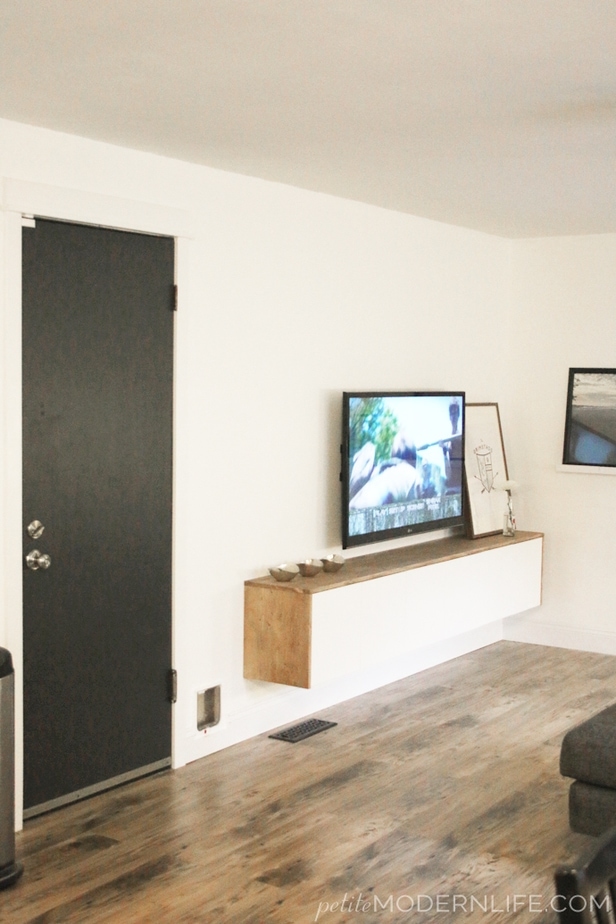 The sideboard is such a gem. I can't wait to share the step by step tutorial with you. I love how lifting everything off the ground allows the pretty baseboards and floors to stand out.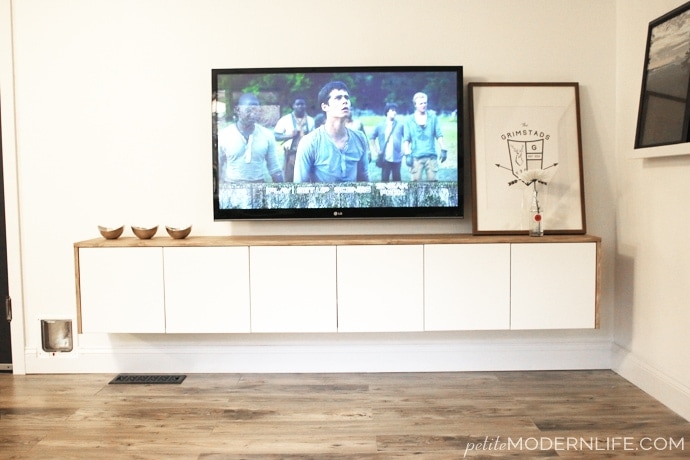 Here's a glimpse of what storage looks like inside. The PS3 has to fit sideways, but that's alright. My husband is a champ when it comes to (well, everything but also) hiding cables through the wall. It's makes a beautiful difference and basically I LOVE wall mounted TVs. Now this one is now at a comfortable height for lounging and viewing.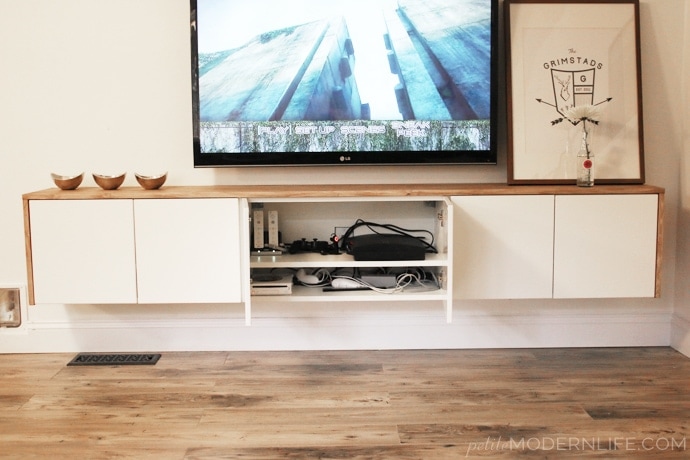 The picture ledge.. Another simple project I'll share with you sometime along with some images that you can download for your own framed art.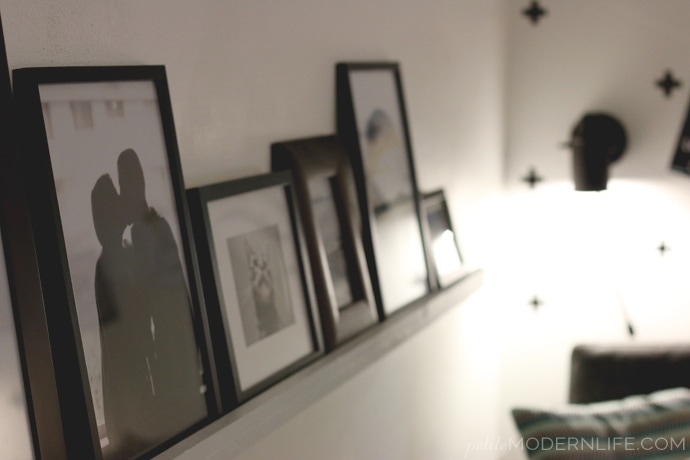 I really love this wall. It breaks up the monotony of frames, chalkboards, and white paint. All of which I love, but the space needed something more..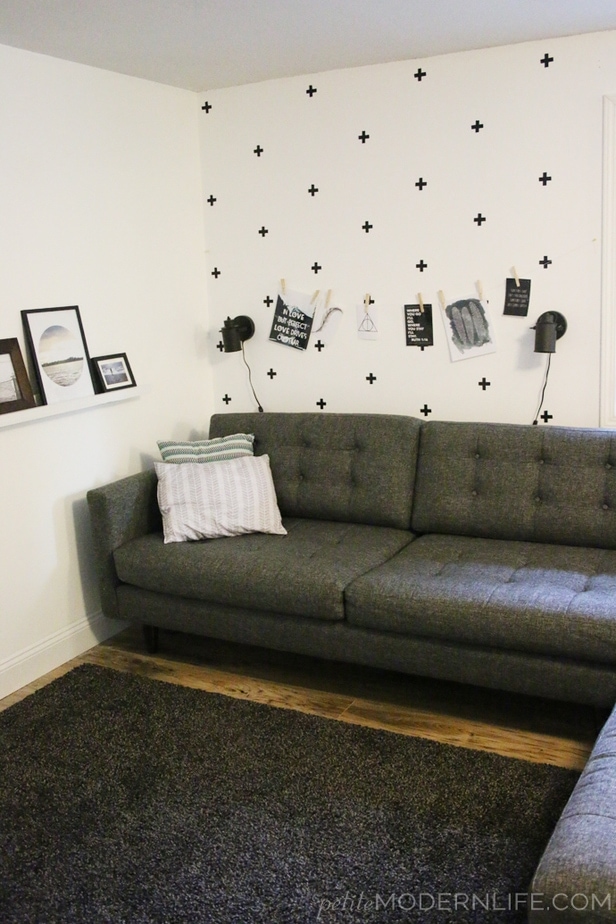 The lights are great for cozying up underneath and writing blog posts while having a background movie or show on. (However, unless it's Lord of the Rings, which I've seen hundreds of times, I'm not a good TV multi-tasker, hence the reason we don't have cable.) Also we ended up putting a dark grey shag rug from Ikea on the ground. I originally wanted patterned b+w, but my husband missed having carpet and wanted something he could sink his toes into. I really do love it. (So does the pup!)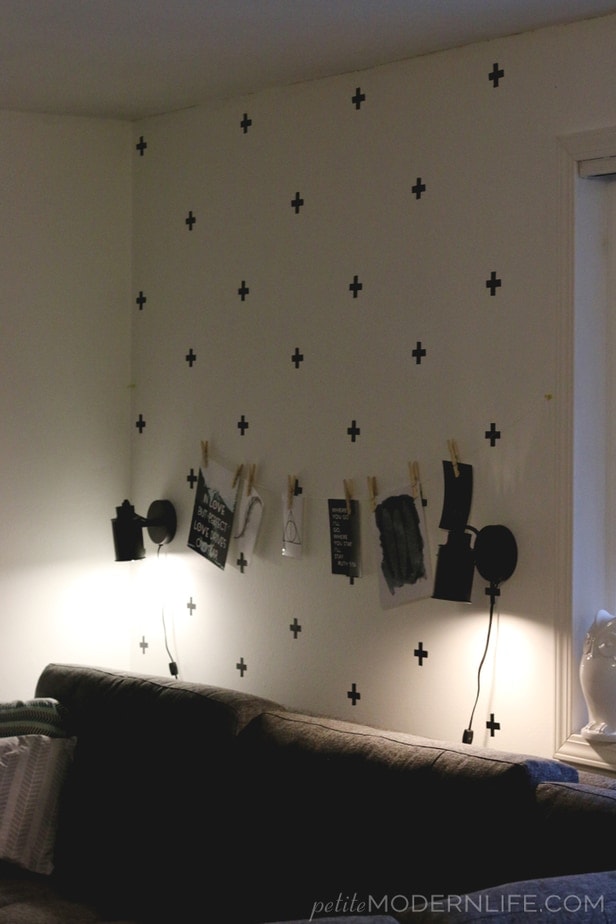 I hope you enjoyed the little tour. I'll be sharing each project in it's own little post in the near future. I wish each of you could come cozy up sometime in my red down blanket that I like to have on that couch. Red + black is a favorite color combo of mine in there.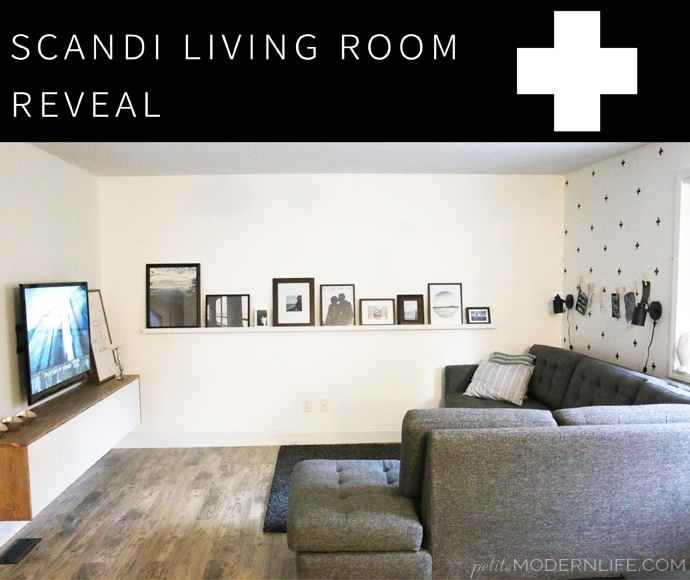 **Find the DIY Projects that make up this room right here!**