When choosing the permanent pieces for our home from afar I'm constantly thinking/hoping that were pairing the wood accents in our house well! From matching or pairing the wood kitchen cabinets, floors, ceiling beams, and doors it can all get a little crazy feeling!
Choosing a color tone to pair your wood accents in your house
There are many wood accents you might use and have to find a color scheme for in your house. Will it be eclectic or tied together by a common shade? My personal preference is to choose either warm or cool wood tones for your whole whole. Though today we'll be focusing on wood cabinets, wood floors, and wood ceiling beams, here is a list of wood items I keep in mind for the whole house.
Cabinets
Floors
Ceiling beams
Doors
Moulding
Dining table
Coffee table
Dining chairs
Bar stools
Wicker baskets
Open shelves
Consoles
Hutches
Wood tones of kitchen cabinets
We choose our cabinets first then the floors. This is because the color range for cabinets is much more limited within a single company. You usually pick a cabinet company you want to work with according to builder recommendation, cabinet price range, style, customer service, and availability. I really fell in love with this cabinet line from Waypoint Living Spaces that our local building supply company works with.
I went with the first cabinet in this list in the color Maple Rye. When pictured below with the other cabinet colors it definitely shows more yellow, but I preferred that over an orange/red tone. I actually wish they had one more option between the Rye and the brown "Truffle" color.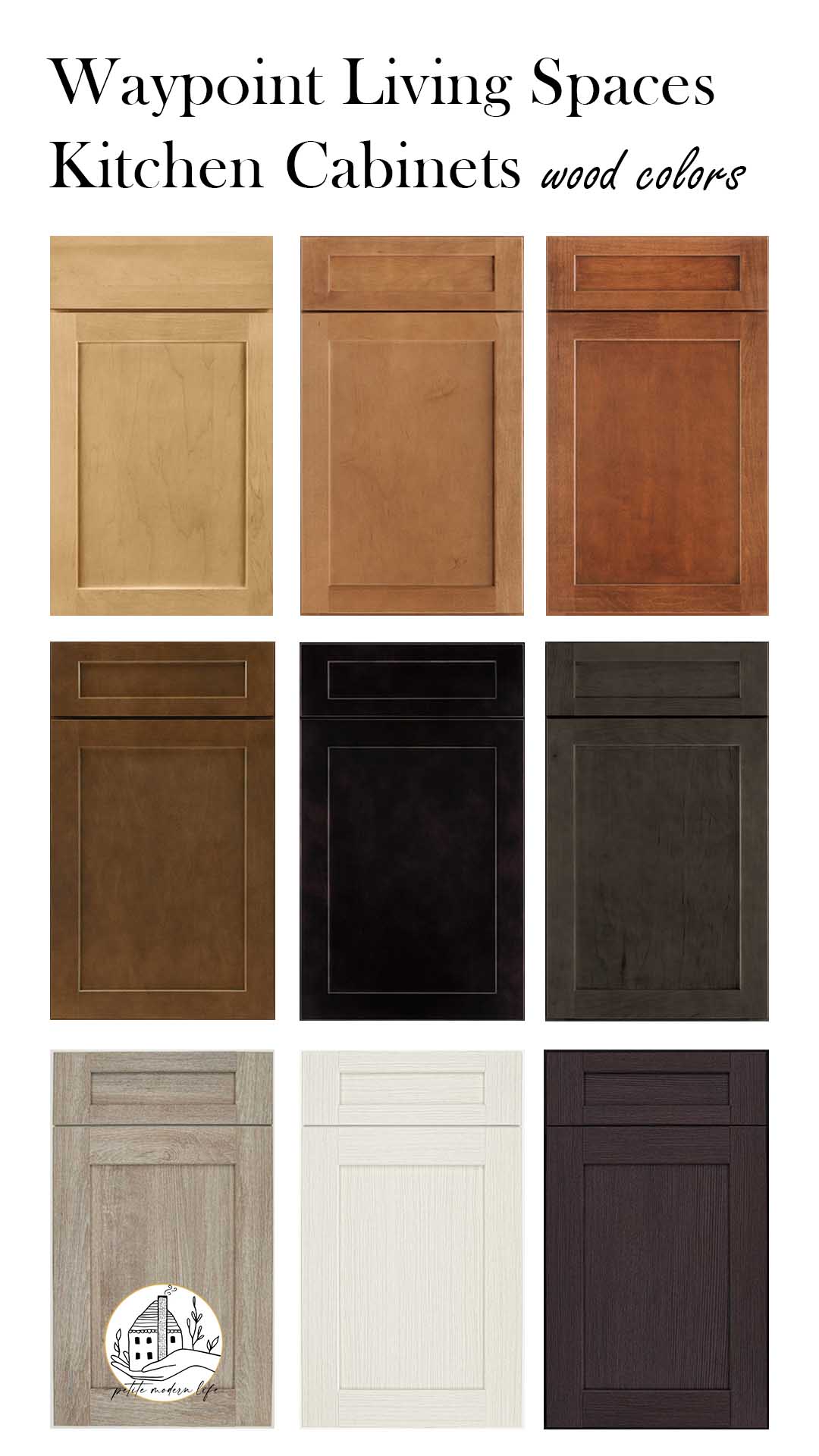 Warm or Cold Wood Floors
Can you distinguish the warm and cold floor tones when you're in store or online? After watching a home tour designed by Becki Owens in which she used these Luxury Vinyl Planks from Paradigm Floors, I knew it was the line I wanted to buy from. I only needed to choose the right color.
I love this LVP flooring line because of the realistic looking wood tones that will fit any home style from beach casual to Victorian traditional. It's important to see the warmth differences in the flooring options so I organized this LVP line into a visual list showing my favorites from warm to cool. (**There are a few more shades available.) At the bottom, the cooler floors have more gray and green shades compared to the warm orange and red shades at the top.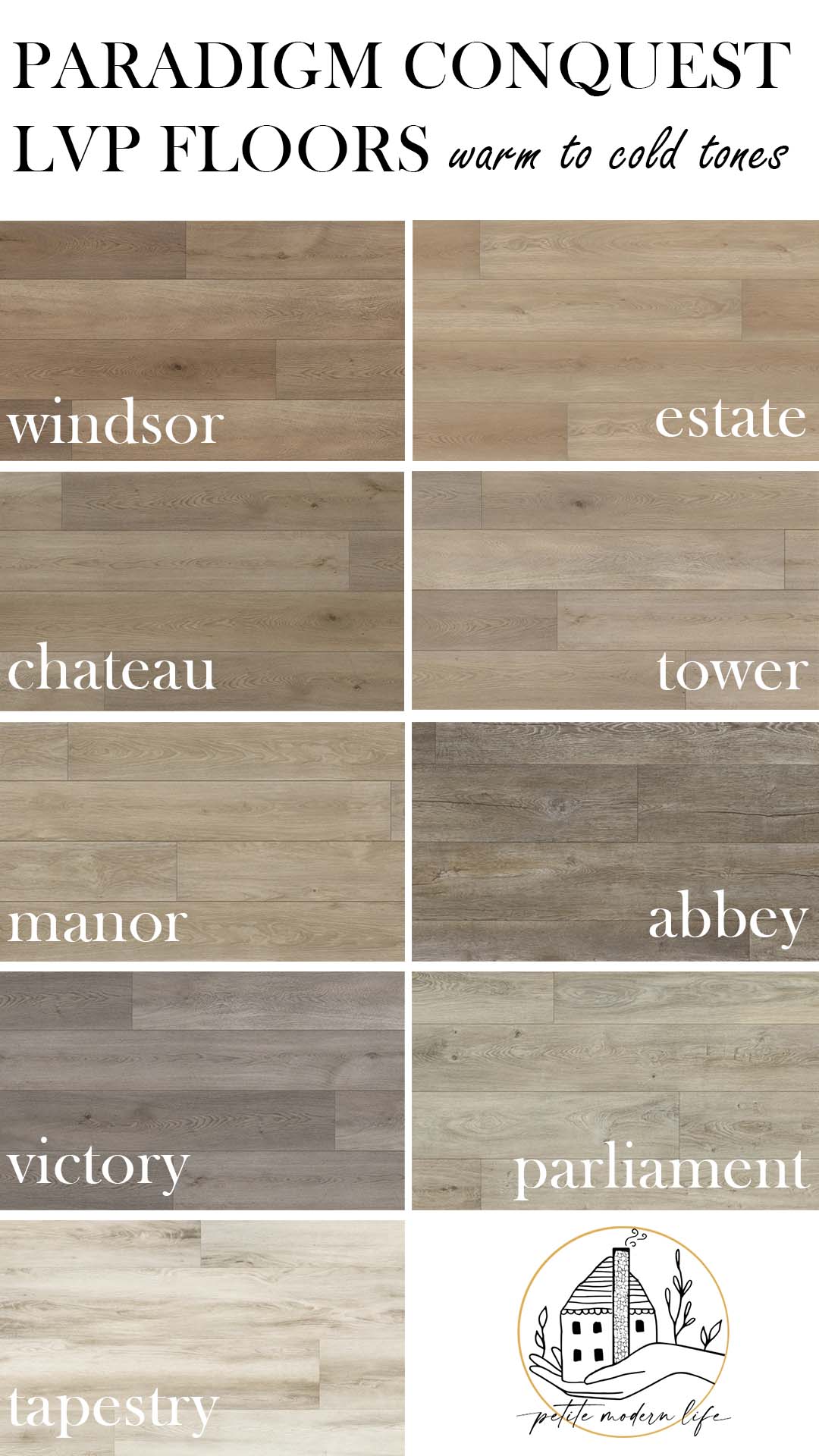 Wood Ceiling Beam Colors
Pairing the wood accents in our house also included our ceiling beams! I was thrilled when we agreed to place ceiling beams in the main floor! It really adds that luxurious European farmhouse look to the house. Still, I needed to do some research for pairing the wood colors of ceiling beams to floors and cabinets! Should they match? Should they contrast? Let's look at some of my favorite images for inspiration!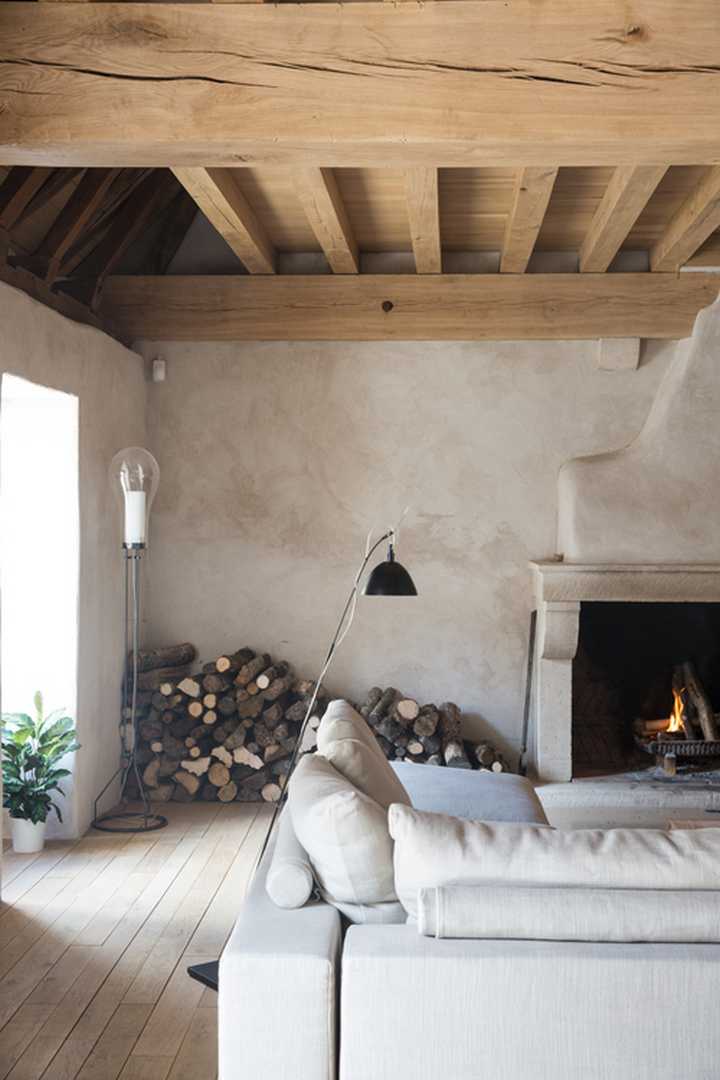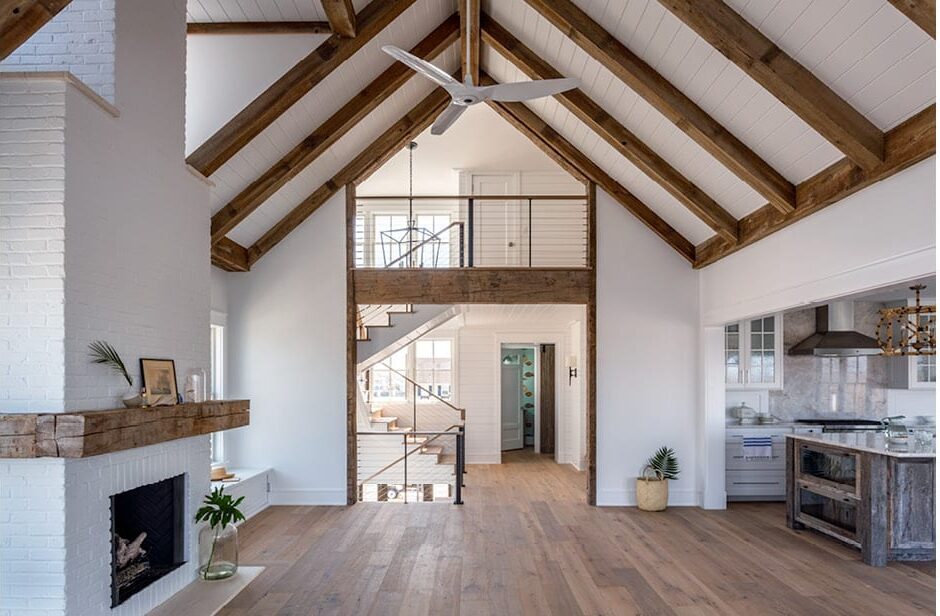 Most of the designs that stand out to me carry a similar wood tone on the ceiling beams and floors. Some go a shade darker, but all fall into the same warmth or coolness. I really do love the yellow/orange floor colors the most, hence our choices that I will share below!
Our matching wood tones for the house
Now that you've seen my wood pairing options for the house, here's a look at it all coming together!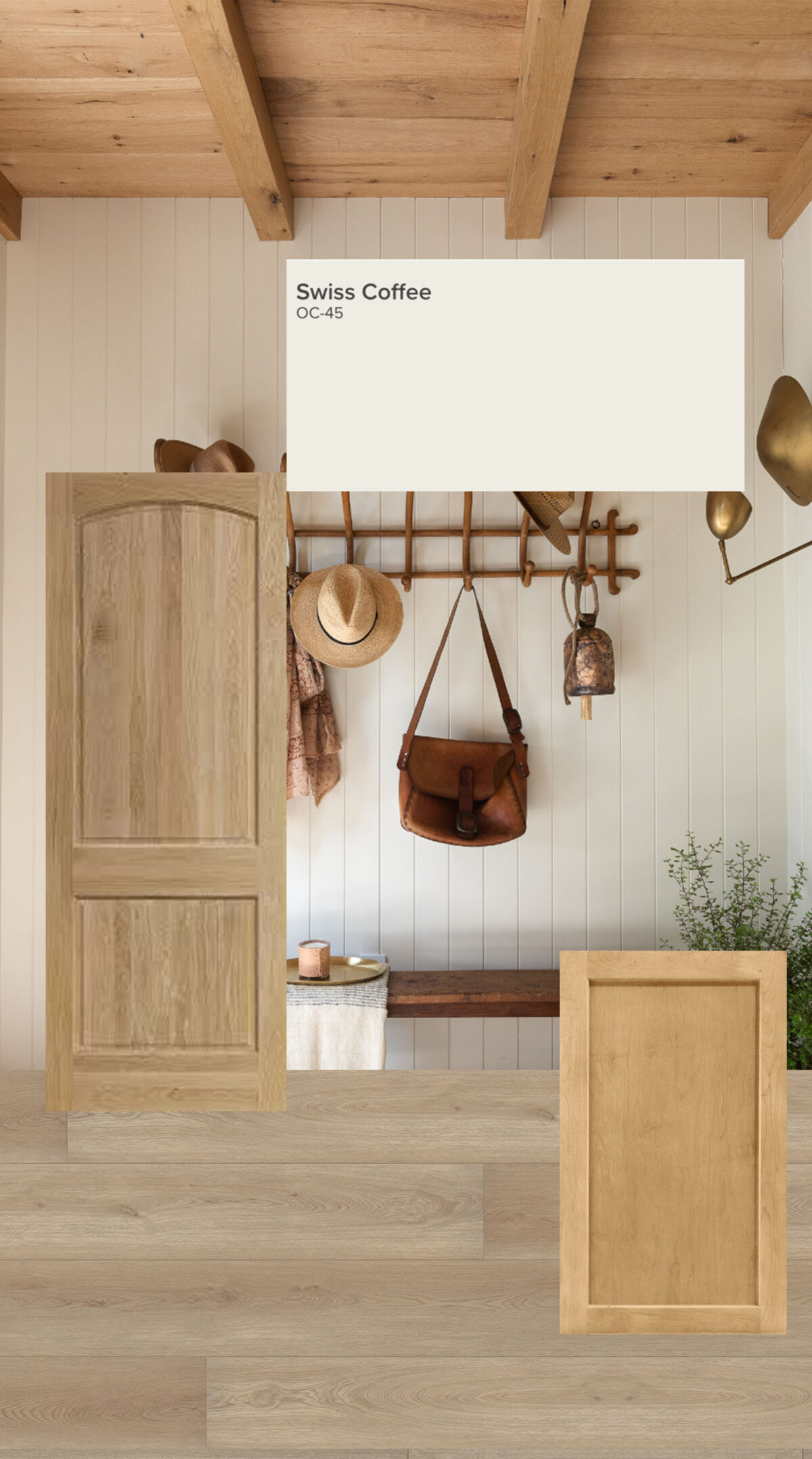 Cabinets: Waypoint Living Spaces Maple Rye
Floor: Paradigm Floors Conquest Estate
The ceiling beams and doors downstairs will be stained to match the floors as well as possible. I really like how the blended tan and orange colors of the floors (do you spot a hint of gray too??) blend into the yellow cabinets and yellow orange beams. The blended floors will strike a perfect balance in the space and the various warm wood tones I plan on using.
I've decided on Swiss Coffee at 75% for the interior house paint. I read about it in a designer's post that you can find in my Interior Designer's Favorite White Paints post!
I also made a board my other finishing choices. I'm even more in love with the dark gray counters (and black appliances) as they balance out the warmth in the kitchen with some darker cool tones. The backsplash and my favorite flagstone floors will tie in nicely with the rest of the colors. See more about my kitchen design in this post!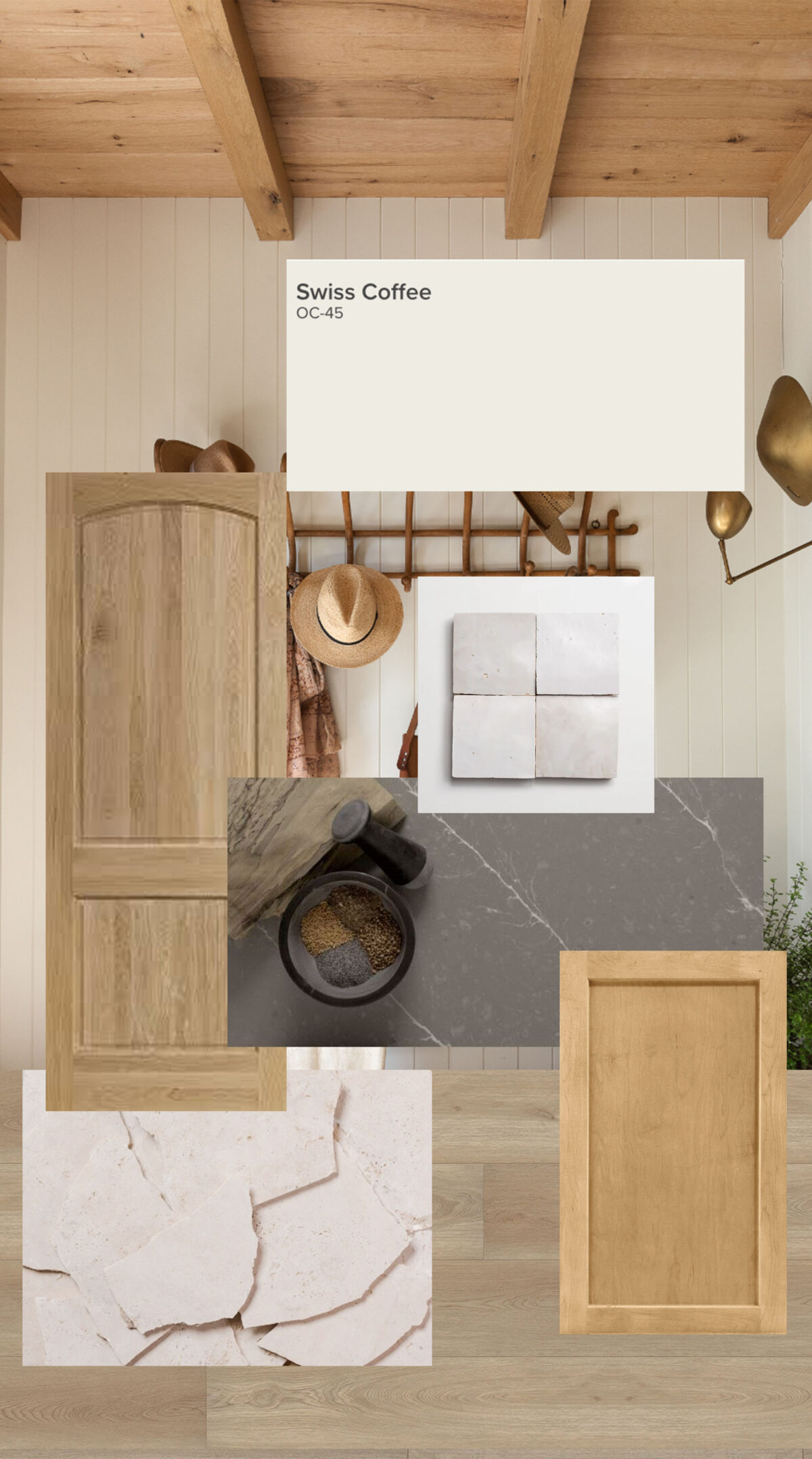 So how do you feel about pairing wood accents in your home? Would you nix some and go for white instead? Exchanging any of my pieces with white cabinets, ceiling beams, or doors is another beautiful option. We're actually doing a white island for this reason! I'm very happy with the balance of warm woods and white paint in the house design!
xoxo Karisa