We're half-way through the One Room Challenge hosted by Calling It Home. Here's where I'm at: I received another can of textured spray paint from Amazon and decided that the wood backsplash needed to come out in order for the vanity to look good. One of those decisions I should've made previously! For now I had to paint the sliver of un-painted space.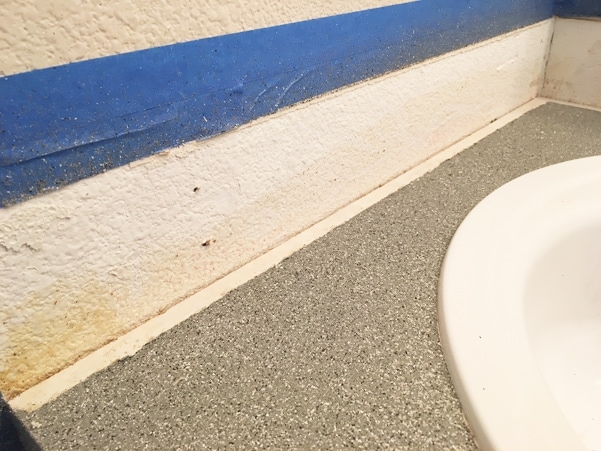 Most of it is going to be covered with caulk, but I still put two coats of spray paint on and it worked!
Next I combined two leftover paint cans and painted all but one wall. I also took off the vanity doors, gave it a good hand sanding with 100 grit sandpaper and painted it with two coats of Benjamin Moore Advance Wrought Iron. The dry time says 16 hours?! So the doors will take a few days to finish as I don't want to flip them over while they're still hardening to do the other sides.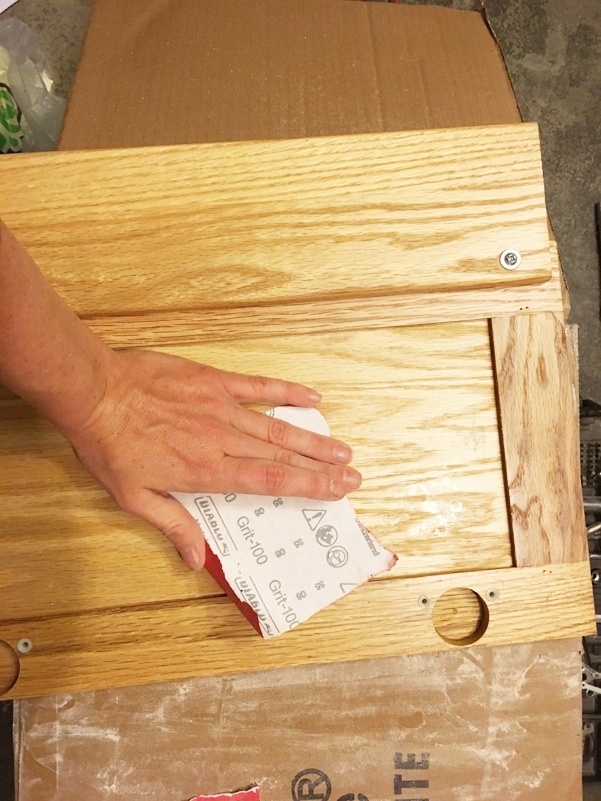 Here's where we're at!
Here's a cutie picture of Reuben and I at Home Depot picking up the new floors and checking out some backsplash options. I was going to go with the cheapest white subway they had, buuuut (**legitimate reason to follow**) I didn't like how the short the quarter round pieces were that were going to go on top! Therefore (*it's more scientific when you say this prior to an excuse*) I had to go with the 3″ x 6 " rounder carerra marble backsplash. Here's what Reuben thought…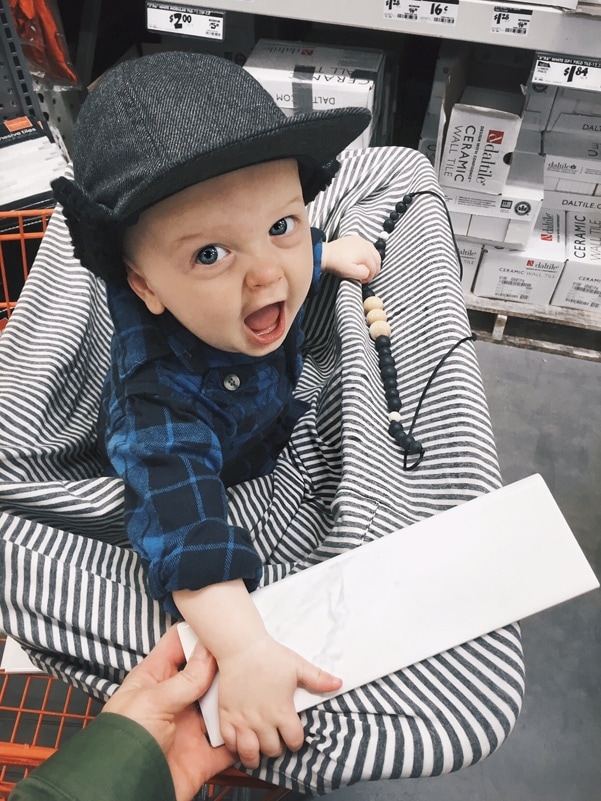 Basically he's saying "Mom? You need to be realistic about that bathroom budget with your readers." So here's where we're at folks. And no, I don't think we'll be staying under a $100. Unless you count selling the bathroom hutch for $40 towards my net costs…
Total: $114
Still to purchase: Shelves, remaining vanity hardware, some accessories.
What do we have left to do in the 3 remaining weeks until the reveal?
Finish painting vanity
Remove toilet and light fixture.
Paint accent wall
Install Floors
Reinstall toilet and light
Spray paint hardware
Add mirror trim
Add accessories
Fun times ahead!
Check out the previous posts for this series below!
Week 3: Commence Painting