Now that the wet and cold are upon us in Washington, I thought I'd share the baby running gear that keep me and the baby getting out for our runs regardless of what the weather is doing! Running has always been my workout of choice. I love what the fresh air does for my peace of mind and creativity. It's a serious reboot from a day of house tasks, computer, etc.
Reuben loves getting out in the stroller too, so really it's a win win! Here is what we use to keep warm, dry, and fit!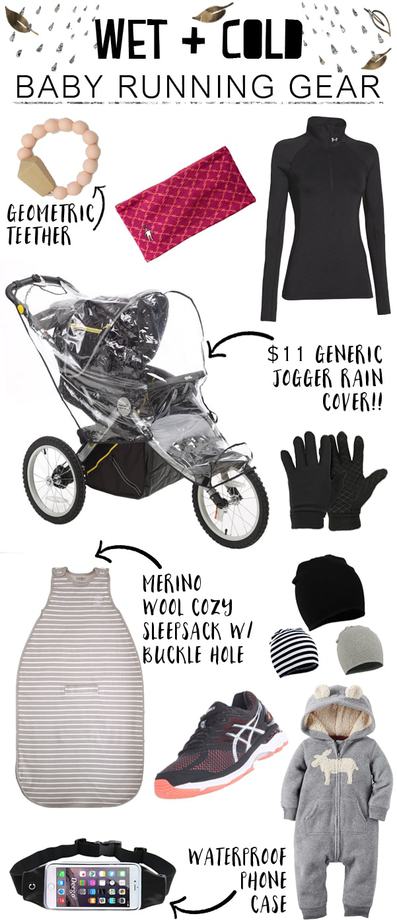 blush teether / merino wool headband / half zip pullover / stroller cover
jogger stroller / running gloves / merino wool sleepsack
asics / baby beanies / romper / iPhone Case
Teether: We just ordered a few items from The Hatching Hen and this teether is perfect to attach with one of their leather pacifier clips to the stroller harness. Plus I love anything geometric.
My outfit: When it's cool I like to keep my ears covered with either my merino wool headband merino wool headband or my Lululemon ponytail beanie. My favorite running shoes the past year and a half have been my Asics GT's. They fit my high arch, narrow foot, and give wide toe room which is most comfortable for my runs. I did 11 miles when I first took them out of the box and it felt like a dream! A long sleeve wicking pullover and gloves keep me moving without overheating.
Stroller Gear: Through 5 years of nannying inside and outside of the city, my favorite all terrain stroller was the Bob Revolution. Therefore it was at the top of my baby registry and I loved that we got it in black, because obviously, black is my ish.
I found this generic stroller cover with awesome reviews on Amazon. It's $11 !!! It fits the revolution very nicely. There's a plastic pocket on it to stick my phone and keys in while running. I even play tunes through it while we're going through the neighborhood. I have yet to confirm if Reuben enjoys running to Skrillex and Dubstep as much as I do…
Baby Gear: It's important that baby stays cozy as he takes in his surrounding world and mom goes into sweat mode.
What I've found to be perfect is this Carter's romper that I pull right over his onesie and sometimes light pants. He's 9 months old and I ordered it in the 18 month size. There's actually NOT a lot of room for him to grow still in it! I think it will last us the season, but I might need to get the next size up! So order 2-3 sizes bigger like the reviewers suggest. BTW they're selling these at Costco right now too!
This merino wool sleepsack by Woolino is what we use at night, but as it get colder it's also a great option to throw on for a stroller ride. The buckle holes are perfect for that! We love this sleepsack so much. More on it in another post soon, but check it out and read all the amazing reviews!
Beanies: Keep those ears covered snuggly with these cute beanies we wear all the time.
The apps I use are Map My Run and after trying out a few music options, I still like using (free version) Pandora with the shuffle. My station is Crack (Flux Pavilion Remix) Radio with an added Skrillex. These beats keep my legs moving and heart rate up for the whole run!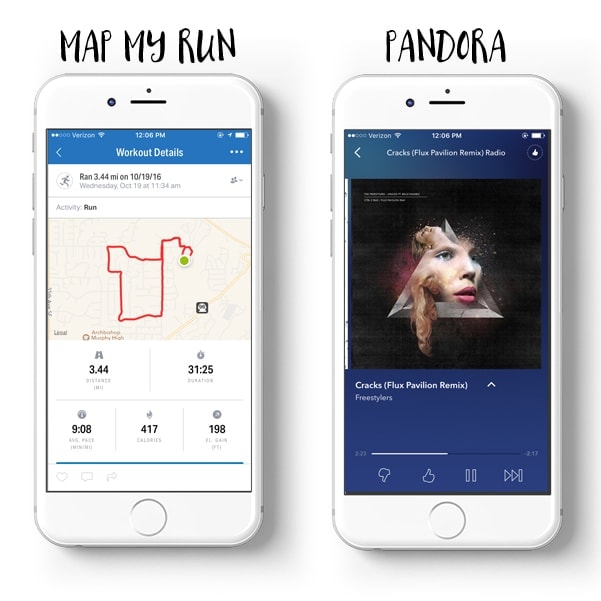 My goal this fall and winter is to not let the weather hold me back from staying fit and getting us outside. I always tell myself and encourage others towards running like this: Just get outside in all your running clothes and start walking. When you feel a little bored, run. You'll be amazed at how much further you'll go each time and how amazing your body starts to feel after accomplishing a good run! Reuben and I go about 3.5 miles/day. I don't have lofty goals right now of getting a half or another marathon under my belt, just staying healthy and happy running :)
What is YOUR essential baby running gear? What music is your jam? Let me know below!