Happy week after Christmas! I hope you all had a fantastic holiday with family, friends, and new memories. If I'm honest, I took down our tree yesterday. So soon? I didn't think I would, but the following 6 weeks are so packed with exciting things like baby showers, house projects, and little details (oh and birthing my first child–eek–) I guess I was ready to move onto the next great thing.
That being said, there are two soundtracks competing in my head as I write this post…"Here it Goes Again" as we dive into another big crazy project.
or "It's the Final Countdown" as we only have 42 DAYS until this little man joins us in the big outside world!

Sounds about right doesn't it??  (Also I'm obsessed with the treadmill music video. I want a room of treadmills to dance on like that. Probably better when I'm not 34 weeks pregnant though…) I have plenty of projects to update you on, but I want to document the BIG ONE that's in the works now: The Kitchen Makeover!!!
Remember what it looked like before?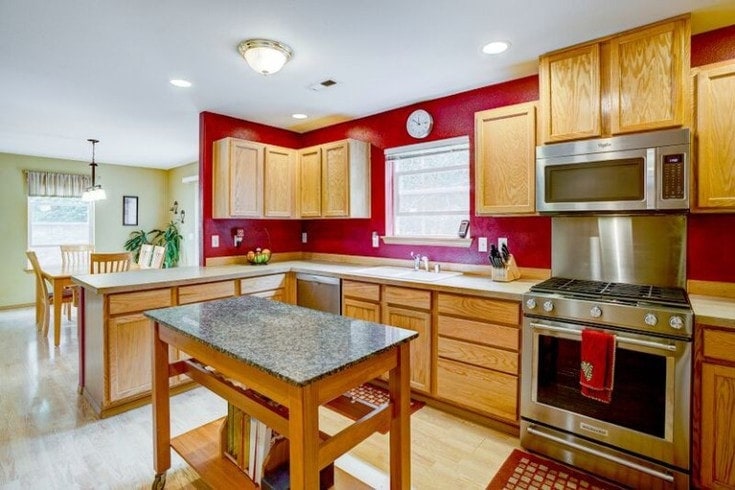 Well first I got in there and painted all the walls white. We decided to leave all the cabinets and walls where they are and paint over them. We've selected two colors to try out: Sherwin Williams Cyberspace and Outerspace.
They just happened to be space themes, I'm not that much of a space fanatic. Well, maybe I kind of am ;)
But before we can get to paint, we need to do this…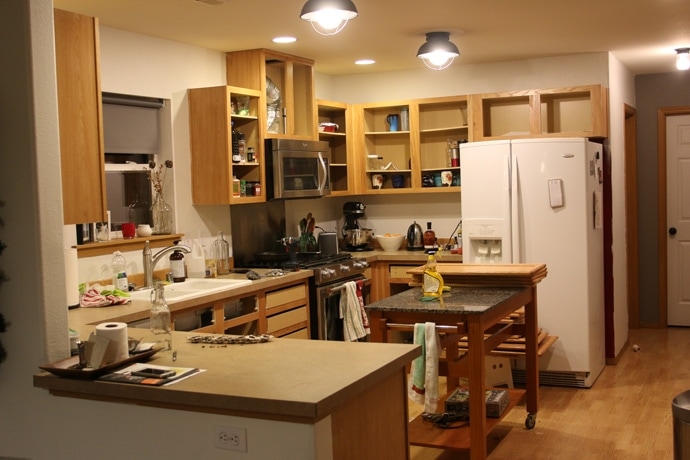 Yes, this picture is all sorts of ugly and nightmares spilling into one another. When I saw the pile of cabinet and drawer doors growing in mass as my husband unscrewed each one I had to tell myself over and over, "This is a good thing. This is what you wanted to do. This is going to look great." Having a spacious kitchen comes with a heavy makeover price in grunt work. BUT IT WILL LOOK GREAT. (Keep telling yourself that Karisa.)
The first step that I took last night after getting all the doors pulled off was to scrub 10 years of previous owner grease and grime off. The doors next to the stove were a nightmare. If you grazed your hands across them you came away with an almost impenetrable layer of grime on your hand.
So I went at them with Goo-Gone and a sponge, scrubbing away the nasties as best I could. The cabinets directly above the stove had a dose of Goo-Gone as well as baking soda and vinegar with a wired sponge. But, even then it wasn't all off! Those two doors will be getting some special sanding treatment previous to painting. Other than those cabinets, I'm pleased with my cleaning results. Tomorrow I'll wipe off the Goo-Gone with some warm soap water before I begin priming.
My husband is tasked with the cleaning and painting of the cabinet backs/bases as I'm getting a little too large and inflexible to stand on the counters these days. He's been doing his own research as to how to get the thick layer of grime off the tops of the cabinets. He mentioned something about car grease… I'll just let him at it. Here's another look at how much gunk needs to be removed before we can get painting.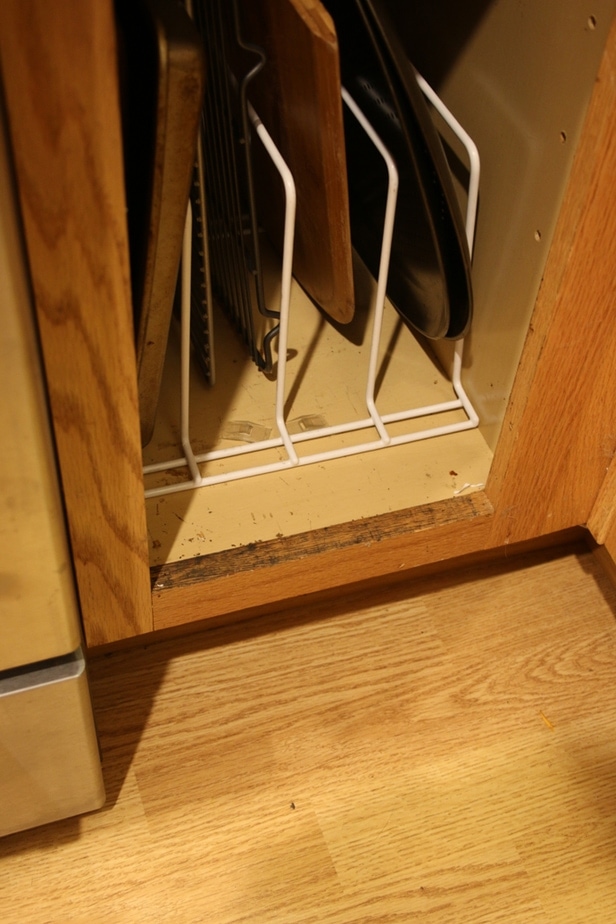 Very unpleasant.. Prep work is no fun, but we're sold on making this kitchen look as professionally done as we can so we're willing to put in the effort! I've also given us just shy of 2 weeks to have all the painting done.
Perhaps a light at the end of this tunnel is that we've officially just paid for a makeover project to be done for us– for the very first time. Yes, yesterday we placed an order for our new counters! But alas, it is late, so tune in next time to hear about our decision process in that. :)
Have you painted your kitchen cabinets for a kitchen makeover? Share your experience, tips, and photos in the comments below!