It's DIY Christmas decorations time in the city— or far back country if you're singing it from my house! Yes, I've started to feel that back country feel as winter settles in on this side of the Cascade Mountains. The days are sunlight short, kiddo long, and getting cold. When the sun goes down there's no city glow in our sky and the town is quiet. I think everyone is hibernating? If I suddenly woke up in New York City I think my body would go into shock at this point!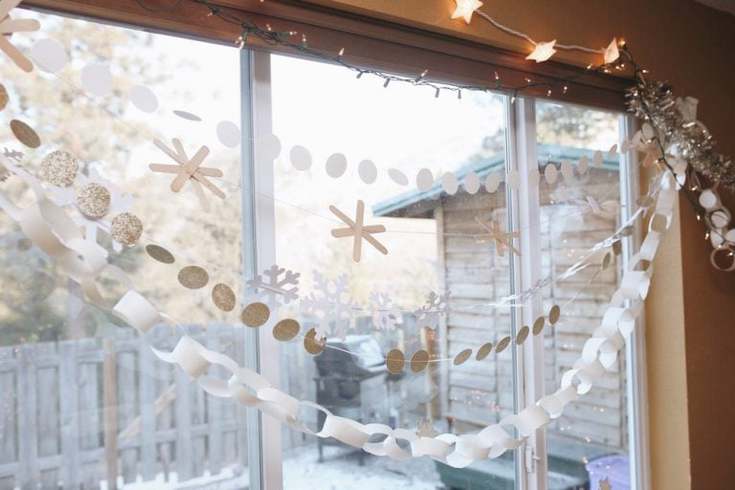 One bonus of winter hibernation is crafting for the holidays! Besides birthdays, I hardly ever craft during the year. But when December rolls around it is craft central in da house! I love creating my own Christmas decor and this year I had a stronger vision for what I wanted to do and a lot of fun crafting the items delivered to my doorstep!
This year for my craft creations I bought:
Cardboard craft cones
Wooden round beads
Felt Pom Poms
Wood stars
Fake mini trees
Fake snow fluff
Paints
Variety of paper garlands
I bought the majority of the items from Oriental Trading. That company is still gold for crafters! You can view most of the items on this wishlist (unfortunately a few things were no longer in stock). I also found a lot of items in store or online at Walmart. If you're looking for craft supplies, don't forget to check out Walmart's site for great deals and variety. The only downside is not many items (especially third party ones) have reviews to go off of.
On Amazon you can find these: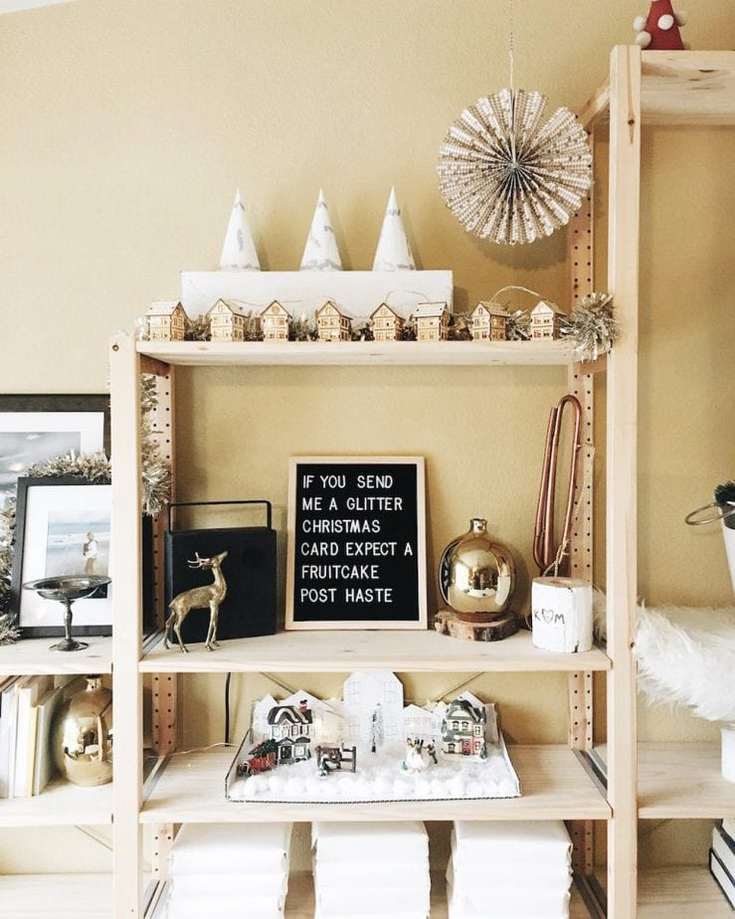 Diy Christmas Decorations
In this fun shelf area there are all sorts of crafts to share!
Wrap up your books with with butcher paper for a clean, white Christmas look.
Make a little portable snow village in part of a box. I cut up a cereal box in the shape of houses, painted them white, and drew windows on them with sharpie. I lined the front of the box with glued down cotton balls and sprinkled faux snow behind them. Then, using inexpensive figurines from Walmart (each under $6), I made a cute little scene for my kids to enjoy!
Make a mountain scene with your cardboard cones. Paint them snowy white with gray crevasses and set them up higher than your village scene. (I got that cute strand of lighted houses from Amara.com a few seasons ago.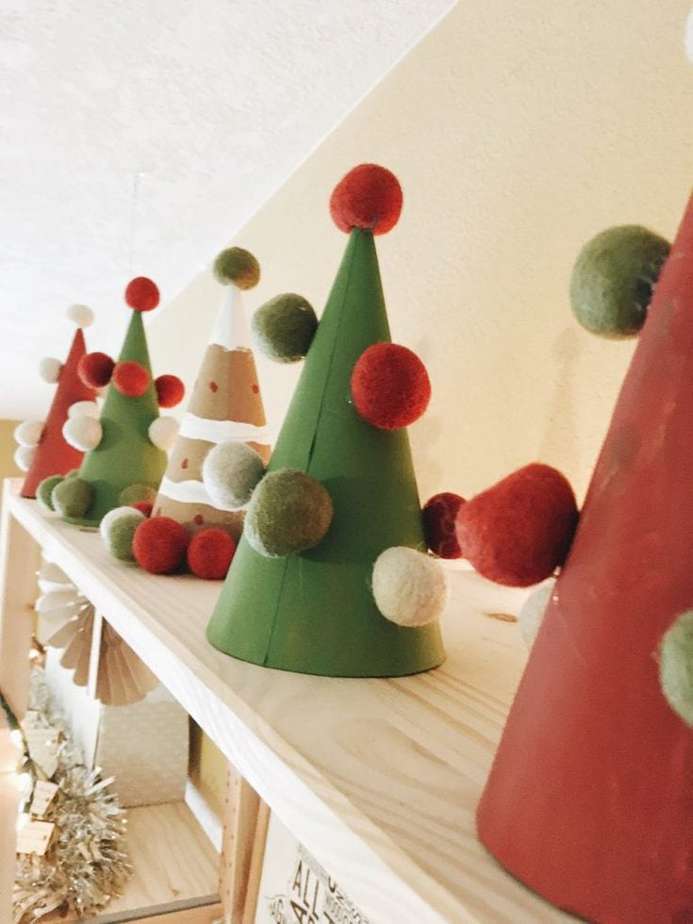 More cone crafts! Buy the cheapest (water based) acrylic paints at Walmart, some foam brushes, and paint the cones different Christmas colors. I prefer the more muted reds and greens and of course white! I use my handy dandy hot glue gun to stick the felt balls at random around them and one on the top like a little hat.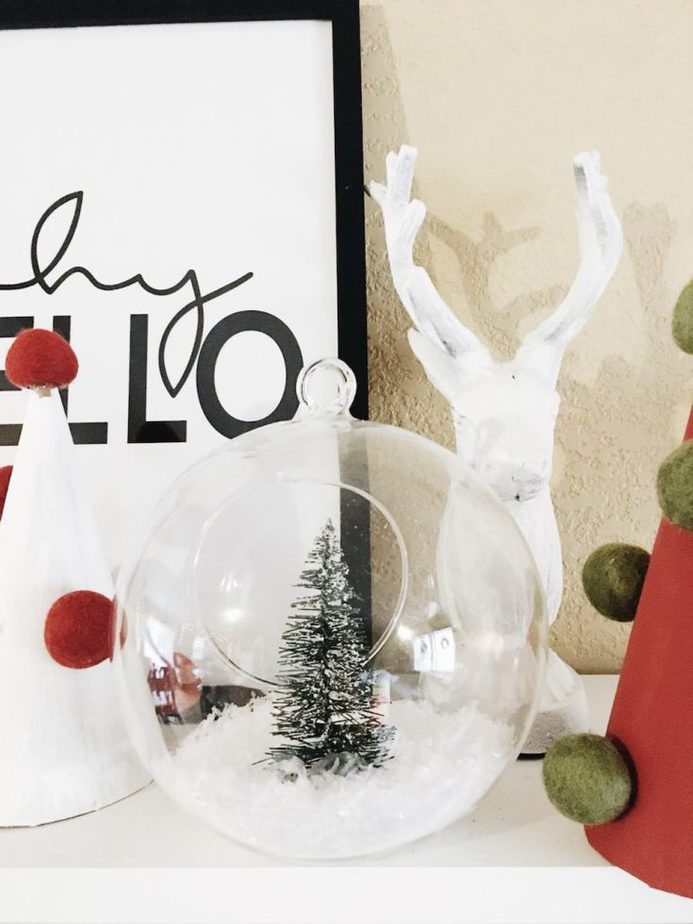 Make Your Own Snow Globe
I've had this plexiglass terrariums for a while now and have finally put them to use as a little DIY Christmas Snow Globe! The trees were 84 cents at Walmart and the snow was under $3 for a big bag. Done! How stinking easy and cute?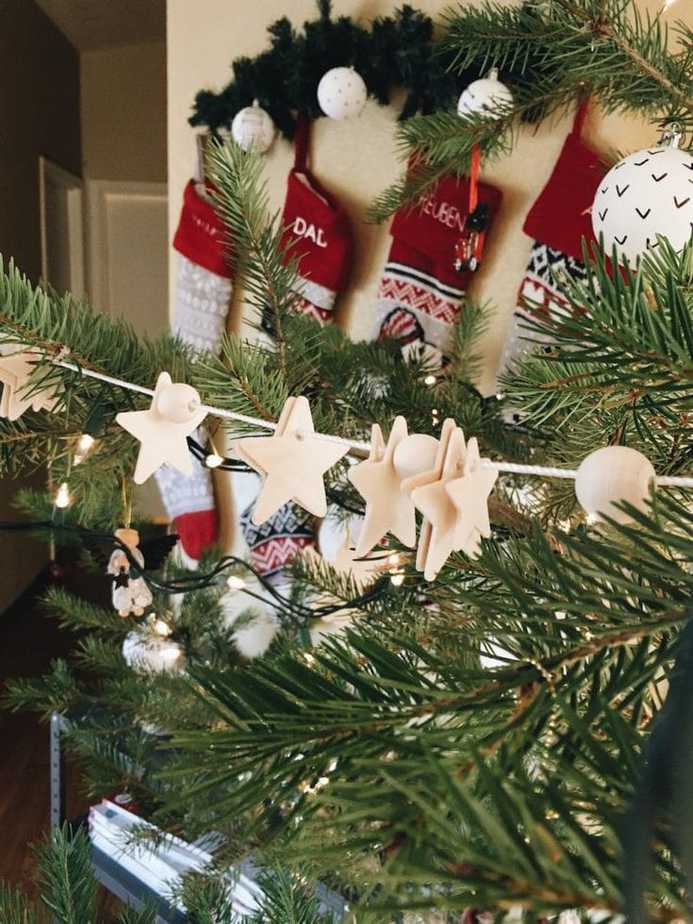 DIY Scandinavian Wood Garland
This project took a little more time and focus than the others, but I'm so pleased with it! Using a bag of 500 wood stars from Oriental Trading and my Dremel I drilled a little hole in the top of all the biggest and medium sized stars (So probably around 400 stars?) It took about 5 seconds per star once I got a system going. I had 200 round beads (but forgot one bag in the box…derp.) so I just spaced them out with the stars in the most non-sensical way possible. Haha, it's a skill of being not only poor at math, but also being very lazy. I strung the garland with a thin rope, having to sear the end a few times because the stars and beads undid the thread throughout the process.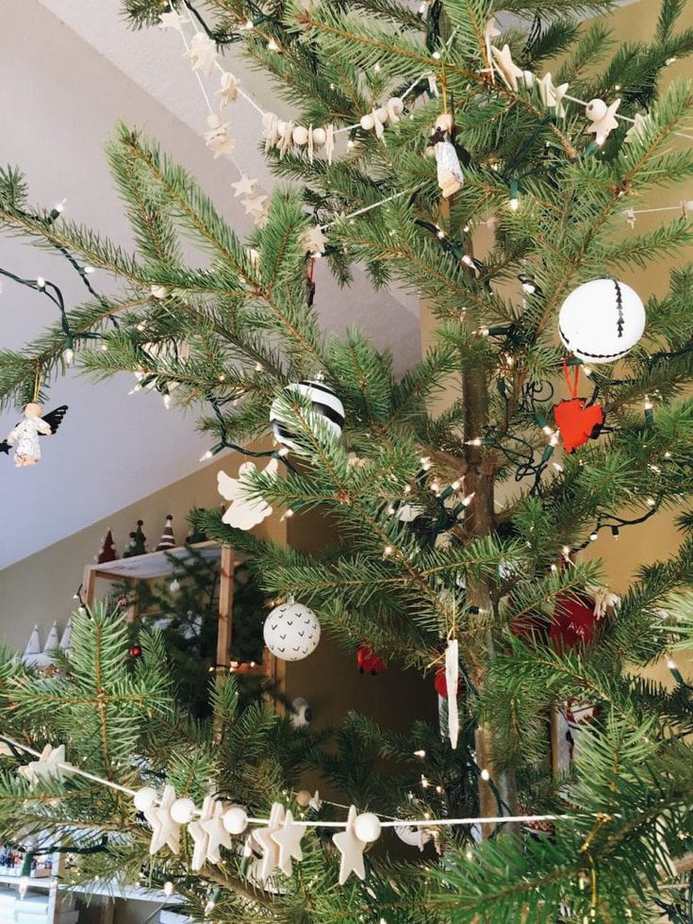 Once the garland was secure around the tree it was easier to go around and space out the beads as needed to make it look balanced! More pictures to come in our Christmas tour.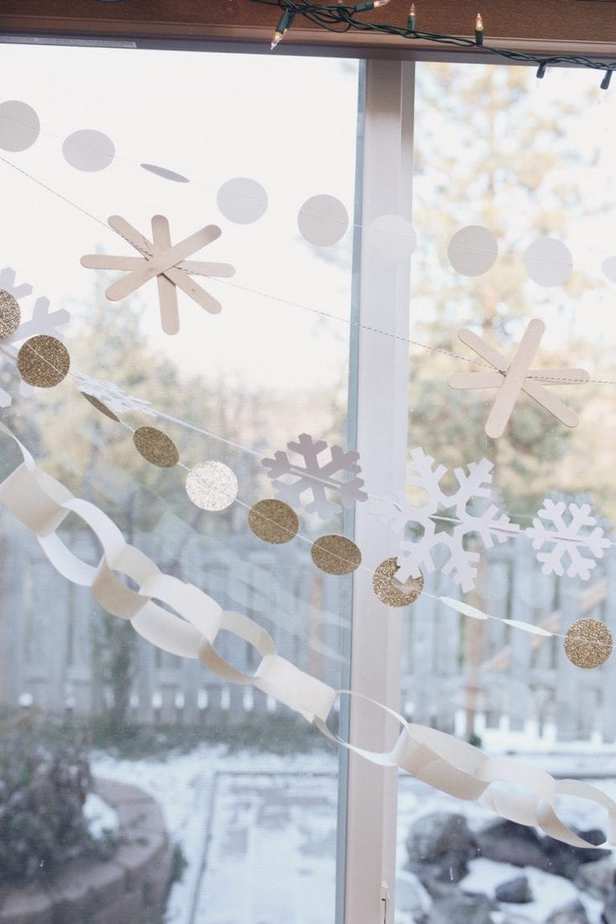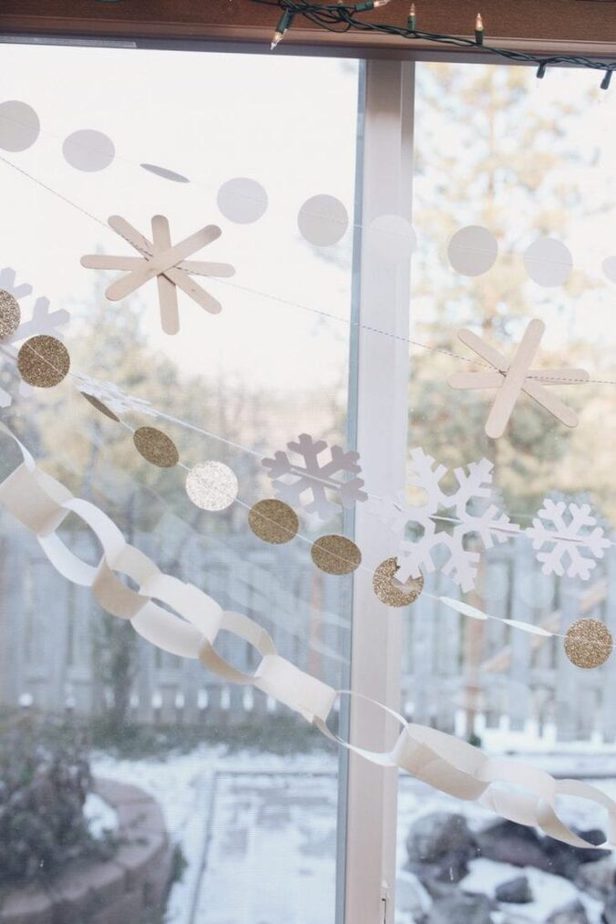 DIY Layered Christmas Garland
In my minimalist opinion, Christmas is a time where "More is more." Hehe, I love filling my home to the brim of Christmas decorations and this layered Christmas garland is my favorite this year! I made the link chain and popsicle snow flake garland. The others I could've cut out, but I don't have a sewing machine so I decided to buy the two circle garlands and paper snowflake garland. (Ok, ok, I could've made the snowflake garland! I just didn't want to.. Why? Oh- because for some reason I'm missing the "can cut a snowflake" DNA strand. #soembarrassing)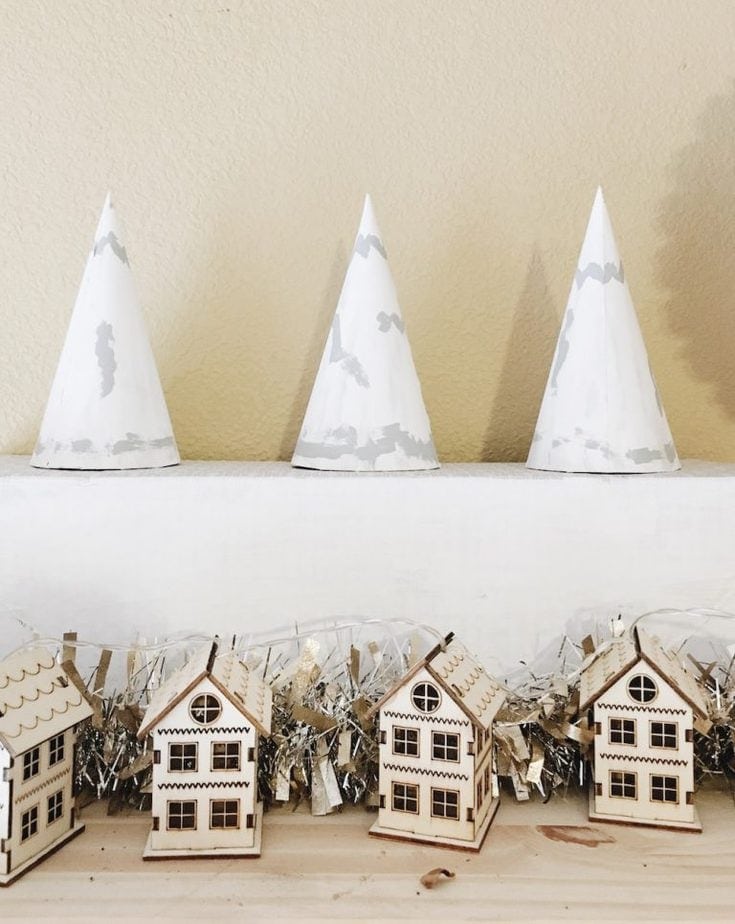 I hope you enjoyed these easy DIY Christmas Decorations and are inspired to do a little crafting with your crafty girlfriends or kiddos this holiday season!
You can still visit the 2017, 2016, (guess I didn't do Christmas in 2015?!) and 2014 holiday tours on this blog! It's fun to see how our houses have changed, but my favorite Christmas styles have remained.