I've said it before, I LOVE dressing up! AND making my family dress up along with me. I'm currently sporting a mehhh 74.6% bare minimum cooperation rate with the other 3, but I'll take it! This year, in honor of my absolute favorite Disney Princess movie of all time, we did Diy Beauty and the Beast Family Halloween Costumes! Since the release of the new real life Beauty and the Beast movie, it has become my most re-watched/background movie of the year. I've always loved the brunette, country, bookworm princess and have frolicked many a childhood day dressed and singing just like her. When I realized that in my closet I had the makings of her entire villager outfit (princess at heart ya'll) it was a done deal and I knew I had to make each family member part of the Beauty and the Beast crew!
I ultimately decided on Michael as Gaston, Reuben as the Beast, and Ava as Chip! Next up was brainstorming their wardrobe pieces. For me that involves a lot of Google image scrolling and perusing Amazon! Once I've saved a favorite image for each character I set to planning how I'm going to make each costume for the least amount of money possible. This year I decided to see if I could purchase everything at the super Walmart and I did (holy cow that place is a gold mine!)
But let's start with the finished look before I share all my "secrets" and "lessons learned." (Haha, because there are ALWAYS those.)
Diy Beauty and the Beast Family Halloween Costumes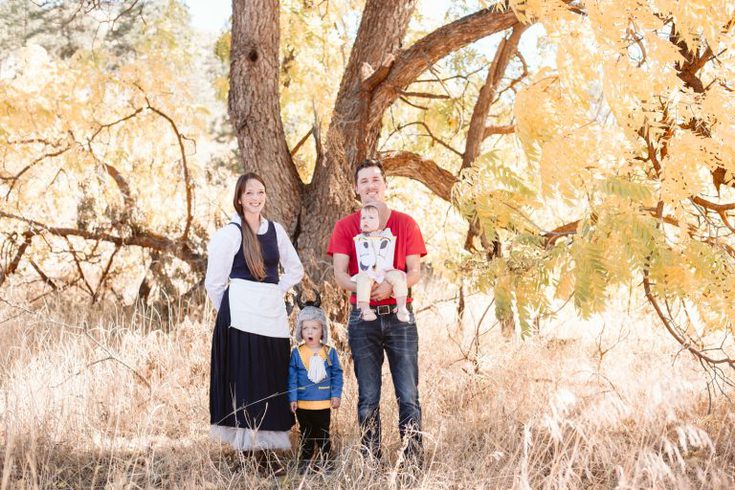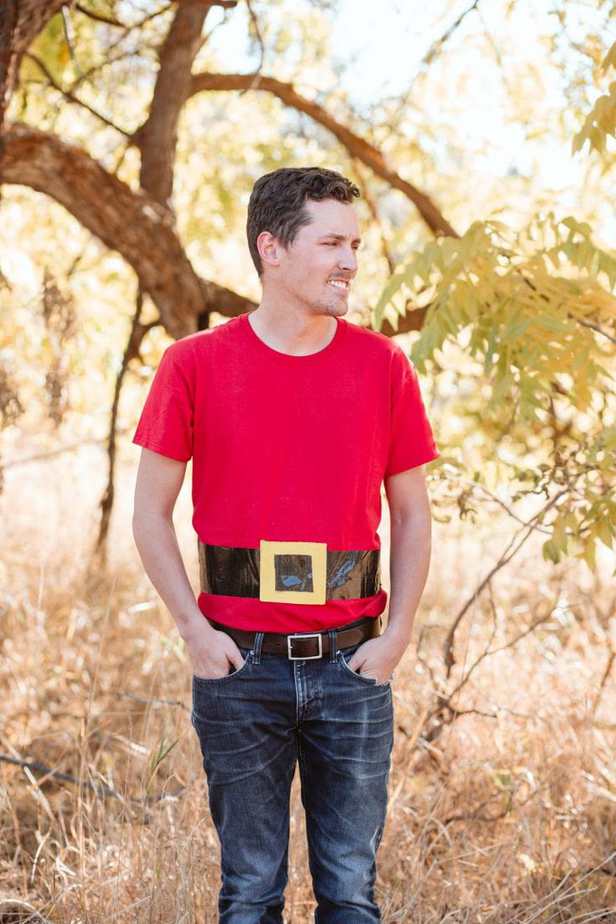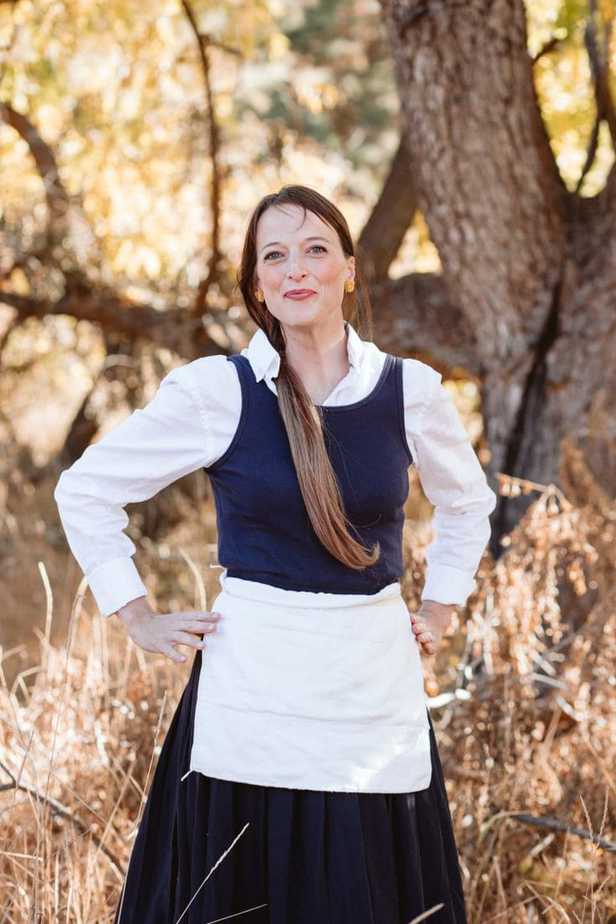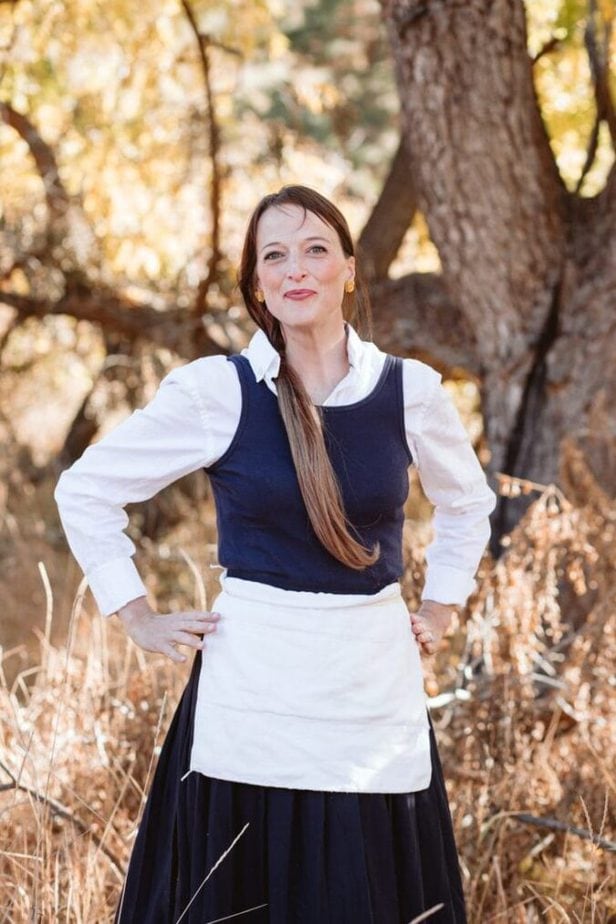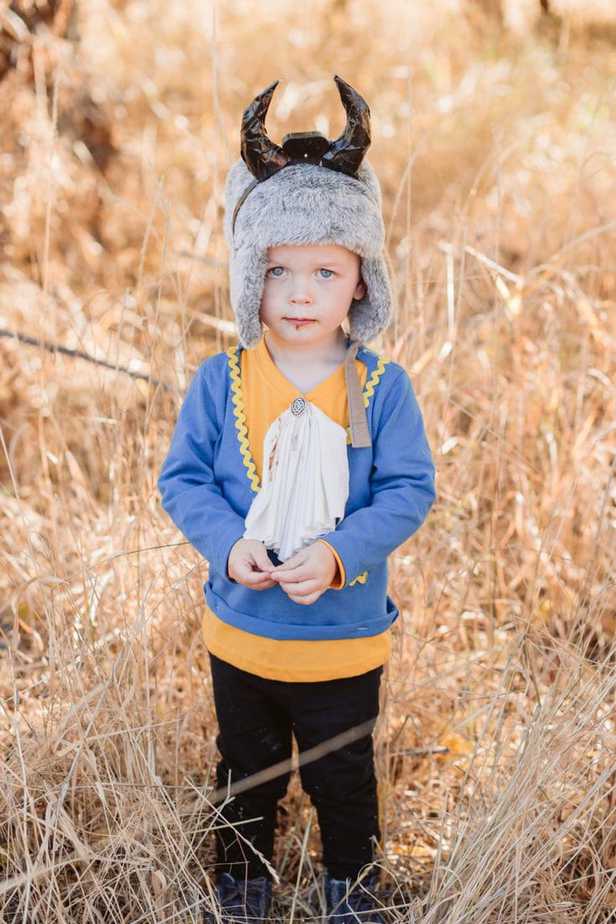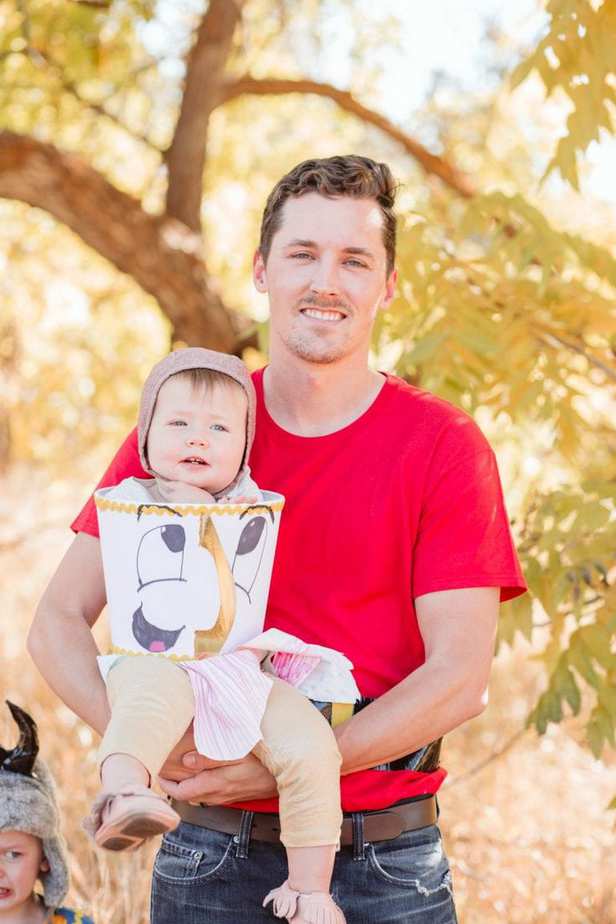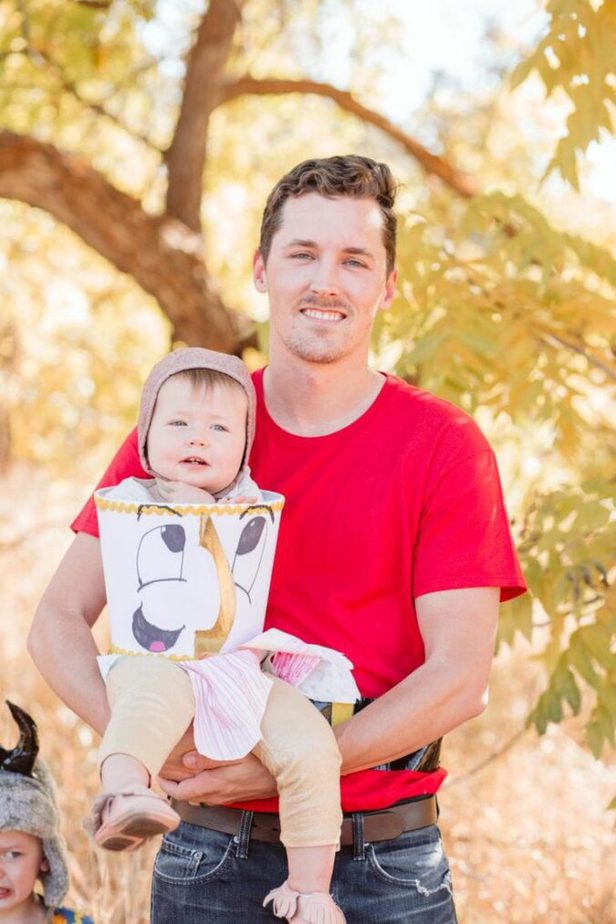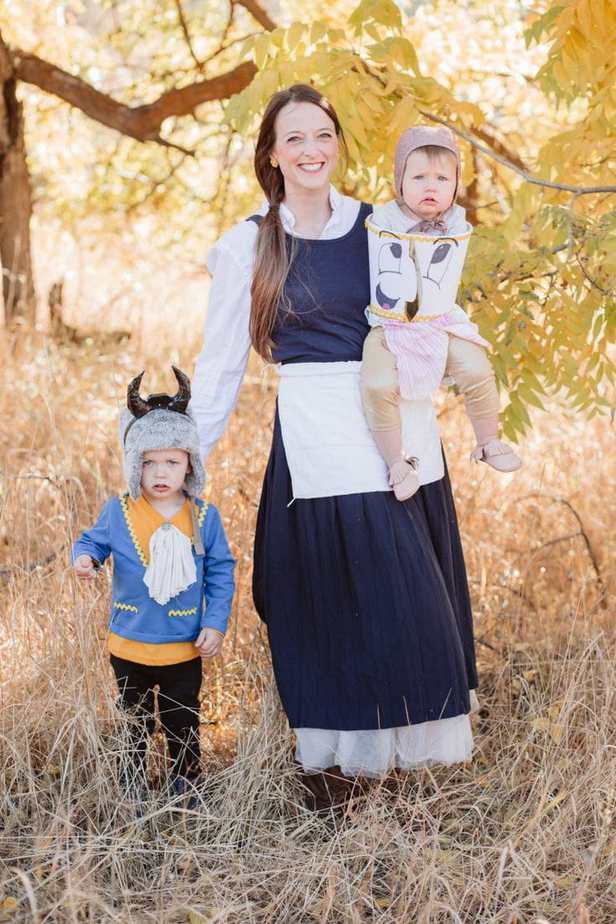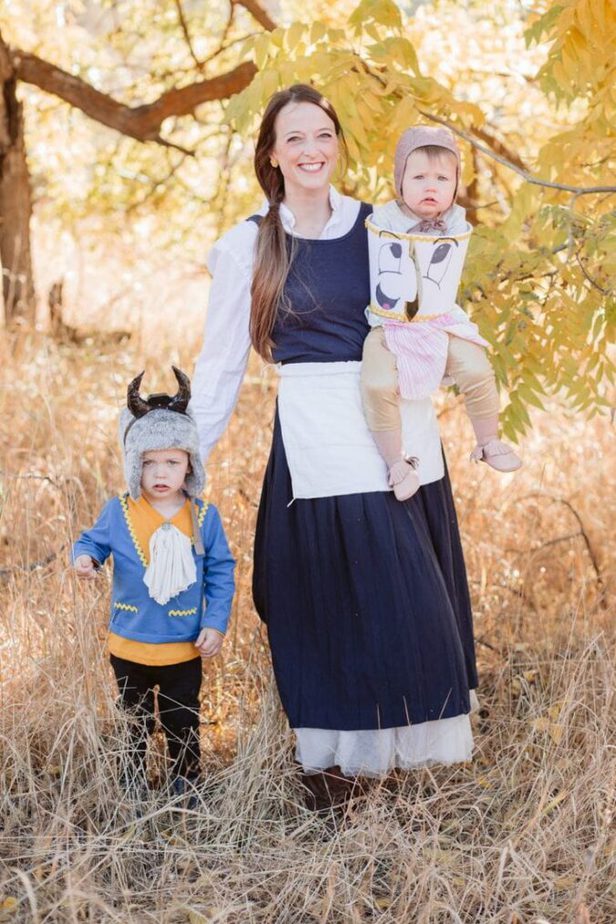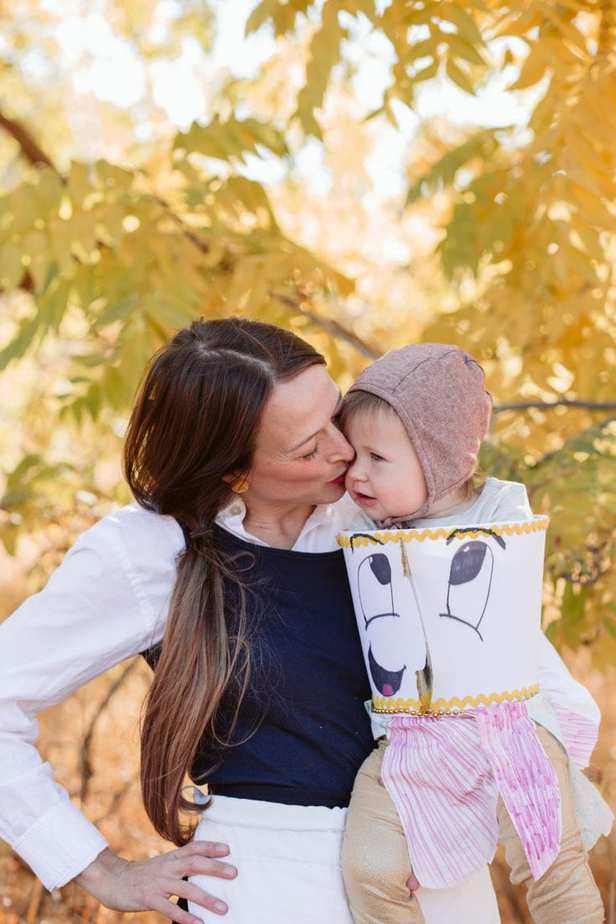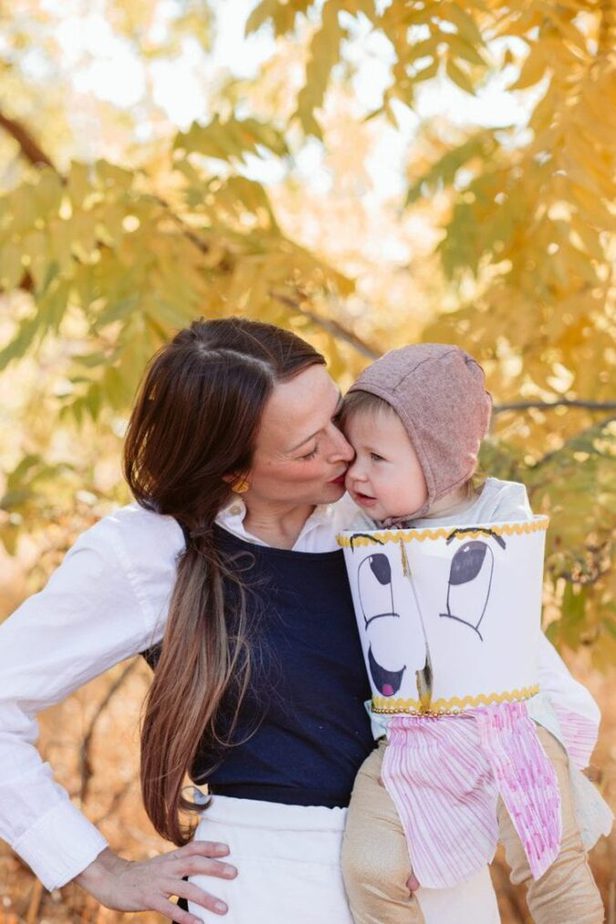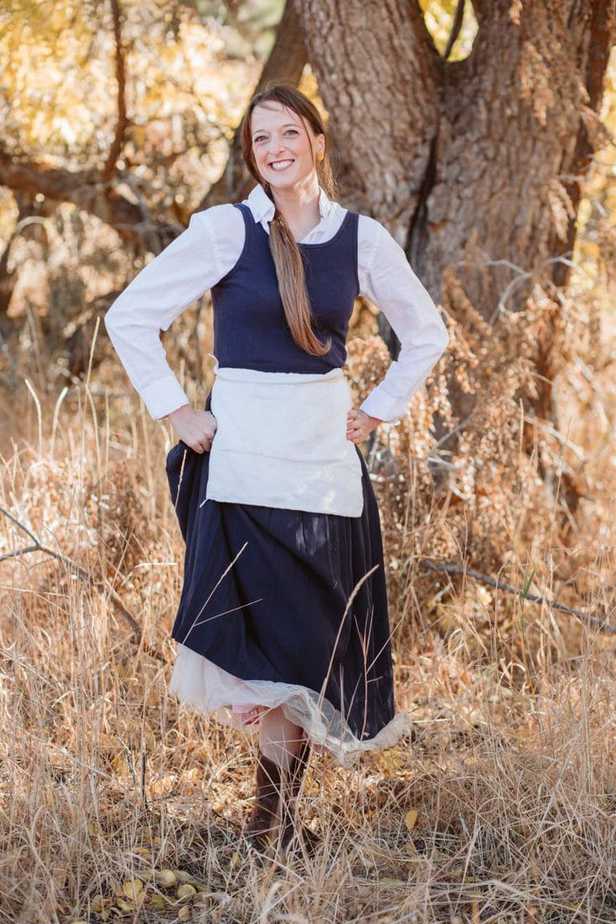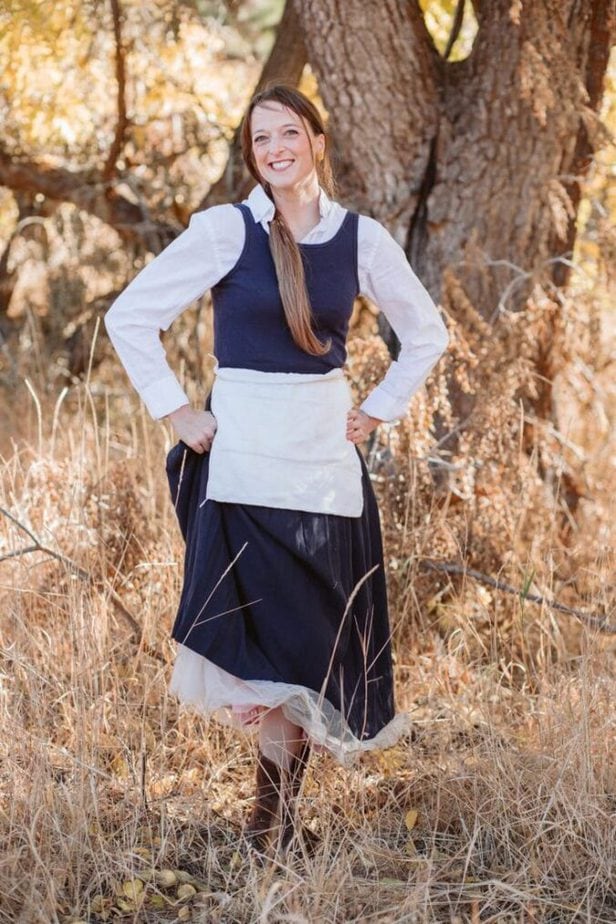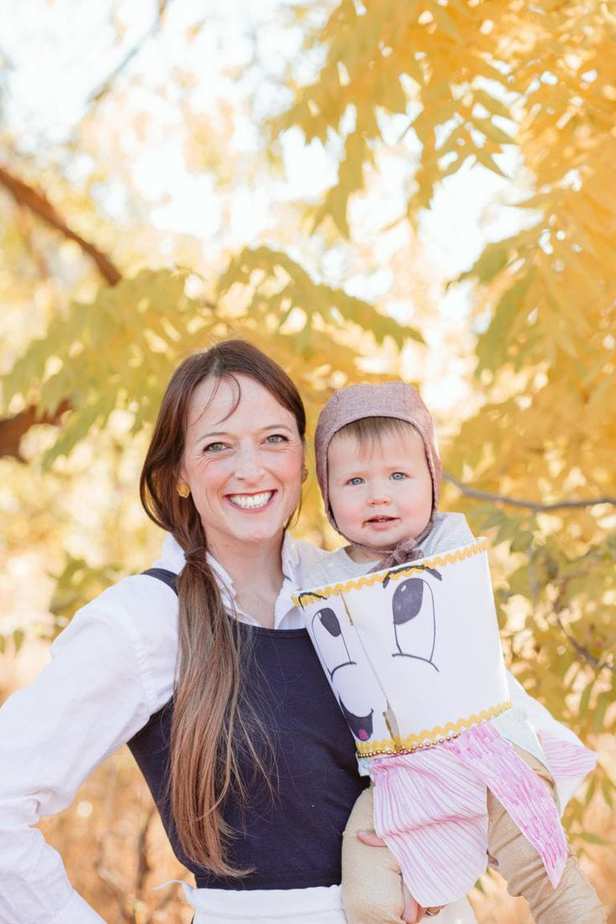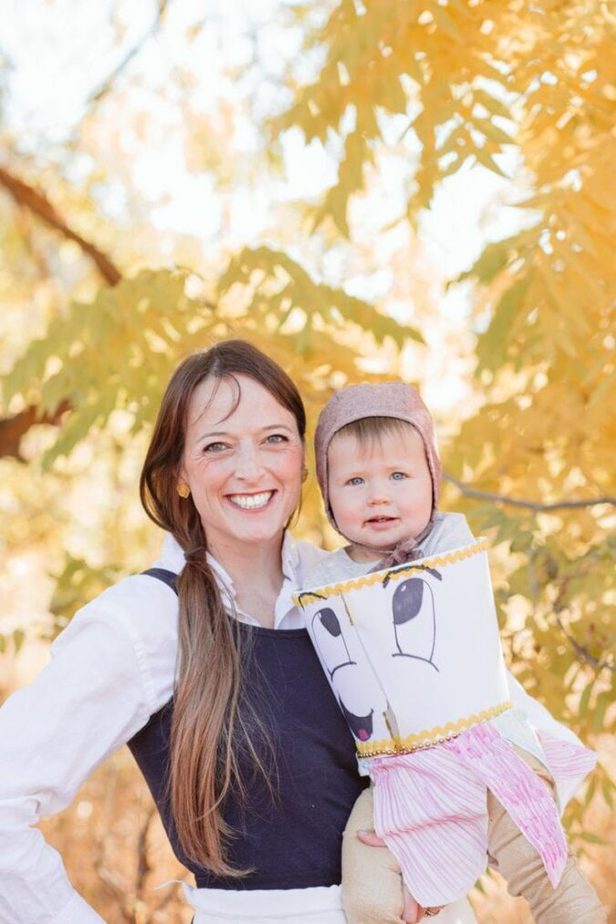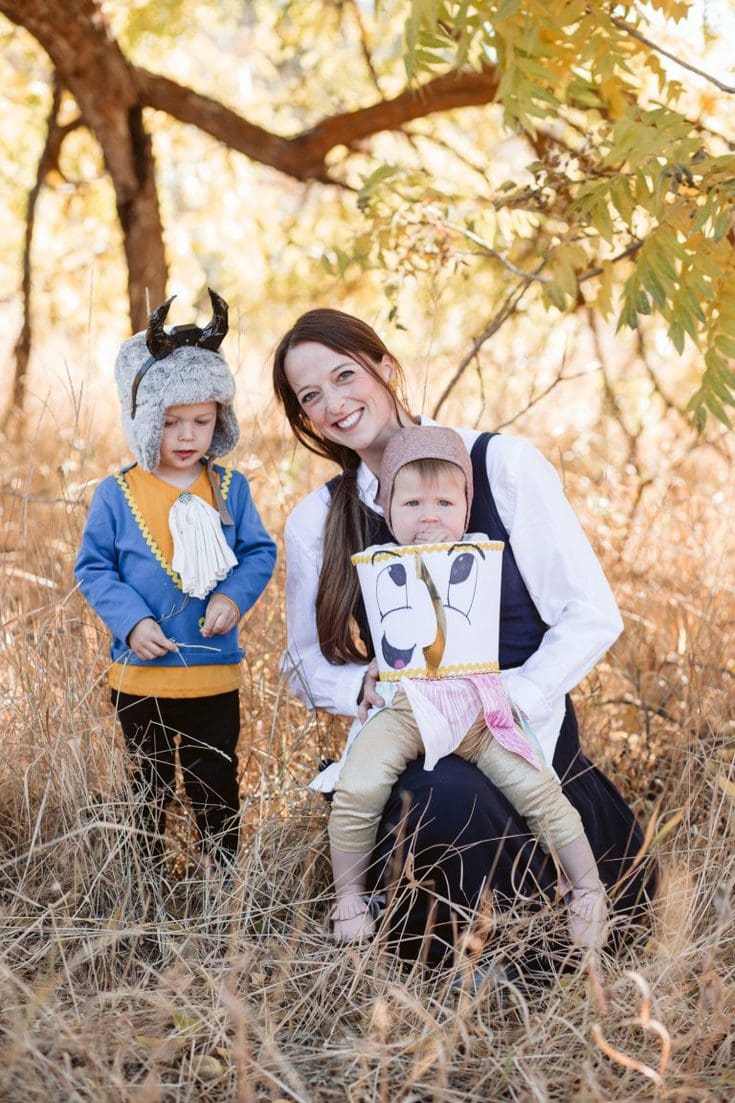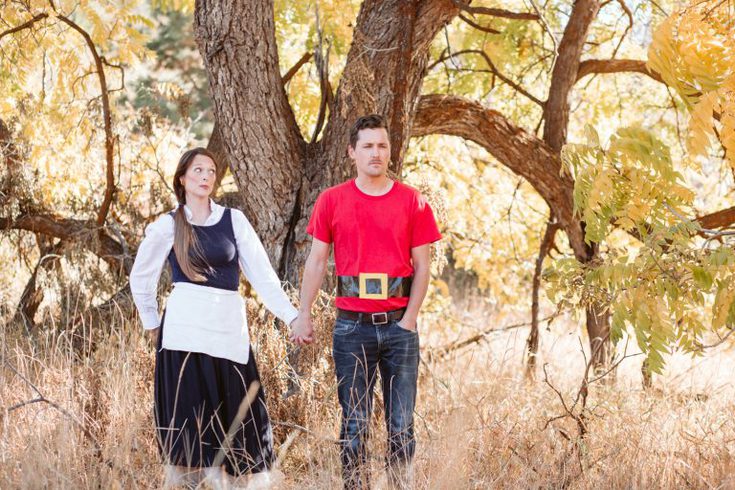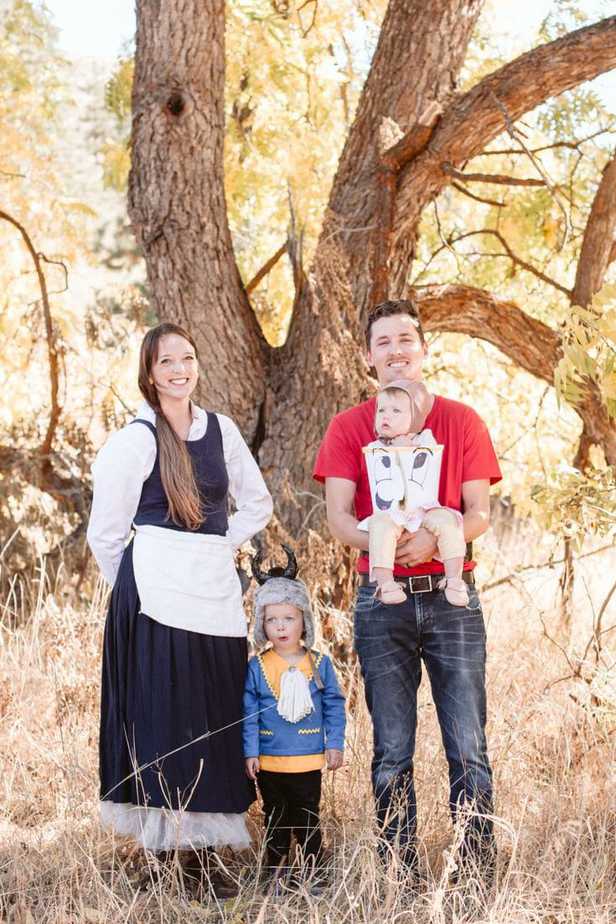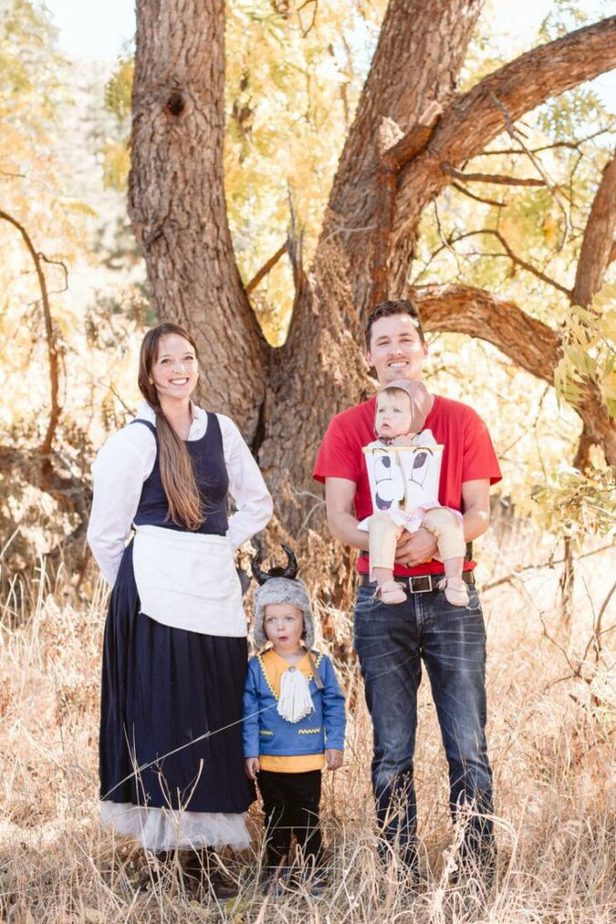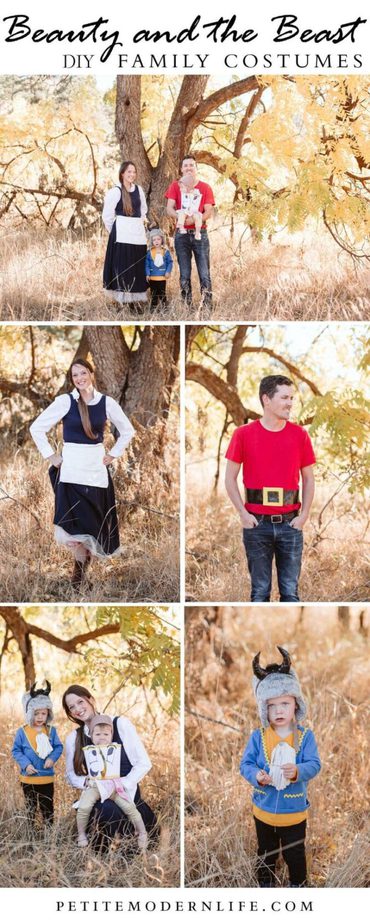 Oh man if you're not cracking up by some of the expressions of my completely disinterested and totally chocolate chip bribed (as evidenced on their lips #dying) then you might need to look again!
So how did we pull off these basic costumes? And for all under $30!!! Here's what you need all listed below! **Please note, I am going to list the items I purchased at Walmart and link to Amazon items that are the same or similar style for ease of shopping and also because I have receive some affiliate earnings through them and that's what keeps this fun blog of mine running! So thank you!**
Yellow long sleeve toddler shirt (in store Walmart $4)
Navy long sleeve toddler shirt (in store Walmart $4)
Adult red t-shirt (in store Walmart $5)
Yellow sewing Rick Rack (in store Walmart $3)
Horns (in store Walmart $3)
Fur Trapper Hat (had)
Small Lamp Shade (in store Walmart $8)
White fabric remnant
Black toddler pants (in store Walmart $7)
Gold baby pants (in store Walmart $7)
Gold Necklaces (in store Walmart $2)
TOOLS
paint brush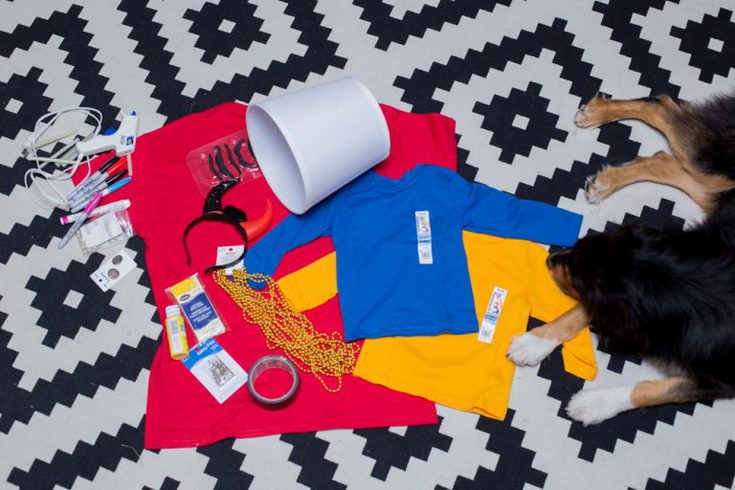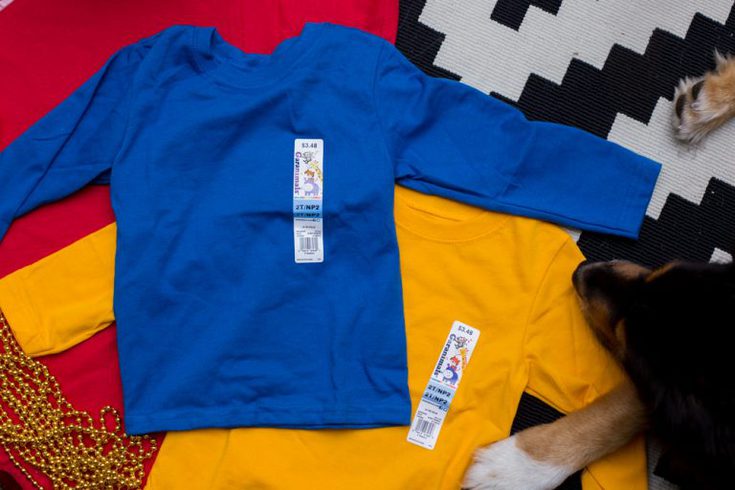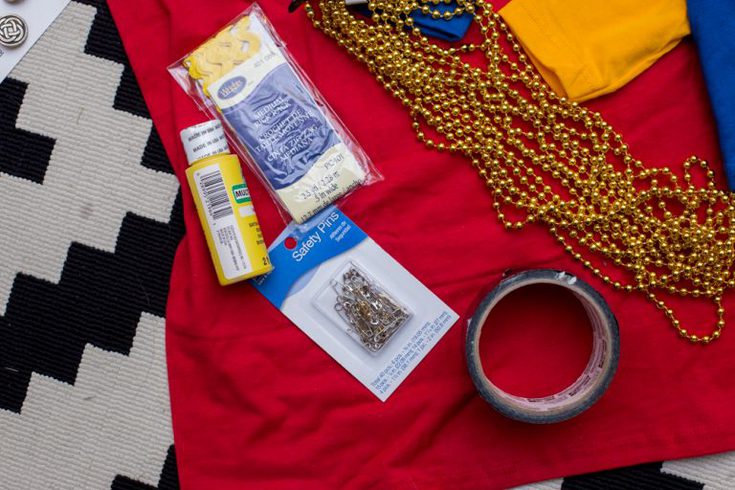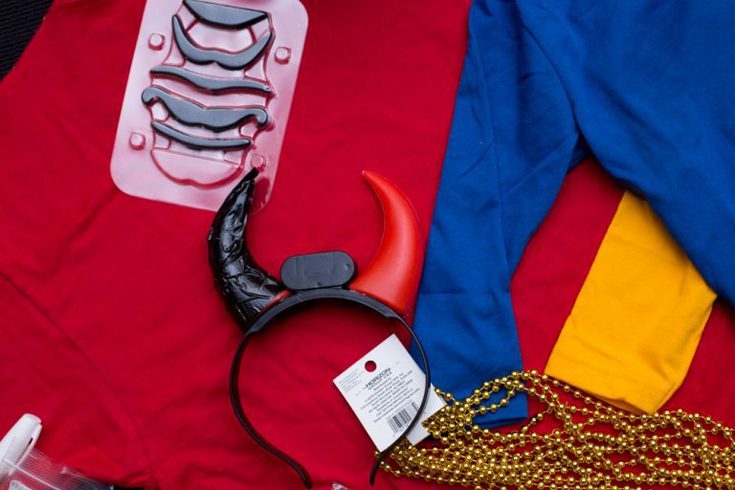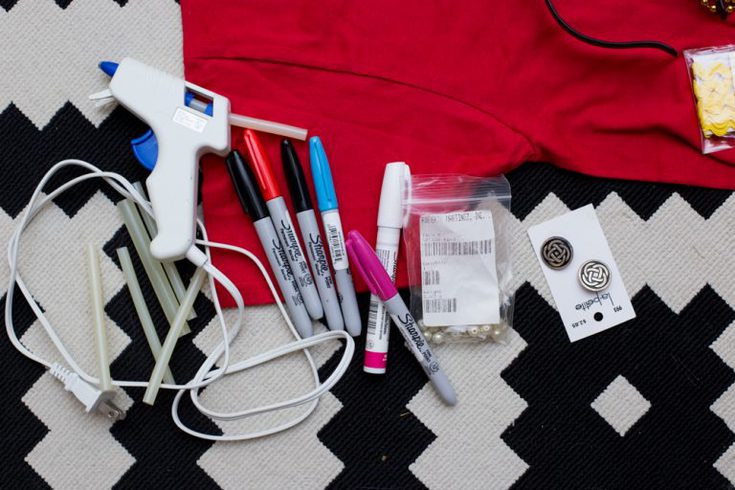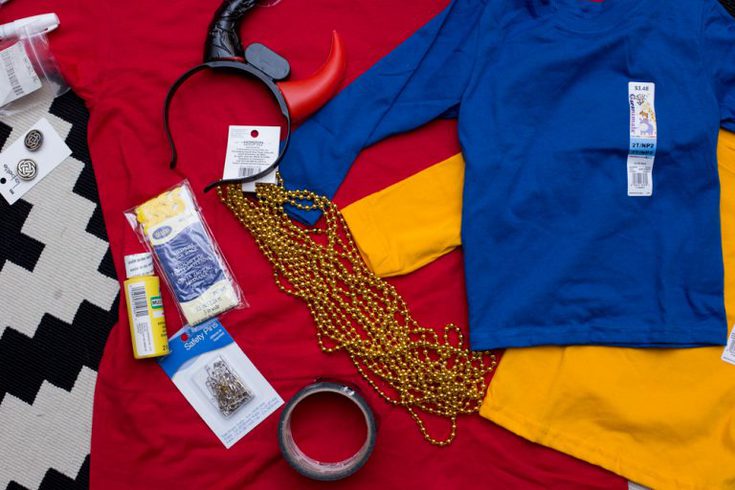 I started with the easiest project first. The Gaston shirt! Create a belt with black duct tape then cut out a belt buckle from a cereal box and paint it yellow. Once it dries, hot glue it to the belt!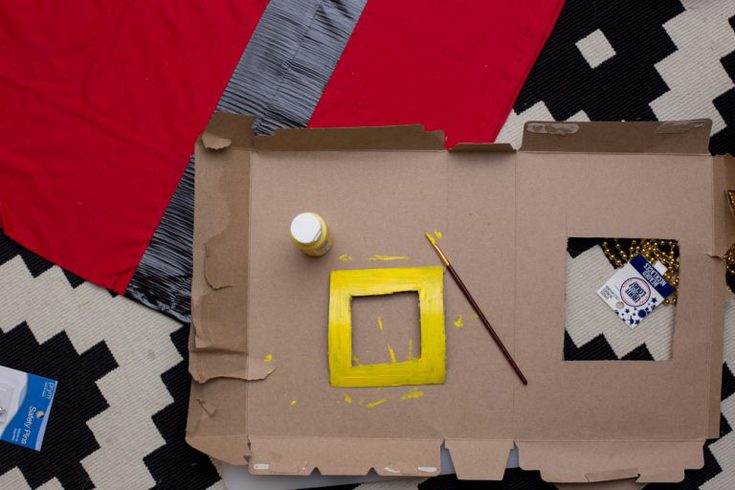 Next I got started on the Chip costume! The drum juuust barely fit over Ava's hips and only from the feet up. She's a big girl, but the biggest of the small drum shades is what worked. If you want to do it with a bigger kid you can either go the next big size up OR probably cut the lamp shade in the back and add a little cardboard or leave it cut then have some straps on the inside to hang it on your kiddo! Make sure you decorate your lampshade upside down if it's at an angle so it looks like a cup!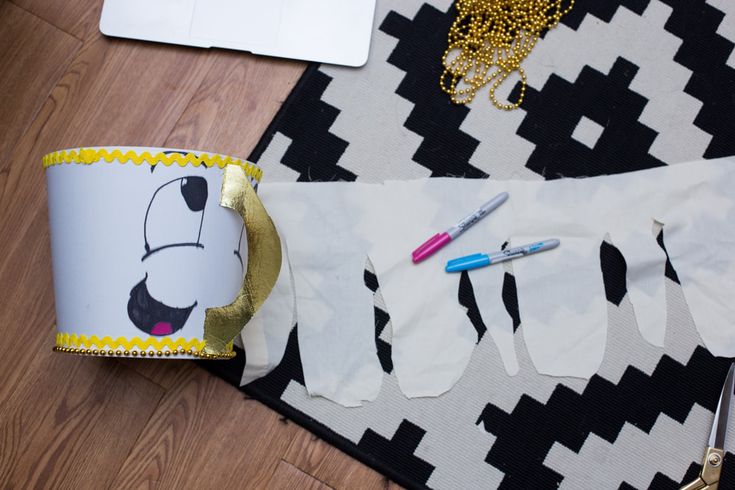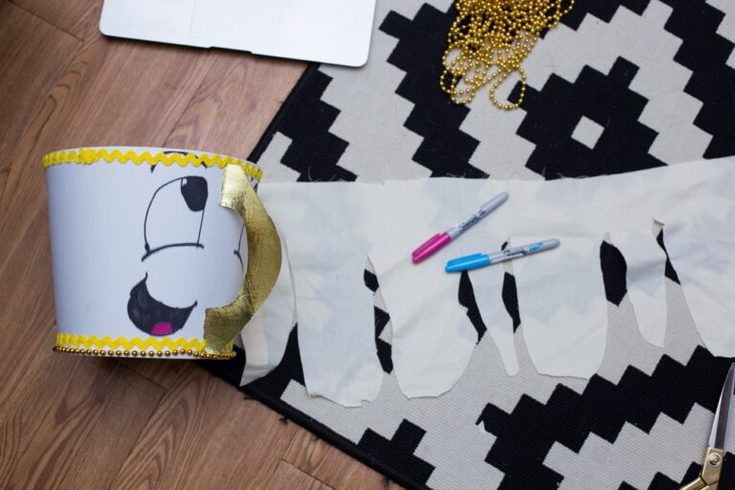 I cut my handle out of a gold star that I used in Reuben's second birthday! Using my box cutter, I cut a small slit in the top and bottom of the shade to fit the handle ends into. Then I taped them to the inside with masking tape. I cut a white fabric remnant (an old sheet actually I thrifted for this wedding shoot!) to roughly look like the decorations on the bottom of Chip's cup and colored them with Sharpies. All the tape and beads are hot glued on!
I saved Reuben's costume for last as I formulated a plan. I only have a needle and thread and am not a good stitcher, so hot glue it was! I layered the two shirts with the yellow on the inside. Then I drew a dotted line where I would cut the opening on the blue shirt. I held the shirts together with a few safety pins where I thought necessary.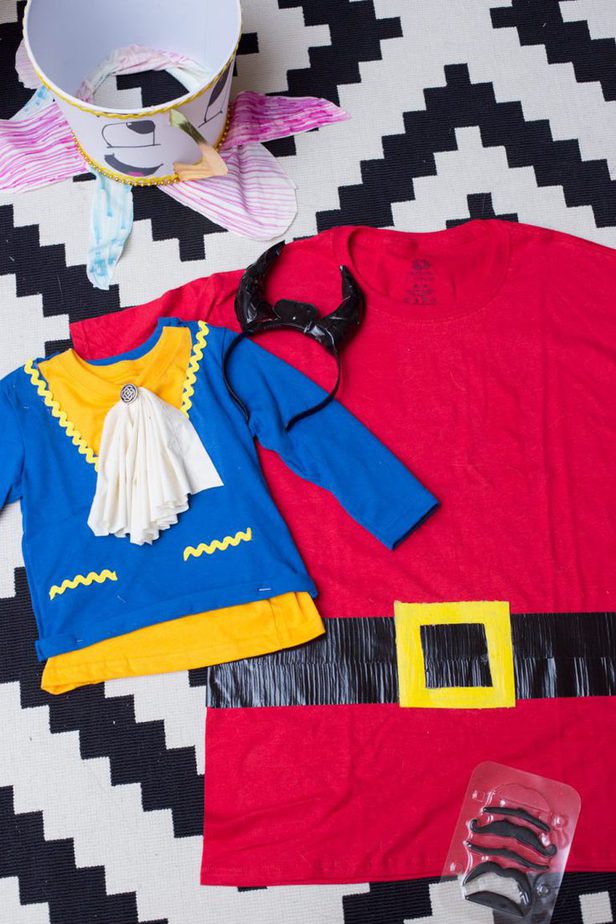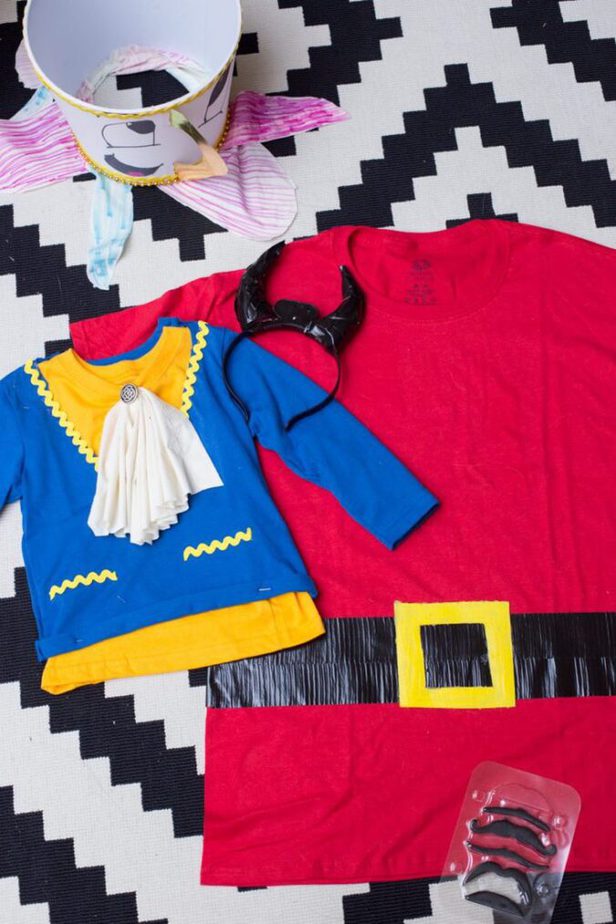 I accordion folded a fabric remnant and stitched back and forth through the folds a few times to help it stay stiff. Then I sewed the button to it and the shirt. The Rick Rack was hot glued on. Oh! And I duct taped the horns with black tape. I didn't even realize that the center block was to turn the lights on inside! haha "derp." Oh well!
My DIY Belle villager dress consisted of my pleated blue skirt, a layered long tulle skirt, fall boots, husband's white dress shirt, a navy tank top, and a burp rag tied around my waist! Oh and some fun princess hair extensions from Barefoot Blonde Hair! They make life a little more fun sometimes ;)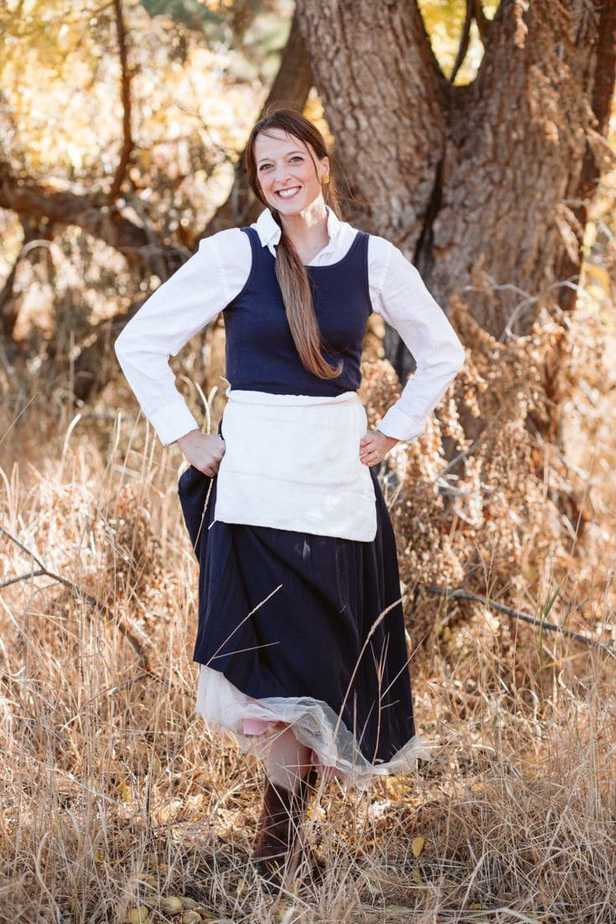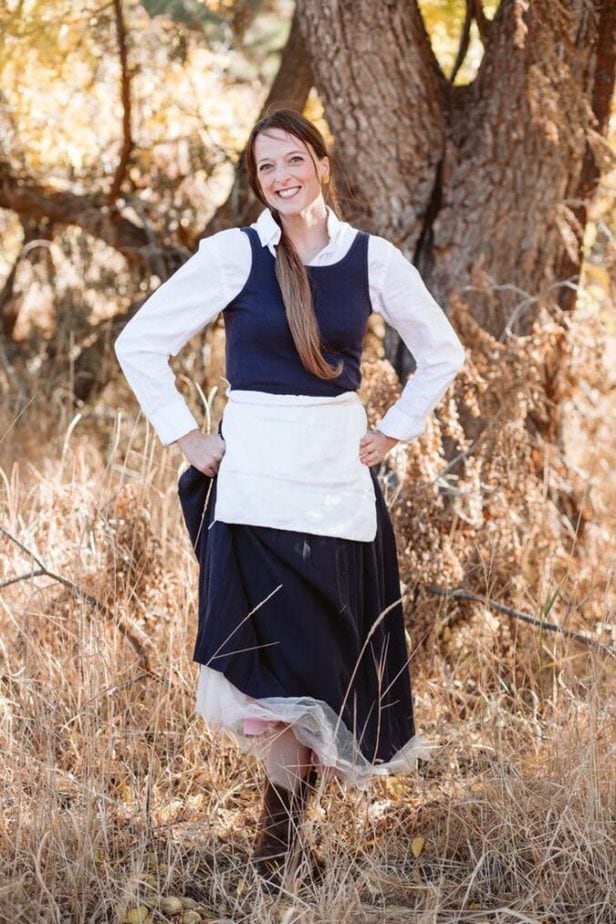 Ready for the bloopers?
You're right, I didn't make Moose a costume this year. Alas, there are only enough hands to handle two non compliant family members in pictures! Maybe I'll think of something for Halloween though!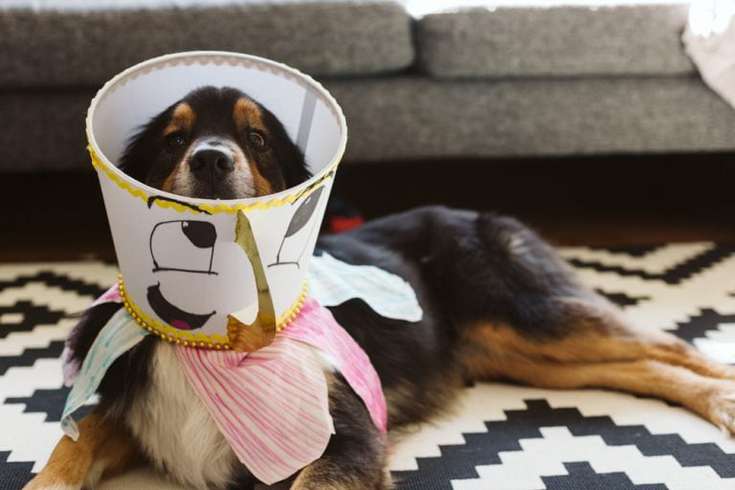 This is pretty typical of Reuben each year…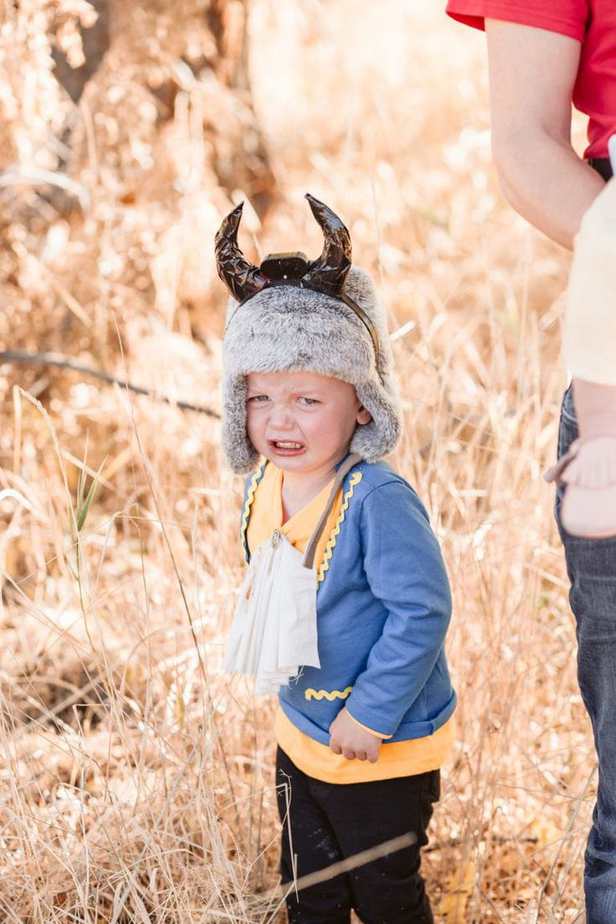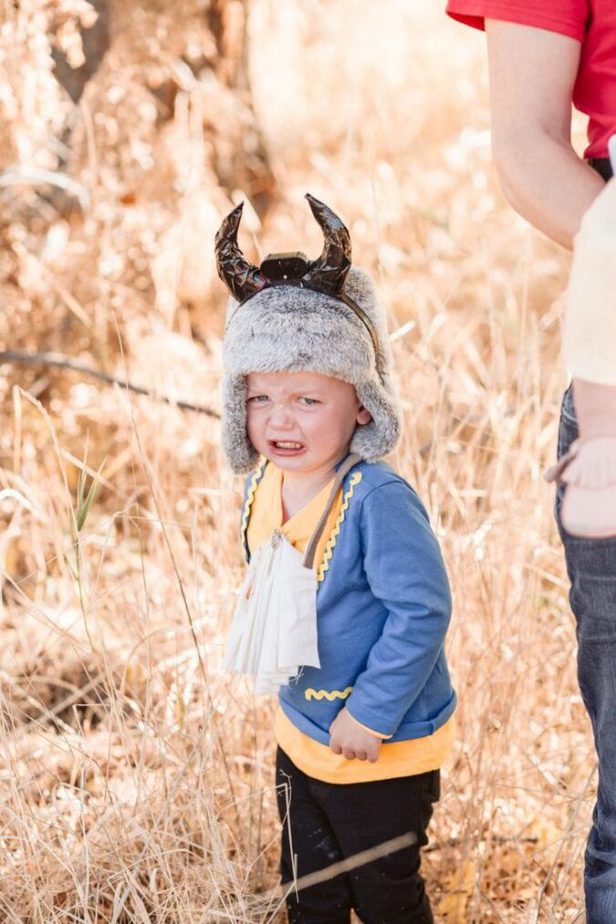 Exhibit B: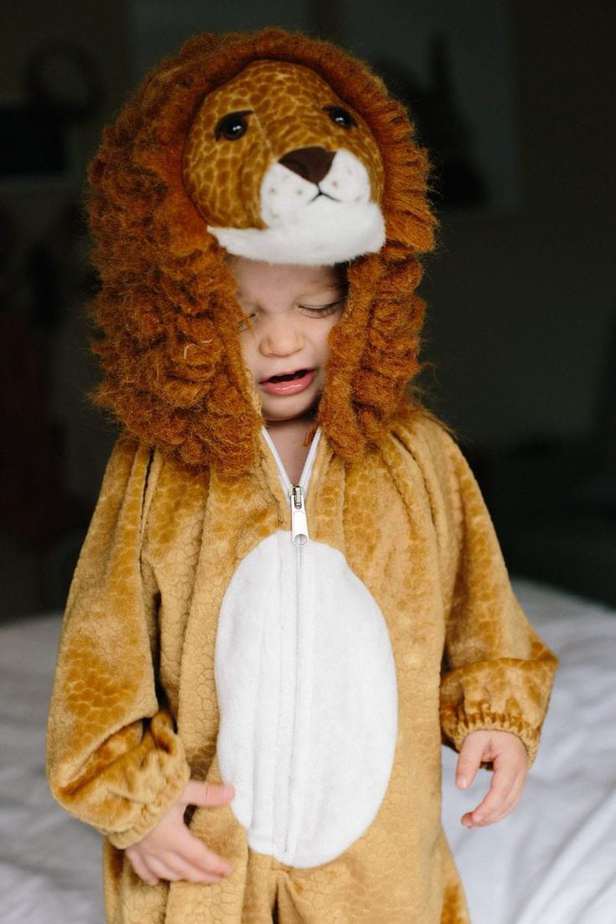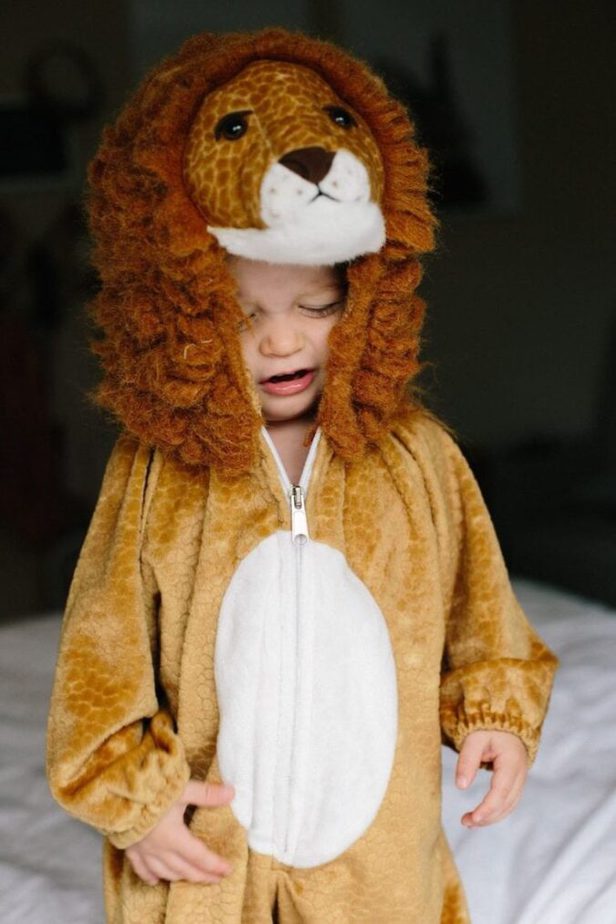 I gave the children chocolate chips for participation bribery aaaand it drooled and got all over their costumes.. #goodone
When I was changing back at home and taking out my extensions, my poor son looks at me alarmed and says, "Mama no take hair out!" I've probably scarred him for life..
Ava had this cute tutu dress on that I forgot to pull out under the petals. So It was bunched all inside of the lamp shade causing her a panic of claustrophobia as we tried to work her out of it! Sorry baby!
I asked my husband, who won major points for going along with this (probably only because his costume literally only required him to change his shirt..), if he would take a few last pics with just me. When he saw I wasn't looking at the camera, he asked what I was doing. I replied that "Belle disdains Gaston so I want to look like I don't like you." If there were eye rolling olympics…
Hope you guys enjoyed this DIY Beauty and the Beast Family Costume tutorial! It can be easy and inexpensive to find fun outfits for your fam! What are you being for Halloween this year?! Tag me in your pics on social media I want to see!