Yesterday's post was all about our Wild Things birthday party celebrating our sweet Reuben Cash turning one! Today is the little peanut's true birthday and I had to share his party themed follow up Wild One Photo Shoot with you all. I die. My heart literally explodes with love for this guy. You can read up on his entering the world in this post from a year ago.
We had a snowy cold day here in the PNW on Monday. And as much as I wanted to stay bundled up inside, the baby and pup definitely needed some fresh air and snow time. So I decided to take advantage of that perfect natural snow lighting and take Reuben's one year old pictures out of doors!
I had originally bought this white bunting for his birthday party outfit, but when it arrived I realized it was waaay too hot and big for an indoor party outfit. Since then, he's worn it over his clothes or pj's for all our stroller runs! And lo and behold, we actually did end up using it for his Wild One photo shoot. :D The best part was he couldn't even tell I had a crown on his head for 20 minutes!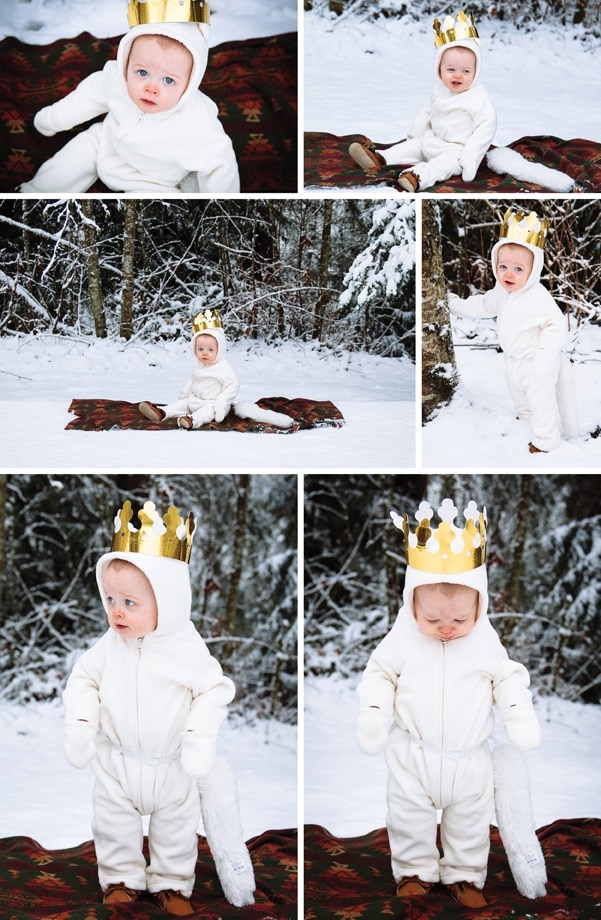 Crown – Amazon
Bunting – Old Navy
Moccasins – Old Navy
Blanket – Joann Fabrics
Tail – Oriental Trading Co.
Camera – Amazon
Lens – Amazon