It's finally time to get back into the swing of DIY interior design here on Petite Modern Life! We're going to kick it off with our rental ranch house entryway storage systems I went for! But first, let's have a little introduction to how we got here if you're new to Petite Modern Life!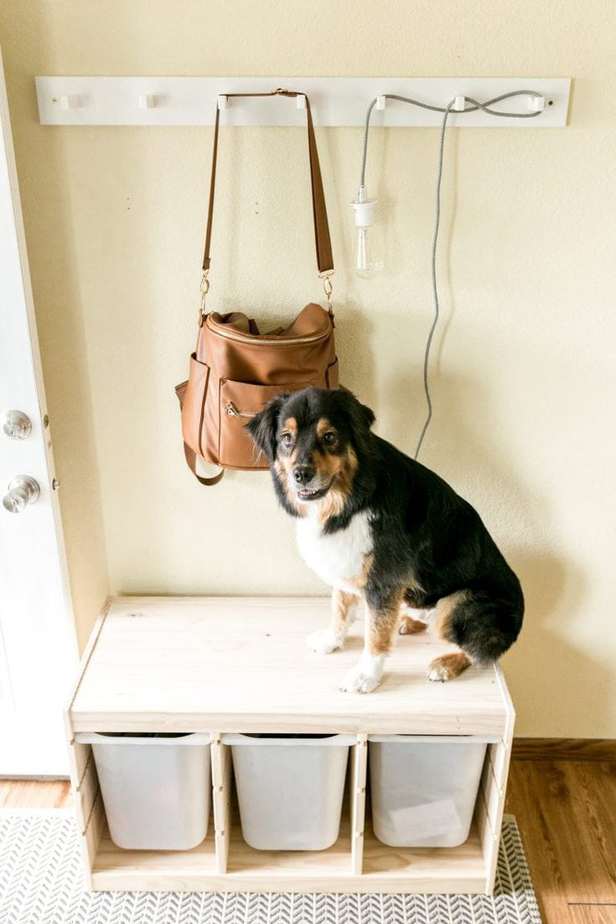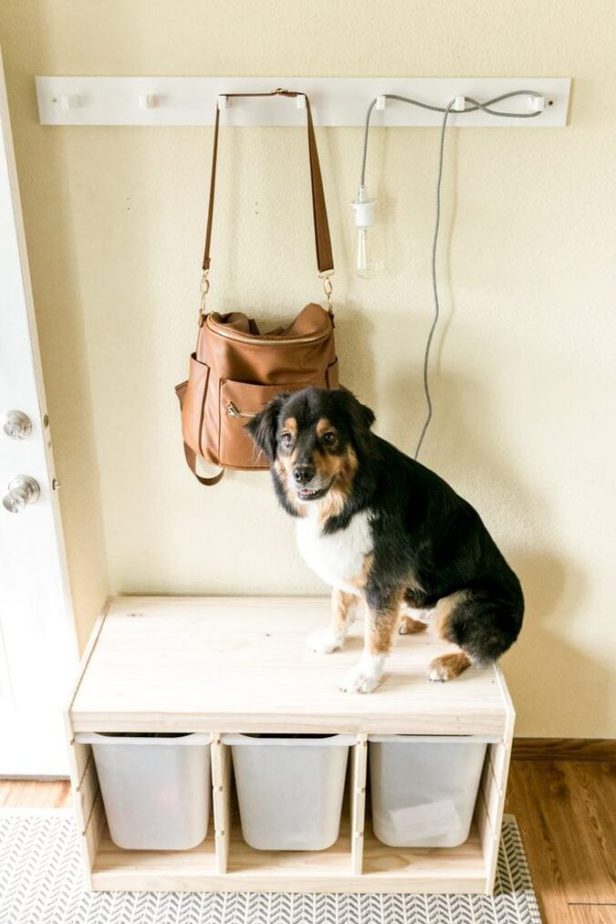 In July 2017 my husband and I sold our Second Home, bought property in Lake Chelan, Washington and moved into my parent's garage apartment in Anacortes, Wa. We were blessed to be able to live there and save money over the course of 13 months (oh and have a baby) while we looked for the perfect rental in our new home town to be. We planned originally to start building our house fall of 2018, but have since moved back the start date to a more practical spring of 2019.
Here's a view of our property (click to enlarge). You can see more pictures here or in my Instagram Highlights!
Here's a glimpse of the house plan. You can see more plans by visiting the Farmhouse Design's page here!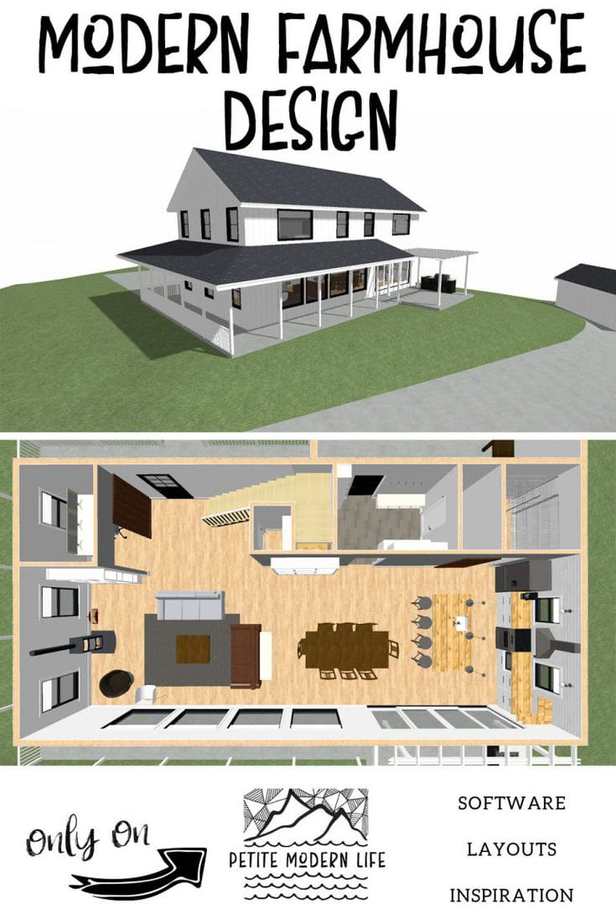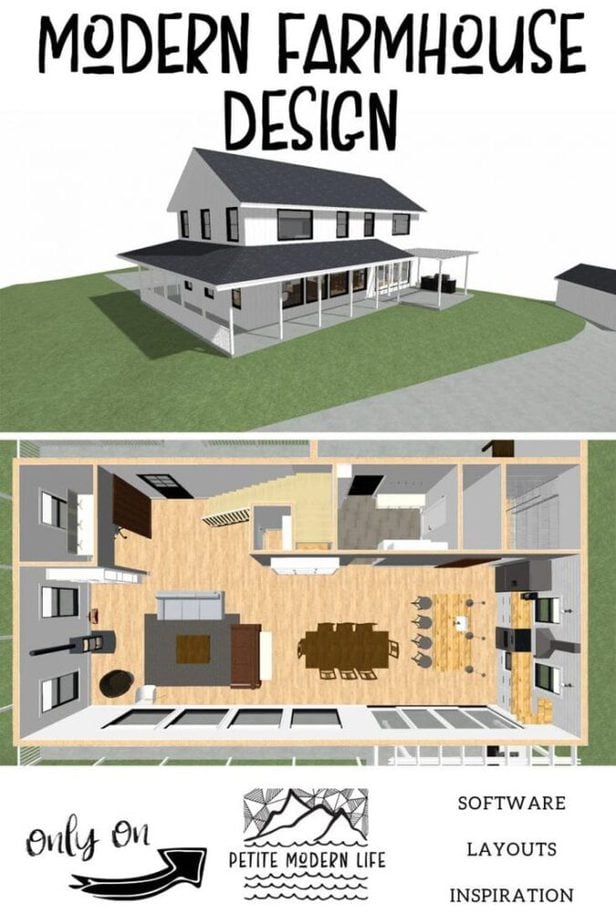 Now that you're caught up on how we got here, let me introduce you to our cozy rental! We were searching and searching and waiting and waiting for a 3+ bedroom rental that would fit our kiddos and our dog comfortably for what seemed like forever. When we least expected it, this rental popped up on a PHYSICAL bulletin board that our only friend in Lake Chelan happened to see in her hospital! What in the world? It happened to be literally down the hill, 3 minutes, to our property. Our property, which is almost 20 minutes up in the hills away from the town. We couldn't believe it! The little manufactured ranch house is 1400 square feet, fitting 4 bedrooms (two are pretty tiny) two bathrooms, open layout kitchen, washer room, a fenced backyard, and acres of surrounding empty land.
I wasn't allowed to repaint, but I count my blessings that the interior is a combination of beige, mustard, and white ceilings. With the amount of natural light and visual space provided by the windows and vaulted ceilings, I can totally deal with the color choice for a year+. In fact, I'd say it has stretched my design visions and skills to create a space I still love with colors I particularly do not. Thus we begin this design adventure with our
Ranch House Entryway Storage
I've been calling this house a Harry Potter house, because the space looks incredibly small on the outside, yet we've fit in all our many things (AKA our beloved ginormous sectional) on the inside! That sectional perfectly created a legit entryway area in the house.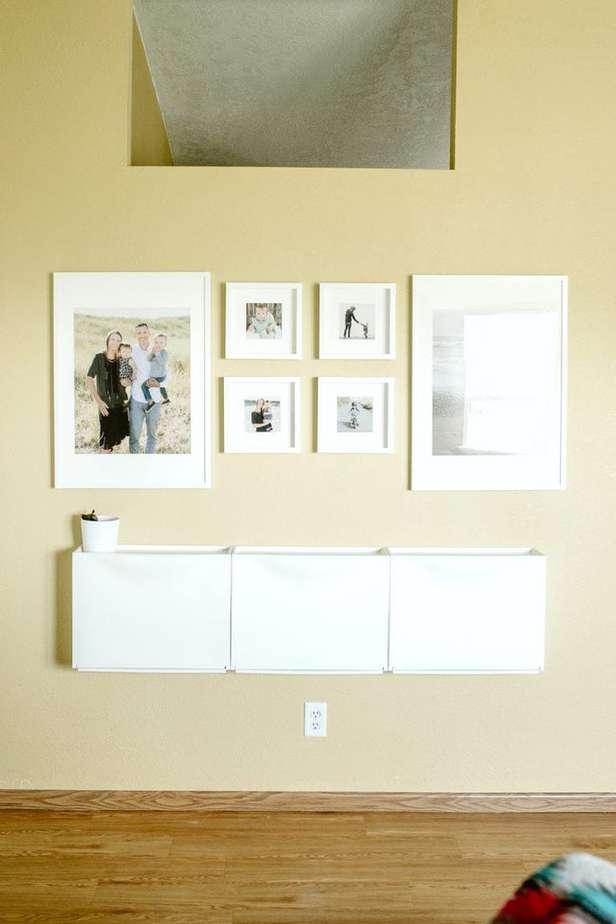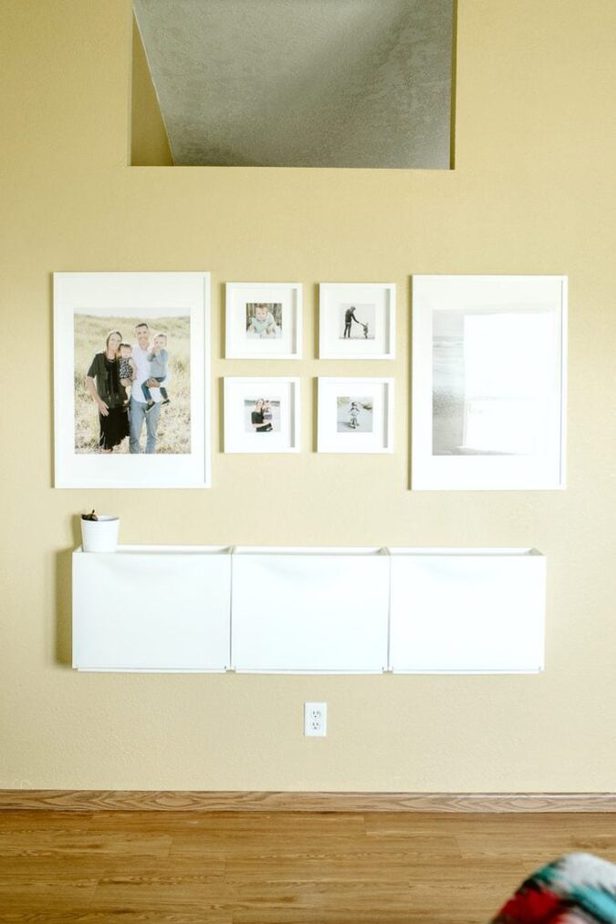 From the getgo, I knew we needed extra shoe, coat, and general drop-off organizing systems to keep the small house tidy. And when I think PML organizing, I only think of IKEA. So on a recent visit near Seattle, I took the rig and went down for a mom only Ikea trip.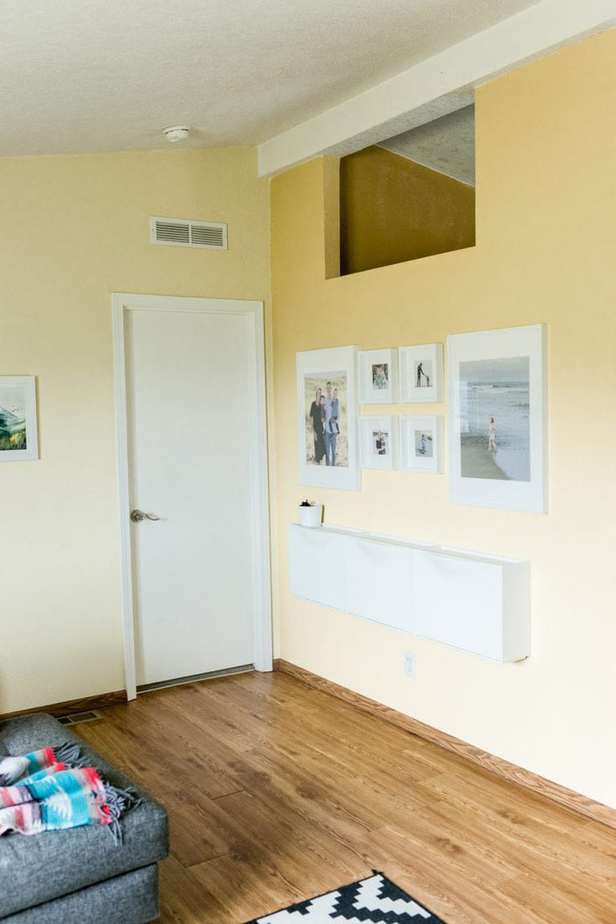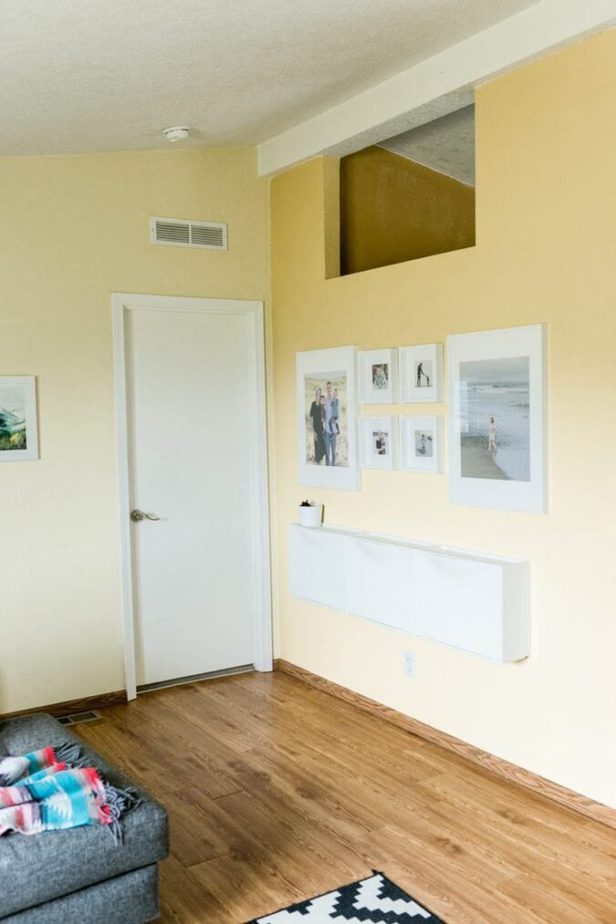 The gallery wall storage area was designed to be the welcome center for guests and family members in both aesthetic and functionality. Ikea really is my go to place for simple, affordable, white frames with mats. I printed off our family pictures at Miller's Photo Lab and LOVE the quality. If you ever have the chance to get your professional photos printed by a legitimate lab (no Costco) you will be SO HAPPY with the precision of colors, saturation, and contrast. I'm a photographer, and it KILLS me when my images are printed overly dark.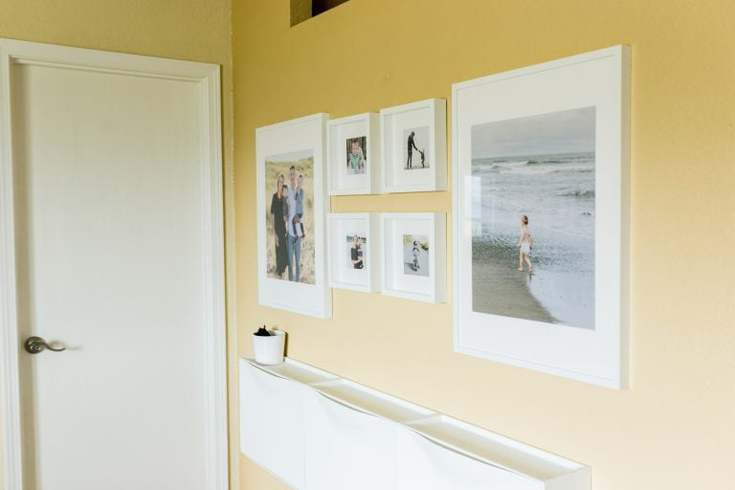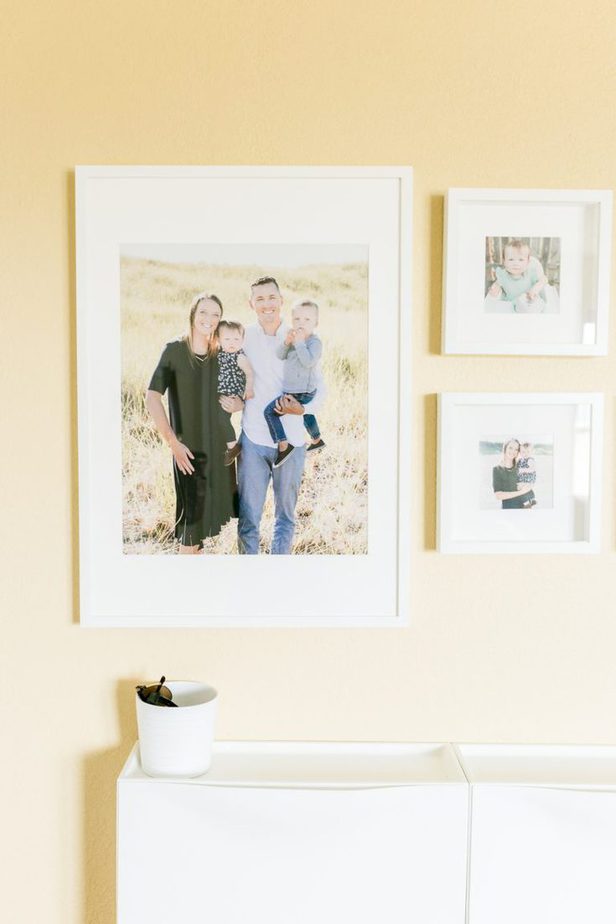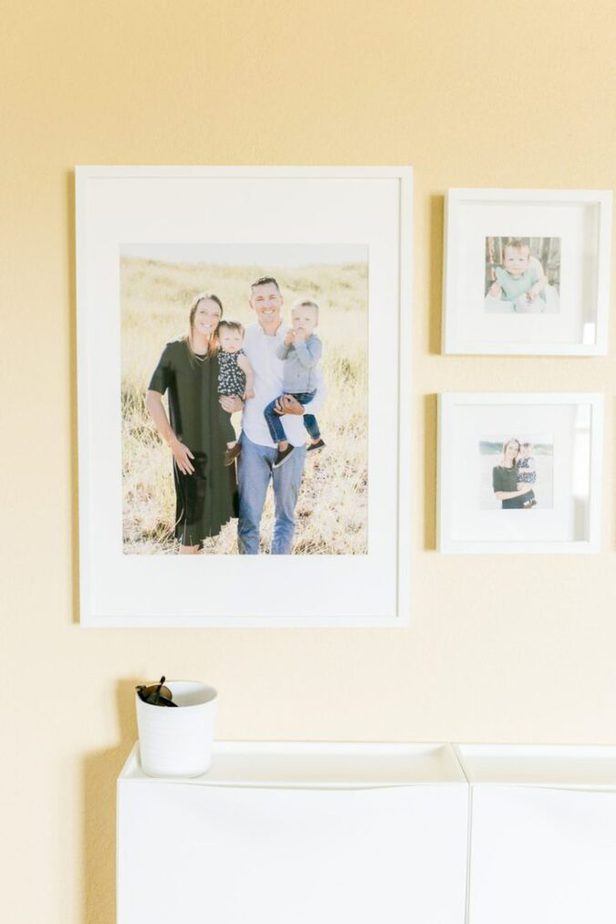 We mounted the TRONES storage bins side by side using drywall screws through their back holes. They're extremely lightweight, well balanced, and perfect for small storage.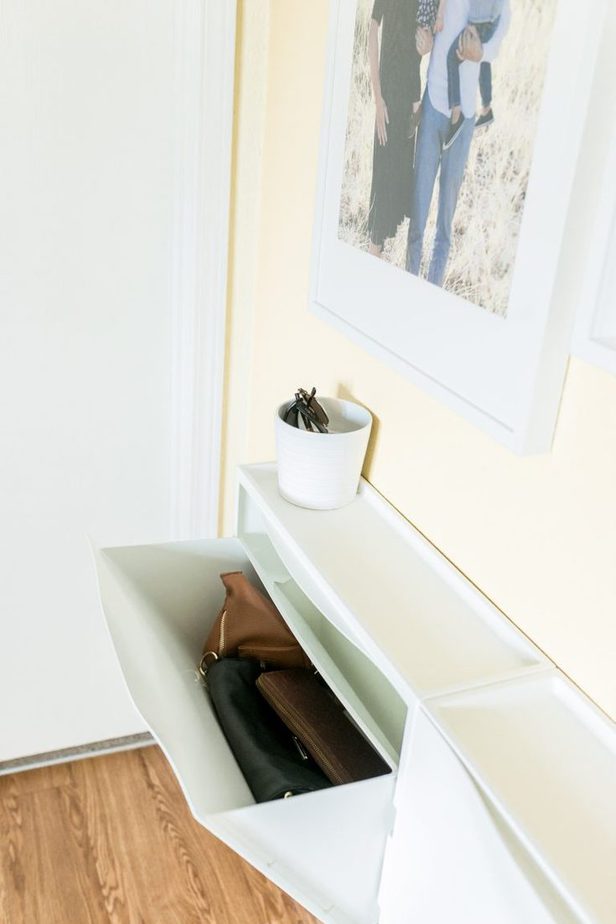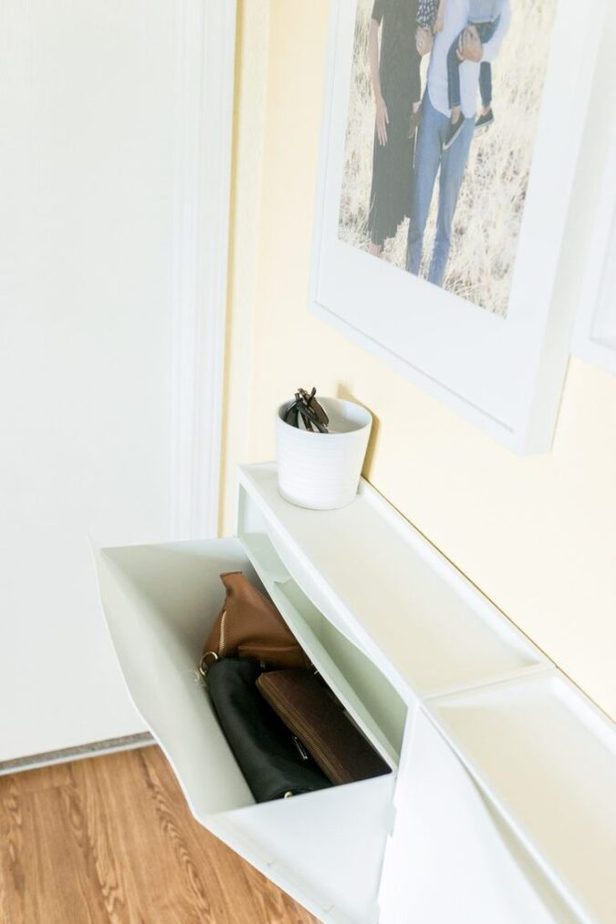 I'm currently using them to store my purses/fanny packs, planners and chargers, and my husband has a bin for his hat/sunglasses/wallet for when he comes home. The top jar holds my keys and sunnies for a quick grab and go.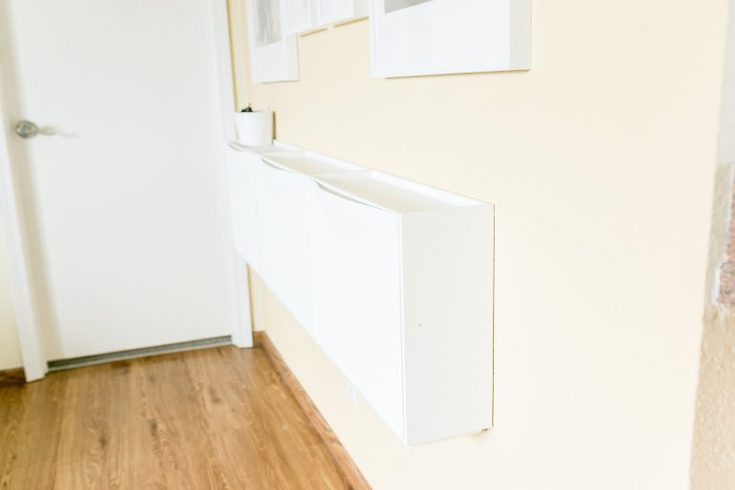 I absolutely love how narrow they are. Even coming up so close to our master bedroom door, they don't obstruct passage or pose a threat to my hips or my little one's heads. I will say I have to check in on them occasionally to see if my toddler has hidden something important (ie. the remotes)!
Then there's the entryway storage just in front of the door.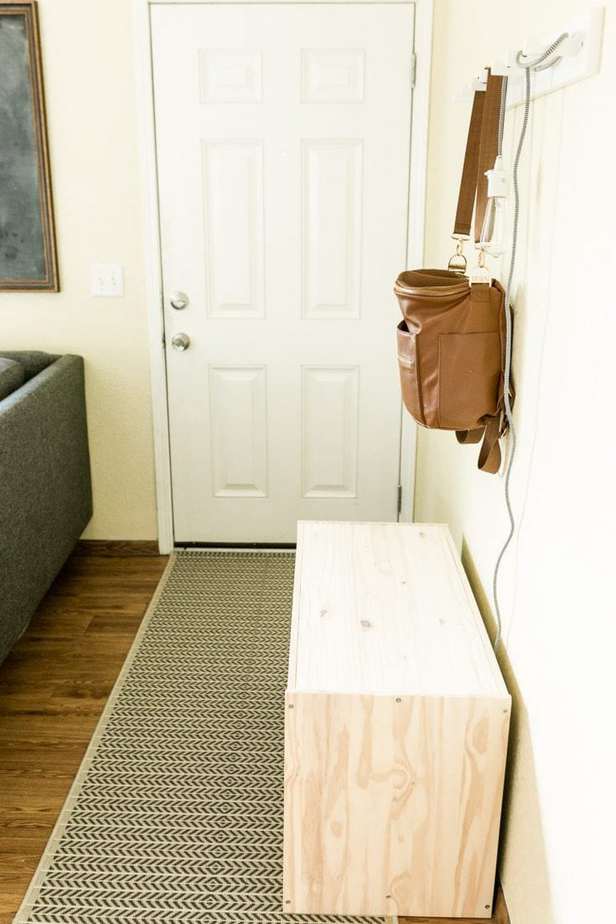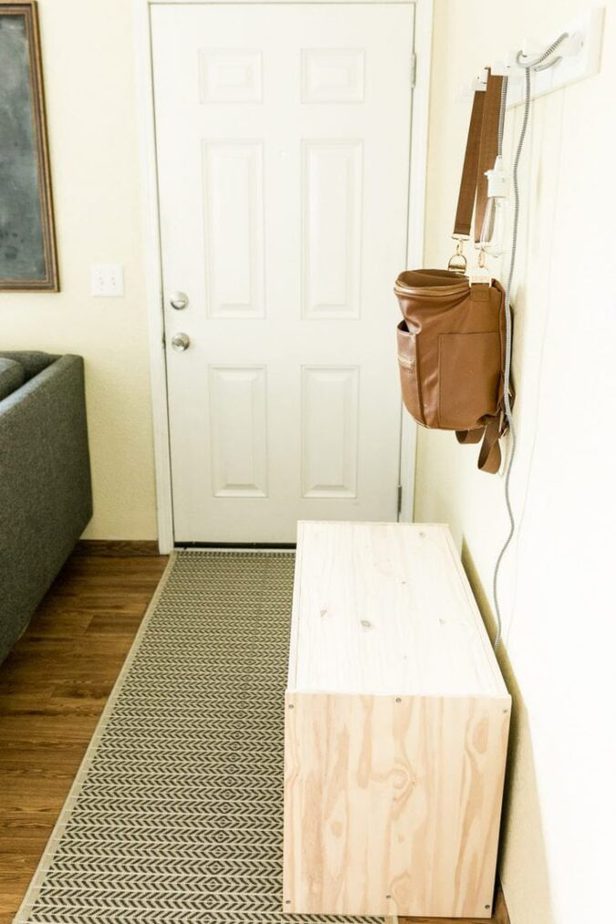 I purchased the rug, the TROFAST storage bench, and KUBBIS coat rack all from Ikea. (The pendant cord was a purchase years ago, but they still carry a version of it in the black and white pattern here.)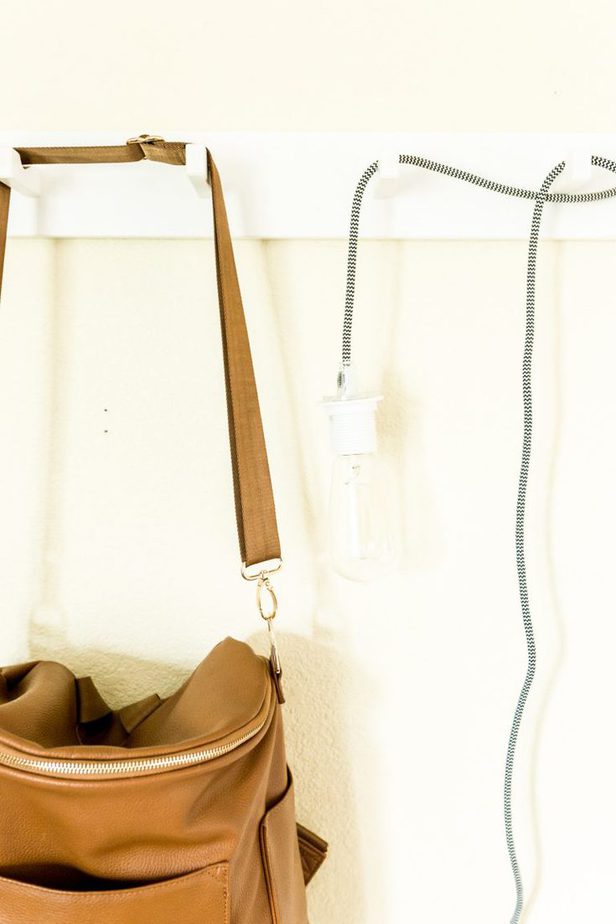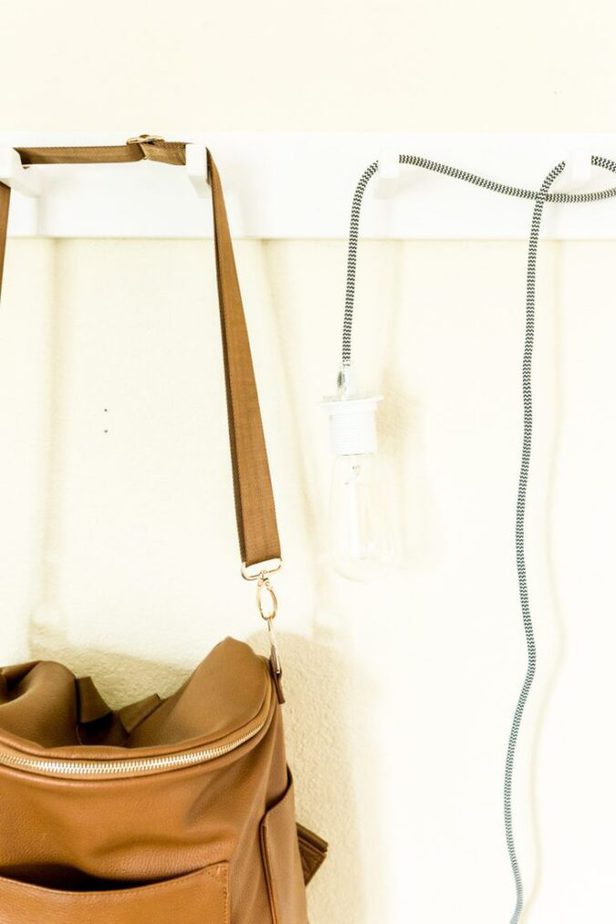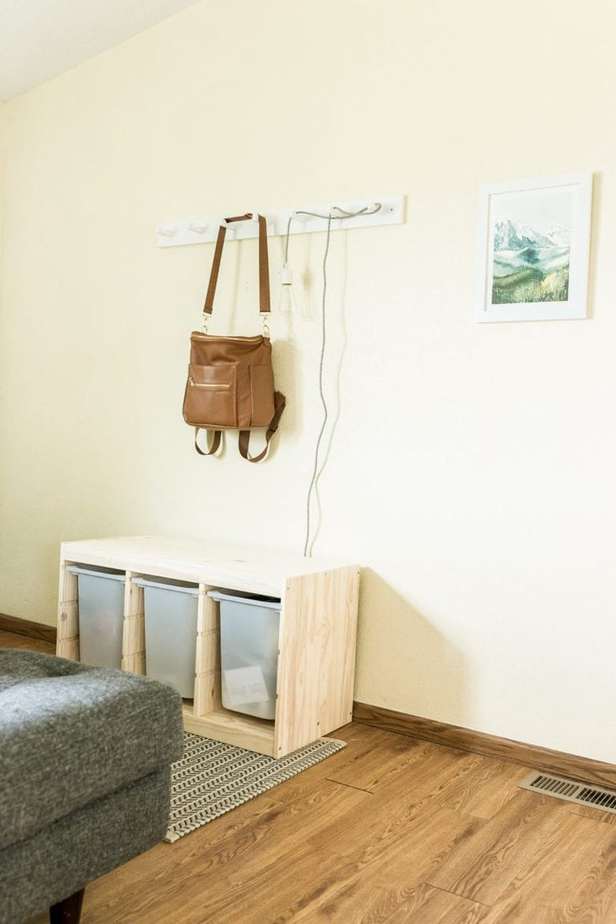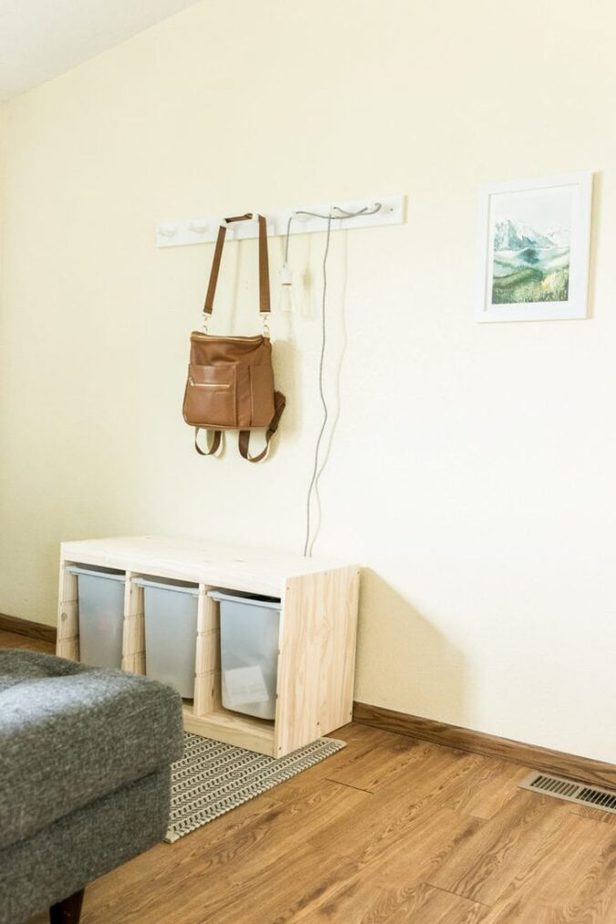 You'll notice that the bench has various notches that can accomodate different sized/multiple bins found at Ikea. I opted for the biggest because I know we'll be filling them up come winter with all our snow boots and accessories.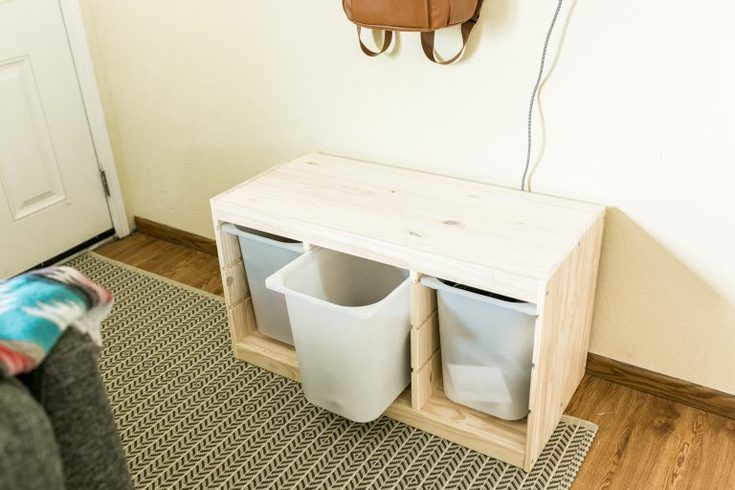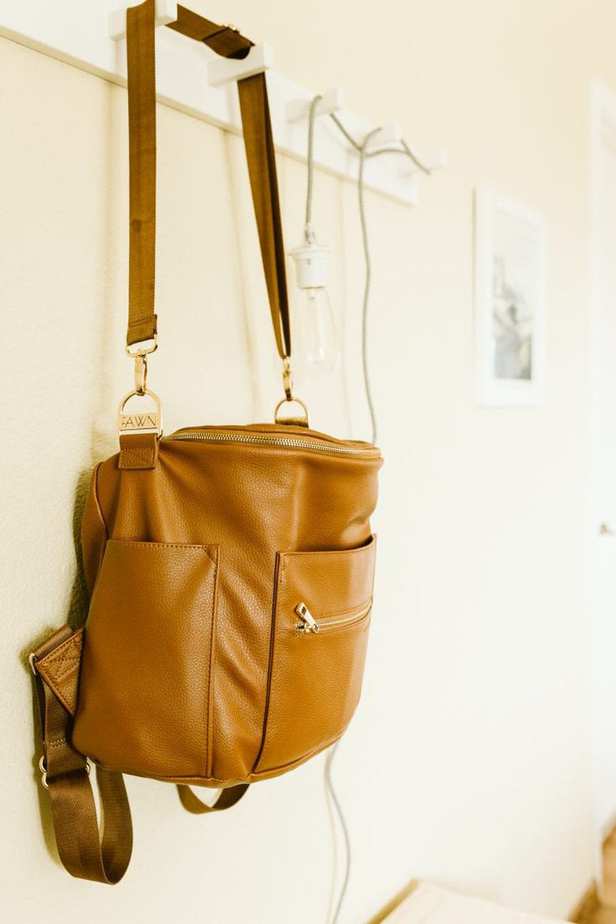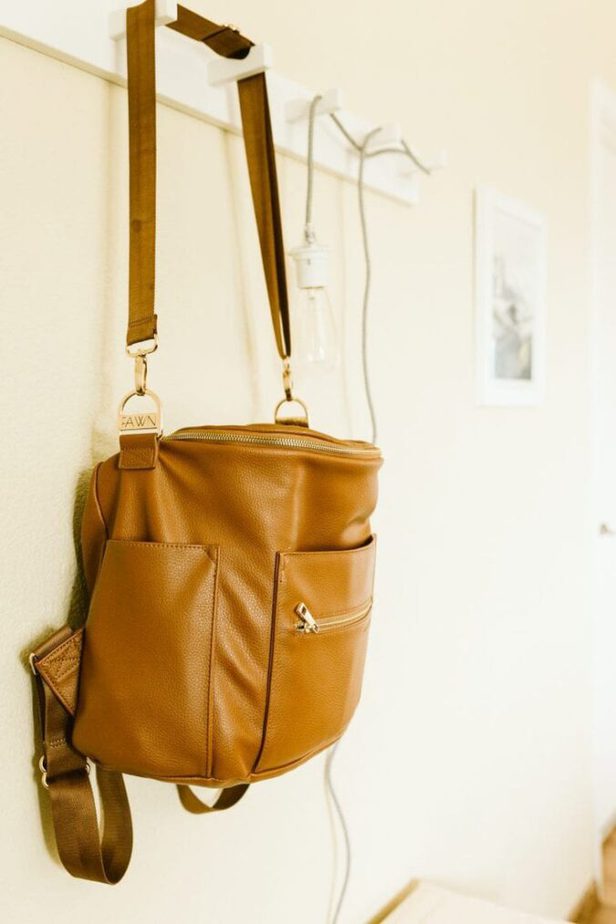 Thanks for diving back into the world of design with me on Petite Modern Life! I thrive in a functionally beautiful home and I can't wait to give you tips and tricks to bringing that into your own home. Sign up for my newsletter to stay in the know of new posts here! And follow along on Instagram for behind the scenes and daily living inspiration here.
Talk to you soon!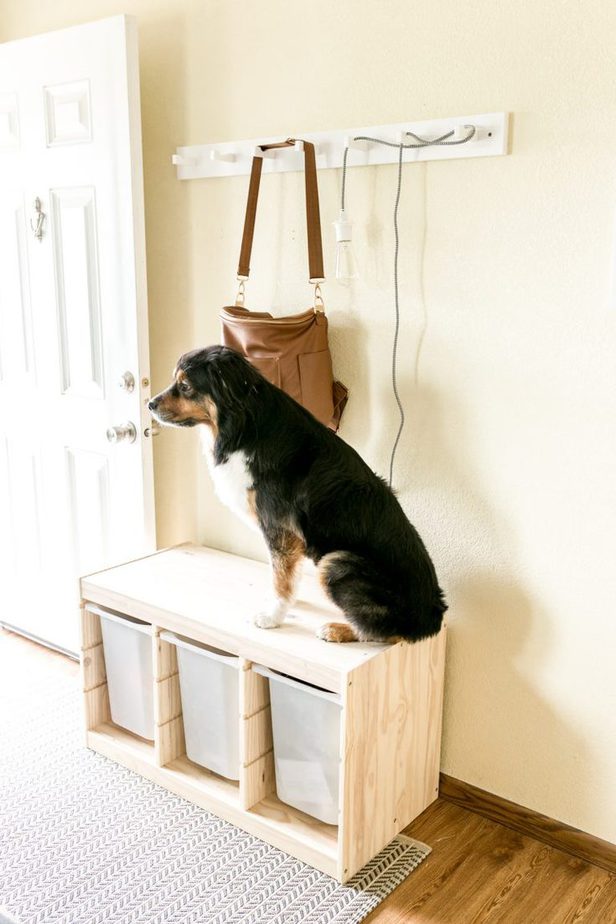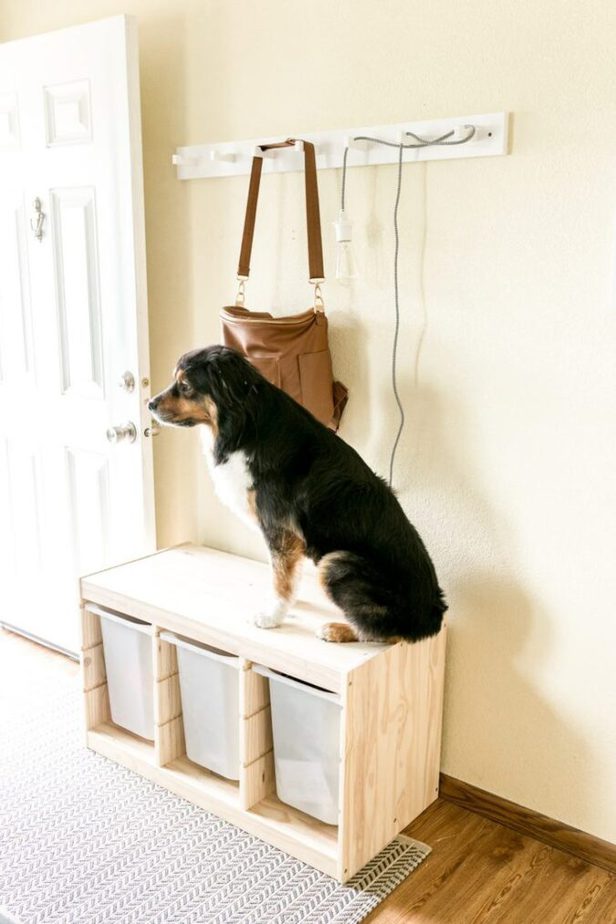 For the ranch house entryway storage and decor I bought the following items:
*Photography done by myself at Karisaanna.com! Beautiful original mountain painting by the talented Bri'Anne Parkin.