Not going to lie, sometimes I have a hard time committing to 'boldly' decorating in my house.  There are a few projects I'd like to do, but I just don't want to commit!  Like chalkboard walls. As much as I think they are fun and beautiful, I can' t seem to commit this one wall in our small space to it!
Yet that is.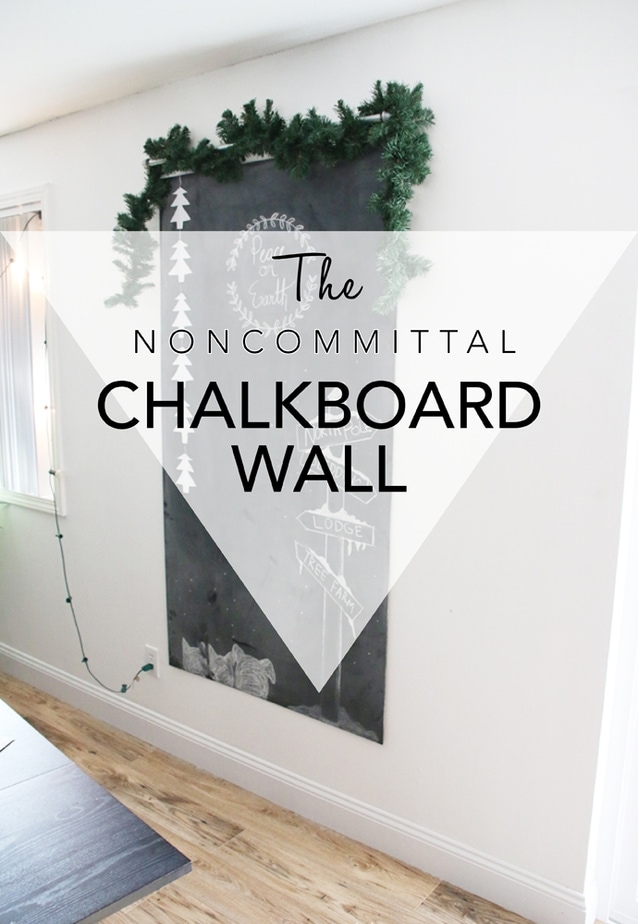 When I look at the pictures below, I think again, "I WANT that." Don't you? Take a look at these beauties below.
There is so much you can do, create, and re-create with a chalkboard wall! And it's black, which is one of my favorite colors for inside a house, like you'll see in my bedroom, entry, and bathroom! I wanted to use chalkboard paint where where I originally had the DIY Industrial Tapestry hanging. But, like a flaky date, I couldn't follow through.
So I decided to use some thin, and sanded plywood we had leftover (I have a feeling we'll always have leftover plywood laying around), and used that instead! It fit perfect under my pipe hanging rack..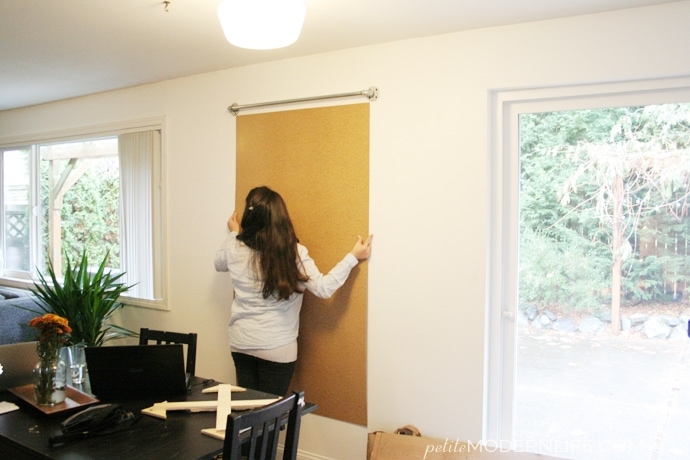 You're probably thinking, "Why not just use chalkboard contact paper?" Besides having the plywood and chalkboard paint already on hand, I read that the contact paper is best on a non textured surface for smooth writing. Our walls are anything but smooth, so plywood it was!
The thinner the plywood the better for this project. I wanted my to be as flush against the wall as possible. With thin plywood you don't need to worry about getting screwing it in right on the studs, so there's more freedom of placement!
You can get all  you need for this project right at your local home improvement store! They can point you to the right wood and cut it to size in store! No need for a saw or mess back at home.
Then I used Rust-Oleum Chalkboard Paint
 and a high density foam roller to do two coats on the board. Truth: I always do the minimal amount of drying time minus some and it turns out fine…Again, I'm an impatient diy-er. After it had dried we screwed it into the wall with black screws. Because the plywood was so thin and had been in various positions in our garage, it had warped slightly off the wall. Luckily, the black screws camouflaged well so we just added one on either side of the warp.


I love the way it turned out! Just in time for Christmas decorating. And the pipe mount will be great for hanging other items off for the rest of the year! It might just convince me to paint that whole section black.. Oo lala, we shall see, we shall see.
So if you think you love chalkboard walls but aren't ready to commit to that particular relationship, then this project is for you! Do you already have a chalkboard wall at home? Share it with me on Facebook or send me a link in the comments below!
Cheers!