Hey there! We just got back from a quick weekend in Lake Chelan, where we own property and plan on moving someday, Lord willing, soon.
What's the holdup?
We've been biding our time at my parent's apartment because, well, we're saving a ton of mula, which is going towards getting the smallest construction loan possible for the house. Do we want to be over there? YES! We fall more and more in love with the place each time we visit and cannot wait to be there building community and settling into a new town. That said, we're on the lookout for the perfect rental that doesn't require a year long lease and that will allow us to bring Moose pup with us. The sticker is that Lake Chelan is a vacation town so EVERYTHING is a vacation rental and no one wants to lose out on those vacation $$$ to rent long term. We're optimistic that things will work out.
When I start getting antsy (ok ok, complaining) to get a move on, my husband keeps reminding me what good ole Mr. Dave Ramsey say's, "Live like no one else now so later you can live like no one else." *sigh*
When's the big build going to start?
This past weekend we talked with our builder and got an idea for when/how we can break ground on the property! He thinks this fall, probably starting in September or October. As we get a bit further along in the process, we'll let you know the various steps that are required. Right now we just need to finalize our house plan and submit it to a home designer and structural engineer to check over.
We've been doing all our own house design using the software Chief Architect. It's amazing software that shows your house all the way down to the studs and all the way up to a 3D walkthrough! Look for a post sharing a peek at the farmhouse soon! Sign up for our newsletter so you don't miss it!)
[stnsvn-button-large url="http://eepurl.com/ceQ8hz" button_text="Sign Up For Our Newsletter"]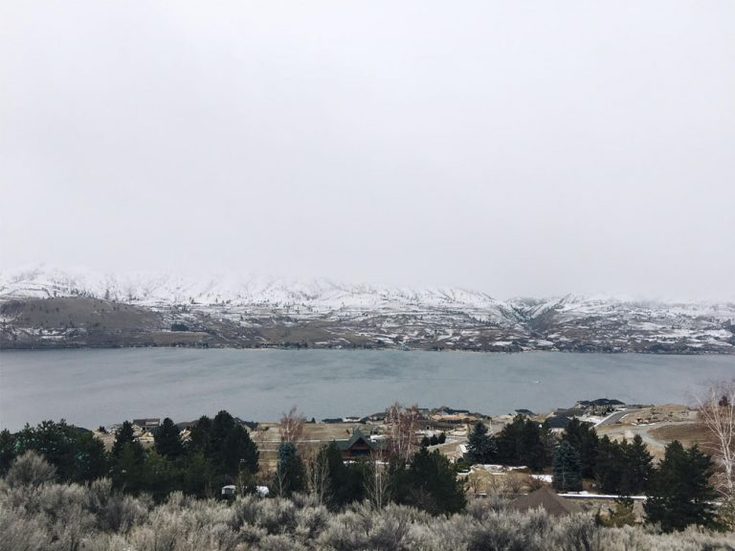 Tour The Property!
I took a little video tour of the property and shared it on my Instagram stories (now in my profile highlights section). But I decided that I needed to share it on the blog too, so here goes my first YouTube channel video. (I'll start filming horizontally for YouTube for now on *facepalm*)

What do you think?! I'll answer any questions or comments in the section below.
Oh and here's one more picture from our stop over in Leavenworth (one of my favorite towns in the world). It was snowing buckets. By the time we got to the top of Steven's Pass we couldn't see a thing and they were just closing the pass to any more drivers. Our trip went from 4 hours long to 7+ hours long, but we survived and the kids were troopers!