I've probably talked an annoying, and perhaps unbelievable, amount about our modern farmhouse design. "Unbelievable" because I've never shared any of it with you! Why you ask? I think it's because this house design has become one of my husband I's babies. We've spent the last two plus years working on this design here and there on weekends or when inspiration hit us. Each floor and room has been tweaked in every way imaginable like a Tetris game to give us the layout that fit us best.
We used Chief Architect Home Designer Pro to design our house.
But after going through a final intensive checklist last weekend, we're now ready to send our plans a home designer! Which means I've been given the green light to share our baby with all of you!
Today I'll share the full house aerial view of each floor. The following posts I'll take you on a 3D walk through of all the spaces along with what I'd like to see in them, paint color ideas, etc. I'm so excited! It's starting to feel real friends.
Without further ado, here is the house!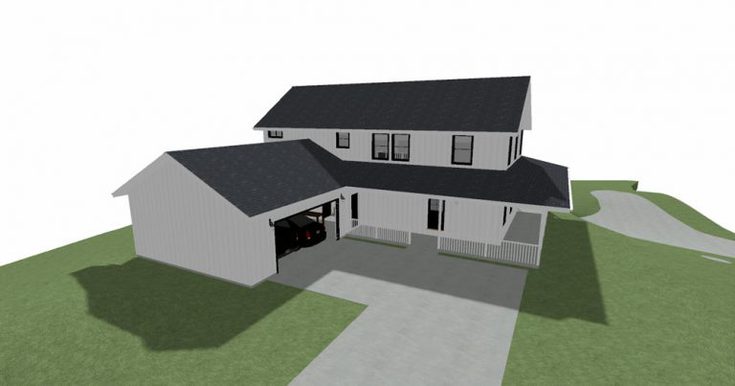 We tried versions of the house with the front door on the end, but it kept clashing with our staircase, so it was a no go.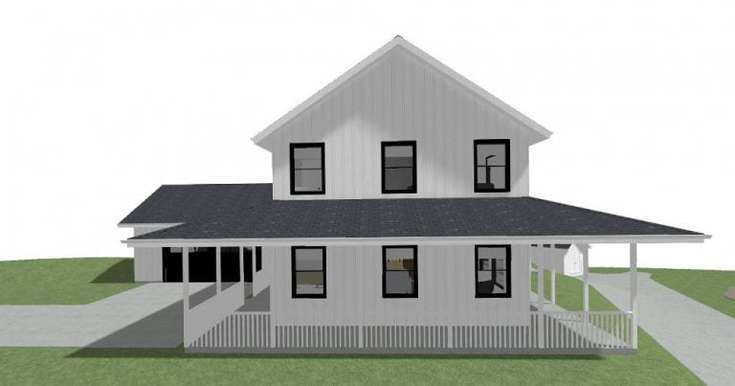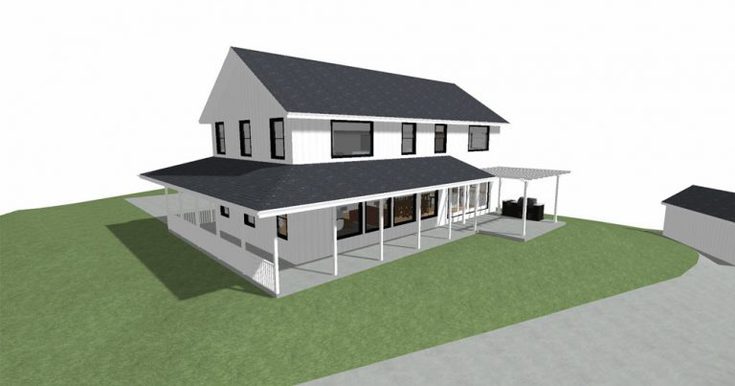 We like the idea of having a porch flush with the ground (or as much as possible). The window placement was a funny process. If you've watched our Instagram Stories, you've seen how they've been constantly changing shape and location! You'd think symmetrical windows would be a given, but as rooms changed shaped, we'd have to move the windows around as well! The windows on the ends open and close because that's the direction the breeze moves up and down the lake. The sun will be facing the back of the house the majority of the day.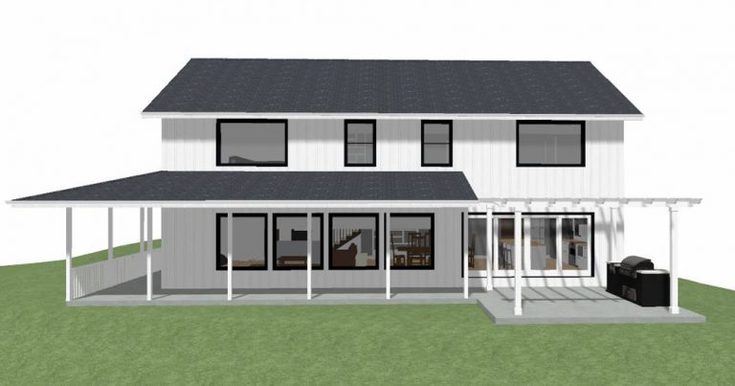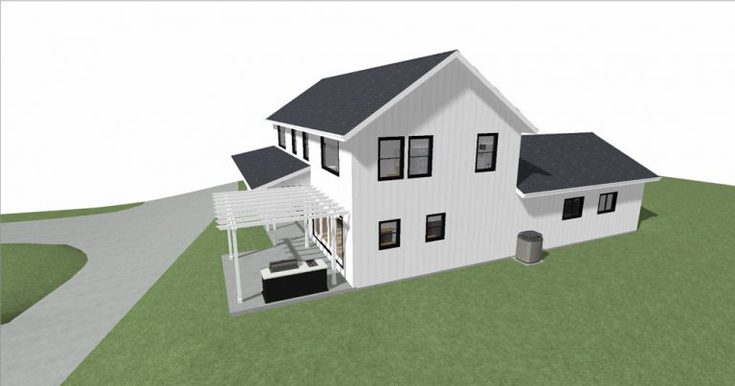 We've always dreamt of having an open air kitchen. So we designed a 14 foot sliding patio door and rather than a roof, opted for an open space, likely a pergola. This part of the design isn't what the final look will be, but a placeholder for what's to come. The outside box is our AC unit.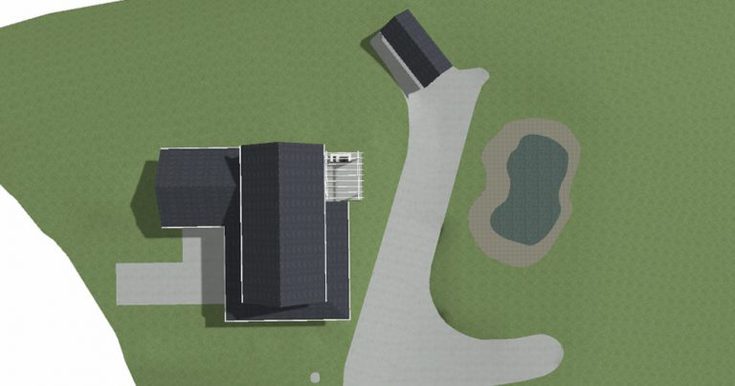 Here you see the pool on the right, the pool house shed, and the house. The gray is the current gravel from the previous RV pad. We plan on turning it into a grass play area (and fencing the pool.)
Alright, let's go inside to the first floor!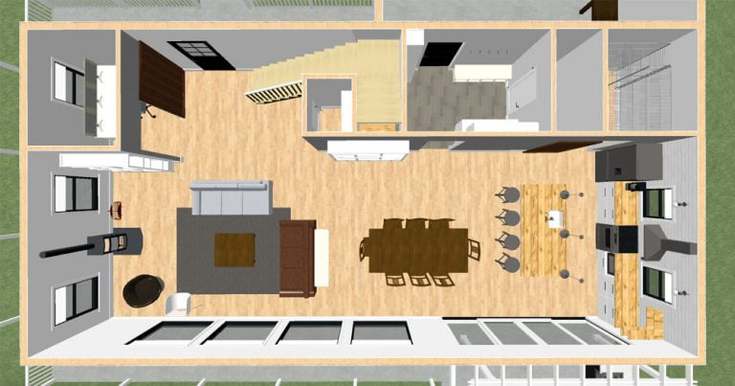 Welcome to the first floor of the modern farmhouse design! We opted for an open floor plan with
office
entry closet
mud room/ laundry room
powder room
& walk in pantry
Just to save some face, the shelves against the walls are not the shelves we'll actually be using, but placement holders to see how far a shelf sticking out would look. The house design software, without any add-on's isn't as modern and fresh as we are. ;) So we'll have to dive into that now that we have the actual layout established!
I'll talk more in depth about the rest of the space in following 3D walk through posts.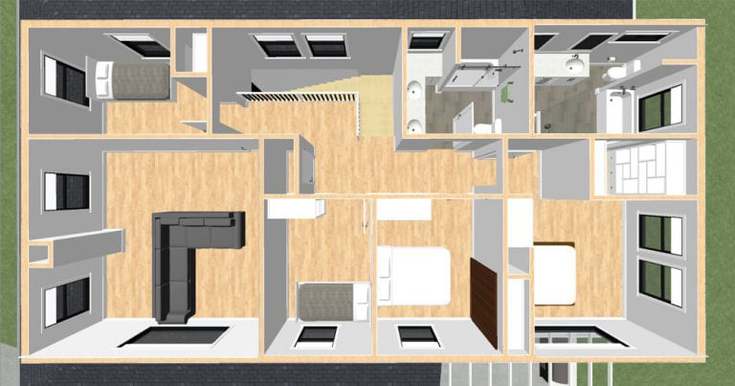 The second floor has
kids bath
master bedroom with walk through closet to master bath
guest bedroom
kid's bedroom (with built in closet)
hall closet
rec room (with chimney flu)
kid's bedroom
We wanted our living floor to have maximum sleeping space for our kids and guests. The rec room will either have a murphy bed or a loft with two twins (!!! loft !!!). Every corner room has abundant windows to bring in aaaall that natural light I'm obsessed with.
I'm looking forward to finally diving into more design work of the actual spaces now that we have the layout down. Sign up for the newsletter so you don't miss what's new!
[stnsvn-button-large url="http://eepurl.com/ceQ8hz" button_text="SIGN UP"]
Do you have any questions about our process and design? Ask below and I'll be sure to answer in upcoming posts!