I haven't shared many pictures of the master bedroom because it never felt finished. What I think I mean by that is we never got around to putting together the second nightstand. Yes, it's still in a box somewhere waiting to madeover like the one in the picture. But because the bedroom was clean and spotless for our listing/touring pictures I decided I'd just as well photograph it because I really do love this neutral calm master bedroom.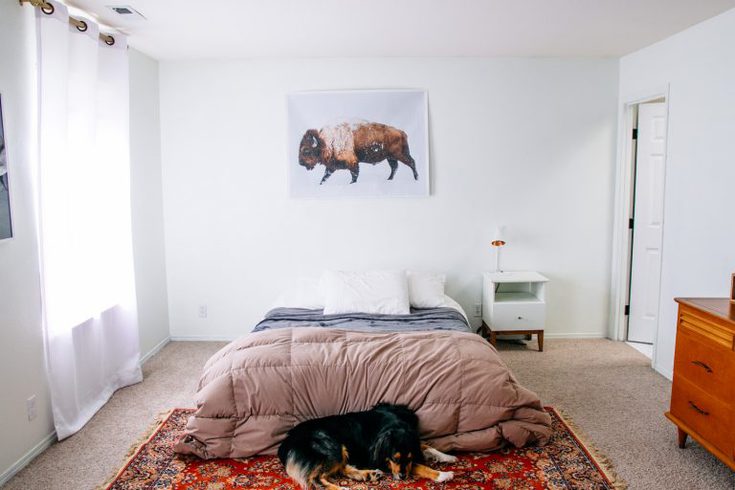 Originally our bedroom was a darker taupe, which was very pretty and cozy, but I wanted to make it bright and airy, so I went ahead and painted it all white. I used Simply White by Benjamin Moore.
Here's the before color and our old black bed frame that I was tired of so I gave it the boot and put the bed on the floor. My husband and I both actually like the bed on the floor. It's cozy, you never have to run into bed corners (no more stubbed toes!) and the baby can crawl on top without help for a cuddle (and not have a far fall) which is the best!



I printed the engineer print using Parabo Press with one of their many discounts. The print itself I found on Etsy at the LILAxLOLA shop. My dog growled at it the first day it went up, and seeing how its almost his size, I can understand why.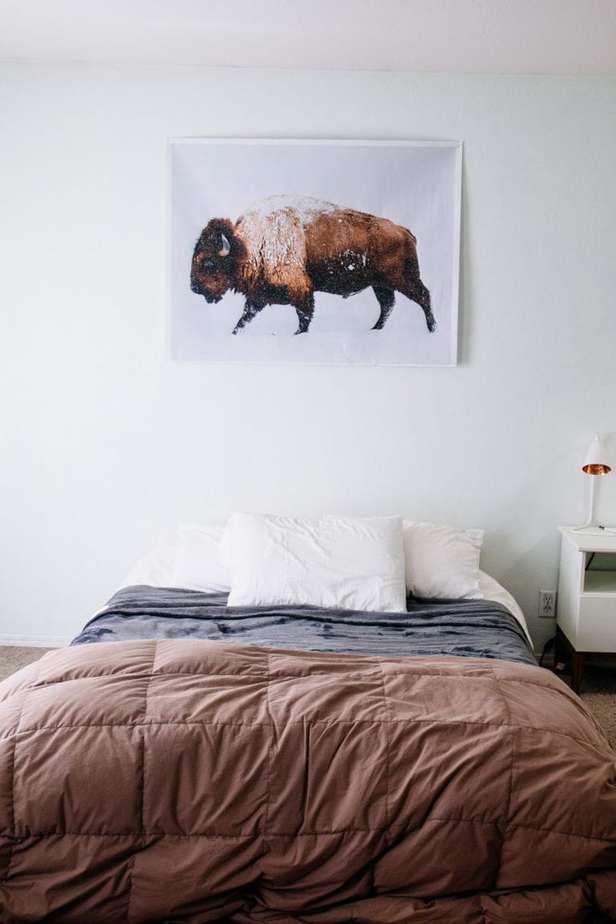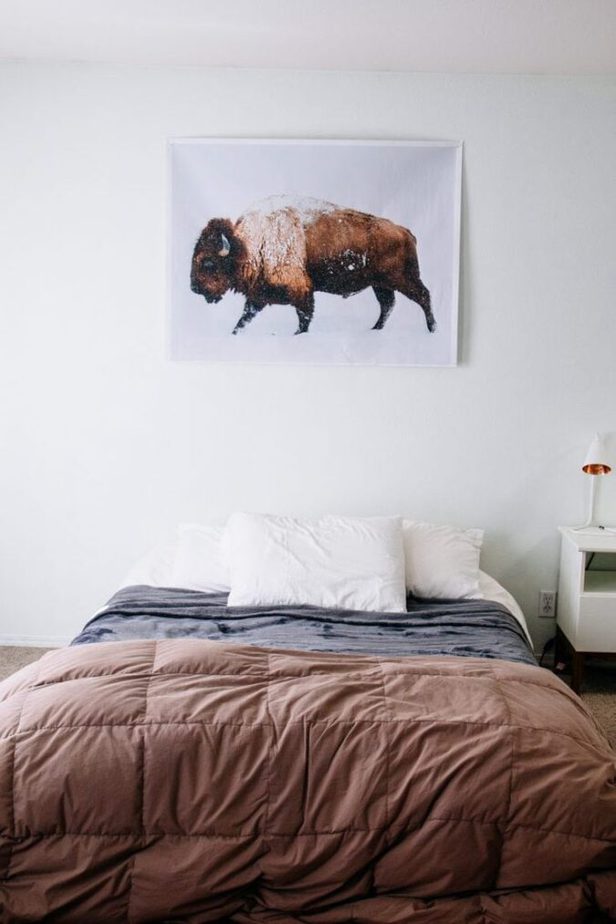 I loved that the master bedroom had two windows with great daily lighting. It makes curling up on the bed during nap time so peaceful. Hanging the gold curtain rods practically at the ceiling gives the illusion of sweeping tall windows in the room. Combined with the white curtains, I feel like I'm in an airy hotel. Which is exactly the mood I was going for: Neutral calm bright airy : a retreat for the senses. The print comes from a beautiful collection of Icelandic Roads I purchased. There are so many gorgeous backdrops in the set that can be printed at enormous or small sizes.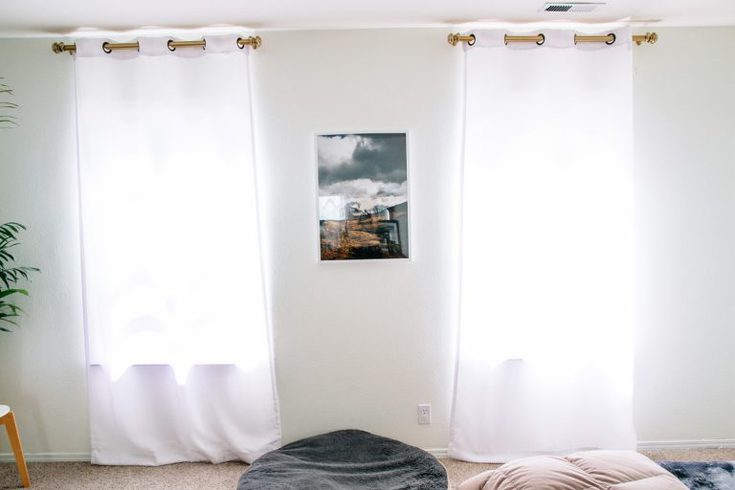 One of the greatest features about this house was the amount of closet storage like the his and her master closets. #spoiled
The plant on the chair may look like a statement piece, or like I'm trying to make that height illusion again, but honestly, it's just to keep little toddler fingers out the dirt and leaves! The plant, pot, and chair are all from IKEA.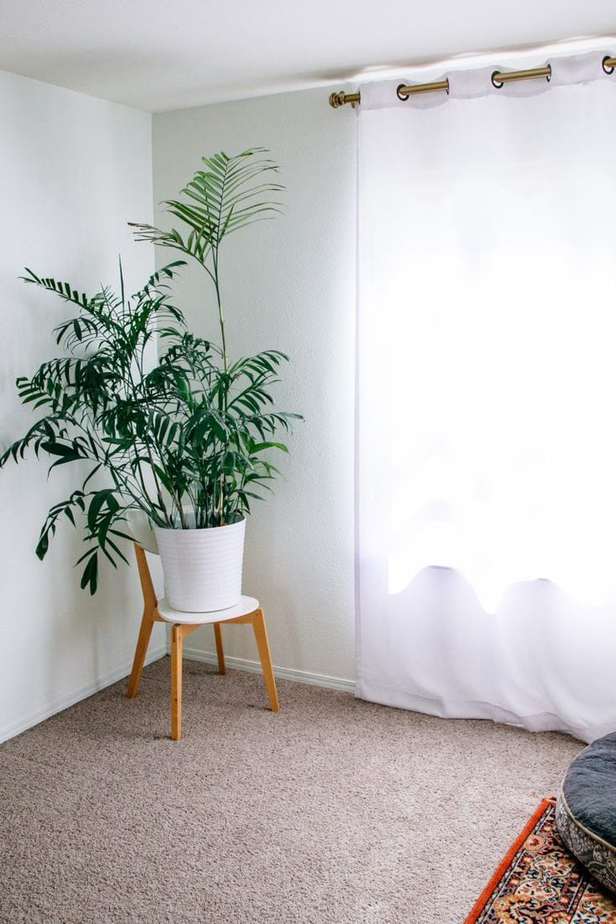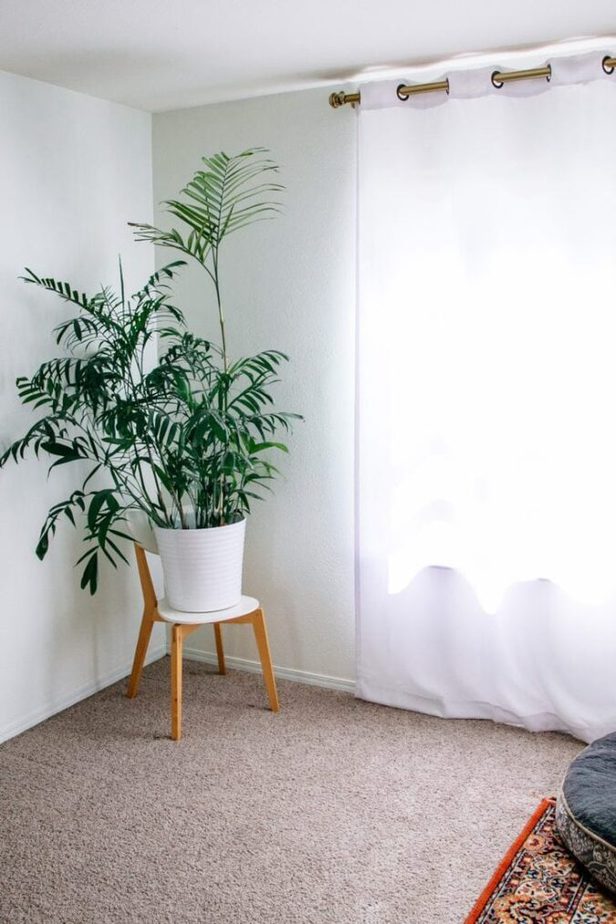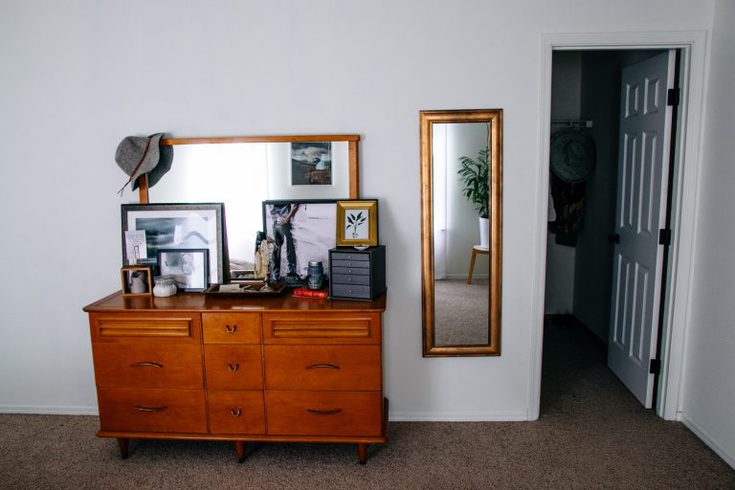 Here's a peak into my clean closet! This is really more so to remind myself that it is indeed possible. The fact that I put away my winter and non maternity clothes (Ok, all my clothes.) might aid in its cleanliness as well. ;)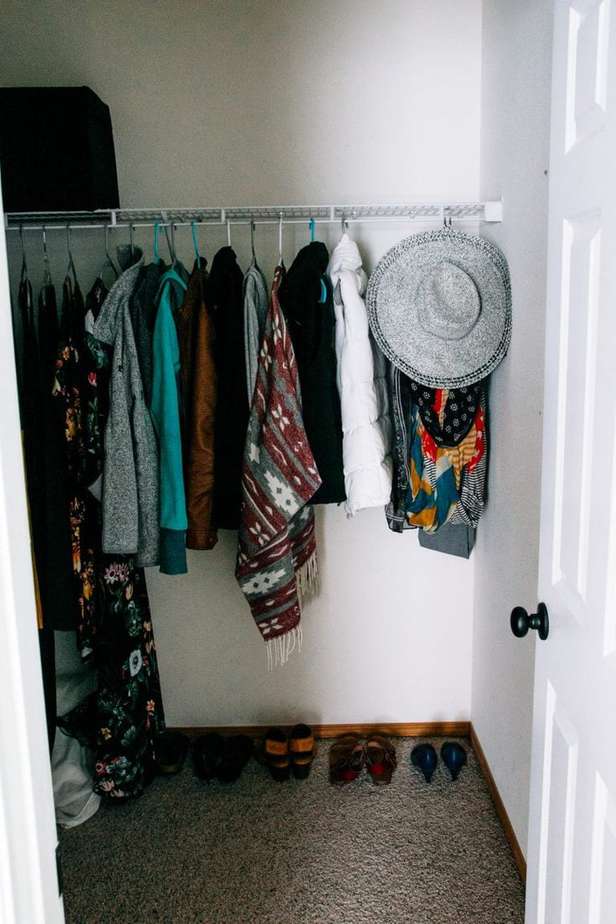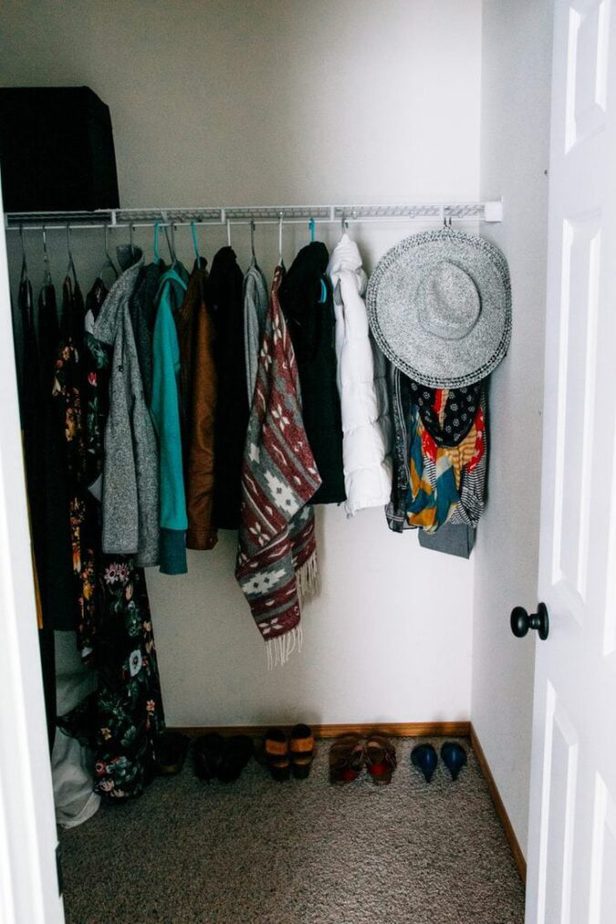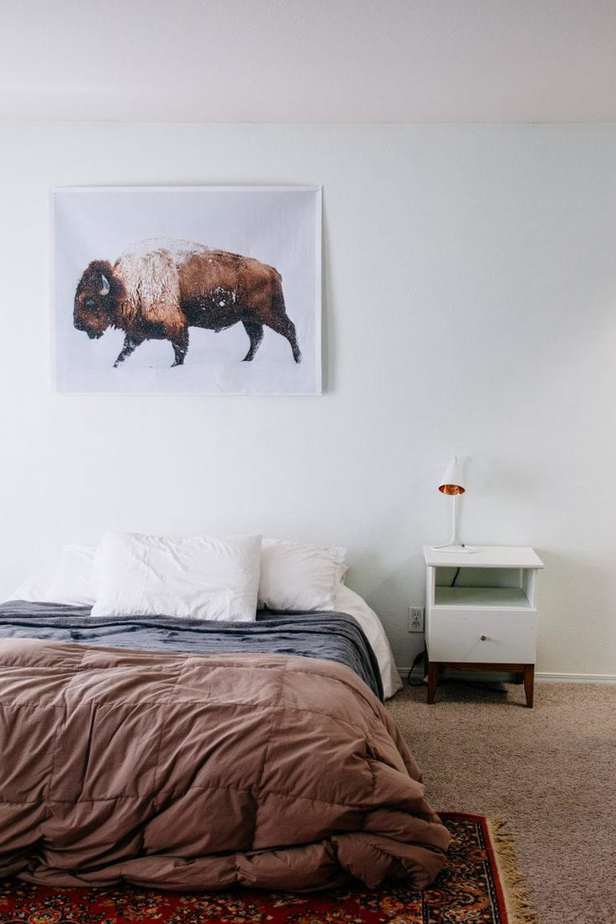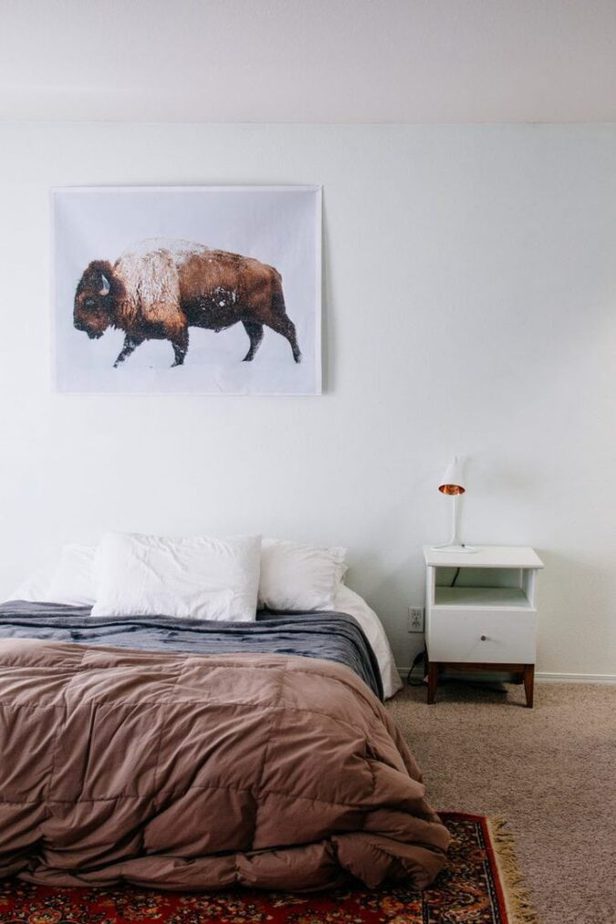 I scored the lamp on Urban Outfitters before they stopped selling it.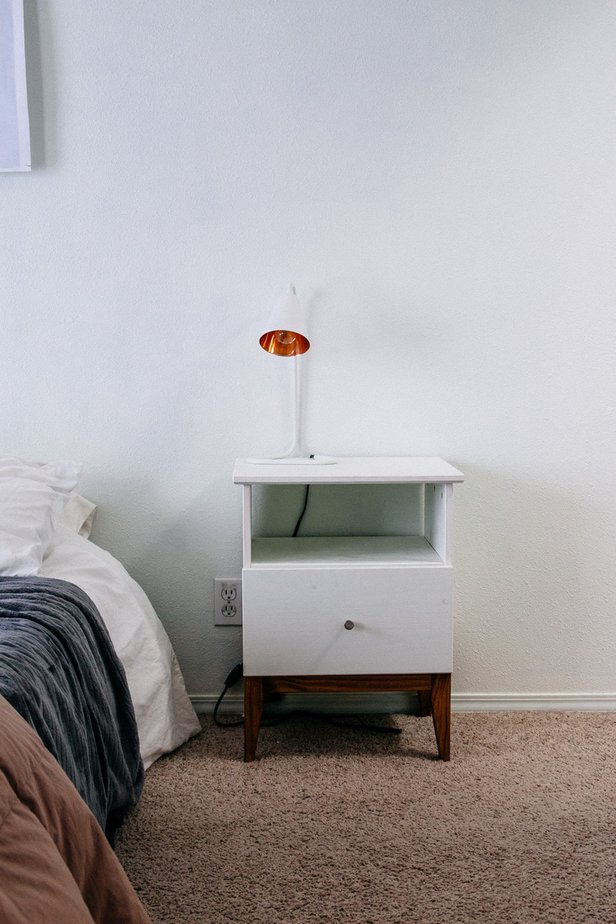 Even the bathroom was kept spotless for days straight with people viewing the house. It's a miracle how this happens and yet really should be how we live in our house everyday… If you haven't seen our bathroom makeover, see the before and full reveal in THIS post (recently shared by Apartment Therapy!).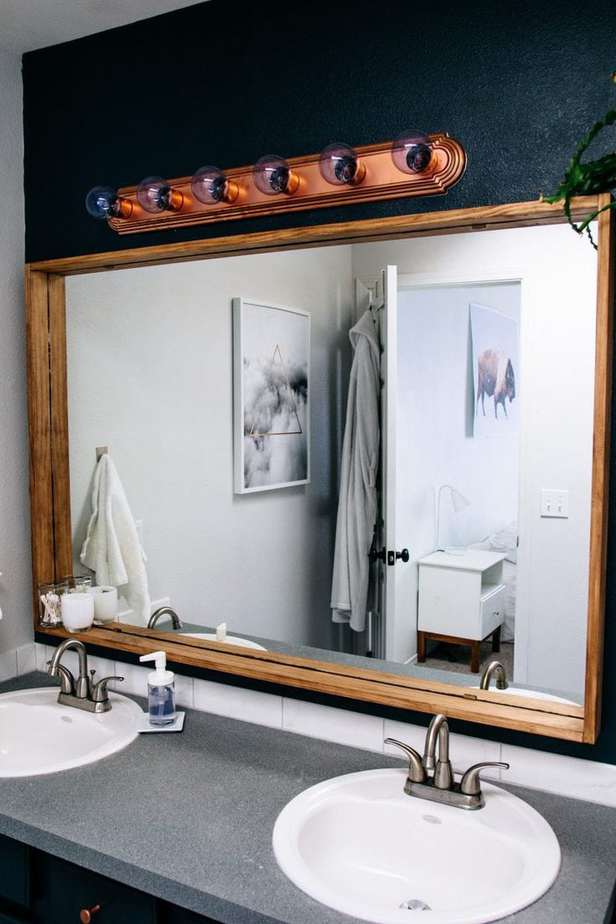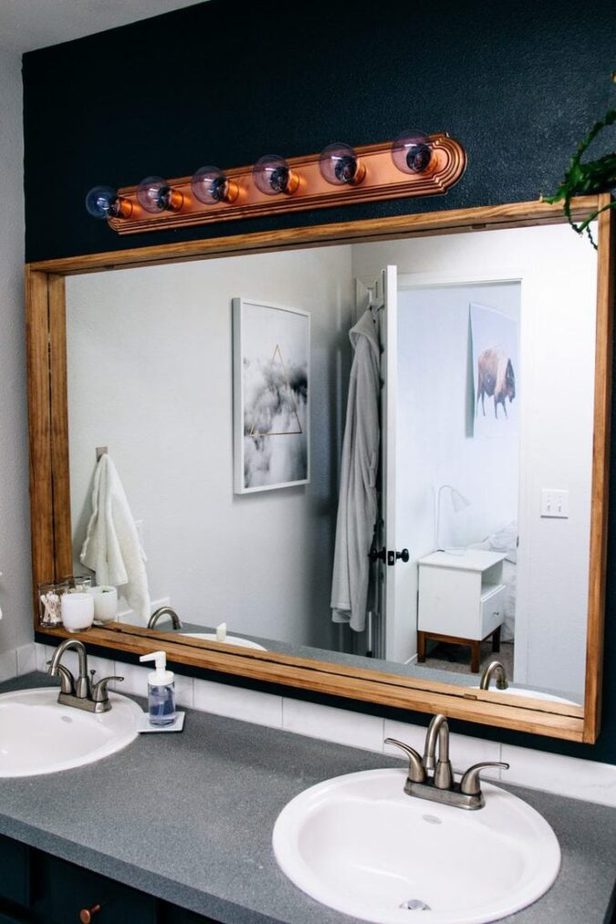 Moose wanted a cameo main role in this shoot, so I had to oblige.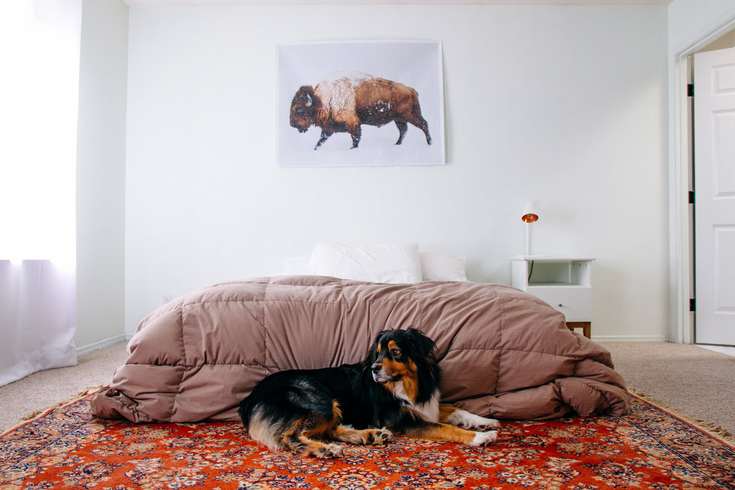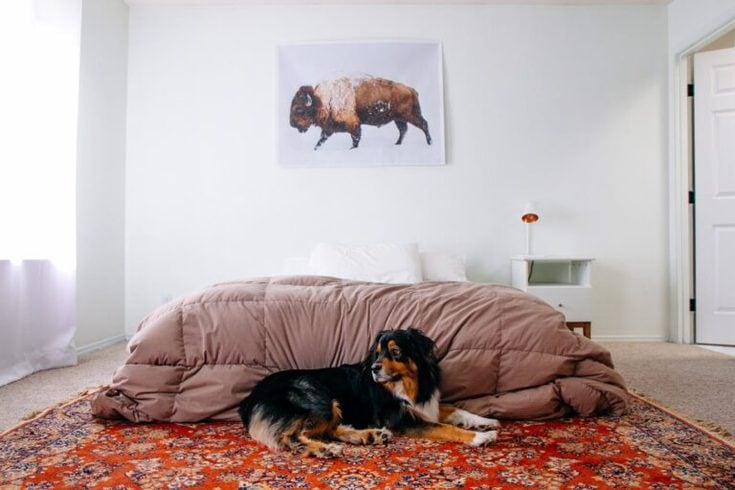 And the rug was a $60 craigslist score. I would never say orange is a decor color of mine, but when I saw it I knew it was perfect accent for the white neutral calm master bedroom.
Thanks for stopping by!