My little tot turned two! I'd like to say "I can't believe it," but that would be untrue with all the two year old shenanigans he's been getting into! Loud noises, trucks, driving his food around, boots, hands, and toys in puddles (or any water source), dumping things out, watching construction sites– he's one busy dude! Among his favorite things are the moon and stars! So throwing a "love you to the moon" birthday was a no brainer!For his first birthday I through him "A Wild One" party. It was great! You can read all about it here!
Here was my party vision…
star sticks / silver streamers / blue stars / gold stars / star light
curtains / tiered tray / star balloons / candle holder
For inspiration I love this moon drawing by artist Anna Taylor from Line and Feather: (etsy shop). And I also love all the fun party details in this moon birthday on A Beautiful Mess!
The rocket ship above was a fun picture I did with Reuben as part of our magical instagram series. (More details on those soon!)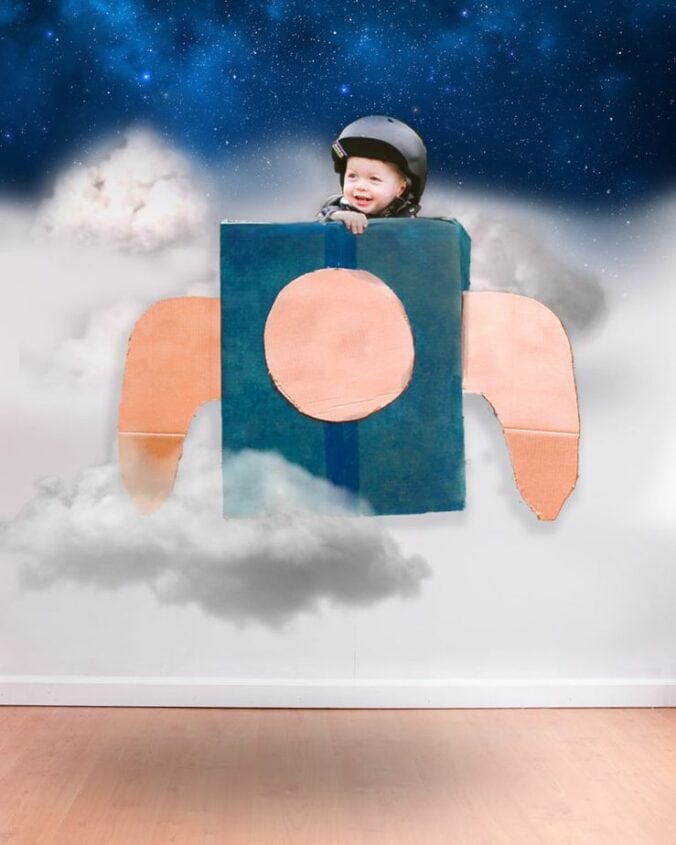 And of course we need a cute birthday invitation for the event! These invites were hand drawn and designed by the talented Emily Skinnner over at Pedaller Designs. Emily You'll be able to purchase this to the moon and back invitation from her shop soon! Go check out all the other cute party designs she's made to inspire your next party!
Emily is a hand lettering artist and graphic designer that is on a mission to help busy moms make sweet memories with their families and loved ones. Life is too short to settle for anything less than paper goods that make you feel a little spark of happiness just looking at them. I design invitations, cards and paper goods that are bright and fun so you can make all life's best moments extra special.

After Reuben and Ava went to bed the eve of his birthday, I decorated the apartment with stars, a streamer backdrop, his rocket ship, and a new chalkboard cupboard. This was his expression when he woke up…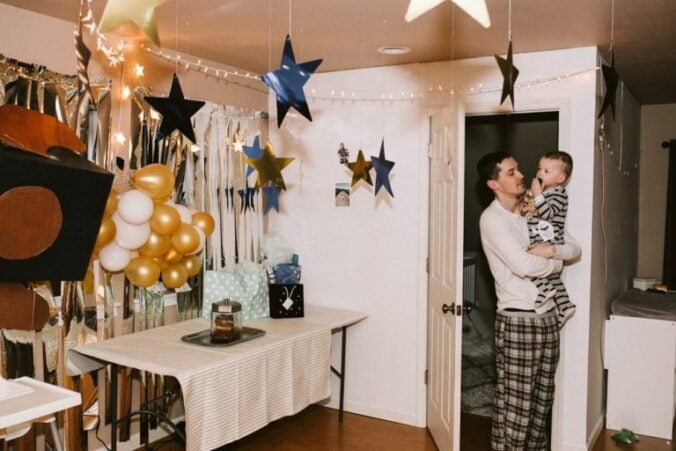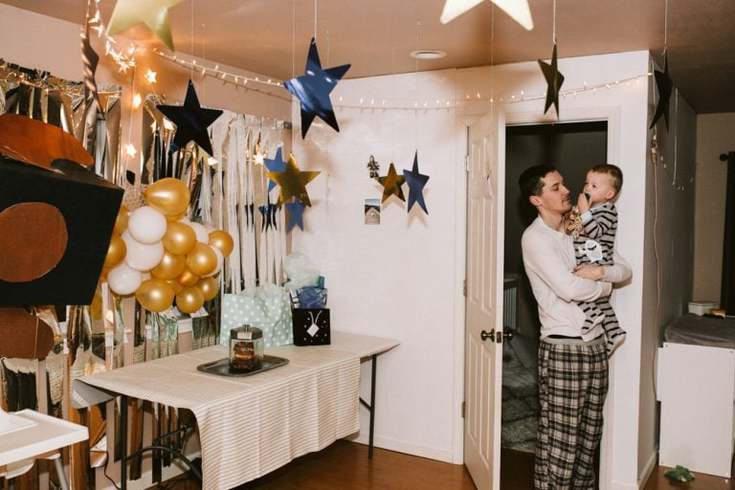 He's a morning-milk-asap guy and that morning he completely forgot about the milk and wanted Daddy to carry him to every star.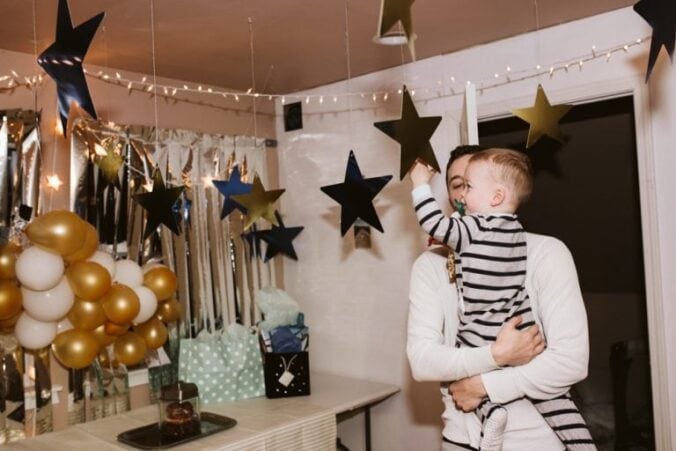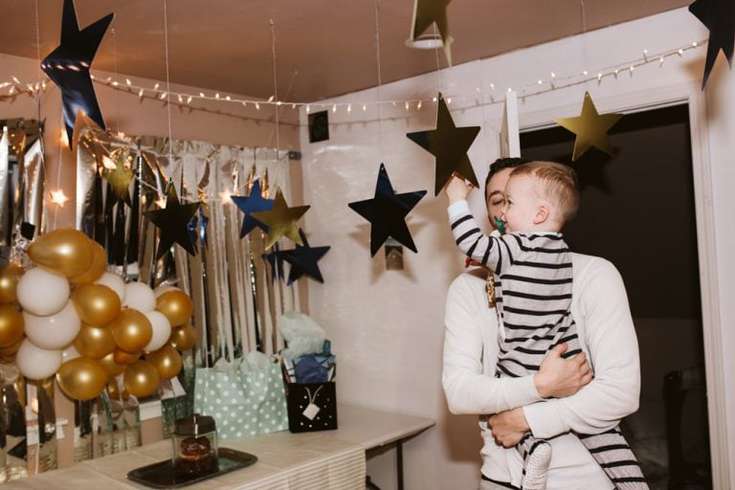 And I'm not ashamed to admit that this kid completely lights up to the word "donuts," so that's what was waiting for him on the table. When he laid eyes on them he went crazy happy saying "no-nut! No-nut!"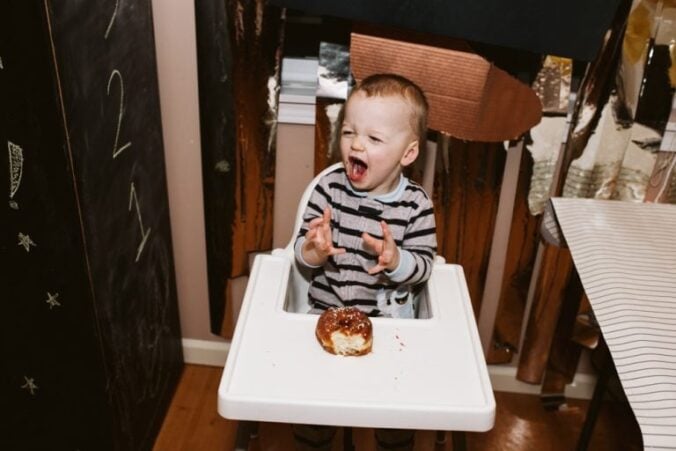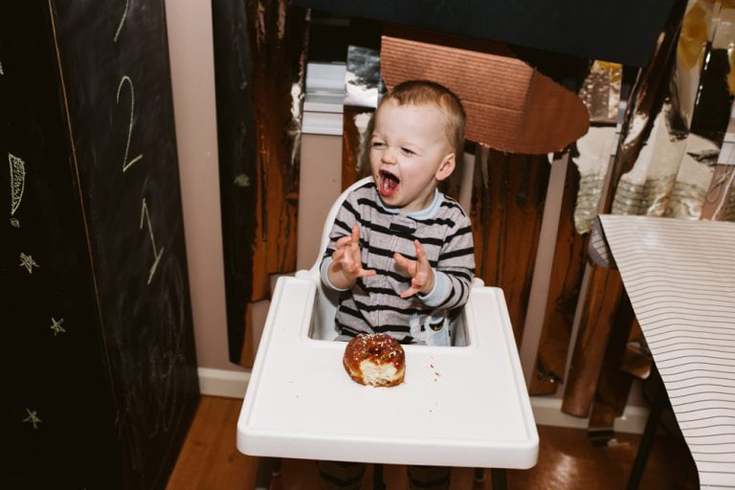 That is "No-nut" happiness right there!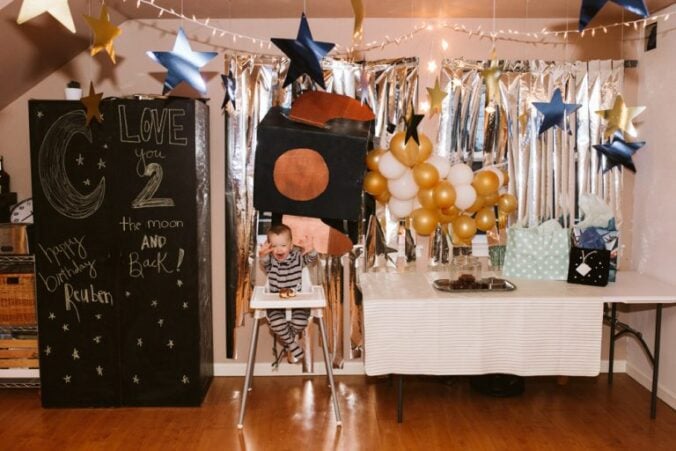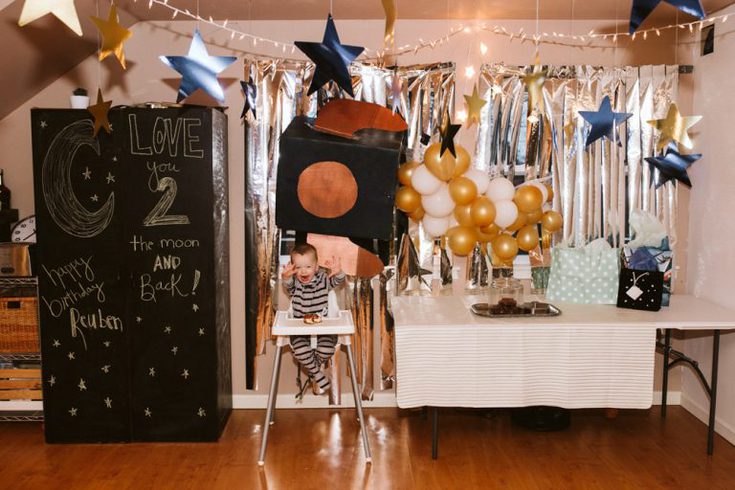 Here's a look at the whole set-up and Reuben "blasting off" after our rocket ship countdown!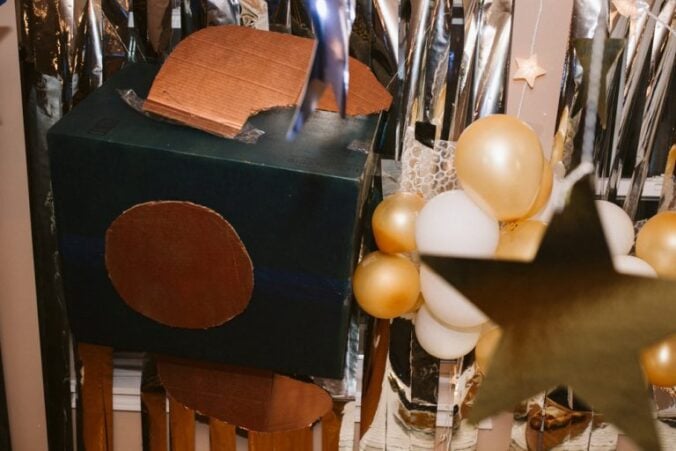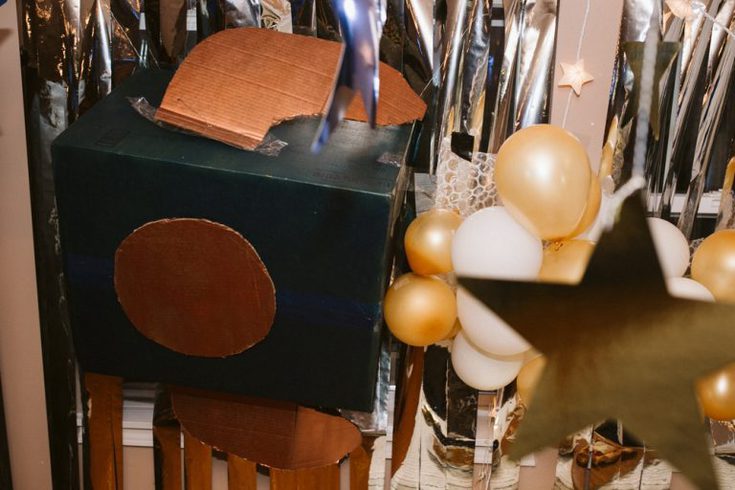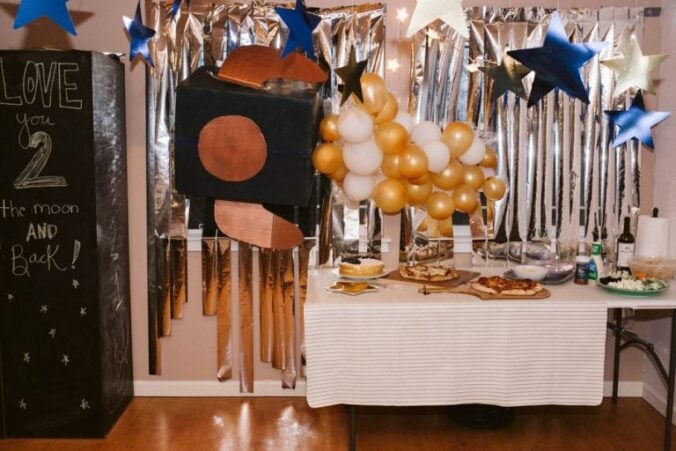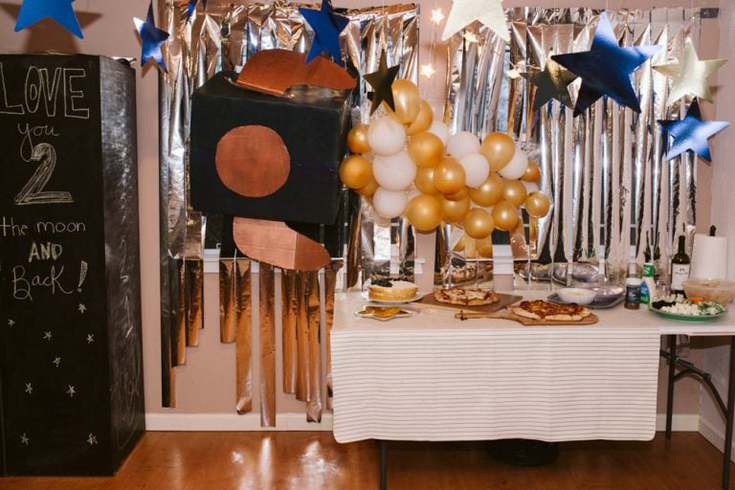 The balloon arch was attached to bubble wrap that was taped to the rocket and a window ledge. I kept the rocket up there with wire looped through holes in the box and attached to nails on the wall. For the streamers backdrop I cut a long piece of duct tape and tacked it into the wall with the sticky side face out. (Tacks, tape, hot glue, and wire are my best crafting friends.)
I threw a last minute birthday party with some local family and friends. It was a weeknight birthday and a lot of our favorite people couldn't make it that weekend, so I said "let's just do it!" He's so loved and lucky to have family nearby, he had a blast! I made four homemade pizzas (two pepperoni/veggies, a Hawaiian, and one pear/arugula/gorgonzola). The cake was a box lemon cake with a blueberry moon! He couldn't keep his hands off it!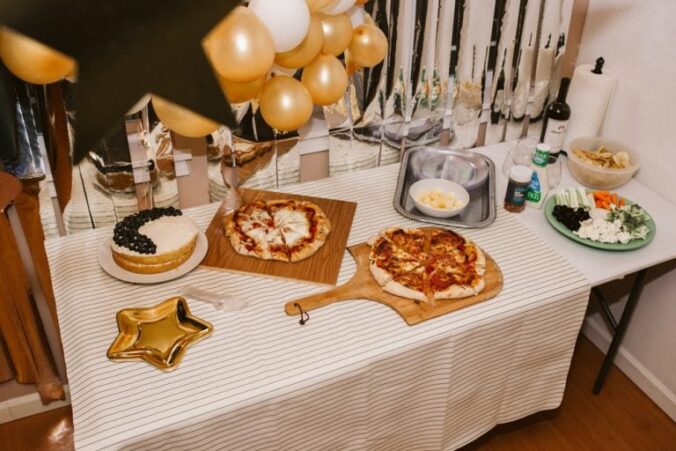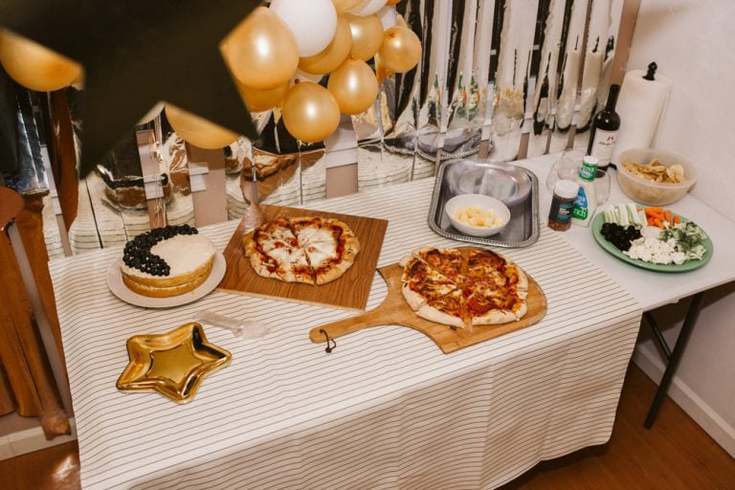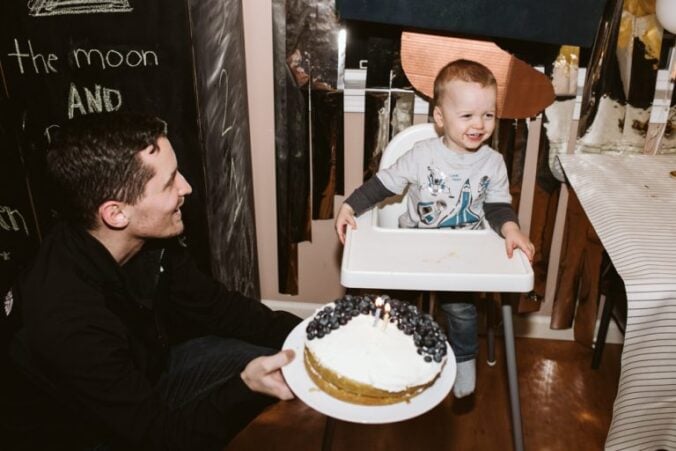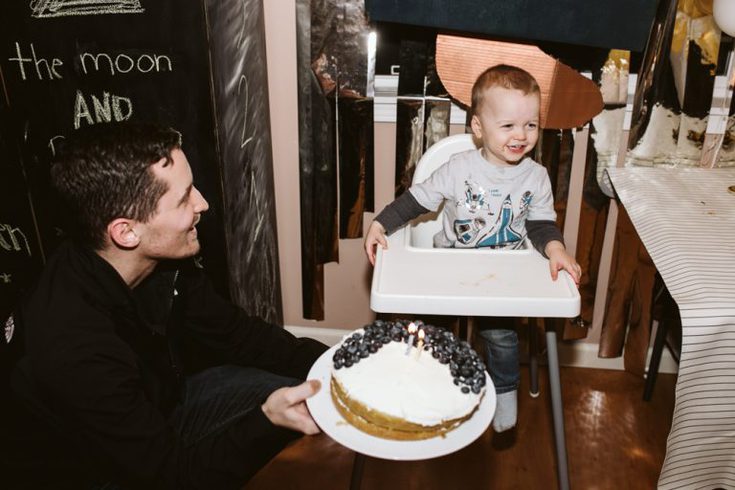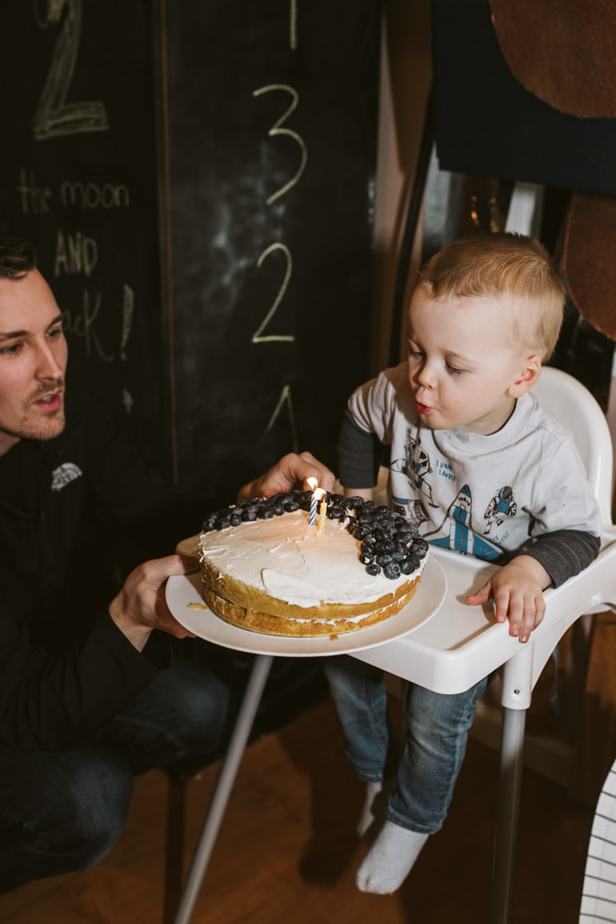 He didn't know what to think about the Happy Birthday song at first, but then his face erupted in a huge smile.
When he got his generous slice of birthday cake, he wouldn't get down to play until almost every crumb, berry, and frosting was gone. I think it was a good solid second birthday! We love him so very much and are blessed to have started this journey of parenthood with him. Time can just stop now. STOP! Hehe.