Hello and welcome to THIS side of Thanksgiving! I hope you all had a wonderful long weekend filled with family, memories, and more than a few morsels of delicious food. I can't believe we're entering into the week where December of 2017 begins! Agh!
I was just telling my husband that we were looking forward to last July so much, with the anticipation of having our baby girl, that December seemed FOREVER away. And here we are! I'm so grateful for this Christmas season to begin. Our son is getting old enough to start hearing and understanding the hope and joy we have in the birth of Jesus and we get to celebrate that with him through advent, our manger scene, and family time. It fills my heart!
I also decorated our little apartment so the lights could sparkle in his eyes on these short and stormy days. Christmas is the only time I want decorations everywhere. Cluttered, clustered, colorful, you name it, everywhere. Decorating the apartment was a little tricky for this, as you'll see, because there just aren't enough places to set up all my things!
I'll admit, since our apartment isn't designed and setup to my exact tastes, I've been hesitant to share it here on the blog. Silly, yes? However, I want to document our time in this in between abode that we've been blessed with as we wait for our build to start.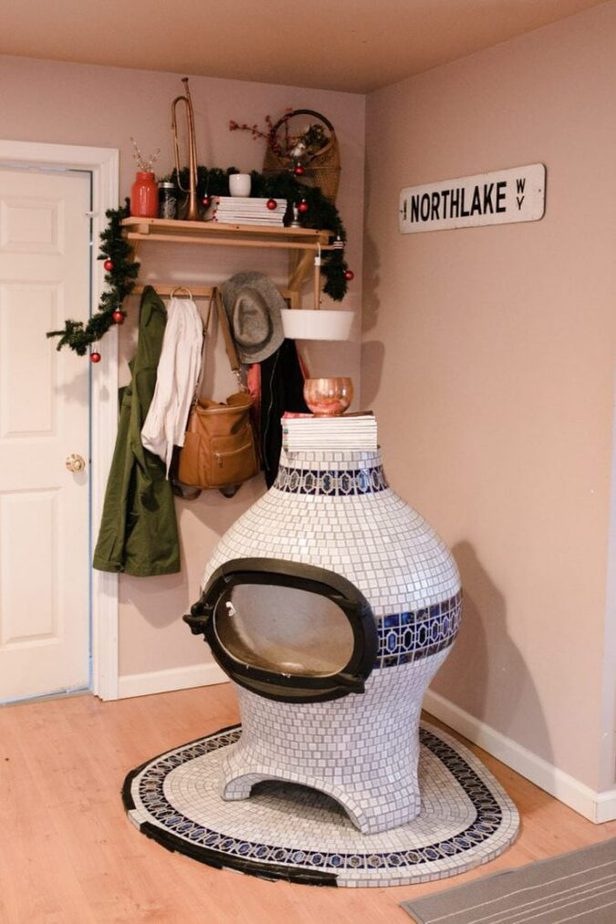 In the entrance of the apartment is this incredibly, ornate, unused, stove my dad picked up yeeeears ago when the garage was being finished. I'm not sure how many hundreds of pounds it is, but it's a beast. (And would be sold to any potential buyers and be replaced by a closet :P )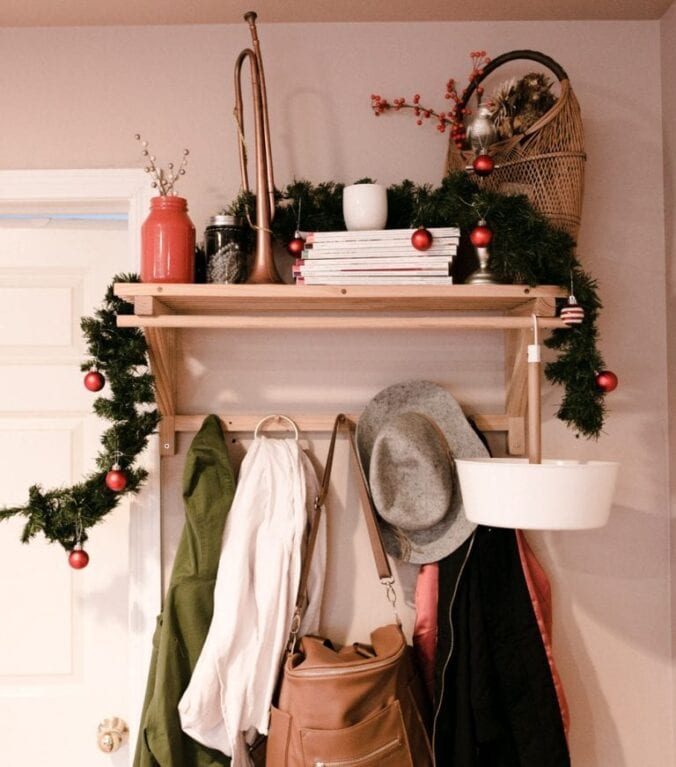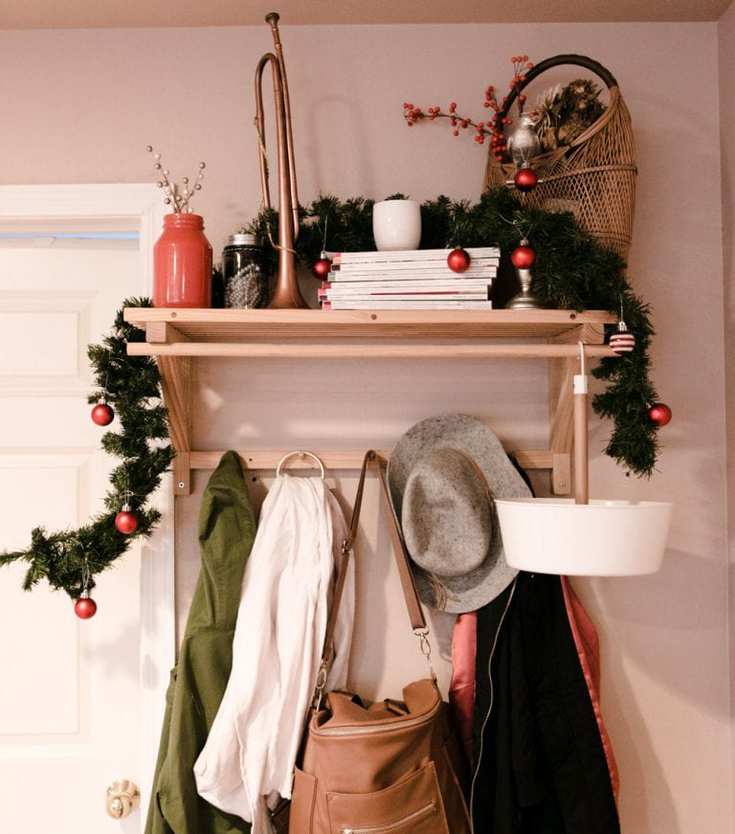 This year I pulled out all my colored ornaments and used them in different places. It's fun!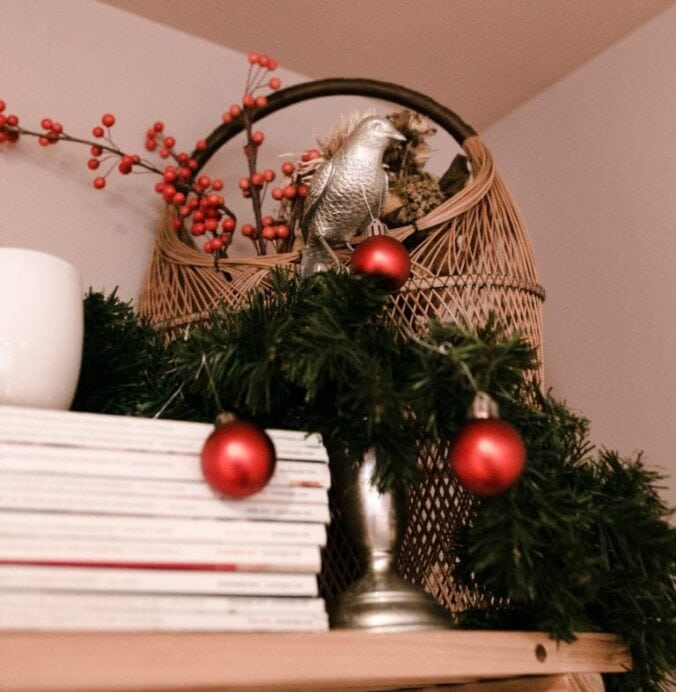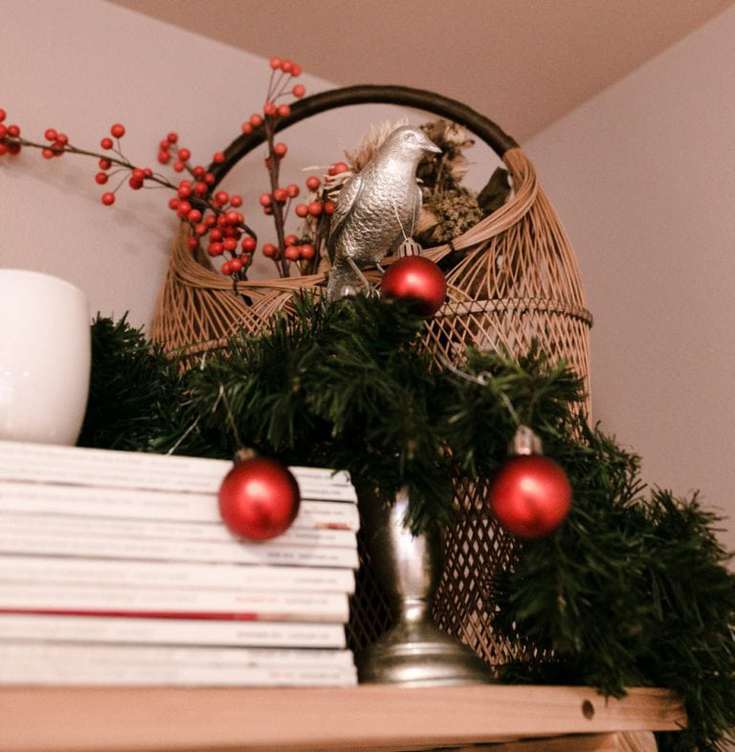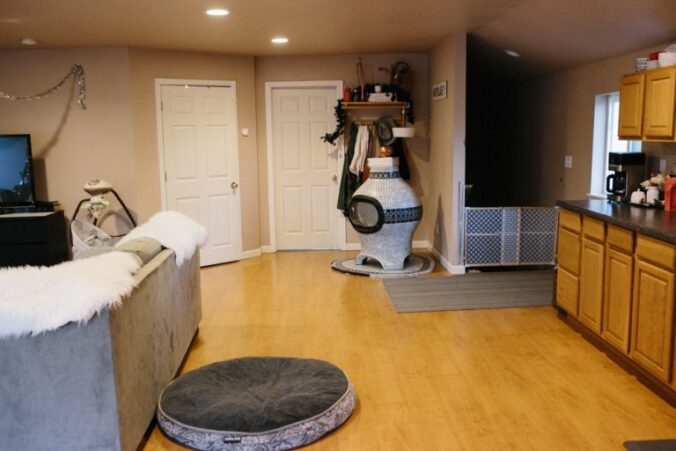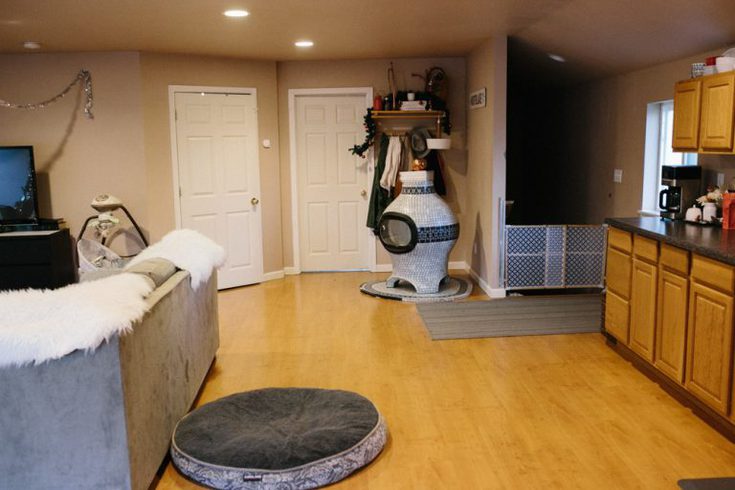 Next to the stove is a small bath with just a shower (we bathe the kids in an Ikea tub!) and the master bedroom/office.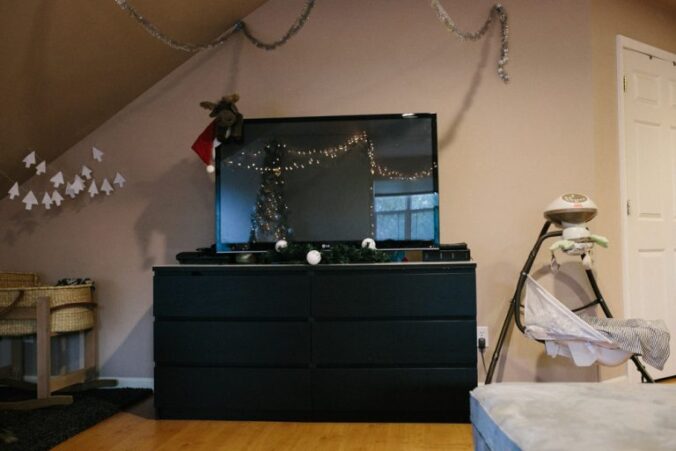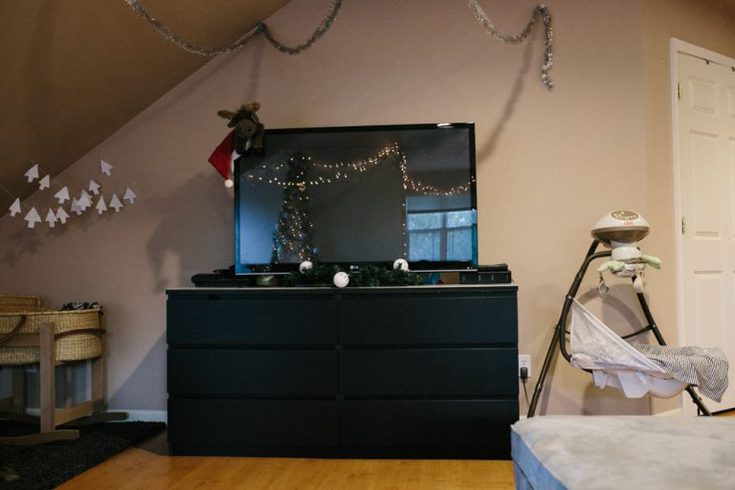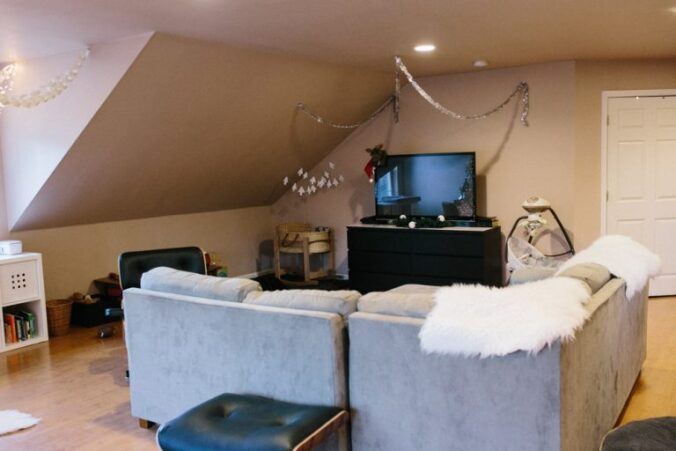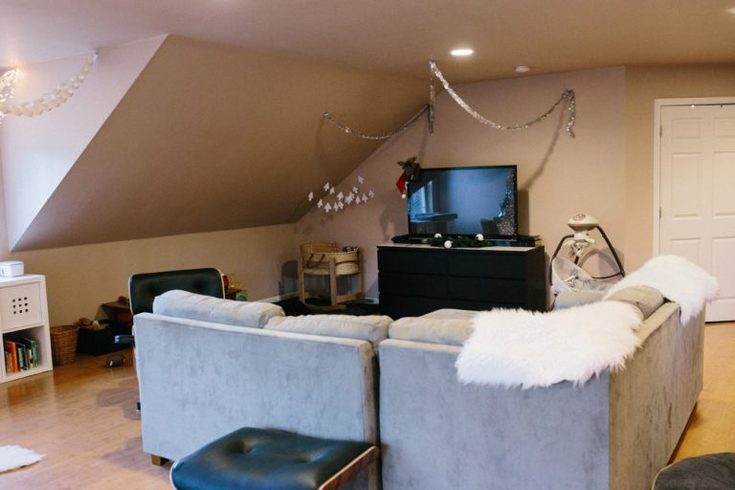 The living space is taken up by baby and kid everything, which is just as should be! The dresser under the TV has added a surprisingly great amount of storage for the space.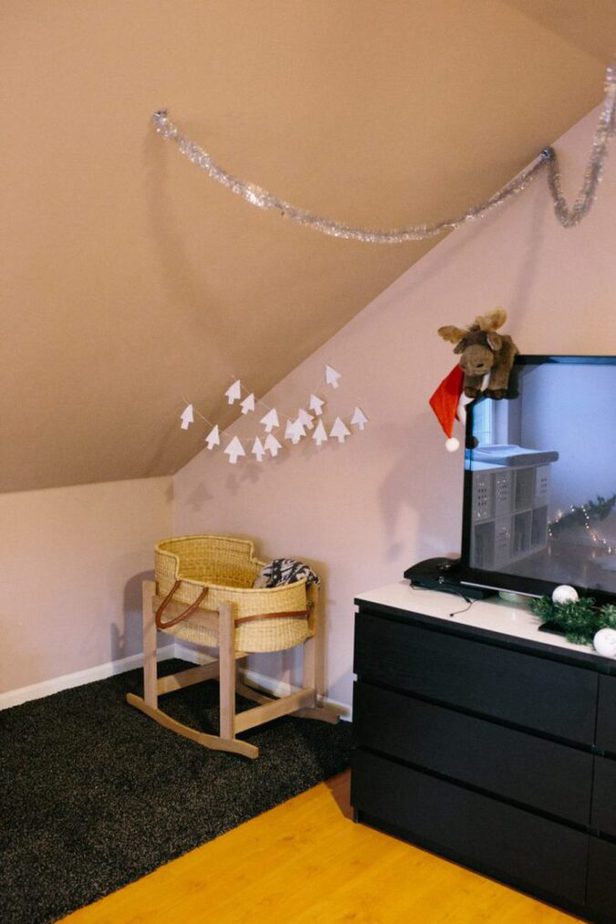 Ava's little bed, now replaced by a crib, (!! sad mama!) sits cozy in the corner for the night and travels between Reuben's room and our room for her naps in the day.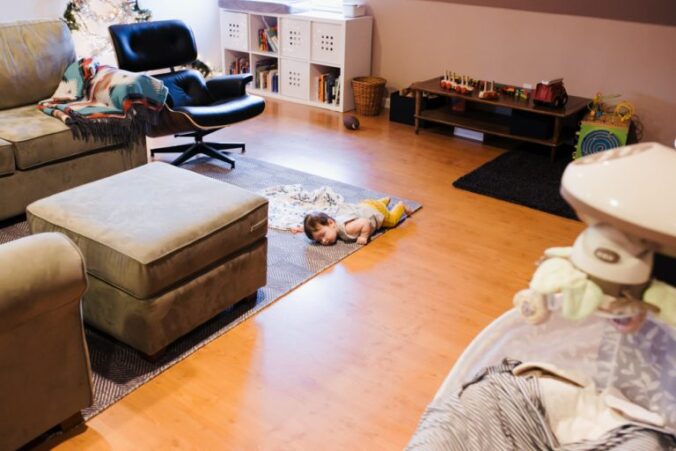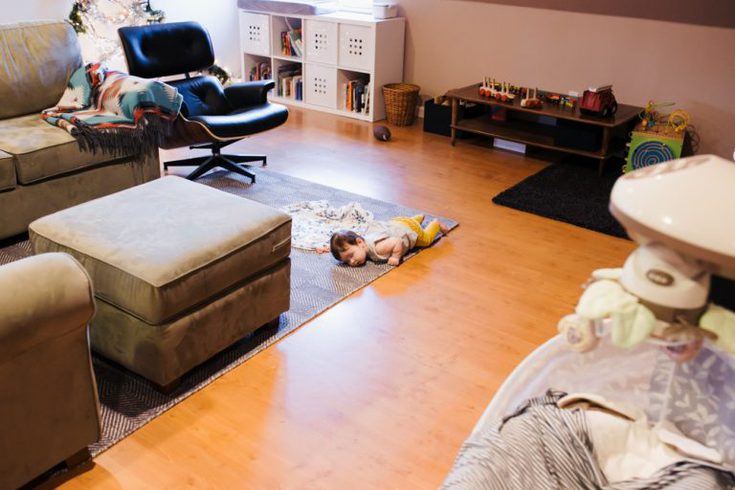 Speaking of miss Ava, while I was taking these pictures she rolled over for the first time!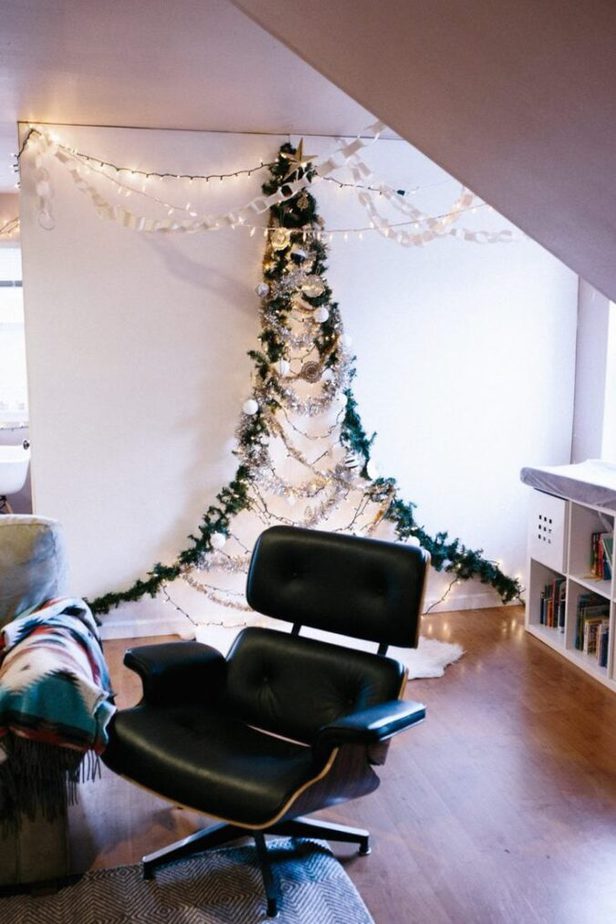 Oh 2D Christmas tree, oh 2D Christmas Tree!… Yes, that's our "tree." Creativity and space saving at its finest. Ha! (I'm totally willing to laugh at myself for this one.) But it works and no one's knocked it over yet!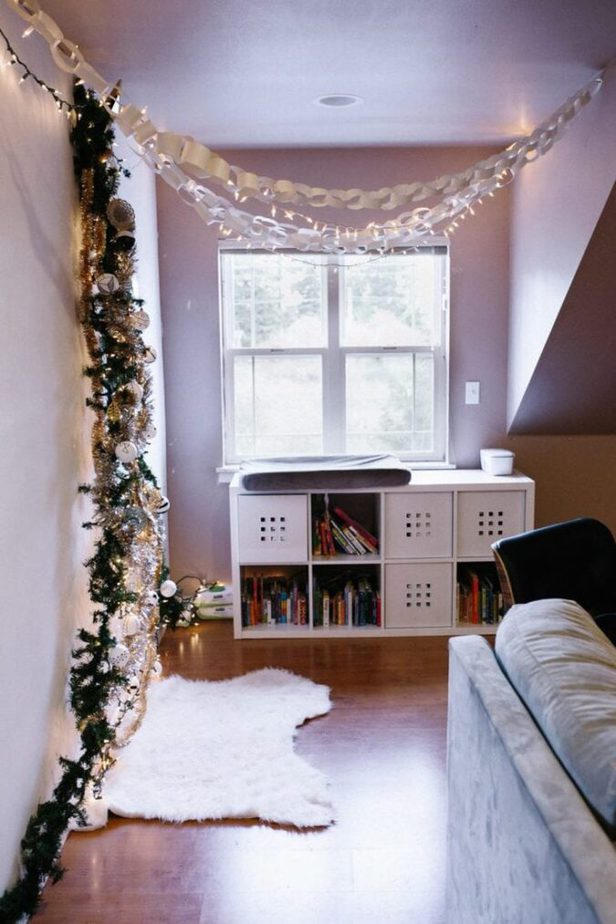 These Ikea Kallax's provide awesome storage. Ours is currently the changing table, bookshelf, diapers, and clothes storage! Oh, and a viewing station to watch Papa take the trash out, a favorite weekly activity.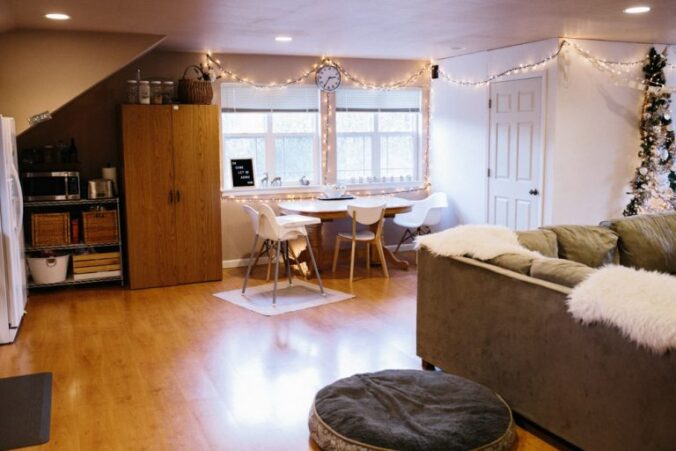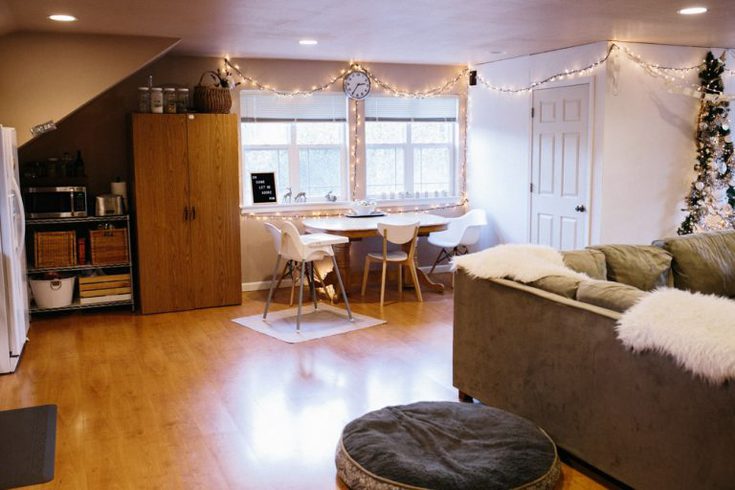 On this side of the apartment is Reuben's add-on room, the dining area, and "pantry." Keeping Reuben out of everything has been a challenge, but I've found solutions for most everything he's thrown (sometimes literally) at me.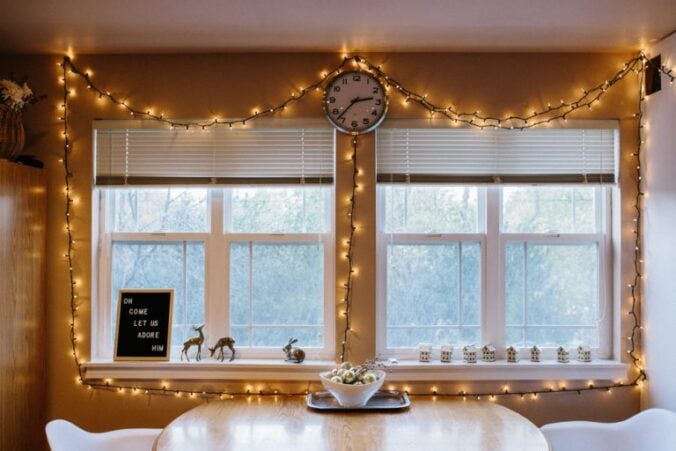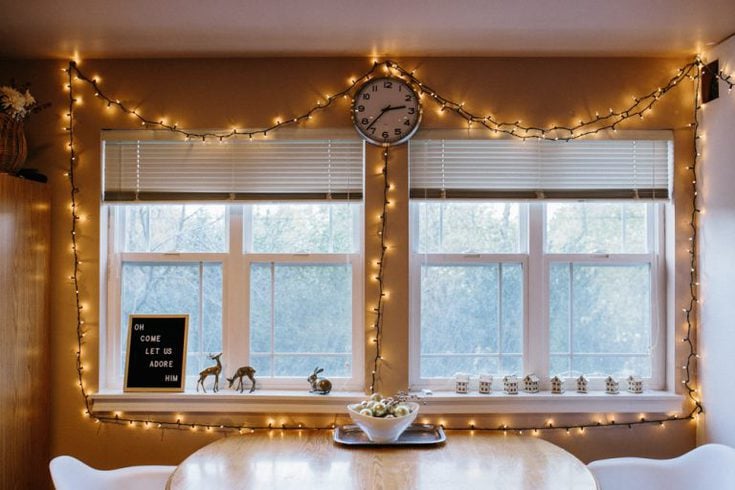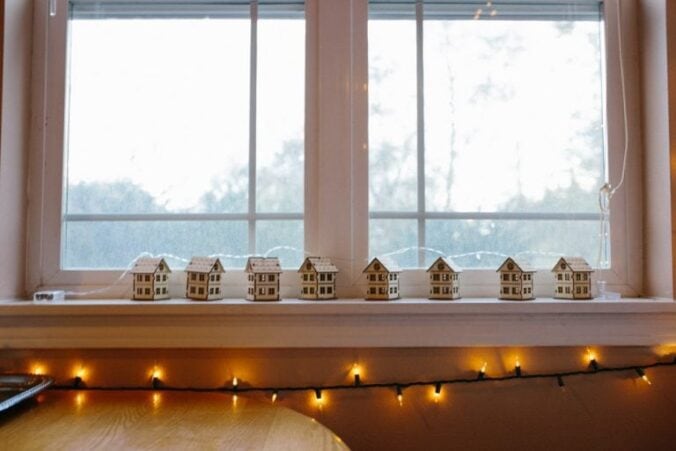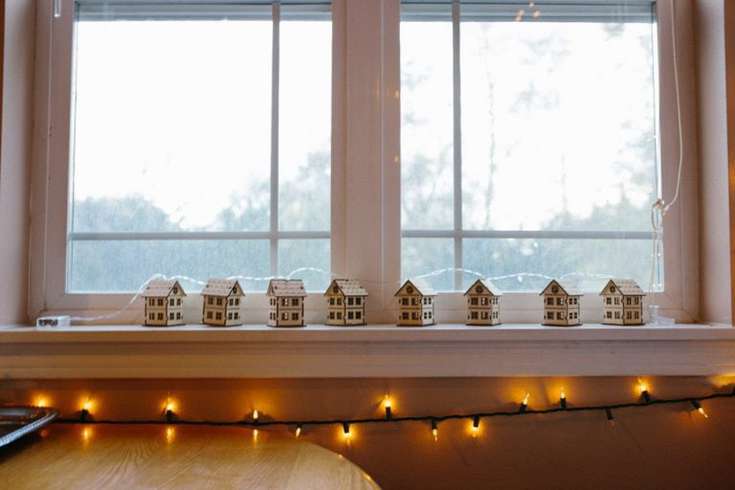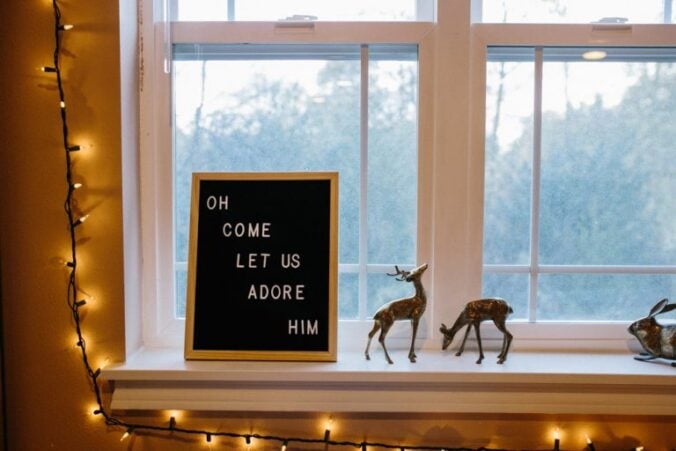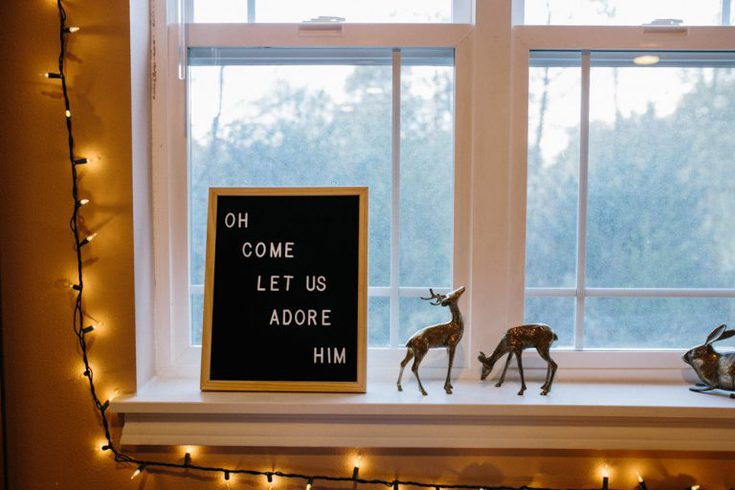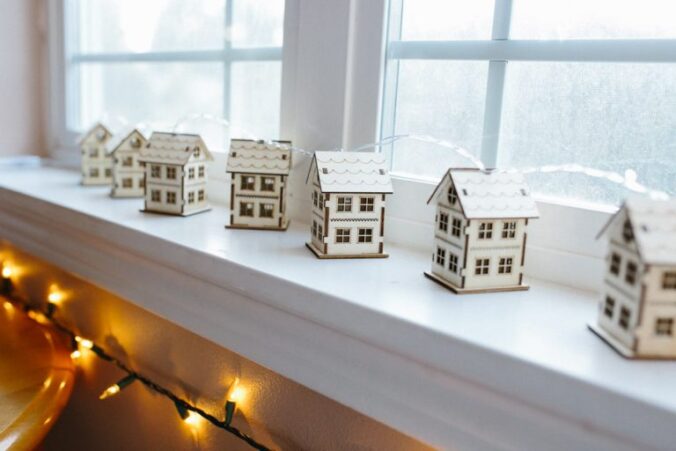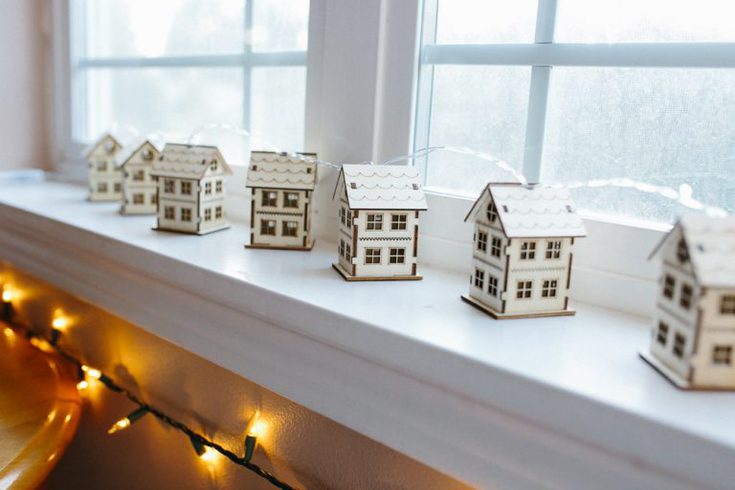 These cute little houses were provided by Amara's gorgeous and unique Christmas collection. Check them out!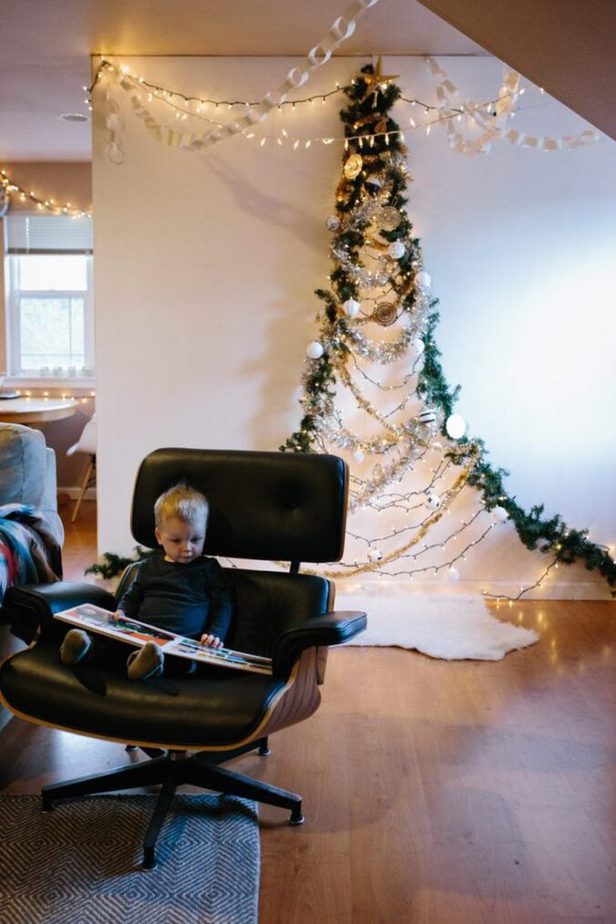 We need to get some Christmas books from the library for this little guy. Which are your favorites?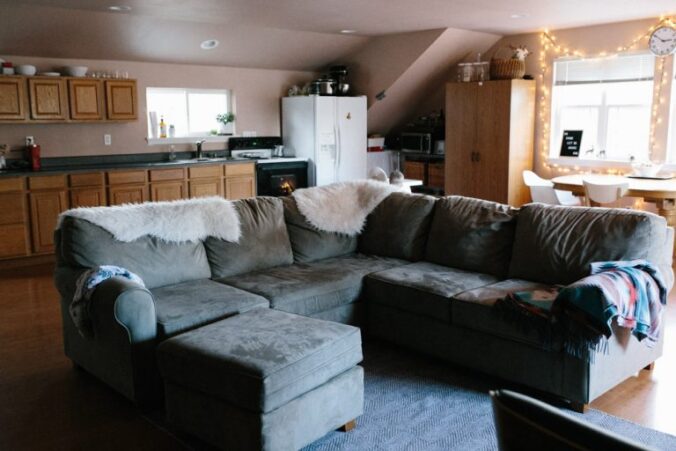 The space is small for four people (even the little ones) and a dog, but we're making it work!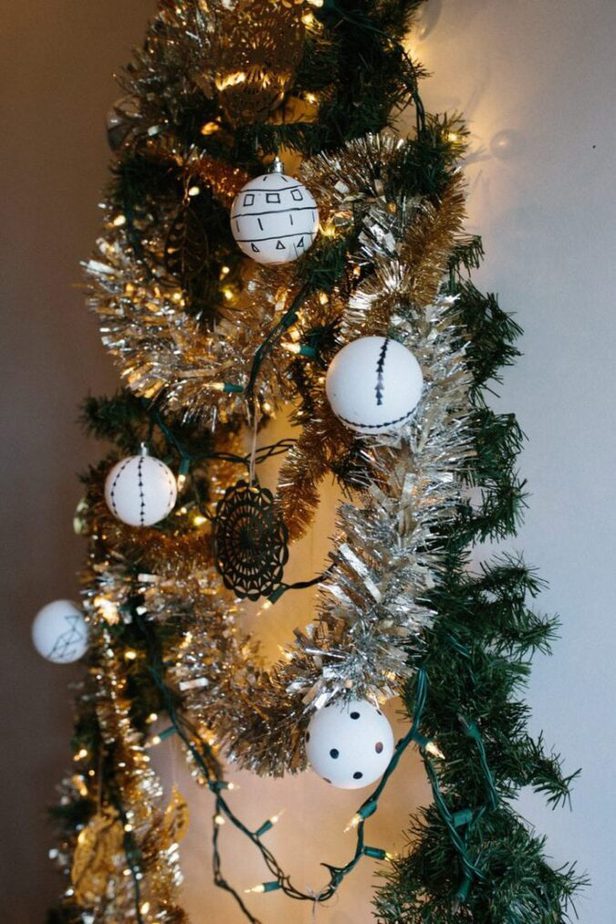 These fun Christmas ornaments are ones we made for last year's tree! See that gorgeous Scandinavian inspired Christmas tour in this post!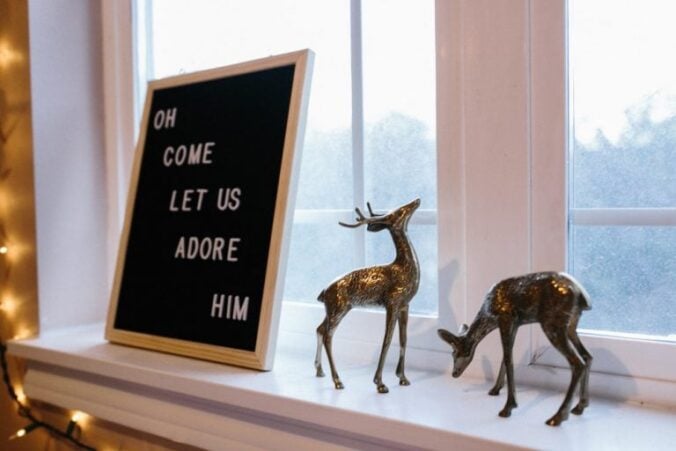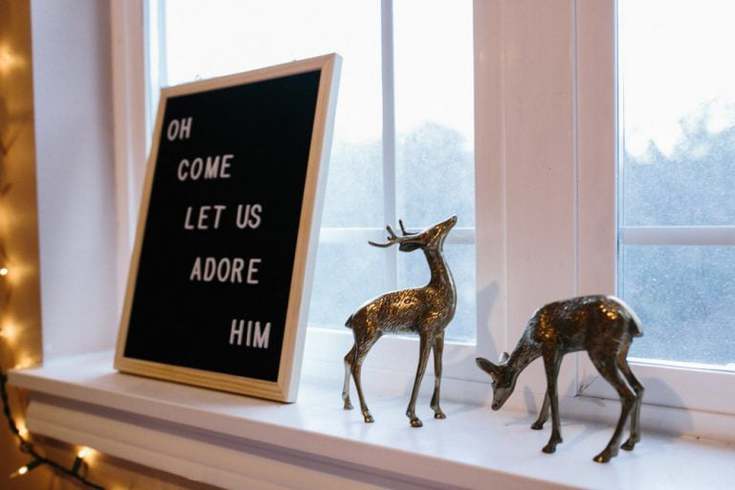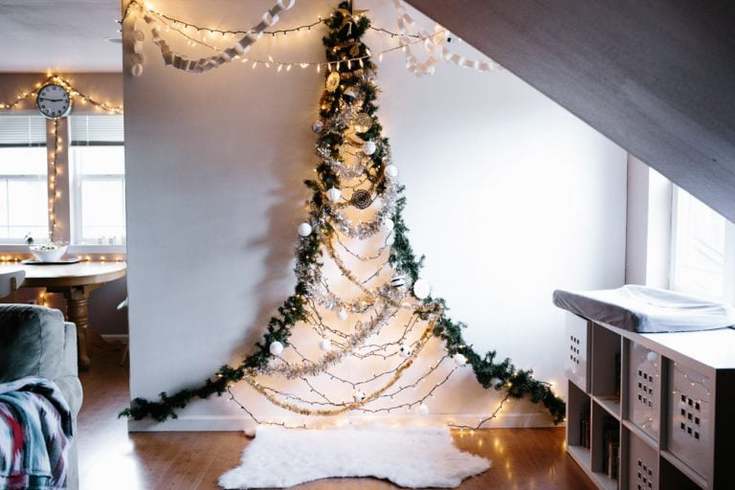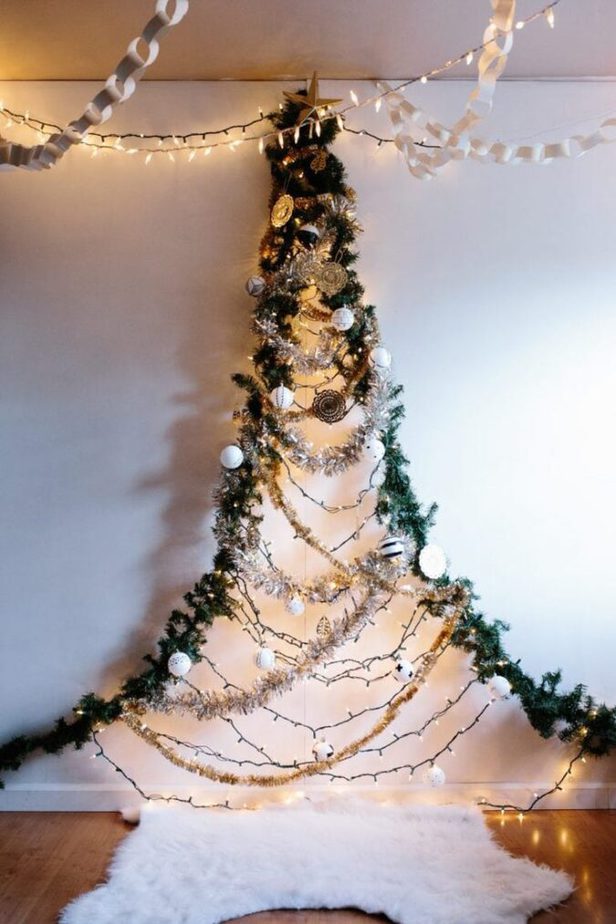 There you have it! A happy little apartment Christmas to you! Have you started decorating yet? What is your Christmas style this year? Share with me below!