The benefit of blogging about home remodeling, design, and decorating, is that it helps me to really process what I want my house to look like. Truthfully, if I'm stumped on a room or if a room is unseen, I can easily push away from actually doing anything to it for a very very long time. I can pin beautiful spaces to my hearts content and still be a stumped and stubborn as before to finish a project.
Right now, said project is my living room. I have furniture, wall pictures, and even a plant but the room is just not there. So today, I'm going to share the space with you in hopes that my decorating powers will be rekindled again!
I've already shared our Expedit Hack with you.  It's functional, but probably not the TV area that I see for the future. I'd love to see a floating sideboard there with a mounted TV.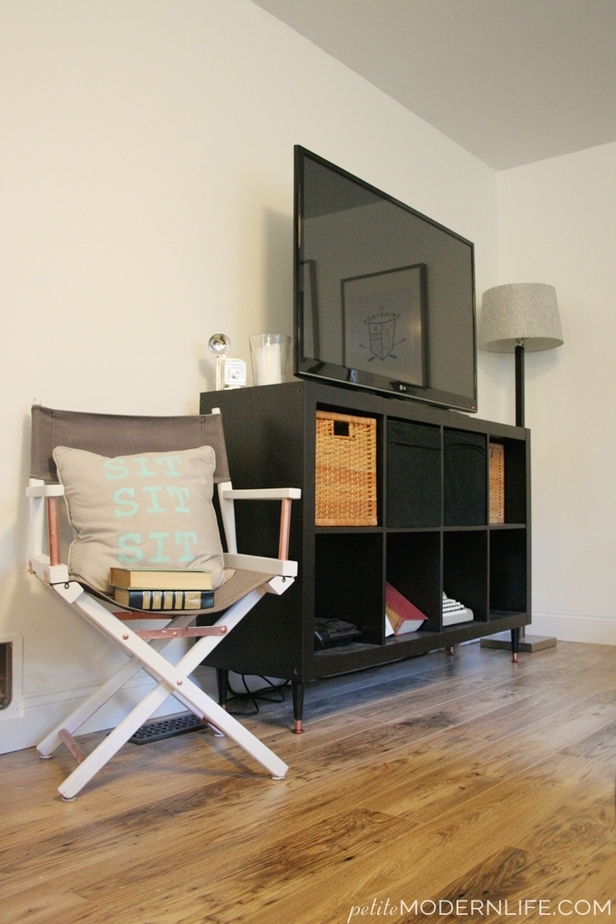 I changed this lamp shade from a wide square shade to this drum I got at Lowes. It flowed so much better. I designed the "coat of arms" and printed it at Costco.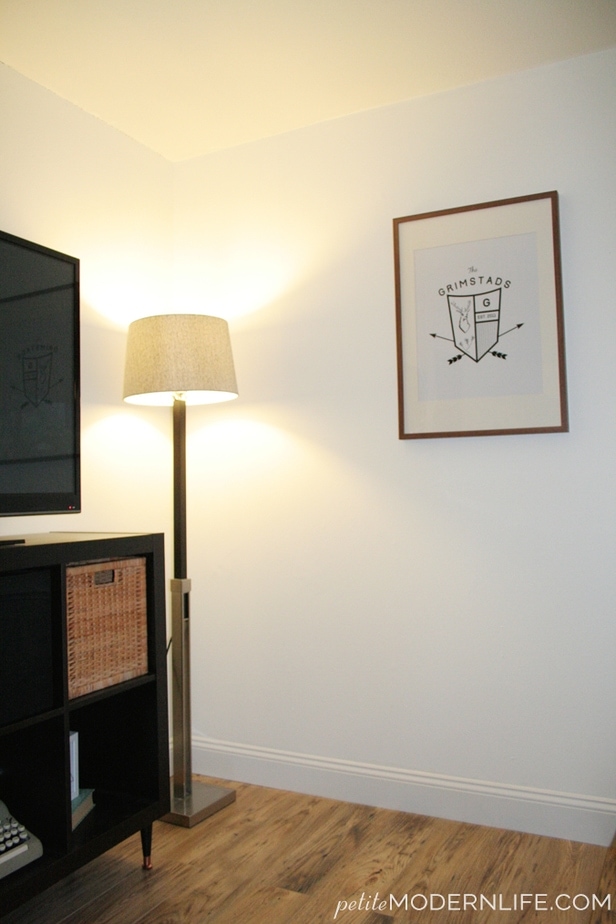 Then there's the beautiful mid century couch we found on craigslist this past summer. It was one of those "puppy eye/ask my husband 50 times what he thought of it" for 2 hours craiglist finds. The couch was 2 years old, well taken care of, comfortable and EXACTLY (tufted, grey, woven, tapered legs, sectional) what I was looking for. It's made by Modern Design Sofas, here's where you can find it online.  Couldn't have asked for a better couch!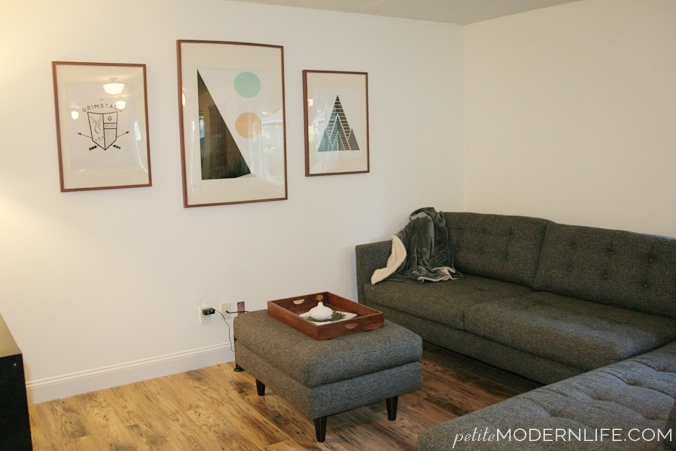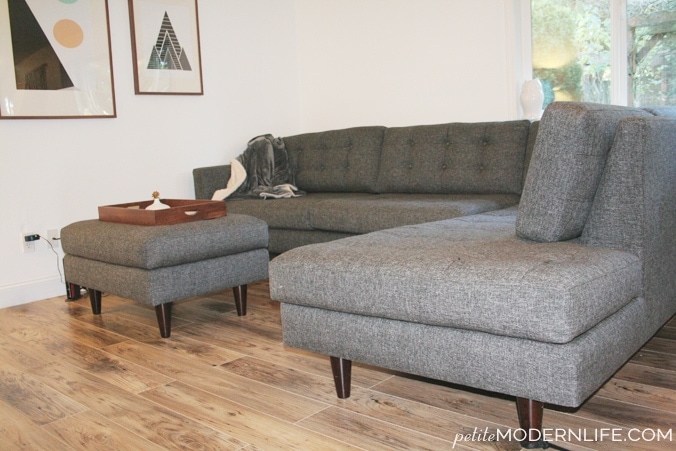 The pillows are tufted on both sides too which is amazing.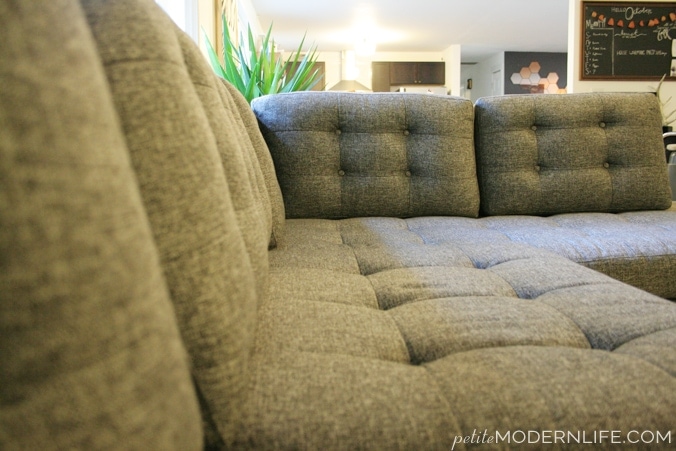 This sweet tray was made by a family friend for a Christmas gift from my mom last year. It's beautiful and special.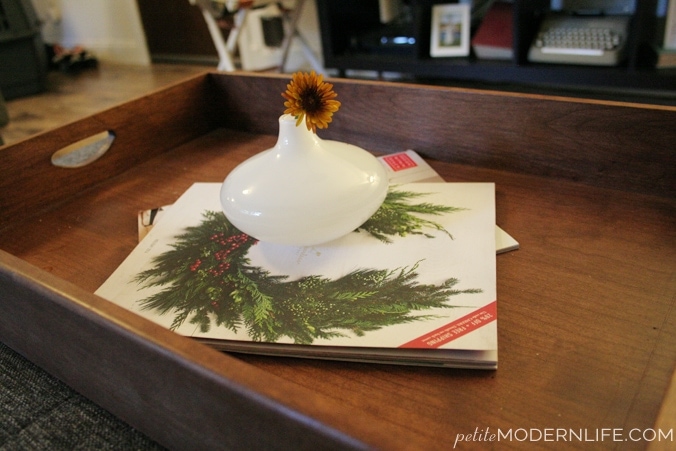 So here is my problem. The art on the wall is wrong. Hung too high, and feels… stiff, unkind, and consuming.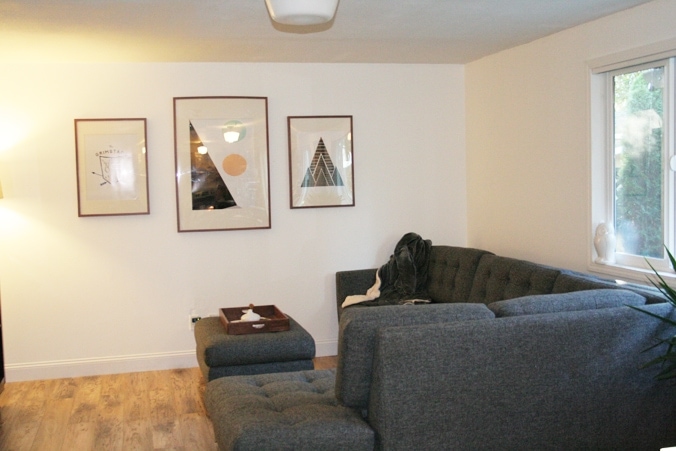 My brainstorming is looking like this: How do I add more character, but not clutter to the walls? Where should I get quality frames for inspiring art of different sizes? Should I add shelves or picture ledges to any of the walls? What other things could add character to this space other than pictures?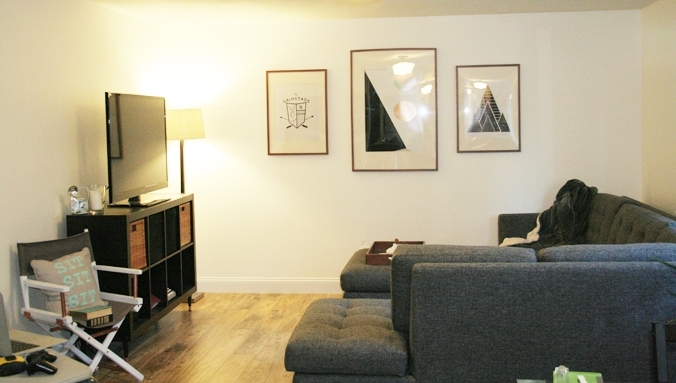 It's too easy to skim over this room's needs, so I needed to get it out in the open! And I think this is a good starting point to solving my conundrum. I got the bug while writing this to actually find spaces I admire for a living room. Somehow I stumbled onto the absolute perfect site!! I found on a new favorite blog, My Scandinavian Home, that I'm loving and hope to draw inspiration from..
Check out her Pinterest page for gorgeous Scandinavian Living rooms.
Gorgeous right?! Just move me over to Norway right now… Alright, so the interior design inspiration I receive from these pictures:
Varied (thin frame) sizes and colors with mats of varying sizes. Hanging pictures in large wall collages. Metal bracket hung shelves in white or wood that reach to the ceiling. Long white floating sideboards with varied objects (magazine stacks, metal lamps, books and pictures) on top. Hanging posters and pictures on lines across the wall. Two tone walls.
I'm feeling energized already! The only thing holding me back much is the $$. So we'll see what I can start doing on Craigslist and thrift stores for good frames and art, and think more about shelving and that floating side board. Can't wait to see what we come up with! What do you love about your living room? What would you like to see done with it? As always, any tips on where to buy things for this space are greatly appreciated!