I've loved dressing up since I was a little girl. It was a staple at all my friend's and relative's houses to have a dressup box brimming with the "latest fashion" from 30 years prior, silky dresses, Disney look-a-like outfits, and oversized heels. So it's no secret that I've been a fan of fun family halloween costumes over the years!
Ps. If you're looking for books that inspire the love for kids to dress up and use their imaginations these were favorites of mine as a girl: In Grandma's Attic and the Secret Attic Club.
Fun Family Halloween Costumes
You're now going to take a walk through the history of our Halloween costumes! Complete with old grainy flip phone pictures! So really, this might be more of a laugh at our impoverished creativity than an inspiration, but hey! I'm all about saving you some money!
My husband and I had our first kiss at a Halloween party in college. I had asked him to dress up as the Batman to my Robin and it was pretty hilarious. You miiiight want to tone down the costumes to be more "family friendly," (Hey! I was in college!) but they're pretty easy to piece together!
DIY Robin Costume
Green shorts / yellow, red, black duct tape / red leotard / green socks
DIY Batman Costume
grey shirt (**My husband's fav shirts!) / gray sweats / cape
DIY Star Wars Family Costumes
First up is the memorable stapled Luke Skywalker costume. We found the fabric at a thrift store and since we lacked a sewing machine, a stapler was the next best option! A Leia costume is as easy as finding a white skirt or fabric and a white turtleneck!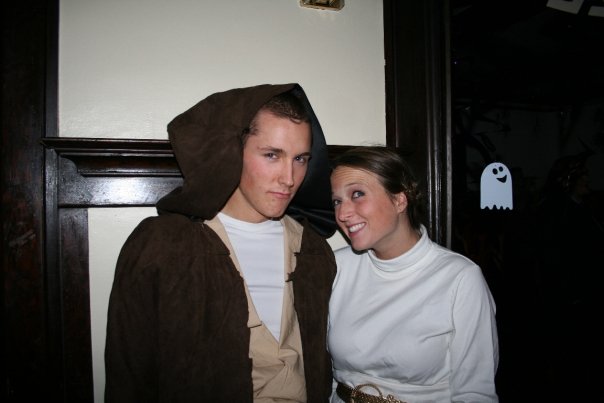 Then there's the Leia and Ewok costumes that Ava and I did for a Star Wars premiere.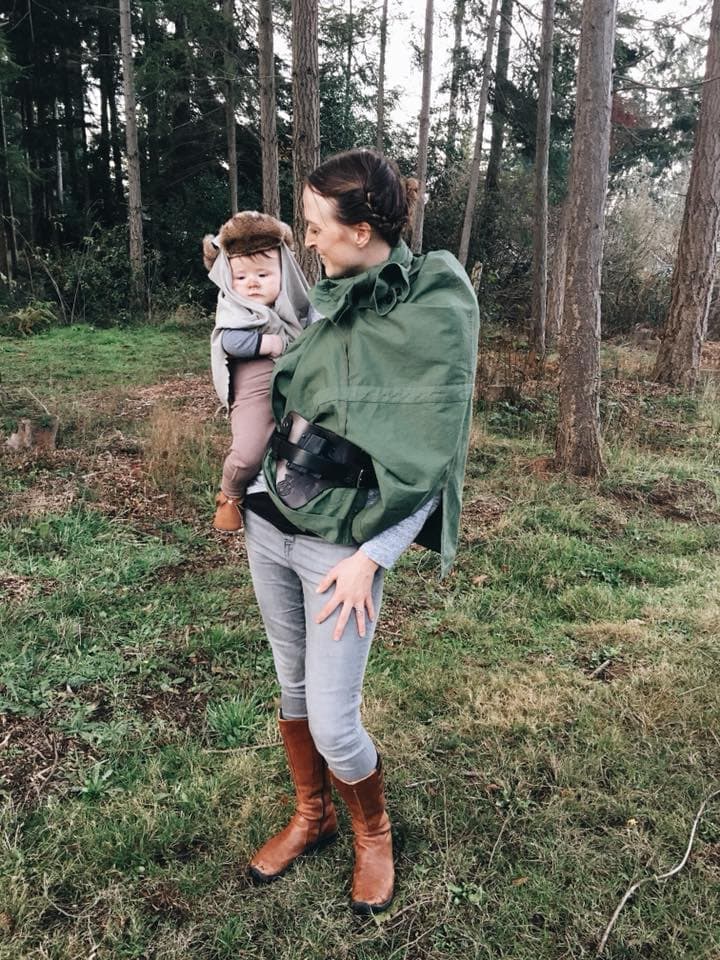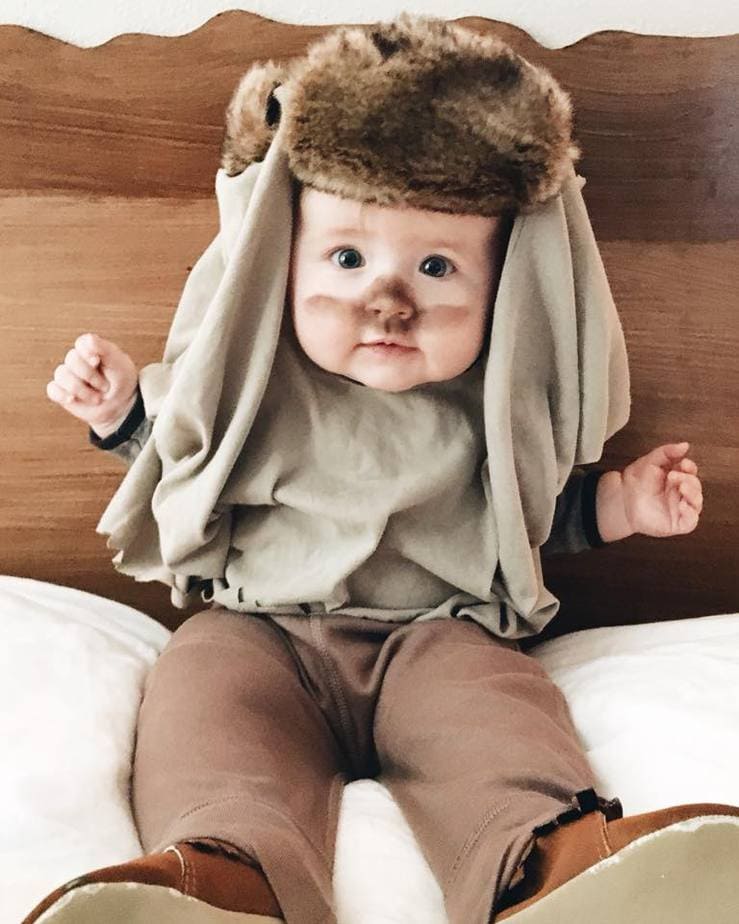 These outfits were SO basic it might be laughable. My top is my green utility jacket (similar) turned inside out, gray shirt underneath, and my husband's holster– which was TOTALLY upside down and I didn't know haha! Ava's outfit was an old pillow case cut with a hole for her face and the ears of this kid's trapper hat.
DIY Marry Poppin's and Bert Family Halloween Costumes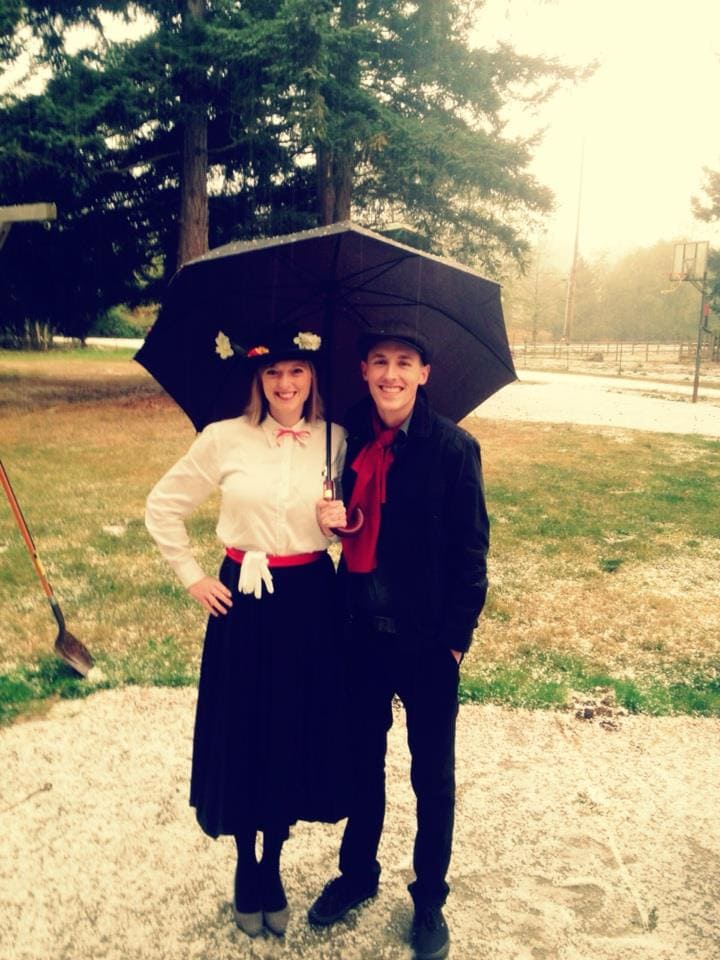 Another young and out of focus picture from my mom's Halloween costume birthday party! This was all done by a semi expensive visit to Goodwill. Have you ever done Goodwill for costumes? It's amazing, but HOW do I spend so much money?!? Haha, it always happens! For this one you're looking for a long blue skirt, white blouse, black hat, fake flowers, and red ribbons. For Bert your guy is set with black pants, black jacket, button up shirt, red sash, and vintage hat!
DIY Harry Potter Family Halloween Costumes
Again, I apologize for less than the highest quality, mostly blurry, images. Most of these were taken before I really knew how to use a nice camera.
BUT these are just amazing. Mainly because I'm a diehard Harry Potter Fan. So when I decided to be pregnant Rita Skeeter and my husband was to be Mad Eye Moody, it was like Christmas explosions in my right sided brain.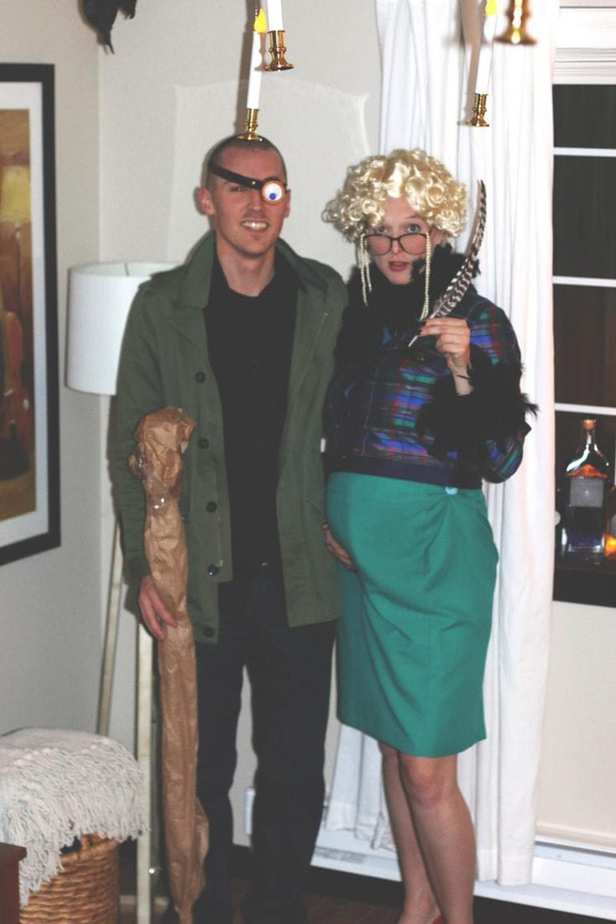 For Rita: I tried to find the brightest, most tackiest dress suit possible. Hot glued a boa to it, bought a wig, pulled out my play glasses and wrapped my pearl necklace around it.
For Mad Eye: Yes, my husband is wearing that green utility jacket of mine (that thing is so.. UTIL) Black shirt and pants, roughly made staff with leftover packaging paper (thanks Amazon), his FLASK, and his EYE (which I just found out Amazon has NO longer- Shoot! There's this eye patch though). Amazing.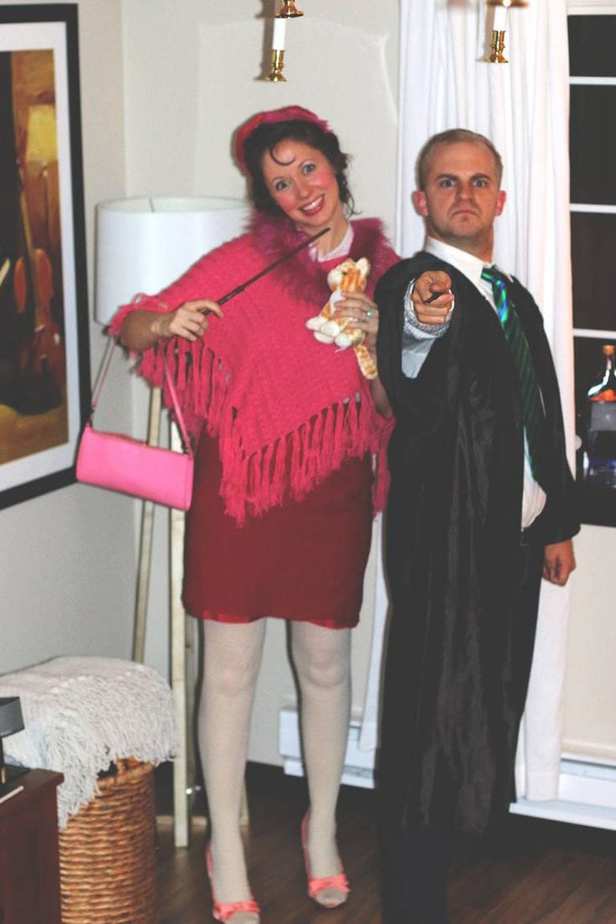 My dear friend Anna portrayed THE MOST AMAZING Umbridge. My Harry Potter loving heart was so proud and happy.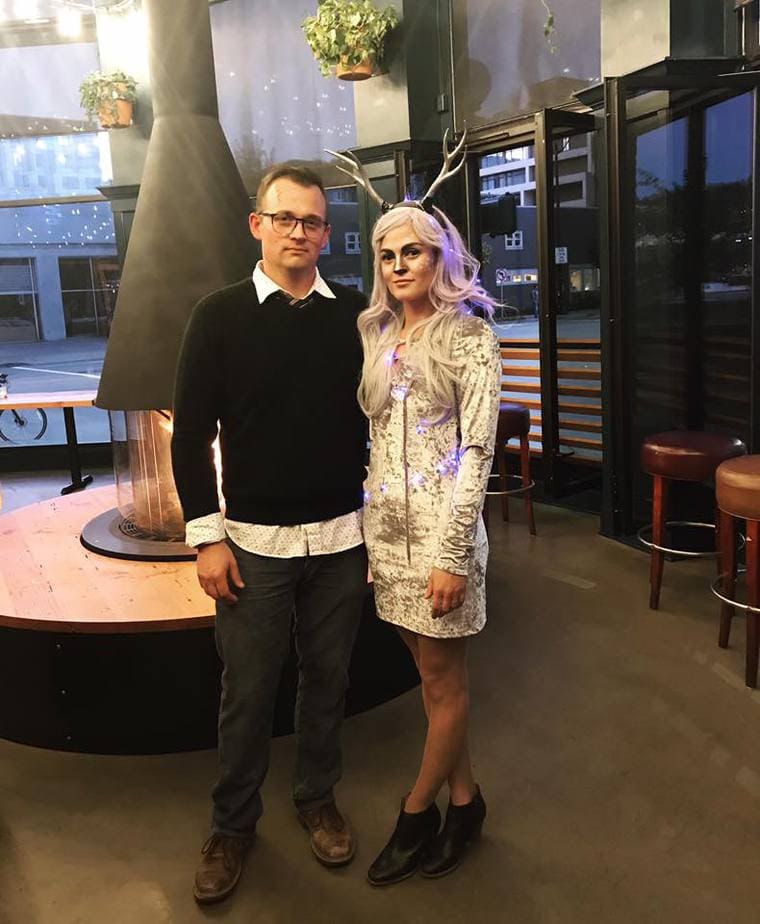 My friend Rachel and her husband Matt went to a Halloween party as Harry Potter and his Patronus. When she first sent me a selfie I SWORE it was a Snapchat filter! How freaking amazing is that outfit and makeup?! White Velvet Dress, stag horns headband, twinkle lights, silver wig.
Mario Kart Family Halloween Costumes
This was our first year with a baby and I wanted to make it GOOD. I also wanted to include the dog if possible. Thus the Mario Kart family costume came into existence! Peach, Mario, Toad, and a turtle bomb shell!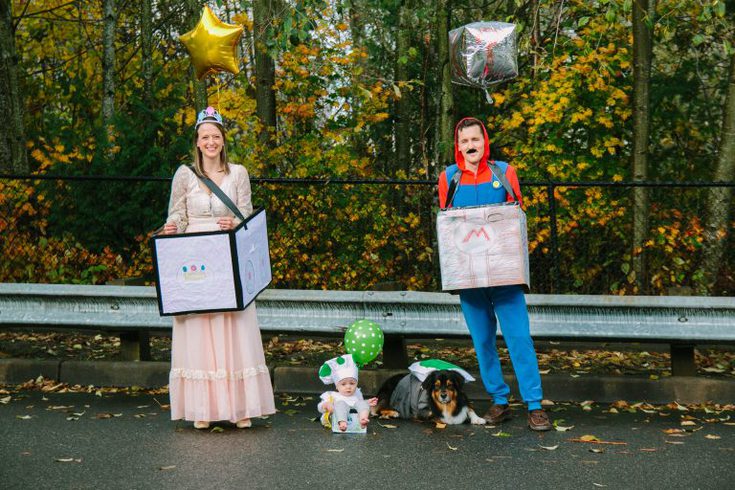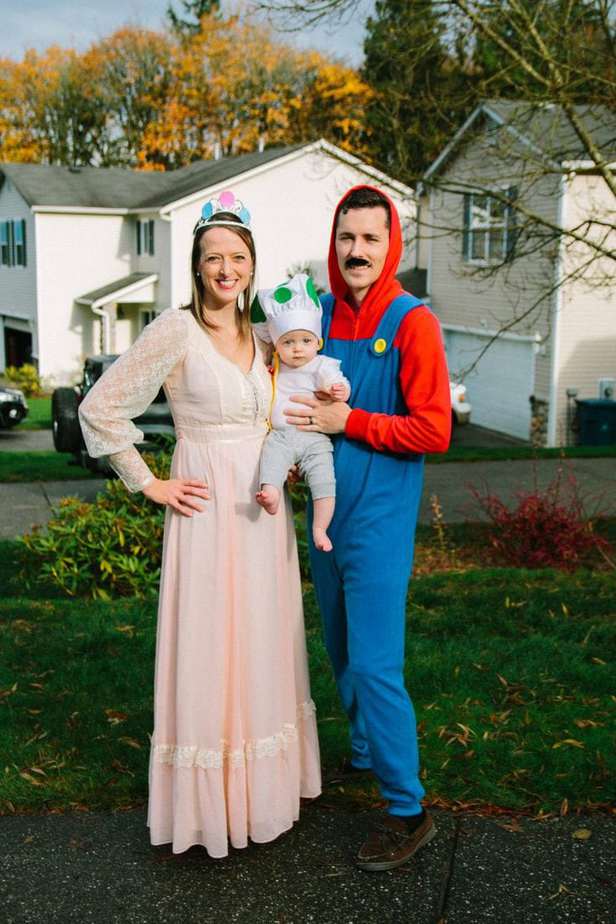 Toad hat and green felt from craft store / Mario onesie . Make sure to get to the balloon store early to beat the crowds for your balloons!
That same day we had a Halloween party and our friends showed up in THE BEST family Halloween Costumes ever!
101 Dalmatians Family Halloween Costumes

Parks and Recreation Family Halloween Costumes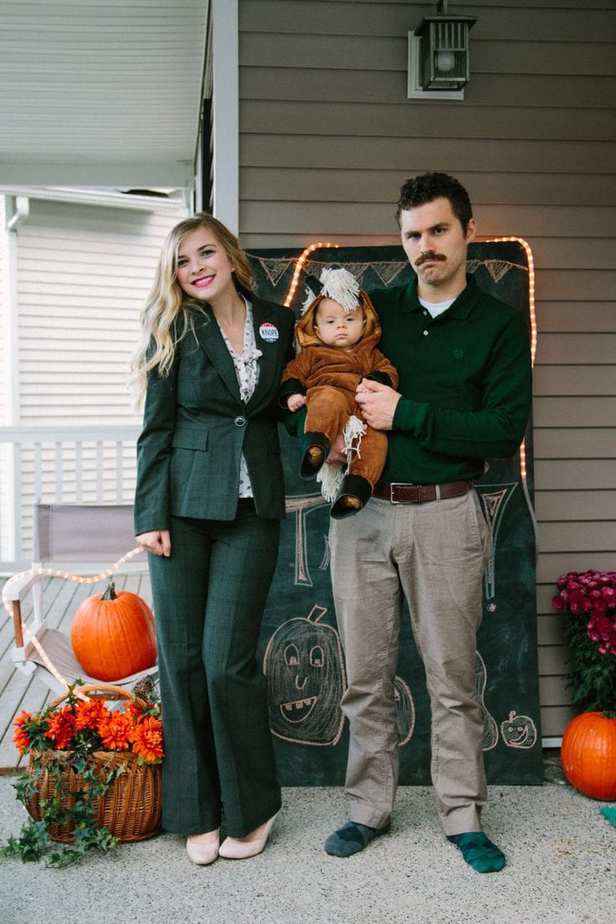 Avenger Family Halloween Costumes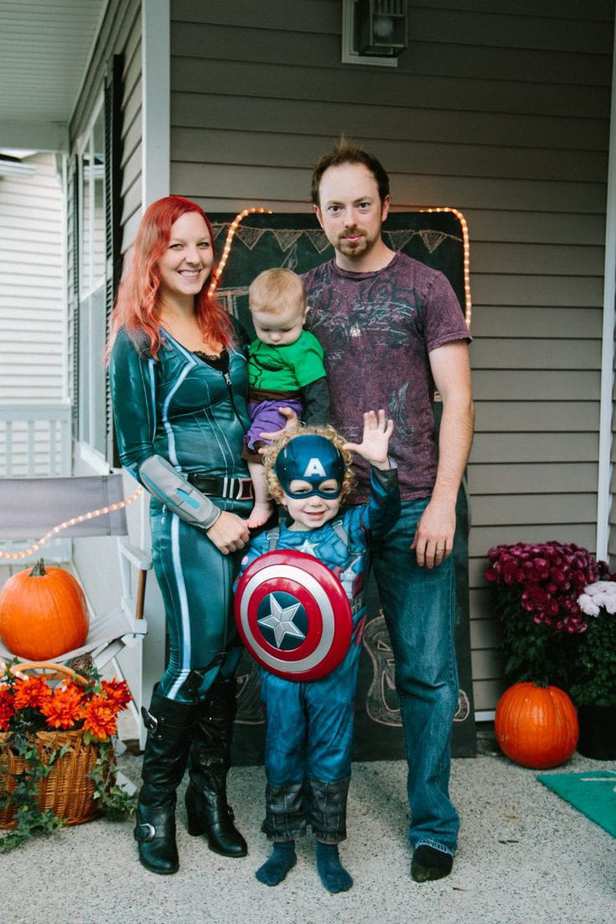 The Jetson's Family Halloween Costumes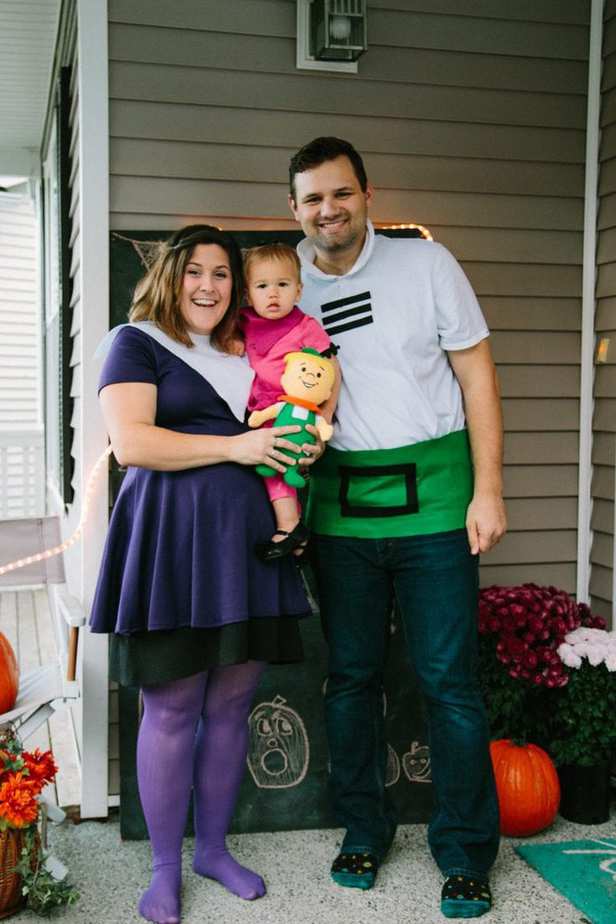 Peter Pan Family Halloween Costumes
Aren't those so fun!? Great jobs guys!!
Zookeeper Family Halloween Costumes
Last year my mom and I decided to last minute take the babies to the town Halloween trick or treating. About an hour before we left I came up with this zookeeper family costume! We had the lion costume for Reuben, who up to that point had refused to go near it, but by some miracle he put it on and lived up that trick or treating life. I'm wearing my mom's hiking shirt and hat, my Wildbird Sling, and Ava has on a little bear snowsuit. So easy!!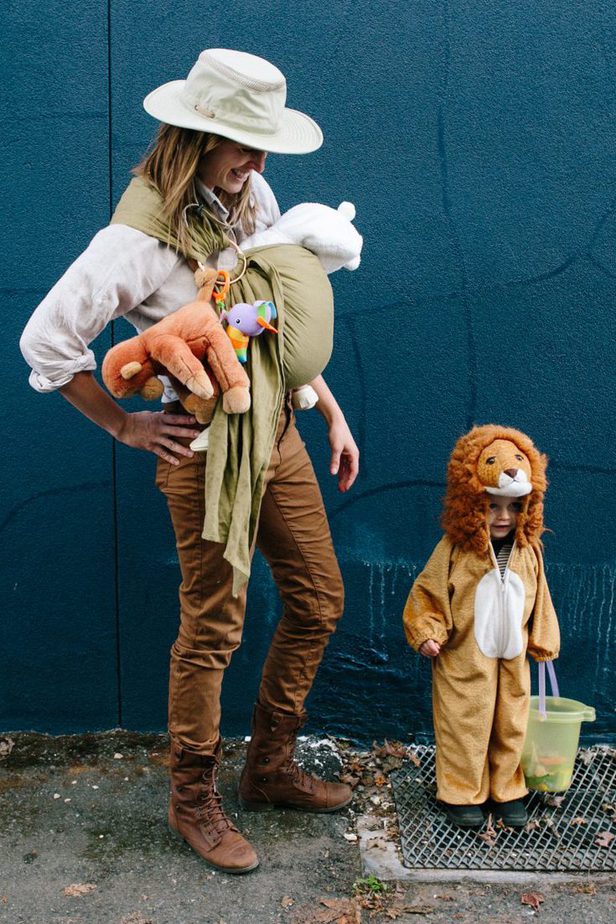 What Family Halloween Costumes have been your favorites? That you've seen or done yourself? I look forward to it every year! I can't wait to share pictures from this years Halloween costume adventures. My lips are sealed! Share your favorite Halloween costumes over on my Facebook page!