I've been debating a fireplace makeover since we moved into our house. On the one side, I (and my husband) think the red is a decent soft color that hasn't called for emergency action…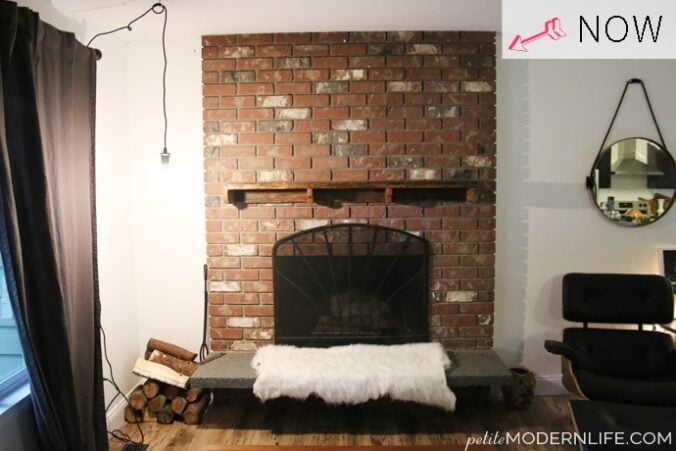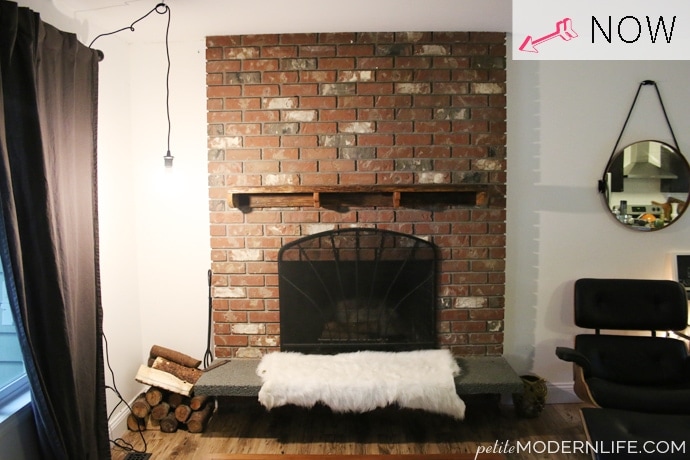 On the other side, I, not yet my husband, (as with most my crazy decor ideas) think the room would look gorgeous with a white fireplace! Here are my renders of what this could look like. They came out a little gray in areas, but I kind of like the look of a gray + white wash look?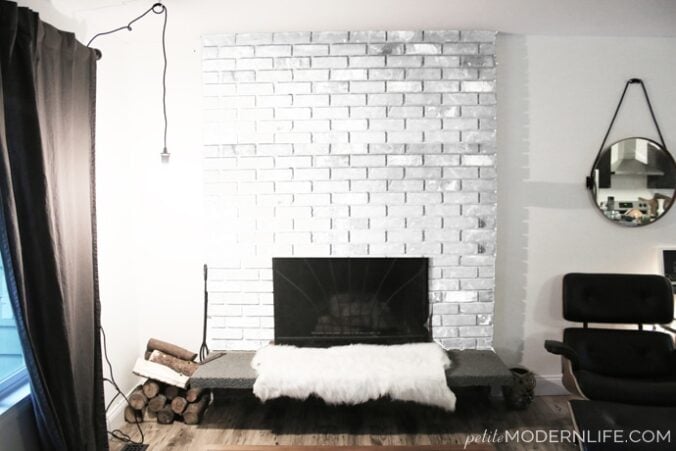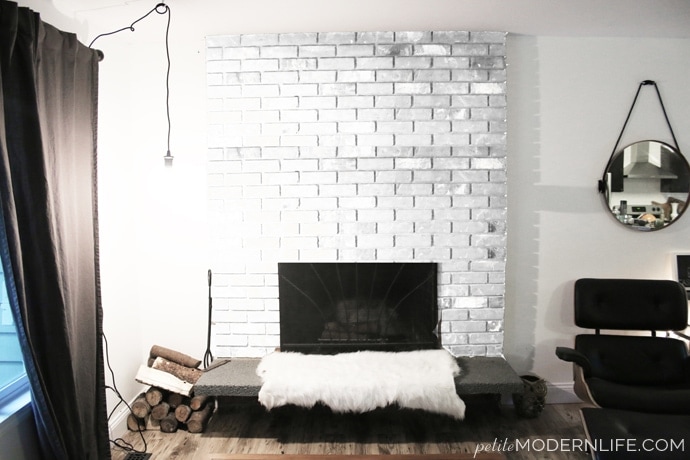 The wood mantle, in the first picture, was there when we moved in and we just haven't done anything with it. It's bulky, cracking, and not quite the style I'd want if I were to go with a mantle. The no mantle look is kind of nice! The hearth settee I suppose is a bit different than the modern boxed-in hearth. Would that make a big difference in the look?
What my husband and I have agreed on is a floor to ceiling wood storage unit! I think it would look great in black (but don't I think that about everything?)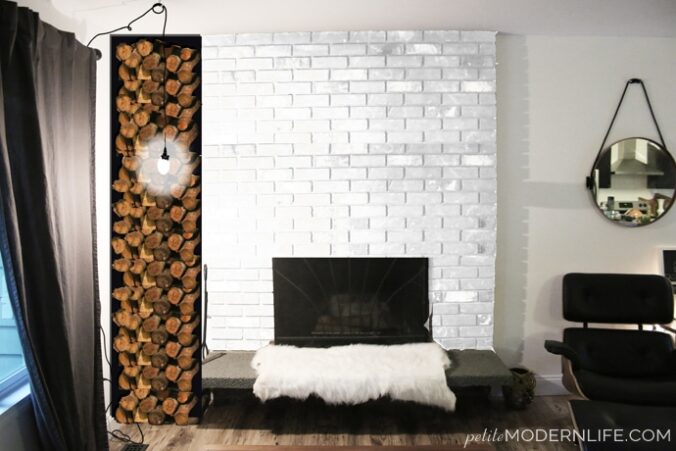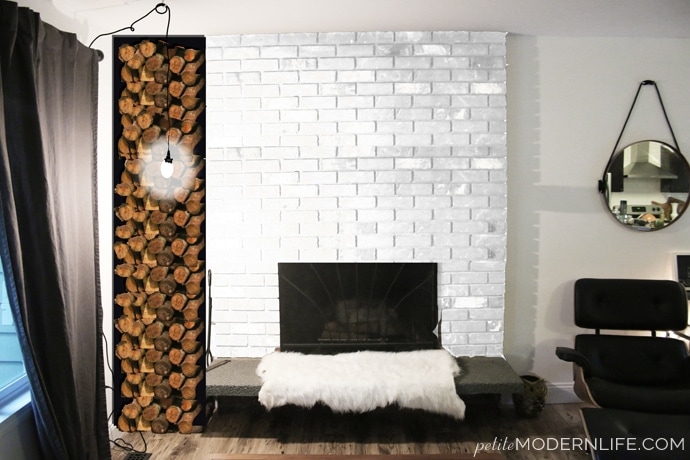 The space seriously beckons for this to become a reality. Now we just need a fun print + greenery to brighten the room up!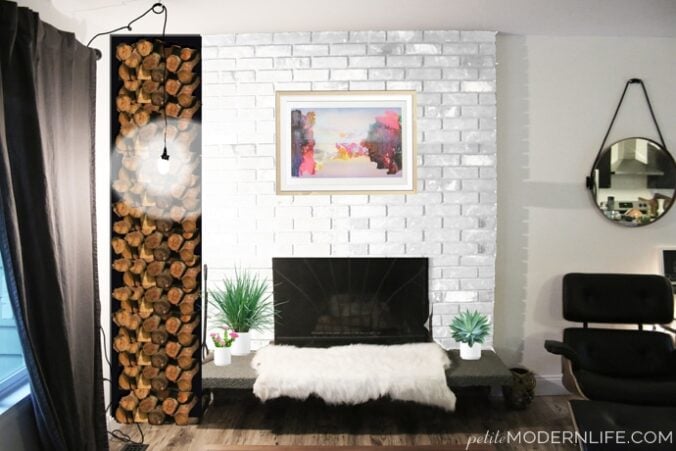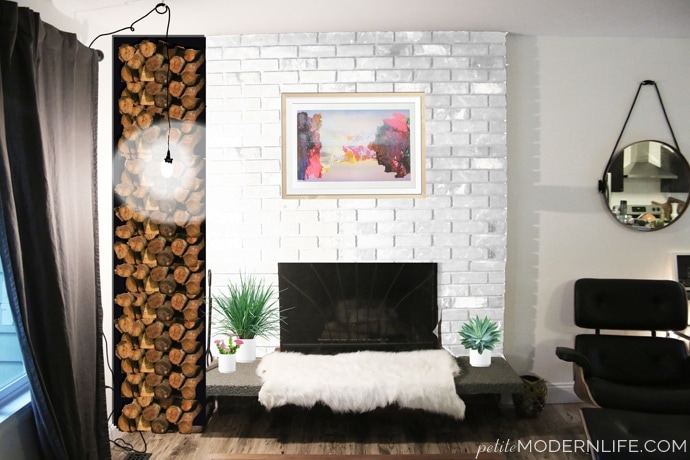 What do you think? No mantle and just a picture frame? Or would a long narrow mantle be nice? Here's what the room would look like with white curtains.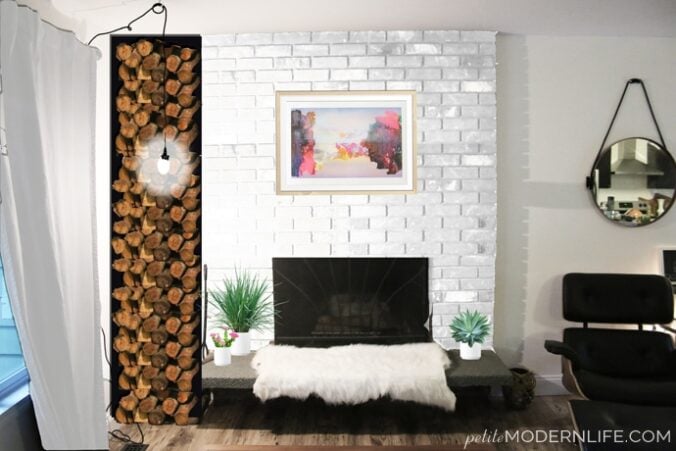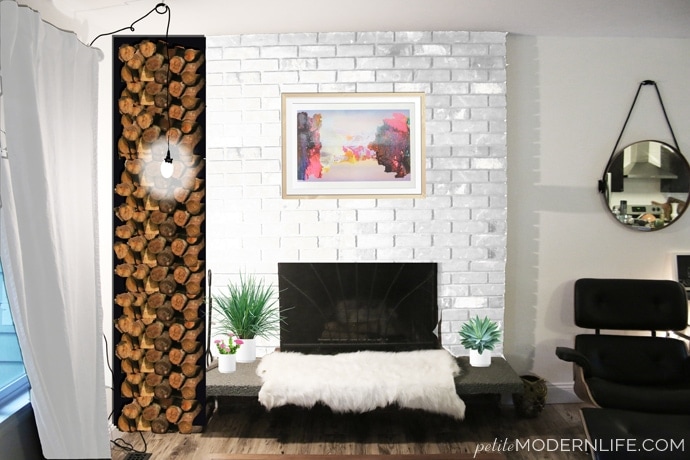 My husband really wanted curtains in the room so we threw up our dark IKEA ones we've had around for a few years. They need to be hemmed, but I'm not sure they're the right look for the space. Eventually I could see getting cordless, top-down-bottom-up, blinds in this large window so we could have street privacy and light. What options do you think would be great for this space?
While I was playing with these pictures in Photoshop, I decided to try out another wall color next to the fire place. Gray is an easy one to start with. It was hard to render a lighter gray into the picture, but this dark grey allows the white fire place to stand out a little more.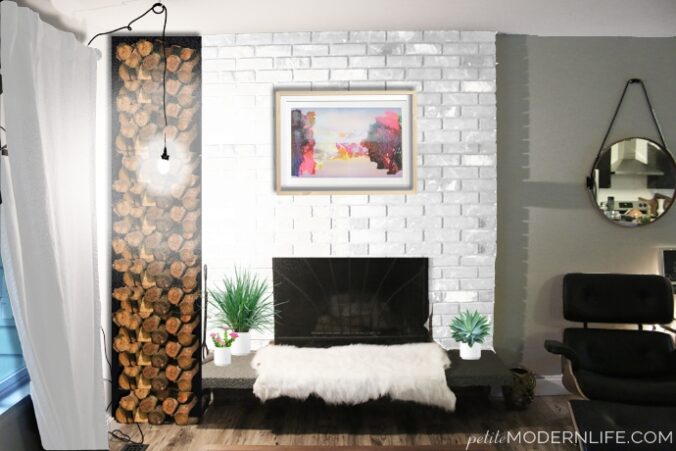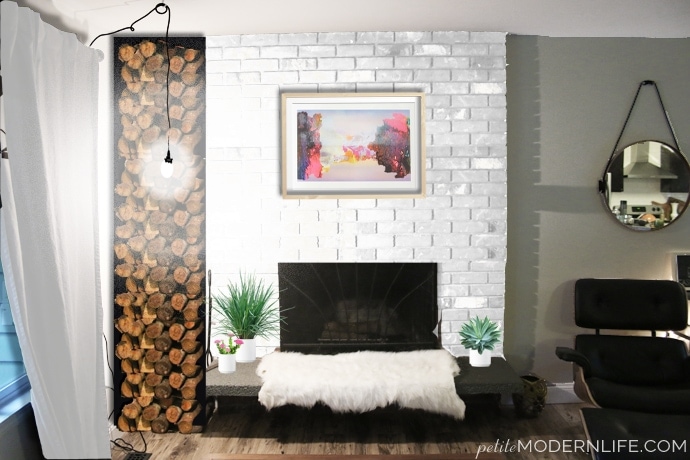 Now, I'm pretty fond of my black + white/grey scheme, but how bout we have a little fun for a moment. :)
These colors would definitely make a statement! And I surprise myself by kinda liking them. I'm not sure how long I'd tolerate them in the living space, but in a bedroom this could be fun on a wall with white faux brick or a white built in shelves!
Now that you've got to play around with my fireplace makeover dreams, lets look at some people who have already committed to a new fireplace look that fits perfectly with  their style!
Gorgeous fully painted white brick fireplace with gold accents from BHG.
Dana's house has had an incredible renovation that you can check out here. Her white fireplace fits perfect with her white walls and dark floor.
Sarah Sherman Samuel, from Smitten Studio, has a cabin makeover that you must see. Her sweet white fireplace makes the space so fresh and inviting.
This white fireplace looks so elegant along with the neutral creams + woods in this room.
Young House Love did a simple white wash over their expansive fireplace.
Erica, from Dwell Beautiful, did a solid white over her brick fireplace that completely transformed her space.
Lastly, this fireplace from White Buffalo Styling Co. was painted black after previously being white. It's so fun and bold, though it might be a little much for our large fireplace.
What do you guys think? There's no going back after painting over a brick fireplace and that weighs heavy on my mind. But the fun + look I'd love if we did paint it makes me giddy!