Today in the Intro to Starting a Blog Series we're going to discuss how to grow your blog! Now that you know why to start, where to start, how to set up your blog, and how to make a beautiful blog post, it's time to learn how to get your content out there in the www and increase your pageviews.
Start a Facebook Page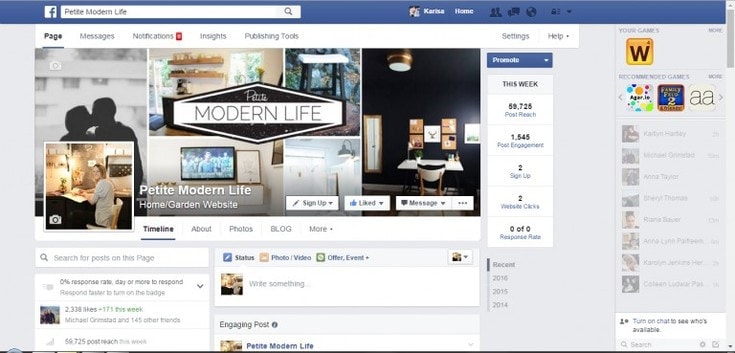 Invite your family and friends to follow along your blogging adventure via facebook. Everyone and their dog uses facebook, so it's a great place to start getting some traction in publicizing your blog. A page is also public so it can be shared and followed by anyone!
Make Pinterest Friendly Images + Pin Them!

Help people easily pin images from your site and click on them in Pinterest. Create an image in your blog post that is vertical, bright, has large and clear text that makes people want to click on  your pin. Check back in the previous post for how to create a Pinterest description. Pinterest is generally the best way to drive traffic to your blog even with their constant changes in algorithms, so don't forget to pin your content.
Submit/Guest Post on Big Websites
There are quite a few websites that will take submissions/guest posts and bring exposure to your blog. Try Apartment Therapy, Design Sponge, and Remodelaholic for home design and DIY projects. Be bold and email other blogs that have contributors and ask them about guest posting or if they're looking for more contributors!
Join Pinterest Group Boards
To find a pinterest group board, you can google a type of pinterest group board or ask other bloggers what they pin to! To join a group board on Pinterest open the group board and first read the board description to see if there are instructions to be added to the group. Otherwise, click on the first picture of the contributor section in the left hand corner.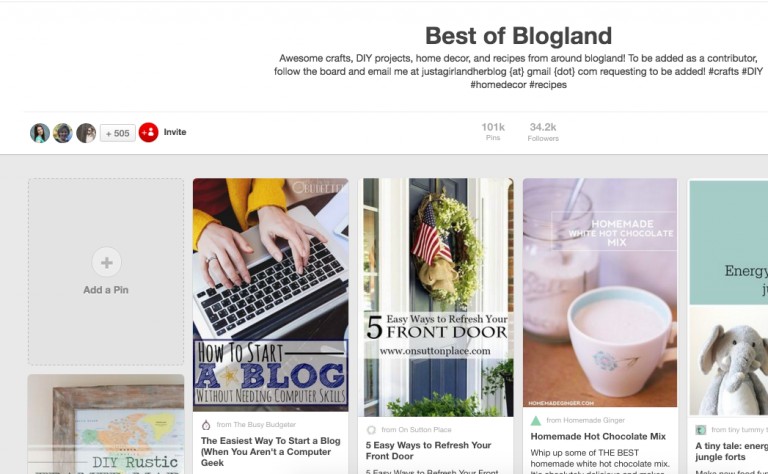 Go to their Pinterest boards and follow all their boards. Then open one of their boards and comment on a pin with your pinterest username requesting to be added as a contributor. Group boards with the largest followings can get you the most views. Pinterest is always changing it's algorithms, so you constantly have to feel out when you get the most traffic from them- hence when to Pin.
Join Facebook Groups
Facebook blogging groups will lend you a TON of help! Blogtalk 2.0 is a fantastic group of almost 500 bloggers. You can email me to see if the group is open for invites. It's also helpful to set up a small group of bloggers in your niche and level to get tech support, advice, and encouragement as you go through blogging. Ask some other bloggers you've found within your niche (and probably around your growth stage) if they'd like to create a facebook group. If someone knows a blogger further along in blogging, it's a great opportunity to have them in your group as a mentor. Internet blog friends are great!!
Submit to Link Parties
Link parties are where you can submit your projects/recipes to a blog or group of blogs and get seen by other bloggers or chosen to be featured by the hosting blog. Here is a great list for link parties. It's best to submit to the larger parties for the most exposure for your time spent.
Create an Email Subscription List
Get people to come back to your blog again and again by setting up a subscription email list through Mailchimp.com. You can have an automated mailing once a week/month or a personalized mailing. Search for Mailchimp plugins to help attract more subscribers. (I useMail Chimp for WordPress & MailChimp Forms by MailMunch)
Create an Instagram Account for Your Blog
Instagram is a great platform to get seen on. It may not lead to many direct clicks over to your blog, but it will get people to see and remember your brand if you're posting beautiful/fun pictures from your blog. You can also use a huge variety of hashtags to connect with other users. Some will even feature you on their accounts. I.e. #imaremodelaholic #foundforaged #apartmenttherapy #dslooking. Sidenote: I usually get more Facebook engagement and reach when I share an Instagram photo to my Facebook page than I do with my other posts!
Twitter
Alright, I need to mention Twitter even though I currently don't use this platform! If you're already on Twitter you know that you can tag and get other people's attention and start conversations. I've heard this is a great way to get in contact with local or big companies (say like @ikeaseattle) to get a conversation going about a potential partnership!
How to Monitor Growth with Google Analytics
Google Analytics is the perfect, albeit complicated, tool to measure how your blog is growing. I'll give you my Google Analytics for Dummies course here (please don't be offended, I'm the main referred to dummy!)
How to Setup Google Analytics
Select the gmail account you want associated with your blog analytics. (this cannot be changed)
Go to https://www.google.com/analytics/
Use this tutorial by Google to set up your account with your blog (using their informative links for setting it up.)
Place your Tracking Code into the pages you want to track using the Header and Footer plugin by Stephano Lissa

Open the plugin under "Settings"  –> select Header Footer –> add code to "head section of every page"
How to use Google Analytics (the raw basics)
Sign into your account and select "All Web Site Data"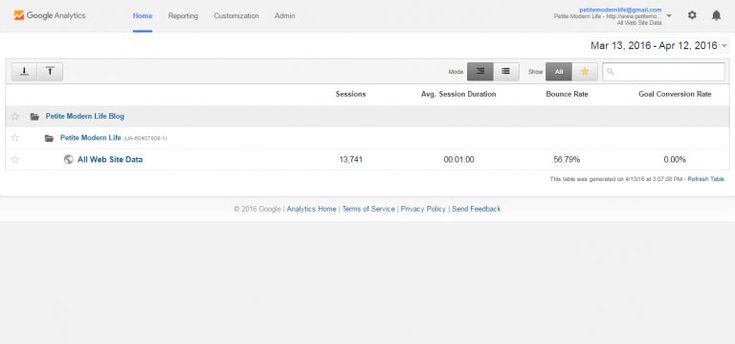 2.  It will automatically show you the amount of session your blog has received within a 30 day range. You can change that date range to any amount. You can also click "sessions" and select "pageviews" to just see the number of pageviews in the given time period.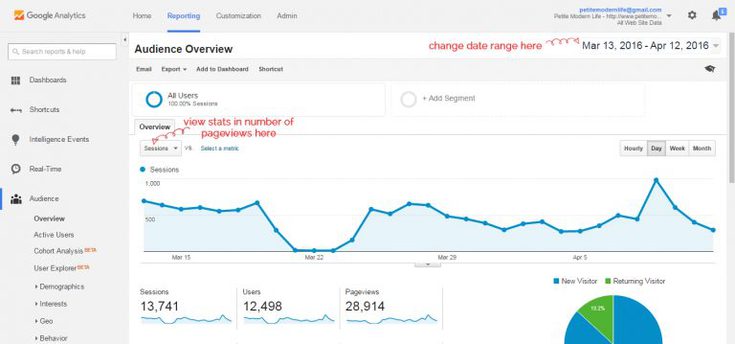 3. To find out where your views are coming from go to the left navigation bar and click Acquisition–>All Traffic–>Referrals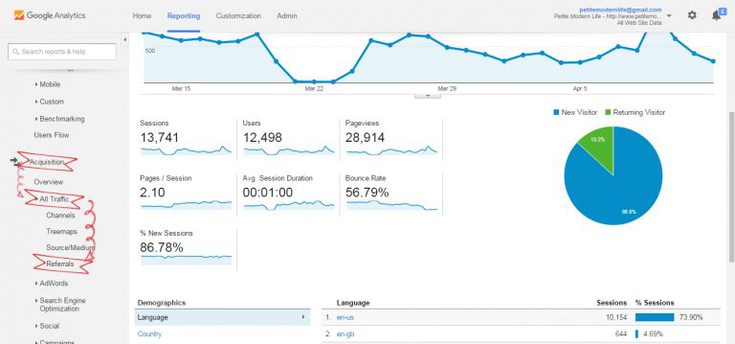 Your referral information is super helpful in finding out how your social platforms are working for you and who is linking to your blog.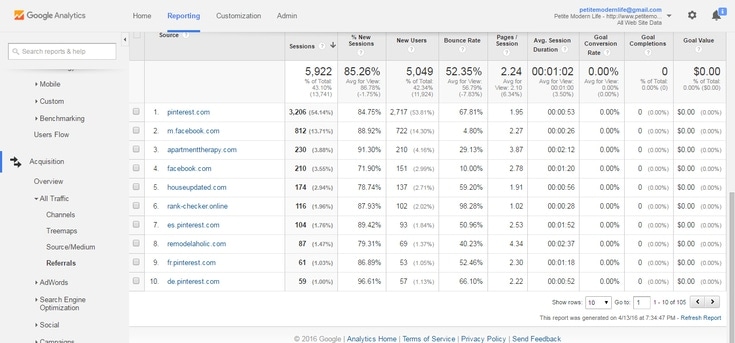 That is the BASIC Google Analytics crash course for you. I hope to learn more as I go!
Now that you know how to promote your blog and monitor it's growth, come back next time to learn how to make money off your blog!
The Full Series
Two easy ways to make money blogging.