HERENow that you know how to set up your blog (see here, here + here)  and and get your content out there, you're ready to make some free money! I mean why not make some money on this fun little venture? Here are 2 easy ways to make money blogging.
Amazon Associates
Who doesn't love Amazon? It's pretty much a household name synonymous with convenience and great products. Joining Amazon Associates is completely free and does not require approval from third party advertisers like you'll see with other affiliate programs.
You can check out all you can do with Amazon Associates right HERE, or read this quick rundown:
Use text links to products in your post.
Use banner advertisements on your sidebars, pages, or posts.
Use bounties to earn a set commission.
Amazon provides it's payments or "fees" (not a fee YOU pay) in form of amazon gift cards right to your email at the end of  the month. Easy peasy. It's really like free money, because what CAN'T you buy on Amazon?
Amazon affiliate links are very useful in creating mood boards! My New Puppy Checklist mood board continually drove the most Amazon money to me in the past year.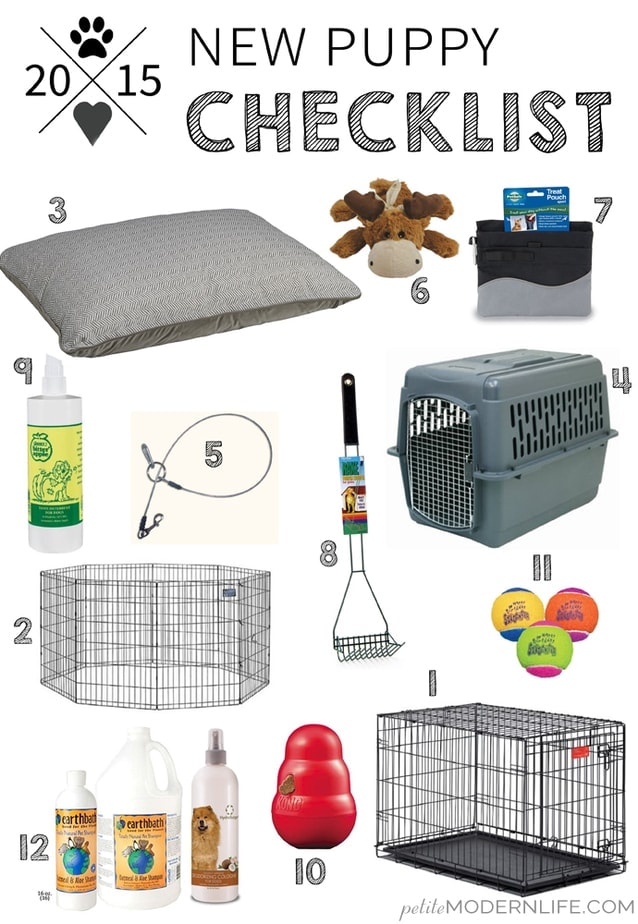 All the links go to Amazon products. You can see what products are being sold with your referral links in your reports. The majority of mine are actually these products! You don't need to make a board like this for every post. You can also simply link items in your post to Amazon. When one of your affiliate links is clicked on, you get a fee for whatever is purchased by the user for the next 24 hours.
To comply with the Federal Trade Commission (FTC) you need to declare on your post somewhere that you are, or might be, using affiliate links.
Read about how and what you need to disclose when using affiliate links, sponsored posts, and gifted products here and here.
Google Adsense
Google Adsense is another easy way to make some revenue off your blog. To sign up for Google Adsense you'll need to choose the gmail account you wish to have associated with the account (use the same on as your Analytics account). You cannot switch this later on. Next you'll need to verify your website with the steps provided. Then you'll need to fill out your personal information in order to receive payments, including the routing number to the bank account you wish to have Google deposit your earnings into. Before you can receive your payments, Google will deposit a small amount of money into the account and you will have to verify the amount with them. You will also have to provide your tax information. This will include your address, citizen status, and social security number.
Once you are all squared away with that information, you can start creating ads for your website.
How To Place An Ad In Your Blog's Sidebar
Click "My Ads" in the top menu bar of Google Adsense
Click "New Ad Unit"
For best results, choose the responsive ad unit and use their recommended options. Click "Save and Get Code."
Copy the code and open your widgets menu on your WordPress navigation bar
Drag a "Text" widget into your sidebar menu. Open it and paste the adsense code inside
Click "Save" and you're finished! It might take some time for it to appear initially on your blog.
To place ads in your blog posts and on your pages use the plugin Google AdSense by BestWebSoft.
You will need to download the plugin, go into it's "settings" and connect it to your Google Adsense account. They will ask you for your Publish ID. Find your Publish ID by following these steps. Then:
Create a NEW ad in your Google Adsense account. Label it to remind you where you will be using it. Open the plugin Google AdSense by BestWebSoft.
To place your ads in your post: Select "Posts/Custom Posts" –> select the ads you want to use –> choose the desired "position"–> save. Check your blog to see if that is the position that works for you! Tweak as necessary.
*Note: You can get penalized by Google Adsense if your blog is too ad heavy.  You are only allowed three long/horizontal banners per page. Do not to click on your own ads. Ads above the fold (where you have to scroll down to see more) will be most effective.  Here are some more guidelines for adsense beginners.
I put this part of the series at the end because it really does take good content and getting your content out there to raise your pageviews that will in turn increase your earnings from both Amazon and Google. After you're reaching 50,000-100,000 pageviews/month you can use an Ad Manager that can increase your blog earnings immensely.
But start here and soon you'll see your blog start to pay for itself!

Please send me an email using my contact page for my rates and options!
The Full Series