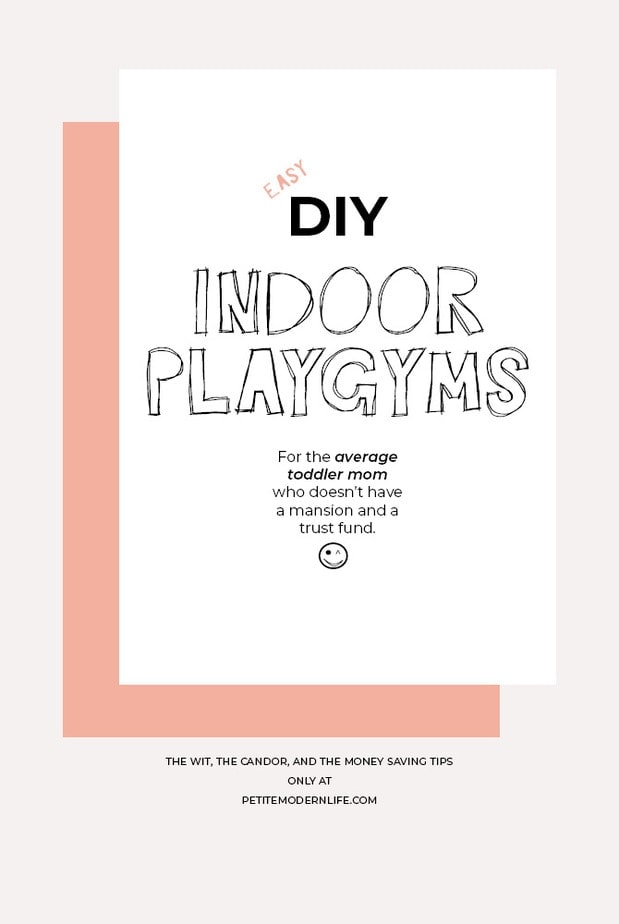 Summer hasn't officially ended, but the new school year, no matter how old you are, always changes the mood! Even if it it's still 90 degrees as the children attempt to wear their modernized chunky knit sweaters. And even though I'm hitting up the parks everyday, I'm beginning to form my winter-snowed-in plan for my toddlers with a DIY home kid indoor play gym.
You don't have to have mansion, an indoor climbing wall, or anything custom built for that matter, to create a an amazing indoor play gym. It is true that the smaller the kids the easier it is to make an indoor play gym, but that's when we stay and home mom's need it most!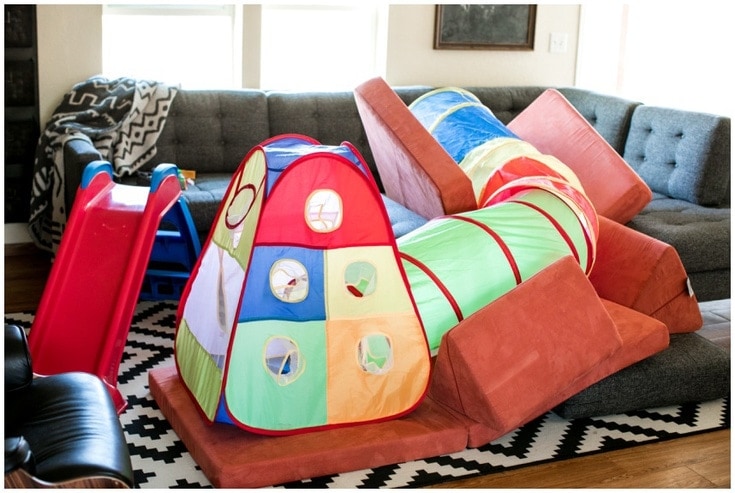 My Toddler Indoor Play Gym Goals
Stimulate activity: The gym pieces easily stimulate movement and physical exertion.
Stimulate creativity: My toddlers can help write the stories of our play time by moving the pieces or asking me to make various setups.
Compactness: The indoor gym pieces have the ability to be stored easily throughout the house.
Favorite Toddler Indoor Play Gym Items
#1 The Nugget Comfort:
If you've seen my Instagram Stories, you'll know I've frequently highlighted our Nugget Comfort. It's a 4 part cushion set designed to make children's forts and indoor soft play areas.
One rectangle and both triangle cushions are made with high density foam. One rectangle is made with a softer foam. The cushion covers zip off for easy washing and can endure heavy play without tearing. (It's very impressive!!) You can choose the color of your Nugget, but you can not mix and match the colors of one set.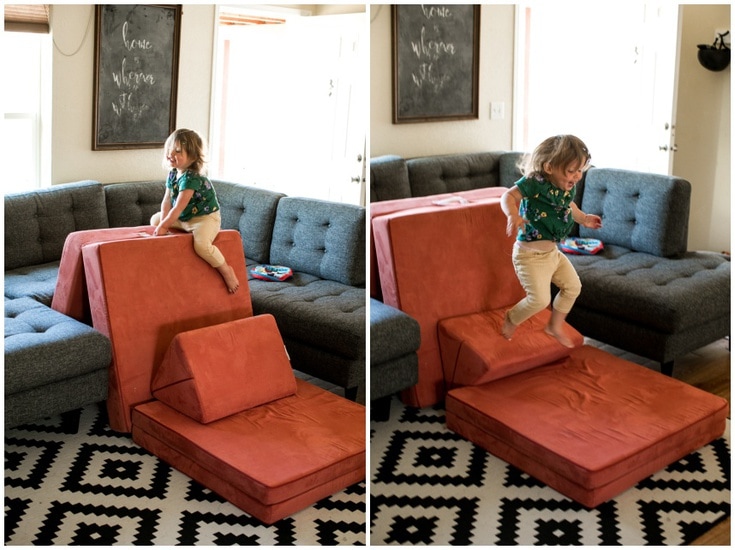 Fun Nugget Comfort Formations
Pyramid with landing pad: Brace the bottom of the dense pad against a couch or ottoman and place the soft pad on the floor. The triangle cushions can be steps or obstacles for kids as the climb and jump.
The slide: Place half of the dense cushion on the couch (we have to remove a couch cushion for the proper height) and balance it with a triangle cushion under the angle. Lay the soft cushion folded over or laid out at the bottom. Kids can jump, roll, or scoot up and down the ramp. We add a slippery yoga mat for a slide! Change the angle and height of your cushions for taller slides! This is also a fun one for kids to race cars or balls down.
The tent: Put both large cushions up like pyramids and hang a blanket over the ends for a tent. I always remind my kiddos that the soft rectangle cushion will collapse if jumped on and never to jump on the cushions when someone is underneath.
The corral: Make a fence with both cushions on their sides and the triangle cushions at the edges to keep toys and kids contained.
The maze: Stand both of the large cushions into "L" shapes and fit them to make a maze. Place a sheet on top for a tunnel.
Summersault helper: Lay out the large mats and place the triangle cushions under the creases. Help the kids with their summersault form as they roll over!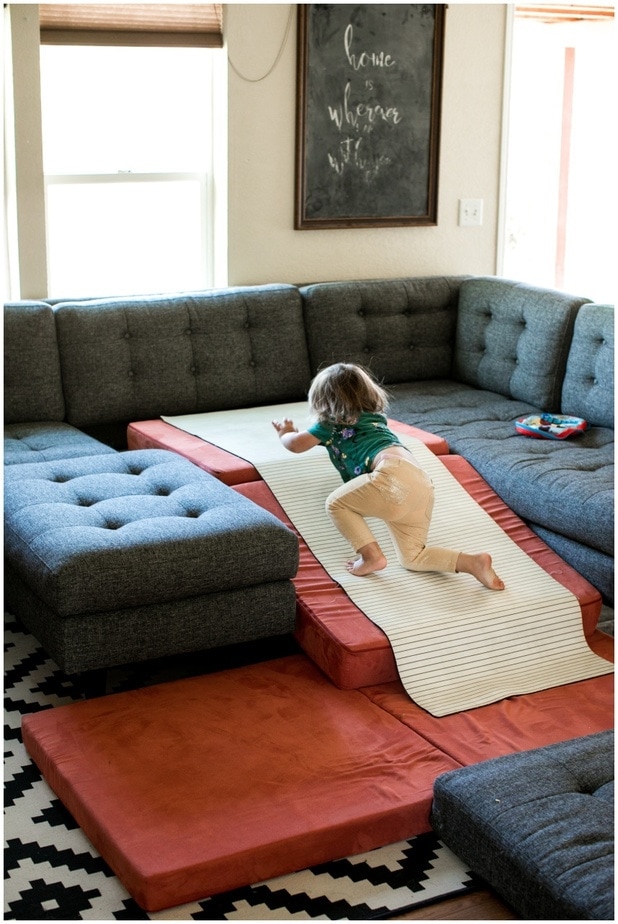 Nugget Comfort Play Ideas
Transportation anything: Make the triangle cushions into seats and have them "ride the school bus, fly an airplane, be a cowboy, or fly a spaceship to the moon!"
Go camping: Head to the "tent" with their cuddly blankets and books.
Car adventures: Bring out the trucks and cars to drive through the tunnels and down the ramps.
Build a tower: The big cushions are a bit heavy for the to move, but 2-4 year olds can move and stack the triangle cushions.
Sleeping cot: We've let our kiddo use his Nugget in his room to have "sleepovers" on the floor. He was bring his own blankets and pillow on it to fall asleep anyways so we let him do it!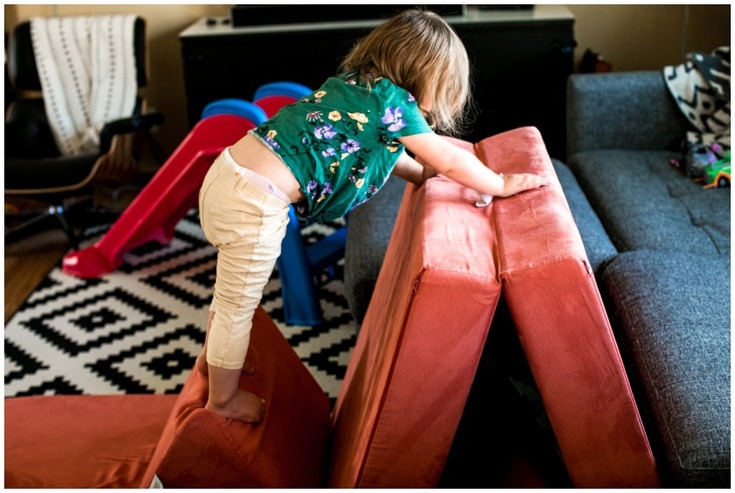 Once we got going with the ideas for our Nugget Comfort they continued to grow and get better! We honestly have this indoor play structure out and in use every day. It was THE BEST play investment we've made.
#2 The $30 Collapsable Amazon Slide
This foldable slide is small, but all toddlers want to do is climb up and slide down things so it's the perfect size for indoor winter play! When not in use you can fold it up and stick in a closet or hang it in the garage. Find the slide on Amazon HERE!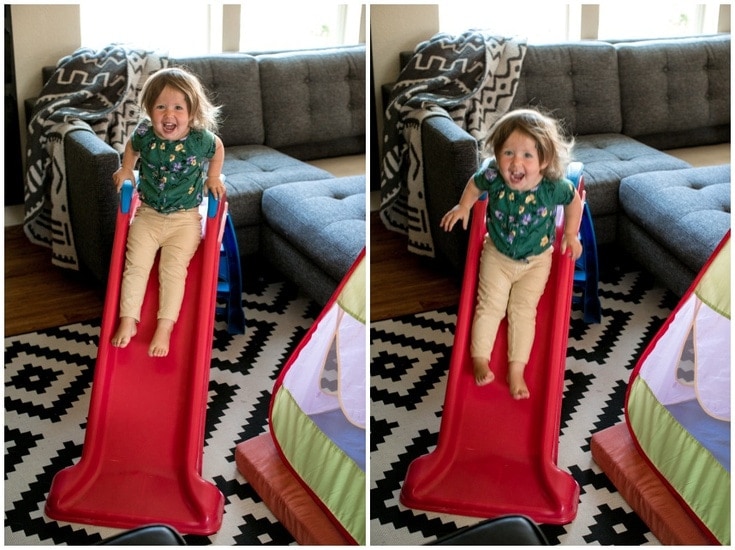 #4 A Mini Trampoline
These trampolines always seem to pop up on Craigslist or Facebook Buy Sell and Trades (BST). They are a great indoor play gym accessory for encouraging kids to get those winter wiggles out! Here is the popular smaller trampoline on Amazon. If you have a garage, kids will have even more fun on the mini enclosed trampoline like this one!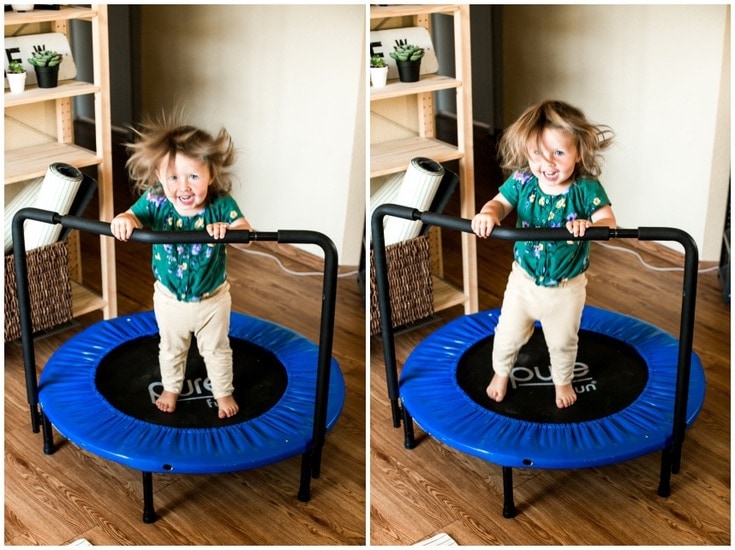 #5 Collapsable Tunnels and Tents
These are a great gifts to ask for and give to a toddler parent! They don't take up any storage space and always add a lot of fun for play time! The kids love to play in these around the house. Bedrooms, hallways, and the living room! The ball pit that comes with some of these sets was fun, but I did not enjoy picking up the scattered balls around the house, so that one is on you! ;) Find the Tunnel Tent Set on Amazon!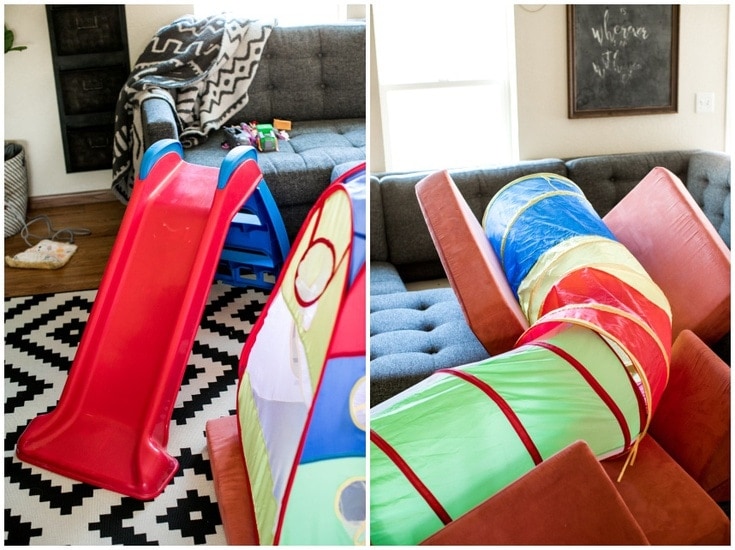 #6 Indoor Play Kitchen
There's so much nostalgia around an indoor kid's play kitchen (like this one!)The reality is that most kids seem more likely to play in a play kitchen at someone else's house! However, it's such an easy toy to have and the accessories are what make it fun!
We got our play kitchen at Ikea and it's just the perfect size with all the necessities. It also blends into my actual kitchen nicely. However, Ikea toy kitchen's might take you up to 4 hours to put together! So find a good show to binge and strong glass of something!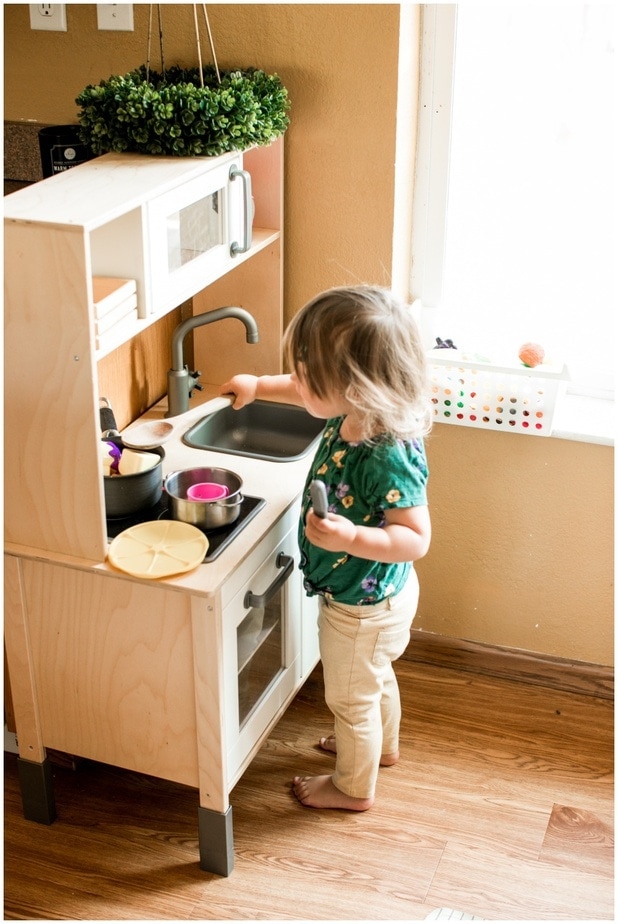 Don't forget the kitchen accessories! :
#7 Art Easel
I requested an Ikea art easel for a past kiddo's birthday. (This art easel on Amazon is so classic though!) It was a great call. We love doing chalk, markers, and water color (easy clean up!) on it inside. I like to lay one of our Gather mats under for easy cleanup and helping the kids stay in the "art area."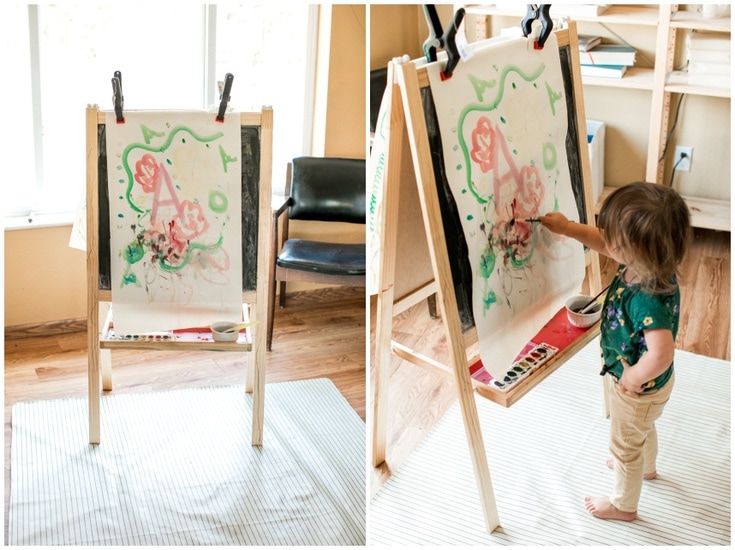 Art Station Checklist: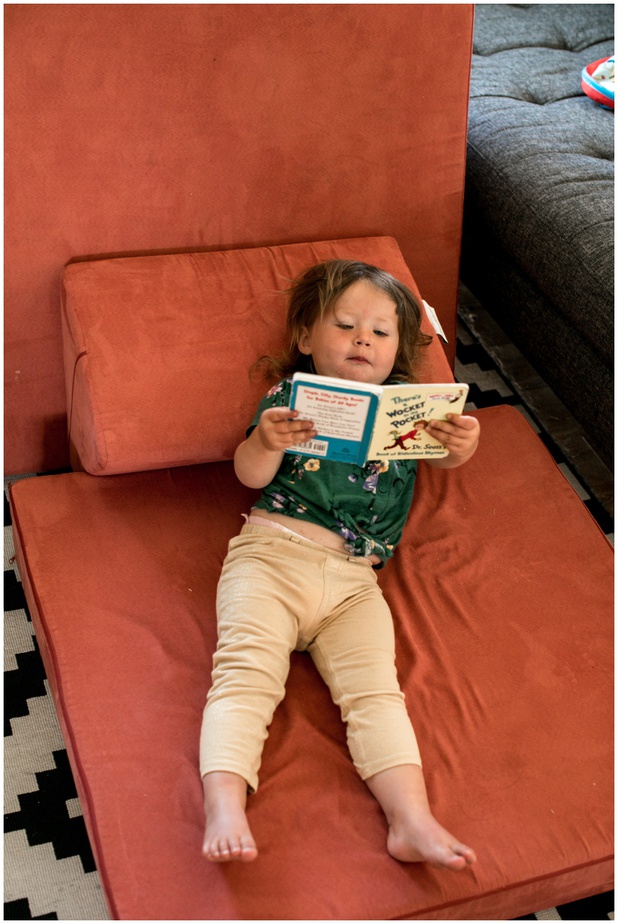 I hope this post helps you get excited about toddler indoor play gyms in a practical way! Share this post with a friend who needs some kid winter indoor activities, send it to your family for gift ideas, and Pin it to Pinterest to go back to once the cold weather hits!
Follow Petite Modern Life on Instagram for plenty of indoor play gym inspiration!