A friend of mine from college recently asked me for some ideas to add some curb appeal to their home. Of course I said yes! Lindsey and her husband Laszlo claim to have slightly different styles, her being beachy-cottage and his minimal-traditional. But really, I think the two styles can combine for some gorgeous curb appeal. Here is there cute house as it is right now.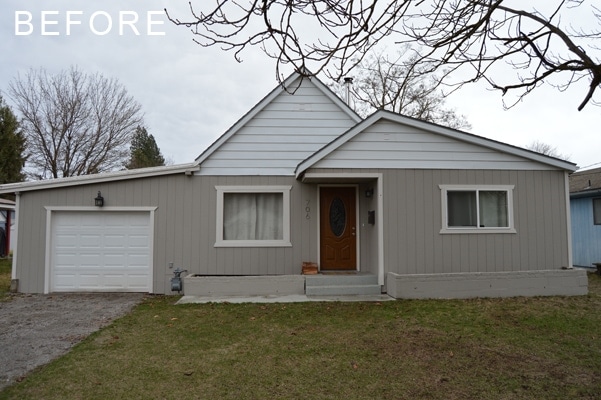 It is such a fun little space to work with. I love that the windows and garage are already trimmed out and the flower beds have a lot of potential. Here is what I came up with to give this home some curb appeal that would make it stand out!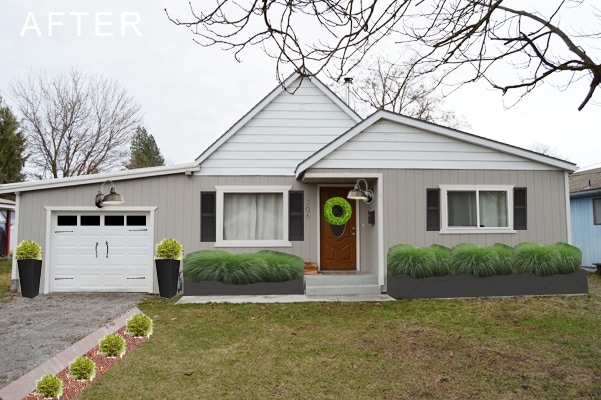 Voila! Big impact without remodeling or big money spent.
Shutters ($36) add instant curb appeal to any home. They come in board batten or paneled at most hardware stores. I love the black contrast against the taupe siding and white trim of this house. Not only does it look sophisticated, but it makes the colors seem warmer and more intentional.
Barn Lights ($40)are so fun. They totally pull of the country chic and modern vibe. I used this one in the guest bathroom of my last house and it was perfect!
Garage Door Decor ($20) is a great inexpensive way to makeover your home exterior without breaking the bank.  You can also tape off and paint the top squares of the garage door black to look like windows. A passerby would never know that it's just a simple garage door.
Planters ($35) surrounding a garage add attractive curb appeal to a home. But my gosh they can be expensive. like in the $$$ range. Not these ones from good old Ikea though! You can also spray paint any large planter you find for a great deal.
Boxed Wreaths ($60) are perfect door decor for the spring and summer. You can really make any front door look like a million bucks by hanging a wreath on it. So if your door is hard to paint (because I love painting front doors) like Lindsey's, just hang a wreath on it!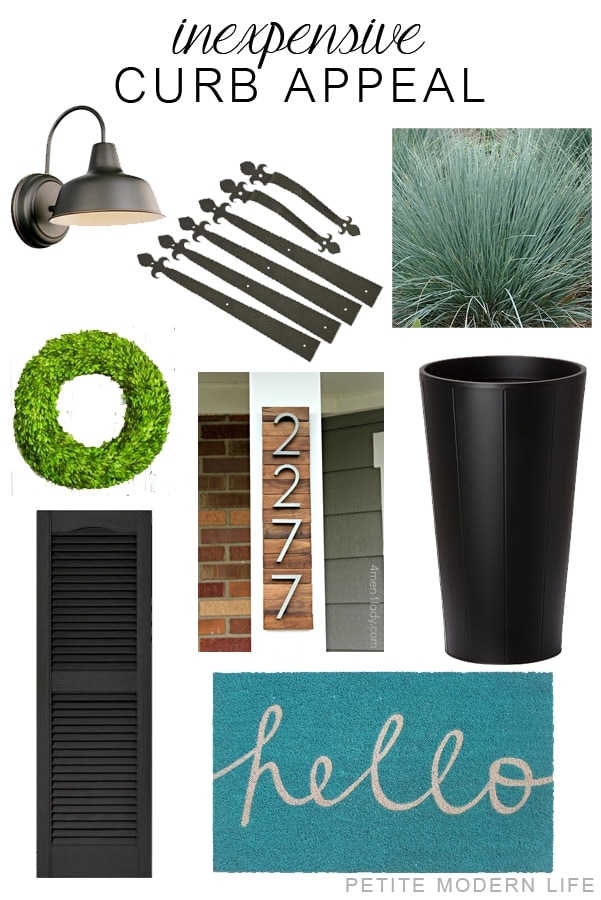 barn light / garage decor pieces / boxed wreath / modern house numbers
For Lindsey's house I also suggest painting those front planters black or dark grey to match the shutters. I'm not a plant guru, so take or leave my plant advice, but I love the look of Blue Oat Grass. I think it would cover the beachy cottage and modern traditional look easily and limit the hassle of dealing with too many plants and flowers. However, planting tulips and daffodils among them for some spring flare would be gorgeous!
For more curb appeal you can do this DIY house number project as seen on the blog Four Men and a Lady.
Add a doormat with some color flare to the front porch like this cute turquoise one from Target!
You don't have to have a black asphalt driveway to have curb appeal. Just add some pavers, bark, and a few hearty plants along the edge for some quick and simple beauty!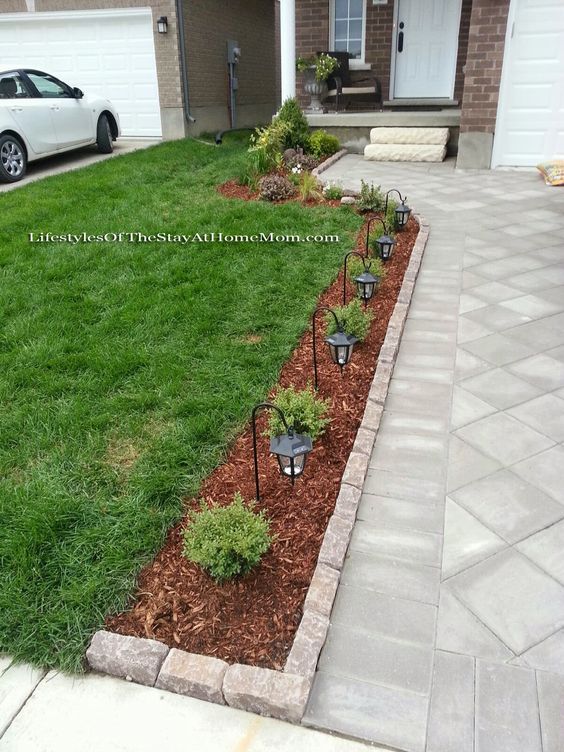 So there you have it. Curb appeal doesn't have to be too daunting or expensive. Visit a local nursery to find out what plants are best for you and your yard and then sit back and enjoy your lovely home! See more Curb Appeal Ideas on my Pinterest Board!
*This post may contain affiliate links to products I love to use and share*