Alright alright alright. This weekend we got back into action mode in the house. Michael started tiling the bathroom and I started painting the office. After painting I needed to calm all my decorating jitters by creating a mood board for my 'final' vision for the space. And you know, I just can't kick that black + gold look out of my head.
I just can't kick that black + gold look out of my head.
It's glamorous and bold, and that's kind of how I like to do house projects. Well, that is when I'm not doing clean + simple decor. Please don't judge my schizophrenic decor mind. Anyways, I went bold and bought myself some Valspar paint in "kettle black" paint and took a fat roller to it. Mmm mmm it is good. I'll share pics sometime when you can't see my terrible painting habits my small mistakes.
Do you still love the metallic gold + copper craze? It isn't that new though. They've always been around right? It's just we, the DIY public, have finally figured out how to incorporate it all classy like into our homes. (Admittedly, some better than others.) I think when well done, copper and gold accents can find long-term resting places in our decor. Sure you can still change it out eventually, but I'd rather not be wasteful and love what I have for as long as I can. So I'm sharing some pieces that will probably find a place in my office. I think I'll go gold over copper in the long run. So here are some pieces for a  black and metallic office to muse over!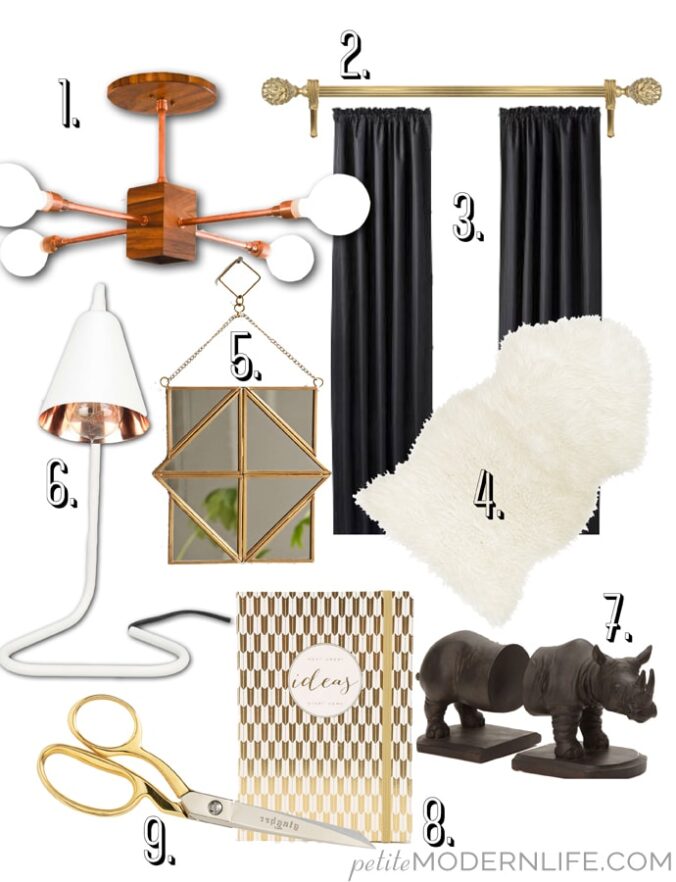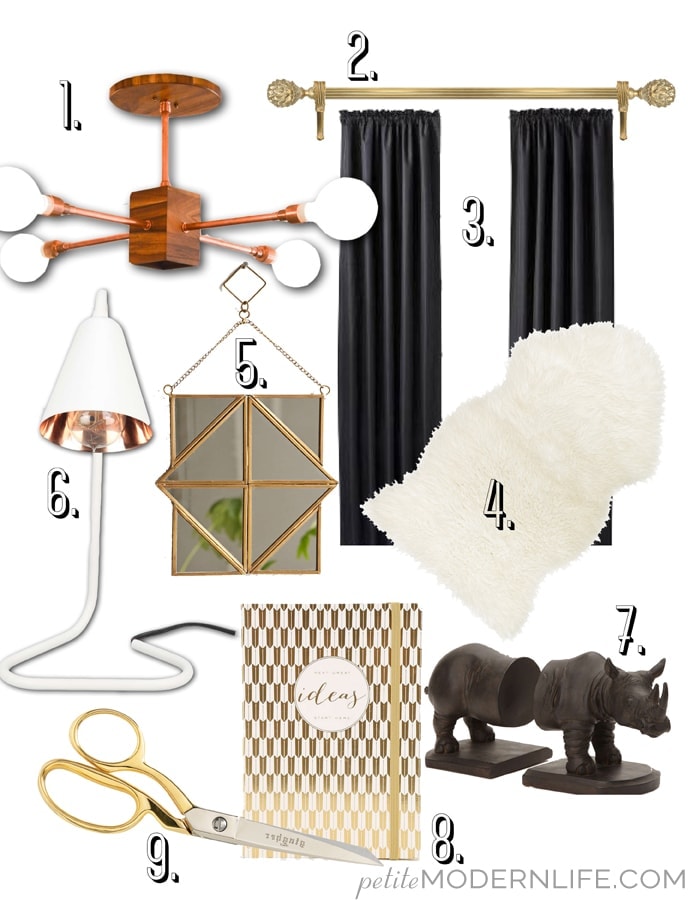 | No. 1 | This light is a DIY by the amazing Mandi Gubler from Vintage Revivals. I'm fairly certain we'll follow her DIY and make this, but in gold!
| No. 2 | A gold curtain rod. I found one at Target that I like, but I couldn't get the pic like I usually do from their site.
| No. 3 | Black curtains for the bold look. Contrasted with the gold rod? Oh yes please.
| No. 4 | Definitely going to need an Ikea sheepskin throw to keep it classy and add a little bit of cozy.
| No. 5 | A cool geometric mirror like this one from Urban Outfitters? Sounds like a perfect DIY challenge.
| No. 6 | This desk lamp from U.O. takes the cake for style. And it's currently on sale.
| No. 7 | Needing some more black items, how about this Rhino bookend from U.O.
| No. 8 | If we're talking office, then we better have a stylish gold notebook.
| No. 9 | And lastly, those darn beautiful gold shears… *Dreamy sigh*.
What are some accents you think I'm missing that are key in YOUR office space/craft room? Go ahead and send me pins on Pinterest!