I'm almost 38 weeks pregnant and we've been cramming in the last minute projects before our little dude gets here. So many things are getting checked off the list! Still, we wanted to get away from the house to-dos, the animals, and the same old same old for a little babymoon. And it actually happened! We took our Subaru over the mountains to our nearby favorite get-away: Leavenworth, WA.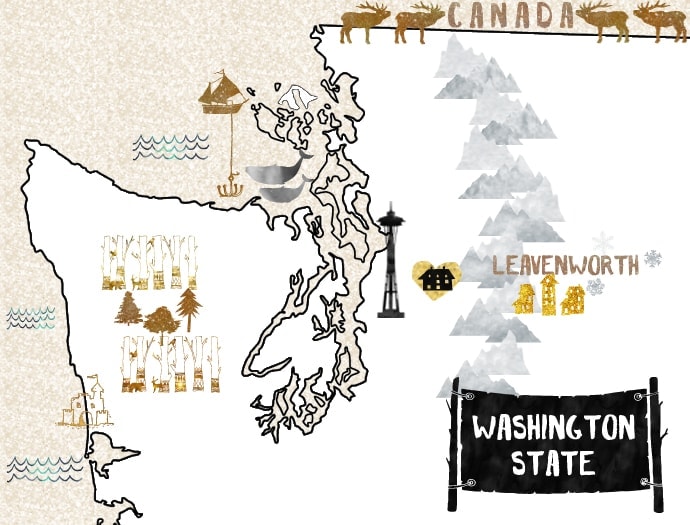 If you've never been let me explain why this is one of our favorite quick get-aways. Leavenworth is situated just over the cascades on Highway 2 about 2 hours and 45 minutes from Seattle. Only 2 hours from our house. After a scenic mountain pass drive you literally pop out of the mountains right into the sweet little town.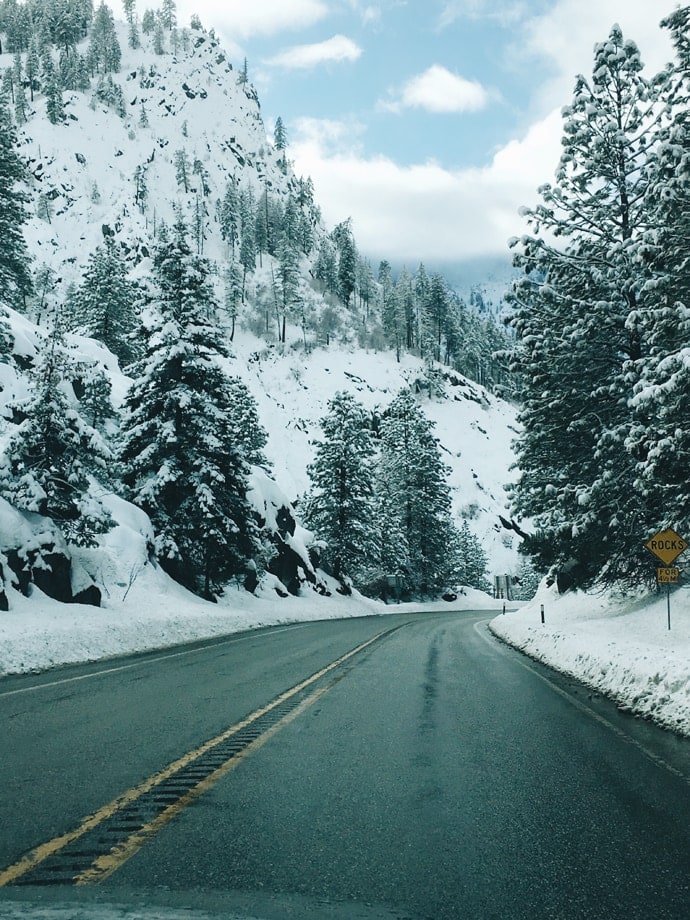 We arrived in the evening and set off to eat at the Wok About Mongolian Grill. We basically turned into oversized children at the sight of all the snow.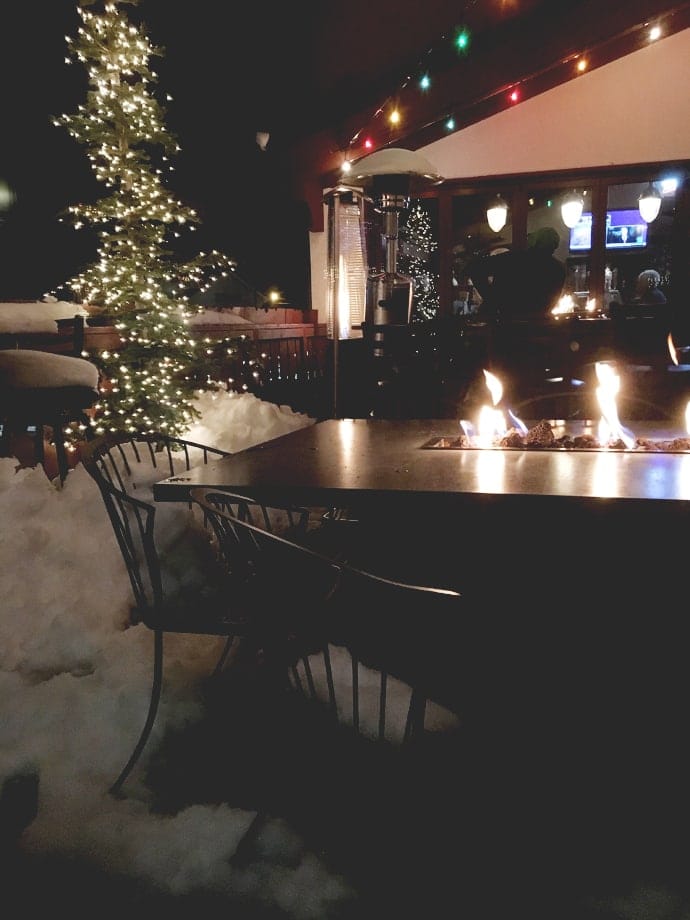 Dinner was great and our fortune cookie was fairly spot on as well! (The other one made no sense at all…)

Did I mention that Leavenworth is a little Bavarian themed town? Oh yes, the entire place has the look, taste and feel of a little German mountain town! And they leave their lights up all winter long to bring joy to your soul.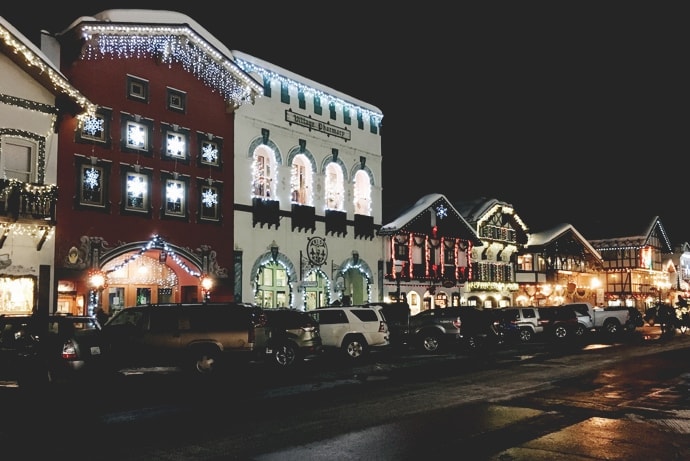 They have fun antique shops, lots of wine, balsamic + oil, and mustard tastings, plenty of trinket stores, a year round Christmas store, chocolatiers, food galore, hat shops, and the cutest little boutique that I window shop each time I'm there.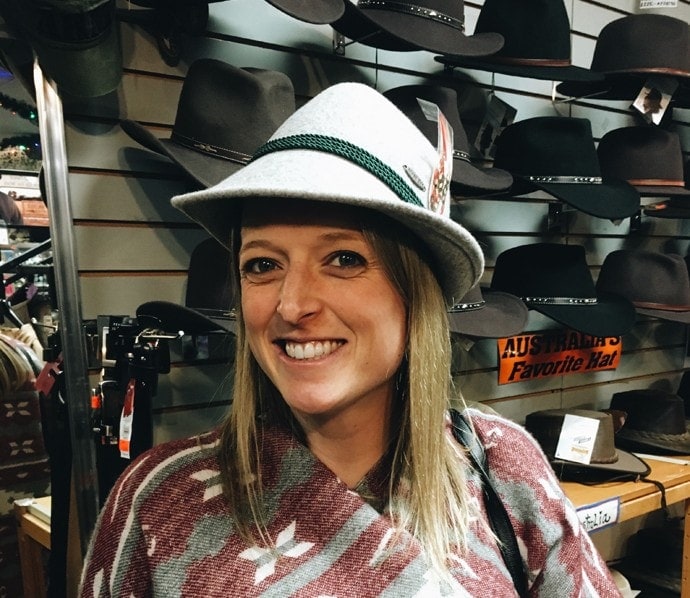 Can you picture Frau Karisa running through the snowy hills of Germany? ;)
When we woke up after our "crazy" pregnant evening of playing a card game and watching the history channel (true story), we saw it had been snowing all night. It was beautiful out!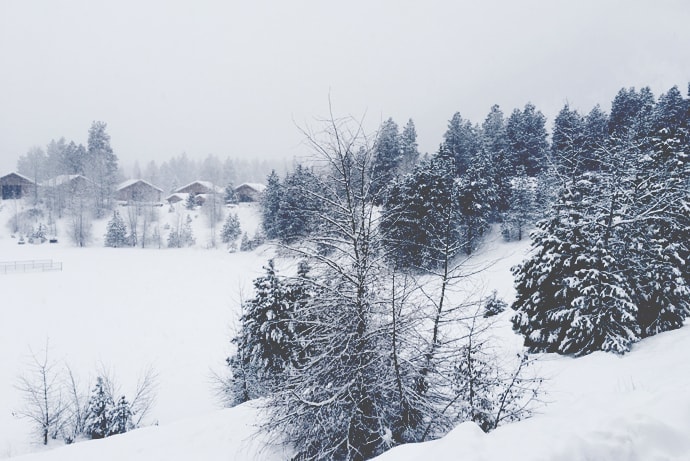 The town sits above a beautiful river (one that we actually float down in inner tubes and river kayaks in the summer!) that was even more magical with all the snow.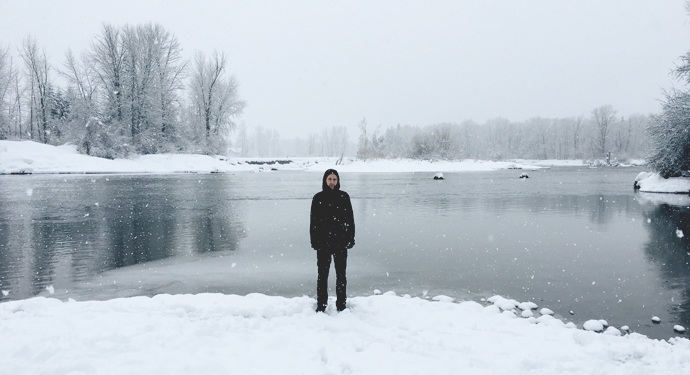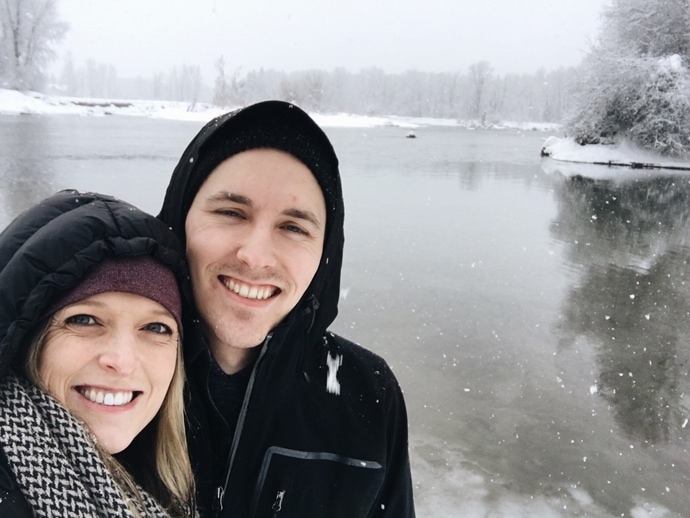 To be honest (and maybe hokey), before our trip I wondered if I should look up "quality conversations to have on your babymoon." I didn't, but that was for the better. Not only have we had 9 months to talk through just about everything, but truly all WE COULD talk about the whole time was how excited we were to meet this little guy so very soon and do these life adventures with him. Basically we kept repeating, "this is nuts…" In the best of ways of course.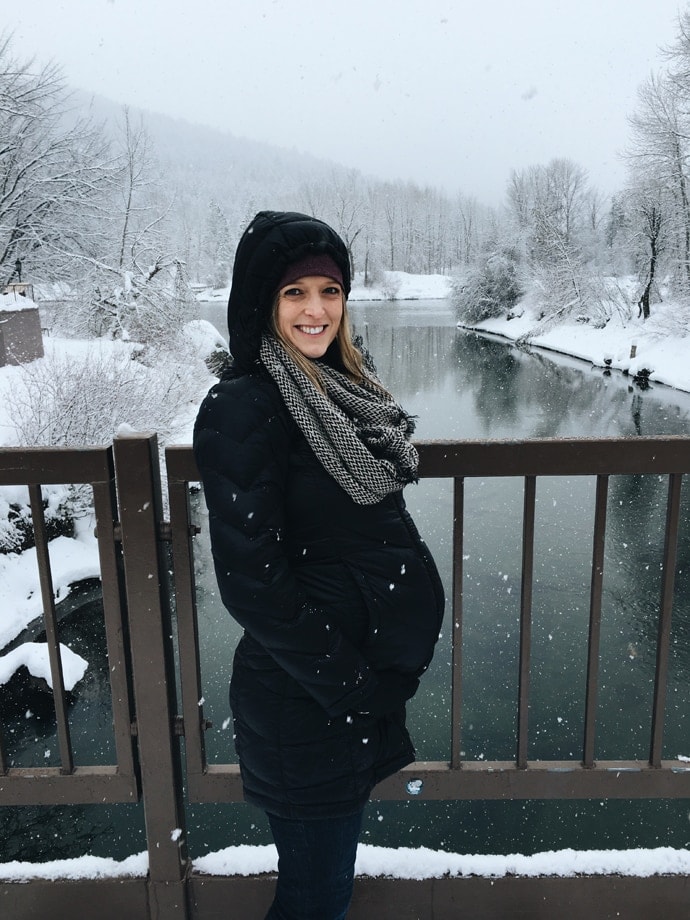 Oh- and this shot had to happen. How could one not in the present circumstances?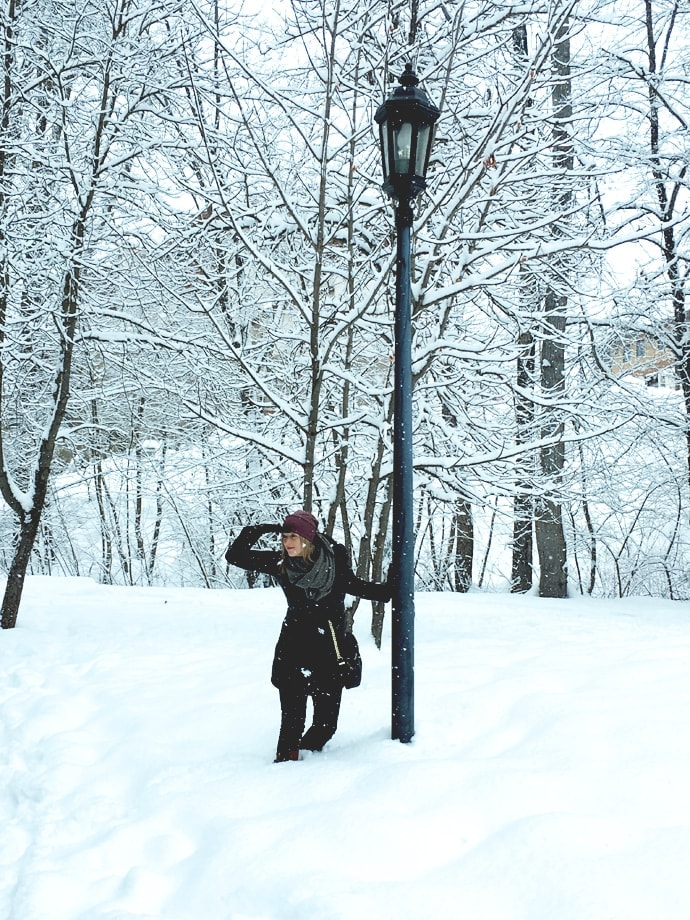 If it's unclear, I'm looking for Mr. Tumnus. A character among many beloved characters in the stories of Narnia that this little boy will know and love someday, just like his mama.
After touring around the town, the last item on our agenda before heading back over the pass was to consume/enjoy/devour a traditional German sausage at one of the local eateries. Mr. G had a Bratwurst (a German sausage made from veal, pork or beef**) and I had a Bockwurst (a mild German sausage made with milk, eggs, pork, veal, and chives**). They provide a mustard bar with everything from curry mustard to sweet maui onion mustard for you to try (I like to sample a few!) and a bottomless amount of sauerkraut to pile on top. Hungry yet?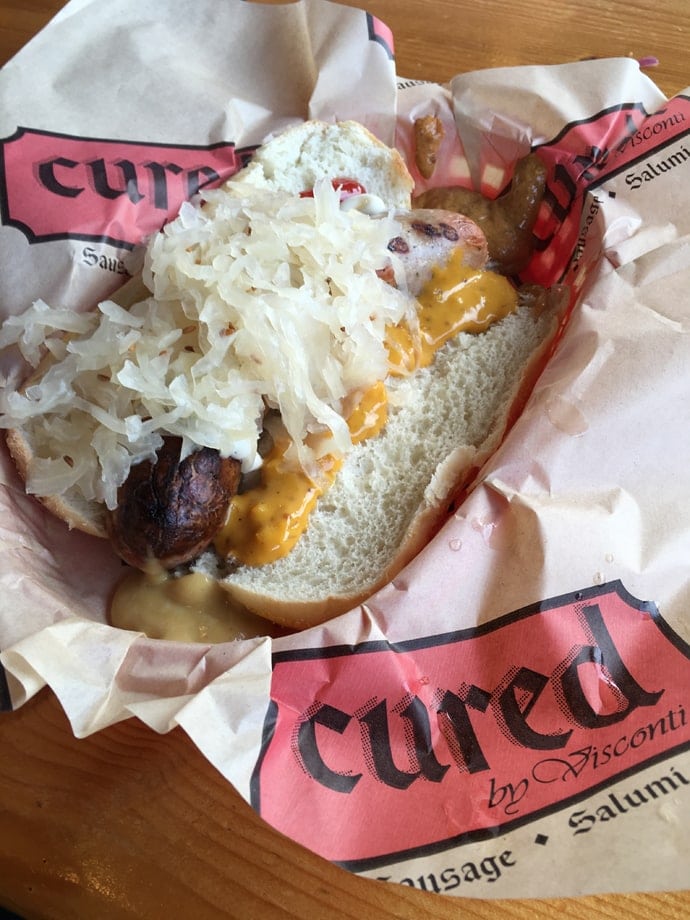 Das ist gut.
(for real)
Heading out of the snowy wonderland, we happened to have a sweet send off from some of the locals.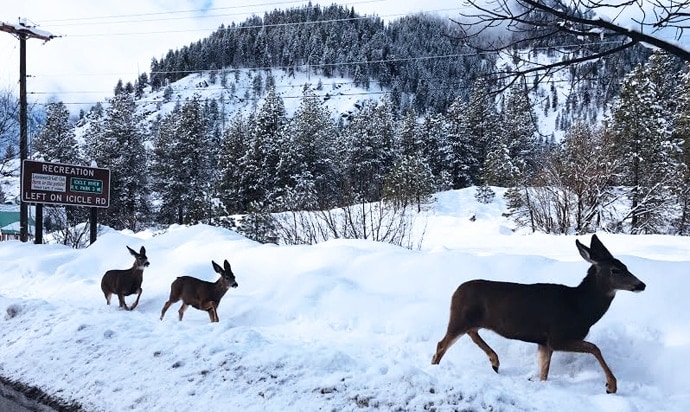 Until next time (with a baby!) Leavenworth.