Once we got settled in Hamburg, had a bit of a daily routine (and more importantly, a normal sleep schedule!) we did our first day trip to the northern coast of Germany and the city of Lübeck.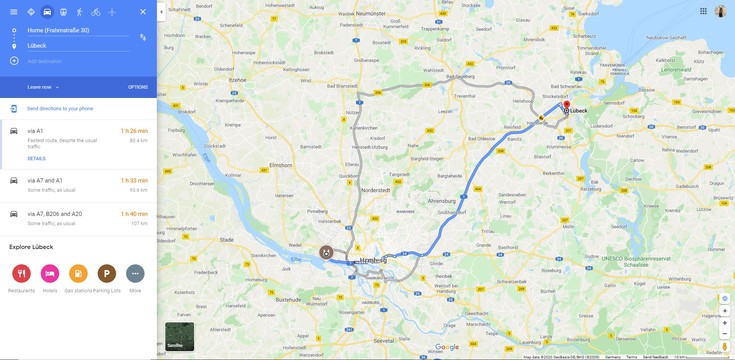 I think it felt good to each family member to climb into the cozy car (hello heated seats and classical music!) and drive through the sleepy city towards the countryside and coast with no expectations but to see something new.
And that's the key point right there: keeping low expectations for touring Europe with two kids under four!
Great ways to lower your expectations with kids (edited after this particular weekend trip to enhance the rest of them!)
Pack a lunch or two for each child with a sandwich, crackers, and easy to eat fruit.
Pack a road snack for parents too!
Make a bakery stop first at the destination to get some extra carbohydrate energy and use the bathroom!
Bring the stroller (and bike lock) to see more destinations!
Find some places where they can be kids and run and play.
Be flexible to takeaway some site seeing if the children's attitudes are not inline with the expectations.
Plan where you want to eat out in advance. Check the Google Maps pictures of the restaurant to see how child friendly it is!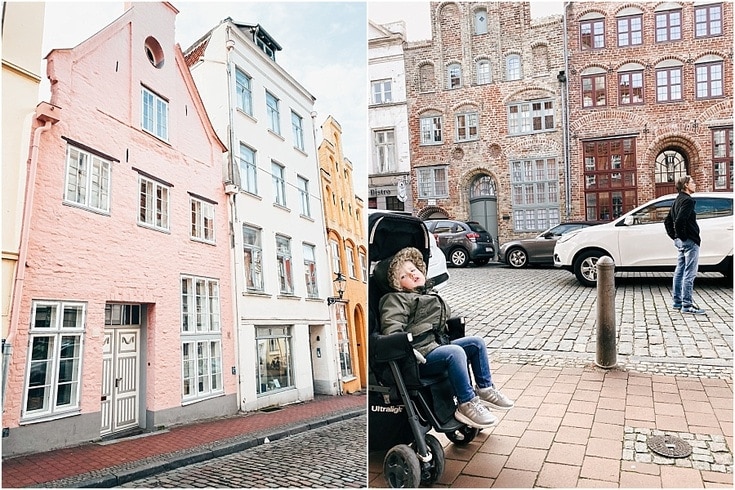 First, Parking
When we arrived in Lubeck we looked for a parking garage and found one in the upper part of town that would only cost us a few euros to stay at. It was lovely, not only for the low price, but for the family with strollers car spots right at the entrance. (And when we pulled up, the elderly man tending the booth made quick show of himself to see if we truly did have a stroller!)
Second, Bakery Stop!
Next we made good on our bribe to take the kids to a bakery. I've since found that we might as well search "Jungen Bakerei" anywhere we go because of their wide selections of treats! And perhaps I'll even get a picture of the next one we get as we devoured that one too fast to snap one off! The bakery stop is also the perfect time to get everyone use of a bathroom (in general, you should pay for a product in any store to use the facilities.) As well as get a second coffee for mom and dad!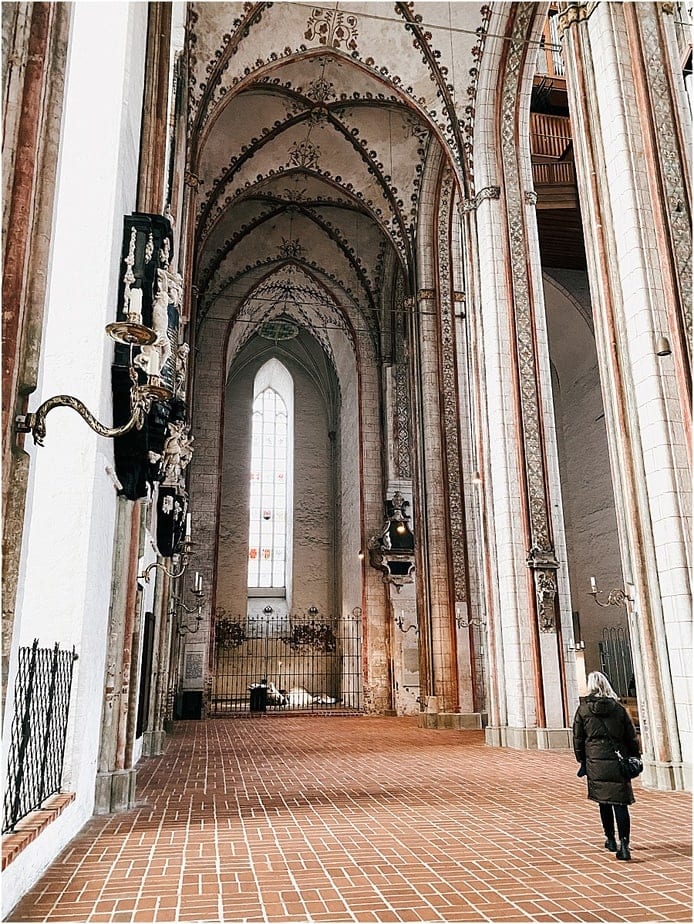 St. Catherine's Church, Lubeck
From there, we started walking around, glancing at Google Maps to see where we should go! Haha, yes we really were that casual on our first outing. So we first stopped at the beautiful old St. Catherine's Church. This was Michael's first experience in an OLD church (built in 1300). We paid the 4 euros for us parents (free for kids 4 and under!) and walked around it's expansive interior.
Reuben actually still talks and asks about the preserved broken bell that remains where it landed when bombed in the World War. The two organs 30+feet up from the ground were incredible in size and I wish I could have heard them played.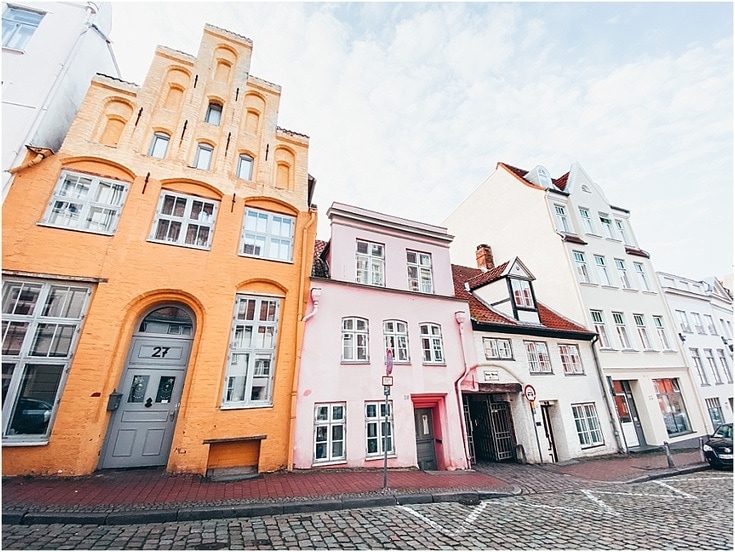 After the church we let the kids run down a car free shop lined street (only to have to sprint and stop them from running into the road at the end, because they wouldn't listen to our voices…Parenting toddlers is fun like that sometimes…) Then we angled towards the river, which isn't all that hard since the river wraps the whole town.
On our way down we opted to pass through a street where the old old houses fit so tightly against one another that some clearly appeared structurally unsound! They were all different colors (my favorites being the white, pink and mustard ones) and the varied in character despite being built practically on top of the next! I can only imagine what their building conversations were like with the neighbors!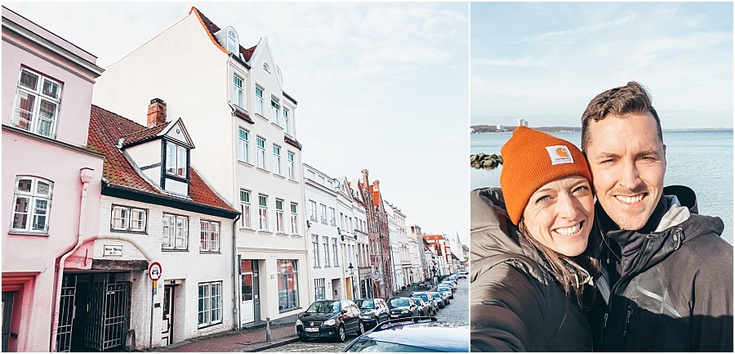 Holsten Gate
Once down at the water we walked along the river, enjoying the view of the town from the opposite shore, until we made it to the Holsten Gate. The gate was built in 1464 and is a relic of Lubecks medieval past. (*Wikipedia) This was a good spot for the kids to run around and enjoy their first "castle." You can also pay to go inside, but we were content outside.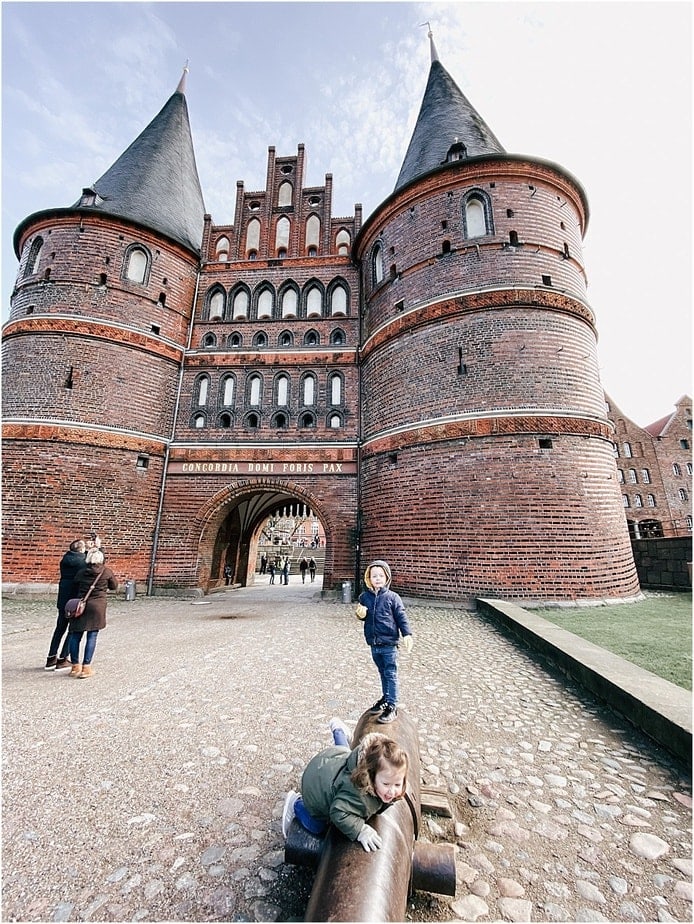 The Baltic Sea
From there we headed back up the hill to our car and to the Baltic Sea near the Timmendorfer Strand. We found a little stretch of parking with a meter and a bathroom nearby. You can usually search Google Maps for "bathroom" and the public ones pop up! They've all been very clean and well supplied. Even the highway rest stops are a good choice, though very industrial, they're also very clean.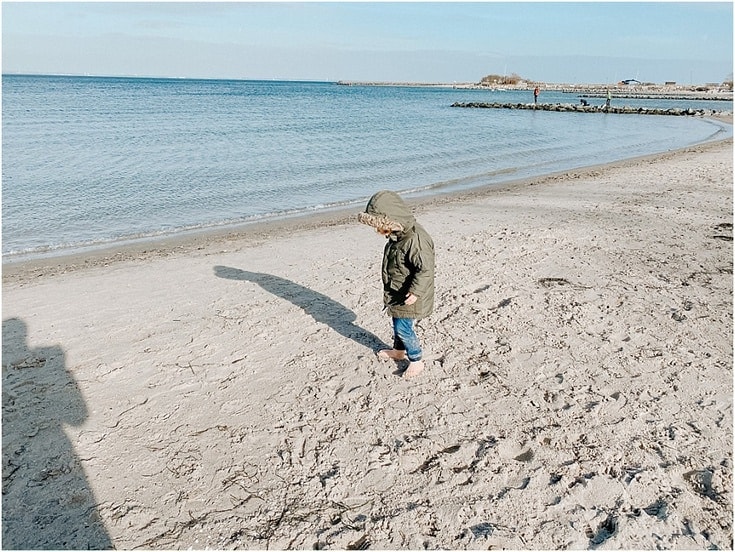 The beaches were pure sand and SO extensive. I can't wait to head back when the weather warms up, though we have plenty of sandy beaches just down the hill. Such a treat to us Washingtonians who are so used to pebbly beaches. The kids of course were warned not to run into the water in their shoes aaand henceforth ran into the water with their shoes… Thus we were the parents with children running shoeless through the sand and water in 40 degree weather! Much to the amusement and comments (of which we didn't understand) from older German couples.
This particular trip Michael and I didn't plan ahead where to eat out, and with the kids so tired, we gave them their lunch in the car and drove home to classical music and napping kiddos!
Thanks for sharing our adventure to Lubeck, Germany with us! Check in next to see our trip to Schwerin, Germany!