Hey friends! I'm excited to be doing my first post with Wayfair here on Petite Modern Life as part of their Patio Dreams campaign. As the weather warms, I've been thinking of how I could transform our "dismal with potential" patio into a summer entertaining oasis and this is the perfect excuse to get going on it.
*I was compensated by Wayfair.com for this post with a gift card, however, all design ideas, written content, opinions and suggestions are my own!*
My Patio Dreams goals are as follows:
Make as much use as I can with free building materials I either have on hand or can gather up. (i.e. pallet wood, leftover plywood, our felled tree wood etc.)
Put on my big girl DIY pants and accomplish as much of the project without the husband's help as I can!
Make the decor Seattle weather friendly (or take down/put up friendly!)
Combine comfort, function, and beauty with a good flow through the space I have.
THROW A PARTY
Here's what I have to start with…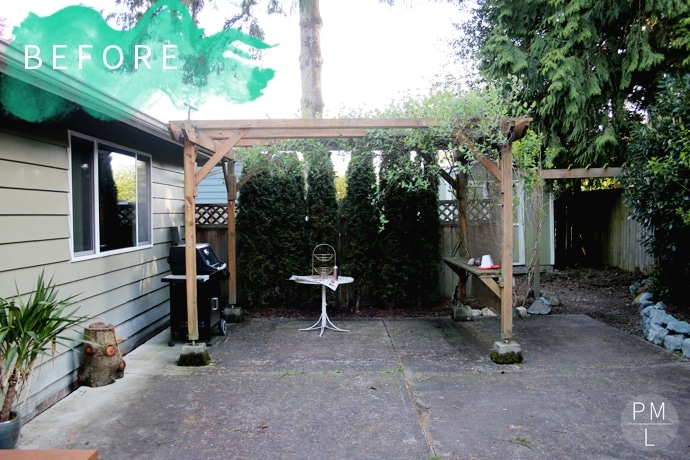 If you're not to distracted with the grunge, the garbage, and the random projects, you might be able to see some of the potential I'm seeing. That pergola used to house a hot tub that we regrettably did not inherit with the house. However, without it we've gained a pretty sweet dining space! The trees add a nice bit of privacy between us and the neighbors (and our trailer parking area), but their trunk bases are not very nice to look at. The whole patio needs a good scrubbing with a pressure washer (which has been a goal and dream of my husband's (score) so that will be the first thing to get done! But, before I get ahead of myself with all the other tasks I need to/could do, let's have a look at at my mood board and some inspiration pictures that will be giving me direction throughout the process!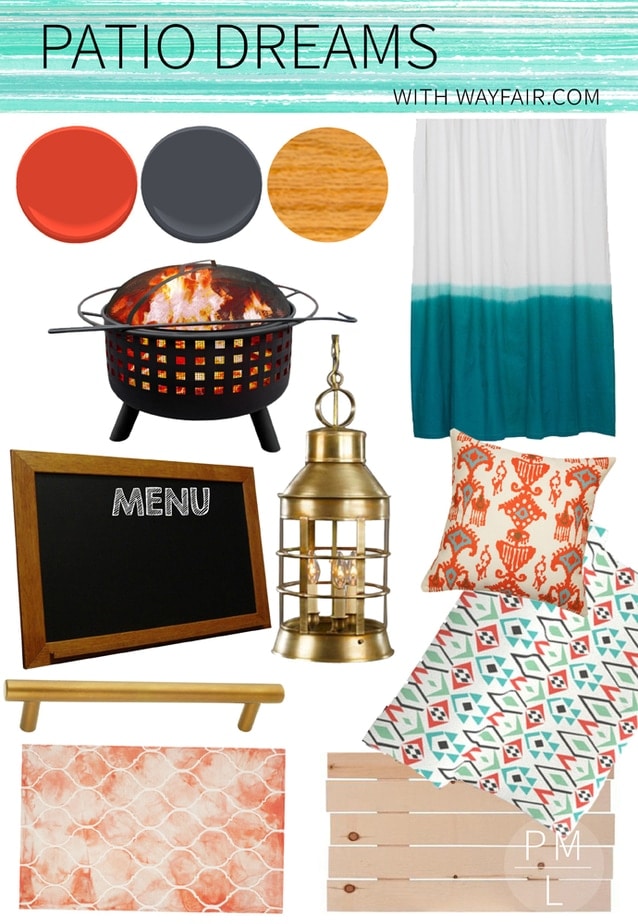 curtains / fire pit / lantern / pillow / throw blanket / outdoor rug
(You can also visit my idea board on Wayfair's website!)
The paint colors I'm thinking are Benjamin Moore Tomato Red, Benjamin Moore Witching Hour, and Rustoleum Summer Oak wood stain.
I love the contrast of black paint with natural wood tones and greenery. Our house is green, unfortunately, so I'm hoping to transform the patio space with these colors and obstruct some view of the house with my decor. If you can't vision what I'm talking about, here are some patios with the color scheme and fun modern design that I love.
https://instagram.com/p/pZCO17g31F/
I can't wait to see what I come up with! I'll be updating you on the progress the following Fridays, so keep an eye out for it. What things do you think are necessary for a beautiful inviting patio? What would go on your dream patio? Let me know, I'm all ears! And a H U G E shoutout to wayfair for teaming up with me to do this post!