How many of you get overwhelmed by sewing projects because so much of the time there just isn't the space for one? The dining table has food scraps on it, no room is clean enough for the pop up table, and you're tired of trying to sew off the coffee table because how the heck do you push the foot?! Yes- these are my past real life scenarios. If you want a dedicated sewing spot without sacrificing space, this DIY fold down sewing table is for you!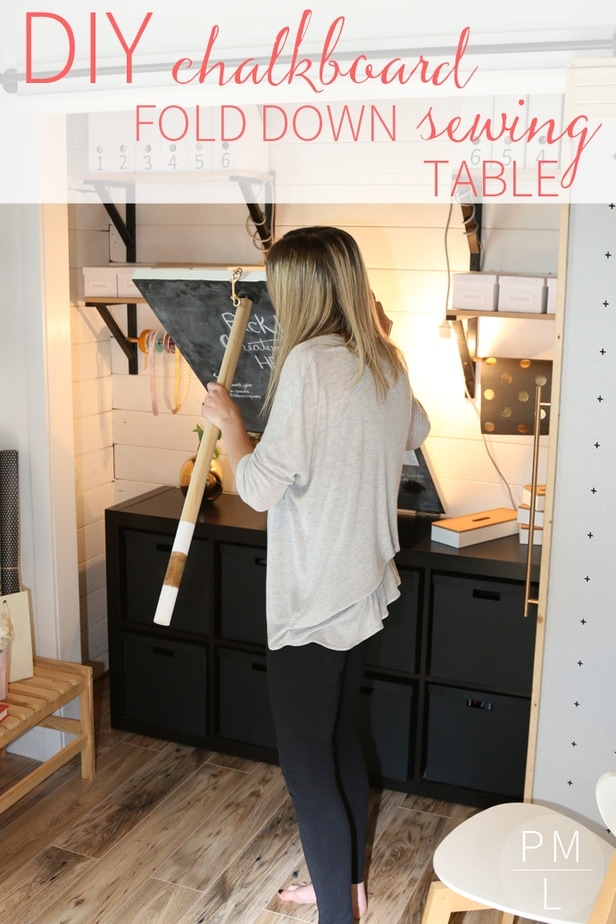 Oh- and you don't want to spend a lot of money or have to have carpenter skills? Perfect. This is exactly for you (and me..)
I believe this project could be done with any Ikea Expedit like table that will fit in your closet. Our Expedit has been around since our first apartment, and though I thought I'd "outgrow" it, I've only every found more ways to use it for better purposes! This might actually be the pinnacle of it's inanimate existence.
Congratulations Expedit.
Let's get on with the supplies.
SUPPLIES
TOOLS
Alright lets get to it! First you should check to see if your table top will fit and fold down out of your closet. Notice my Expedit is exactly the size of my closet opening. Perfect!
Next in order is your leg attachment. Please note, as per usual, I did this out of order because I hadn't grabbed the plate yet and was impatient. Welcome to my DIY world. You'll need to prime your plate in order to have the chalkboard paint adhere. So prime first, then attach. Here's what you can do if you do it out of order like yours truly.
Yep. I spray painted into a cup (and was quite proud of myself). In an ideal world you should attach your spray painted plate first, then, using your high density foam roller, apply the chalkboard paint to it and the brown size of your desk. I did two coats.
Then attach your hinges to the desk like so. Though these Ikea pieces are made from particle board, the screws go in strong and stay there.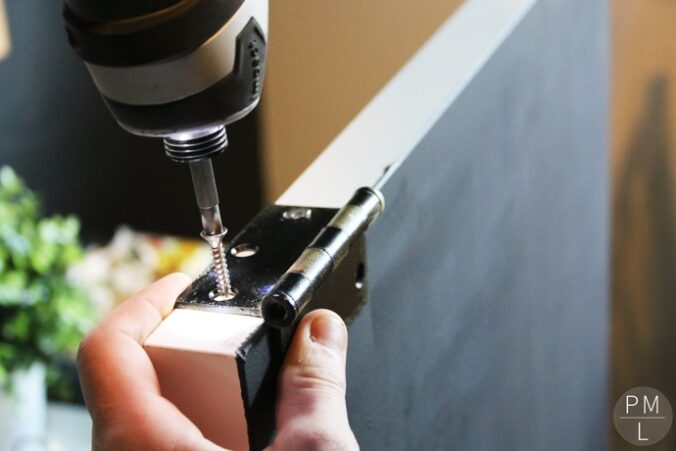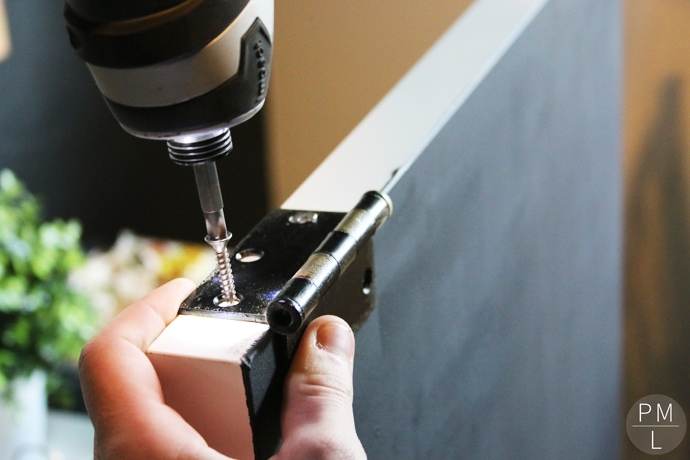 You'll need two people to help you attach the table top to the expedit/kallax. It just needs to be held steady enough for the bolt to rest between the table and the top.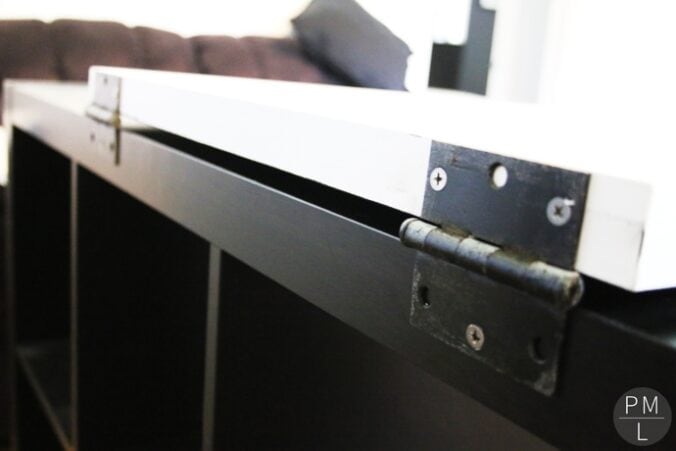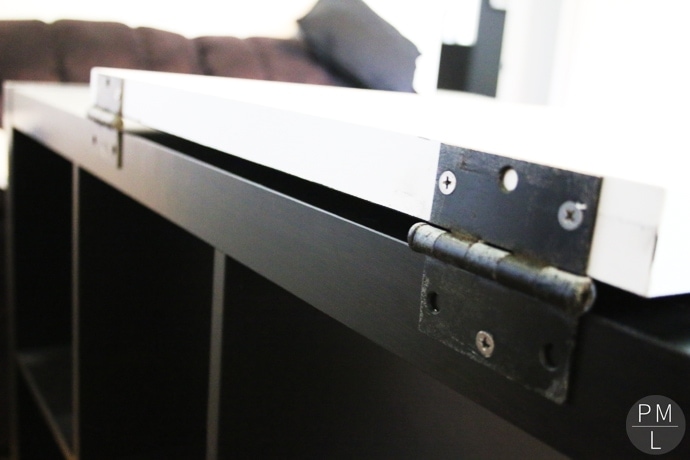 Next you can measure for the height of your wood dowel from the leg plate to the floor. Ours functioned at 32″. Remember to hold the table top level during your measurement. Cut your dowel at the necessary height, then drill a 5/16″ hole in it, then screw in your hanger bolt. You can also stain and paint your leg at this time if you want! while you're at it, might as well spray paint your eye hooks and and double ended snap hook too!
Drill a small hole on the top edge of your table top and screw in the eye hook. Then lean the table top against the wall, hook on your double ended snap hook and mark on the wall where your other eye hook needs to go. Drill another small hole into the wall and screw in your second eye hook! Now it's time to season your chalkboard and decorate!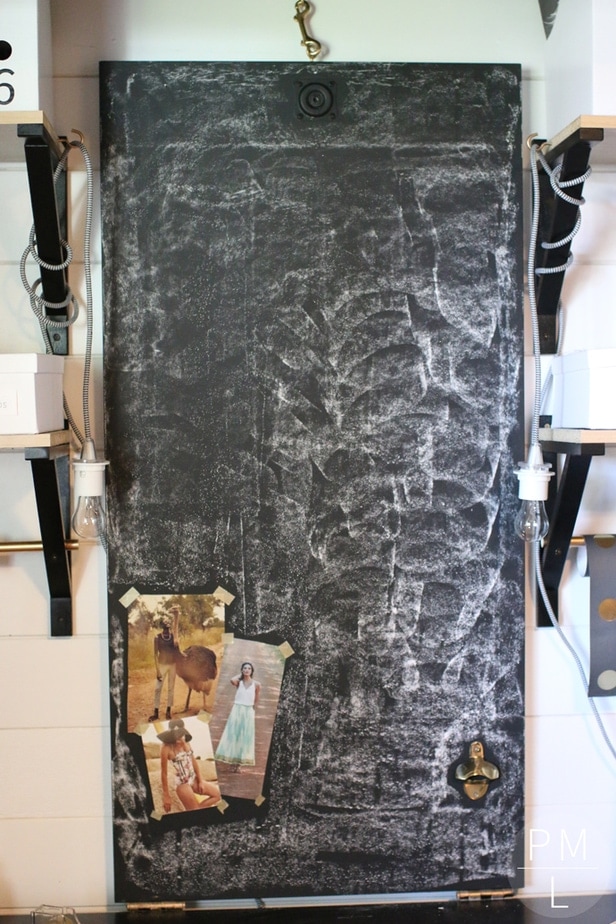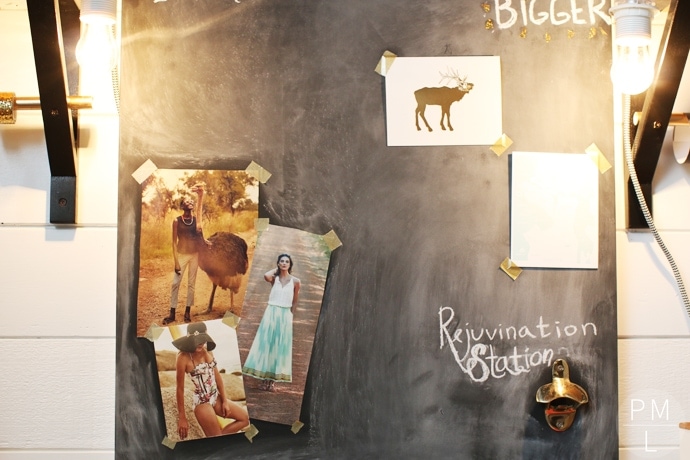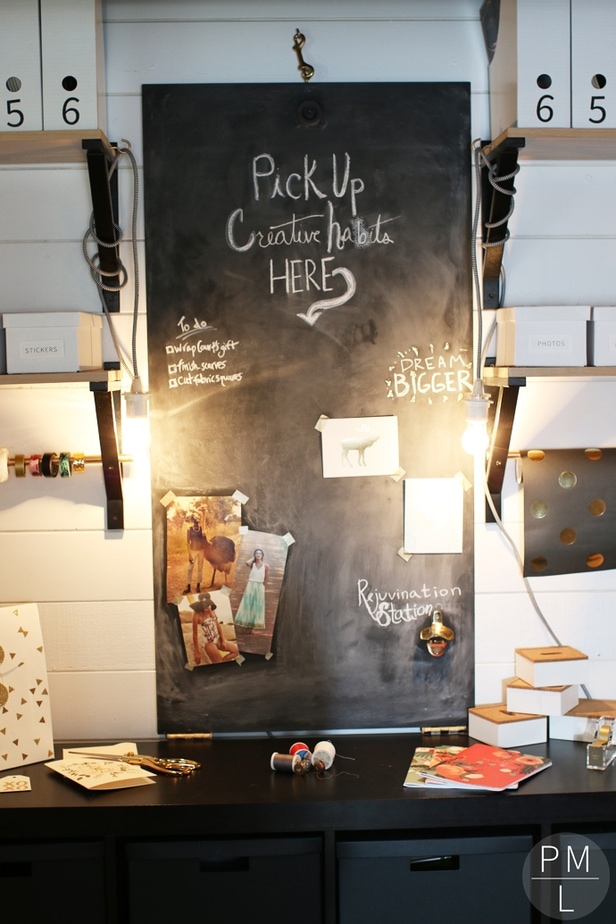 Then, when the time comes for your sewing project, simply fold it down, screw in the leg,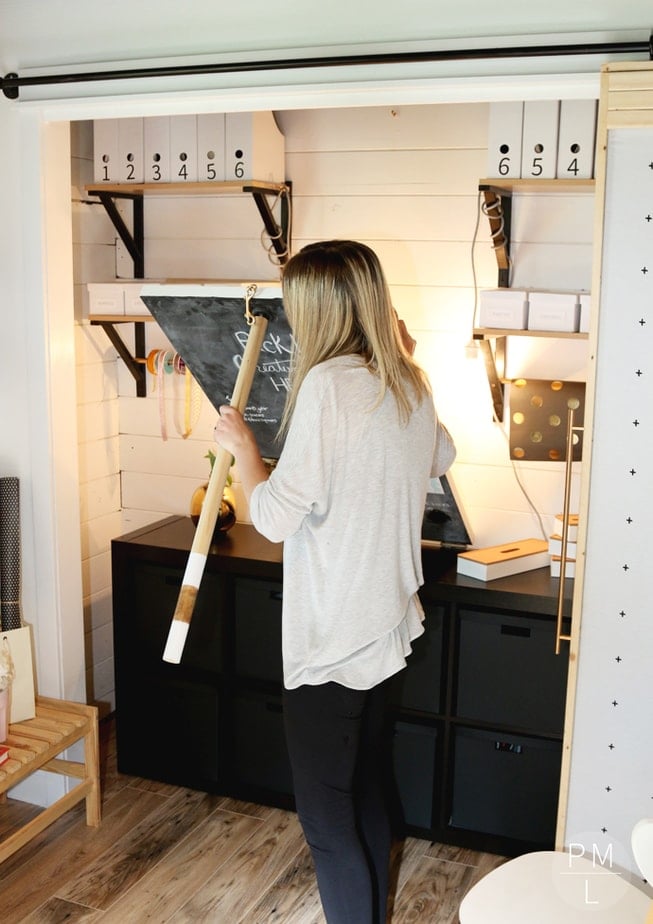 and begin!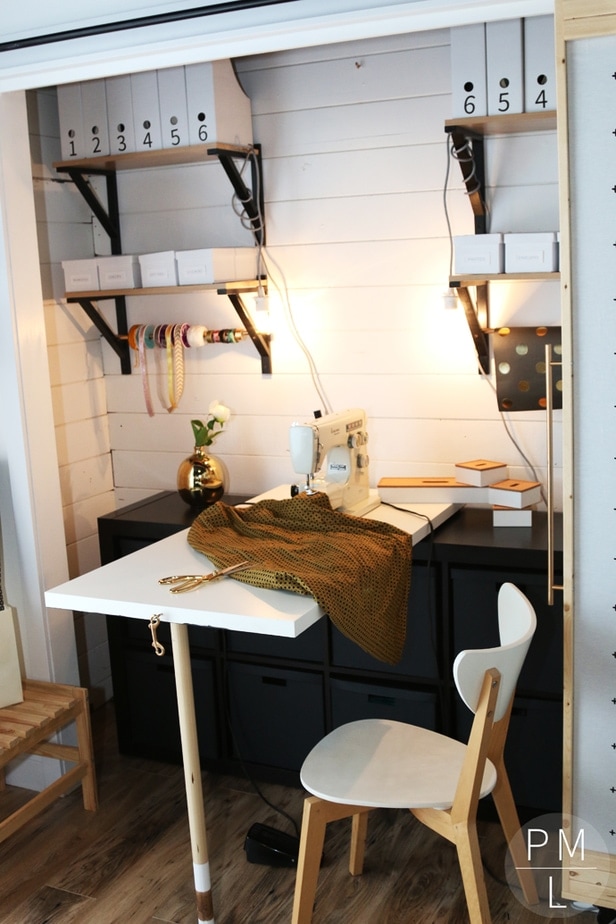 I hope you enjoyed this tutorial! Do you have a spot in your house where this would be perfect? Let me know below!
Also, don't forget to check out the full office reveal HERE!