Originally this post was written to give my mind something to do as we were looking for houses. Creating mental mood boards for any house we thought interesting calmed me in some weird way. Last weekend in particular I was very anxious because we were going to put an offer in on a house that had only been up for a few days and already had a decent amount of interest and even an offer from another buyer!  So instead of pacing the house like a crazy person as we waited to see what would happen, I started a post of beautiful budget kitchen accessories.
Then the power went out.
FOR THREE DAYS.
I'm all about taking breaks from technology, wheeeeen it's a personal choice, not technology's choice. To say my husband and I were going slightly bonkers from the anticipation could be an understatement. Not only was it difficult to find a distraction (books weren't working and besides my kindle died..), it was also pretty difficult to sign all the paperwork on the fly when your phone and computer were almost out of juice!
But we did.
And on power outage day two, around 9 PM, we found out we got the house.
!!!PARTY!!!!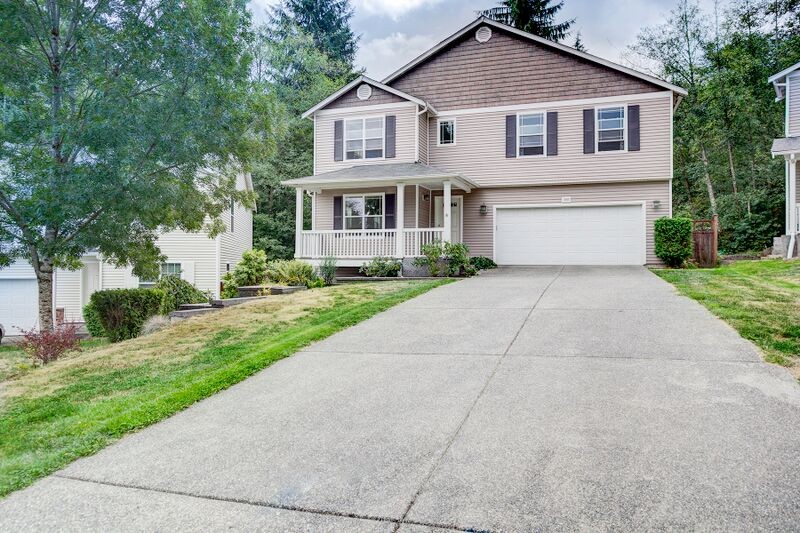 Here's a look at our new digs! So instead of writing about my kitchen dreaming for this post I'll share why we liked this particular house more than our old place and others that we toured.
Compared to our old place it is HUGE! Our last house was around 1600 square feet and this one is almost 2300 square feet. Quite the difference! It really plays out in the kitchen, bedrooms, and rec room. At our last house our master bedroom was very small. The master bath made me a little claustrophobic if there were more than two towels hanging at a time, the wall closet was frustrating to use, and we only had space for one dresser. It wasn't impossible, but we had dreamed of remodeling the whole thing into the next room to make it bigger. I'm glad we didn't though because that would've been a huge and costly project! Now we have a large master bath and two (what?!) walk in closets with ample bedroom space. It'll allow us a little more space to breath once Baby G. is sharing that space with us in February!
We're also excited to have a two story house. Our last house was long, bright and pretty, but felt cramped when you could see from one end of the house to the other from one spot. I've always imagined having room for kids and us to have a little more space to do our own things (hello rec room!?). And two stories are good for the glutes right?
Compared to other houses we toured during the hunt it really stood out as a new build. There were SO many old 1970s split levels and tri-levels for sale during our hunt. There's nothing intrinsically wrong with those type of houses, but they weren't our style and were selling for prices we couldn't believe. This house was built in 2005 with a good layout in a quiet neighborhood. For my husband 2005 also meant there would be less things to fix and do! You might say he's in need of a break after working non stop on the last house for a year and a half!
We still have plans to change up some things and once the house is fully closed we'll be able to organize the budget to make those projects happen within some sort of timeline. It's all very exciting to say the least. We're counting down the days till we get the keys and are hoping that it'll get expedited for some reason so we can get a move on with our lives!
From listing our house to buying and moving into a new one it took us 3 months. It's hard to say if that's normal, fast, or whatever. The houses that were up in our desired area seemed mostly lackluster, so we feel lucky to have found and snagged this one within that time frame. Now we can actually start thinking and planning for Baby G and the new life ahead of us!
Oh- and I'm also not moving. Like ever again.
(But don't quote me on that.)