If you saw Friday's Post you'll know that we've bought a new house!!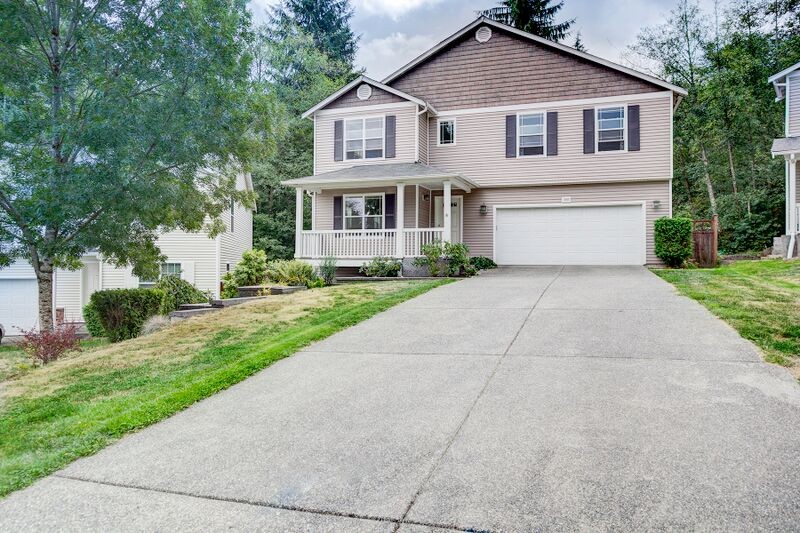 It's a newer build which means less things are in want of fixing. However, we still have plans to change up some things once the house is fully closed and once the budget is firmly established. One of the projects I'm looking forward to, and had been planning before the power outage mentioned in the last post, was the kitchen! Here's how it looks now.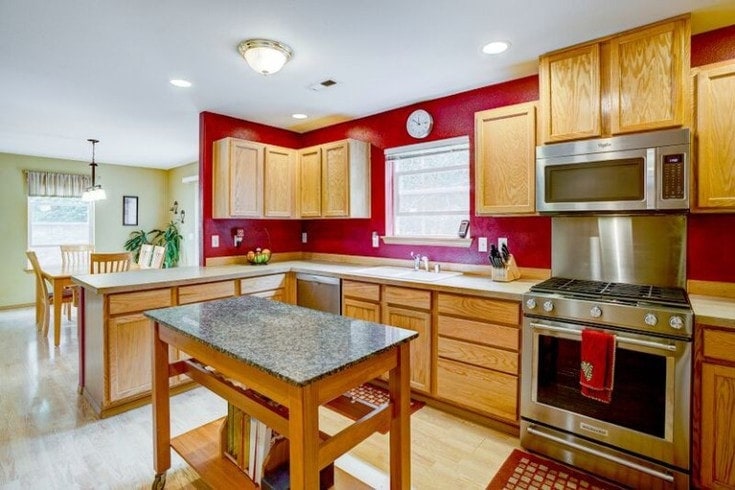 A little red and a little 'oaky,' but it's huge! What I really like is how basic it is. Oak cabinets, simple laminate counters, a wood back splash, no hardware… That's a kitchen just waiting to be re-imagined updated by yours truly!! Here are some of the products I have in mind for a modern kitchen on a budget.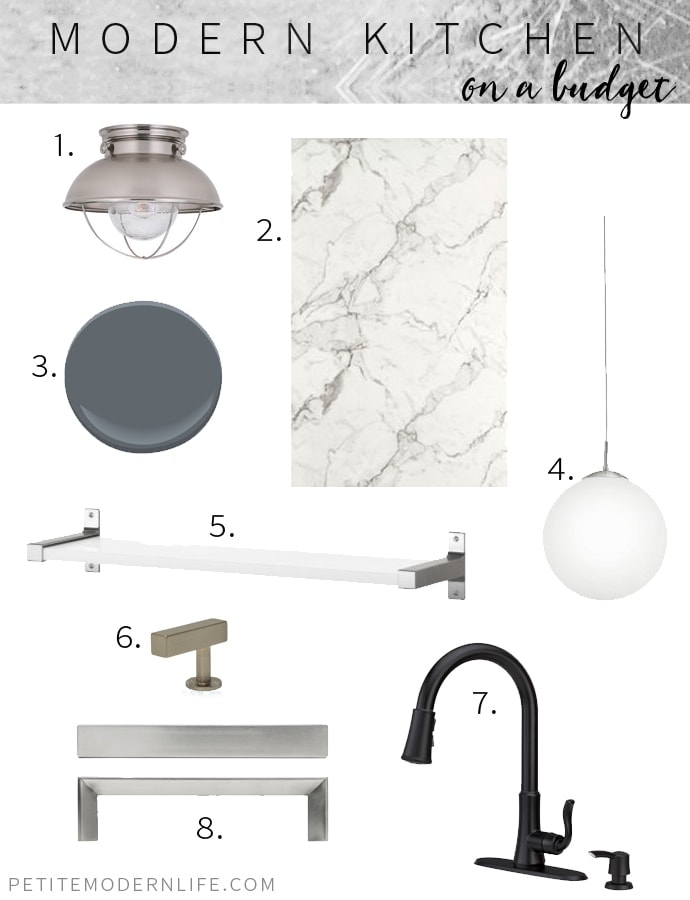 Oooh do you feel the makeover tingles? Let's talk about it.
I'm a fan of interesting lighting inside the house. That flush mount light ($124) from Wayfair.com would instantly modernize the three dated flush mounts that are currently in that space among the can lights. That globe light ($132 for a large one) from Wayfair.com also caught my eye. Two of them would look stunning above the bar after I had my way with it.
Now, when I think budget kitchen makeover, expensive counters do not make the cut. We'll either be going with Ikea butcher block OR this laminate carerra marble top from Lowes ($164/12 feet). I'm not afraid to fake it till I make it if it means huge savings and a beautiful space!
As for the cabinets, I love the two tone look. (I'll share my inspiration pictures soon.) The dark blue/gray tone has totally caught my eye for the lower cabinets and Benjamin Moore's Ocean Floor paint color looks like a good match. For the upper cabinets I'll go with white.
When it comes to hardware, fixtures and shelves I really want to go gold, but think I should go with timeless chrome in the end. What do you think? Ikea hardware is a fantastic price at $10 for a 2 pack of these stainless steal handles. The little modern knob is so fun at about $7 a pop from myknobs.com.
I'm so excited to find modern kitchen accessories for an affordable price and can't wait to see them implimented. I'll keep looking for better deals as we actually get to the kitchen, but I already foresee a beautiful place to cook and share a meal with family and friends!
Do you have any tips for stores or products? Let me know below!